Waffles, a beloved breakfast staple, are undoubtedly the star of any brunch. Crafted in your trusty waffle iron, using your cherished waffle batter recipe, these savory or sweet treats are not only easy to make but also customizable to a T. Your waffle maker truly brings out the best of things, converting everyone into staunch fans of your homemade waffles. Yet, even a towering stack of fluffy waffles needs companions on the plate. As you think about what to serve with waffles, consider both sweet and savory options to construct the perfect meal for a delightful brunch feast.
There are an endless number of side options to serve alongside your waffles, and below are just a few of the best. If you have any favorite side dishes of your own, be sure to leave a comment and tell us what they are.
Fried Chicken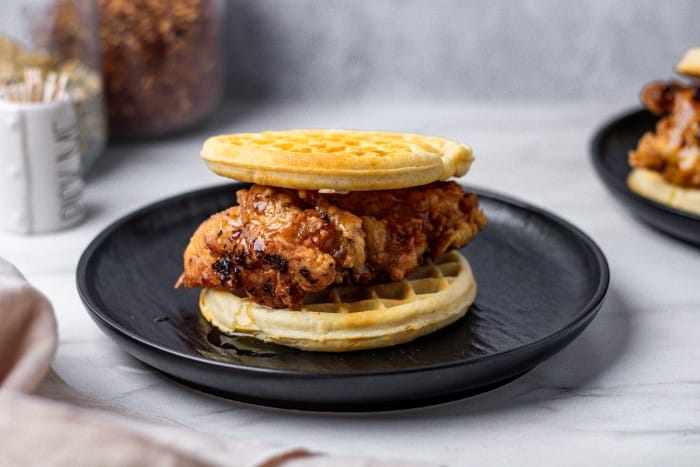 Chicken and waffles are the perfect pairing, especially for brunch. The sweet flavor of fluffy waffles combines perfectly with the rich, crispy fried chicken, making for a mouthwateringly delicious dish. It's a unique way to introduce savory flavors into what is often a sweet treat.
This delicious recipe for chicken and waffle sandwiches explains how to easily make fried chicken, so even if that's not in your wheelhouse, you can pull it off and surprise your brunch guests with a restaurant-worthy brunch.
Bacon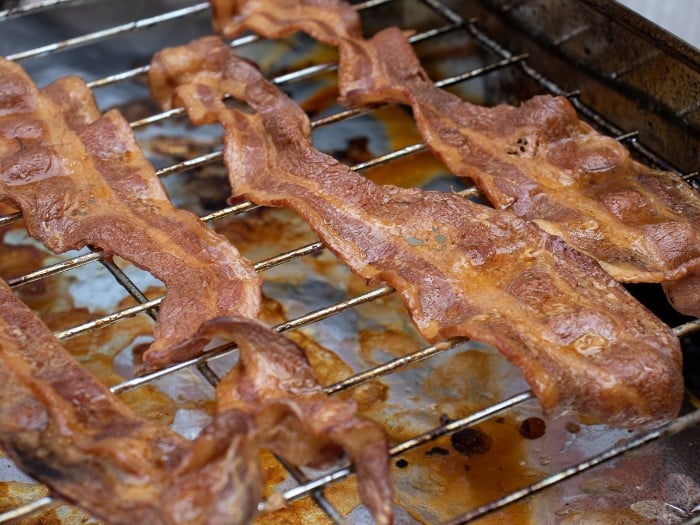 Bacon, crisped to perfection in your air fryer, is always a good idea. Whether opting for turkey bacon or smoked bacon, serving up a plate of crispy bacon will surely satisfy your guests.
The mix of savory flavors in bacon and the sweet waffles create a richly satisfying brunch with minimal extra time required.
Fruit Compote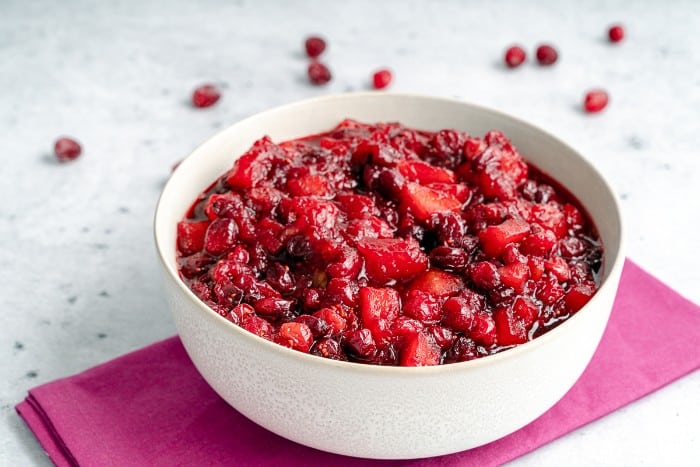 Fruit compote, or stewed fruit, is a great option for topping your waffles.
Whether you buy it premade from the store, or you make it at home from scratch, your guests will appreciate the attention to detail of you serving up a bowl of warm, fragrant fruit compote alongside a stack of fluffy waffles.
Just in case you thought it was complicated to make fruit compote from scratch, this recipe for cranberry apple compote will convince you otherwise. With only a handful of ingredients and about 20 minutes, you can have your house smelling like Christmas in no time.
Yogurt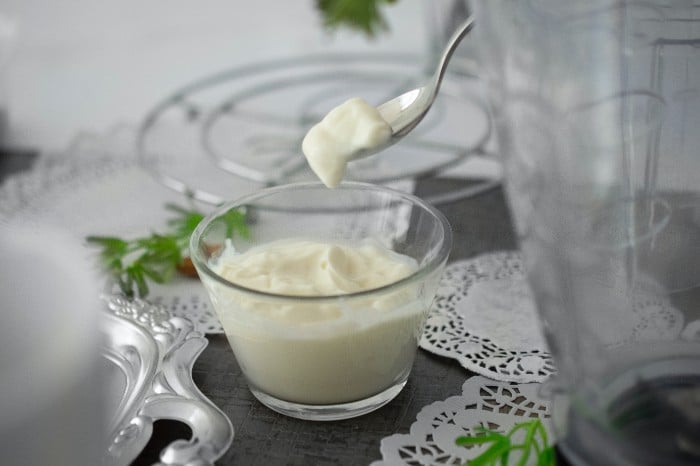 Yogurt is an excellent healthy choice if you are looking to add tons of flavor and protein. Yogurt also makes for a great substitution for whipped cream, while also adding healthy gut microbes.
Plain Greek yogurt or vanilla yogurt are both excellent choices, especially if you serve them alongside optional ingredients such as honey, fresh fruit, or granola. Your guests will appreciate having a healthy option, while also being able to customize their waffles with their preferred toppings.
Eggs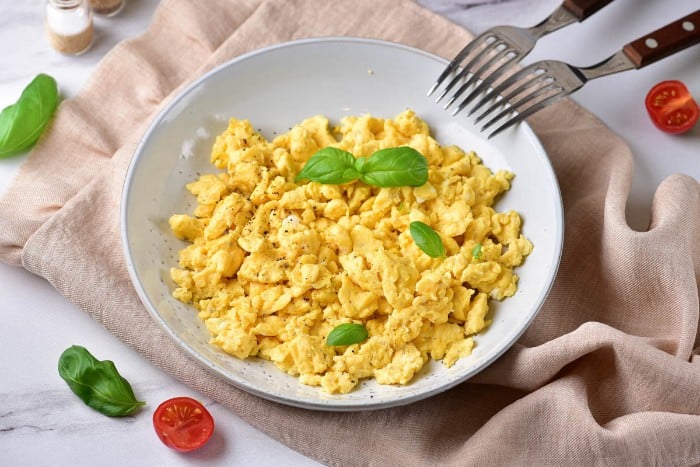 Eggs are the perfect accompaniment to just about anything, especially a fluffy stack of waffles. There's no need to host a full omelette bar to provide your guests with this option. All you need are 2-3 eggs per person, a good nonstick pan, some oil, and a little bit of time.
Your guests will appreciate having the option of getting their eggs how they like them, whether it's over hard or a simple scramble.
Sandwich Ingredients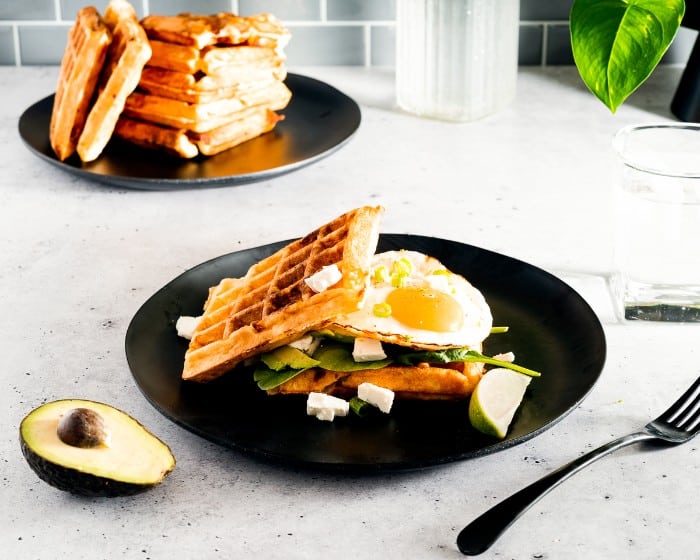 Brunch is the combination of breakfast and lunch, so why not offer your guests a hearty sandwich with the added bonus of waffles as opposed to bread?
This recipe for the perfect waffle sandwich explains how to easily build a sandwich using the same ingredients you'd find in an egg scramble, but instead, you layer them on buttery sweet waffles. Your waffles serve as the perfect canvas for an array of fillings, from savory to sweet, making for a unique and satisfying meal.
Hash Browns
Breakfast potatoes, like eggs, are the perfect brunch pairing with just about anything. When done right, hashbrowns are fried to golden brown perfection and can make a basic stack of waffles that much more satisfying.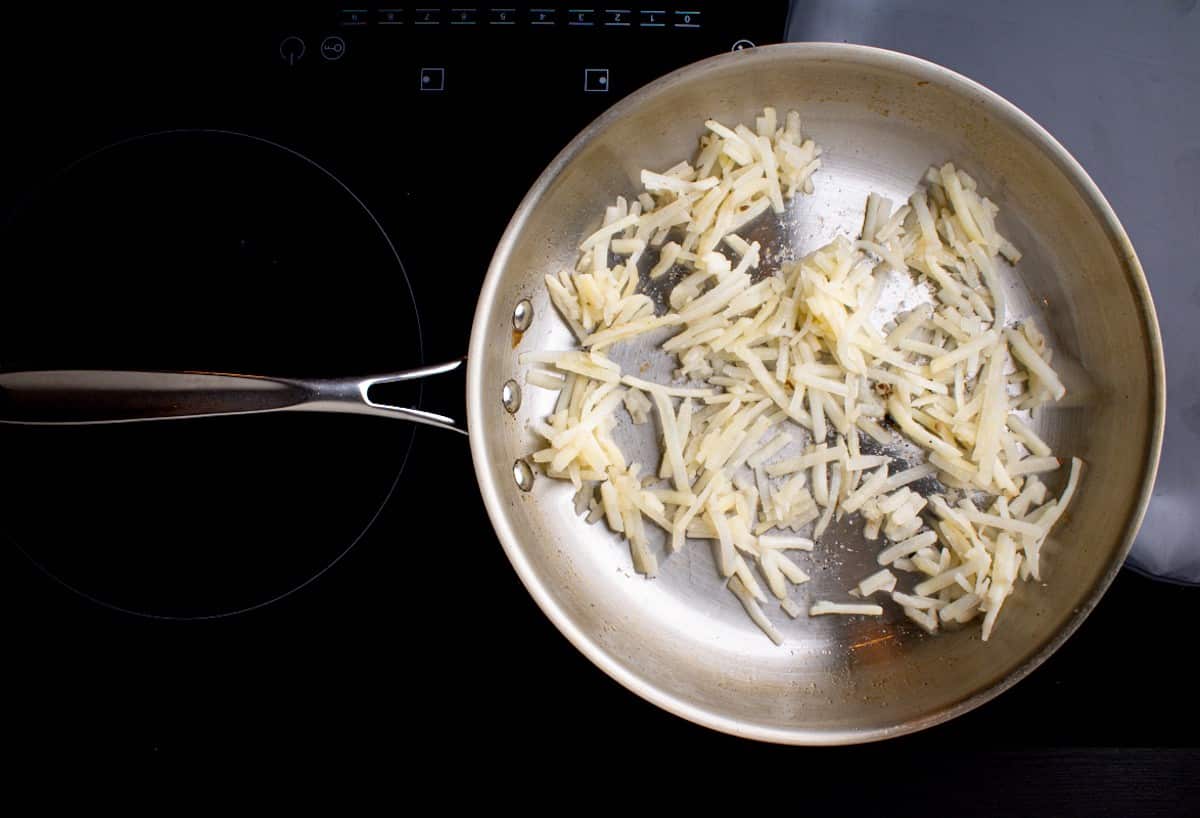 In case you've never made hashbrowns before, this hashbrown omelette explains how to make perfectly cooked hashbrowns with just a couple of basic ingredients. After you make hashbrowns once, you will be looking for an excuse to make them over and over again.
Blueberry Ricotta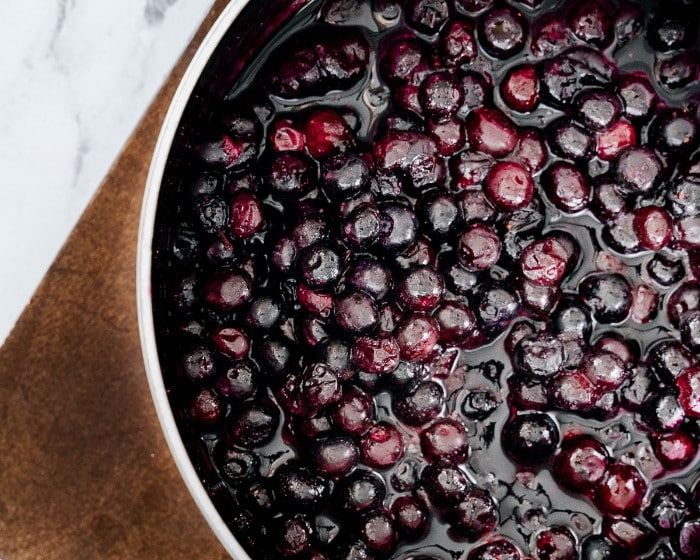 The combination of lightly stewed blueberries and zesty ricotta cheese makes a perfect topping for waffles that is every bit as rich as a full side dish. This blueberry toast recipe explains how to build a topping that's slightly sweet, slightly savory, and totally satisfying.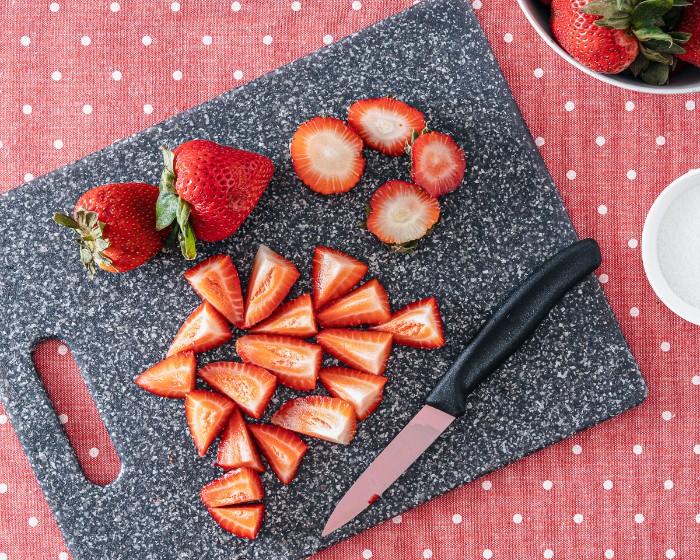 Just in case you don't have blueberries, you can swap the blueberry compote for this cranberry jam or even macerated strawberries. No matter which option you choose, this will be a great elevated side that even the pickiest of eaters will enjoy.
Peach Cobbler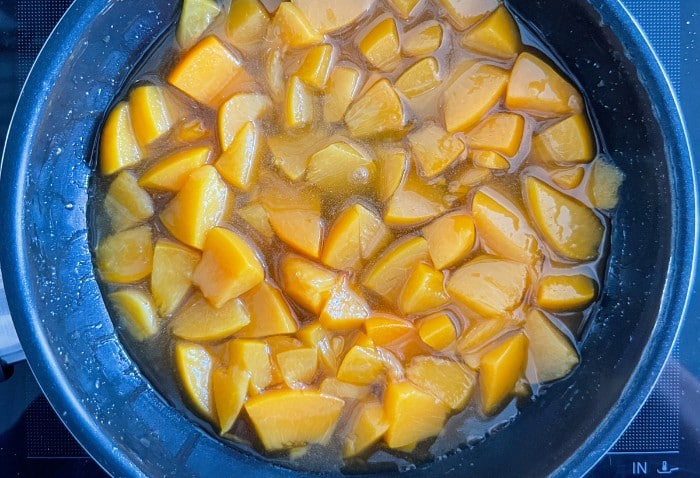 This recipe for peach cobbler cinnamon rolls explains how to make an aromatic stewed peach cobbler topping that will not only impress your guests but leave your house smelling amazing. Bonus points if you also top your waffles with this quick and delicious cream cheese topping.
The best part about serving up a saucepan of this warm peach cobbler topping is that your guests will think you really went out of your way to make it. Only you will know it took less than 20 minutes to put everything together.
Boozy Fruit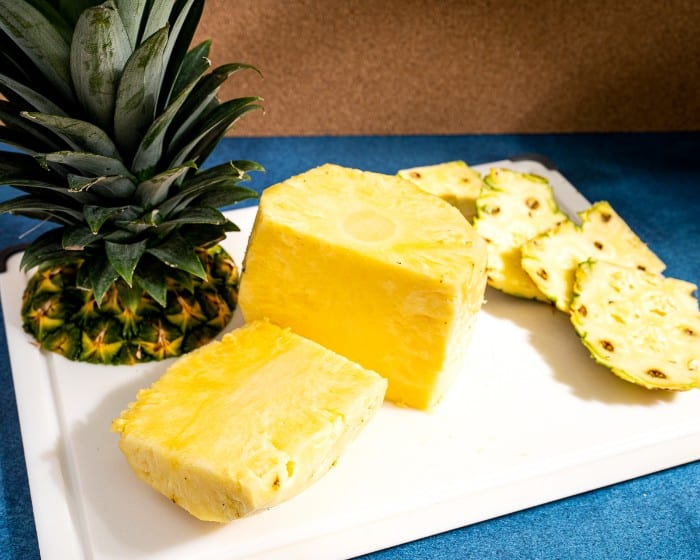 This is a great 21+ option that will seriously take your brunch game to the next level. After all, if mimosas are on the menu, then what's wrong with serving up sweet fruit soaked in flavorful alcohol?
Soak whatever seasonal fruit you like in a combination of melted butter, brown sugar, and equal parts water and liquor (bourbon or rum work best).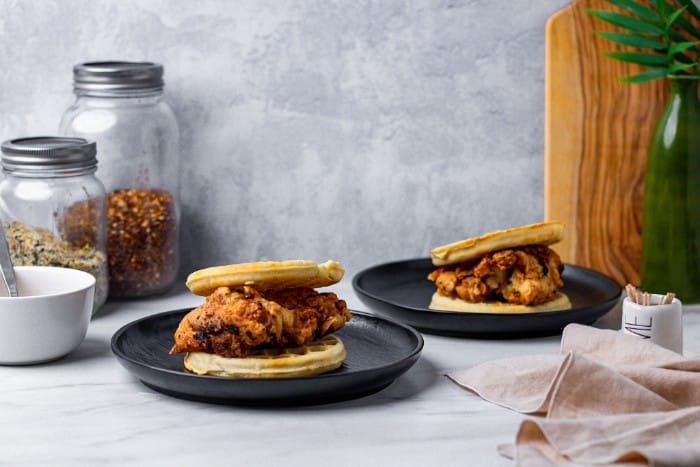 To make your brunch even more special, consider setting up a DIY waffle bar. This provides a great way for your guests to top their waffles with their favorite toppings, whether they prefer sweet or savory options. From the sweet taste of chocolate chips or chocolate syrup, to the savory and tangy bite of cheddar cheese or parmesan cheese, to a simple drizzle of maple syrup or peanut butter, the options are endless.
A great addition could be to include sour cream for a savory option or vanilla ice cream for those with a sweet tooth. If you're feeling adventurous, you can even try topping with carne asada, black pepper, fresh herbs, or even lime juice for a zesty twist.
No matter what you choose to serve alongside your waffles, all that matter is that you give your guests options and make the experience smooth and easy. For more answers to your brunch-related questions, plus all the awesome brunch recipes you can handle, be sure to follow Golden Truffle on Instagram and Pinterest.
What is the best side for waffles served during breakfast?
Waffles can be paired with just about anything. If you're more of a sweet and savory person, then try serving your waffles with bacon, eggs, fried chicken, or crispy hashbrowns. If you have a sweet tooth, stick with stewed or fresh fruit, ice cream, whipped cream, or classic maple syrup.
What do you eat with Belgian waffles?
Belgian waffles pair easily with classic maple syrup, honey, or whipped cream. Alternatively, you can go all out and serve your Belgian waffles with ice cream, bacon, potatoes, or a seasonal fruit compote.
How do you serve waffles at a party?
If you really want to impress, then serve a big plate of fried chicken alongside your waffles. Alternatively, you can make waffle sandwiches (or let your guests make their own) and offer fillings such as eggs, sautéed veggies, and cheese.
---
Here are a few waffle recipes you might enjoy!
Olivia has been in love with all things food and libations for nearly a decade. When she's not cooking up new recipes, she enjoys bikepacking, wine tasting, crocheting, and traveling in her camper van up and down the Pacific Northwest.