There is nothing better than a good sandwich, and this chicken and waffle sandwich is a great go-to meal for a hearty brunch. It comes together quickly and is a meal everyone loves.
This chicken and waffle sandwich is a sweet and spicy explosion of flavors. It is made with hot honey-fried chicken between two sweet and soft waffles. The chicken is crispy on the outside and perfectly soft and tender on the inside.
You will need a waffle iron for this recipe if you are making the waffles from scratch. If you are using frozen waffles, you won't need any special equipment.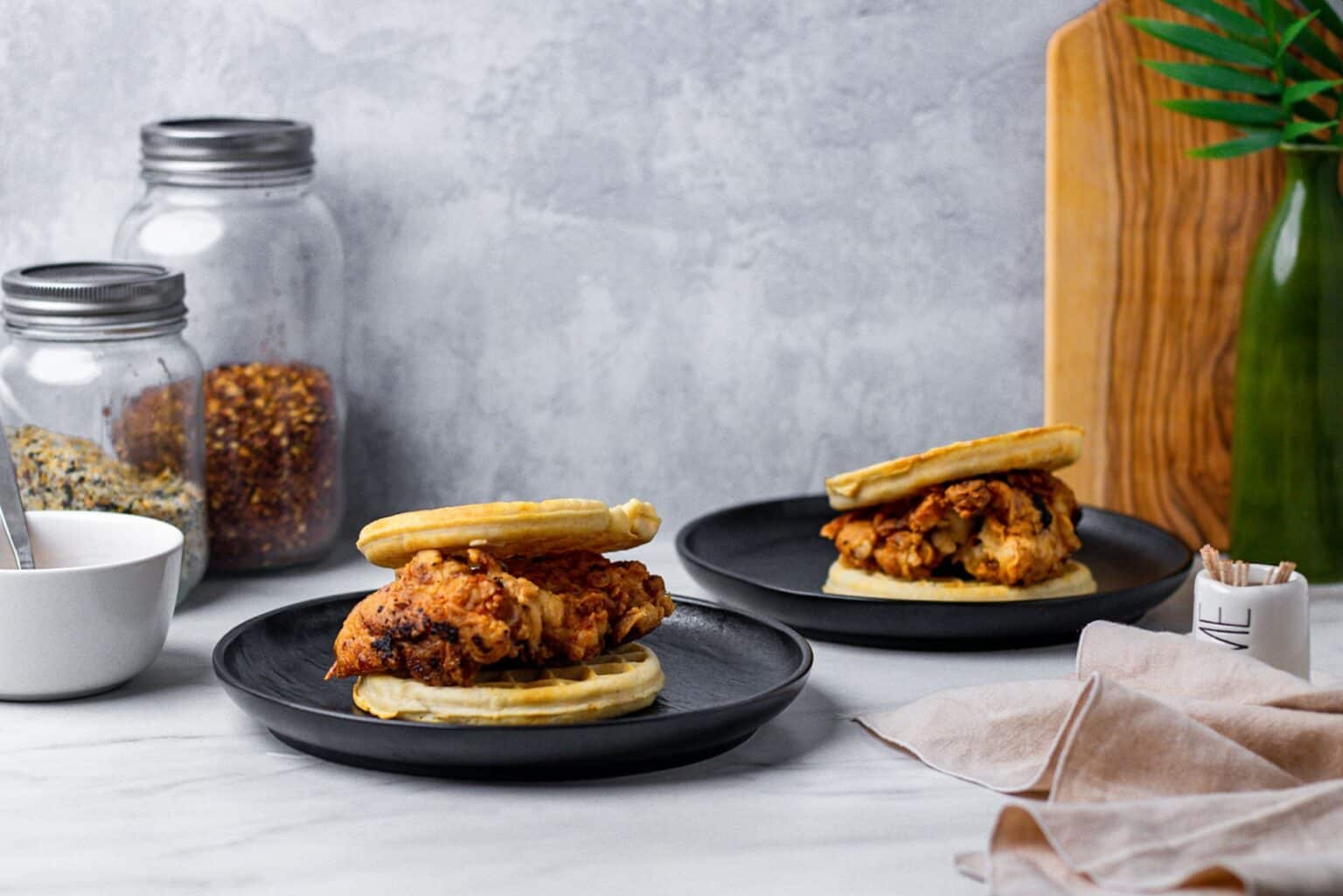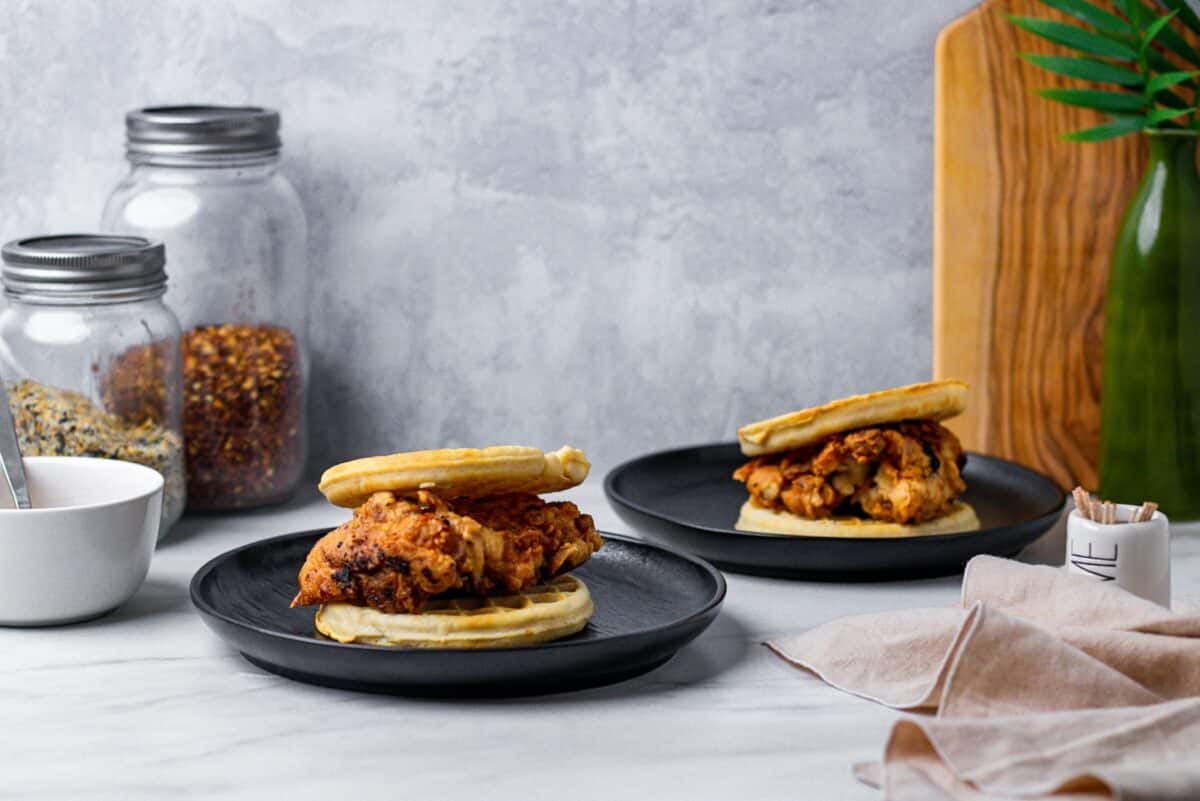 What You Need to Make a Chicken & Waffle Sandwich
This chicken and waffle sandwich recipe might seem a bit long at first, but it is easy and quick to make. In my experience, letting the chicken soak in buttermilk for at least two hours makes for a wonderful, tender and soft texture, so be sure not to skip this step!
The fried chicken is soaked in the buttermilk brine for a few hours, then coated with a flour mix flavored with spices, and finished with a spicy honey sauce. Here is everything you need to make it.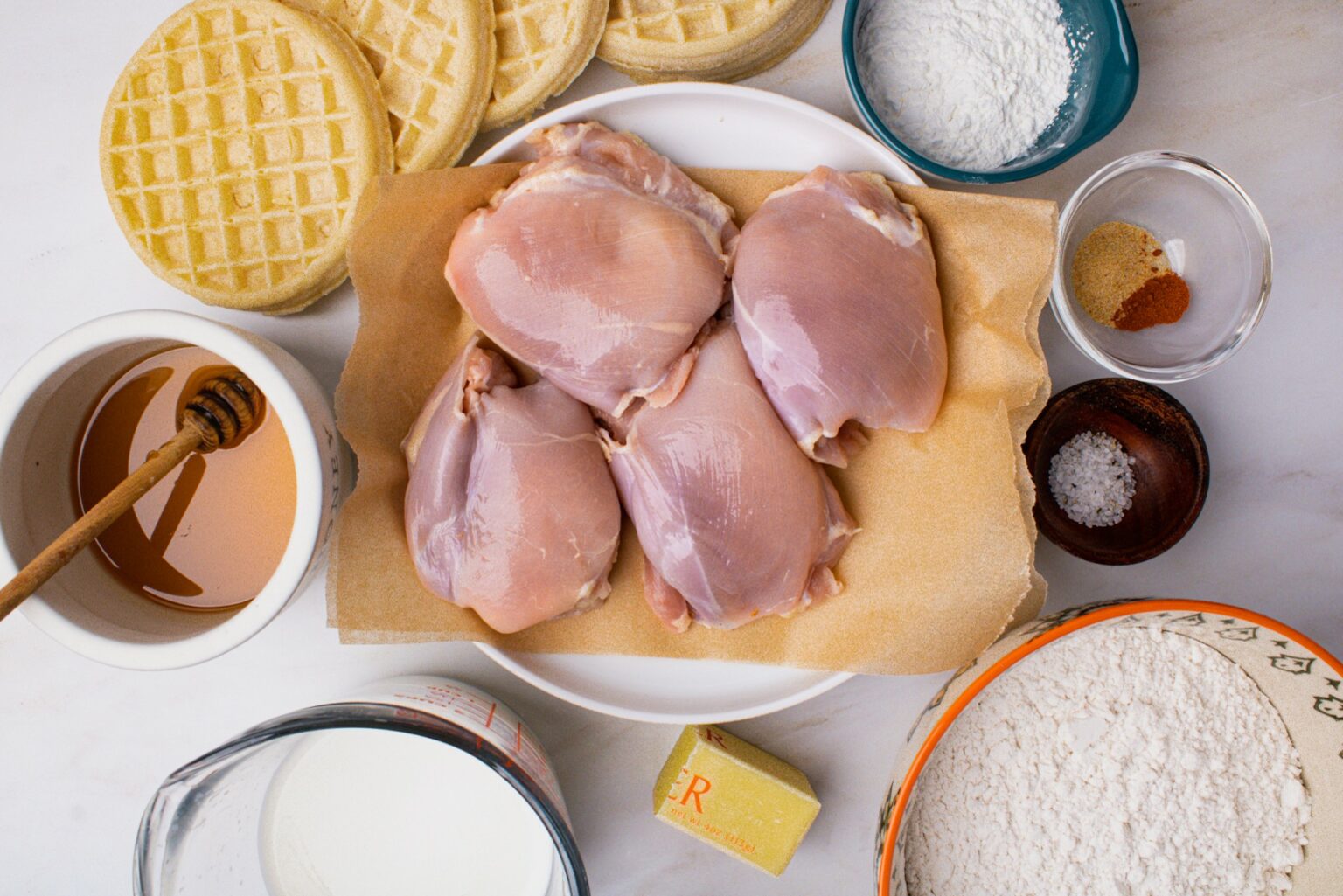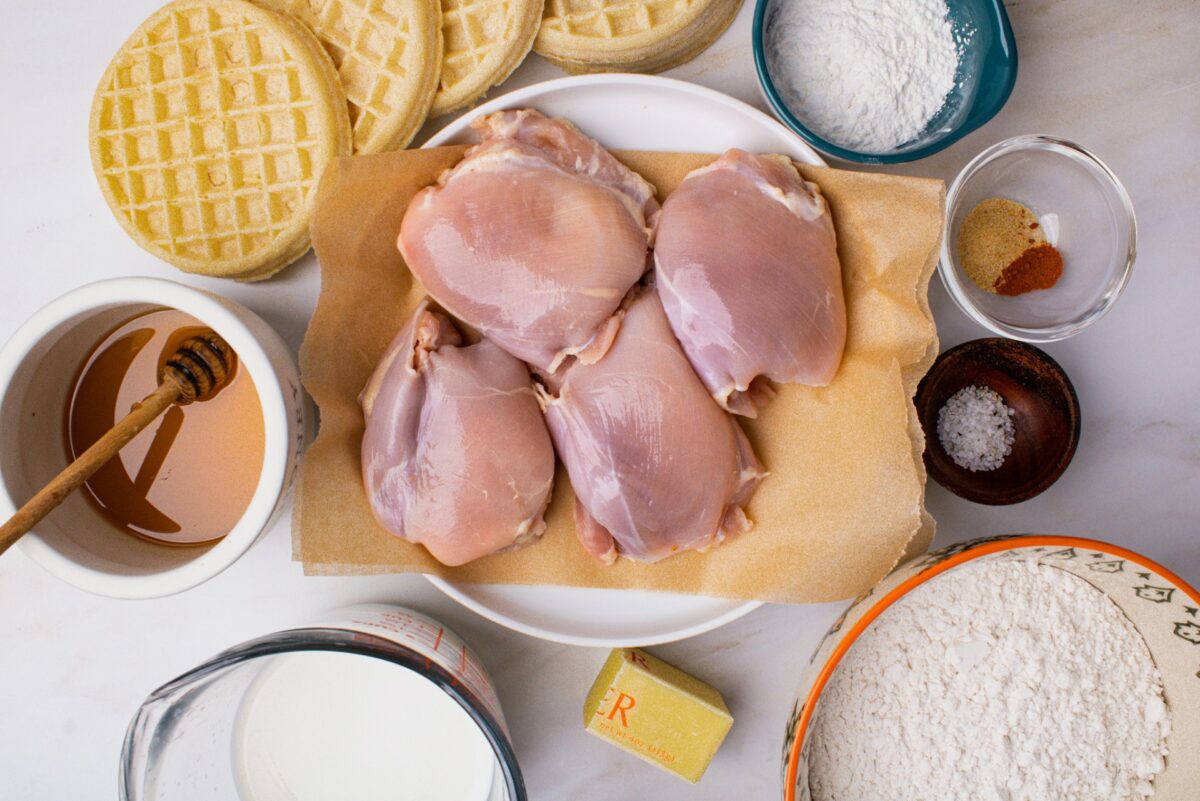 Ingredients:
Chicken thighs
Buttermilk
Honey
Garlic powder
Cayenne pepper
Onion powder
Salt
Black pepper
Flour
Cornstarch
Frozen Waffles – or made from scratch.
Last but not least: the hot honey sauce. It is a delicious sweet and spicy combination made with very few ingredients. Some stores also have great hot honey options that you can buy. Here is what you will need to make it:
Homemade Honey Hot Sauce Ingredients:
Honey
Chili powder
Butter – room temperature.
Salt
How to Make a Chicken & Waffle Sandwich
This recipe is easy, even though it requires a few extra steps. I usually start with the chicken, and while it is resting in the buttermilk, I make the waffles. The hot honey sauce comes together in just a few minutes, so I leave it for last.
Start by making the buttermilk brine. Combine the buttermilk, garlic powder, onion powder, salt and pepper in a bowl.
Place the chicken in a shallow bowl and pour the buttermilk mixture over it. Cover the bowl with plastic wrap and refrigerate for at least two hours. Don't skip this step – letting it rest for two hours really makes for a wonderful flavor and texture!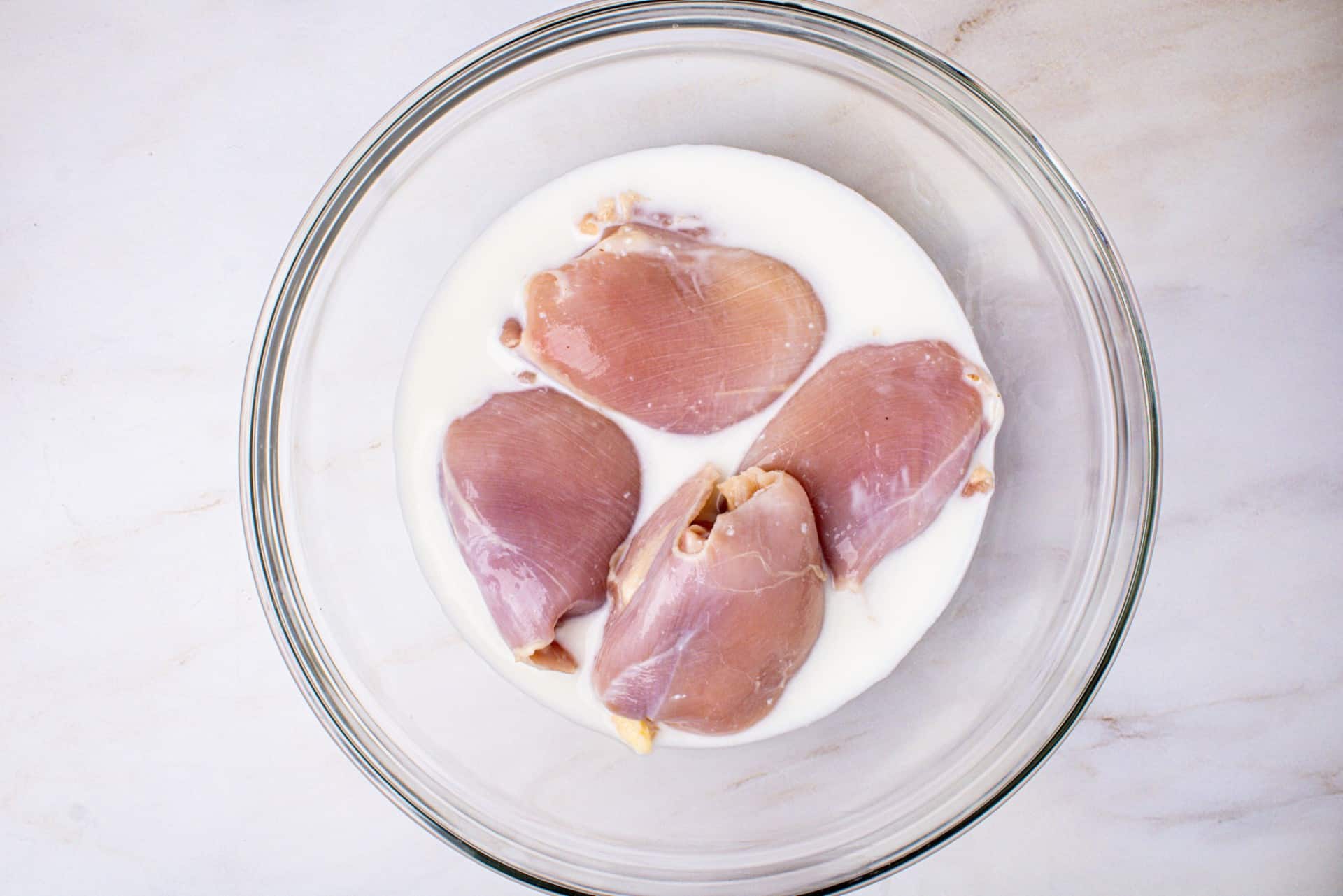 Heat a frying pan with vegetable oil until hot, but not smoking. You can test it by dripping a pinch of flour in the hot oil. It is ready if the flour starts sizzling.
In a large, shallow bowl or plate (you're going to add the chicken here), combine the flour, cayenne pepper, salt, pepper, and cornstarch. Mix to combine.
Remove the chicken from the buttermilk mixture and toss it in the flour mix, turning to coat evenly.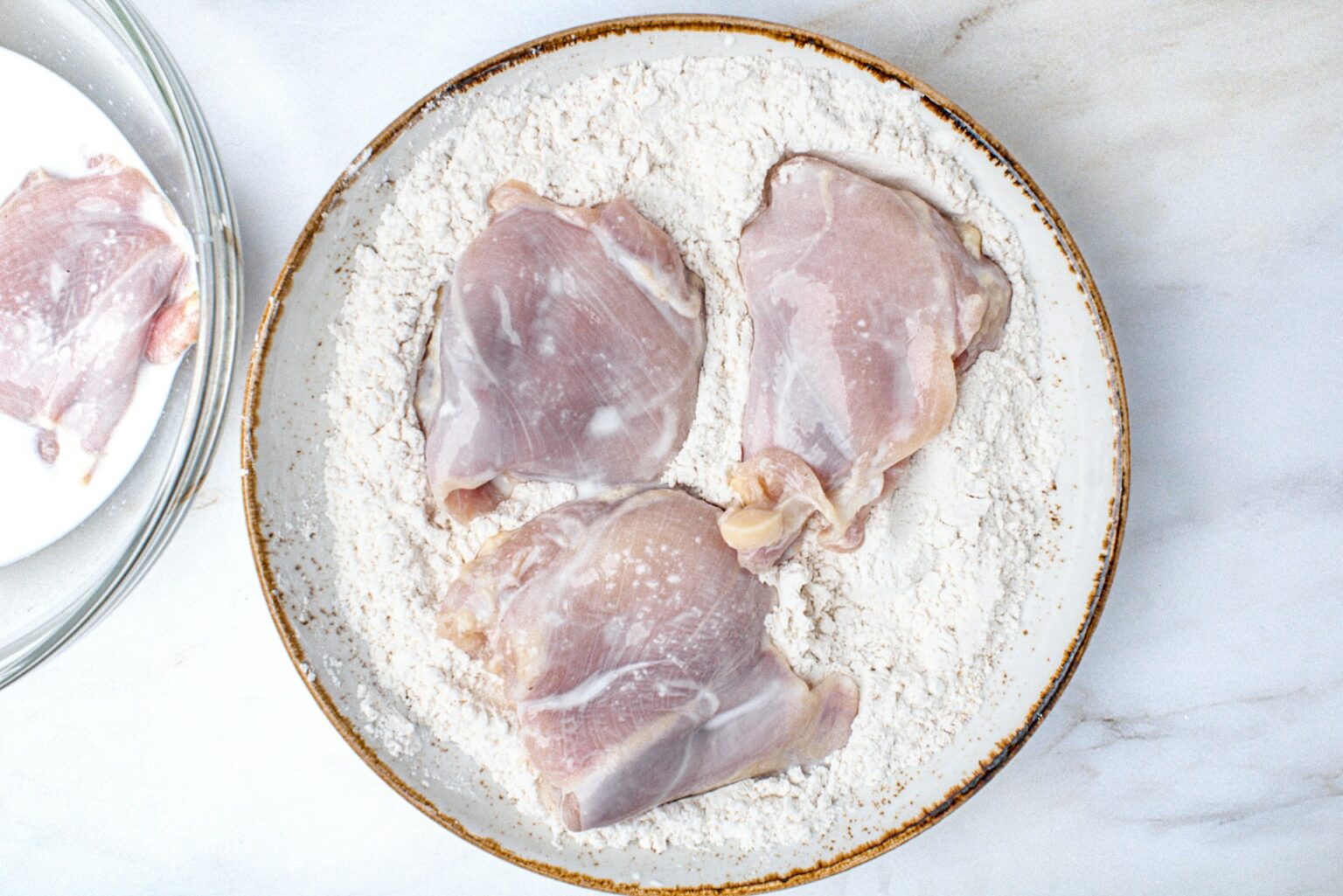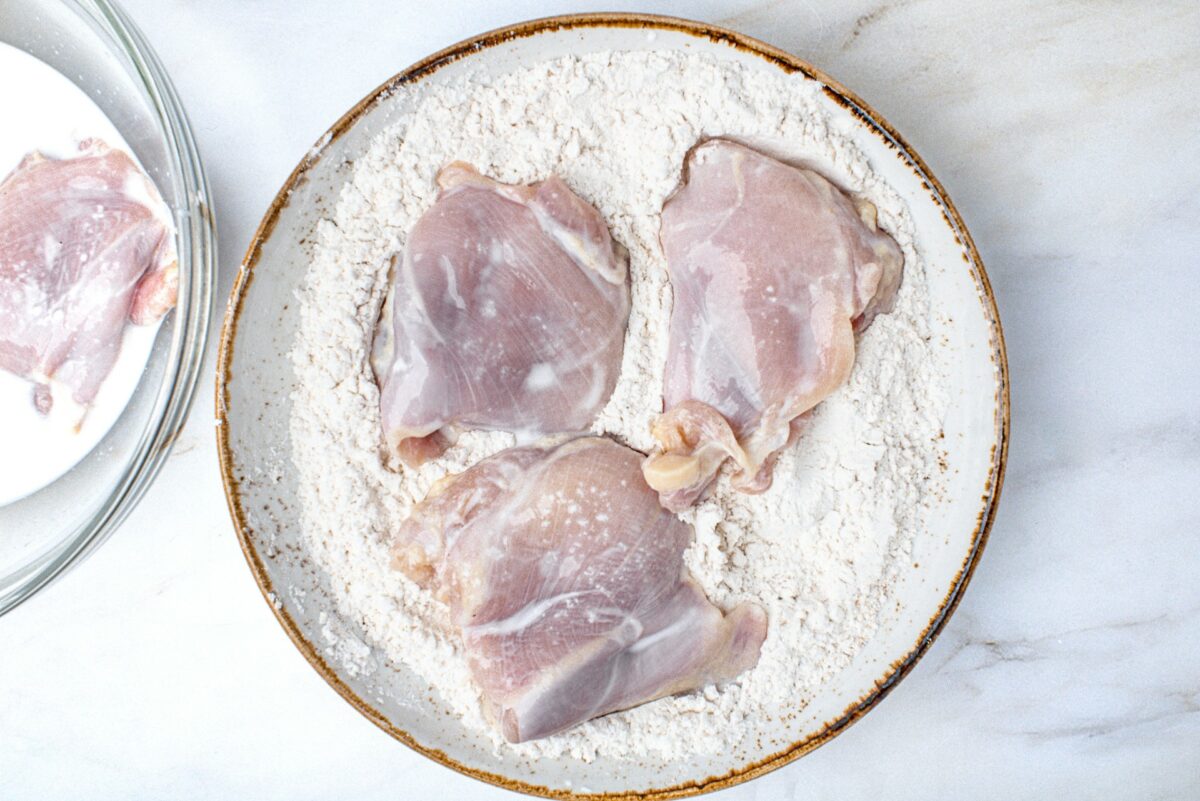 Then dip the chicken in the buttermilk again, and one more time in the flour mix for a second coating.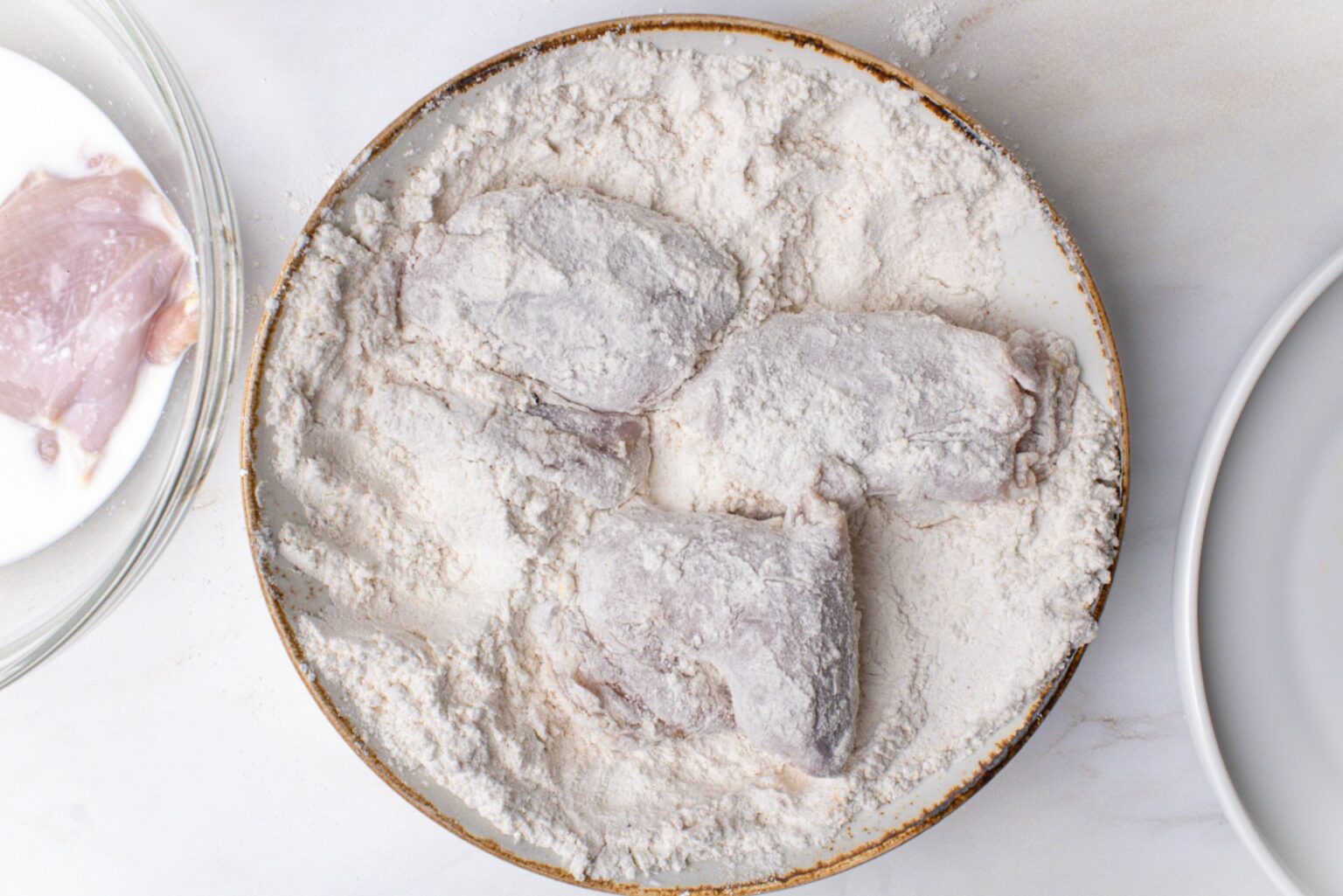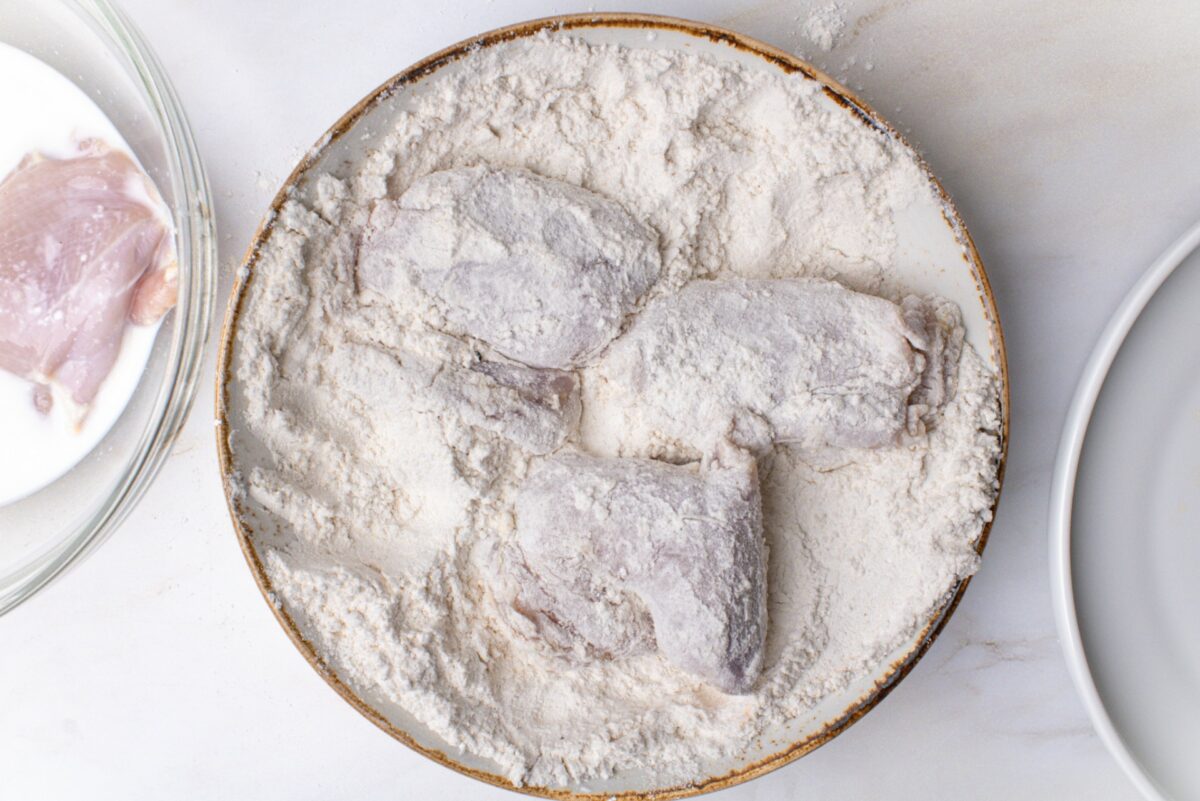 Transfer the chicken straight to the pan and cook on both sides until a thermometer inserted in the chicken breast reads at least 165F.
To make the hot honey sauce, combine the honey, butter, salt, and chili powder in a small saucepan and heat until the butter melts. Stir to combine. Lower the heat and keep warm until you're ready to serve.
Make the waffles according to the package directions. If you are making waffles from scratch, keep them warm until ready to assemble the sandwich.
To assemble the sandwich, place the chicken on top of a waffle. You may have to cut the waffle in half if they are too big. Drizzle the hot honey sauce over the chicken and top with the remaining waffle (or other half of the waffle, if you cut it in half).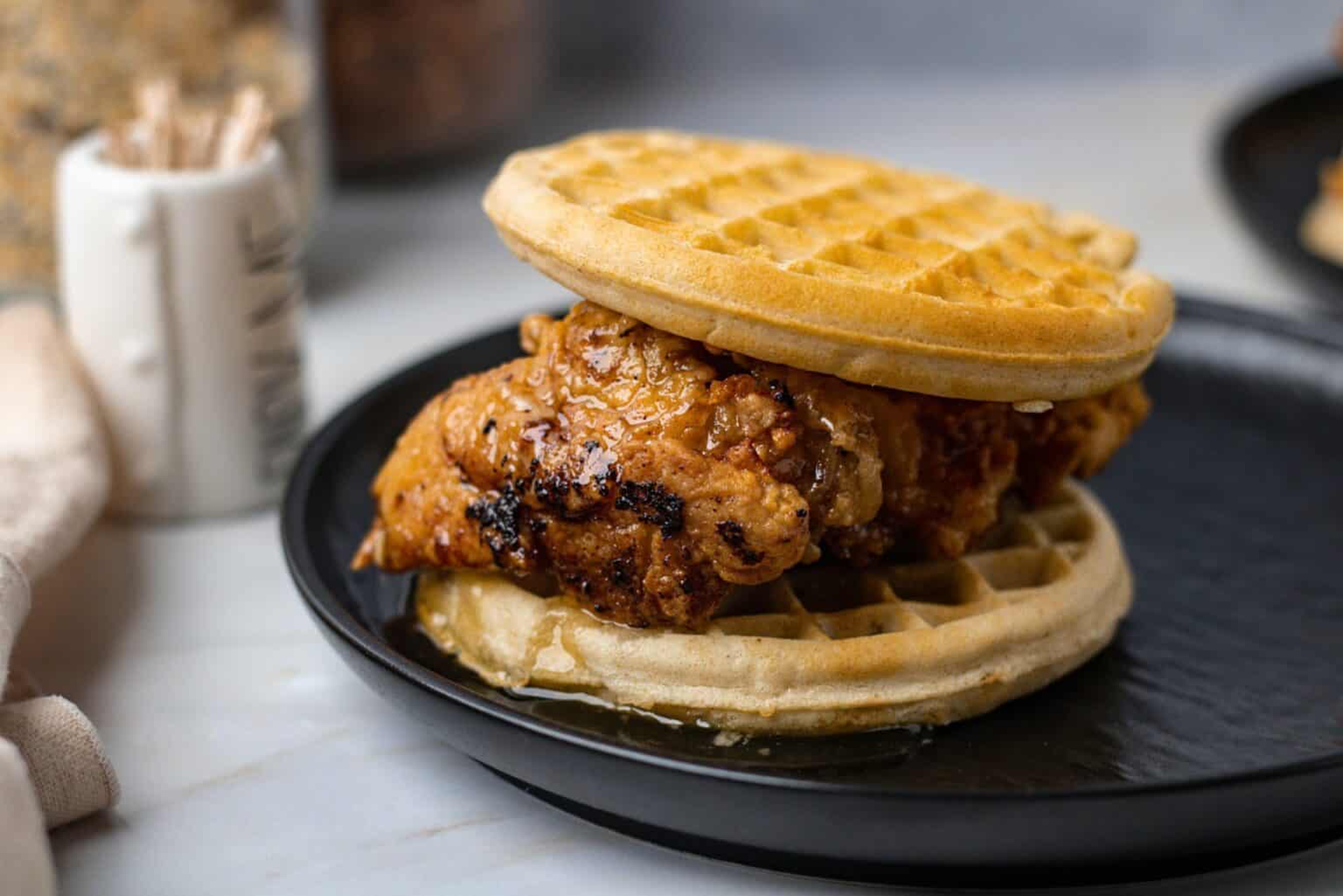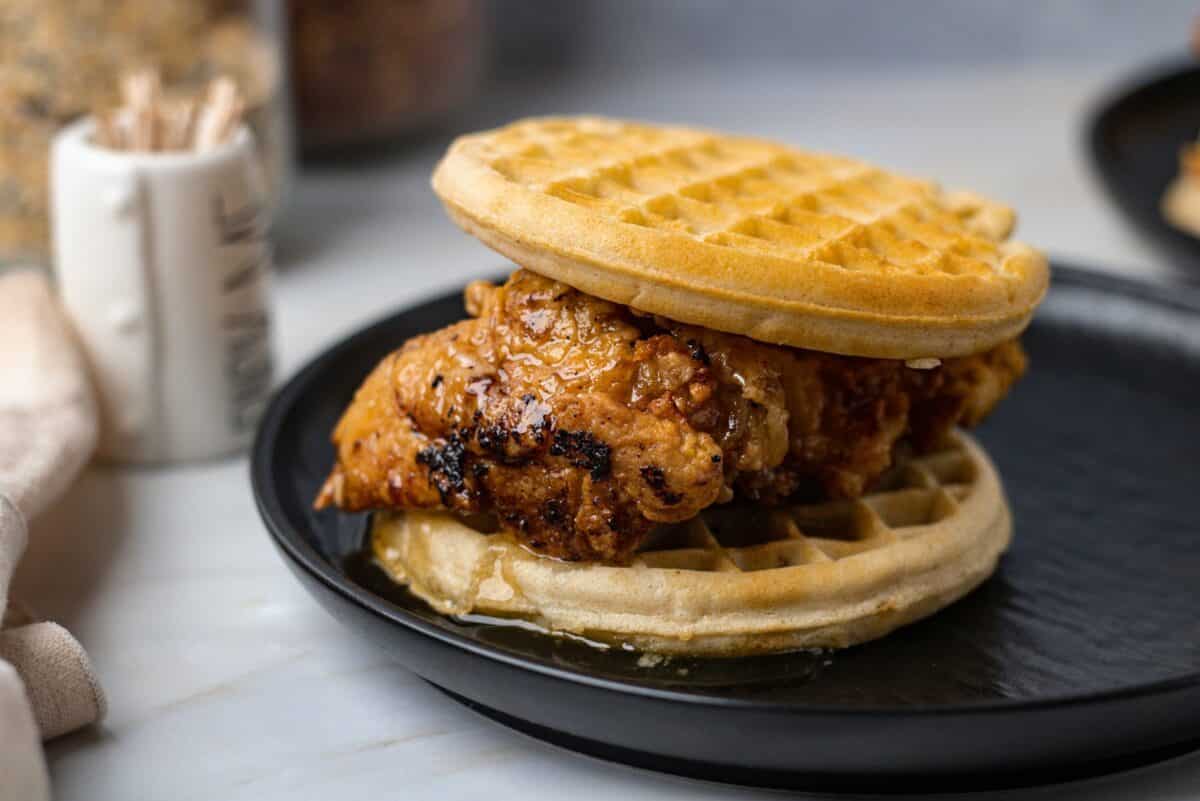 What goes with a chicken and waffle sandwich?
I love to eat this chicken and waffle sandwich for breakfast, so I usually serve it with eggs and crispy potatoes on the side. A fruit bowl is also a great option. For brunch, this sandwich pairs well with a cocktail like a mimosa or Bloody Mary.
What kind of skillet should I use to fry the chicken?
I recommend using a deeper, non-stick pan to avoid splashes, but a regular cast iron skillet will work as well.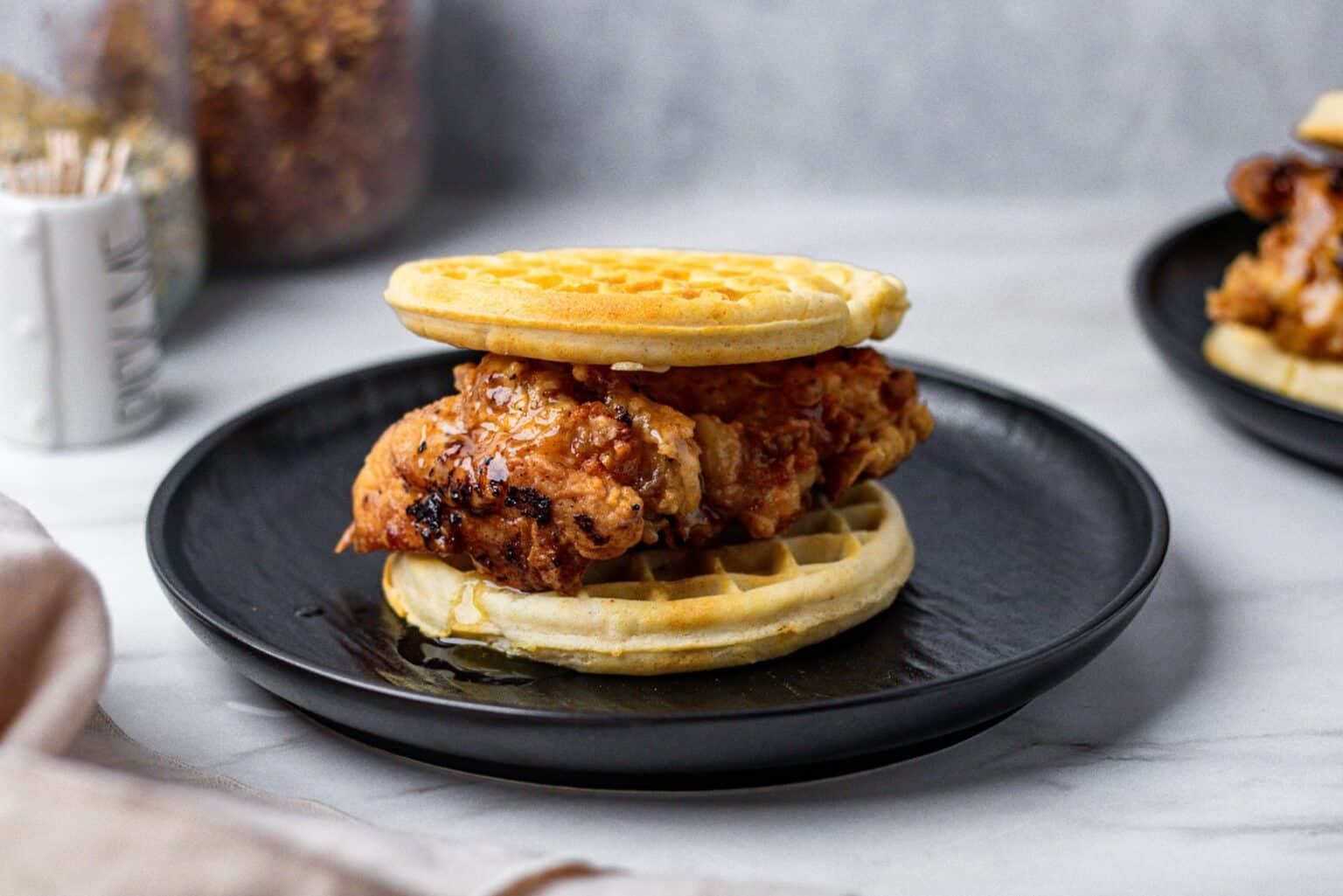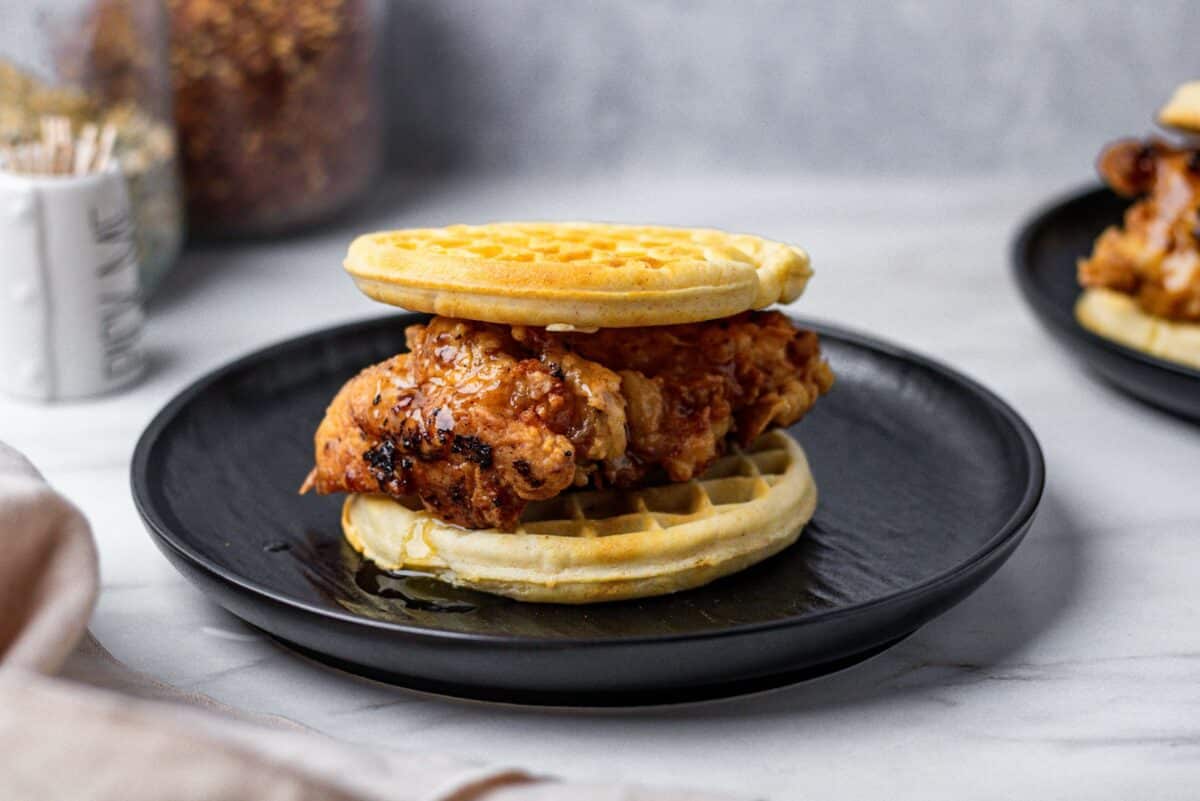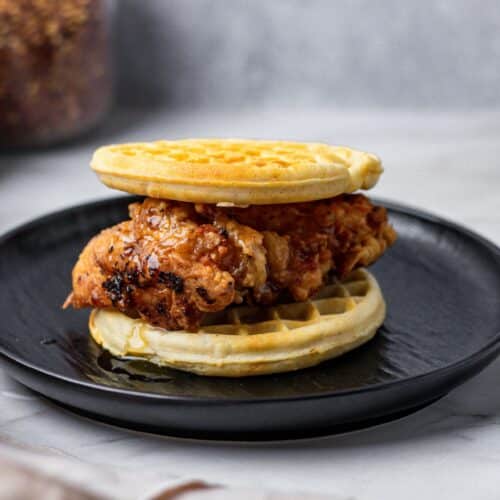 Chicken and Waffle Sandwich
This chicken and waffle sandwich is a sweet and spicy explosion of flavors. Spicy honey is drizzled over homemade fried chicken and sandwiched between waffles.
Ingredients
Fried chicken
6 to 8

chicken thighs

2

cups

buttermilk

1

tsp

salt

2

tsp

garlic powder

2

tsp

onion powder

4

cups

all-purpose flour

¼

cup

cornstarch

1

tsp

cayenne pepper
Sandwich
4

fried chicken

8

frozen waffles or homemade waffles

1

cup

hot honey
Instructions
Place the chicken breast in a bowl and pour over the buttermilk. Cover and refrigerate for 2 hours.

In a separate bowl, combine the flour, corn starch, salt, and cayenne pepper.

When ready to make the fried chicken, roll the chicken breast in the flour mixture. Place the chicken back in the buttermilk and roll again in the flour mix.

Heat vegetable oil in a frying pan. Test the oil when dropping a pinch of the flour mix. When it starts bubbling, it is hot enough for the chicken.

Cook the chicken on both sides until the thermometer shows 165F. Remove from the pan and set aside.

Make the waffles according to the package directions.

Place the chicken on top of one of the waffles and drizzle with the hot honey. Top with the other waffle to close the sandwich.
Nutrition
Here are a few other recipes you might enjoy!
Hristina Polk focuses on Mediterranean fusion meals inspired by her Eastern European culture and the places she has traveled.