Easy enough to make any day of the week, this avocado cream cheese toast has the creamiest, softest texture with just a tiny bit of crunch. It tastes almost too good to be true!
A toasty slice of bread is covered in whipped cream cheese and slices of soft avocado and topped with just a few black sesame seeds. It's an absolutely delicious and filling meal to start the day.
With layers of cream cheese and avocado, this toast can be a meal all on its own.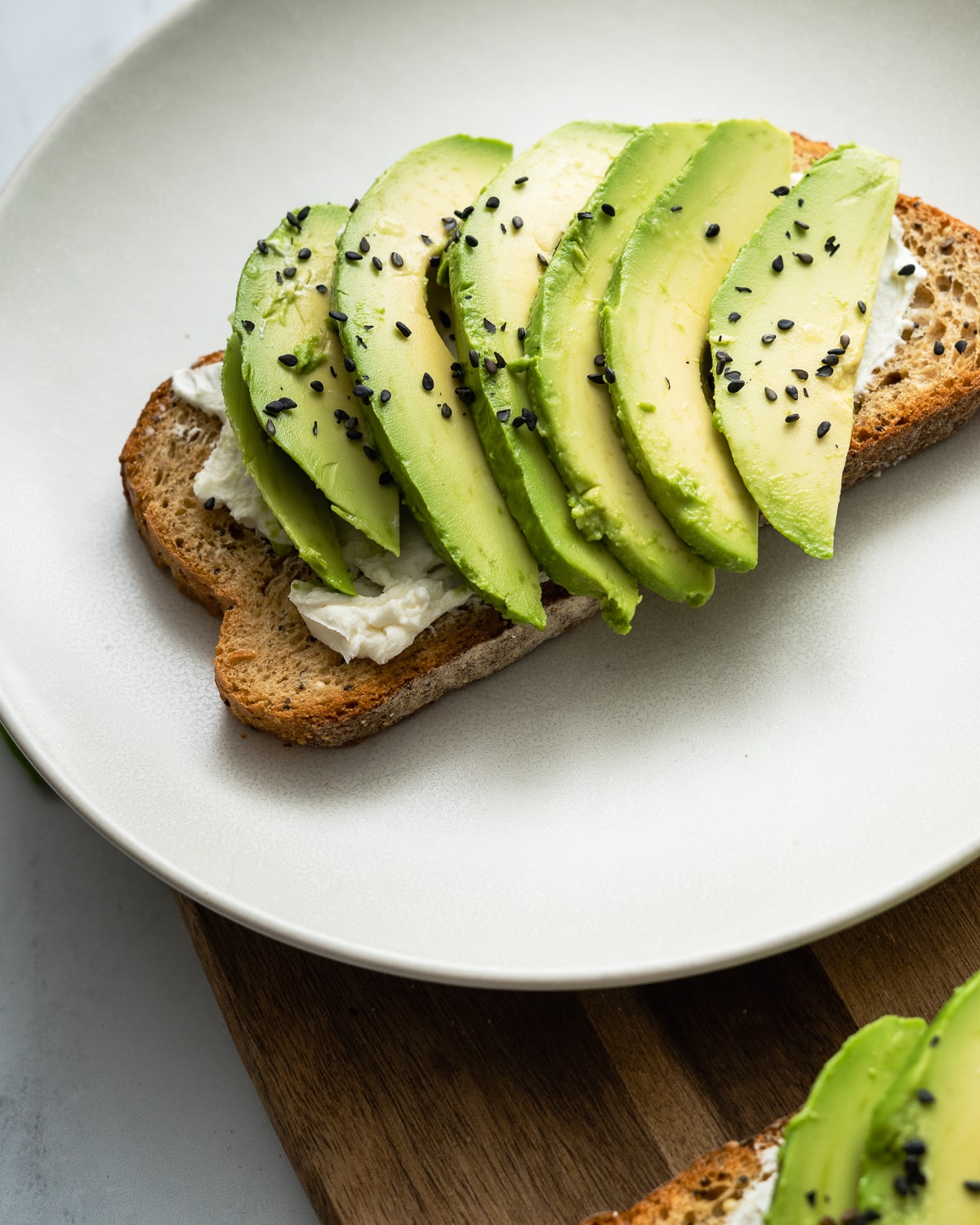 Love a good toast? Here are other recipes you might enjoy: Avocado Toast With Balsamic Glaze, Pumpkin Toast, Cottage Cheese Toast, Chili Cheese Toast, and Blueberry Toast.
Why You'll Love This Recipe
Rich and healthy: The avocado cream cheese toast combines the rich cream cheese and healthy fats from avocados. It is not just a delicious breakfast, but also loaded with essential nutrients to kick-start your day.
Quick and easy: This is an easy recipe that needs minimal main ingredients, making it perfect for those busy mornings or when you're trying this out for the first time. All you need is a good piece of toast, some ripe avocados, cream cheese, and a few basic seasonings.
Customizable: You can easily tweak this recipe to match your preferences. Whether it's adding hot sauce for an extra kick, a sprinkle of bagel seasoning for extra flavor, or topping it with a poached egg for a more filling meal, the possibilities are endless.
Recipe Ingredients
You'll need the following ingredients to make these cream cheese avocado toasts: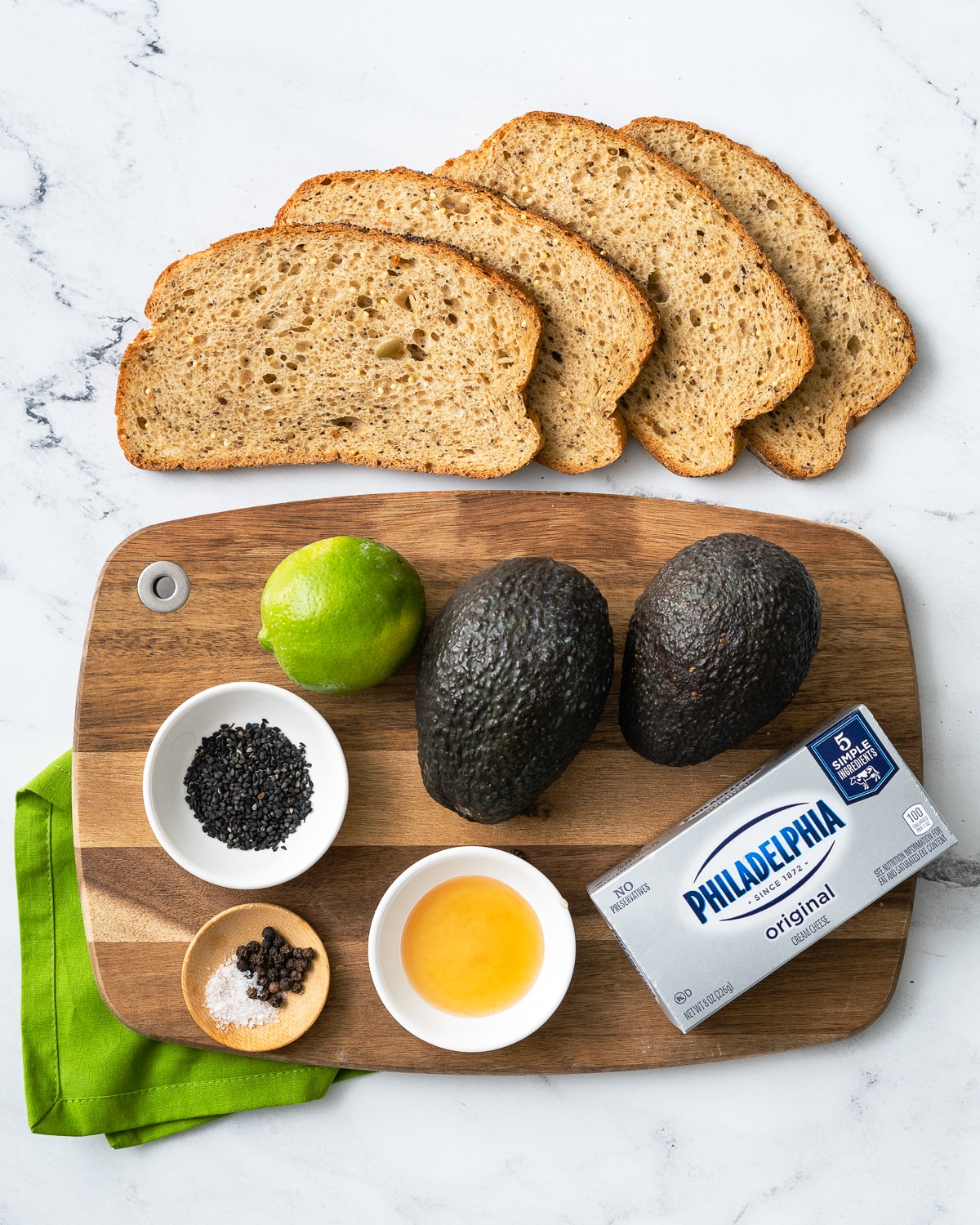 Ingredient Notes
Avocado: Ripe avocados are key for this recipe. They should have a little give when you squeeze them. You can enhance their flavor by spritzing a little lemon juice over the avocado slices.
Cream Cheese: For a unique and rich cream cheese experience, try using whipped cream cheese as the base for your toast. If it's not available, regular cream cheese or even goat cheese will also work well.
Bread: A slice of whole grain bread works best for this recipe. The earthy flavor and texture of the bread nicely complement the creamy avocado and cheese.
Black Sesame Seeds: These add a nice crunch to the toast. If you don't have them, white sesame seeds or even bagel seasoning can be used as substitutes. Red pepper flakes can also be added for a touch of heat.
How To Make Avocado Cream Cheese Toast
Slice and toast the bread: Slice the bread into 1-inch thick slices. Place in the toaster or under the broiler until lightly browned. If using the broiler, toast on the lowest heat setting and watch it closely to avoid burning it. Toast each side for 1-2 minutes.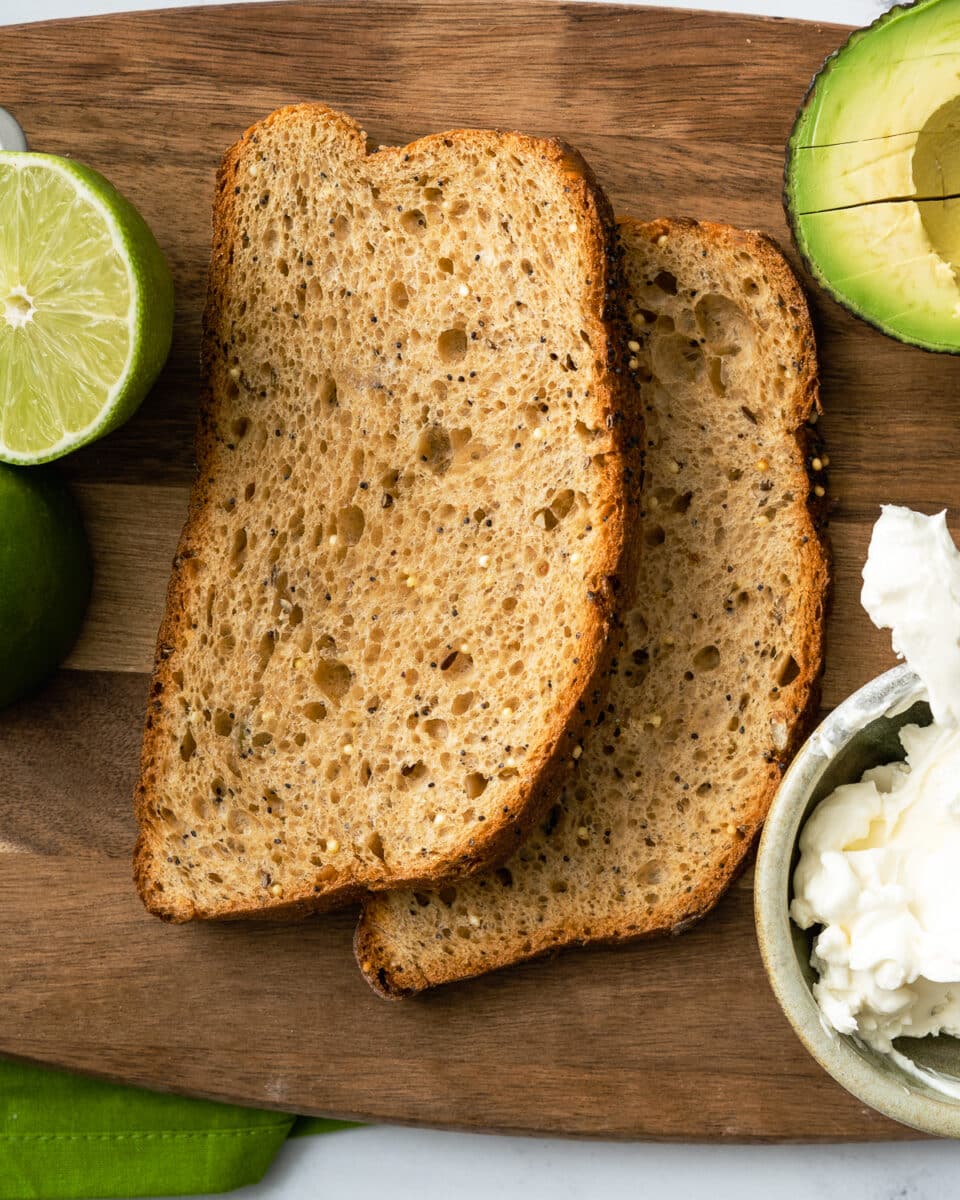 Whip the cream cheese: Allow the cream cheese to come up to room temperature. Place the cream cheese in the bowl. Add honey and lime zest and whisk until smooth and airy.
Prepare the avocado: Slice the avocado in half and remove the pit. Without cutting all the way through to the avocado skin, slice long strips ½ inch in width. Remove the strips of avocado with a spoon and spritz with lime juice.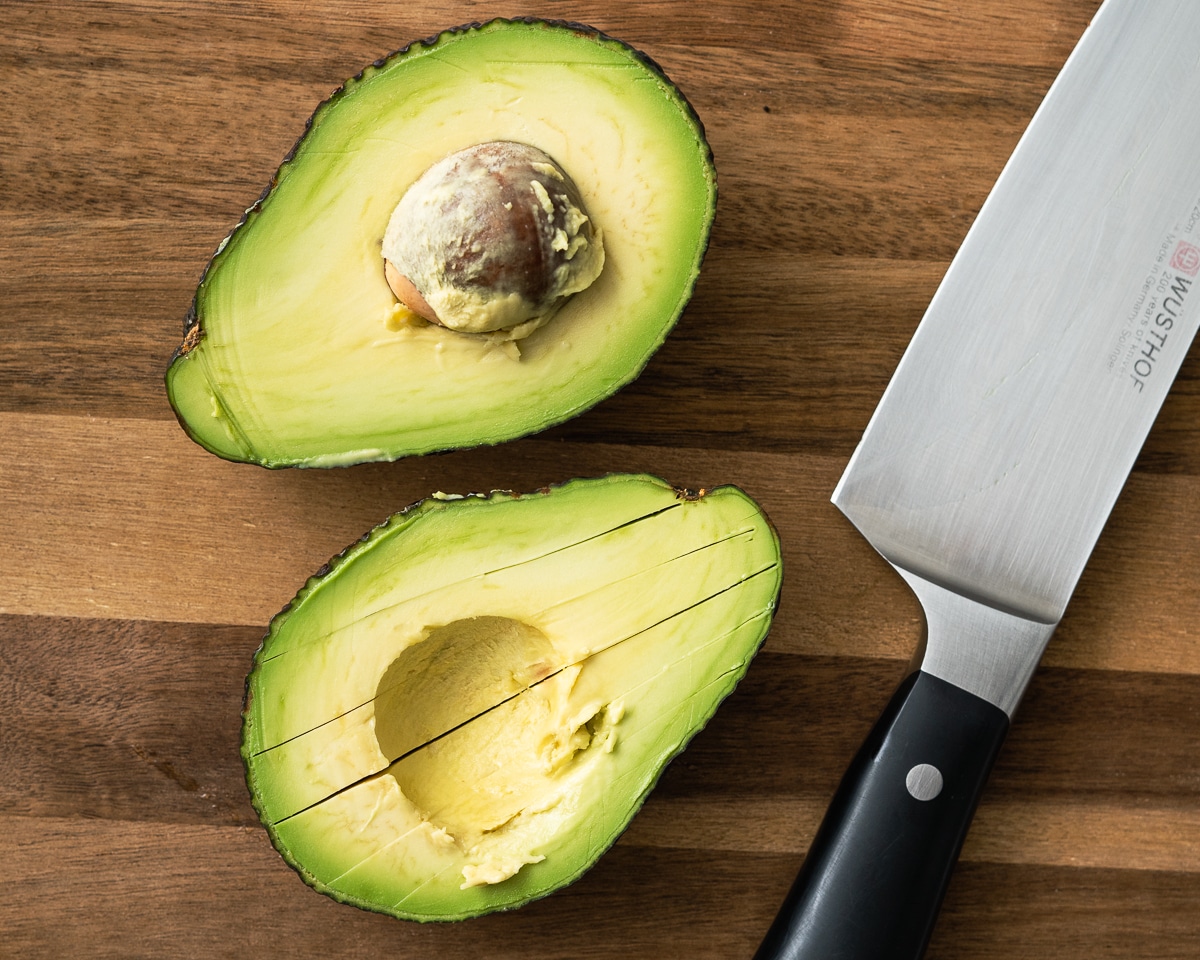 Assemble the toast: Spread a thick layer of cream cheese on each slice of toast. Top with strips of avocado and a sprinkling of seeds. Season with salt and pepper.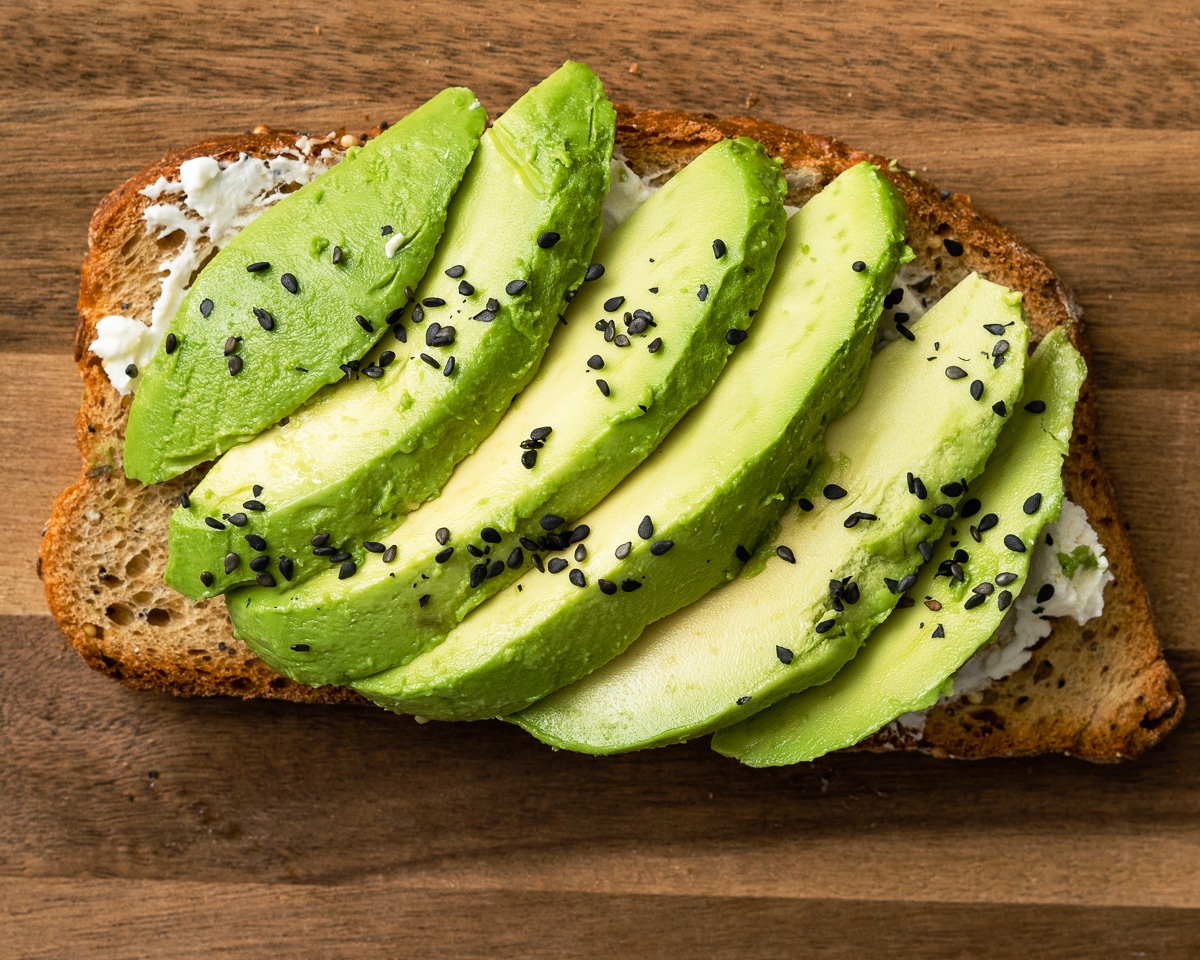 Serve: Enjoy!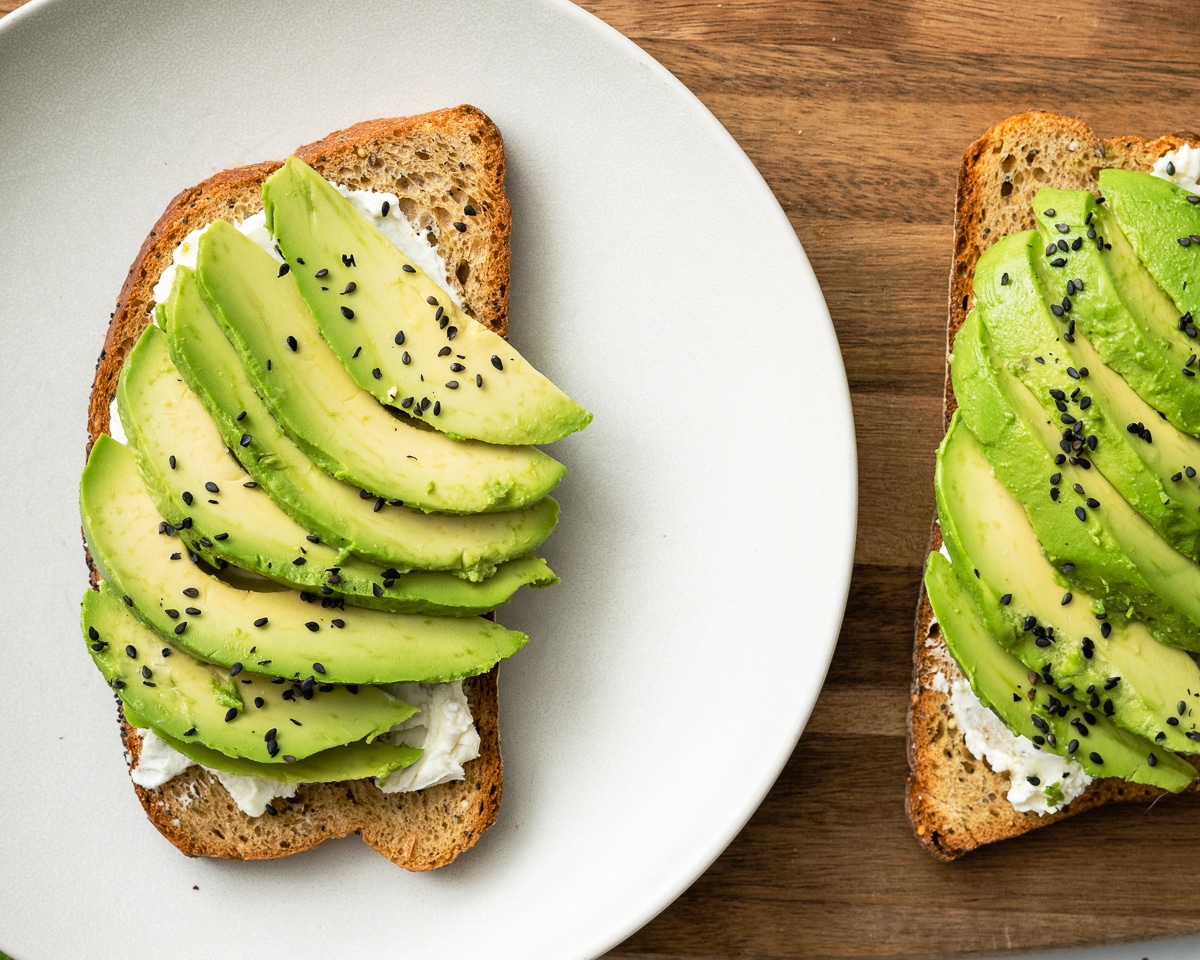 Recipe Tips
For the best texture, slice your avocado into thin slices. The easy way to do this is to halve the avocado, remove the pit, and then slice the avocado while it's still on its skin. You can then use a spoon to scoop out the perfect slices.
If you don't have a toaster, you can toast your bread slices in a frying pan until they are golden brown. This will give your toast a nice, crispy texture.
The cream cheese can be easily spread if it is brought to room temperature. If you want an extra flavor, mix in a squeeze of lemon juice or sprinkle some black pepper into the cream cheese.
Storage & Reheating
This avocado cream cheese toast is best eaten fresh. However, if you have leftover whipped cream cheese, you can store it in an airtight container in the refrigerator for up to 1 week. For reheating the toast, you can pop it in a toaster oven or under the broiler for a few minutes until warmed through.
Additions & Substitutions
Adding a fried egg on top makes for a more filling meal. You could also add some crispy bacon or smoked salmon for extra protein.
You can add some fresh veggies like cherry tomatoes, slice cucumber, or red onion for an extra crunch. Or, for a warm contrast, add some roasted sweet potatoes. Bagel seasoning, red pepper flakes, or even a drizzle of hot sauce can be used for extra flavor.
If you're not a fan of cream cheese, you can substitute it with goat cheese or cheddar cheese. They both pair well with avocados.
Recipe FAQs
What should I serve with this cream cheese avocado toast recipe?
This avocado cream cheese toast is delicious on its own, but it can also be served with a side of fresh fruits like slices of melon, or a simple salad. For a delicious contrast of textures, try it with a side of crispy tortilla chips. It pairs wonderfully with a cup of white tea or coffee for breakfast or brunch.
Can I make this ahead of time?
You can whip the cream cheese up to several days in advance. For the best texture, give it a little whip before you use it. The full toast is best assembled right before you plan to eat it.
Can I omit the honey and lime?
If you prefer, you do not have to use honey and lime. These flavors subtly add sweetness to the tangy cream cheese and help the avocados from browning. For those reasons, I would try the recipe as-is first before nixing those ingredients.
What kind of honey should I use?
Whatever you have on hand! I'm a big proponent of using the ingredients you have. If you have a choice, go for the lightest, neutral-flavored honey you can find. You aren't adding much to the taste but a bright hint of sweetness.
I am having a hard time whipping the cream cheese. What can I do?
If your cream cheese is at room temperature but it is still hard to whip, try adding a tablespoon of milk or half and half. It should loosen up with that extra bit of liquid.
---
Here are a few other avocado toast recipes you might enjoy!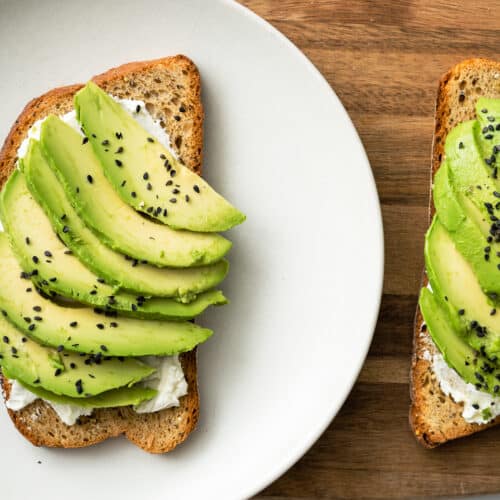 Avocado Cream Cheese Toast
A quick recipe that you make any day of the week, this avocado cream cheese toast has the creamy texture and delicious interplay of sweet and salty flavors you need to start the day. Sprinkled with black sesame seeds, avocado and whipped cream cheese sit on top of a toasty slice of bread. Pretty to look at and delicious to eat, this is the meal to make for yourself when you want to start the day on the right foot.
Ingredients
2

avocados

1

tbsp

of light honey

1

lime

4

slices

of crusty bread

8

oz

of cream cheese

1-2

tbsp

black sesame seeds
Instructions
Take out the cream cheese and allow it to come to room temperature

Place the cream cheese in a bowl. Add 1 teaspoon of lime zest and 1 tablespoon of honey.

Whip with a whisk until light and fluffy.

Slice 2 avocados in half and then into thin strips.

Slice 4 slices of bread

Toast in a toaster or broiler until lightly toasted.

Spread 1-2 tablespoons of cream cheese on the bread.

Top with ½ an avocado.

Sprinkle with a squeeze of lime juice.

Top with black sesame seeds.

Repeat with the remaining slices of bread.

Enjoy!
Notes
Let your cream cheese come to room temperature before using it. You'll be making whipped cream cheese, which is extremely simple to make, and is even easier if the cream cheese is softer first.
This recipe will make more than you need for these servings, so I recommend storing it in a sealed container in the fridge for quick bagel breakfasts later in the week.
You want to use ripe avocados that have some give when you squeeze them. Hard avocados will be crunchy and unappealing to eat, so place them in a brown paper bag on the countertop for a few days to speed up the process if they are too hard.
You can substitute the black sesame seeds for white sesame seeds, pepitas, or even sunflower seeds. I also like to use a more rustic, seedy bread for this dish, but you can use whatever bread you prefer or have on hand.
Nutrition
Calories:
419
kcal
Carbohydrates:
26.05
g
Protein:
8.48
g
Fat:
33.46
g
Saturated Fat:
12.766
g
Fiber:
7.7
g
Sugar:
8.29
g
Arielle is a food and drink photographer based in Washington, D.C. She was previously a social science researcher before she fell in love with photography.