If you're having trouble deciding what to make for brunch that will satisfy everyone, these hashbrown avocado toasts have you covered.
Blending all the crunchy, potato goodness of hashbrowns with the most important elements of avocado toast, these little bites are perfect for a brunch party when you want to make something impressive for a group.
Hashbrown patties are topped with delicious avocado, sour cream, and pea shoots. These are simple and delicious.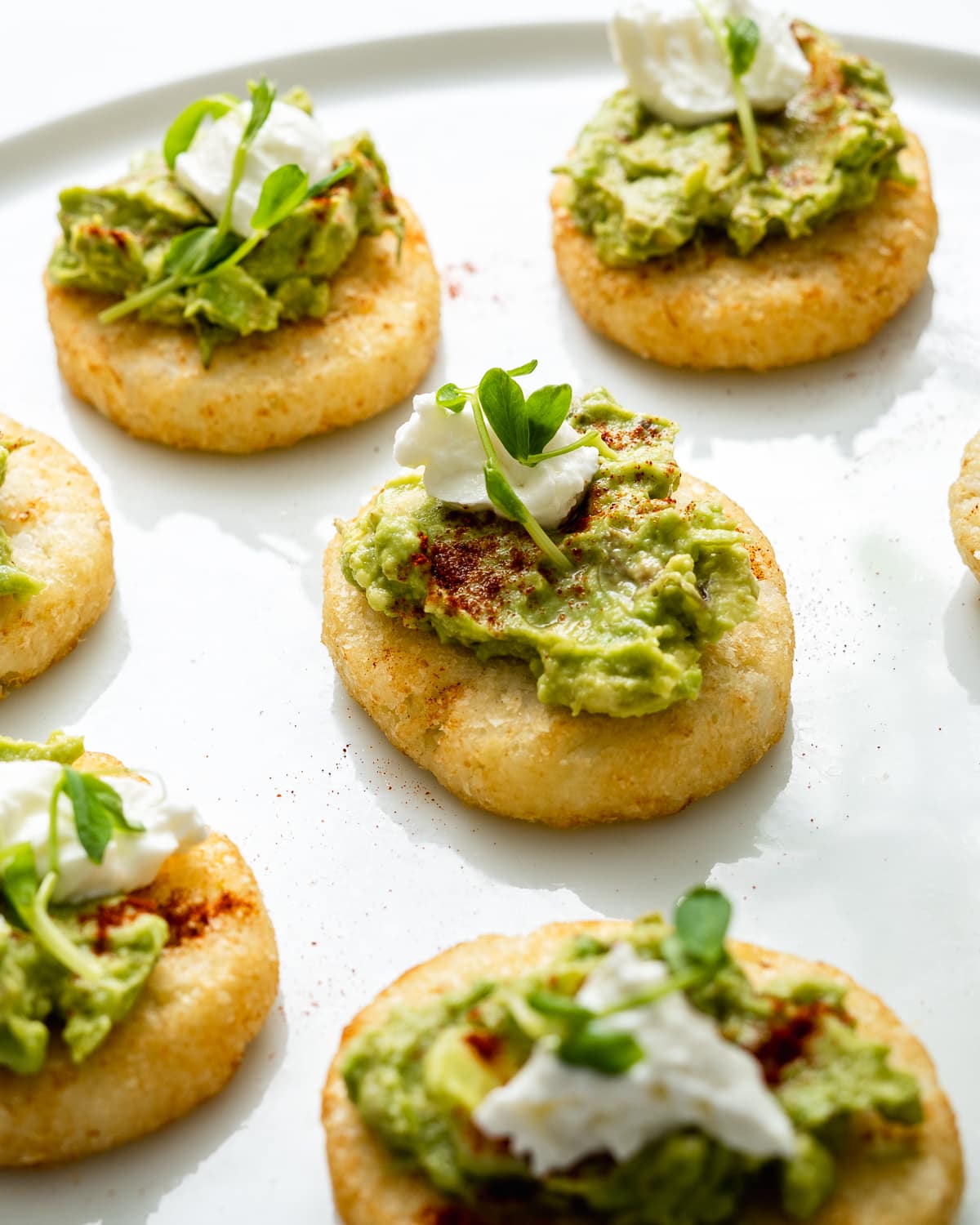 Looking for more toast recipes? Here are other recipes you might enjoy: Bagel French Toast, Pumpkin Toast, Shrimp Avocado Toast, and Avocado Toast with Honey.
Why You'll Love This Recipe
Ultimate fusion: This recipe creatively combines the crispy deliciousness of hash brown patties and the healthy creaminess of ripe avocados. It's a unique twist on traditional avocado toast, adding a delightful crunchy element with the hash browns.
Quick and simple: Preparing these hash brown avocado toasts only requires a few simple steps. From mashing the avocado to baking the hash brown patties, it's an easy egg-free breakfast dish you can whip up in no time.
Versatile and adaptable: This recipe is incredibly versatile. You can spice it up with red pepper flakes, make it extra cheesy with some parmesan or goat cheese, or even add a runny yolk by topping with a poached or sunny-side-up egg for a heartier meal.
Recipe Ingredients
You'll need the following ingredients to make this avocado toast with hashbrowns: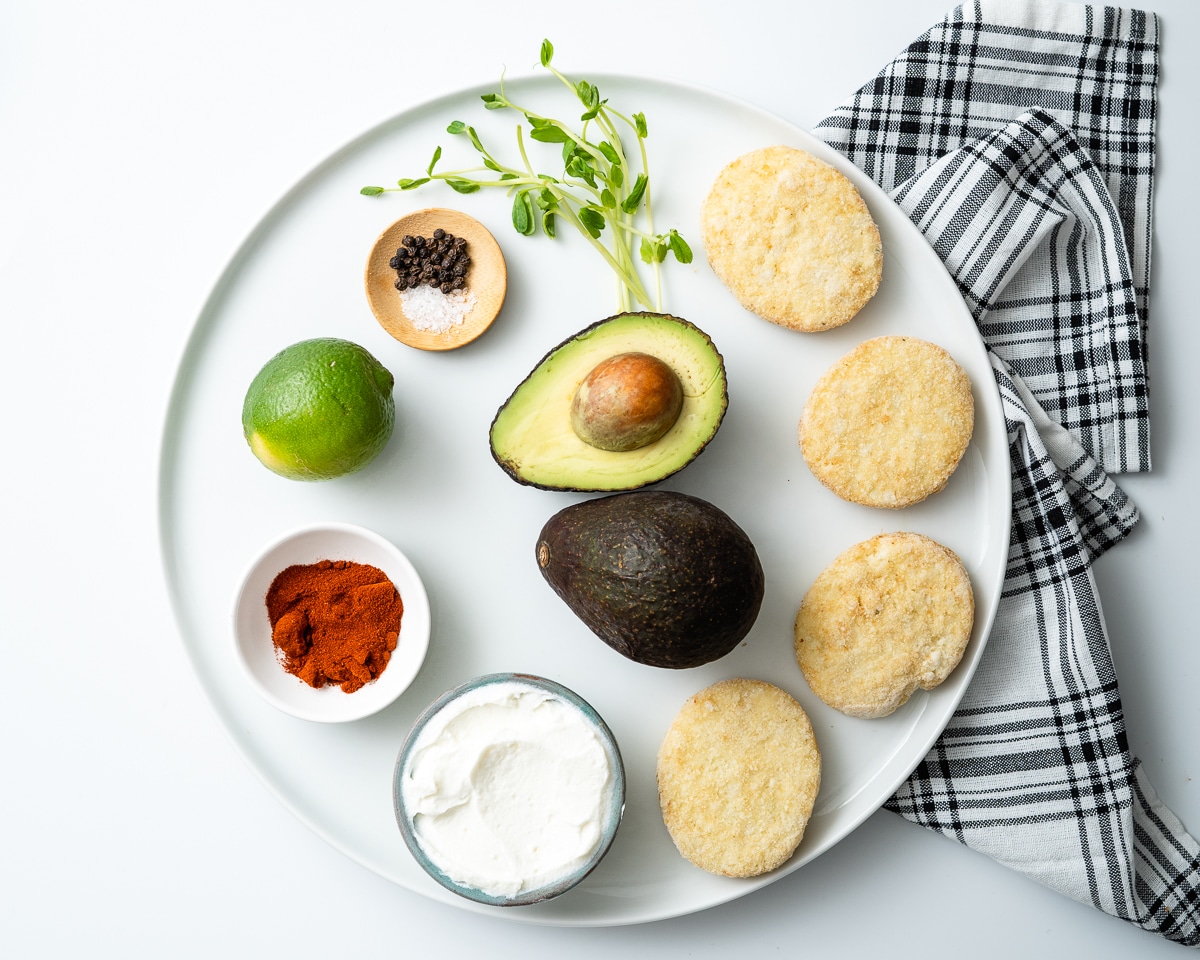 Ingredient Notes
Hashbrown Patties: You can either use homemade or frozen hash brown patties. Just avoid using regular hashbrowns since they won't hold up well for this recipe. For a healthier twist, try using air fryer hash browns to reduce the excess oil.
Avocados: The creamier the avocado, the better. If your avocados are too firm, place them in a paper bag for a couple of days to ripen. You could also use avocado slices or avocado mash, depending on your preference.
Pea Shoots: These can be replaced with any other savory topping of your choice. You can go for sprouts, sesame seeds, or even some hot sauce for a kick.
Seasonings: The combination of salt, pepper, and sweet paprika works great, but feel free to experiment. Bagel seasoning, garlic powder, or even a sprinkle of flaky sea salt would also be delicious.
How To Make Hashbrown Avocado Toast
Bake the hashbrown patties: If using frozen, follow the directions on the packaging. I put my patties in an oven heated to 350ºF for 20 minutes. Remove the hashbrown patties when golden brown.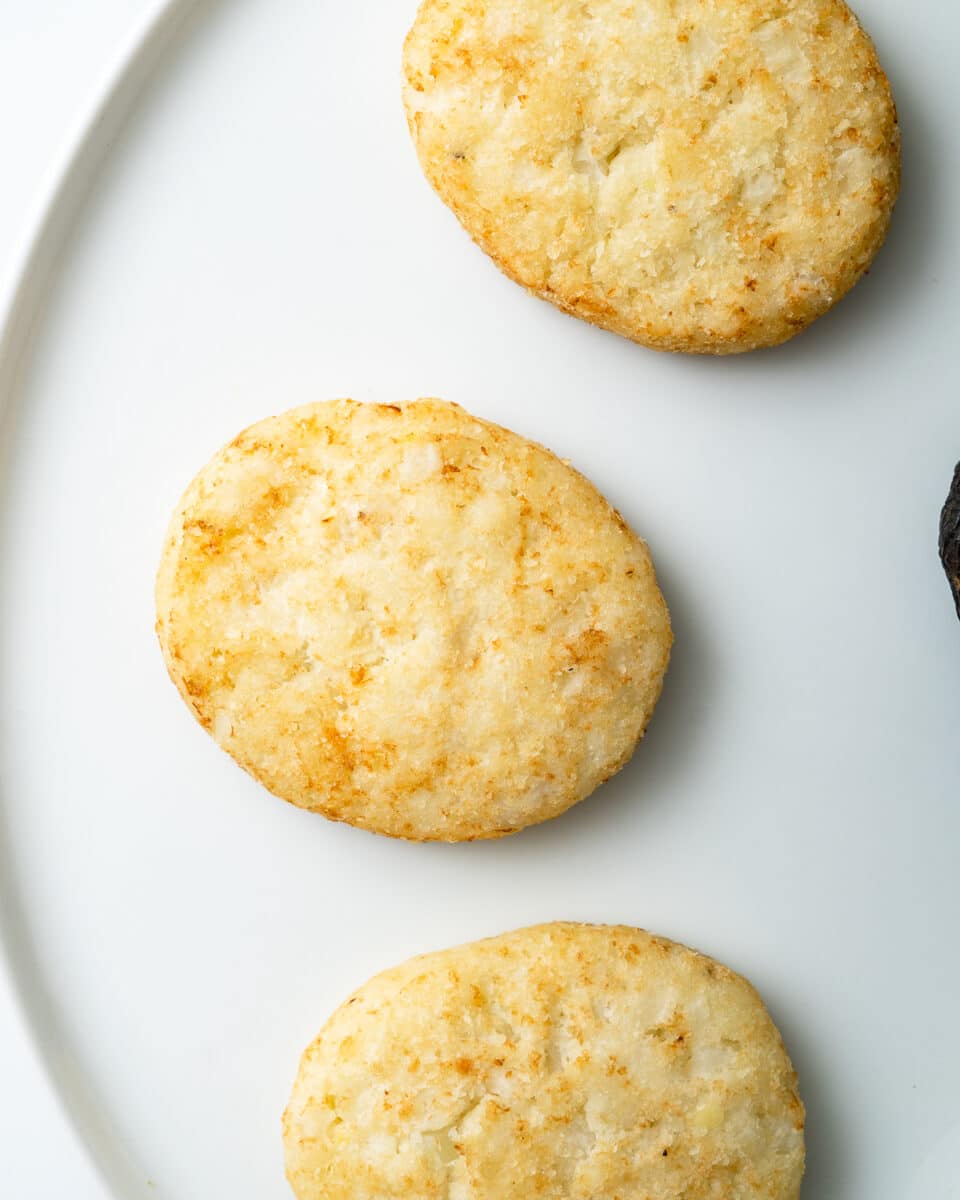 Mash the avocado: While the patties are cooking, half two avocados and scoop out the flesh with a spoon. Put them in a bowl and mash them with a fork.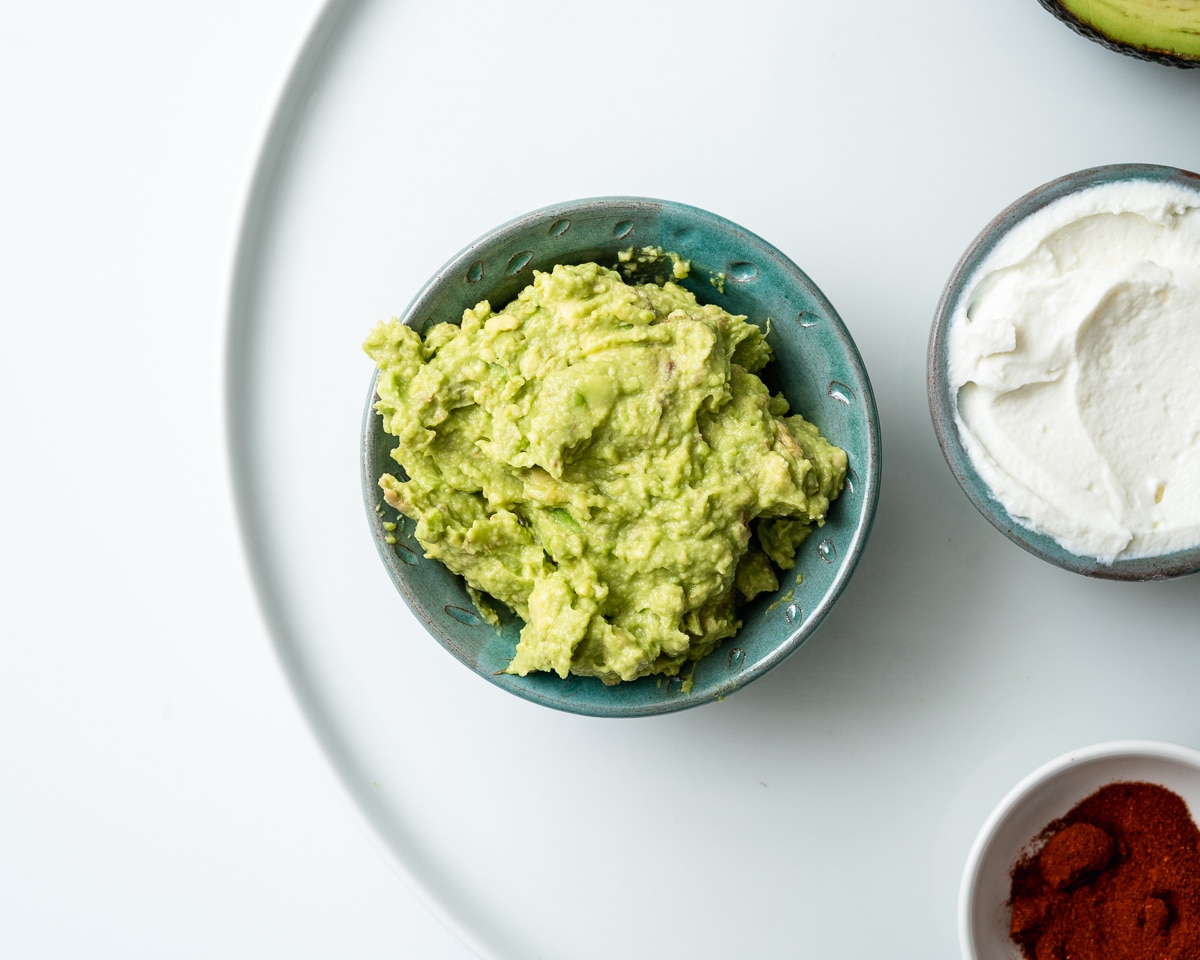 Assemble the patties: Once the hash browns have finished cooking, remove them from the oven and allow them to slightly cool.
Then add a scoop of avocado to the hashbrown patty and sprinkle with a generous amount of salt, pepper, and paprika. Add a dollop of sour cream and finish with a little handful of pea shoots.
Repeat with the other hashbrown patties. Last, add a squeeze of lime for a pop of flavor.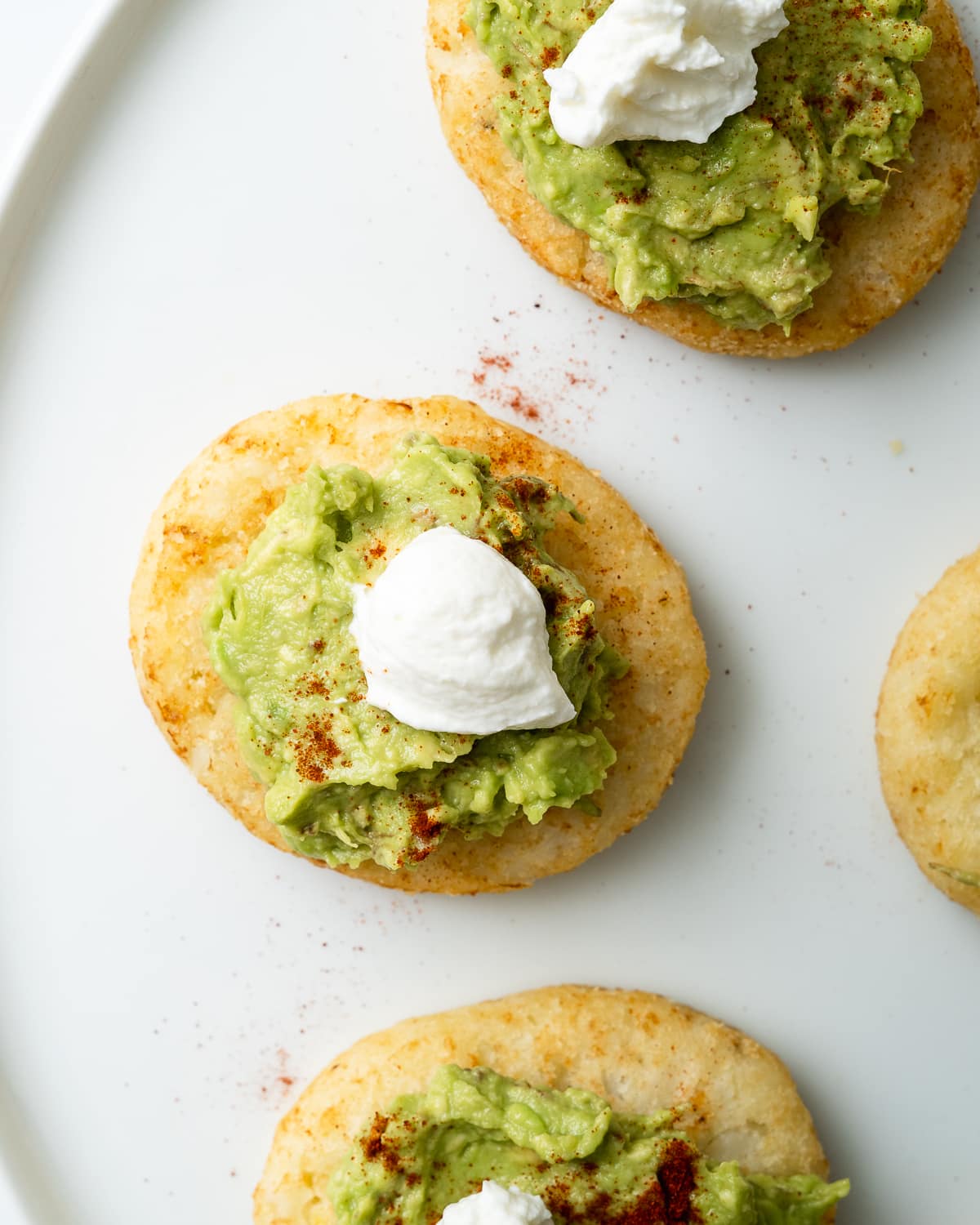 Serve: Enjoy!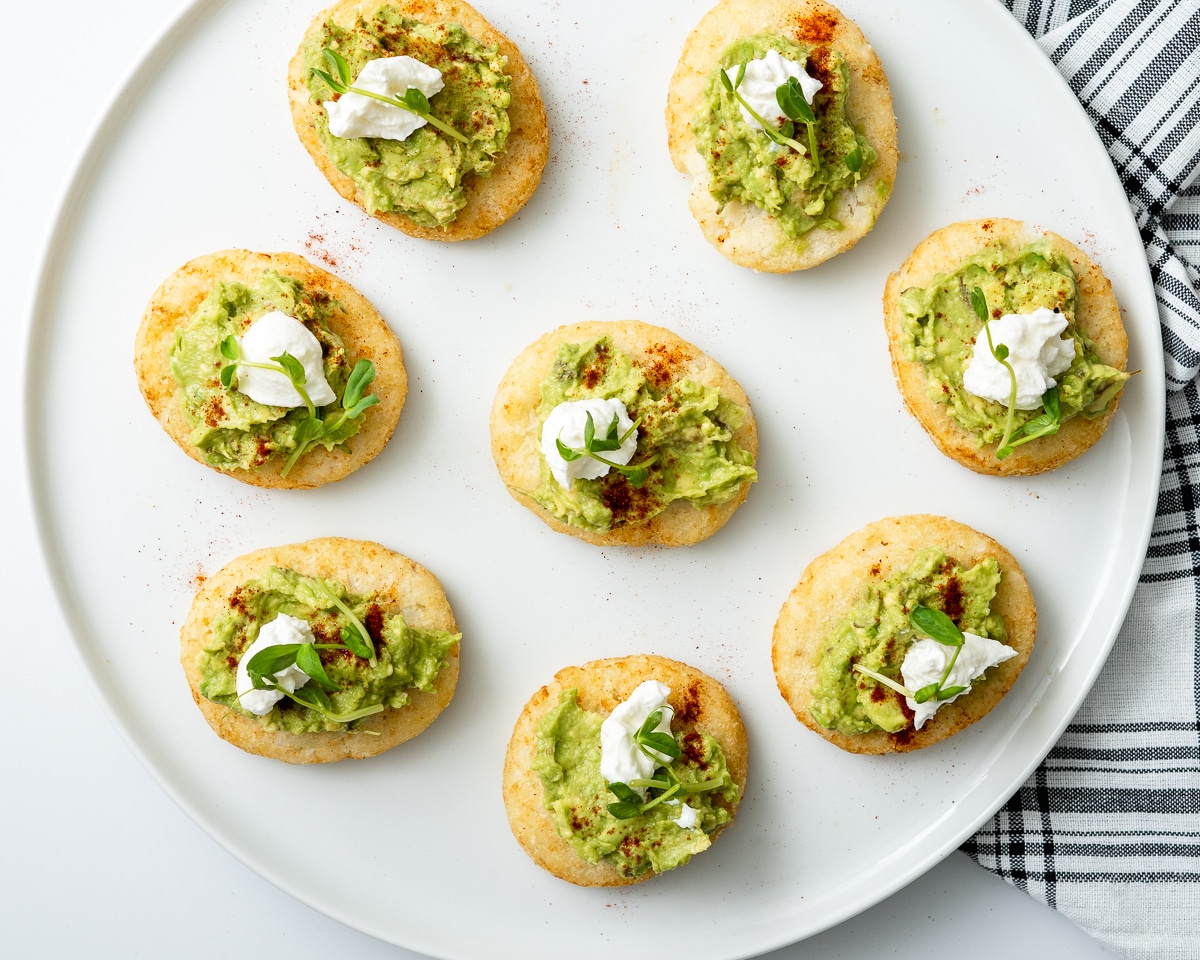 Recipe Tips
To achieve crispy hash browns, bake the patties in an oven at medium heat. If you're using frozen hash, be sure to follow the cooking time specified on the package.
If you love eggs, you can add a fried egg or egg whites on top of your hash brown avocado toast for added protein. Just remember to adjust the cooking time for a runny or firmer yolk.
Don't skip the squeeze of lime at the end! It adds a vibrant zing and helps to keep the smashed avocado green.
Storage & Reheating
Hashbrown avocado toasts are best enjoyed fresh. However, if you have leftovers, store the brown toast and avocado mash separately in the fridge. To reheat, warm the brown patties in an oven until crispy, then spread the creamy avocado and other toppings. Note that the avocado may brown slightly over time, but adding a bit of lemon juice before storing can help prevent this.
Additions & Substitutions
Feel free to sprinkle some parmesan cheese or goat cheese on top for an extra layer of flavor. You can also add a drizzle of hot honey for a sweet and spicy twist.
To make this breakfast food more filling, you can add a layer of fried egg or sprinkle some cooked bacon bits on top.
Recipe FAQs
What should I serve with this avocado toast with hashbrowns recipe?
Hashbrown avocado toast makes for a fulfilling meal on its own, but if you want to make it a part of a larger breakfast spread, you can pair it with a side of fresh fruit, a cup of smoothie, or even some breakfast sausages. For those who love a balance of sweet and savory, serving it alongside a stack of pancakes drizzled with maple syrup makes for a delectably balanced breakfast feast.
Can I make these before I plan to serve them?
These are best enjoyed shortly after they have been assembled. If you plan on leaving these out for longer, I recommend brushing the avocado with some olive oil or adding a spritz of lime juice to help keep the avocado from browning.
How long can I keep these after I make them?
I don't recommend keeping these for too many hours. The hash browns are best eaten warm, and the avocado is best eaten before it's sat out for too long. If you want to pre-cook the hashbrown patties you can, you will just want to warm them up before you use them. Do not top them until you are ready to serve them.
What else can I use besides pea shoots?
Pea shoots add a nice texture and a little bit of height, contributing a nice look to the dish that is really fun! But if you don't want to use them, try a few sprouts, a sprinkle of a few seeds like sesame seeds, or a few dashes of hot sauce for something a bit spicy.
---
Here are a few other toast recipes you might enjoy!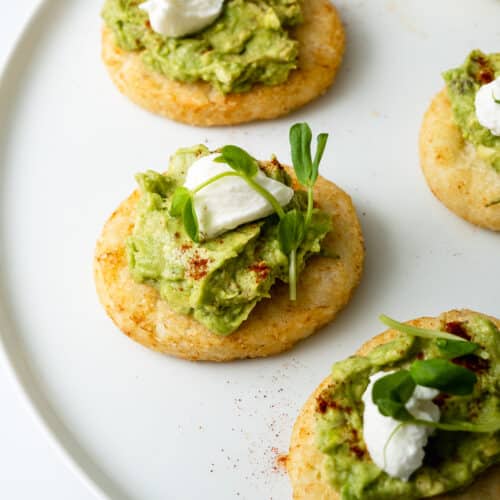 Hashbrown Avocado Toast
For a dish that will speak to everyone at your next brunch party, try these hashbrown avocado toasts. Hashbrown patties are topped with avocado, a sprinkle of paprika, sour cream, and a handful of sprouts. So simple to throw together, these are fun and a bit fancy all in one.
Ingredients
8

hashbrown patties

2

avocados

1/2

cup

pea shoots

¼-⅓

cup

sour cream

Salt

to taste

Ground pepper

to taste

Sweet paprika

to taste

1

lime
Instructions
Preheat the oven to 350ºF.

On a baking sheet, put the hashbrown patties.

Bake until fully cooked and slightly browned around 20 minutes. Remove and set aside.

Mash the flesh of two avocados with a pinch of salt and a pinch of ground pepper.

Spread the avocado on each of the hashbrown patties.

Sprinkle with salt, pepper, and sweet paprika.

Add a small dollop of sour cream.

Add a small handful of pea shoots.

Add a squeeze of lime.

Enjoy!
Notes
You want to use soft avocados for this recipe. If your avocados are still firm, place them in a paper bag for a few days to help them soften up. This will help you get that creamy texture we're looking for. If you are shopping on the day of or the night before you make these toasts, find avocados that have a little bit of give when you squeeze them.
You can use any hashbrown patties you want – homemade or frozen is fine. You just don't want to use regular hashbrowns. Those are too small and not the right shape for this dish.
You'll be using your oven to heat the hashbrown patties, so you can either use a traditional oven or a toaster oven to achieve the right crisp. I don't recommend using a skillet for these because those can leave the final product a little too oily.
These are best enjoyed shortly after they have been assembled. If you plan on leaving these out for longer, I recommend brushing the avocado with some olive oil or adding a spritz of lime juice to help keep the avocado from browning.
Nutrition
Calories:
490
kcal
Carbohydrates:
44.63
g
Protein:
6.5
g
Fat:
34.69
g
Saturated Fat:
5.944
g
Fiber:
10
g
Sugar:
2.08
g
Arielle is a food and drink photographer based in Washington, D.C. She was previously a social science researcher before she fell in love with photography.