Pumpkin toast is the perfect breakfast to take the nip out of a cold autumn morning. Served warm or cold, it's like putting the best of pumpkin pie on a hearty piece of toast.
Puréed pumpkin is cooked with warm spices and brown sugar, spread on wheaty bread, and then topped with pumpkin seeds and maple syrup. While many of these flavors are sweet, deep, and mellow, the addition of fresh ginger gives the dish a delightful, unexpected pop.
It's a simple, elegant, and homey breakfast. Save this dish for a quiet morning when you can slow down, sip a cup of tea and watch the leaves fall from the window.
Pumpkin toast is hearty on its own but would go well with a side of fresh pears dolloped with yogurt. With all these sweet, earthy, and warm flavors, a robust cup of black or green tea would pair well.
You'll find that making the pumpkin butter is so simple that you'll want to make this spread regularly throughout the chilly months. A dairy-free spread, it is also a wonderful topping to have on hand that suits the dietary needs of many.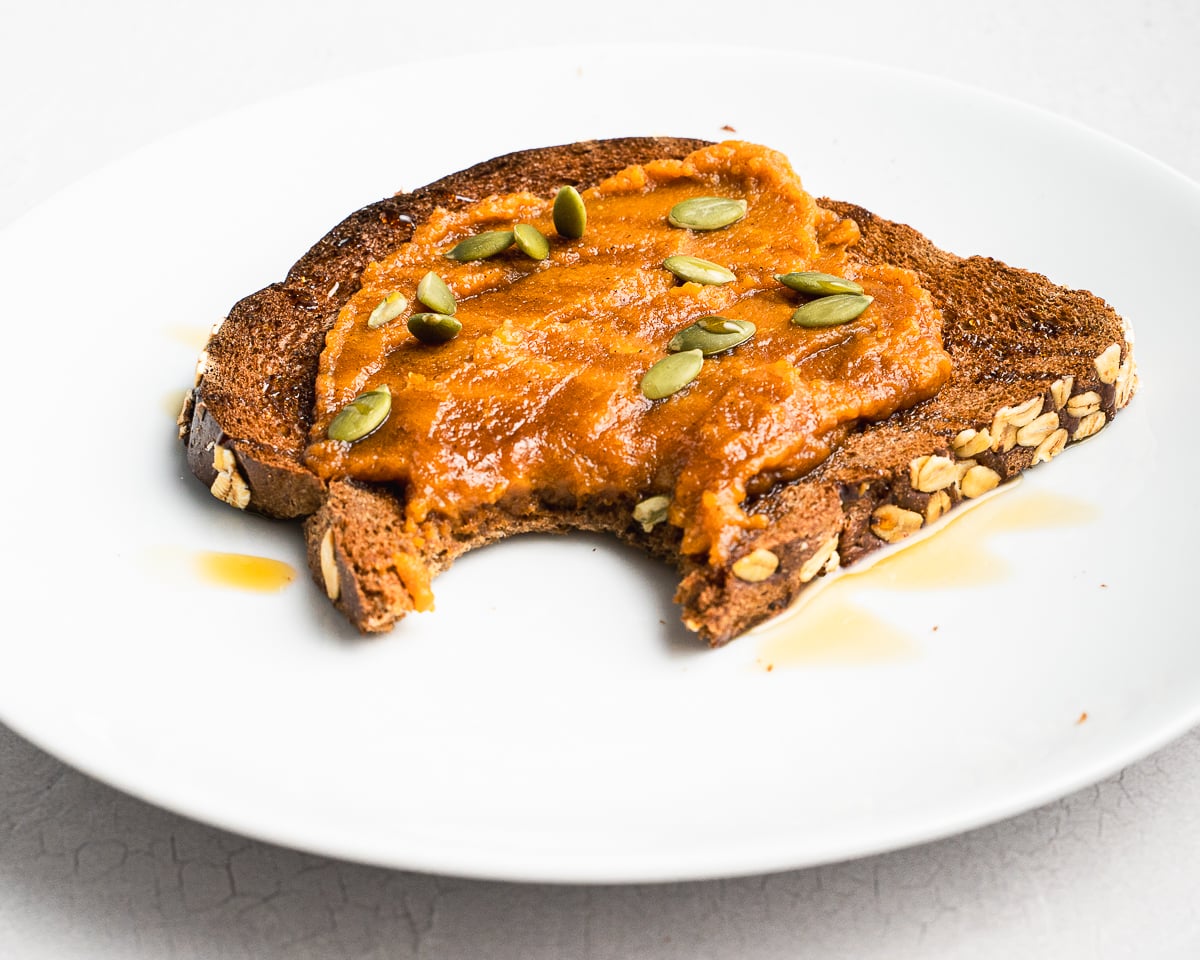 What You Need to Make Pumpkin Toast
Pumpkin toast is incredibly simple and requires mostly things you've already stocked in your fall pantry, like canned pumpkin, brown sugar, nutmeg, cinnamon, salt, maple syrup, and bread (preferably wheat bread).
The only special items are pumpkin seeds and the fresh ginger that you will grate into the pumpkin mixture. I highly encourage you to use fresh ginger—it has a bright flavor that ground ginger cannot fully replace, so only use ground ginger if you have to.
Pumpkin seeds add a nice texture. When untoasted, they have an earthy flavor and softer texture that pairs well with the pumpkin butter and bread. If you don't have pumpkin seeds, you can try sunflower seeds, almond slices, or omit the seeds entirely.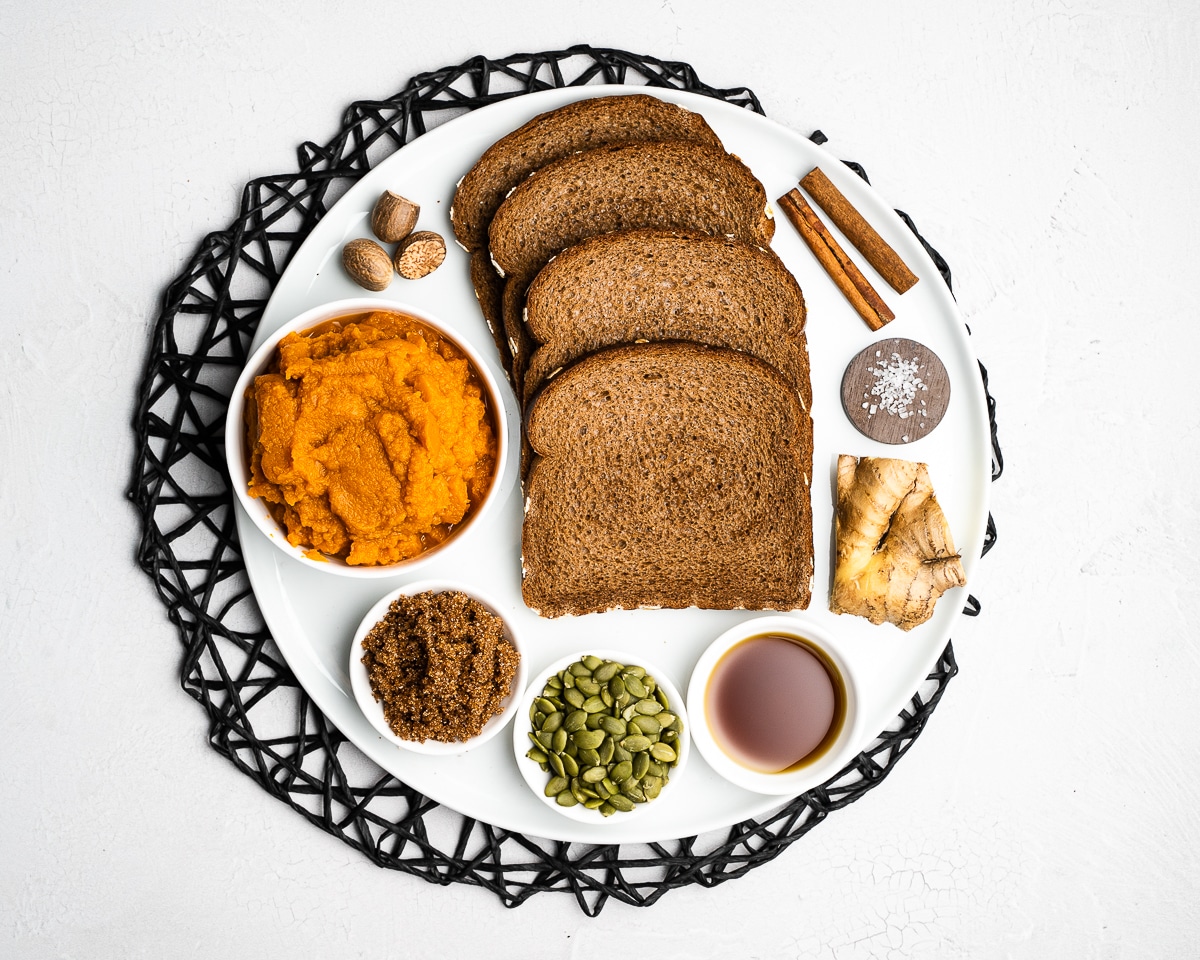 Ingredients:
Bread
Canned pumpkin
Brown sugar
Maple syrup
Ginger
Salt
Nutmeg
Cinnamon
Pumpkin seeds
Water
Tools:
Pumpkin toast requires a small saucepan, a grater, spoon, sheet pan, and toaster or oven with a broil setting. If you use a broiler to make the toast rather than a toaster, make sure to stay very close to the bread as it's toasting. While a very quick and effective method for toasting bread of any size, bread can quickly burn if you aren't careful.
While you should make the toast fresh, the pumpkin butter spread can be stored in the fridge for up to a week and can also be frozen for several months.
How To Make Pumpkin Toast
Make the pumpkin butter: Place the puréed pumpkin, cinnamon, nutmeg, grated ginger, brown sugar, water, and salt in a saucepan, on medium heat. Allow the mixture to sputter rapidly, then turn the heat down so that it sputters infrequently for around 10 minutes.
Stir occasionally. The mixture will thicken, but do not allow it to become very thick. Remove from the heat.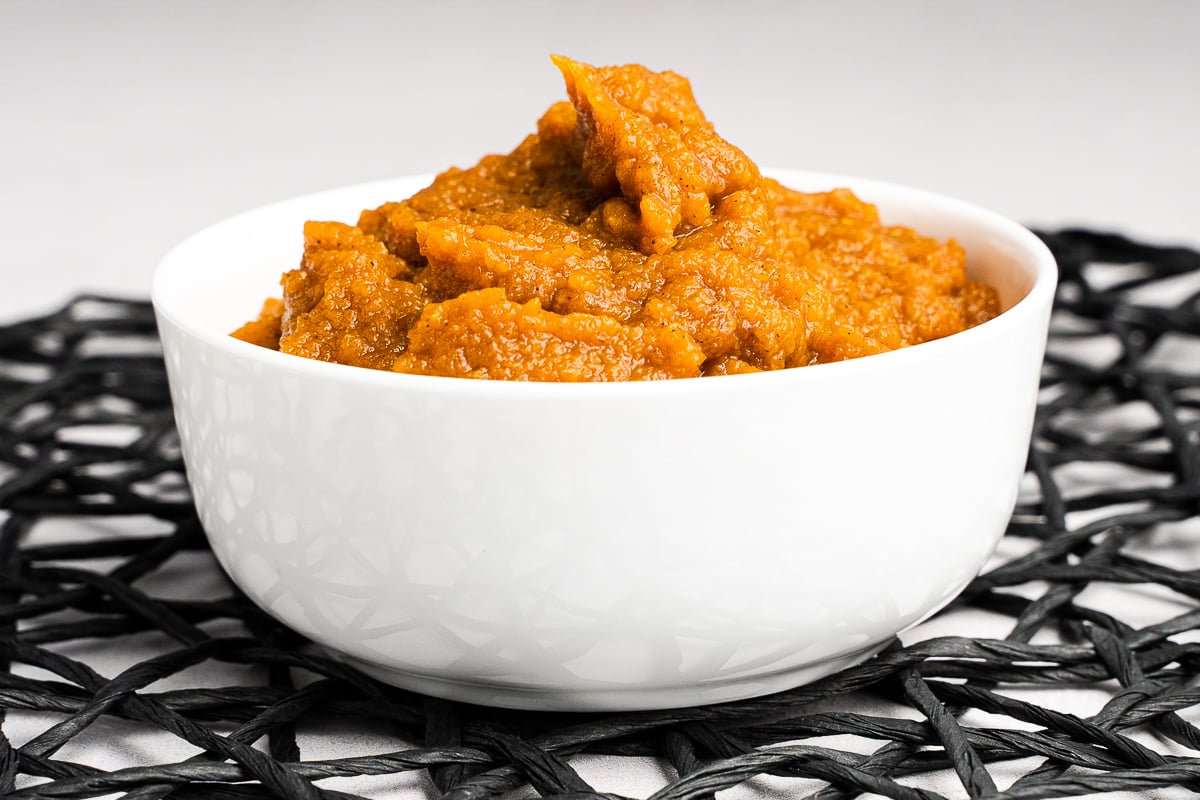 Make the toast: If you are using a toaster, toast to your desired doneness. If you are using a broiler, place the bread on an unlined baking sheet. Preheat your oven's broiler (using the low setting, if available) and place the bread on the top rack under the broiler.
Watch the bread carefully! When they begin to take on color, flip the toasts and repeat on the other side, 1-2 minutes.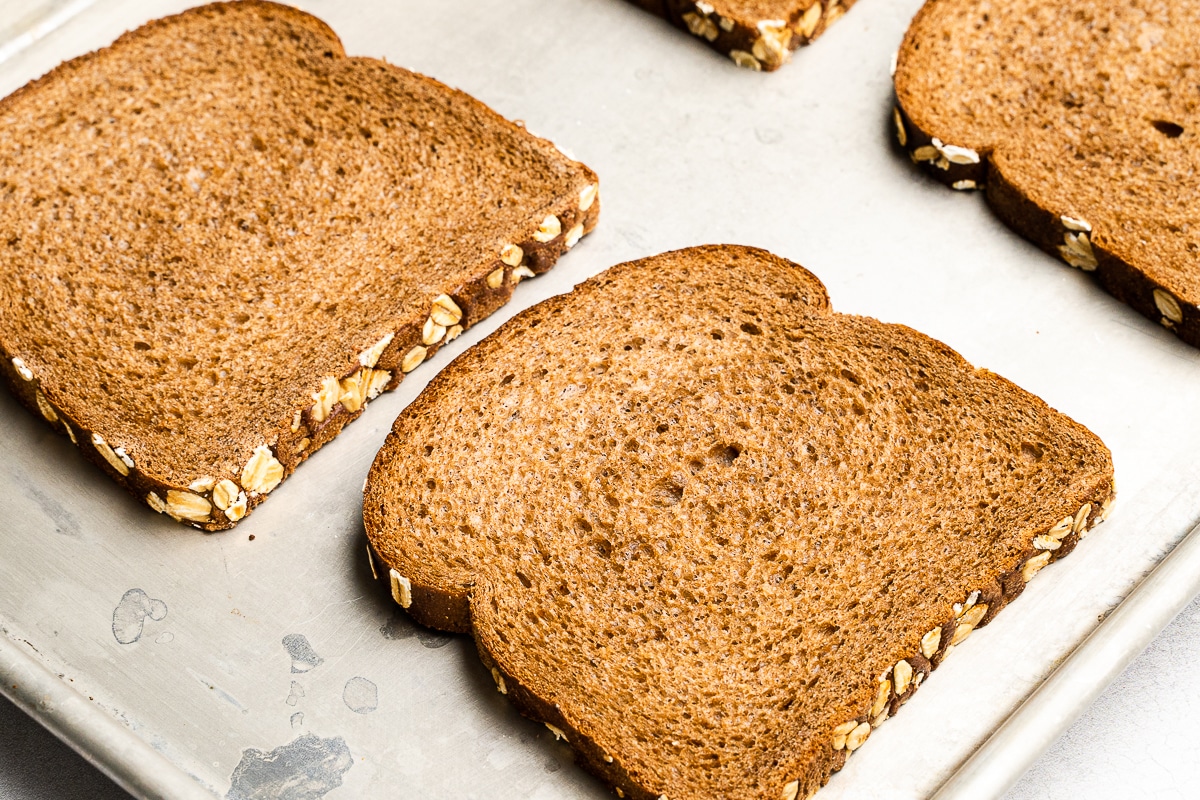 Assemble: Spread a thick layer of pumpkin butter over the toast.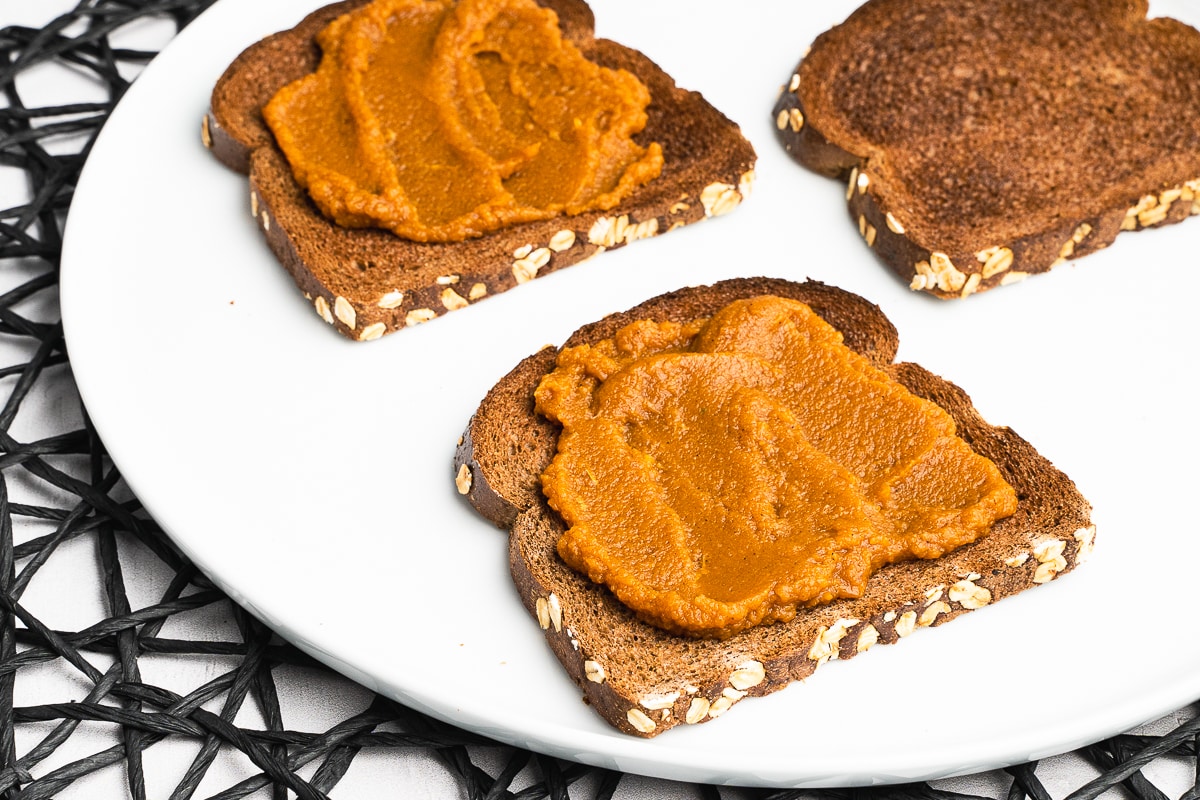 Top with pumpkin seeds, then drizzle with maple syrup. Serve immediately.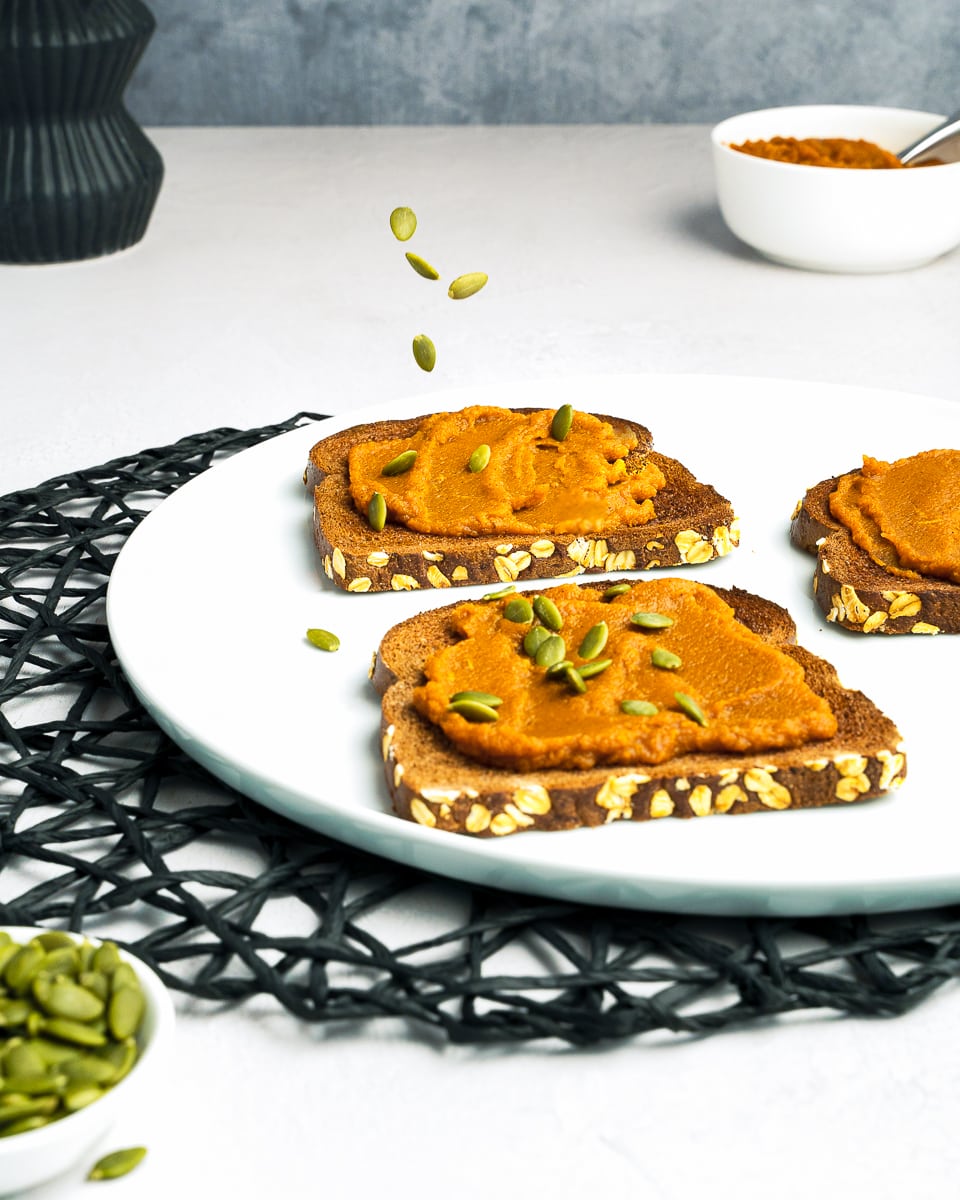 Can I use fresh pumpkin?
Yes! Using fresh pumpkin is more work, but you can use fresh pumpkin if you want. Peel and dice a pumpkin, creating roughly 3-4 cups of chopped pumpkin. You can cook this down instead of the pureed pumpkin. You will need to add cooking time to allow the fibers to break down and will want to use an immersion blender to puree your final product. I recommend using extra liquid as well.
What kind of bread should I use?
I recommend using wheat bread in this recipe because it lends a nice earthy texture and flavor. Your mouth will just sink into each bite. If you prefer bread with more texture and structure, try a 7- or 12-grain loaf.
Why do you use so little liquid?
Many pumpkin butter recipes call for a lot of liquid and often use apple juice, cider, or other flavored liquids. In my experience making pumpkin butter over the years, I prefer using just water because it creates a cleaner pumpkin flavor, and have found that cooking the pumpkin for a very long time produces a very deep, concentrated flavor that I don't want here. This means that we cook the mixture just long enough to break down the pumpkin fibers and produce a smooth final product.
What can I do with extra pumpkin butter?
If you don't make 8 slices of toast with this recipe, you will have extra pumpkin butter. Try spreading it on toast with some crumbled goat cheese for lunch, or putting it out with crackers and cranberry relish.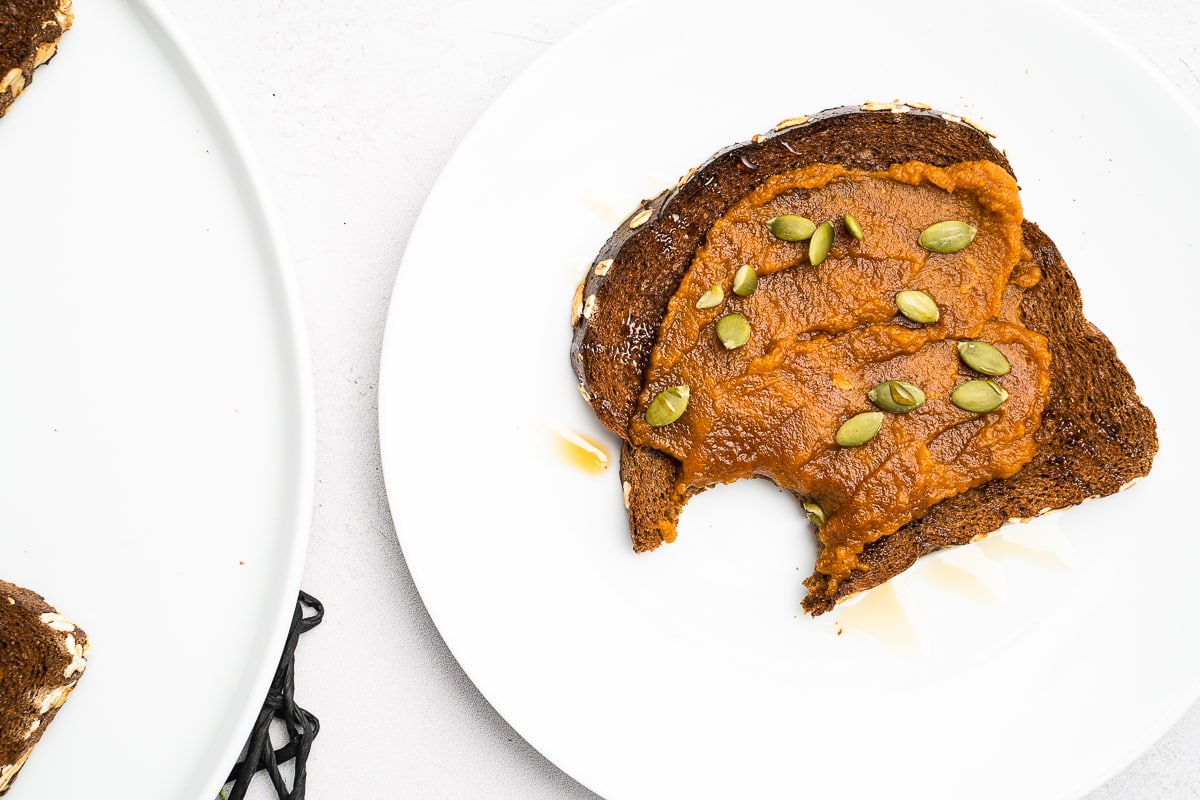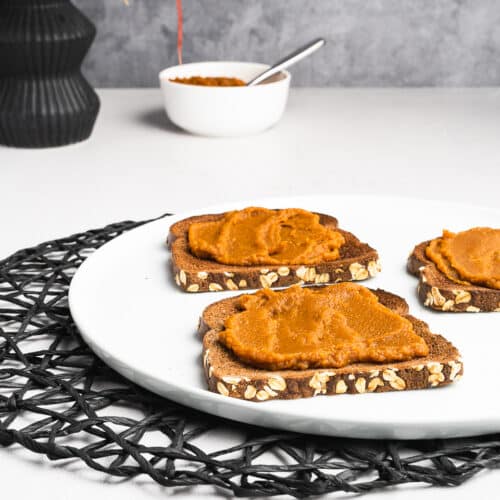 Pumpkin Toast
Pumpkin toast is a warming, filling dish for a quiet, cool autumn morning. With a hint of earthiness and light sweetness, it is the perfect dish to give yourself a slow, reflective start to the day. Using mostly ingredients from your pantry, in just a few minutes you will be tucking into a creamy, yet dairy-free, pumpkin butter spread on a crunchy, wheaty toast.
Ingredients
8

slices

whole wheat bread

1

15-ounce can of pumpkin

⅓

cup

brown sugar

2

tsp

grated ginger

pinch of kosher salt

½

tsp

nutmeg

1

tsp

cinnamon

¼

cup

water

6 to 8

tbsp

pumpkin seeds

6 to 8

tbsp

maple syrup

for serving
Instructions
Place 1 15 oz can of pumpkin, 1/3 cup of brown sugar, 2 teaspoons grated ginger, ½ teaspoon nutmeg, 1 teaspoon cinnamon, ¼ cup water, and a pinch of kosher salt in a saucepan on medium-high heat.

Allow the mixture to heat to the point where it is sputtering rapidly and then reduce heat to medium-low.

Allow it to cook for 10 minutes on medium-low. Stir occasionally.

Remove from the heat and allow to cool.

Place 4 pieces of toast in a toaster, if using.

If using a broiler to toast bread, preheat the broiler at a low setting, if available.

Place 4 pieces of bread on an unlined baking sheet and place under the broiler, for around 1-2 minutes.

Flip bread and toast the other side, for 1-2 minutes.

Remove from the oven and plate the bread.

Spread pumpkin butter on each slice.

Top with pumpkin seeds and maple syrup.
Notes
When you are making the pumpkin butter for this dish, taste it about halfway through and trust your instincts to adjust the liquid, cooking time, and sugar level of the butter. 
Not all canned pumpkin is the same! Over the years I have found different brands, and different seasons lead to slight differences in the pumpkin product inside those cans. Some cans will be watery, others thicker. Some will be more fibrous, others smooth. Some will have a stronger squashy flavor than others. Adjust your pumpkin butter to suit your tastes.
Nutrition
Calories:
212
kcal
Carbohydrates:
40.93
g
Protein:
6
g
Fat:
3.6
g
Saturated Fat:
0.74
g
Fiber:
4
g
Sugar:
24.12
g
Here are a few other recipes you might enjoy!
Arielle is a food and drink photographer based in Washington, D.C. She was previously a social science researcher before she fell in love with photography.