Who doesn't love french toast? Seriously, they're a fan favorite. It can be overwhelming searching through all the french toast recipes for one that speaks to you.
That's why we've made this incredible list of french toast toppings you can use for your next brunch or breakfast. You'll find some old favorites, along with some you might never have thought of. Many of these toppings even have a recipe to accompany them!
Powdered Sugar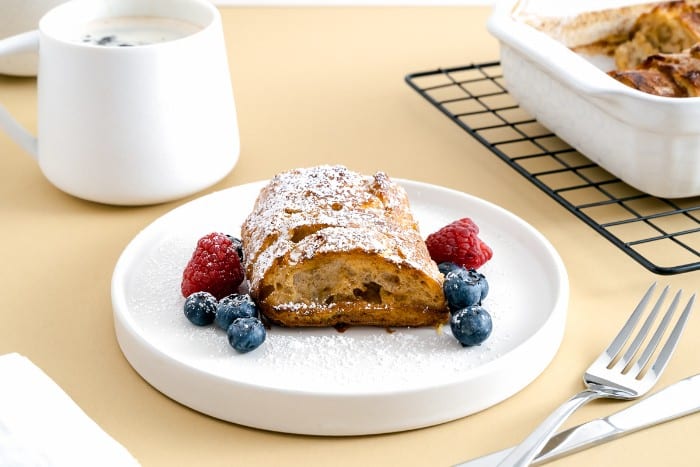 Starting off with a classic, powdered sugar. This may sound basic, but the Insta-worthy touch a dash of this stuff brings to the plate is worth mentioning. Next time you try this Buttermilk French Toast Recipe, see what a difference a little sprinkle of this white gold does to the plate.
Butter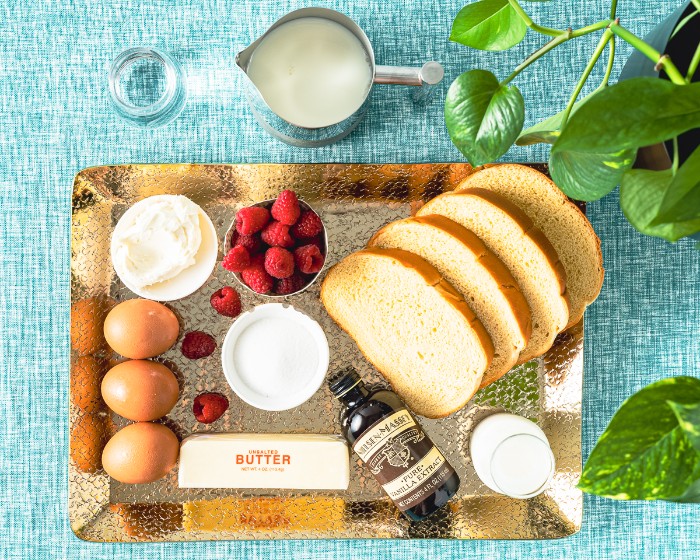 Another classic, but it's worth mentioning. Butter is a magical ingredient that makes everything it touches so much better. I love hiding cuts of butter in between warm slices of french toast. It melts, and I swear I hear little birds chirping outside my window!
Oreos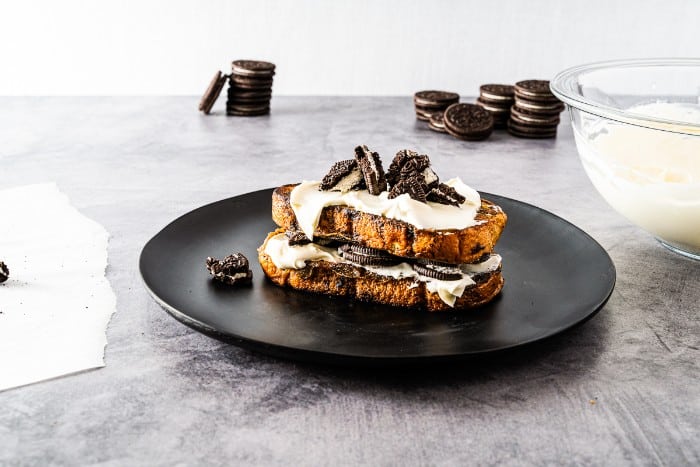 Old or young, a birthday or just another Wednesday, there's always a time and place for Oreos. This Oreo French Toast Recipe makes it easy to top your morning french toast with the perfect cookie. Heck, this recipe even shows you how to bake that Oreo goodness right into the batter!
Cinnamon Sugar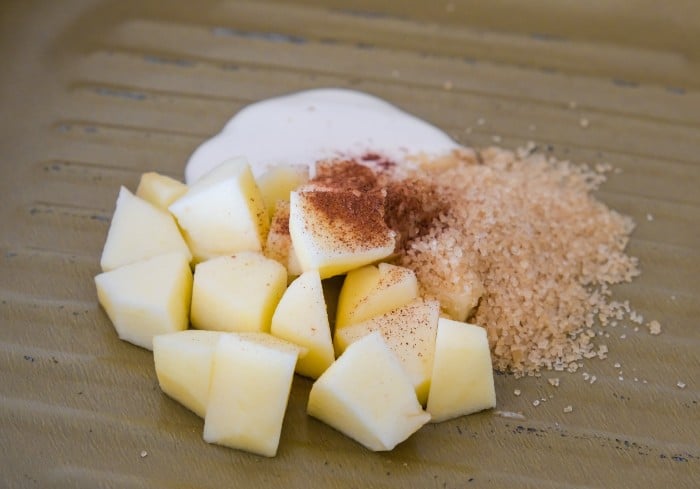 So simple, and yet so good. Just a 1:4 ratio of cinnamon to sugar will make you forget about all your morning errands.
I make this stuff in bulk and use it on everything, and it works especially well on french toast.
Apricot Jam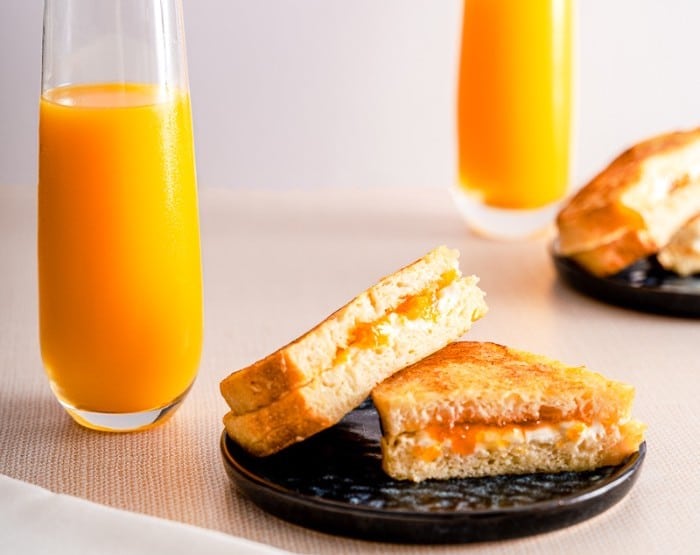 Apricot flavor is unbeatable, it's fresh, vibrant, and the adds the perfect touch of sweetness. The way apricot jam is used in this Sourdough French Toast is perfect. Combine your jam with cream cheese and get ready for the best combination ever!
Nutella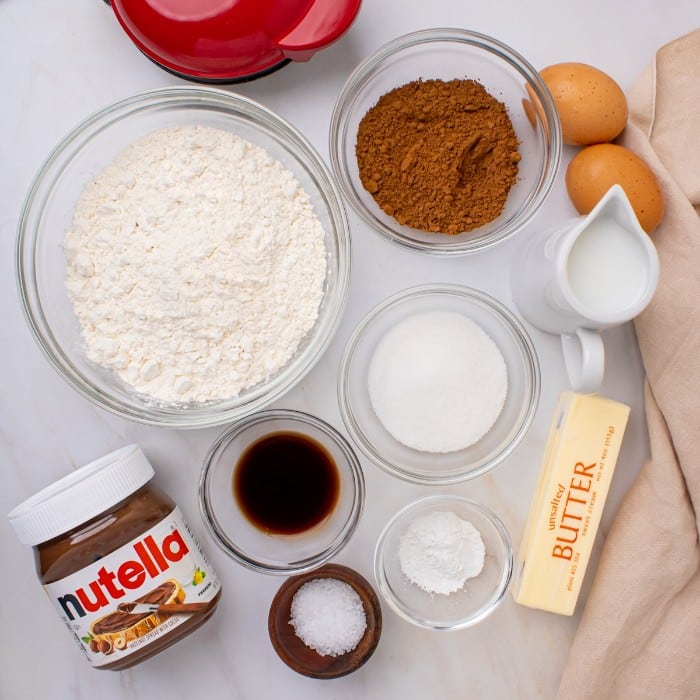 Do I need to say any more? It's Nutella and is a french toast topping that will really please a crowd. It's creamy milk chocolate and hazelnut. A hefty drizzle of this on your next stack of french toast and you'll be canceling your plans and throwing your PJs back on!
Want to make your own nutella? Just blend roasted hazelnuts in a blender with enough milk until it turns to creamy hazelnut butter. Then, blend in a pinch of salt, vanilla extract, and a few tablespoons of cacao powder. Adjust ingredients as necessary and enjoy!
Mascarpone Whip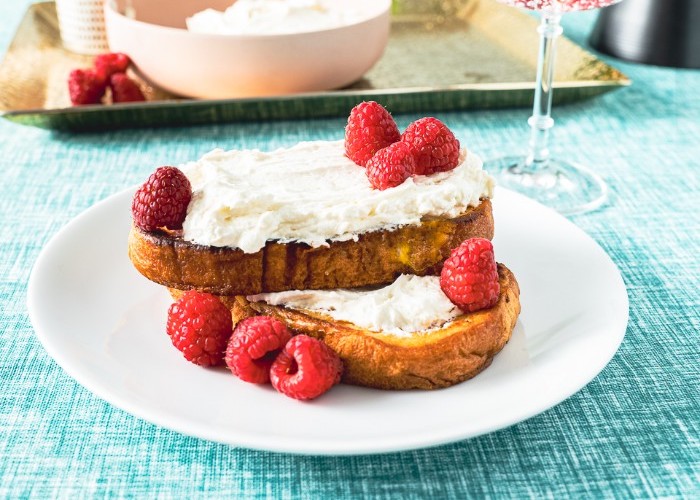 Marscapone, pronounced mar-ska-po-nay (with your thumb and index finger pinched in the air, for effect.)
This smooth Italian cream cheese is made even better by adding a touch of heavy cream and whipping it all together. This recipe for Mascarpone French Toast will impress even the snobbiest brunch guests.
Peanut Butter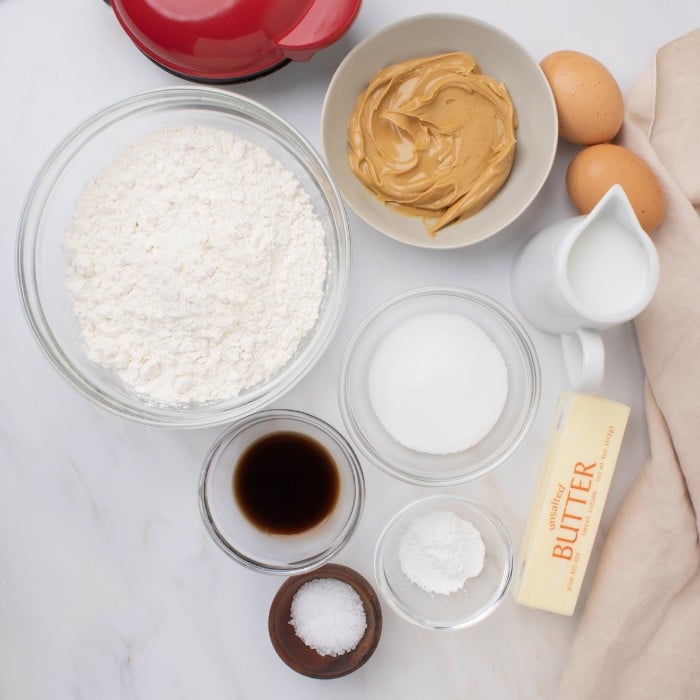 Now, I may be impartial here because I am addicted to peanut butter, but I also happen to think it makes for a great topping. Peanut butter is not only rich in flavor, but it is also rich in protein. I love drizzling on a heavy dose of peanut butter to my french toast.
Chocolate Chips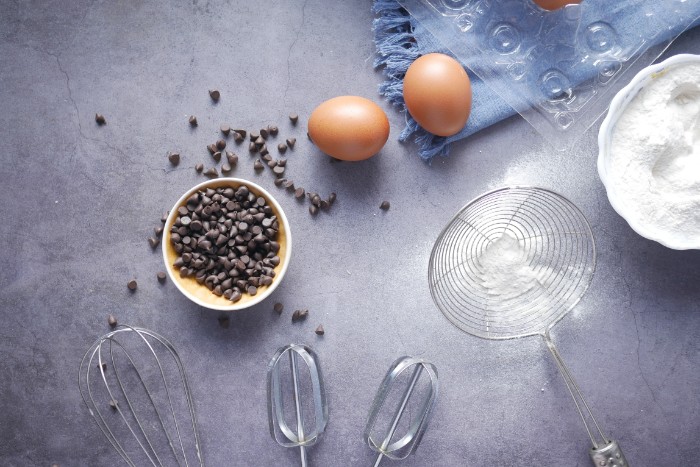 I put chocolate below peanut butter because I think they make the perfect duo. I can't claim credit though, someone thought of combining peanut butter and chocolate a long time ago.
I love hiding chocolate chips between layers of warm french toast. By the time you dive in, it's all melted to chocolate perfection.
Maple Syrup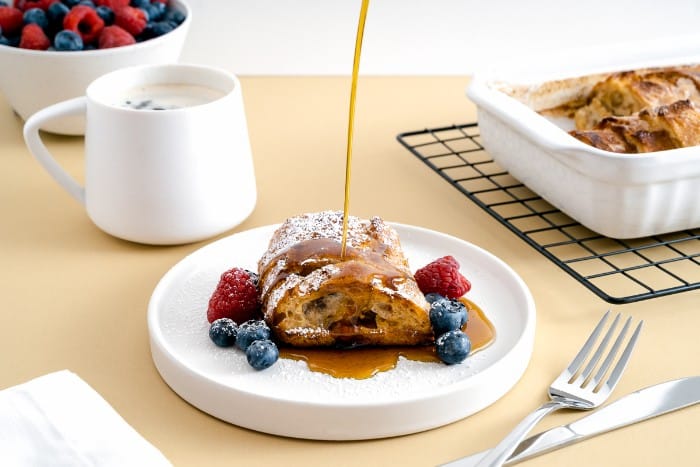 Another oldie but a goodie. Maple syrup, one of the most classic french toast toppings, is king of the brunch table.
I especially like a hefty drizzle on my Buttermilk French Toast. The best part about maple syrup is how easy it is to offer your guests. If you love brunch, you should definitely have a bottle of this stuff at the table.
Fruity Pebbles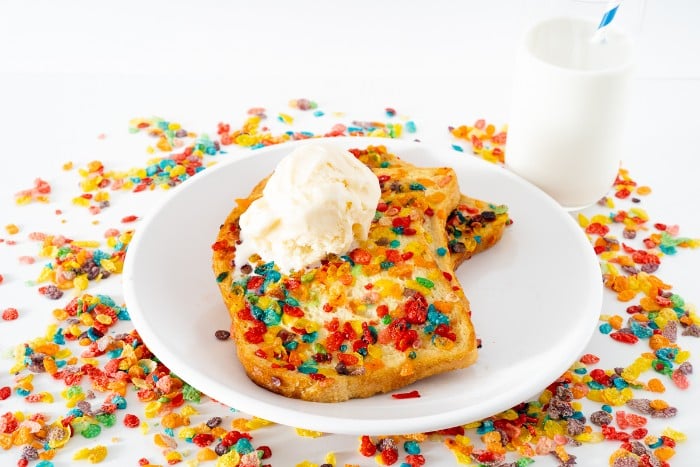 If there's anything I learned from this Fruity Pebble French Toast recipe, it's that this vibrantly colored crunchy cereal makes for a great brunch dish!
As the name suggests, your favorite childhood breakfast cereal is not only baked into the french toast, but topped with it in abundance.
Tres Leches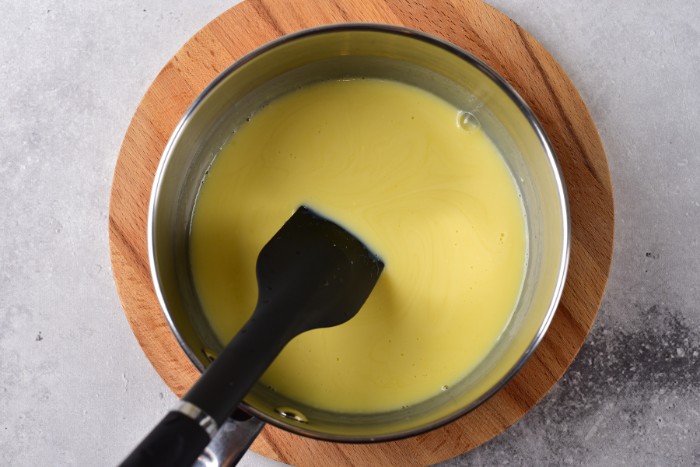 Tres leches gets its name from being a decadent mix of evaporated milk, condensed milk, and heavy cream. This is traditionally soaked into a sponge cake and baked to fluffy perfection.
Pumpkin Spice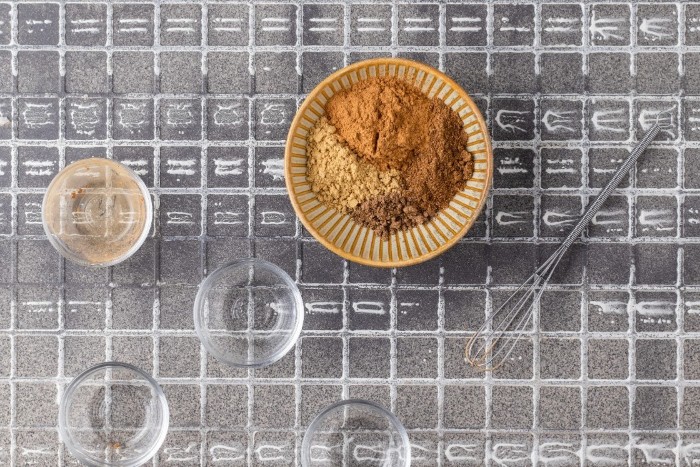 Even if the leaves aren't changing, it's always time for PSL season. Pumpkin spice combines all of the best autumn flavors into an easy-to-add spice blend. I highly recommend it the next time you make this Cinnamon Raisin French Toast Recipe.
Curious how to make your own pumpkin spice? Just combine cinnamon, nutmeg, ginger powder, and cloves in a bowl and store in an airtight container. Go easy on the cloves and ginger, you only need a dash to make the magic happen!
Honey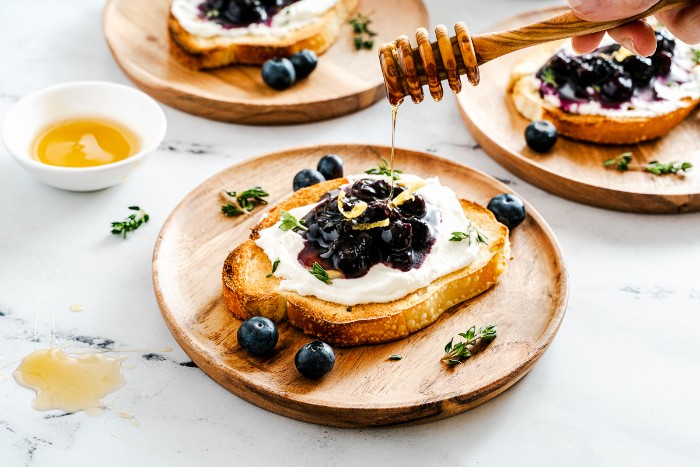 This may seem obvious, but honey is a great choice for topping your french toast. It's perfectly sweet and enhances the flavors without being overpowering.
Candied Pecans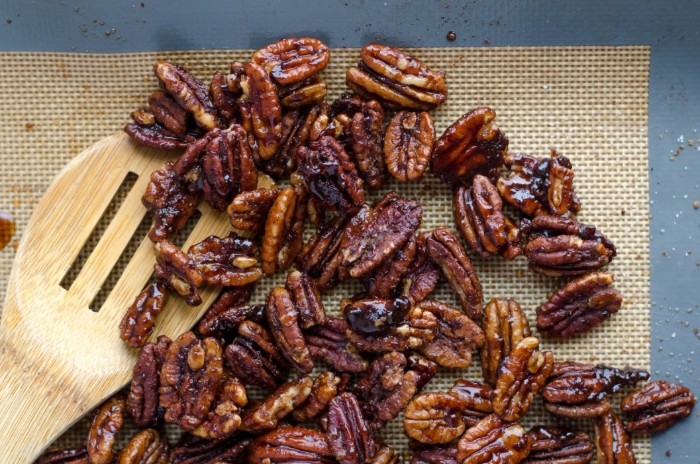 Candied pecans – they're easy to make and belong on everything!
To make them, just set a skillet to medium heat and melt butter, brown sugar, vanilla extract, and whatever additional spices you want. Add a little water and stir your pecans in this mixture until they become fragrant.
Finally, place your candied pecans on a baking sheet lined with parchment paper and let cool. See? Easy!
Raspberry Jam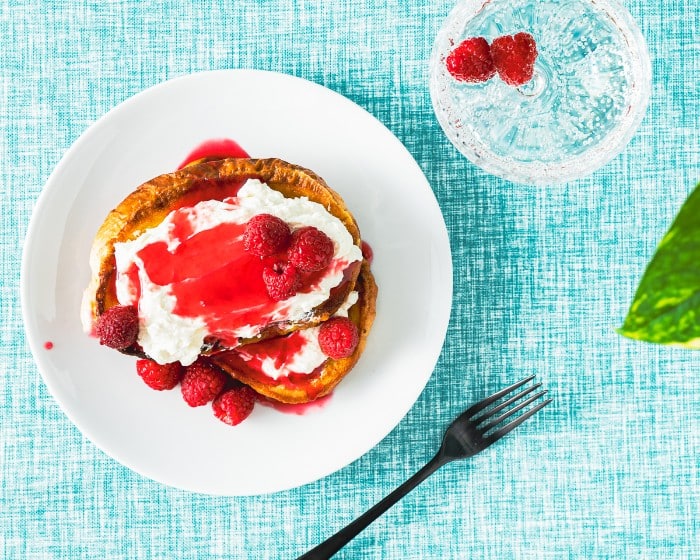 This is the perfect topping for french toast served at a summer brunch party. The recipe for raspberry jam used in this Mascarpone French Toast Recipe is the perfect balance of sweet and tangy. I usually make extra so I can have it on my french toast and on a PB&J for lunch!
Candied Bacon Butter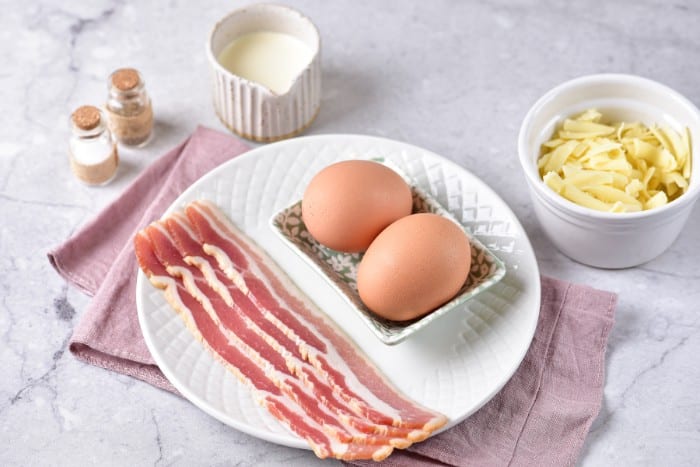 Yes, you heard me right, bacon butter is a thing. In fact, candied bacon butter can be used on many things, including french toast! All it takes is softened butter, crispy bacon, and a little brown sugar. Whip that all together and the results are mouthwateringly delicious.
Cream Cheese Whip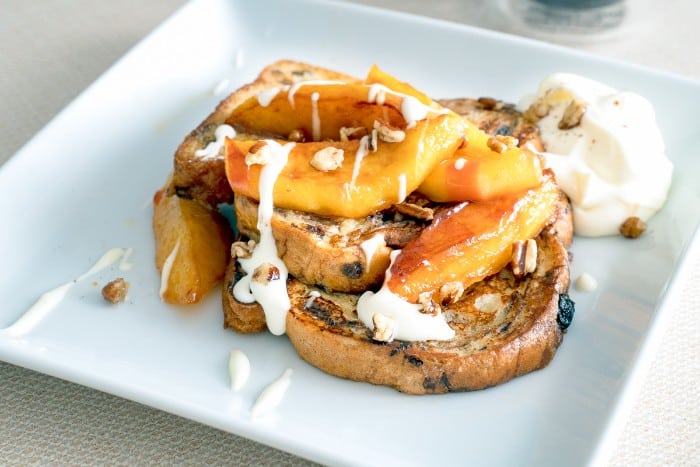 Similar to the mascarpone whip, this is the combination of rich cream cheese and smooth heavy cream, whipped together to decadence. It pairs wonderfully with any flavor of french toast.
Macerated Strawberries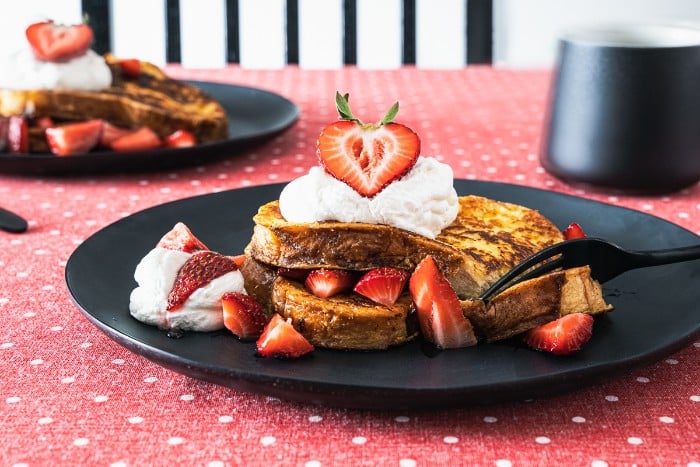 Doesn't that just make you think of summer? I love how easy it is to make macerated strawberries. All you need are fresh strawberries and sugar, and they do the rest of the work.
I love this Strawberry French Toast Recipe, and how perfect the macerated strawberries turn out each time I make it.
Ricotta Goat Cheese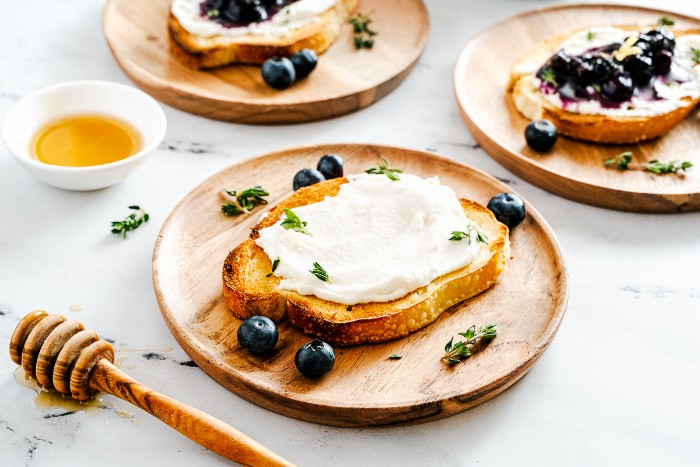 If you didn't think goat cheese could get any better, just wait until you try this ricotta and goat cheese blend from this Blueberry Toast Recipe.
Truly, this perfect combination could not get any better. Just blend the two cheeses with lemon zest and honey and try not to eat it all before the french toast is done!
Fresh Sliced Bananas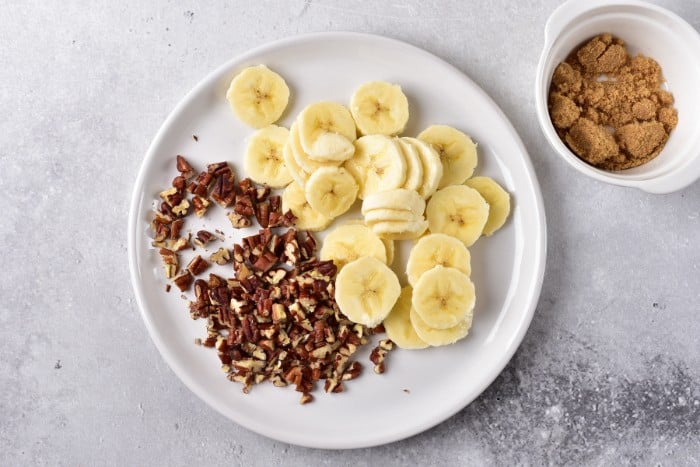 Kids and adults alike love freshly sliced bananas for brunch. They're my go-to fruit when it comes to french toast toppings. I just love the sweet flavor they add to the dish.
Stewed Apples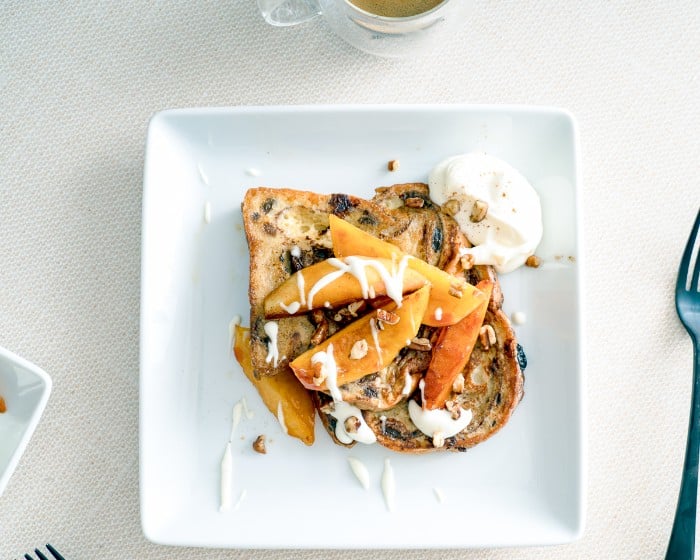 Perfectly soft, sweet, and tangy, stewed apples are the perfect accompaniment to your next fall brunch french toast. Just pair this with a hefty sprinkle of cinnamon and a drizzle of maple syrup for the perfect autumn brunch day.
Caramel Sauce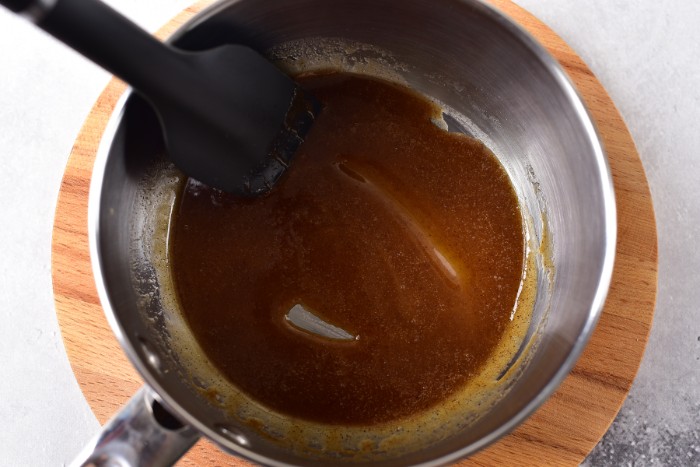 This one seems kind of obvious, right? Caramel has been around forever, and it makes the perfect topping to any sweet thing you could think of.
Rum Glazed Pineapples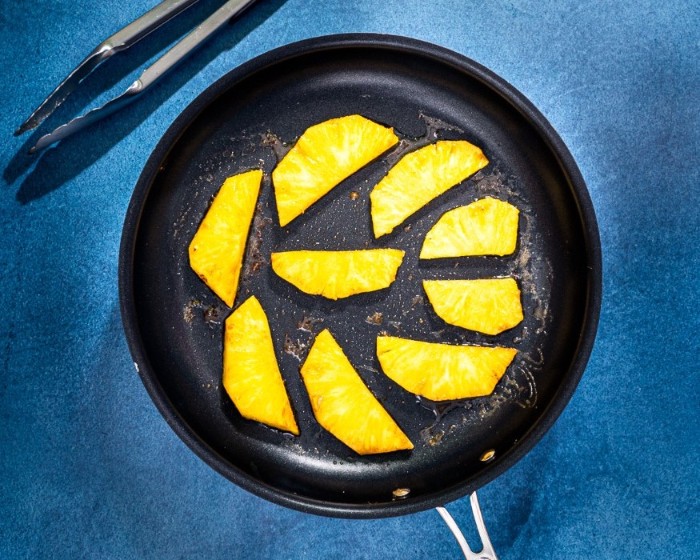 Next time you want to throw an adult tiki brunch, check out this Hawaiian Roll French Toast Recipe.
The recipe explains how to make the perfect caramelized pineapple, rich with rum, butter, and brown sugar. What sounds better than that?
Chopped Nuts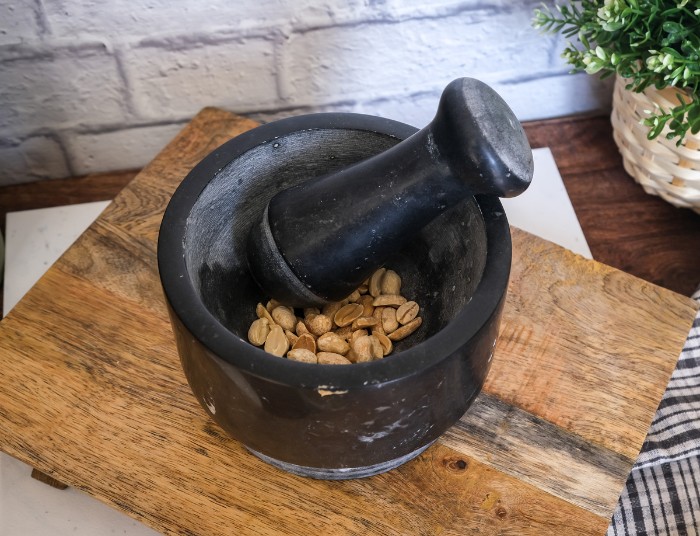 If candied nuts aren't your thing, perhaps you would prefer just good old-fashioned toasted nuts. This topping is easy and let's guests choose their own adventure.
Pecans are great for fall, walnuts go well with bananas, there's a little something for everyone here.
Bananas Foster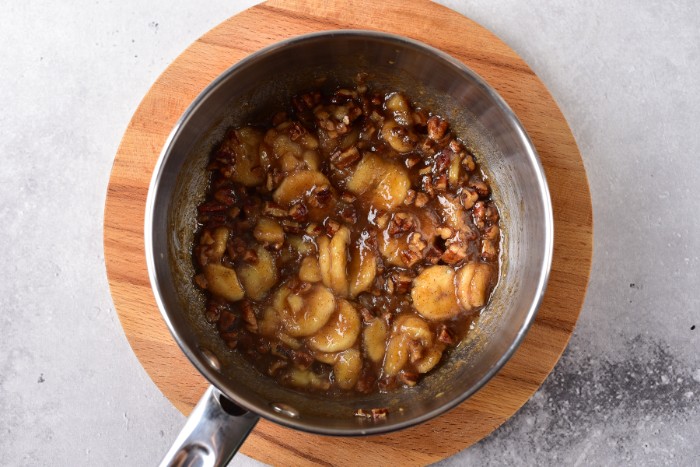 I bet you didn't think that bananas and caramel could get any better, right? This recipe for Banana Foster Pancakes explains how to make the perfect bananas foster topping. After you make this once, you'll want to make it all the time!
Blueberry Compote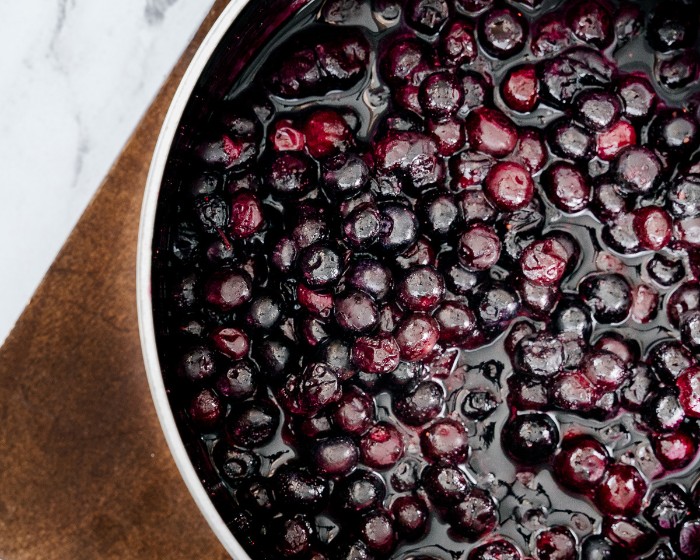 I love how delicately sweet blueberries are, and what a nice pop of color they add to a dish. This recipe for Blueberry Toast explains how to make the perfect blueberry compote.
I often find myself making this in batches and saving it for spur-of-the-moment brunch dishes – like a big stack of french toast!
Peaches & Cream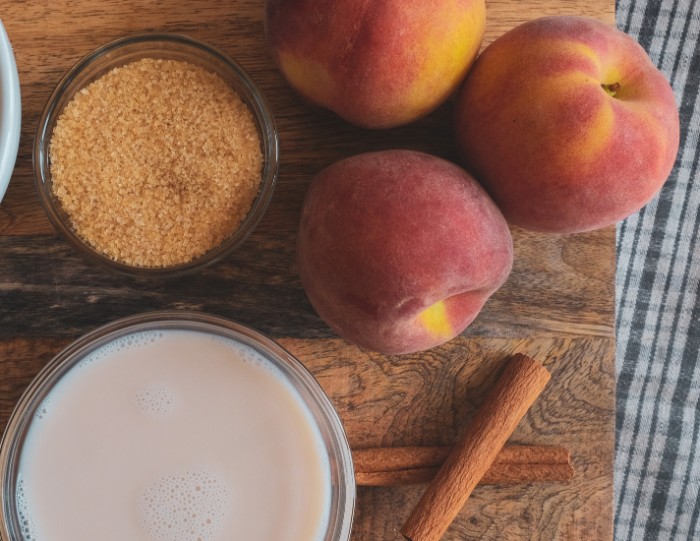 Peaches and cream belong together – they're the perfect pair! Peaches bring a subtle sweetness that work beautifully with delicate cream.
To make peaches and cream, I combine freshly sliced peaches with cinnamon, brown sugar, vanilla extract, and heavy cream into a bowl. You can serve this cold, or pour this mixture into a saucepan and heat on low until the peaches soften and serve it warm.
Agave Nectar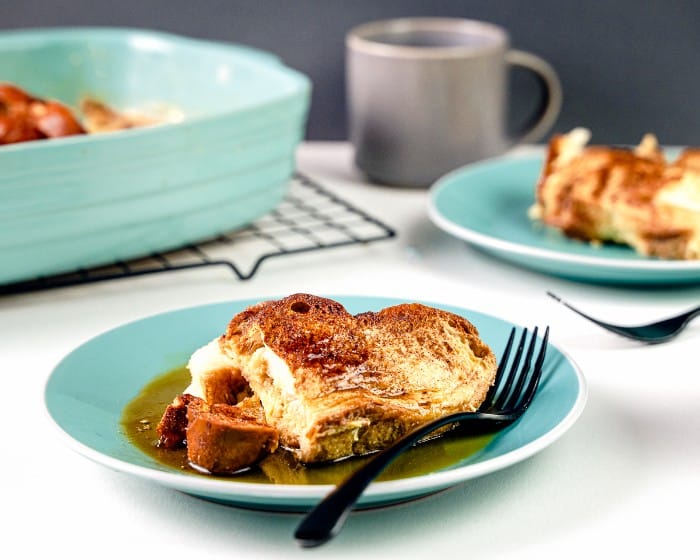 Similar to honey and maple syrup, agave nectar adds a touch of sweetness to any dish you serve it on, and it works especially well with french toast. I sometimes prefer agave nectar because it is vegan friendly and more affordable than pure maple syrup.
Pumpkin Butter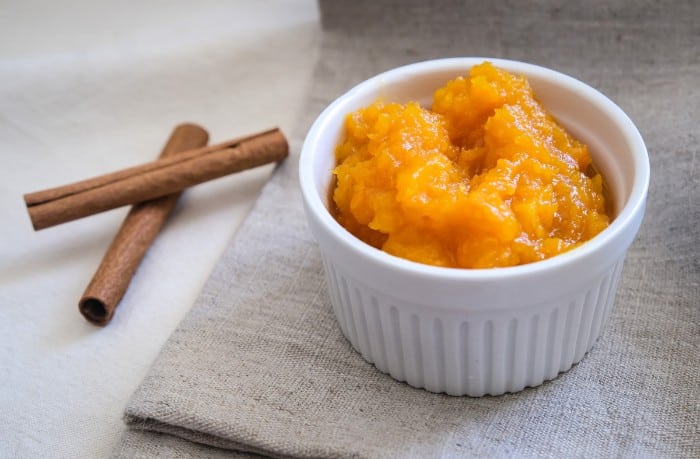 Pumpkin butter is easy to make, and nowadays you can enjoy it every day of the year! Just combine a can of pumpkin puree with pumpkin spice seasoning and maple syrup. Let this simmer in a saucepan until the pumpkin butter has reduced enough for your liking.
This delicious pumpkin butter will keep in an airtight container for a couple of weeks. You can even make a bunch at once and freeze it!
Fresh Whipped Cream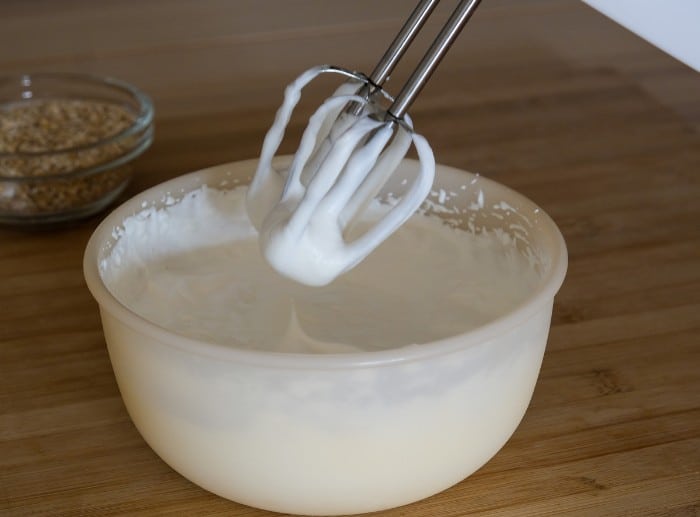 I know I've offered several iterations of whipped cream, but I honestly saved the best for last. There's something special about a dollop of fresh homemade whip cream as a topping for french toast.
Want to make your own? Put a metal bowl in the fridge and wait for it to get cold. Then, grab a hand mixer (or a whisk and a strong set of hands) and mix heavy cream, powdered sugar and vanilla extract into your cold bowl. Beat until… well… until it's perfect!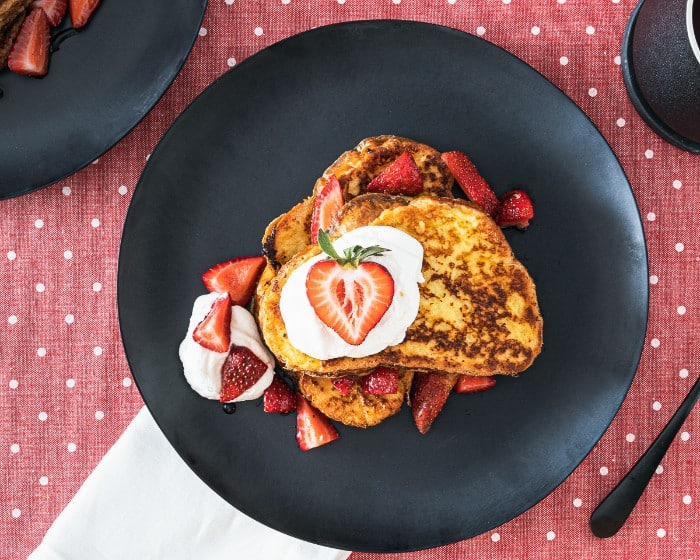 Whether you prefer the classics, like powdered sugar, or you want something new, like bacon jam, I hope I've given you enough options to really sink your teeth into.
For more recipes, check out our ever-growing list of brunch recipes. We have everything carb-related, plus omelettes and smoothie bowls galore!
Olivia has been in love with all things food and libations for nearly a decade. When she's not cooking up new recipes, she enjoys bikepacking, wine tasting, crocheting, and traveling in her camper van up and down the Pacific Northwest.