Sourdough French toast is an unbeatable combination of tangy, fruity, and rich flavors. Each bite of this stuffed French toast greets you with oozy, sweet and salty layers of apricot jam and cream cheese.
You can't help but go back for more. Inside the toasts are generous amounts of salty creamy cheese and sweet apricot jam, which are then dipped in an egg and milk mixture, fried in butter and topped with warmed apricot jam. A beautiful combination of tastes, this dish celebrates sourdough in French toast form.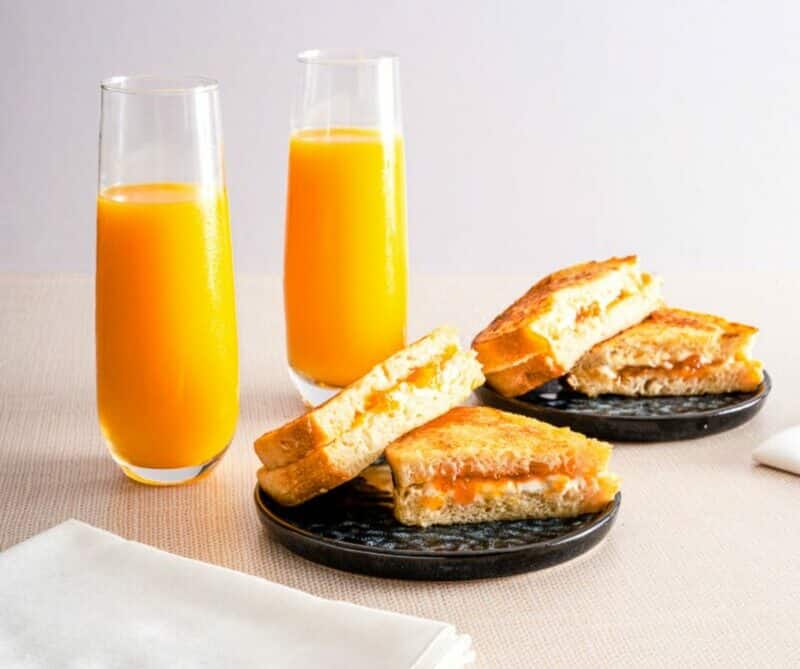 This simple and elegant French toast recipe will certainly wow your brunch guests. It is a dish best served on its own, complemented with simple bright drinks that don't overwhelm its delicate balance of flavors. Try a simple fruit juice, like tangerine, apricot, or mango, a plain mimosa, or a simple cup of coffee.
What You Need to Make Sourdough French Toast
To make this toast, you will not need much equipment: a whisk, a mixing bowl, a few butter knives, a shallow baking dish, a frying pan, and a small saucepan or microwave-safe bowl. You can try eating this dish as a regular sandwich, but I recommend using a knife and fork.
Sourdough French toast uses several pantry staples, but may require a trip to the grocery store. You will need eggs, milk, cream cheese, apricot jam, and sourdough bread.
You can use any variety of jam that you want, but I like the combination of cream cheese and apricot jam. It accentuates the sourness of sourdough bread nicely, but a seedless raspberry jam would be tasty here, too.
You do need to use a salty spreadable cheese, so I highly recommend cream cheese. You can use Neufchâtel for a lower fat, slightly less rich option.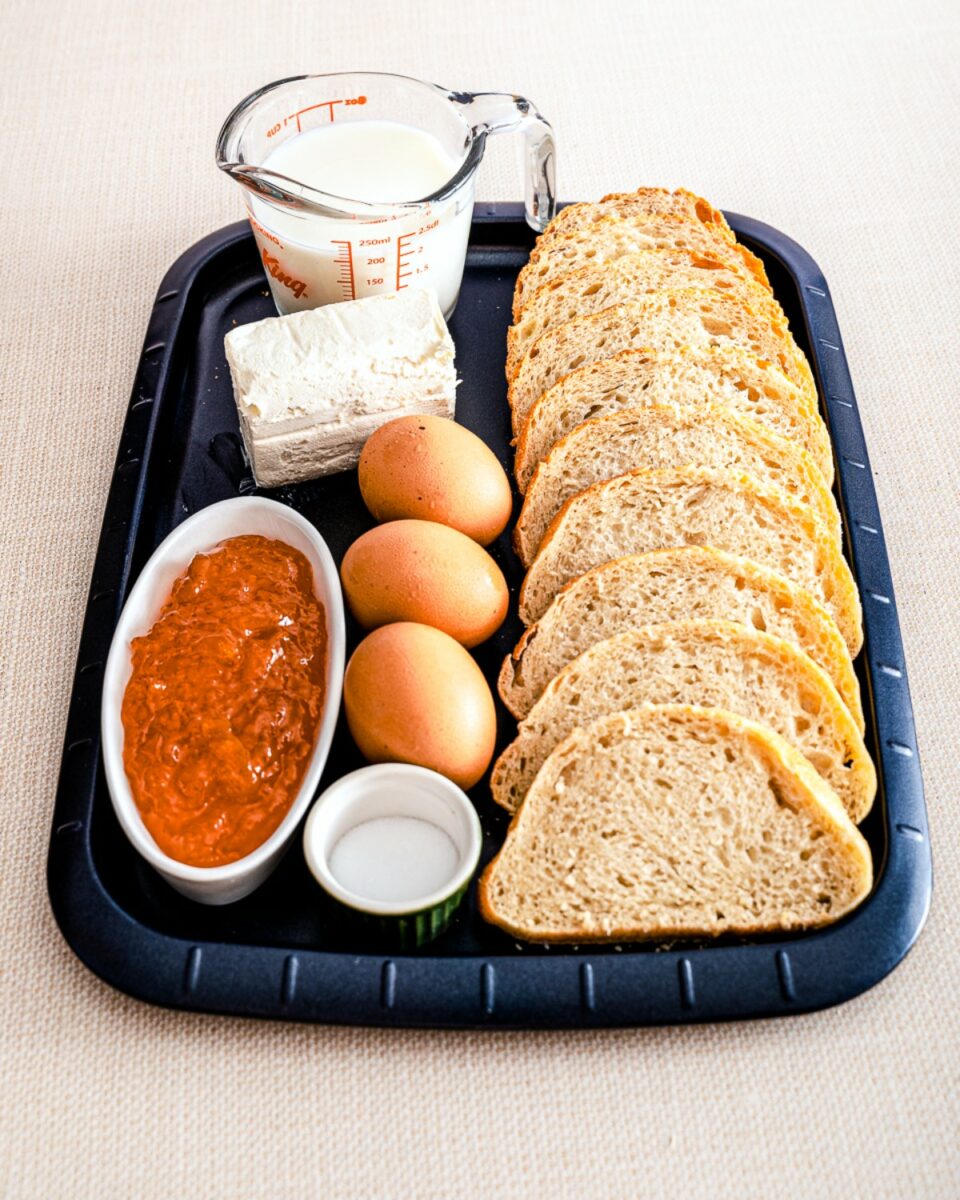 Ingredients:
1%, 2% or whole milk
Large eggs
Salt
Apricot Jam
Mascarpone
Sourdough bread
How To Make Sourdough French Toast
Making sourdough French toast is really no harder than making regular French toast, but instead of soaking just slices of bread, you'll be soaking an entire sandwich. That's right, you will be putting an entire sandwich in a custard mixture.
It is important that you spend enough time soaking the sandwiches on each side so that the custard has enough time to penetrate the bread.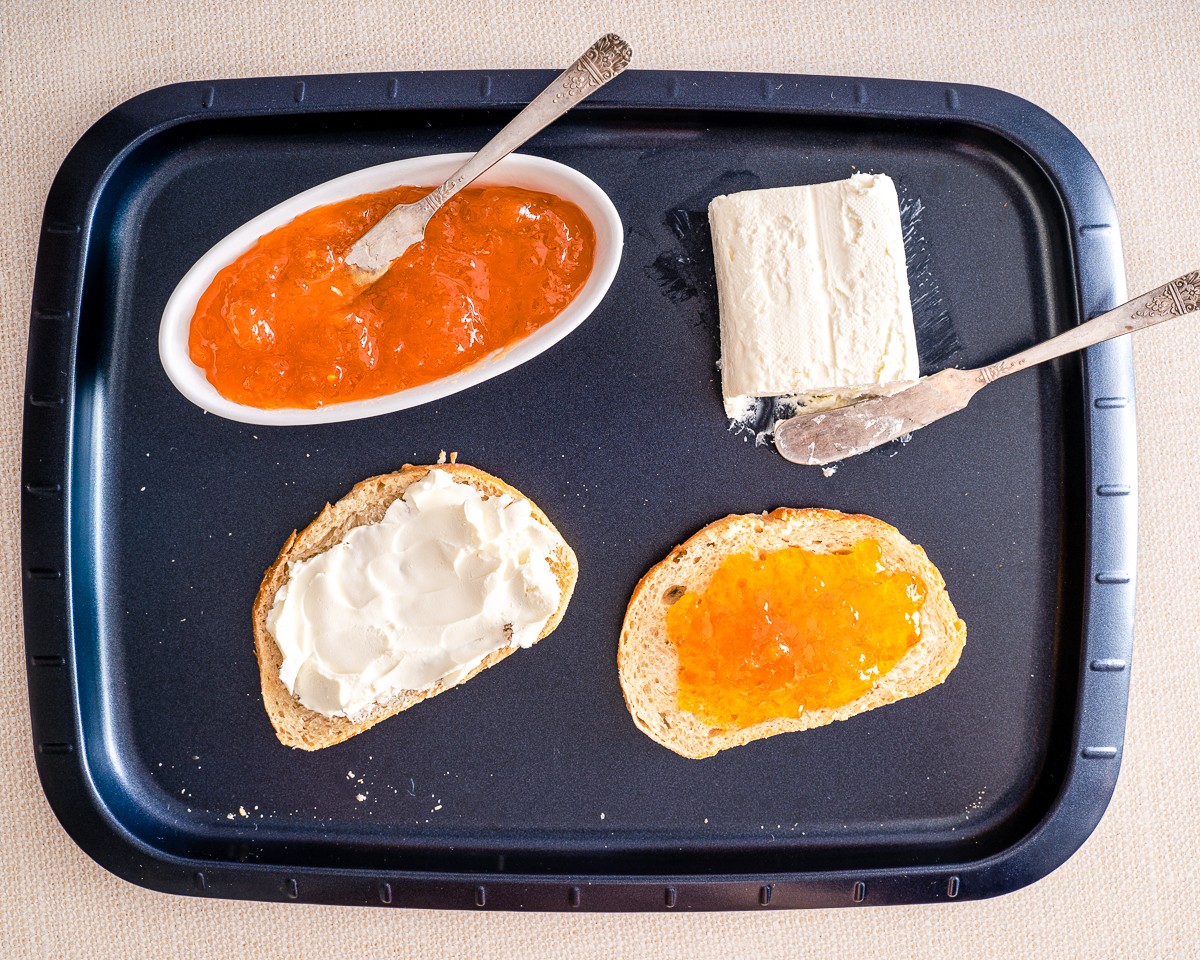 Prepare the French toast: Take two slices of sourdough bread and spread a thick layer of cream cheese on one slice and a thick layer of apricot jam on the other. In a bowl, whisk together eggs, salt, and milk until smooth. Place the custard into a shallow baking dish and soak the sandwiches for at least 4-5 minutes on each side.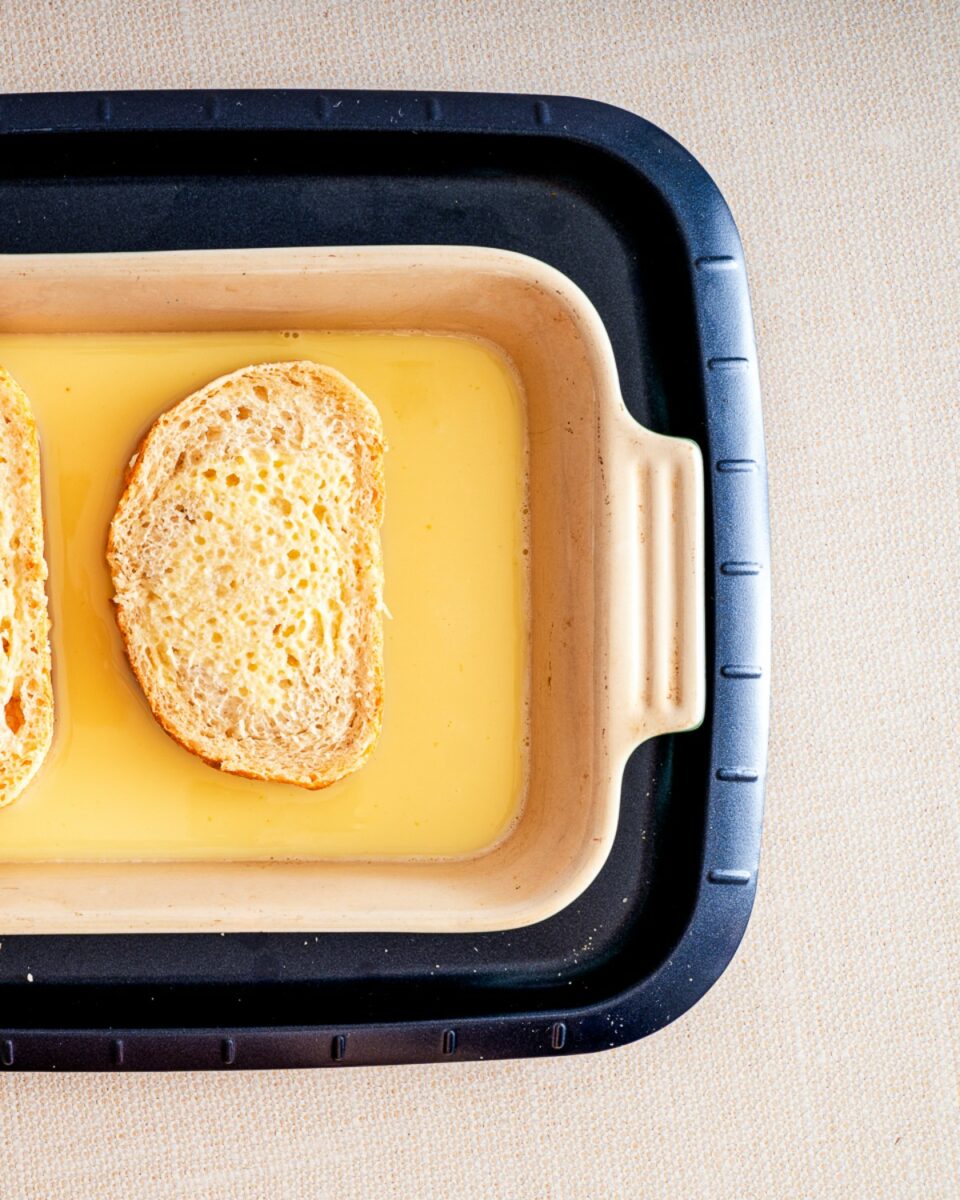 Make the French toast: Melt the butter in a non-stick skillet on medium heat. Fry the sandwiches for 4-5 minutes per side or until golden brown.
Make the apricot jam topping: Place reserved apricot jam in a saucepan or microwave-safe dish and warm, 1-2 minutes in the saucepan or 30-40 seconds on high heat in a microwave.
Assemble the sourdough French toast: Slice the fried Sourdough French Toast sandwiches in half on the diagonal. Top with several tablespoons of warmed apricot jam and serve immediately with a knife and fork.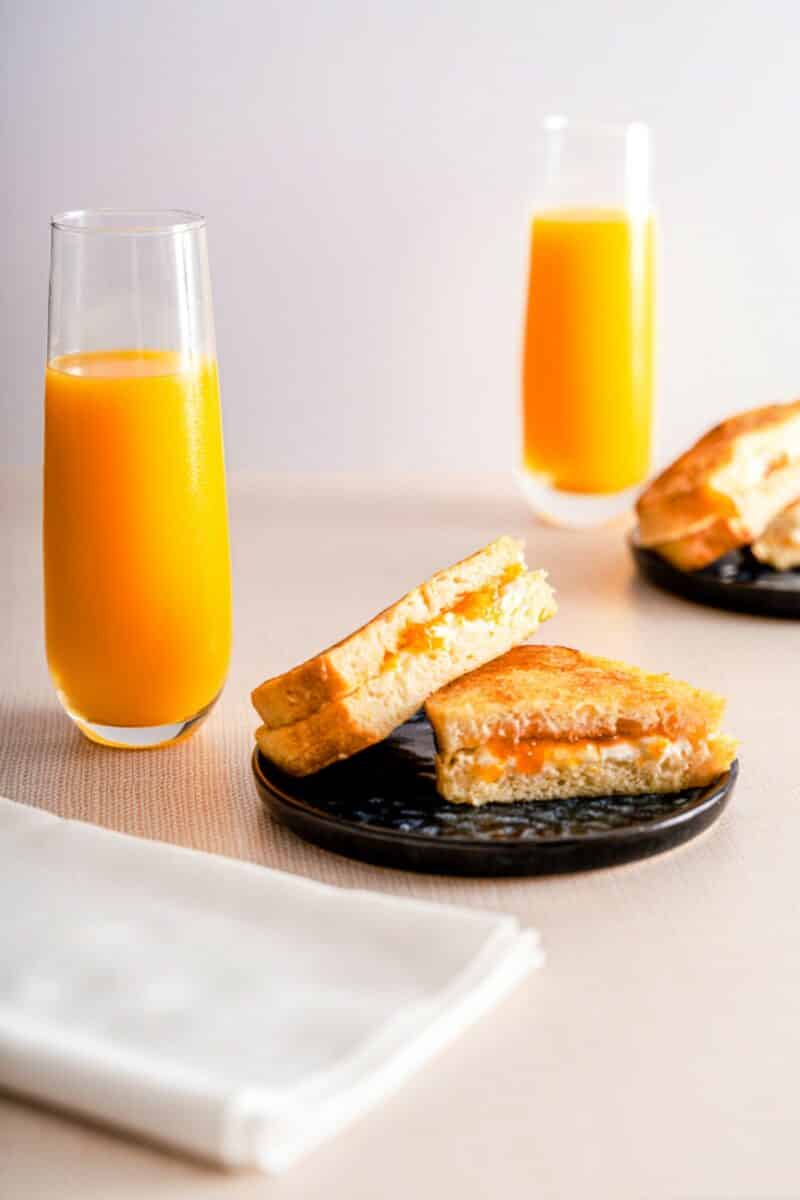 How do I keep the fillings from spreading out of the sandwich?
You might be concerned that when soaking and cooking this sourdough French toast, the fillings will ooze out.
I have never had this problem with this cooking technique, but if you are worried, two things you can do to address this are: not spreading the fillings all the way to the edge of the bread and being careful not to compress the soaked sandwiches.
Can I make anything ahead of time?
You can make the assembled sandwiches ahead of time and store in the fridge for up to a day. You can make and reheat the French toast in a skillet with a little butter, but because the jam and cream cheese become gooey and almost molten, I recommend eating these when they are fresh, or as chilled sandwiches for a snack later in the day.
What other kinds of toppings can I use?
I like topping this French toast with more jam because it keeps the flavor profile simple and clean. You could also dollop cream cheese whipped with a little cream.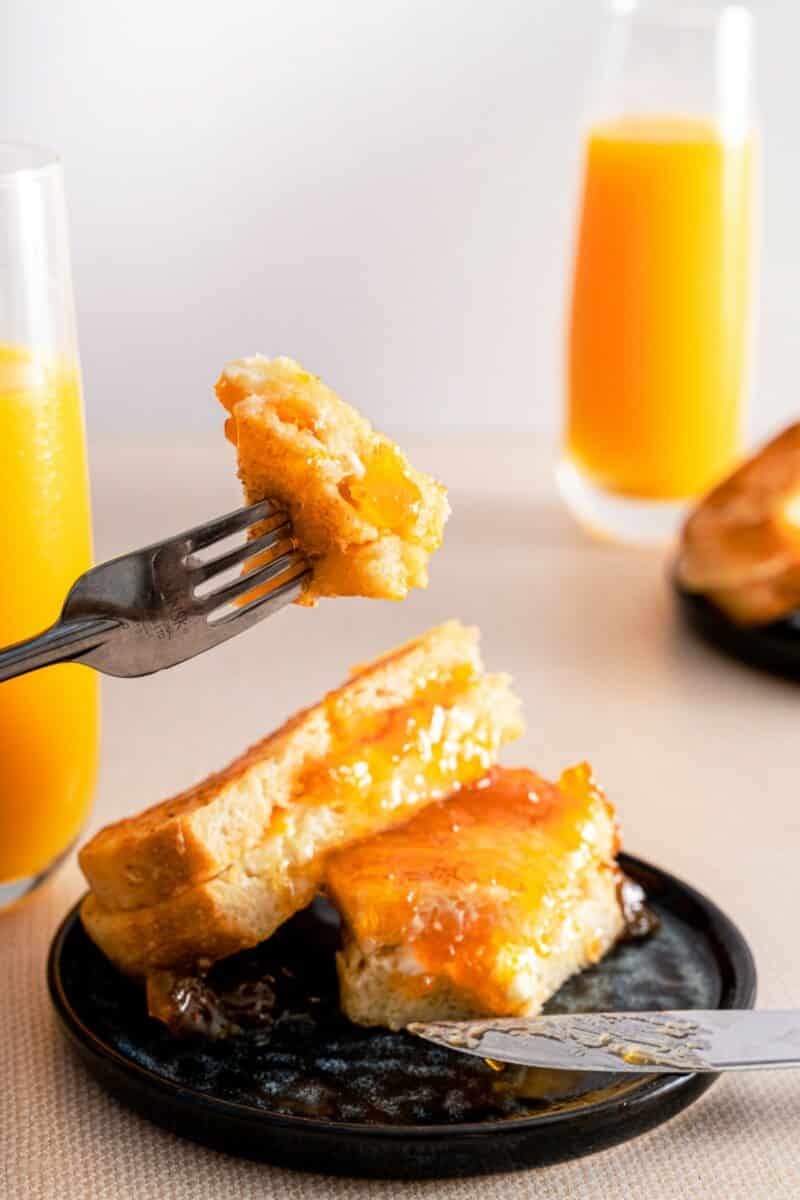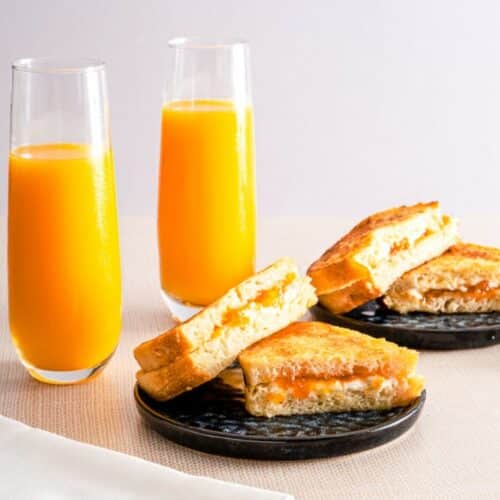 Sourdough French Toast
A tangy, sweet, and salty dish, sourdough French toast is a delicious meal for your next brunch. Apricot jam and cream cheese are sandwiched between two slices of sourdough, then soaked in custard before being fried and covered with warmed apricot jam. A delicate and delicious combination, the oozy apricot jam and cream cheese bring out the best flavors of sourdough for a delectable, light meal.
Ingredients
8

slices

sourdough bread into ½ inch slices

preferably stale

3

large eggs

1

cup

whole milk

4

oz

cream cheese cup

1

cup

apricot jam

pinch of salt

1 to 2

tbsp

butter
Instructions
Take two slices of sourdough bread. Spread 2 tablespoons cream cheese on one slice and 2 tablespoons apricot jam on another. Put together as a sandwich and repeat with the remaining bread.

Whisk together 1 cup whole milk, a pinch of salt and 3 large eggs until fully combined.

Place the custard mixture in a shallow baking dish. Soak the sandwiches in the custard mixture for 4-5 minutes per side.

Heat 1-2 tablespoons of butter in a non-stick skillet on medium heat and fry the sandwiches for 4-5 minutes per side.

Put 1/2 cup of the apricot jam in a small saucepan or microwave safe bowl and heat until warm.

Assemble the French toast by slicing the sandwiches in half on the diagonal and topping with 1-2 tablespoons of warm apricot jam.
Nutrition
Calories:
383
kcal
Carbohydrates:
54.85
g
Protein:
9.76
g
Fat:
14.78
g
Saturated Fat:
7.69
g
Fiber:
1.2
g
Sugar:
28.52
g
Here are a few other recipes you might enjoy!
Arielle is a food and drink photographer based in Washington, D.C. She was previously a social science researcher before she fell in love with photography.