Delicate and sweet, this mascarpone French toast is perfect for an elegant brunch. A rich vanilla-brioche French toast, whipped mascarpone, and raspberry syrup dissolve in your mouth for a delightful morning meal.
It's a sweet, light, and airy combination that tastes like a dream. The mascarpone gives this dish the most luscious texture because the cheese is even creamier than heavy cream, and offers a lovely counterpoint to the flavor of the raspberry syrup.
This dish requires a simple drink pairing. I would recommend a shrub, spritzer, or Italian soda. Something that is light and sweet and doesn't compete with the flavors of the dish.
The deep concentrated raspberry color is beautiful to look at and eat, so much so that you will want to share this brunch with people that you love.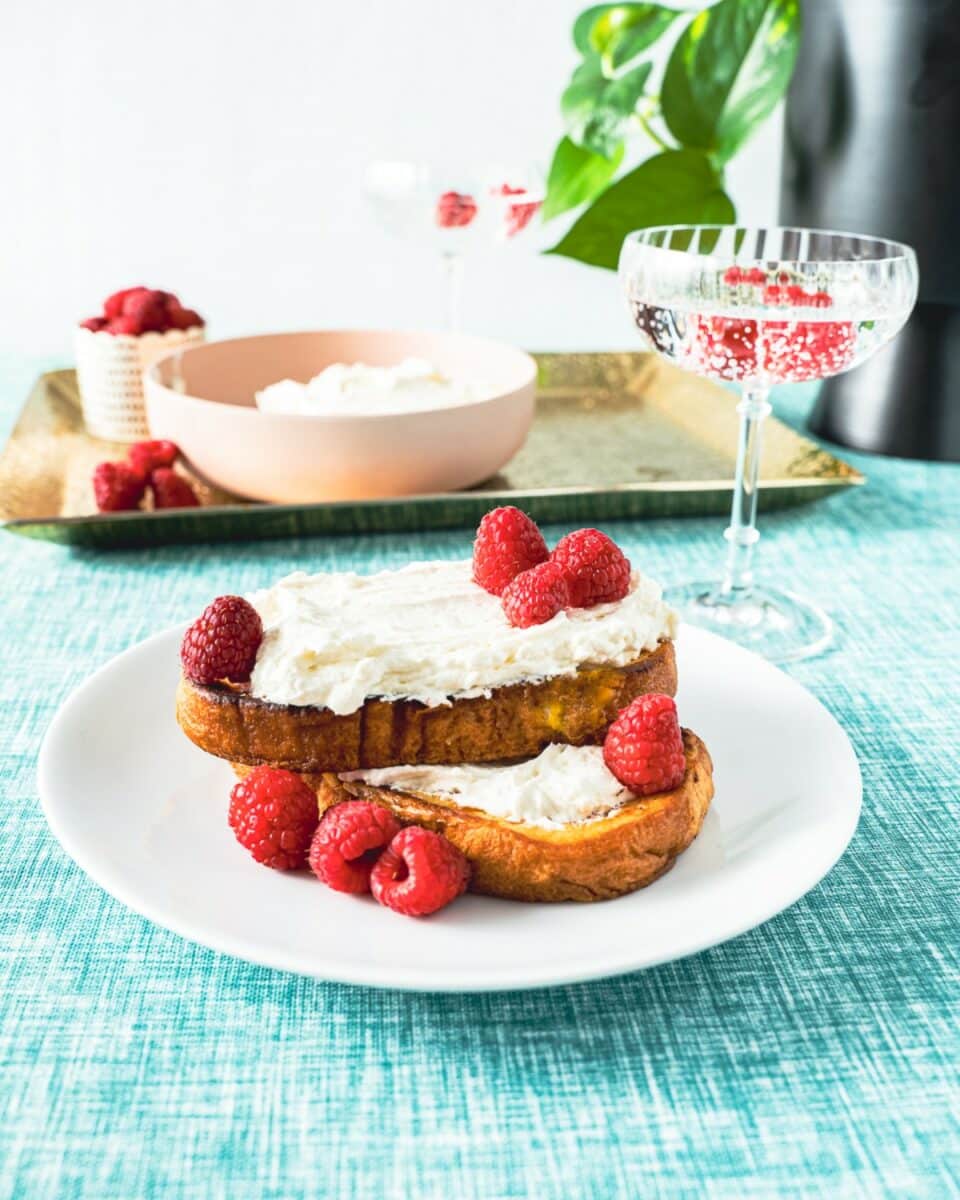 What You Need to Make Mascarpone French Toast
This recipe calls for several ingredients. You probably have eggs, milk, sugar, butter, and salt, but mascarpone, heavy cream, vanilla extract, brioche, and raspberries may require a trip to the store.
If you cannot use fresh raspberries, you can use frozen raspberries in the syrup. You will want to add a few minutes of cooking time to the syrup. I do not recommend using frozen berries for the garnish, so just omit them if you don't have fresh ones. You can also try using other berries with this recipe, particularly fruits that are often a little tart, like blackberries.
You can substitute vanilla beans or vanilla flavor for vanilla extract. However, I would caution against vanilla flavor. Some brands have an artificial flavor that I do not like, but I leave this up to you.
If you want to omit the vanilla, try using lemon juice in the raspberry syrup and a little lemon zest in the whipped mascarpone. This will change the flavor profile to be a little zippier, but you may find you like that even better!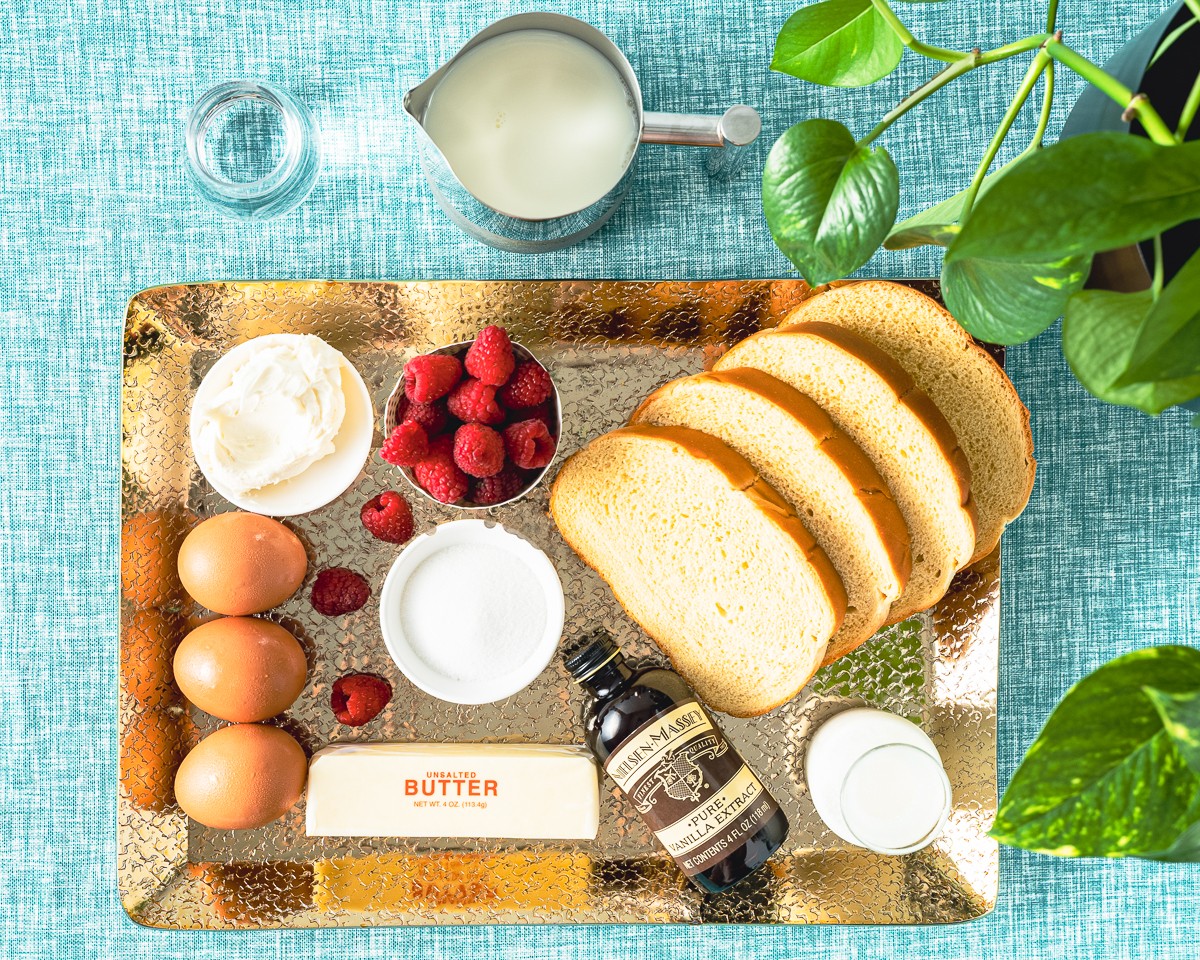 Ingredients:
Mascarpone
Eggs
Heavy Cream
Whole Milk
Brioche
Salt
Vanilla
Sugar
Raspberries
Butter
How To Make Mascarpone French Toast
The steps in this recipe are not difficult but do require some planning. You need to make the raspberry syrup in advance so that it has time to cool, probably the night before.
You also want to make sure your bread is stale so that it can sufficiently absorb the custard mixture.
With whipped mascarpone, you do not have to have super-cold ingredients like you do when you make whipped cream, but you do want your ingredients to be chilled. This recipe does not sweeten the whipped mascarpone, but if you want a touch of sweetness, add a tablespoon or two of powdered sugar.
For equipment, you'll need a small saucepan, a fine-mesh strainer, a non-stick frying pan, three bowls, a whisk, and a shallow baking dish. If you don't have a fine-mesh strainer, you can still make the raspberry syrup, but you will not be able to remove the seeds.
Steps:
Make the raspberry syrup: Place raspberries, sugar, and water in a small saucepan on medium-high heat. Stir occasionally for 8-10 minutes.
The raspberries will fall apart and release their juices. Pour the syrup through a fine-mesh sieve and allow to cool and thicken for several hours or overnight.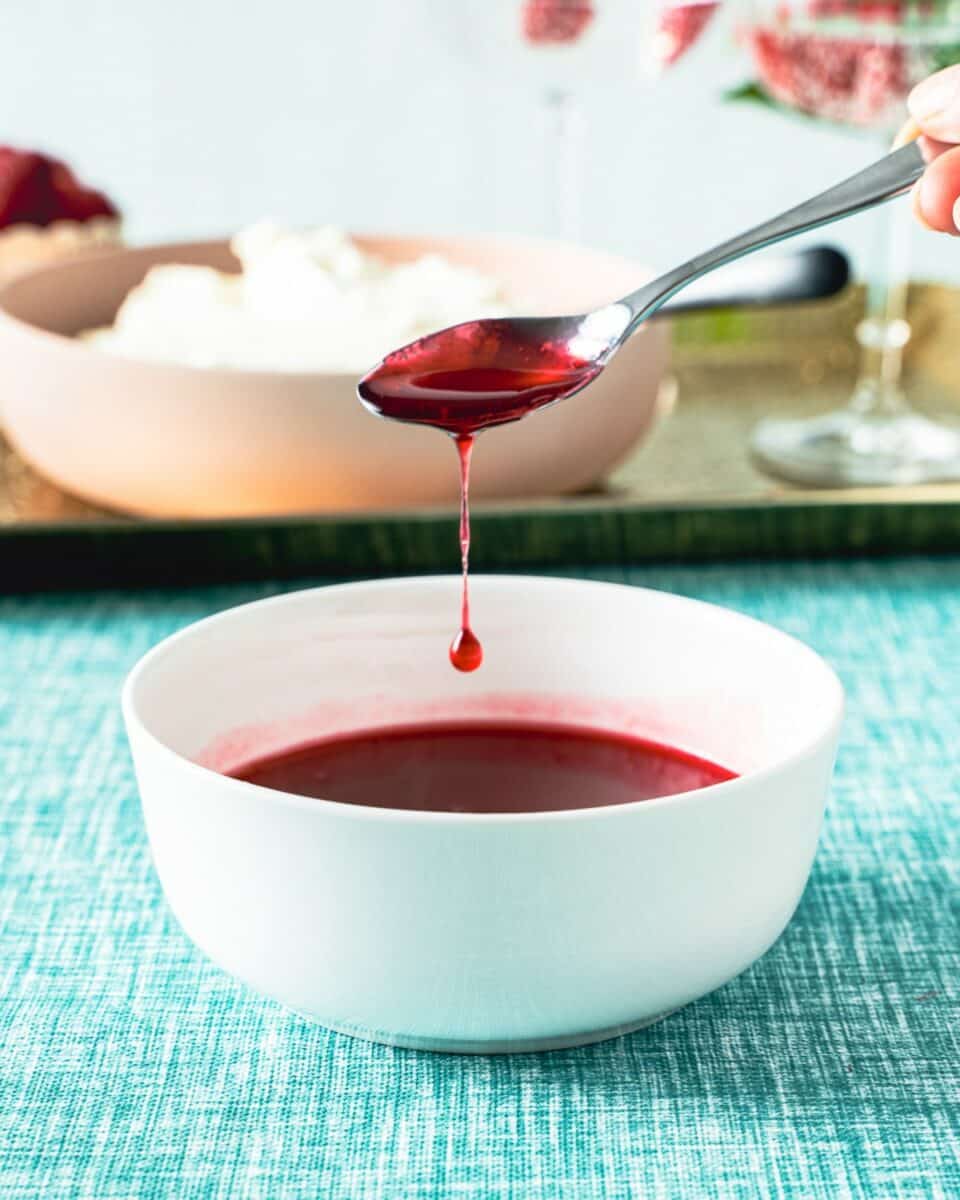 Make the whipped mascarpone: Place chilled heavy cream and mascarpone in a bowl and whip for 1-2 minutes, or until the mixture comes together and begins to hold its shape.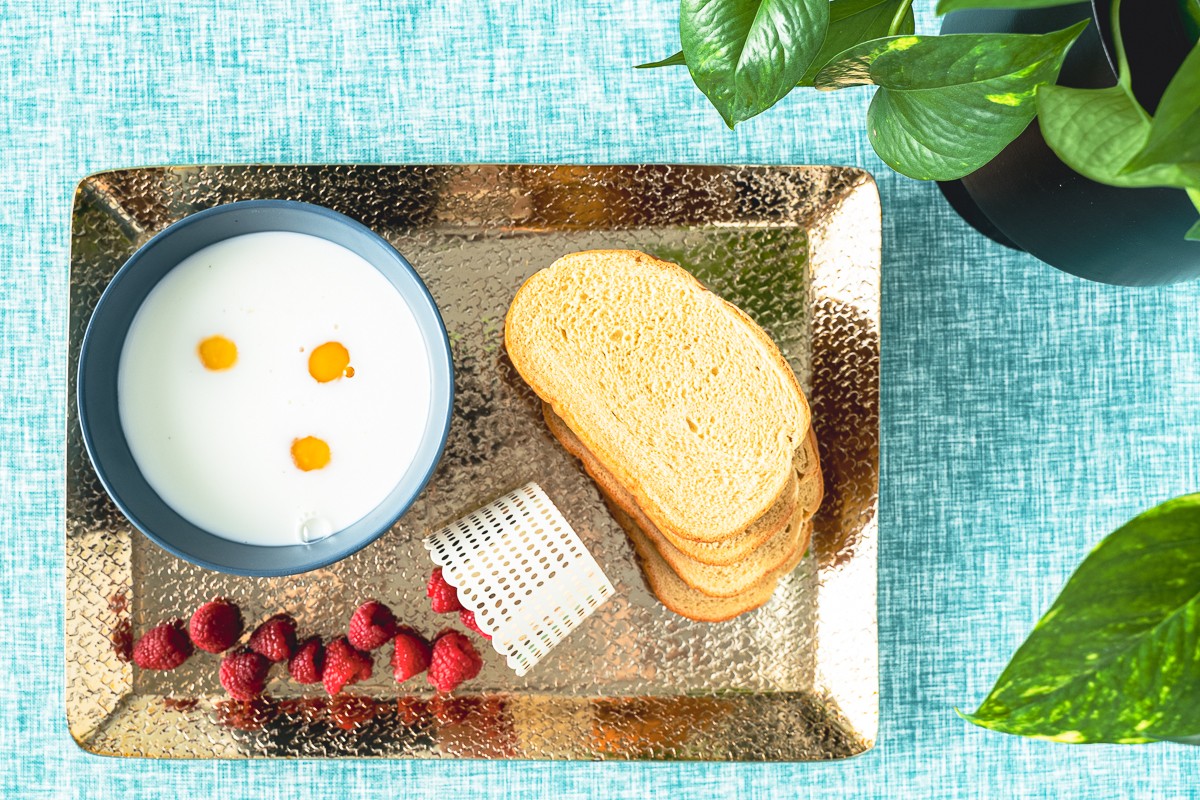 Make the French toast: Whisk together eggs, milk, vanilla, salt, and sugar until smooth. Soak the brioche in the custard for 4-5 minutes per side, allowing the bread to soak up the mixture.
Heat 1-2 tablespoons of butter in a non-stick pan and fry slices of bread until golden brown, 4-5 minutes per side.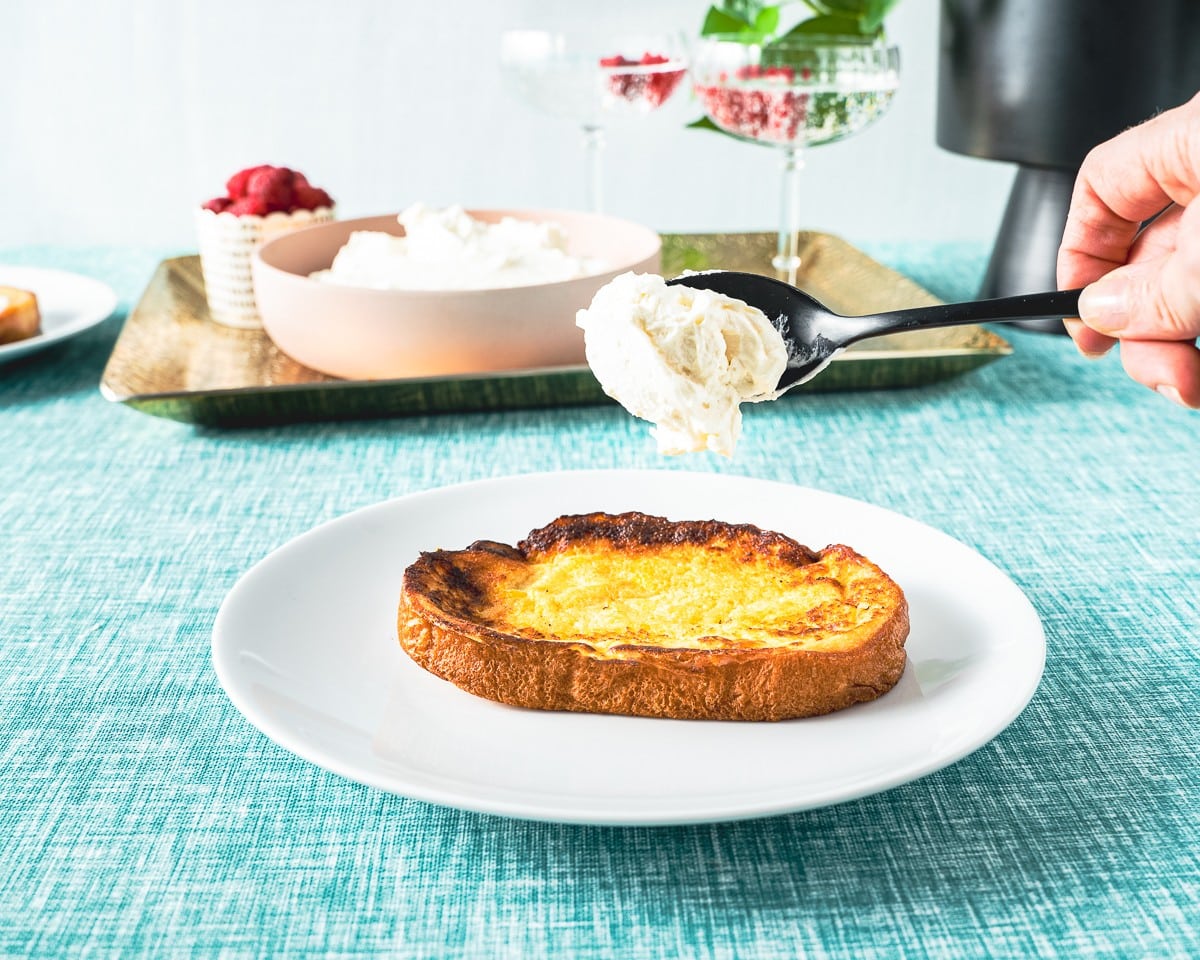 Assemble the mascarpone French toasts: Place one toast on a plate and spread a generous amount of whipped mascarpone on top. Add fresh raspberries and pour on the raspberry syrup.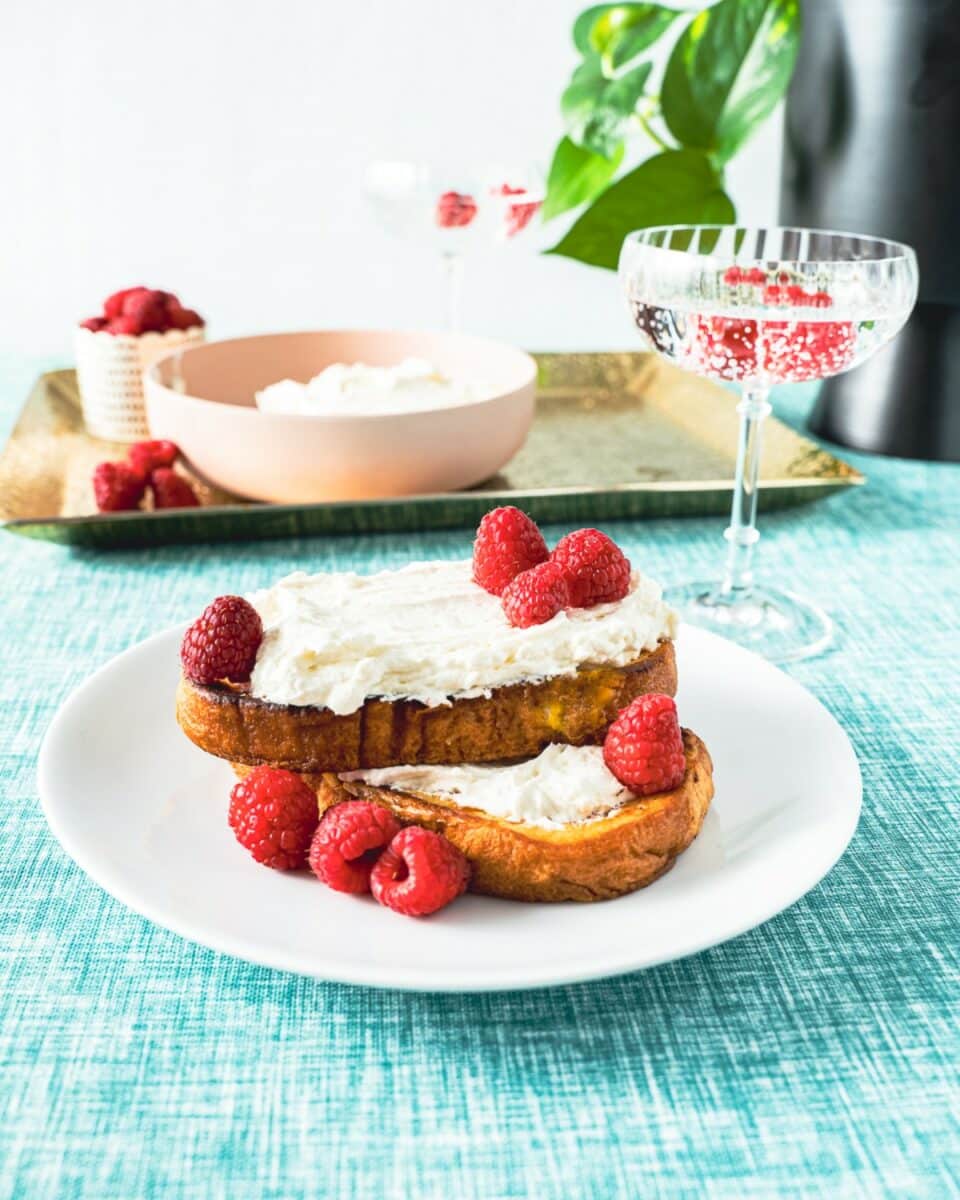 What can I make ahead of time?
You should make the raspberry syrup ahead of time so that it has time to cool before you use it. You can make the whipped mascarpone up to several hours ahead of time. You may want to give it a few whips to fluff it back up. You can also make the French toast ahead of time and reheat it in a frying pan with a little butter to prevent sticking.
What can I do with extra raspberry syrup?
You use the extra raspberry syrup for so many things! As a topping for vanilla ice cream, as a swirl in yogurt, as a sauce to accompany cheesecake, in a cocktail… Be creative!
What other bread can I use besides brioche?
You want to use rich bread with a higher fat content in this recipe, which is why I use brioche. Challah and sweet bread would also be good here.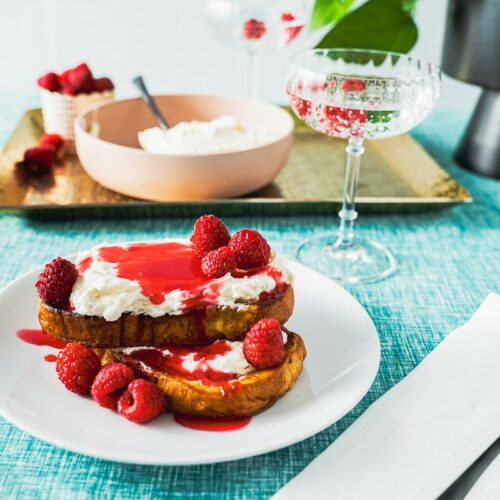 Mascarpone French Toast
Mascarpone French toast is bright, sweet, and silky, perfect for an elegant brunch. Glossy, thick raspberry syrup is poured over whipped mascarpone and a vanilla brioche French toast, creating a dish that is striking for both its color and flavor. A decadent treat, pair it with a light fruity drink for a fresh and creamy start to your morning with family and friends.
Ingredients
8

slices of brioche

cut into ½ inch slices, stale

3

large eggs

1

cup

heavy cream

1

cup

whole milk

½

cup

mascarpone

2 to 4

tbsp

butter

½

cup

raspberries

plus more for garnish

½

cup

+ 2 tbsp granulated sugar

½

cup

water

¼

tsp

vanilla

pinch of salt
Instructions
Put 1/2 cup of raspberries, 1/2 cup of water, and ½ cup of sugar in a small saucepan on medium-high heat for 8-10 minutes. Stir occasionally.

Remove from the heat after raspberries lose their form and release their juices.

Strain through a fine-mesh strainer and allow the raspberry syrup to cool for several hours or overnight in the fridge.

Place ½ cup of mascarpone cheese and 1 cup of heavy cream in a bowl and whip until they combine and the mixture begins to hold its form, 1-2 minutes. Refrigerate until ready to use.

Place 3 eggs, 1 cup whole milk, 2 tablespoons granulated sugar, and a pinch of salt in a bowl and whisk until smooth.

Place custard mixture in a shallow baking dish and soak the slices of bread for 4-5 minutes per side.

While the bread is soaking, melt 1-2 tablespoons of butter in a non-stick skillet on medium heat.

Once the butter has melted, fry the slices of bread until golden brown, around 4-5 minutes per side.

Plate the toasts and top with a generous spread of whipped mascarpone, fresh raspberries, and raspberry syrup.
Nutrition
Calories:
457
kcal
Carbohydrates:
48.72
g
Protein:
10.56
g
Fat:
25.02
g
Saturated Fat:
12.13
g
Fiber:
2.3
g
Sugar:
23.38
g
Here are a few other recipes you might enjoy!
Arielle is a food and drink photographer based in Washington, D.C. She was previously a social science researcher before she fell in love with photography.