I love recipes that tickle my senses so much that I feel like I'm in another place. This Hawaiian roll French toast will do just that—it will transport you to a warm tropical beach (unless you are lucky enough to already live near one!).
Hawaiian roll French toast is a delight. Cloud-like sweet rolls are dipped in a coconut custard and cooked, then paired with caramelized pineapple slices, a light coconut whipped cream and toasted coconut.
A light, bright and tropical take on this breakfast classic, what really makes this recipe shine is the caramelized pineapple.
Whatever you drink with it, make sure it has a little pineapple juice in it. Maybe whip up a batch of cool, non-alcoholic piña colada smoothies or sip on a refreshing Hawaiian mimosa with coconut rum.
Hawaiian roll French toast is an experience that is best shared with family and friends when you want to slow down, relax and enjoy each other's company.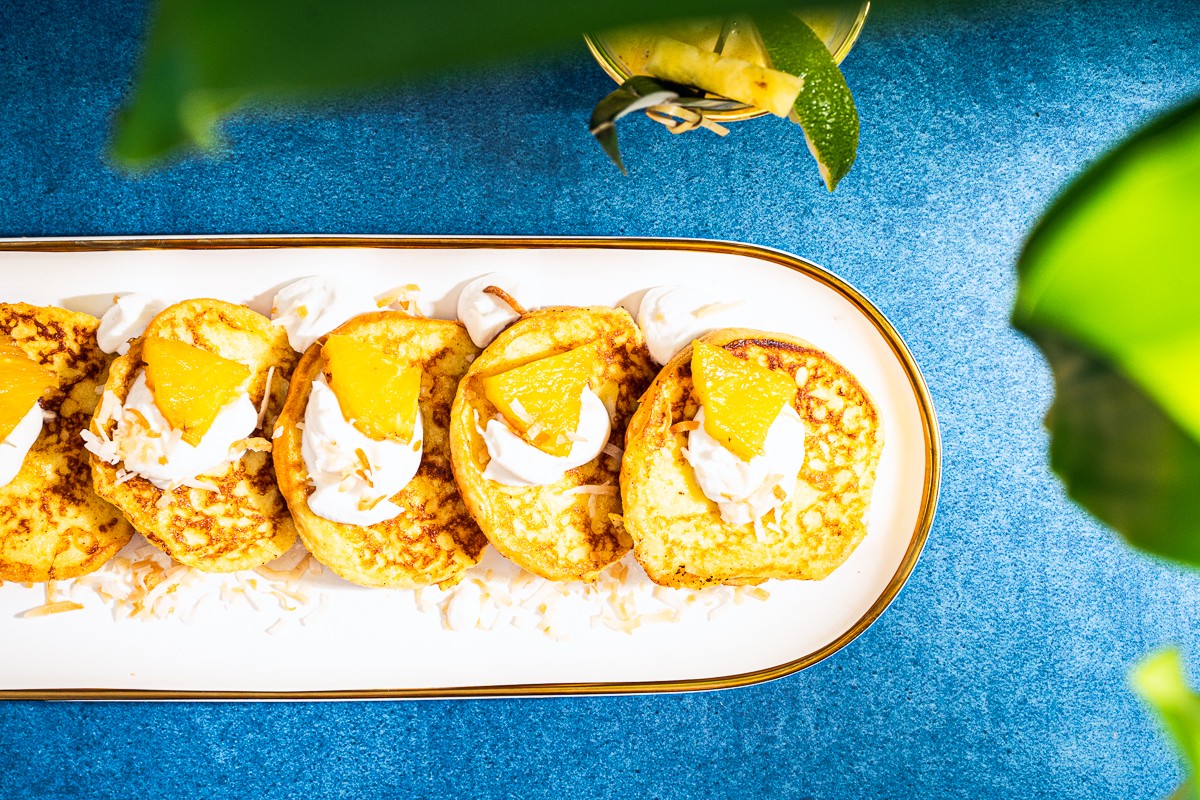 This French toast recipe builds on flavors used in the Hawaiian rolls themselves. Hawaiian rolls are soft and lightly sweetened with pineapple juice, honey or brown sugar.
What You Need to Make Hawaiian Roll French Toast
You can adapt many of the ingredients in this recipe as needed. Can't find Hawaiian rolls? Try a brioche roll or use slices of another, eggy, sweet bread.
Pineapples not in season? Use canned pineapple slices or chunks. Just be sure to drain the liquid before you use it.
And while the alcohol in this recipe cooks out, the rum is absolutely optional.
You do need to use full-fat coconut milk for the coconut whipped cream, but you can use light coconut milk for the egg-custard for a lighter ingredient swap.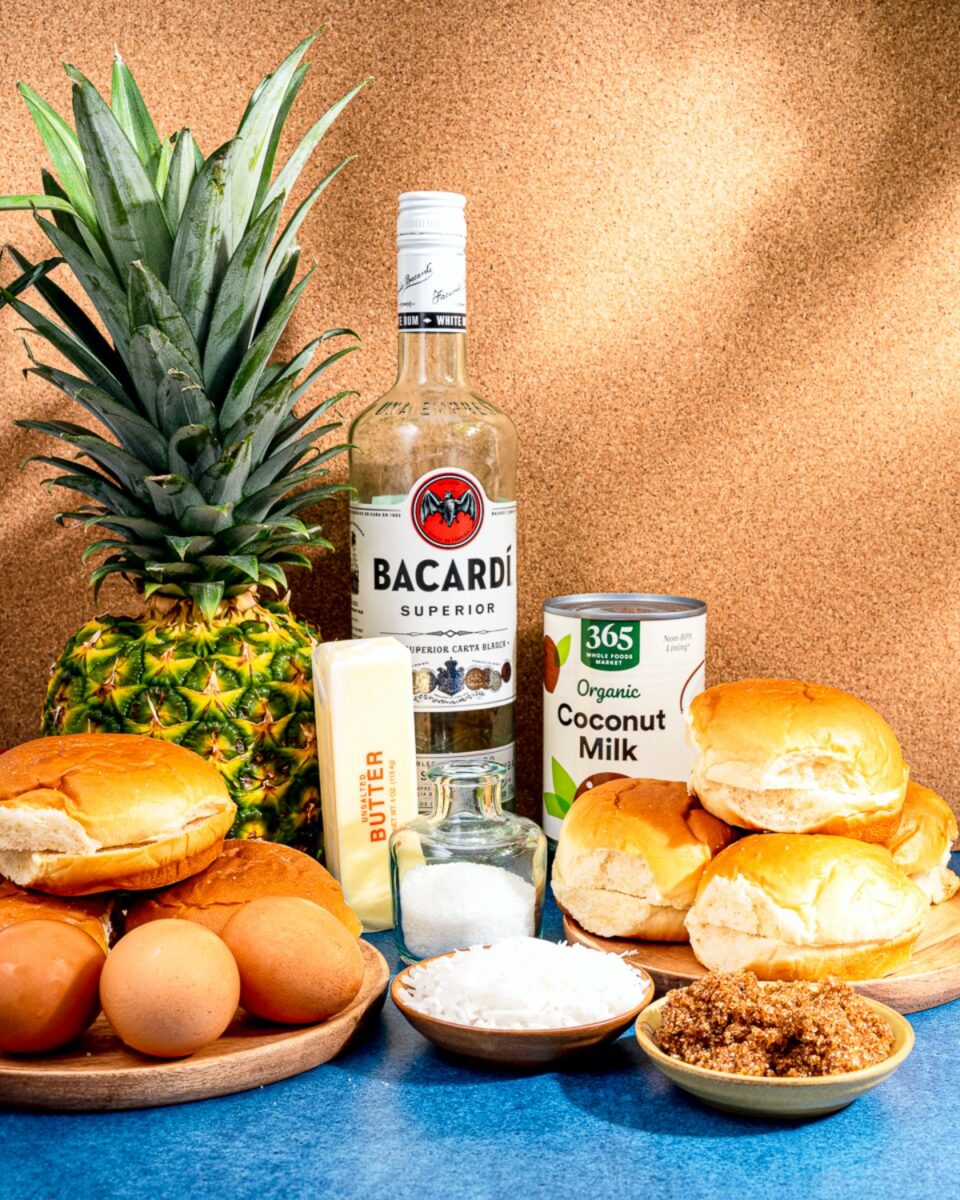 Ingredients:
Hawaiian rolls
Eggs
Coconut milk
Rum (dark or light, optional)
Fresh pineapple (or canned)
Dark brown sugar
Salt
Sweetened Coconut, shreds or flakes
Butter
Tools:
To make this dish, you'll need:
Two non-stick pans
Small saucepan
Baking sheet lined with parchment paper
A few bowls
Spatula
Whisk
If you are using fresh pineapple, you'll also want a sharp chef's knife and cutting board. I like to use a board that has a groove around the outside to catch the pineapple juices.
How To Make Hawaiian Roll French Toast
The tricky part of this dish is the coconut toppings. Toasting coconut is simple, but coconut can burn quickly—when it's in the oven, watch it closely! When you start to smell coconut in your oven, you're minutes or even seconds from needing to take it out.
For the coconut whipped cream, place a can of full-fat coconut milk in the fridge for several hours or overnight. That's right, put a can of coconut cream in the fridge!
Also, put your whisk and bowl in the freezer for 10-15 minutes before you make the whipped cream. Cold equipment makes whipped cream come together in a snap.
Steps:
Make the caramelized pineapple: If using fresh pineapple, use a large sharp knife to cut off the top and bottom of the pineapple. Place the pineapple upright and cut away the outer peel.
Then cut large slices of pineapple away from the core. This should result in 3-4 large sections of pineapple that you can cut into slices.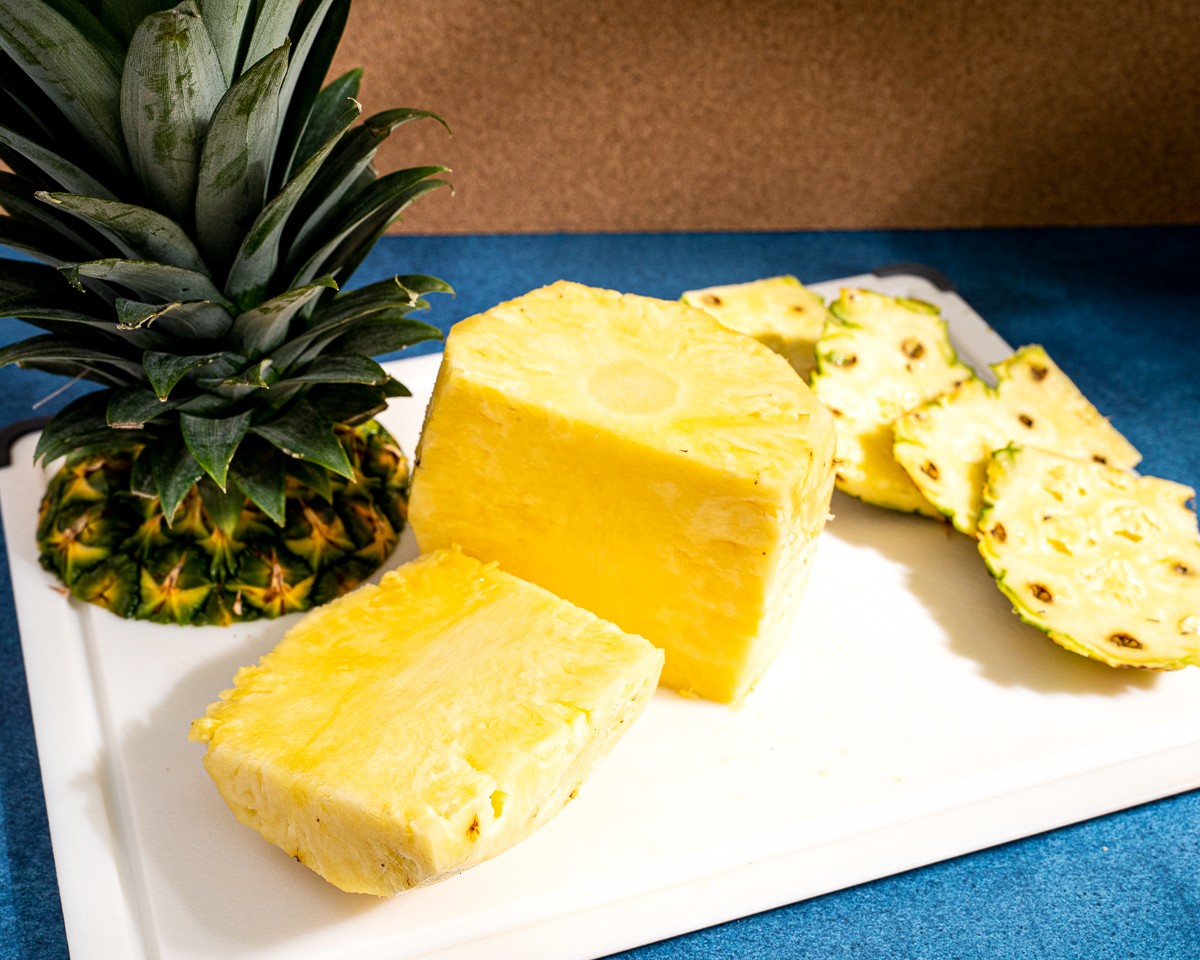 Put butter, rum, water and brown sugar in a small saucepan and heat until just dissolved, 2-3 minutes.
Brush this mixture over the pineapple and heat a non-stick skillet with more butter over medium heat. Cook slices of pineapple until golden on each side, 3-4 minutes per side. Set aside.
Make the Hawaiian French toast: Separate the tops and bottoms of 8 Hawaiian rolls. Preheat a non-stick skillet with butter.
Whisk together eggs, coconut milk, and salt. Dip Hawaiian buns in the mixture several times to ensure they are fully coated in liquid.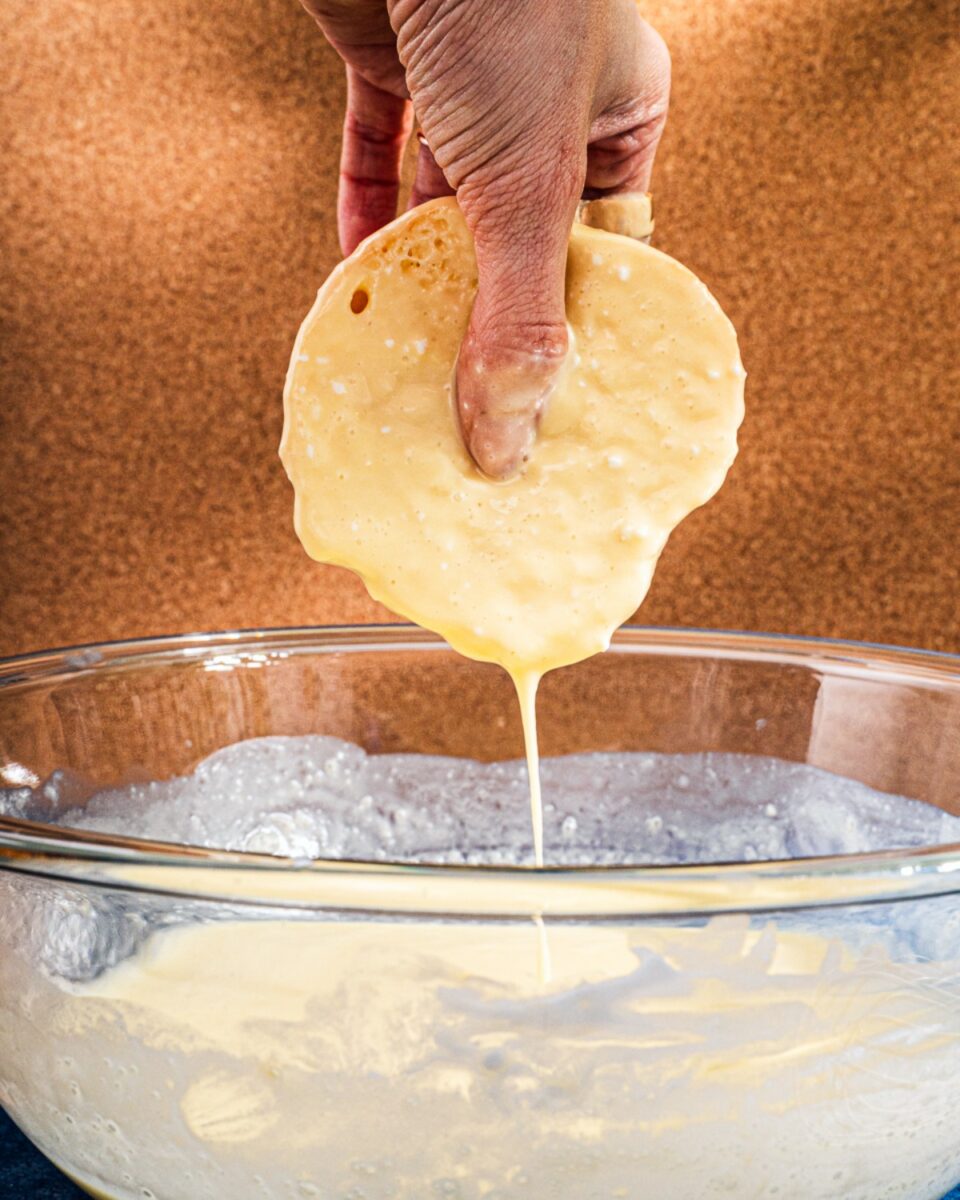 Add butter to the pan, and once melted, fry the Hawaiian buns for 3-4 minutes on each side or until golden brown.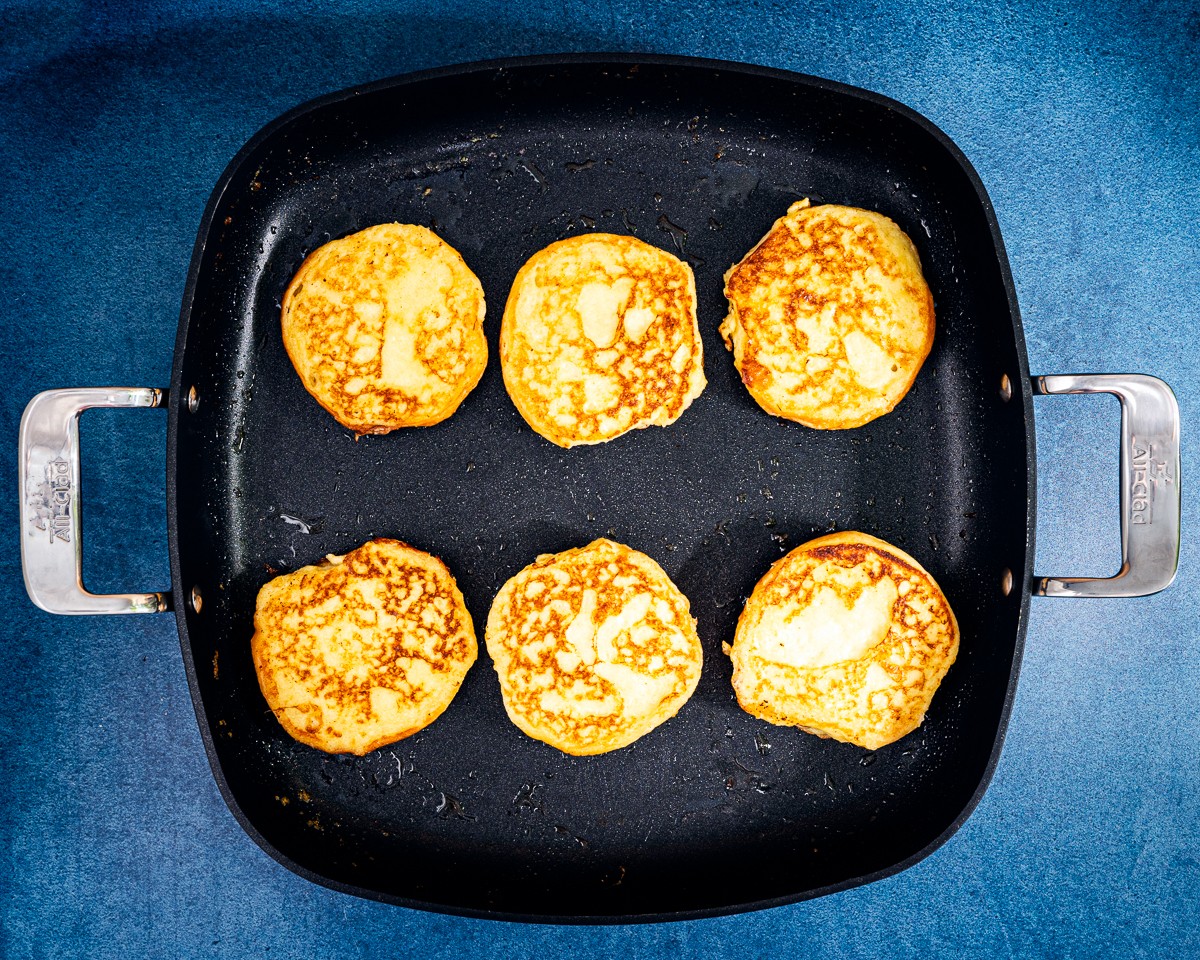 Make the toasted coconut: Preheat your oven to 350ºF. Arrange coconut flakes on a baking sheet lined with parchment paper and toast for 7-8 minutes, stirring every 2-3 minutes.
Remove once the coconut begins to take on a toasted color. Do not allow it to get dark brown. Set aside.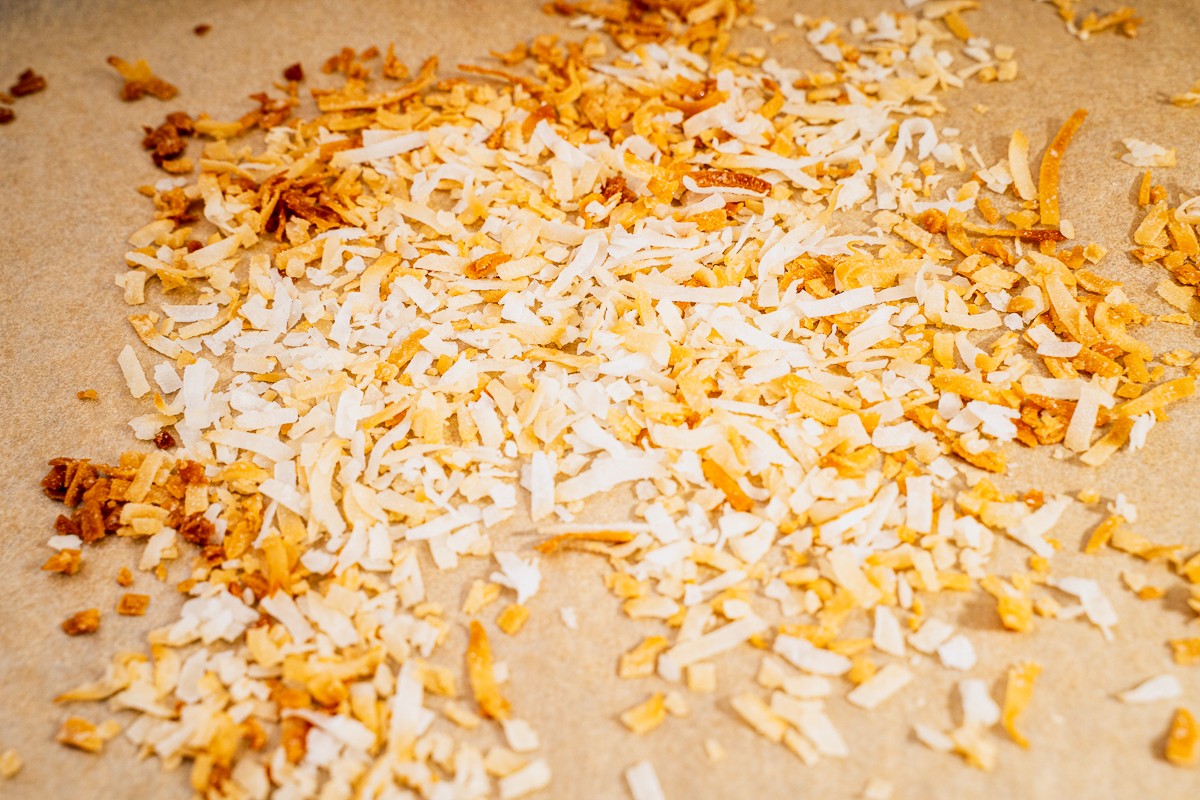 Make the coconut whipped cream: Remove the can of coconut milk from the fridge and your whisk and bowl from the freezer. Do not shake the can.
Open the coconut milk and take out the cream that has solidified, leaving the coconut water behind.
Whip up the coconut cream for 1-2 minutes by hand or 30 seconds if using a stand or hand mixer until light and airy.
I like how unsweetened coconut cream complements the sweet, caramelized pineapple, but if you prefer a sweeter whipped cream, add 1 tablespoon of powdered sugar before whipping.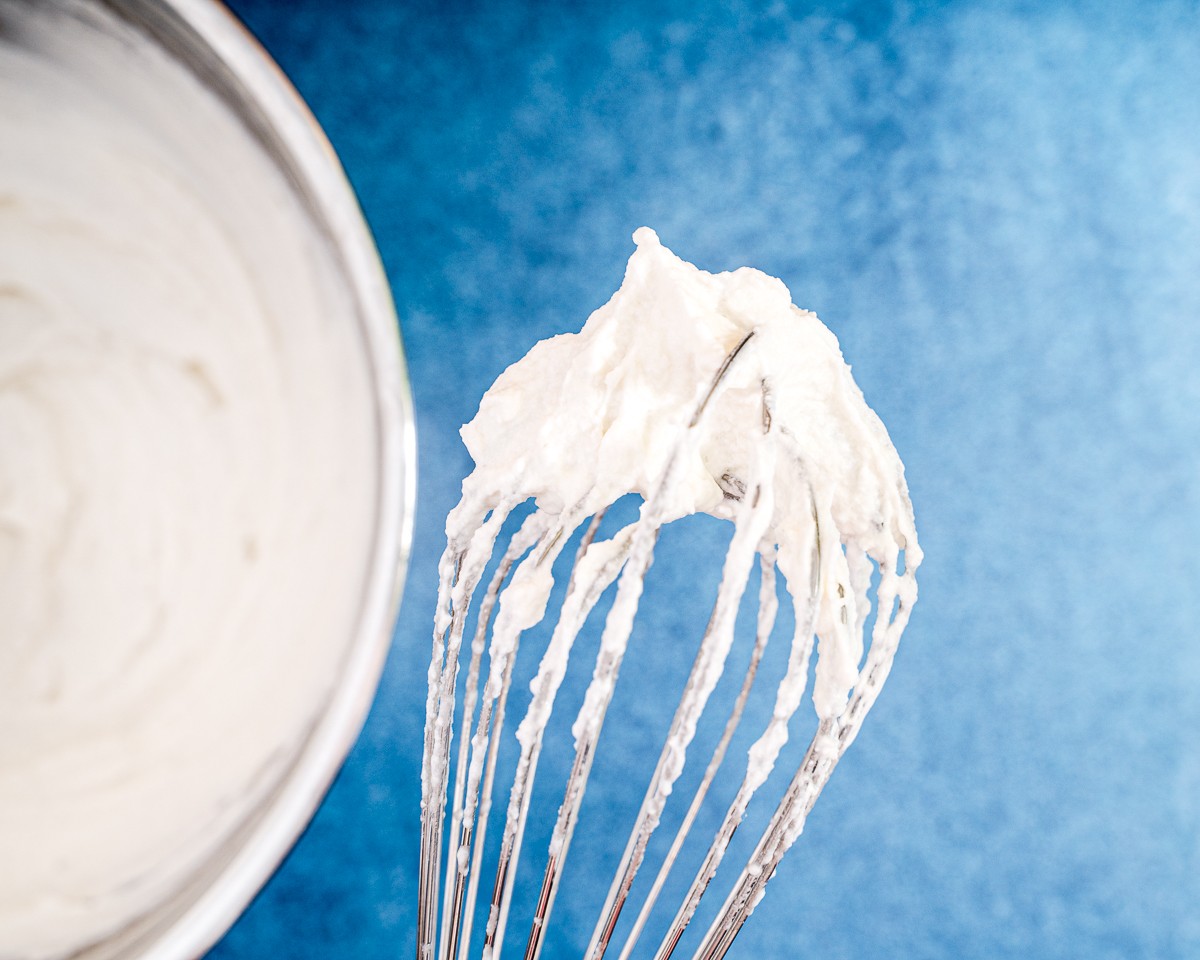 Assemble the French toast: Plate one roll with several slices of pineapple and 2-3 dollops of coconut cream. Sprinkle with toasted coconut and serve immediately.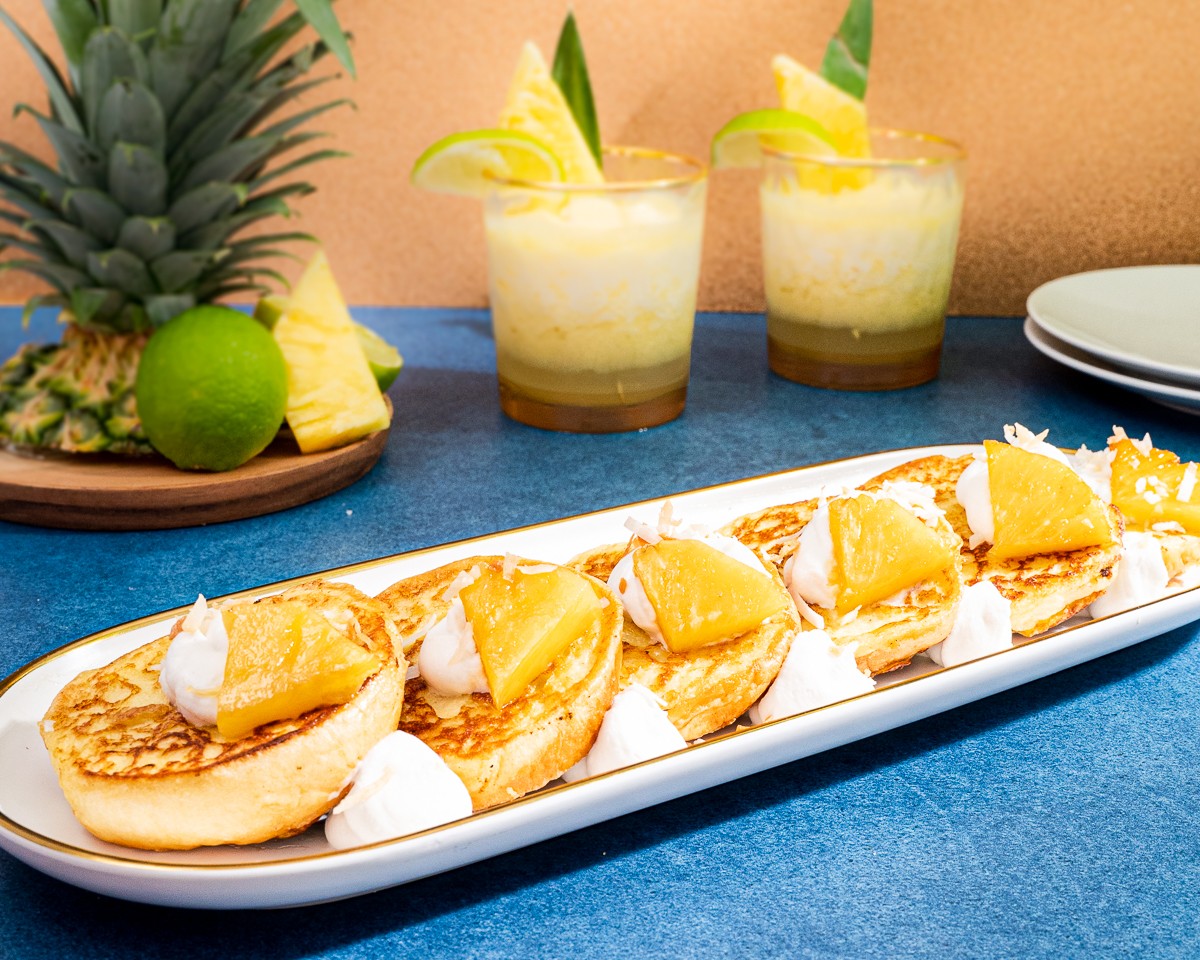 Can I make dairy-free Hawaiian roll French toast?
Kings Hawaiian Rolls, which I use here, have dairy products in them, so you will want to use an alternative roll or bread that does not have dairy.
Many challahs, for example, are made without butter and could be a good replacement. While I use butter to cook the rolls and the pineapple, you can use coconut oil instead.
What if I need to use a different bread?
If you need to use a different roll or bread, you may need to experiment with dipping/soaking times. Many French toast recipes call for soaking the bread for a long period of time, but Hawaiian Rolls have a very soft structure that will flatten and almost disintegrate if the rolls become sodden with liquid.
If you replace the Hawaiian rolls with more traditional French toast bread, like challah or brioche, try soaking the bread for 5-10 minutes (or more if using very stale bread) to ensure the bread absorbs enough liquid.
What can I make ahead of time?
A lot! Toasted coconut can be made in advance and kept in the fridge for around a month, even longer if you store it in the freezer.
Coconut whipped cream is best if used within a few hours, but can be prepped and stored in the fridge until you need it.
Caramelized pineapple can also be used cold, at room temperature, or reheated in a skillet under a gentle low heat, and so can be made up to 3 days before and refrigerated until you plan to use it.
What can I make with leftovers?
If you have any leftover caramelized pineapple, try mixing it on yogurt or ice cream, a little extra coconut whipped cream, or just eat it on its own! Toasted coconut can add a nice crunchy topping to yogurt and ice cream.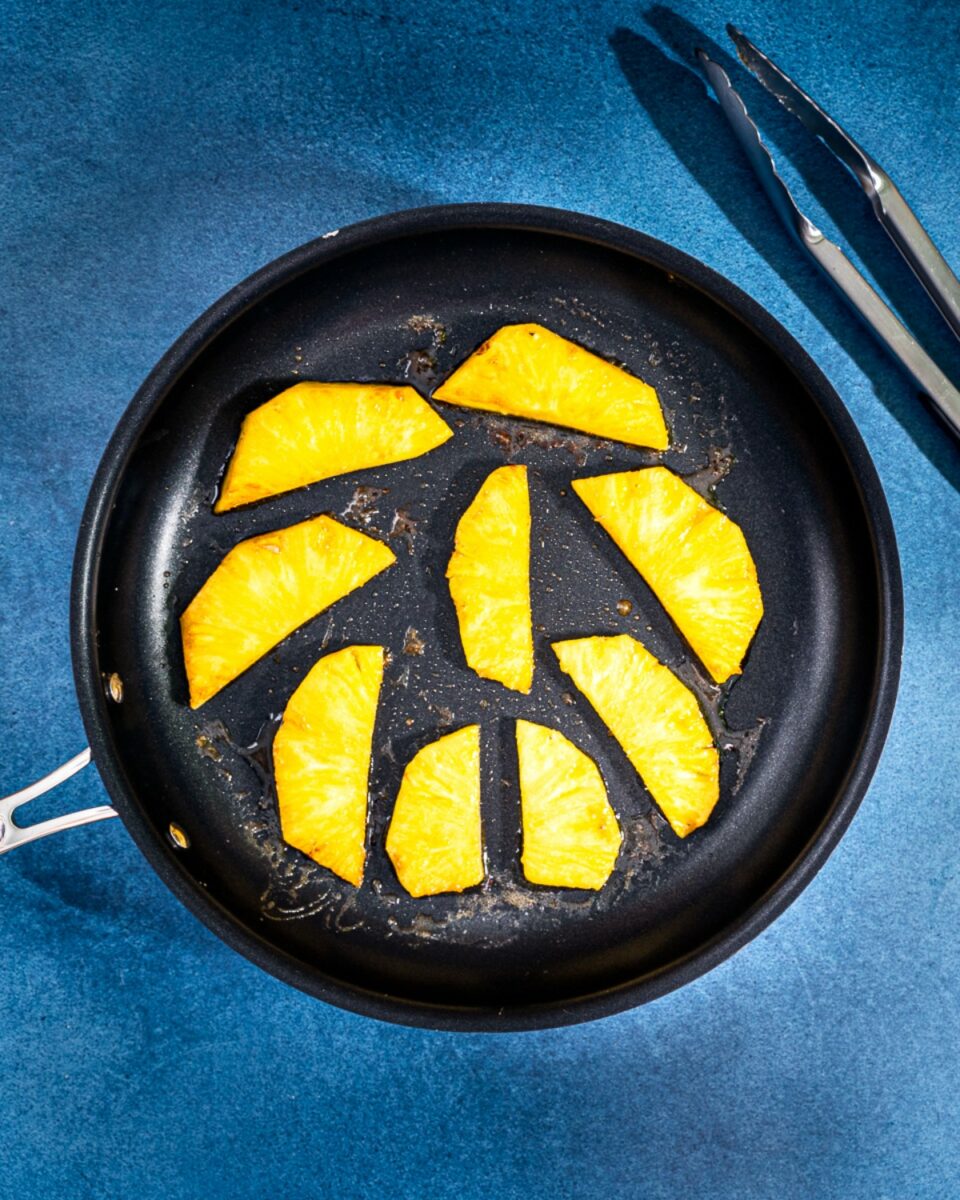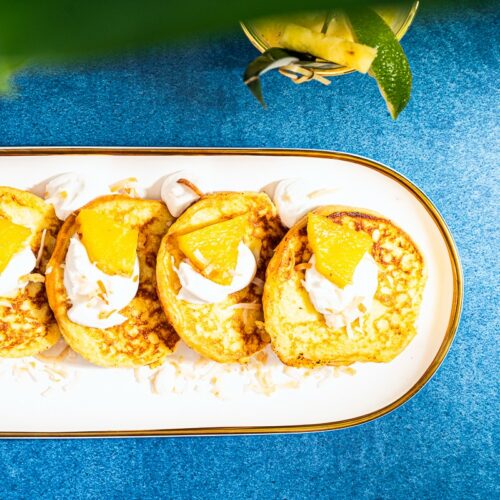 Hawaiian Roll French Toast
Hawaiian roll French toast is a show-stopping tropical celebration that will surprise and delight. Lightly sweet Hawaiian Rolls are dipped in a coconut custard and then paired with caramelized pineapple, coconut whipped cream, and toasted coconut flakes. The result will wow your senses with its textures, flavors and aromas. Try sharing this tropical experience the next time you make brunch for your family or friends.
Ingredients
1

pack

8 Hawaiian Rolls

3

large eggs

2

cans

13.5 oz full fat coconut milk

1

small pineapple, or one 20 oz can of pineapple rounds or chunks

drained

2

tbsp

dark brown sugar

1

oz

light or dark rum

1

tbsp

water

½

cup

sweetened coconut

shreds or flakes

5-6

tbsp

butter

salted or unsalted

pinches of kosher salt
Instructions
Preheat the oven to 350ºF.

Line a baking sheet with parchment paper and evenly spread ½ cup sweetened coconut flakes on the parchment.

Bake for 7-8 minutes, stirring every 2-3 minutes. Remove when coconut begins to brown.

In a small saucepan combine 1 tablespoon water, 1 tablespoon rum, 3 tablespoons brown sugar, a pinch of salt and 2 tablespoons butter.

Heat the sugar mixture under a medium-low heat until the sugar begins to dissolve, 2-3 minutes. Set aside.

Core and peel 1 pineapple and cut into wedges.

Melt 1 tablespoon butter in a nonstick pan under medium heat.

Glaze pineapple wedges with sugar mixture and place in the preheated non-stick pan.

Cook wedges until beginning to turn golden, 3-4 minutes per side.

Open the 13.5 oz can of coconut cream from the fridge that has been chilling overnight and place the solidified coconut cream in a bowl.

Whip for 1-2 minutes, or 30 seconds if using a hand mixer or stand mixer. Stop when the cream becomes light and fluffy and holds its form. Set aside in the fridge until ready to use.

Heat 1 tablespoon butter in another non-stick skillet on medium-high heat.

Whisk together 3 large eggs, a pinch of salt and one entire 13.5 oz can of coconut milk until smooth.

Separate the tops and bottoms of the Hawaiian rolls, and dip each half-roll in the egg and coconut mixture, making sure it is completely covered in the mixture.

Put the half-rolls in the frying pan, turning after 3-4 minutes, or when they begin to turn golden brown.

Work in batches until all rolls are finished, melting more butter in between each batch as needed.

Assemble and serve immediately.
Nutrition
Calories:
407
kcal
Carbohydrates:
25.85
g
Protein:
7.87
g
Fat:
31.38
g
Saturated Fat:
23.27
g
Fiber:
4.6
g
Sugar:
10.46
g
Here are a few other recipes you might enjoy!
Arielle is a food and drink photographer based in Washington, D.C. She was previously a social science researcher before she fell in love with photography.