Blueberry toast is a deceptively simple yet sophisticated recipe that tastes like an explosion of summer sunshine. Crusty, toasty bread is layered with silky billows of whipped ricotta, goat cheese, and blueberry compote, then garnished with drips of honey, lemon zest, and thyme. If you want a breakfast that celebrates and elevates blueberries, this recipe is your ticket.
Blueberry toast is perfect for a last-minute brunch with friends or a quick breakfast when you want something a little extra. Consider pairing it with a drink that is equally bright and fresh—think a blueberry mimosa for a true blueberry celebration or a classic glass of OJ.
No matter how you enjoy your blueberry toast, this dish should be a regular in your recipe rotation.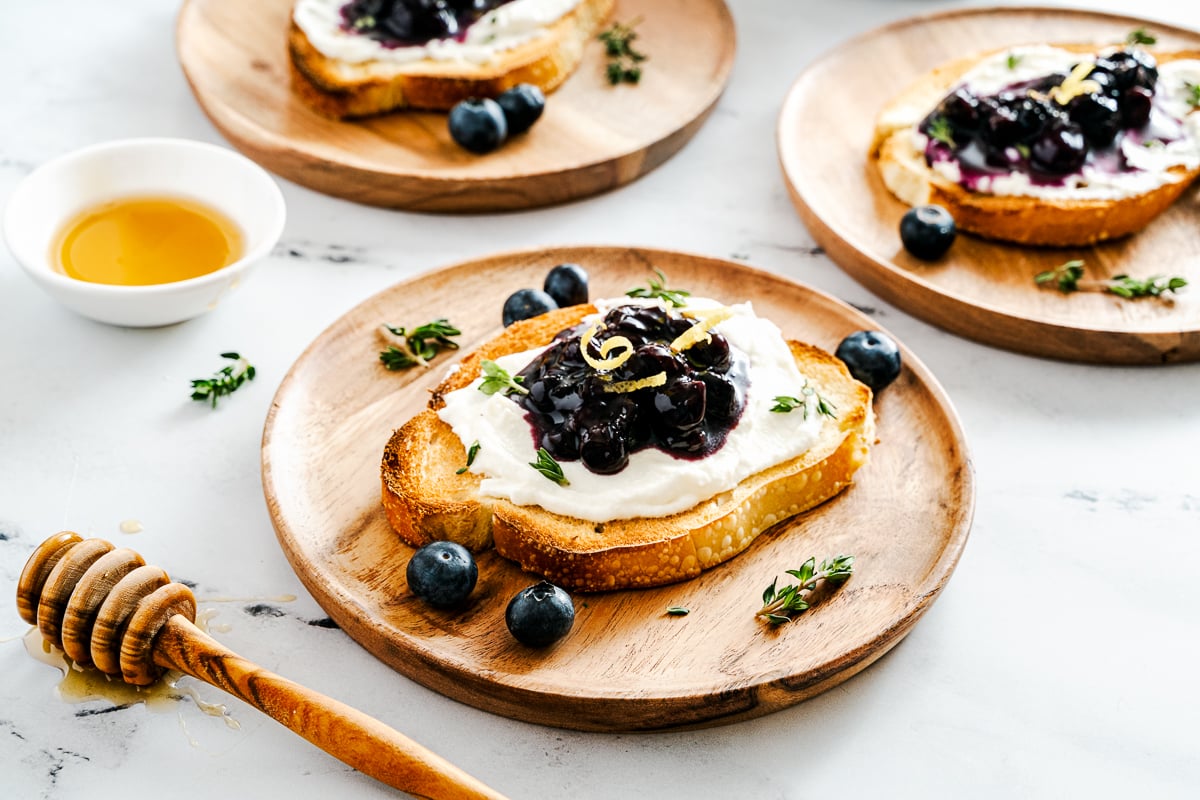 This recipe requires minimal equipment—a whisk, an oven, a sheet pan, and a saucepan—and comes together quickly. If you want to prep the night before (and get a few extra minutes to sleep in!), the whipped ricotta-goat cheese spread and blueberry compote can be made the day in advance. Just assemble the toasts in the morning right before you plan to eat them.
When I'm prepping this recipe, I like to take the cheeses out of the fridge and allow them to warm up while I prepare the blueberry compote. This makes it easier to whip the cheeses together.
When making the toast under the broiler, watch them closely. They can go from toasting to burning in an instant. Otherwise, there are no tricks or special techniques.
Blueberry toast is a deceptively simple, unfussy recipe that is sure to impress.
What You Need to Make Blueberry Toast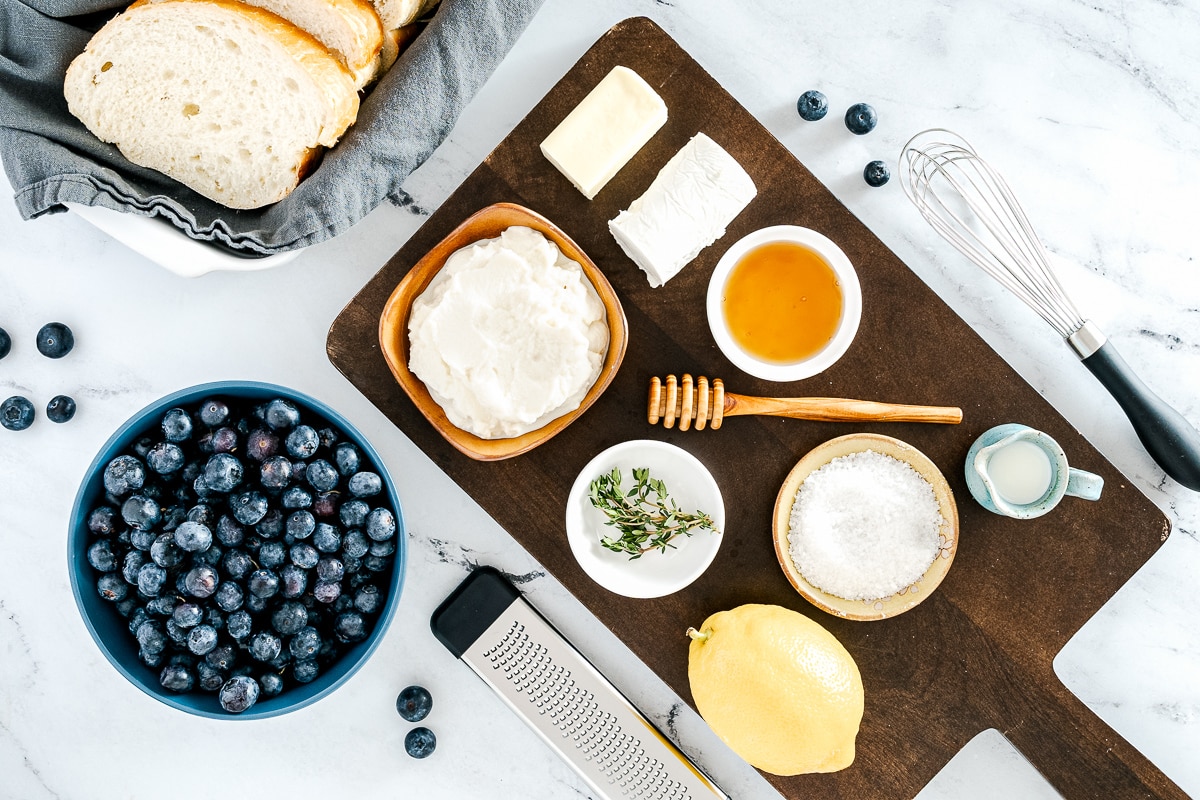 The ingredient list for blueberry toasts can be adapted to what you have on hand. You can use fresh or frozen blueberries. I've used fresh here, but frozen blueberries are a perfect 1:1 substitute and allow you to make this year-round.
You also don't need fancy honey. I like using clover honey because it has a light, sweet flavor and aroma. But almost any honey you have on hand will do. Just avoid honey that has a very strong flavor so that you don't overpower the blueberries.
For the bread, I recommend using a crusty bread, like the French farm bread I use here. This adds a nice texture and chew to compliment the softness of the blueberry compote and whipped ricotta-goat cheese spread.
Whatever bread you choose, make sure that it isn't too airy or full of holes. You don't want your layers of cheese and blueberries falling through!
Ingredients:
Blueberries (frozen or fresh)
Soft goat cheese
Whole milk ricotta
Crusty bread, like a French farm bread
Kosher salt
Honey
Lemon
Thyme
Milk (whole, 2%, or 1%)
Salted butter
How To Make Blueberry Toast
Make the blueberry compote: Wash and dry the blueberries if you are using fresh. Place the blueberries, lemon zest, lemon juice, a pinch of kosher salt, and honey in a small saucepan.
Heat over medium-high heat and allow to cook for 5-7 minutes, or until the blueberries begin to release their juices and become soft. Allow a few extra minutes of cooking time if using frozen.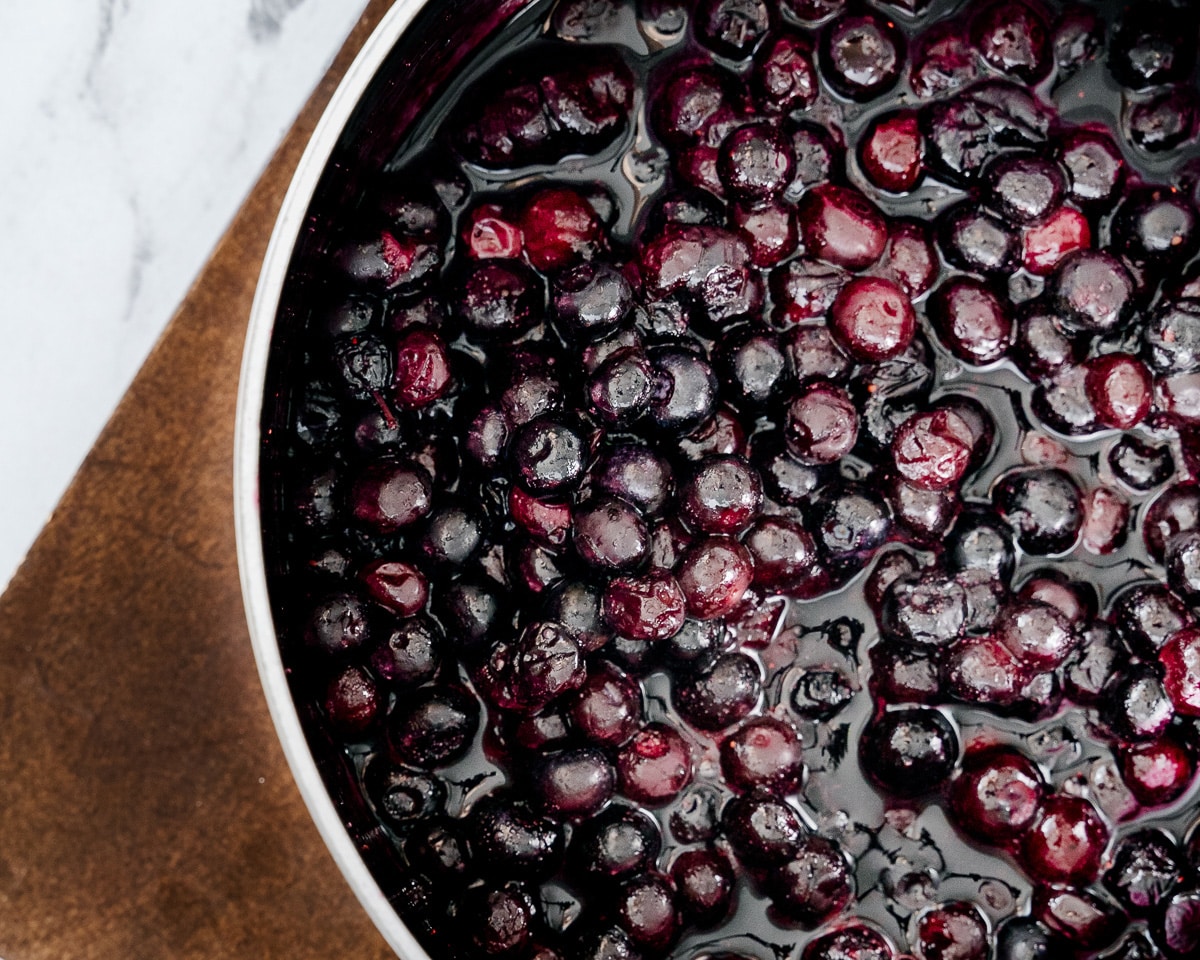 Make the ricotta-goat cheese spread: Place goat cheese, ricotta, milk, lemon zest, and honey in a bowl and whisk together until light and airy, around 2-3 minutes.
Add more milk if the spread remains stiff and thick. You are looking for a consistency similar to whipped cream cheese.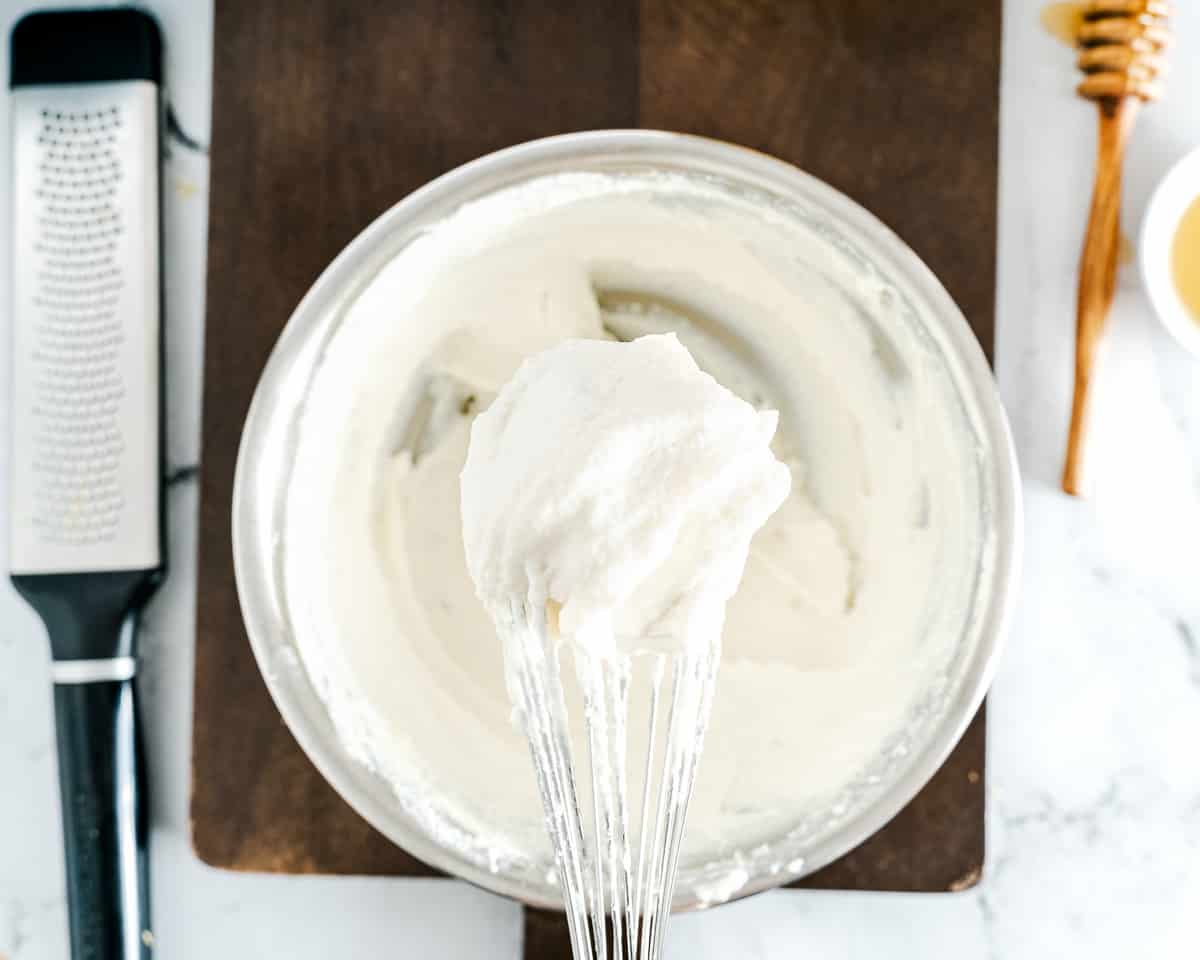 Make the toasts: Turn on your oven to the broil setting and reposition an oven rack to the second-highest level. I like to use the second-highest level rather than the highest level because it slows down the toasting process and makes it less likely that the toasts will accidentally burn.
Place 6-8 slices of bread on an unlined baking sheet and put them under the broiler. Flip the slices of bread after 2 minutes, or when slices begin to brown.
Remove from the oven when the second side is toasted to your desired level of browning.
Watch them closely! They will burn fast and your oven may toast faster than mine.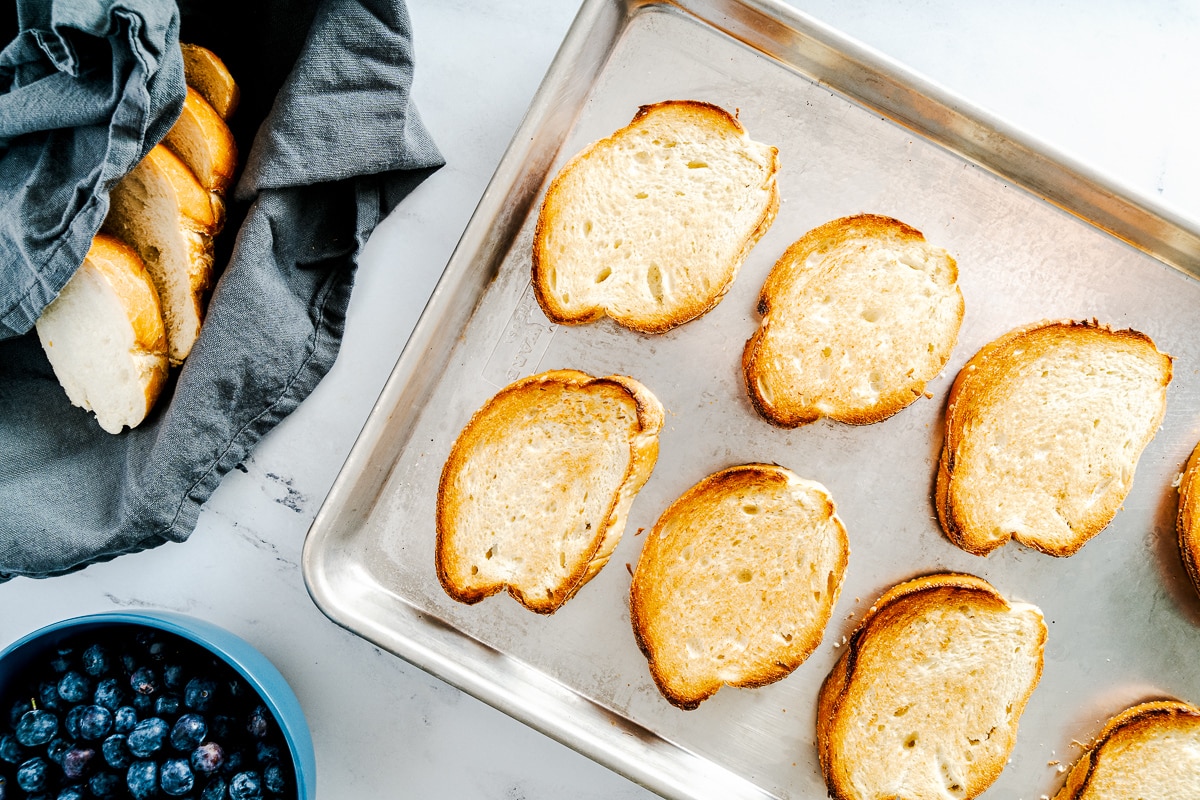 Assemble the toasts: Spread a thin layer of butter on each slice of toast. This adds a little extra flavor. Then spread several tablespoons of the cheese spread on each slice of bread.
Spoon several tablespoons of blueberry compote on top of the cheese. Finish the toasts with a garnish of lemon zest, thyme leaves, and a drizzle of honey.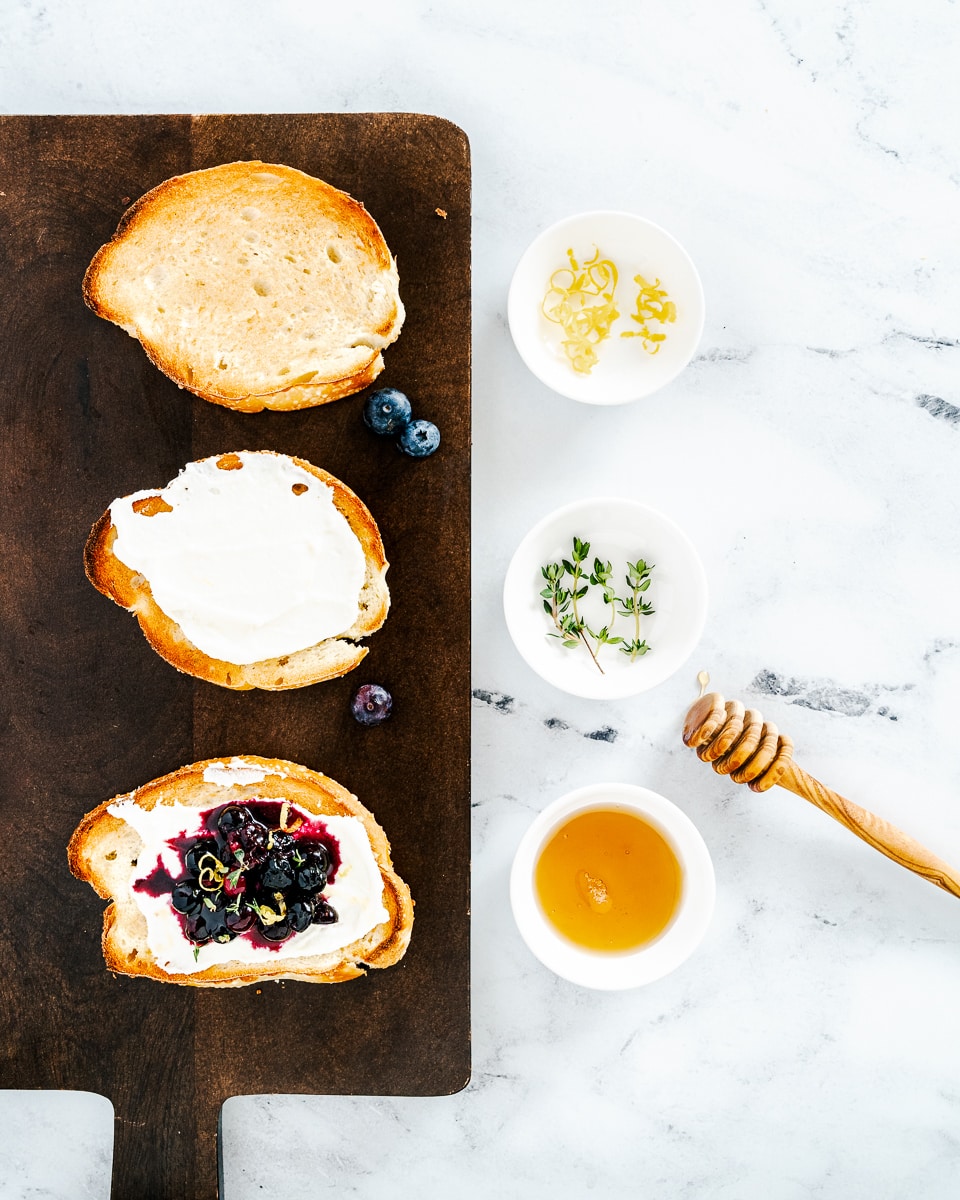 Do I have to use goat cheese?
This recipe blends ricotta with goat cheese to balance out the tangy flavor of goat cheese and produce a smooth, velvety mouthfeel. If you really don't like the flavor of goat cheese, you can replace it with all ricotta and it will still be delicious.
How else can I make toast?
I use the broiler in this recipe because slices of many rustic and artisanal breads do not fit in a standard-sized toaster. If you prefer a different toasting method, you can use a skillet, griddle, or toaster oven. If you use a skillet or griddle, butter or oil your surface to help keep the bread from sticking.
Can I use part-skim ricotta?
Absolutely! The spread will be a little less rich, but still extremely tasty.
What else can I put on blueberry toast?
Anything that you want! I suggest experimenting with different garnishes like orange zest, basil, rosemary, or toasted almond slices.
How can I use leftover blueberry compote and ricotta-goat cheese spread?
Leftover compote can be kept in the fridge for up to a week and is good on yogurt, vanilla ice cream, waffles, or inside a crepe.
Any leftover ricotta goat-cheese spread should be kept in the fridge and used in 4-5 days. You might want to re-whip it to recover its texture if it has been a few days.
Try putting it inside a sandwich, or serving it with crackers and herbs for an afternoon snack.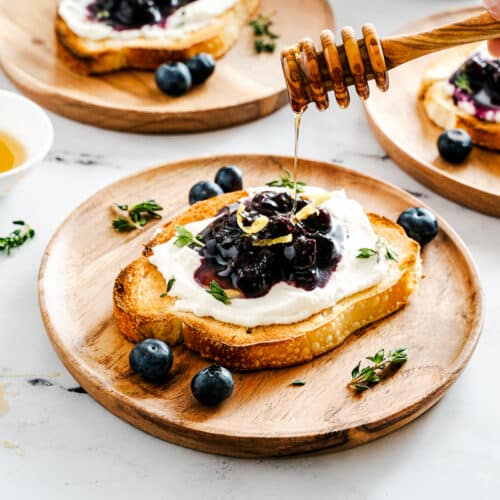 Blueberry Toast
Blueberry toast is a simple, elegant breakfast or brunch that highlights the flavor of blueberries. A luscious, whipped ricotta-goat cheese spread perfectly complements the sweetness of a blueberry compote. Topped with lemon zest, honey, and thyme, these toasts have complex flavors, aromas, and textures that are hard to resist.
Ingredients
2

cups

blueberries

fresh or frozen

4

oz

soft goat cheese

4

oz

whole milk ricotta

6-8

slices

crusty bread

1

pinch

kosher salt

1/4

cup

honey

2

tsp

lemon zest

t

tbs

lemon juice

6-8

sprigs

thyme

1

tbsp

milk

whole, 2% or 1%

t

tbsp

salted butter
Instructions
Remove the goat cheese and ricotta from the fridge to allow them to warm up while you make the compote and toast.

Wash and dry 2 cups of blueberries, if using fresh. You do not need to thaw blueberries if they are frozen.

Place 2 cups blueberries, 1 tablespoon lemon juice, 1 teaspoon lemon zest, ¼ cup honey, and a pinch of salt in a small saucepan.

Cook blueberries over medium-high heat, stirring occasionally until they begin to release their juices, about 5-7 minutes. Allow a few extra minutes of cooking time if using frozen. Remove blueberries from heat and allow to cool.

Turn on your oven to the broil setting. Place 6-8 slices of crusty bread on a baking sheet and put under the broiler.

Broil for 2 minutes or when they have reached your desired level of toastiness.

Flip the toasts and allow the second side to brown to your desired level of toastiness before removing them from the oven.

Place 4oz goat cheese, 4oz ricotta, 1 tablespoon honey, 1 tablespoon milk, and 1 teaspoon lemon zest in a bowl. Whip cheeses until light, airy, and spreadable, about 2-3 minutes.

Spread salted butter on each slice of toast.

Spread 2-3 tablespoons of whipped ricotta-goat cheese spread on each slice of toast.

Spoon 2-3 tablespoons of blueberry compote over whipped ricotta-goat cheese spread.

Garnish with thyme leaves, lemon zest, and a drizzle of honey, to taste.
Nutrition
Calories:
245
kcal
Carbohydrates:
34.35
g
Protein:
8.05
g
Fat:
9.22
g
Saturated Fat:
5.77
g
Fiber:
1.6
g
Sugar:
25.08
g
Here are a few other recipes you might enjoy!
Arielle is a food and drink photographer based in Washington, D.C. She was previously a social science researcher before she fell in love with photography.