Healthy, satisfying, and fresh, this avocado toast with honey is as delicious as it is beautiful. Feta cheese is spread on a grainy bread, layered with smashed avocado, and topped with lemon, honey, and roasted pistachios.
The interplay of creamy and crunchy textures, the combination of sweet and salty tastes… It's just irresistible.
Simple and quick, with a few ingredients you can make this meal any day of the week. But to be honest, it tastes impressive and would be an excellent meal to serve for guests at brunch.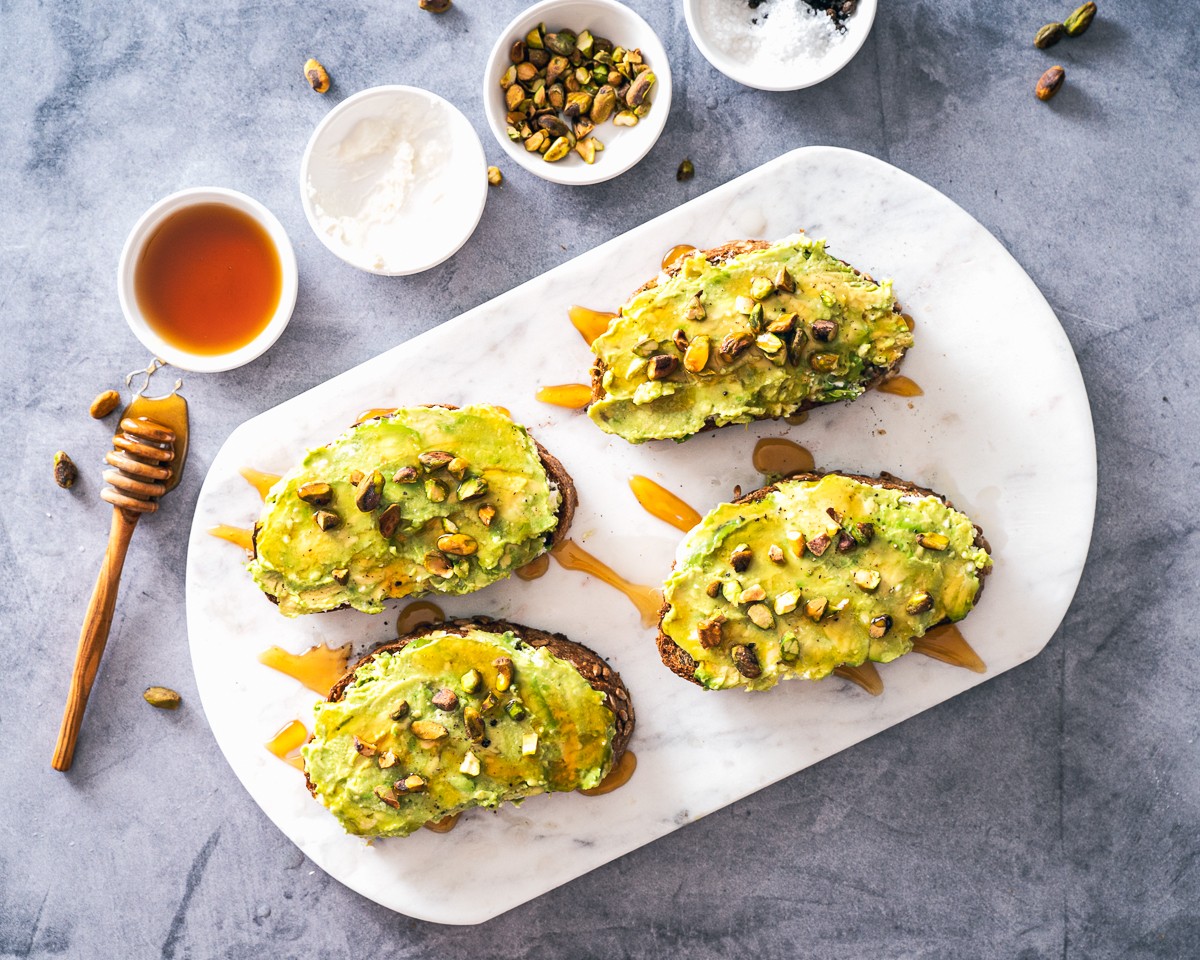 Love a good toast? Here are other recipes you might enjoy: Fruity Pebble French Toast, Hawaiian Roll French Toast, Oreo French Toast, and Cinnamon Raisin French Toast.
Why You'll Love This Recipe
Versatile for any meal: Whether you're seeking a fresh breakfast, a light lunch, or an inviting appetizer, this creamy avocado toast with a generous drizzle of honey fits the bill. Its blend of savory, sweet, and tangy flavors makes it suitable for any time of the day.
Packed with healthy fats: This avocado honey toast is more than just delicious. It's loaded with healthy fats from ripe avocado and feta cheese, making it a nutritious choice that supports overall health.
Quick and easy: This recipe is one of those easy recipes that requires minimal effort, yet delivers complex flavor. With just a few staple ingredients from your fridge, you'll have a satisfying meal ready in no time.
Recipe Ingredients
You'll need the following ingredients to make this avocado honey toast: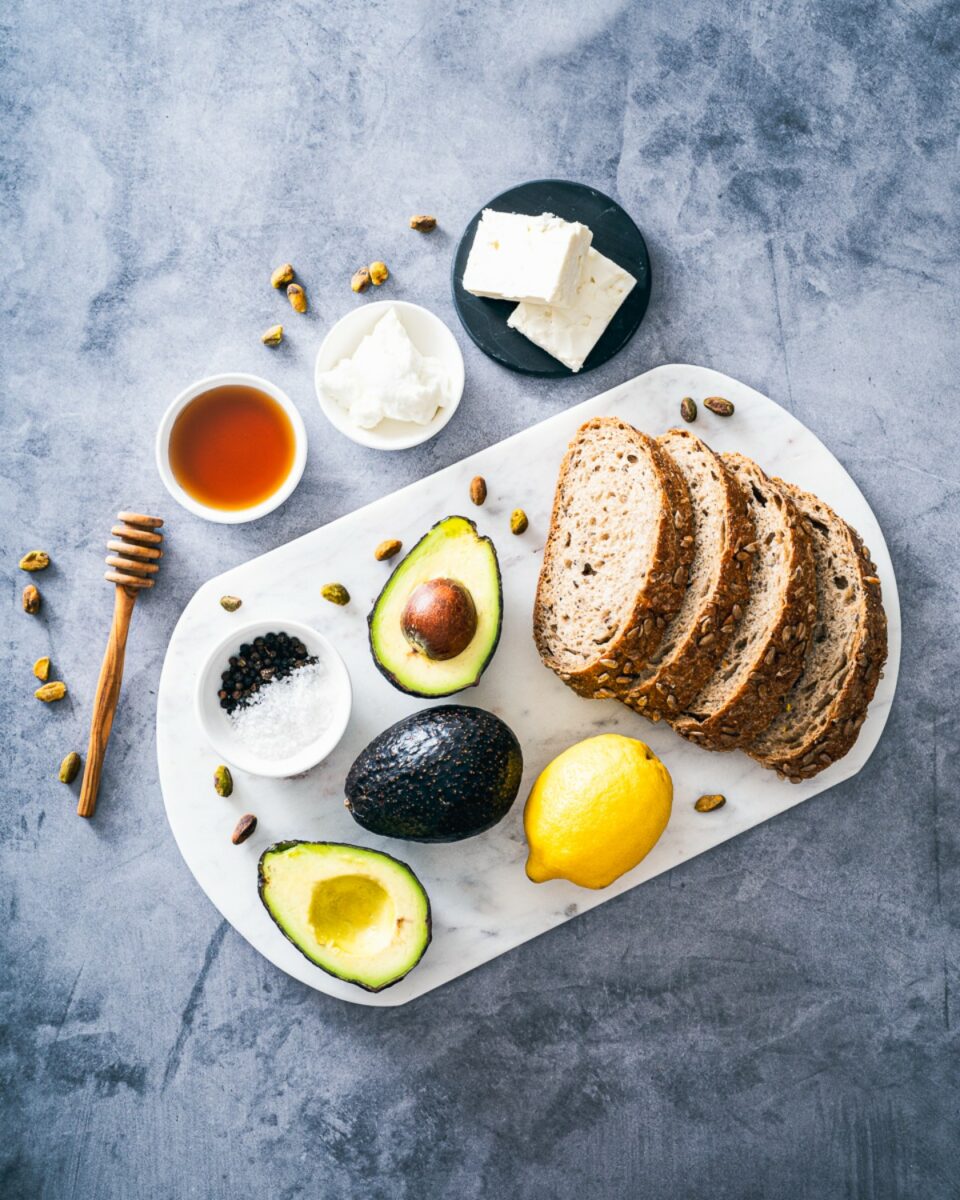 Ingredient Notes
Avocado: Ensure you have a ripe avocado for this recipe. The best way to check is to gently squeeze; it should yield slightly but not feel mushy.
Honey: Experiment with different types of honey. A hot honey variant or a robust, dark honey can lend a unique taste to your avocado toast. The honey you choose can truly make a difference!
Bread: While this recipe calls for seedy bread, feel free to substitute with other types of bread. Sourdough bread, whole wheat bread, or whole grain bread would all work wonderfully, providing a robust flavor and texture to complement the creamy avocado.
Feta: Avoid pre-made crumbles; opt for a block of feta cheese. This results in a creamier layer on your piece of toast and offers a more pronounced flavor.
How To Make Avocado Toast With Honey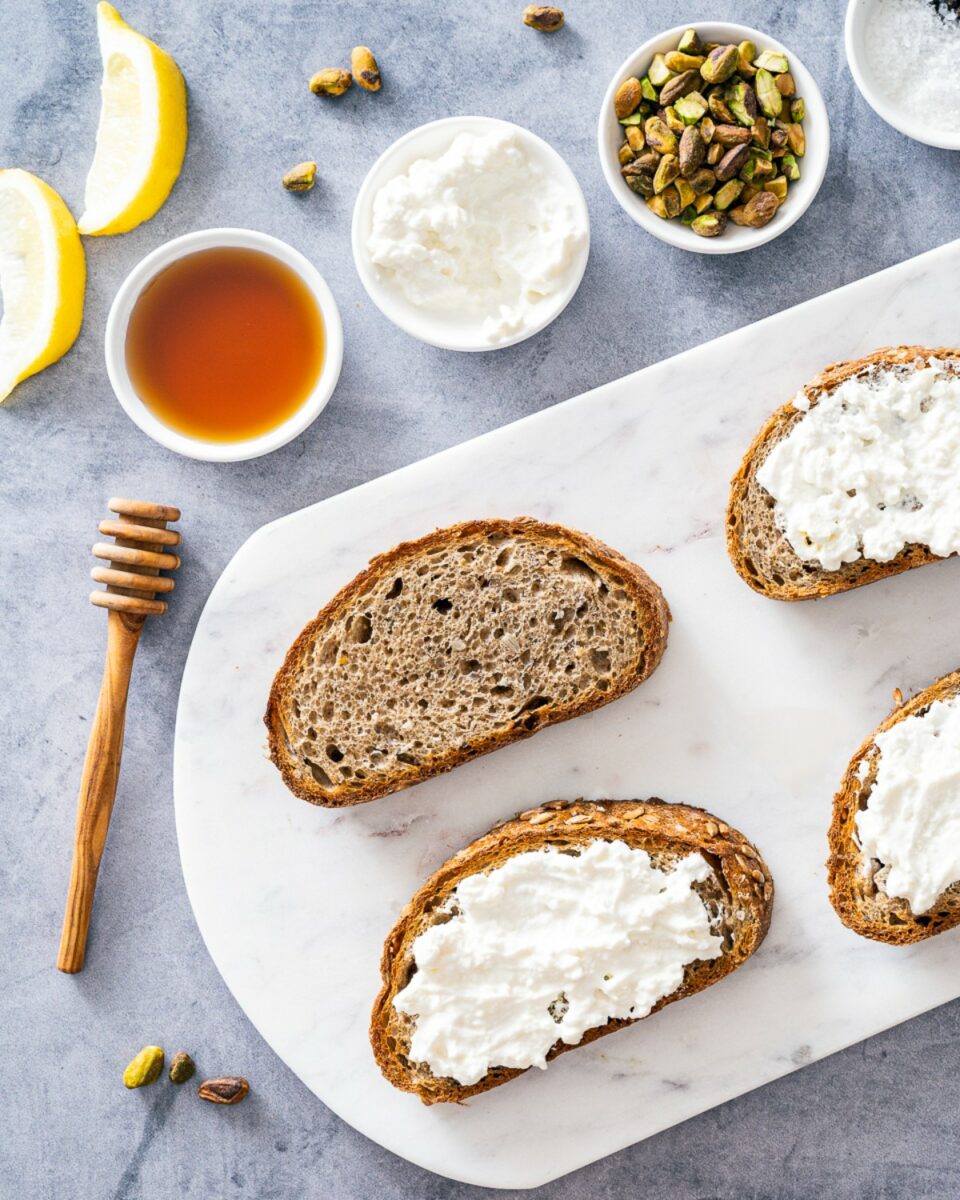 Make the feta spread: Place the feta and Greek yogurt in a bowl and mash together with a fork. You do not need the mixture to become completely smooth, but you do want it to get to a spreadable consistency.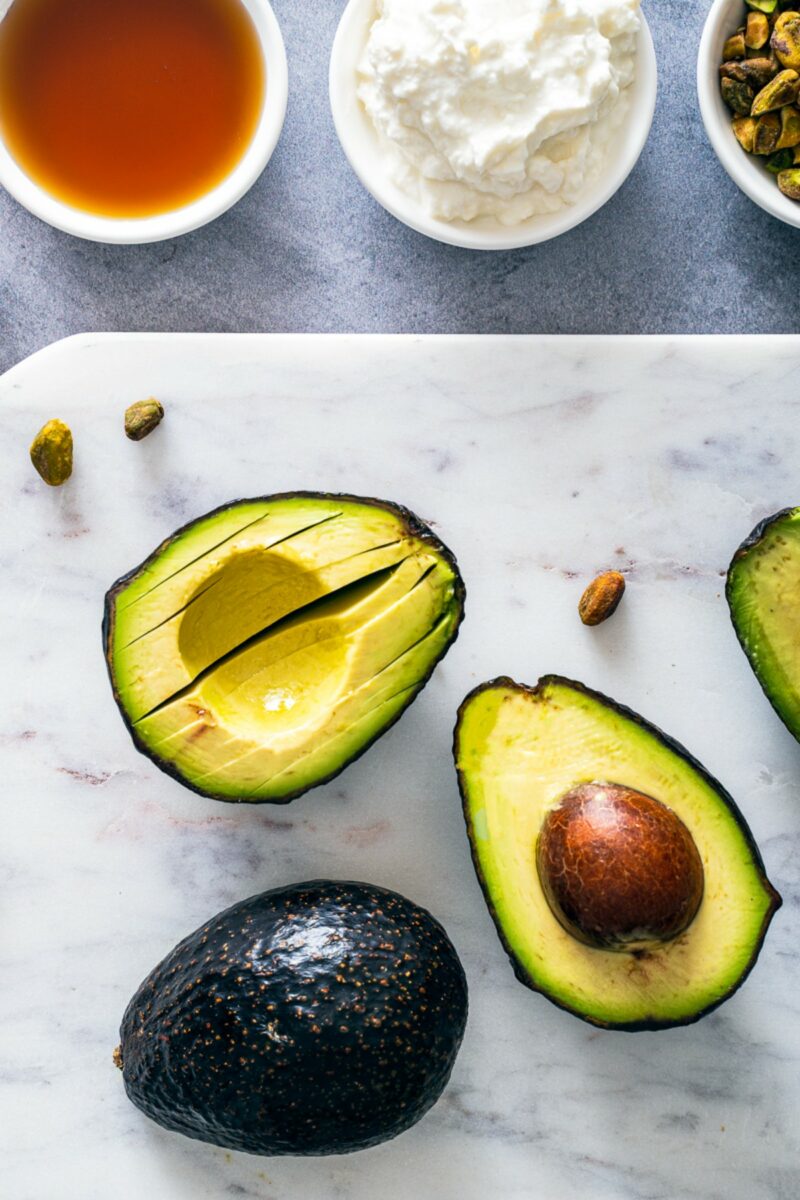 Slice the avocado: With a chef's knife, slice the avocados in half and remove the pit. Carefully slice long strips of avocado, trying to avoid piercing through to the skin of the avocado with your knife.
Do not hold the avocado in your hand while you slice it (ouch!). Using a spoon, scoop the avocado slices out of the avocado shell.
Prepare the nuts: Using a sharp chef's knife, roughly chop the pistachios into large pieces, running over them with your knife 2-3 times.
Make the toasts: If using a toaster or toaster oven, toast the slices of bread until they are light brown. If using a broiler, preheat the broiler and place slices of bread on an unlined baking sheet.
Use a 'low heat' setting if your oven has one. Toast for 1-2 minutes per side, flipping when they begin to take on color. Do not walk away! Toasts can burn quickly under the broiler.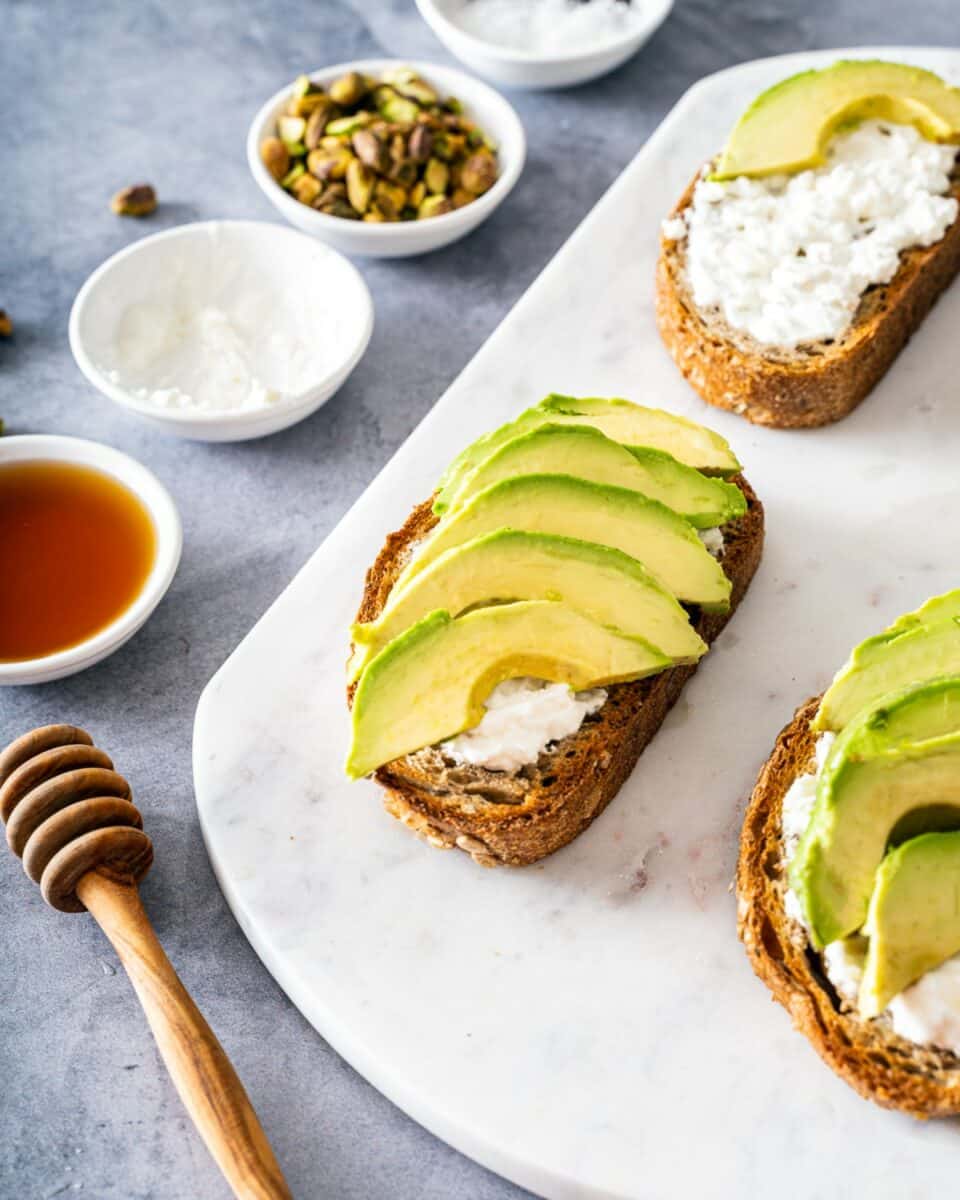 Assemble the avocado toast: Spread a layer of feta cheese on the toast. Arrange slices of avocado on the feta. Squeeze a small wedge of lemon on the avocado. With a fork, gently mash the avocado until the slices are no longer visible and the avocado's texture becomes smoother.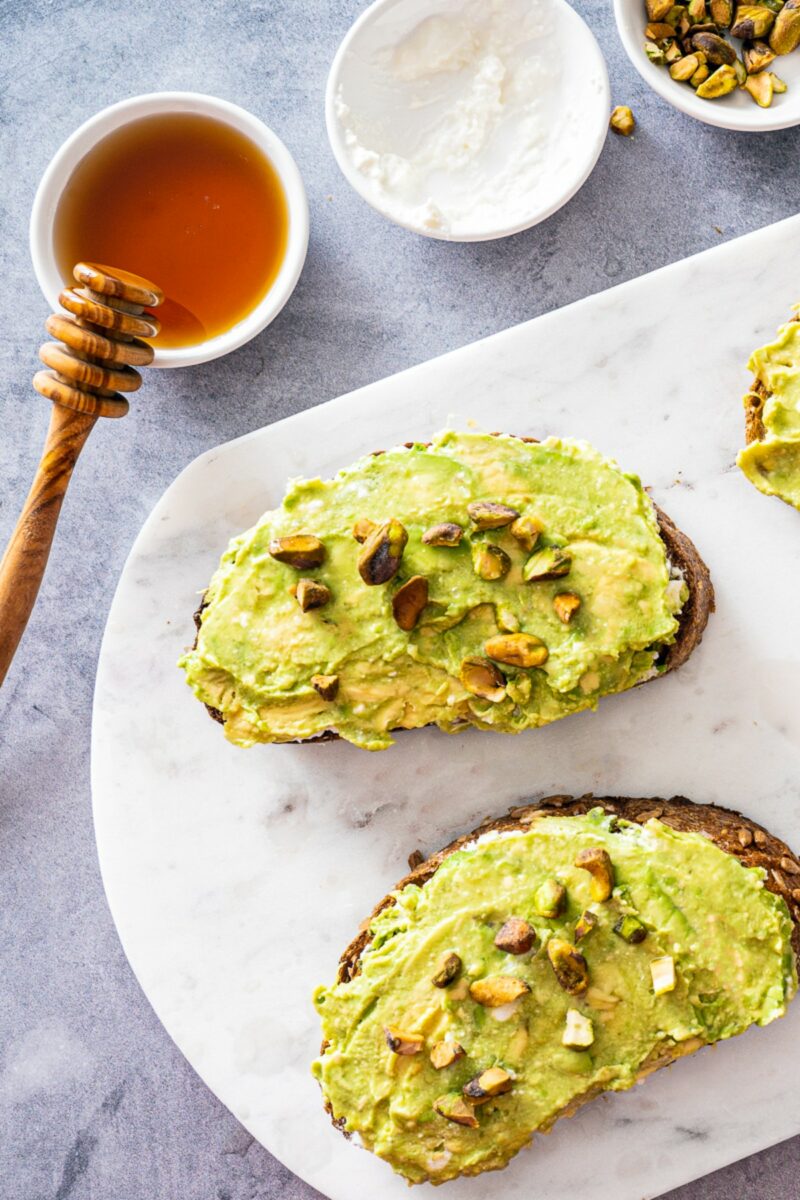 Apply light pressure as you do this to avoid mixing with the feta layer below. Top with chopped pistachios, honey, salt, and freshly ground pepper.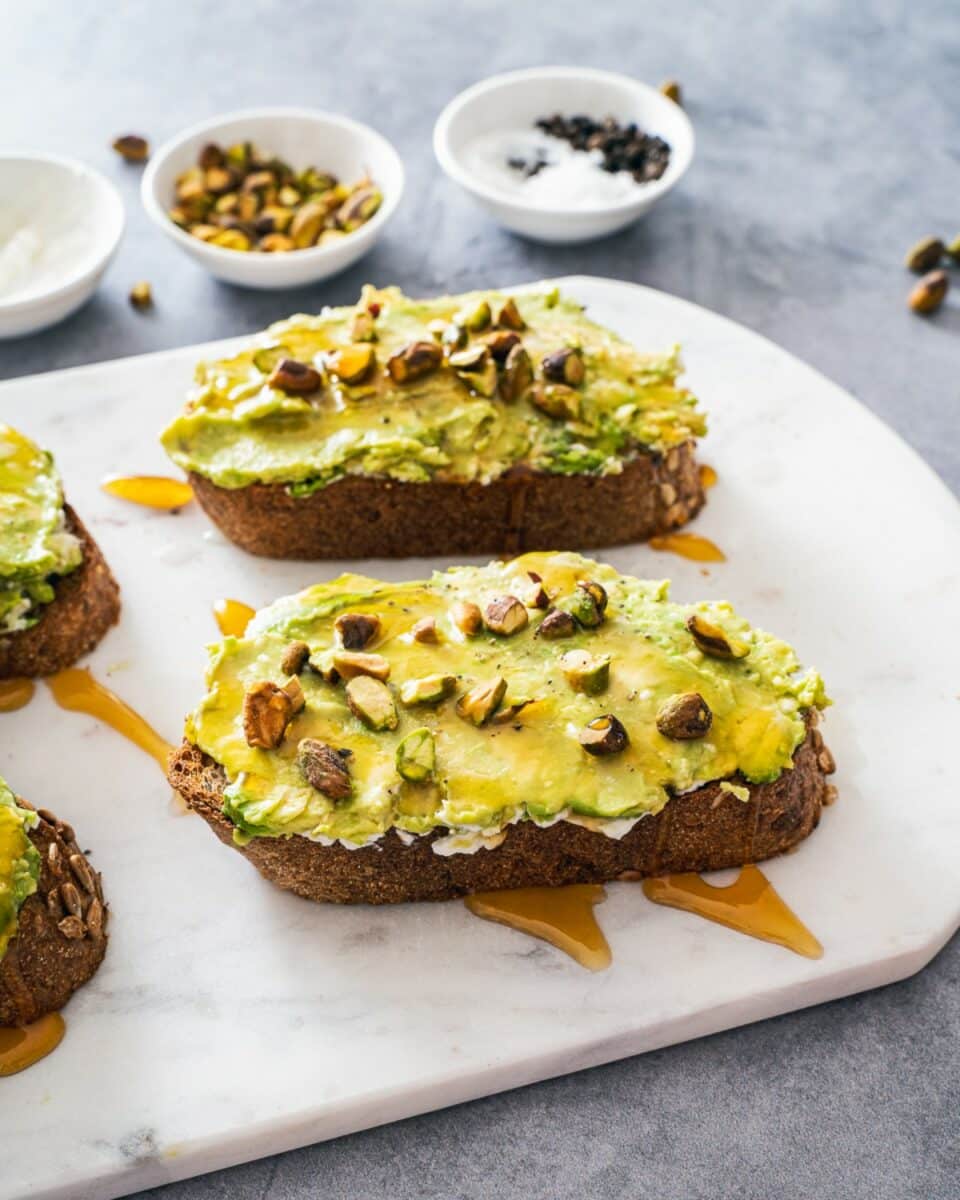 Recipe Tips
To enhance the flavor, consider adding a pinch of red pepper flakes or chili peppers for a kick of heat.
For a different texture, add some micro greens on top of the avocado mixture.
If you are a fan of Trader Joe's bagel seasoning, sprinkle it on top of the bread for an additional layer of flavor.
Storage & Reheating
Avocado toast is best enjoyed fresh, but if you have leftovers, store them in an airtight container in the refrigerator. To reheat, toast lightly in an oven to revive the crispness of the bread without warming the avocado mixture.
Additions & Substitutions
If you're not a fan of feta cheese, substitute it with goat cheese or cream cheese. For a different sweet element, replace the honey with a drizzle of maple syrup. For those who like a more substantial breakfast, add a fried egg on top.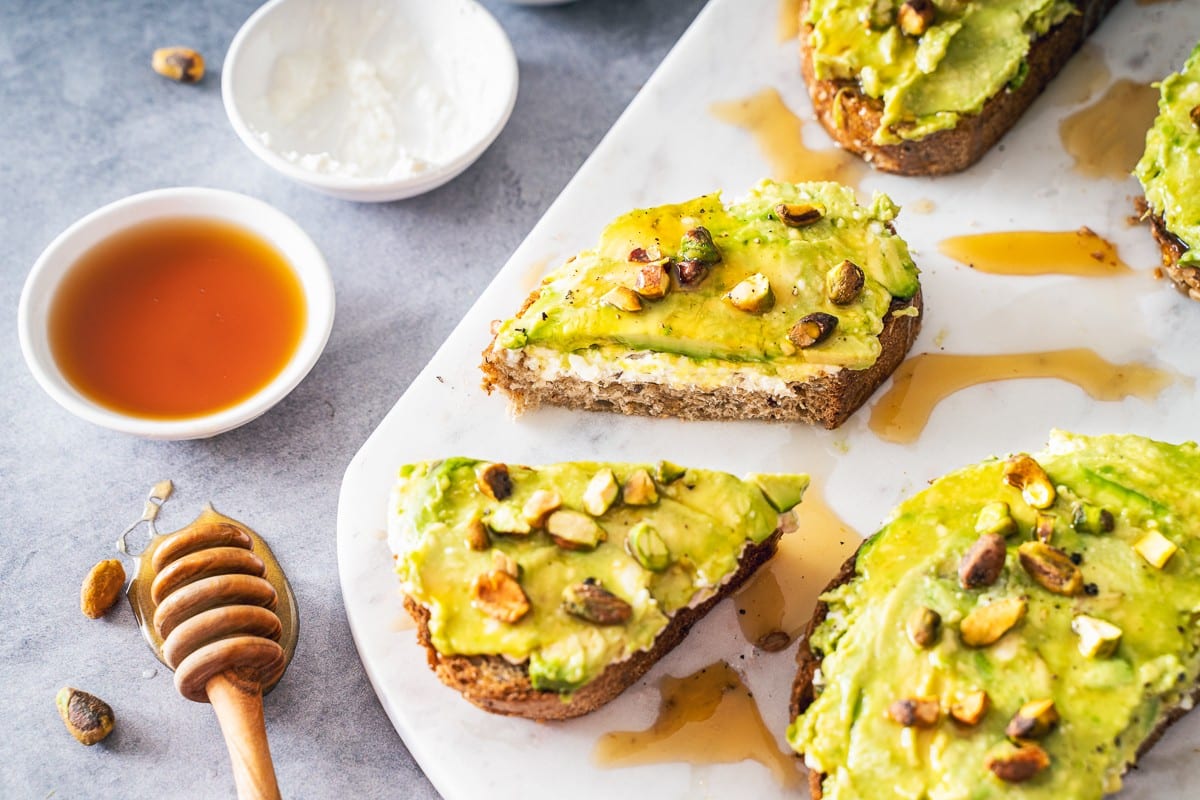 Recipe FAQs
What should I serve with this sweet avocado toast recipe?
A simple avocado toast pairs well with a bowl of fresh fruit or a green salad. For an extra punch of protein, serve it alongside a portion of Greek yogurt or a boiled egg. For a truly indulgent brunch, consider serving it with smoked salmon.
What can I make ahead of time?
You can make the feta spread up to a day ahead of time and store it in the fridge until you are ready to use it. However, if you prepare the avocado in advance, it will eventually oxidize and turn brown, even if you add lemon juice and oil to the surface.
You can still eat the avocado, but because of the browning, I do not recommend assembling these until right before you intend to use them.
I don't like pistachios; can I use another nut?
Of course! Pistachios have a wonderfully light flavor, so stick with a seed or nut that offers something similar, like sunflower seeds, almonds, pumpkin seeds, or even walnuts. I would avoid toppings that have a darker or a very strong flavor like pecans or peanuts.
My avocados are rock hard. What can I do?
You cannot use a hard avocado in this recipe. The avocado will lack flavor and the texture will not allow you to mash it. It can take several days for an avocado to ripen, but to speed this up, you can put the avocados in a paper bag with a banana or apple. The additional fruits release a gas that, when contained within the paper bag, helps avocados along in their ripening process.
What bread should I use?
The bread adds complex flavors and textures that are important to this dish. I recommend using a multigrain or seeded loaf with a thick crust. The layers of feta and avocado will be thick and creamy, so we want the bread base to add heft, texture, and crunch.
For those reasons, I would not use soft white bread, brioche, challah, or airy French or Italian bread. I would also avoid a sourdough loaf because it would bring a very different flavor to the dish.
---
Here are a few other toast recipes you might enjoy!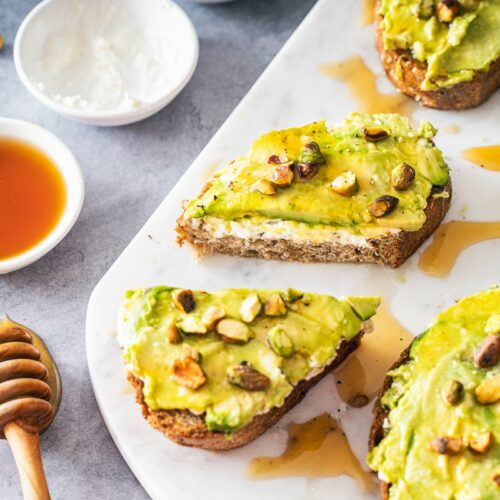 Avocado Toast With Honey
Avocado toast with honey can be whipped up when you want a hearty, complex, yet simple recipe. Every bite melds together layers of feta, avocado, pistachio, and honey on top of crusty hearty bread, a mixture of contrasting flavors and textures that is satisfying and filling. Beautiful to look at and eat, this toast can be made in just a few minutes for yourself or to impress a group of people.
Ingredients
8

slices of seedy bread

cut into ½ inch slices

2 to 3

avocados

depending on size

6

oz

feta

in brine

⅓

cup

Greek yogurt

2% or whole

⅓

cup

roasted and salted pistachios

⅓

cup

honey

1

lemon

cut into wedges

sea salt or kosher salt

to taste

freshly ground pepper

to taste
Instructions
If using a broiler, place slices of bread on a baking sheet and preheat the broiler, using a low setting if available. Toast for 1-2 minutes per side, flipping the bread when it begins to take on color. If using a toaster or toaster oven, toast bread until lightly browned.

Place 6 oz drained feta (do not include brine), and 1/3 cup of Greek yogurt in a bowl and mash together with a fork until feta and yogurt are combined and spreadable.

Put 1/3 cup pistachios on a cutting board and chop with a chef's knife, making 2-3 passes, until pistachios are in large pieces.

Halve and slice avocados, scooping out slices with a spoon.

Spread 1-2 tablespoons of the feta cheese mixture on each slice.

Arrange slices of avocado on each toast and sprinkle lightly with lemon juice.

Mash avocado carefully with a fork until the slices of the avocado are no longer visible.

Top the avocado toasts with a sprinkle of roasted pistachios, honey, salt, and freshly ground pepper.
Nutrition
Calories:
581
kcal
Carbohydrates:
61.55
g
Protein:
21.7
g
Fat:
30.81
g
Saturated Fat:
9.57
g
Fiber:
11.8
g
Sugar:
29.98
g
Arielle is a food and drink photographer based in Washington, D.C. She was previously a social science researcher before she fell in love with photography.