Banana Nutella pancakes are the breakfast to make when you want to satisfy a sweet tooth craving. With Nutella and sweet banana mixed right into the batter, these pancakes are fluffy and soft, sweet and nutty, and very chocolatey.
Topped with fresh banana, Nutella, and chopped hazelnuts, you'll probably want more than one. These are delicious, rich, and so good.
The chocolaty, nutty flavors of banana Nutella pancakes stand up to being paired with robust flavors.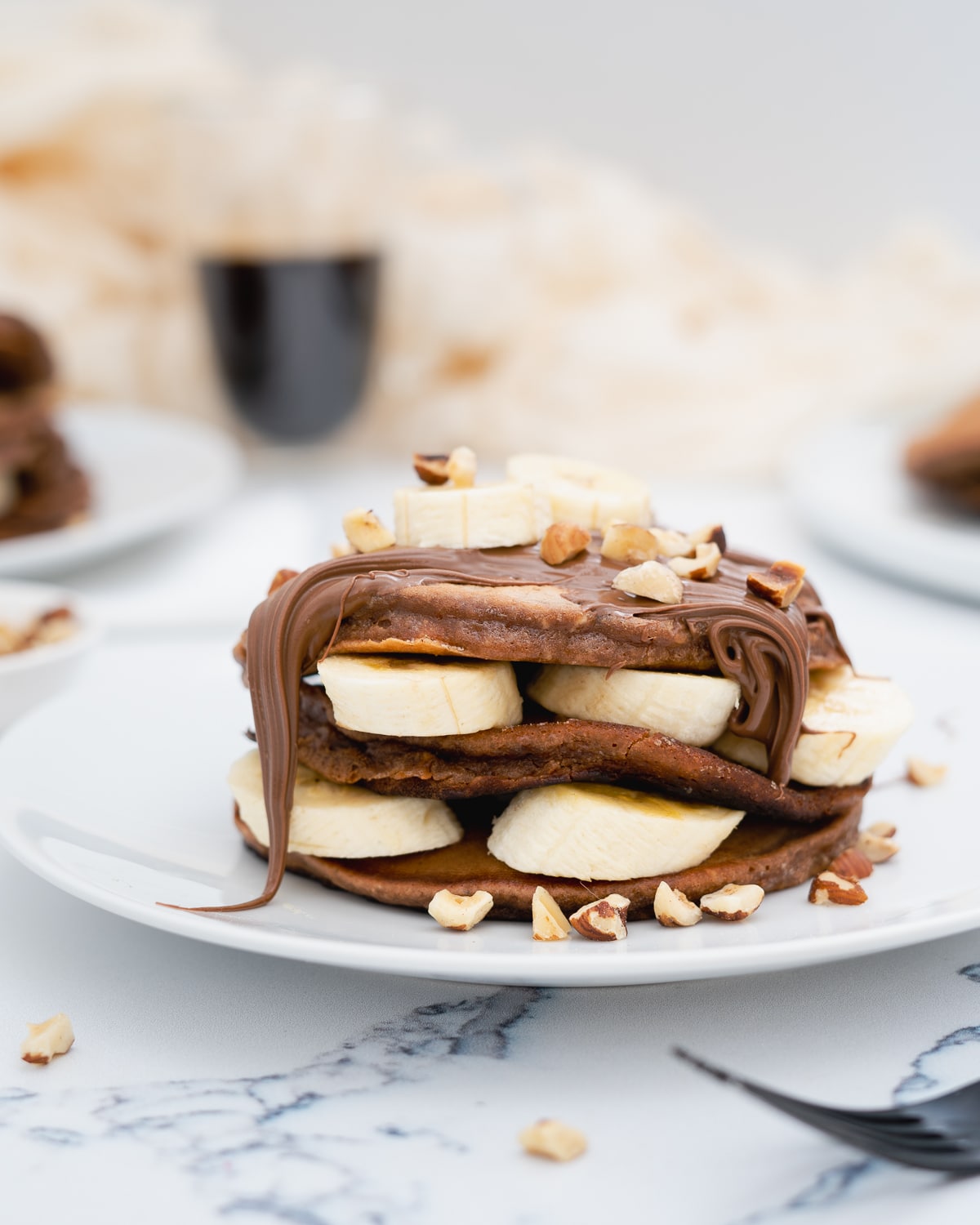 Love pancakes? Me too! Here are some posts you might want to check: Tres Leches Pancakes, Strawberry Banana Pancakes, What To Serve With Pancakes, and How To Reheat Pancakes.
Why You'll Love This Recipe
Easy to make: This is an easy recipe for those with a sweet tooth; it combines the perfect balance of sweet bananas and creamy Nutella, making every bite a heavenly experience.
Fluffy pancakes: These are some of the best pancakes you'll ever try as the texture is irresistible. Thanks to the use of ripe bananas, you end up with incredibly fluffy pancakes that melt in your mouth.
Perfect for the weekend: The Banana Nutella pancakes are a great way to start a weekend breakfast or Saturday morning. The blend of chocolate and bananas is a perfect way to give yourself a little indulgence to kick start your day.
Recipe Ingredients
You'll need the following ingredients to make these banana pancakes with Nutella: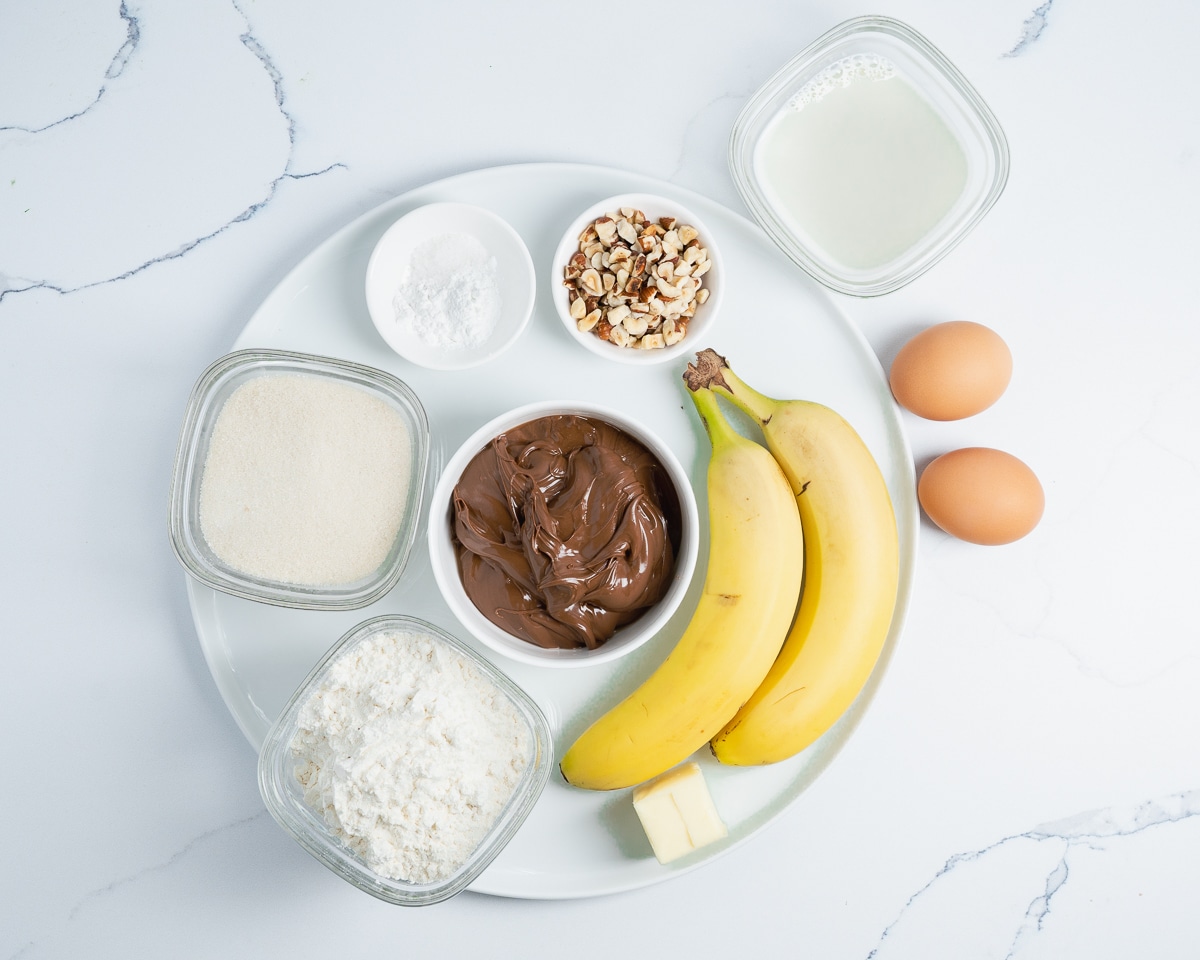 Ingredient Notes
Bananas: Opt for really ripe bananas to give these pancakes their signature sweetness and moisture. A ripe banana will mash up perfectly and blend smoothly into your pancake batter.
Nutella: A jar of Nutella is key to this delicious recipe. However, if you can't find it, you can replace it with any other chocolate spread or even a hazelnut spread.
Flour: All-purpose flour is used in this recipe. You can substitute half of it with whole wheat flour for a healthier option but keep in mind it will slightly change the texture of your pancakes.
How To Make Banana Nutella Pancakes
Make the batter: In a large bowl, mash the bananas with a fork. Add in the eggs and mix well. Stir in the milk.
Add in the dry ingredients and stir with a whisk until fully incorporated. Add in the Nutella and stir until well combined.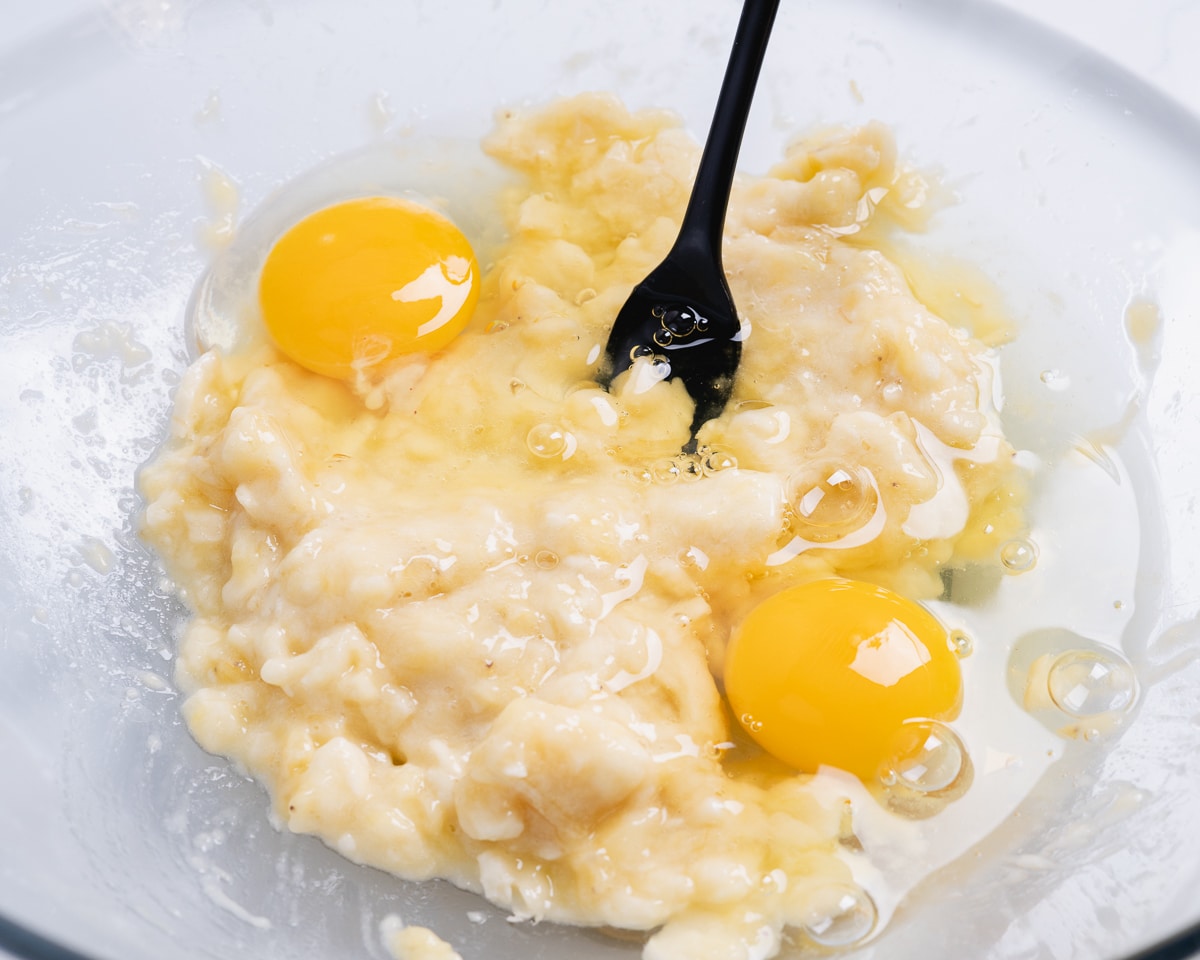 Prepare the toppings: Slice the remaining bananas. Right before serving, heat some of the Nutella in the microwave to make a pourable consistency (30-40 seconds).
Make the pancakes: Heat the butter over medium heat in a non-stick frying pan. Put roughly ⅓ of the batter in the frying pan, creating the pancakes. You should be able to make 2-4 at a time, depending on the size of your pan. Be careful not to crowd your pan.
Flip the pancakes after 2-3 minutes, and cook on the other side. You'll know they are ready to be flipped when the bubbles on the uncooked side begin to pop. Don't flip them too soon. Depending on the heat of your pan, they could take a few extra minutes.
Assemble the Pancakes: Place 1-2 pancakes on a plate and top with banana, warmed Nutella, and chopped hazelnuts.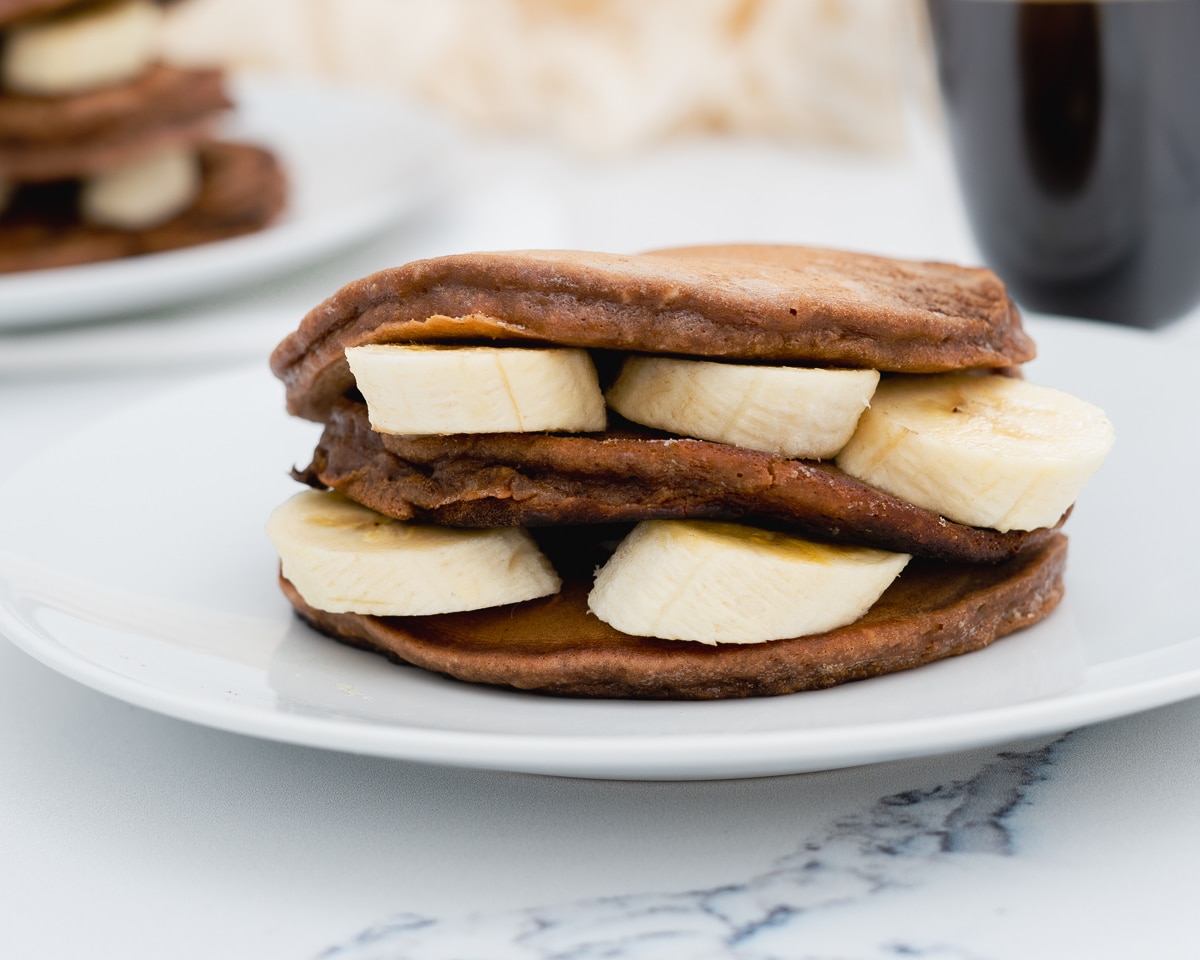 Serve: Enjoy!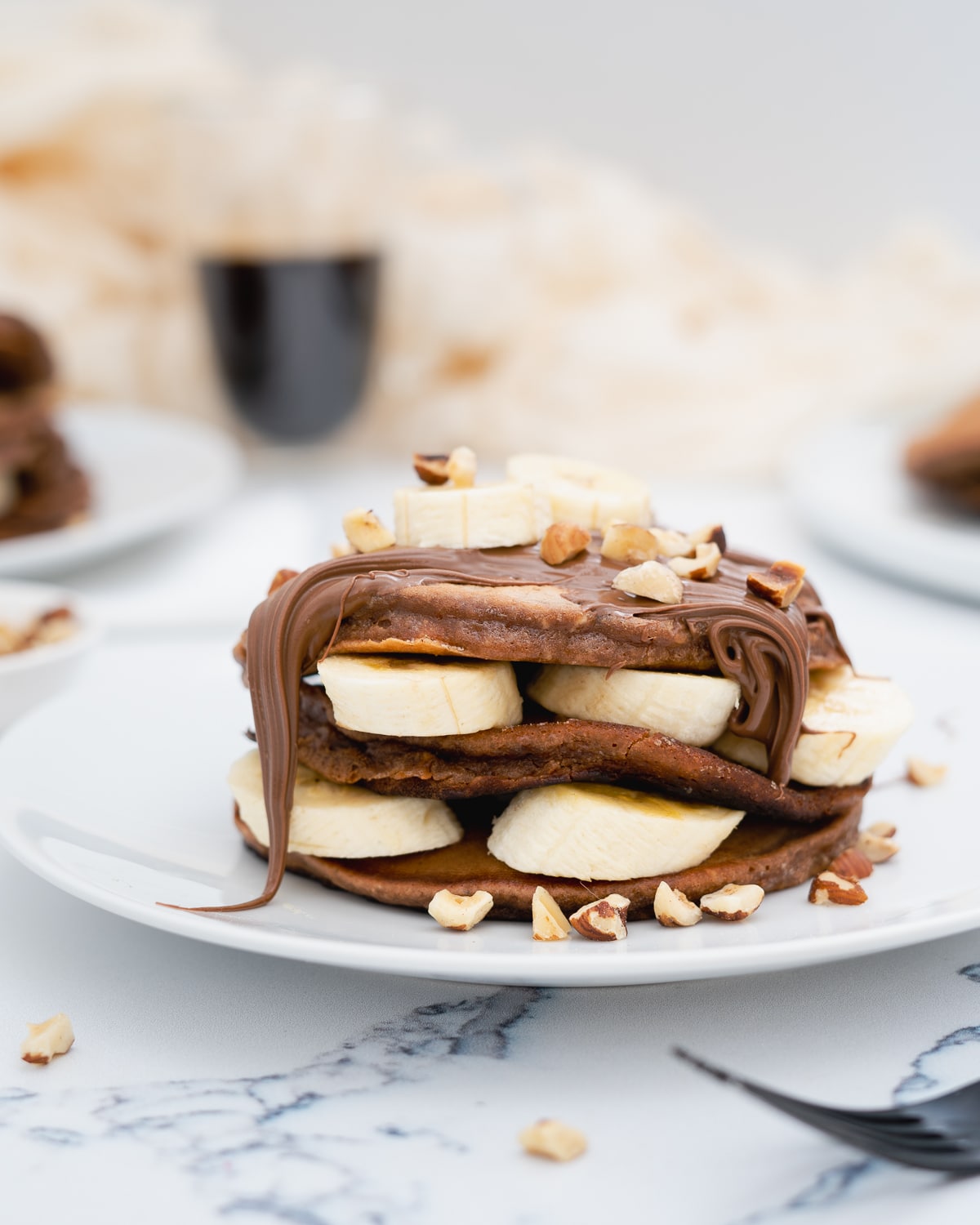 Recipe Tips
When adding Nutella to the batter, warm it slightly for easier blending. This can be done by placing a tablespoon of Nutella in a microwave-safe bowl and heating it for a few seconds.
Flip the pancakes only when the surface starts bubbling and the sides turn golden brown. This will ensure that your pancakes are cooked to perfection on both sides.
Don't overcrowd the pan. Cooking too many pancakes at once will lower the pan's temperature, resulting in less fluffy and undercooked pancakes.
Storage & Reheating
Store leftover pancakes in an airtight container in the refrigerator for up to 2-3 days. To reheat, lay the pancakes out on a baking sheet and warm in a preheated oven at 350°F for about 10 minutes. They'll taste as good as fresh!
Additions & Substitutions
While banana slices are perfect as toppings, fresh berries with some chocolate syrup or a drizzle of lemon juice can add a refreshing tangy twist to your pancakes.
If you fancy a different kind of nutty flavor, try substituting Nutella with peanut butter. You can also add a handful of chocolate chips to your pancake batter for an extra chocolatey delight.
Recipe FAQs
What should I serve with this banana pancakes with Nutella recipe?
These Banana Nutella pancakes are versatile and can be paired with a variety of side dishes. Consider a serving of scrambled eggs or bacon for a savory contrast. For a healthier option, a fresh fruit salad works well too. As for drinks, a robust cup of coffee or a glass of fresh juice is the perfect accompaniment at any time of day.
Why don't you put oil or melted butter in the batter?
Most pancake batters call for melted butter. It adds flavor and structure to the recipe. However, Nutella contains a lot of fat and flavor and would overpower any addition of butter to the recipe, so I've omitted it here. The texture and flavor of these pancakes don't need butter.
Can I top these with something besides Nutella?
Definitely. Some in my family prefer Nutella, others like a pour of maple syrup instead. I also think these would have tasted great with some sliced strawberries. It's really up to your preferences!
Can I make these as silver dollar pancakes?
Absolutely! Just be cautious about cooking time. Silver dollar pancakes cook quickly, so you'll want to watch them to make sure that they don't get overcooked. I also recommend spending a little extra time mashing your banana really well. While larger pieces of banana don't matter in a standard-size pancake, they could overwhelm a little pancake.
---
Here are a few other banana pancake recipes you might enjoy!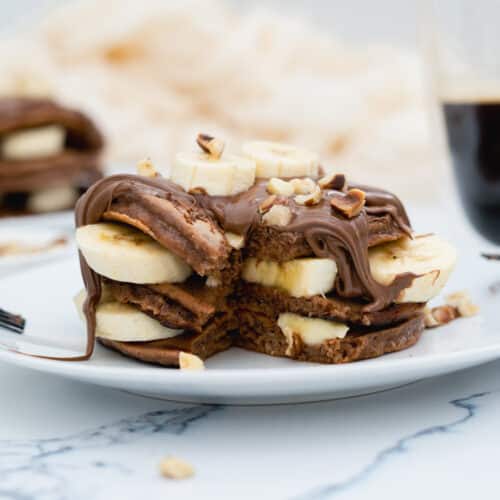 Banana Nutella Pancakes
Banana Nutella pancakes are the perfect breakfast for a morning when you want to celebrate birthdays, an anniversary, or just because you want to tell someone (even yourself!) that you love them. These pancakes have Nutella and banana mixed right into the batter. They are then topped with fresh banana, Nutella, and chopped hazelnuts. These pancakes are decadent and delicious.
Ingredients
1 1/2

cups

all-purpose flour

2-3

bananas

2

tsp

baking powder

2

tbsp

granulated sugar

1

tsp

kosher salt

1/2

cup

Nutella

plus more for serving

2/3

cup

milk

2

large eggs

2

tbsp

unsalted butter

1/2

cup

chopped hazelnuts
Instructions
In a large bowl, use a fork to mash 2 medium bananas, or 1 ½ bananas if they are large.

Crack 3 eggs into the bowl and whisk them into the banana.

Stir in ⅔ cup milk.

Stir in 1 ¼ cups all-purpose flour, 2 teaspoons baking powder, 2 tablespoons granulated sugar, and 1 teaspoon kosher salt.

Stir in ½ cup of Nutella until well combined.

Slice the remaining banana into rounds

Heat 2 tablespoons of butter in a non-stick frying pan over medium heat.

Pour roughly ⅓ cup of batter into the frying pan,

Flip the pancakes after 2-3 minutes, and cook on the other side.

Remove the pancakes and repeat with the remaining batter.

Put ¼–½ cup of Nutella in a small dish in the microwave and warm for 30–40 seconds until loose and pourable.

Place 1–2 pancakes on a plate, and top with banana, warmed Nutella, and chopped hazelnuts.

Enjoy!
Notes
For the topping, I used pre-chopped hazelnuts. If you use whole nuts, use a very sharp chef's knife to chop them.
When making the pancakes, make sure you preheat your pan. As the pancakes cook, you'll know when to flip the pancakes when the little bubbles that form on the uncooked side start to pop.
I recommend using really ripe bananas for this recipe. Green bananas will not be ripe enough and will produce an off flavor and texture. You can speed up the process of ripening your bananas by putting them in a paper bag for a day or two or using frozen bananas. I recommend thawing the banana before you mash it.
You don't need butter for this recipe. Most pancake batters call for melted butter. It adds flavor and structure to the recipe. However, Nutella contains a lot of fat and flavor and would overpower any addition of butter.
Nutrition
Calories:
383
kcal
Carbohydrates:
58.09
g
Protein:
13.94
g
Fat:
11.66
g
Saturated Fat:
8.14
g
Fiber:
3.5
g
Sugar:
23.63
g
Arielle is a food and drink photographer based in Washington, D.C. She was previously a social science researcher before she fell in love with photography.