Pancakes are the ideal brunch food. They don't require many ingredients, and yet they are endlessly customizable. They also happen to be quick, and in fact, they're likely one of the first brunch dishes you'll learn to cook for your friends and family.
As good as pancakes are all by themselves, it never hurts to add a little extra protein or have a second dish available for your hungry brunch guests. After you've read through this post on what to serve with pancakes, you'll walk away with plenty of confidence and inspiration to really make your next brunch feast shine. 
Eggs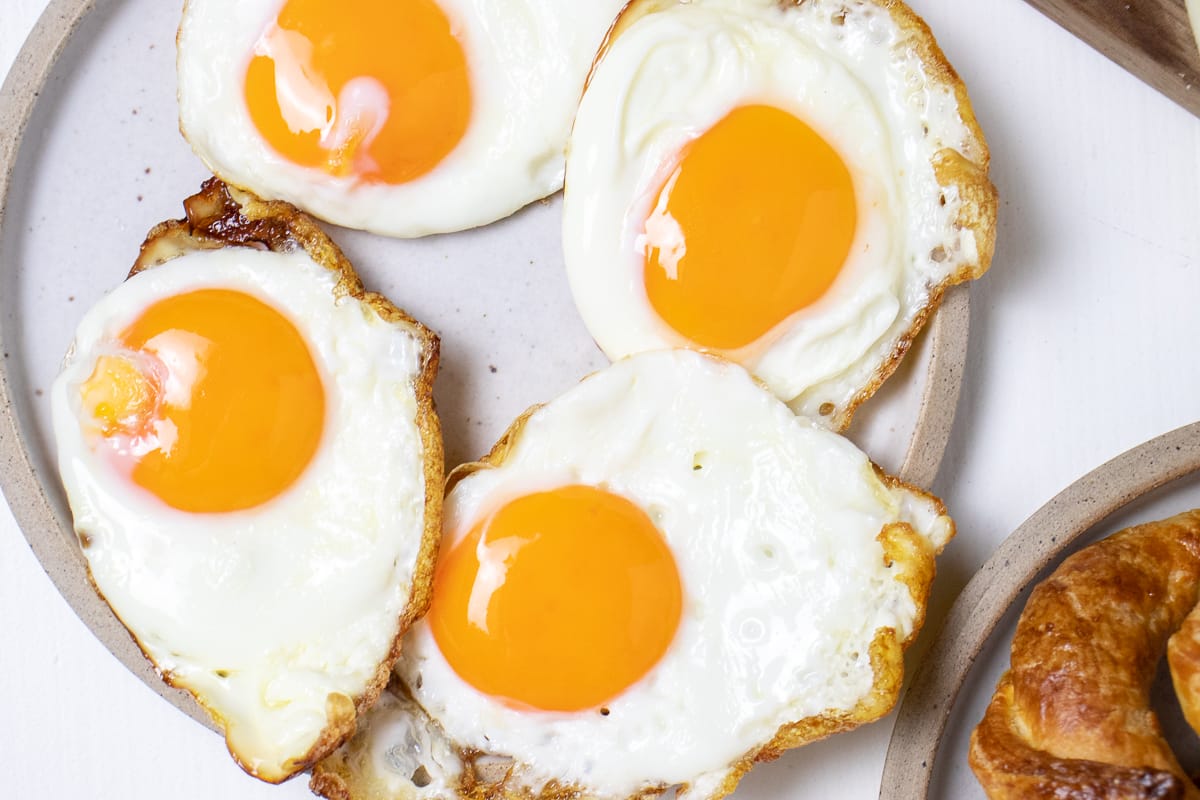 A classic choice, and rightfully so. Eggs belong with brunch, and they especially belong with pancakes. Eggs add protein and a unique richness to any dish they're served alongside. The best part is that you can make them to-order with ease, meaning guests can have their eggs exactly as they like them.
Whether you prefer a savory egg scramble or like them over hard, every method takes about the same amount of time. This is a great savory option to pair alongside pancakes.
Fried Chicken 
Perhaps you've heard of chicken and waffles, but have you ever thought of chicken and pancakes? Pancakes and waffles are just similar enough, there's no reason why they should be left out of all the fun. 
This is one of the more luxuriously rich brunch dishes you can make, though it doesn't have to be complicated. This chicken and waffle sandwich recipe explains how surprisingly easy it is to make fried chicken at home. By the way, this recipe would taste equally as awesome with pancakes. 
Fresh Fruit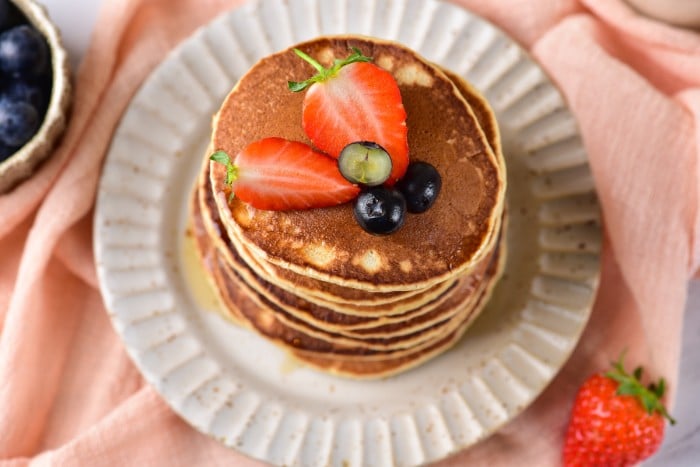 This is a good light brunch option that will leave you nicely full, without feeling heavy. This is also a great healthy option if you're looking to cut back on calories. 
When it comes to the fruit, this can really be up to you and your guests. Bananas or seasonal berries are always a safe option, but don't be afraid to add something tropical like the kiwi seen in this pancake French Toast recipe.
Bacon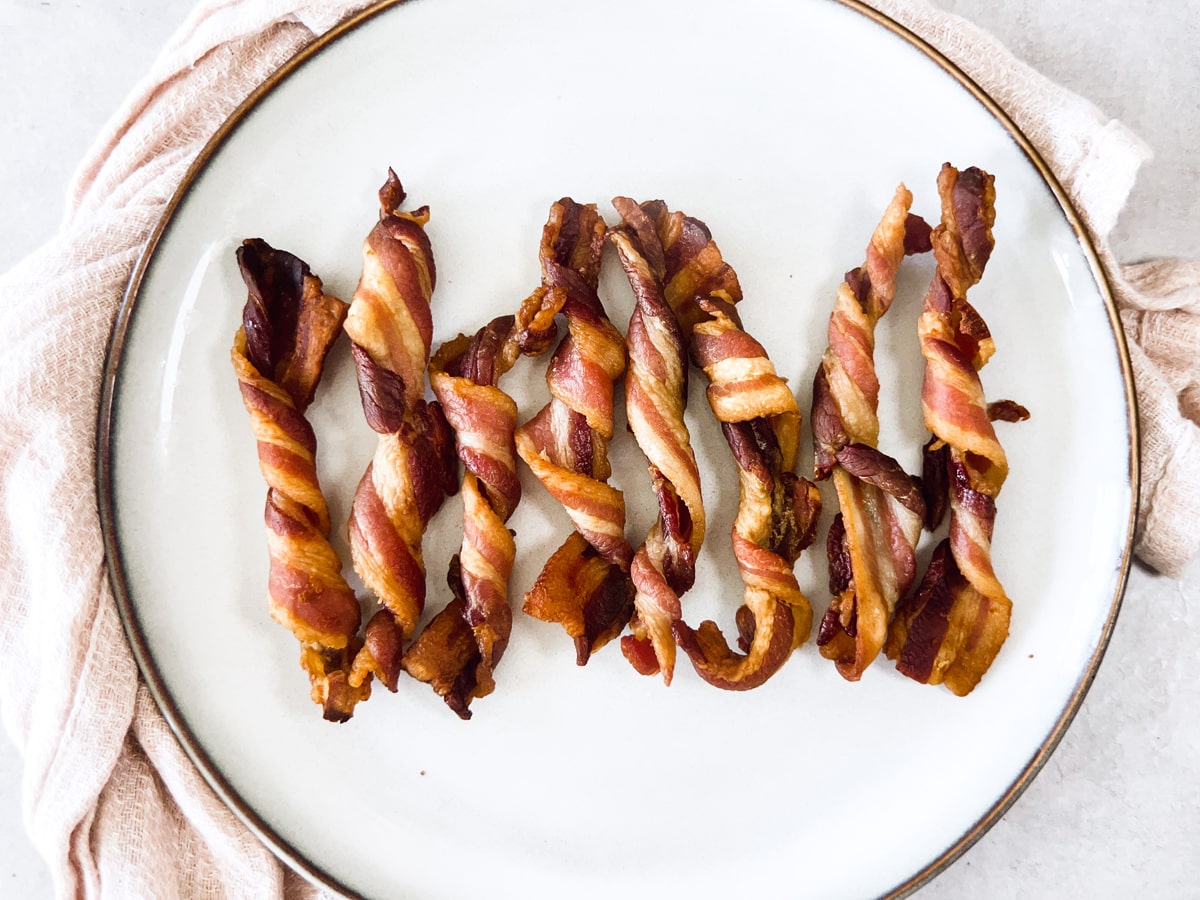 Bacon is always welcome at the brunch table. Whether you like it smoked or air fried, or even curled up into cute bacon twists, you will certainly have guests sticking their noses in the kitchen asking what the heck smells so good. 
Now, you can serve up a tray of bacon alongside pancakes (with maple syrup for the perfect combination) or, you can go the extra mile and make bacon jam.
In case you're curious, bacon jam can be made simply by combining cooked bacon (cut into 1" chunks) with shallots, garlic, chili pepper, apple cider vinegar, brown sugar, and maple syrup. Simmer everything together until your jam becomes thick and jammy, then you're ready to roll.
Potatoes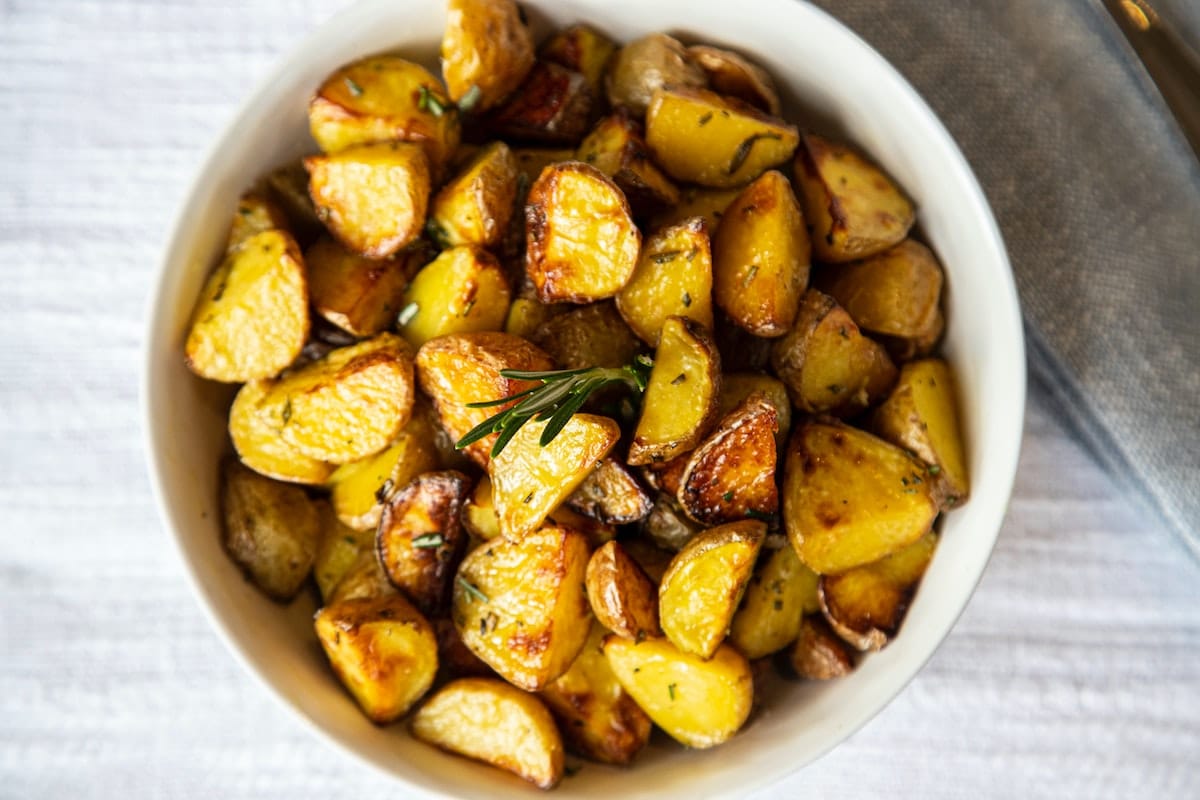 Potatoes are another people pleaser that can be made a million different ways. Homefries, french fries, or hashbrowns are the classic brunch options that everyone is sure to love. The savory and sweet combination always works, and you can give your brunch guests the option of additional add-ons like hot sauce or ketchup.
Just in case you think breakfast potatoes aren't in your wheelhouse, check out this recipe for hashbrown omelettes, and follow the simple instructions for making hashbrowns. Trust us, after you make them once, you'll be looking for excuses to make them again. 
Bananas Foster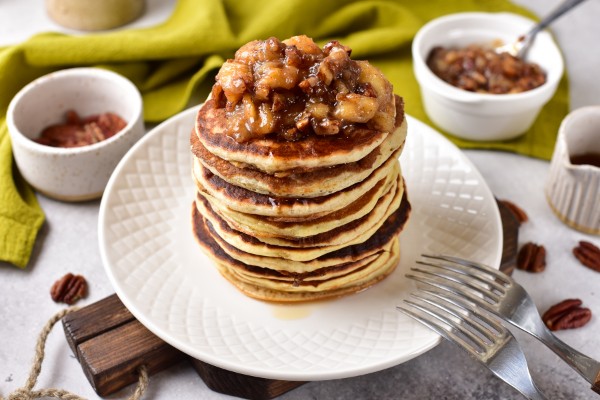 If there's one thing that pancakes are really good at, it's absorbing all kinds of sweet and ridiculously delicious toppings. This recipe for banana foster pancakes explains how to perfectly make a creamy, caramelized banana foster topping that will "wow" your guests and leave them begging you for the recipe. 
Plus, since you will already have the bananas, you can give your guests the option to omit bananas foster in place of simply sliced bananas.
Stewed Fruit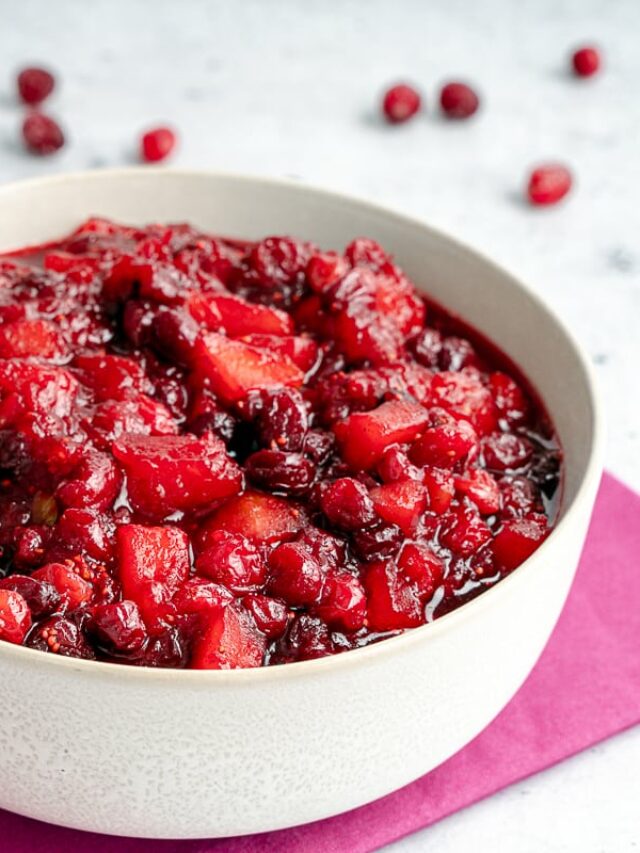 Stewed fruit is one of those simple treats that are surprisingly easy to make on a whim, yet it has a nostalgic comforting feel that everyone can relate to. This cranberry apple compote is the perfect fall-themed stewed fruit treat that needs only 20 minutes and a handful of ingredients to make. 
Honestly, you'll probably love the smell of this compote cooking as much as you enjoy having a huge scoop on your warm pancakes.
If you're looking for something on the brighter, more zesty side, then check out this recipe for strawberry french toast, where fresh strawberries are soaked in sugar to leave them soft and deliciously sweet.
Peanut Butter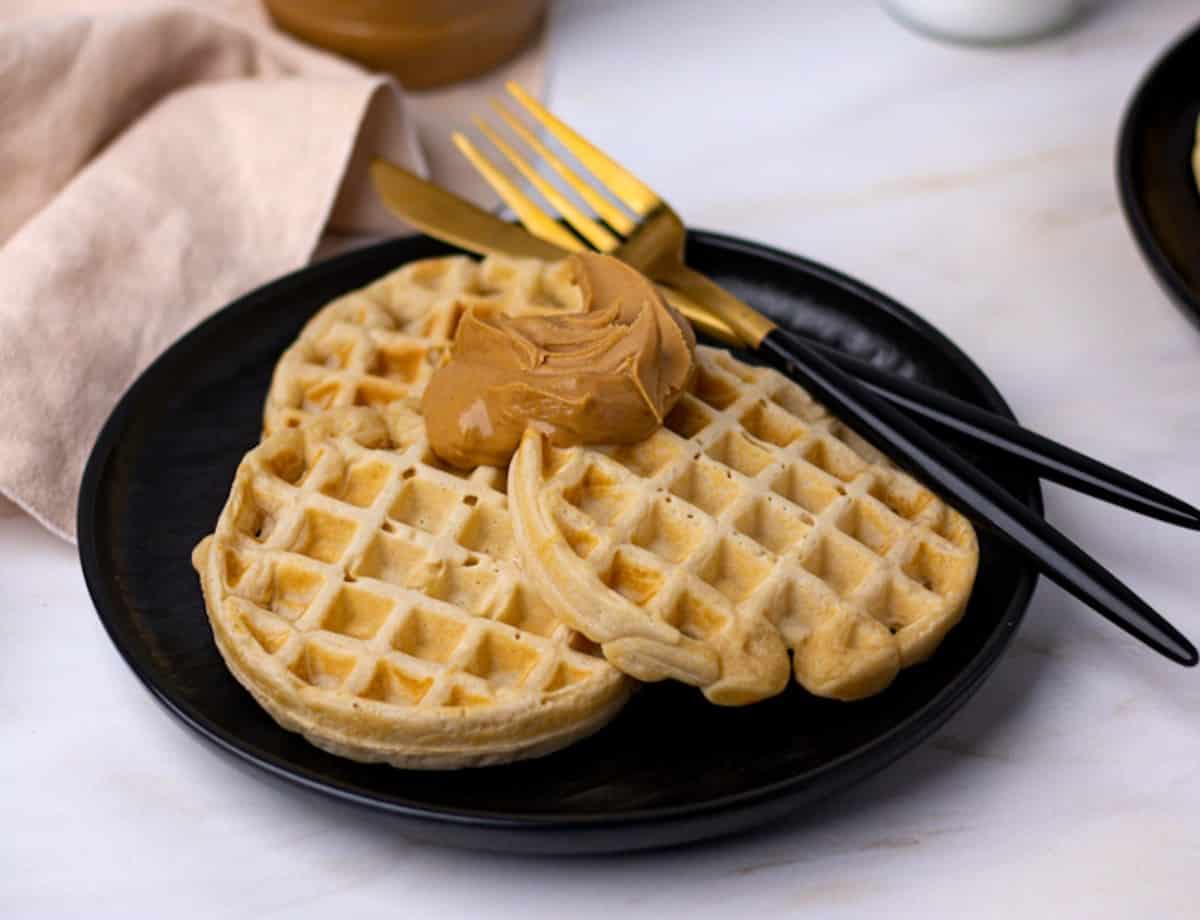 Peanut butter is a great versatile ingredient. It adds protein and richness, it works great as a sweet topping or it can be savory.
If you're crazy about peanut butter, then you can take a note from this peanut butter waffles recipe and incorporate it straight into your batter. If you're more of a novice peanut butter lover, then you can layer it between your pancakes. 
Either way, peanut butter is a rich and satisfying topping that also functions as a side dish, since it's filling and packed with beneficial nutrients.
Sandwich Fillings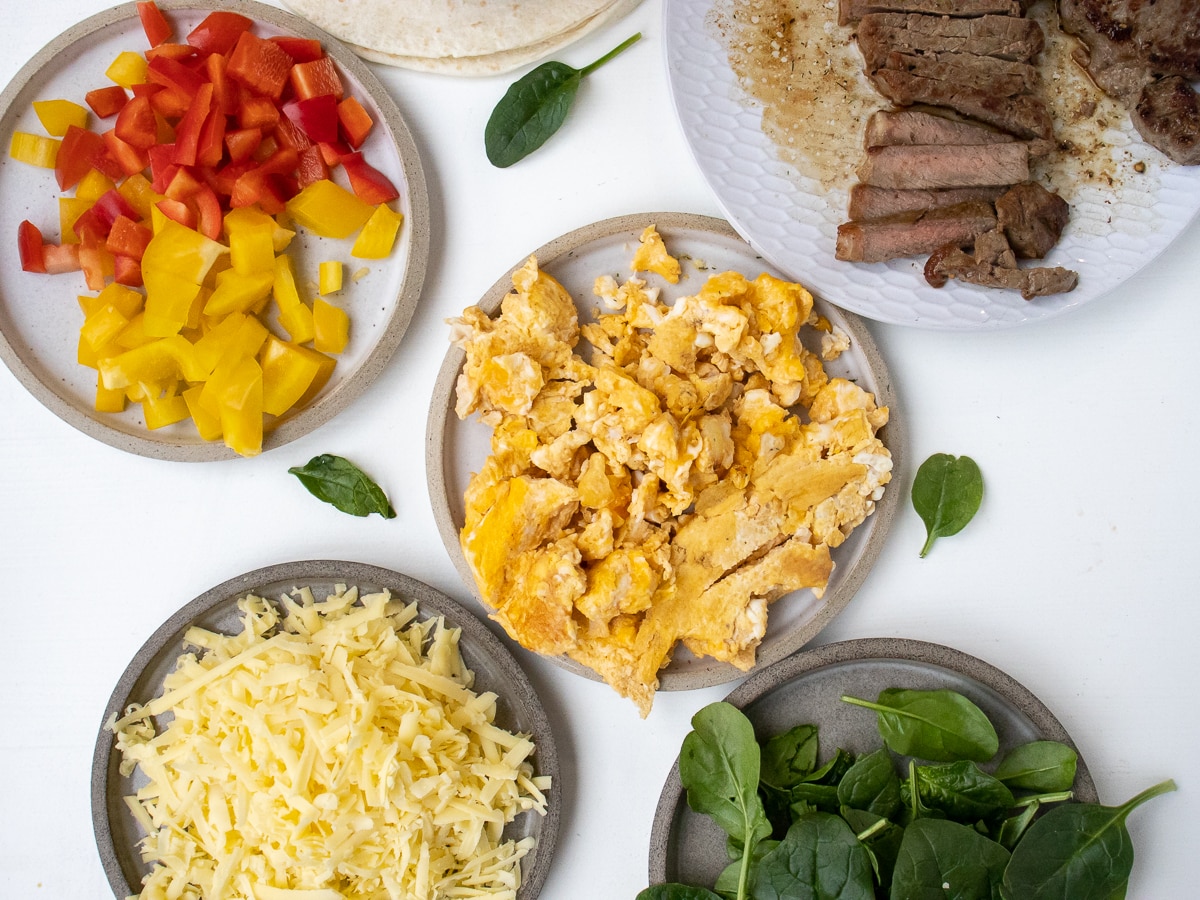 Brunch is all about combining the best of breakfast and lunch, so why not make the perfect brunch sandwich out of pancakes? This is a fun, family-friendly way to have a hands-on brunch day.
The best part is that you can go as all out as you feel. All you have to do is cook bread-sized pancakes, and whatever fillings you want. Then, plate everything and let your guests build their own sandwiches. Fillings can include eggs, bacon, sliced avocado, cheese, or whatever your heart desires.
This option has the added benefit of making use of whatever is left over in your fridge. Sautéed peppers and onions? Sliced ham from last night's dinner? The options are endless.
If you're in need of additional inspiration, check out this waffle sandwich recipe, or perhaps this turkey breakfast sandwich is more up your alley.
Mascarpone Cheese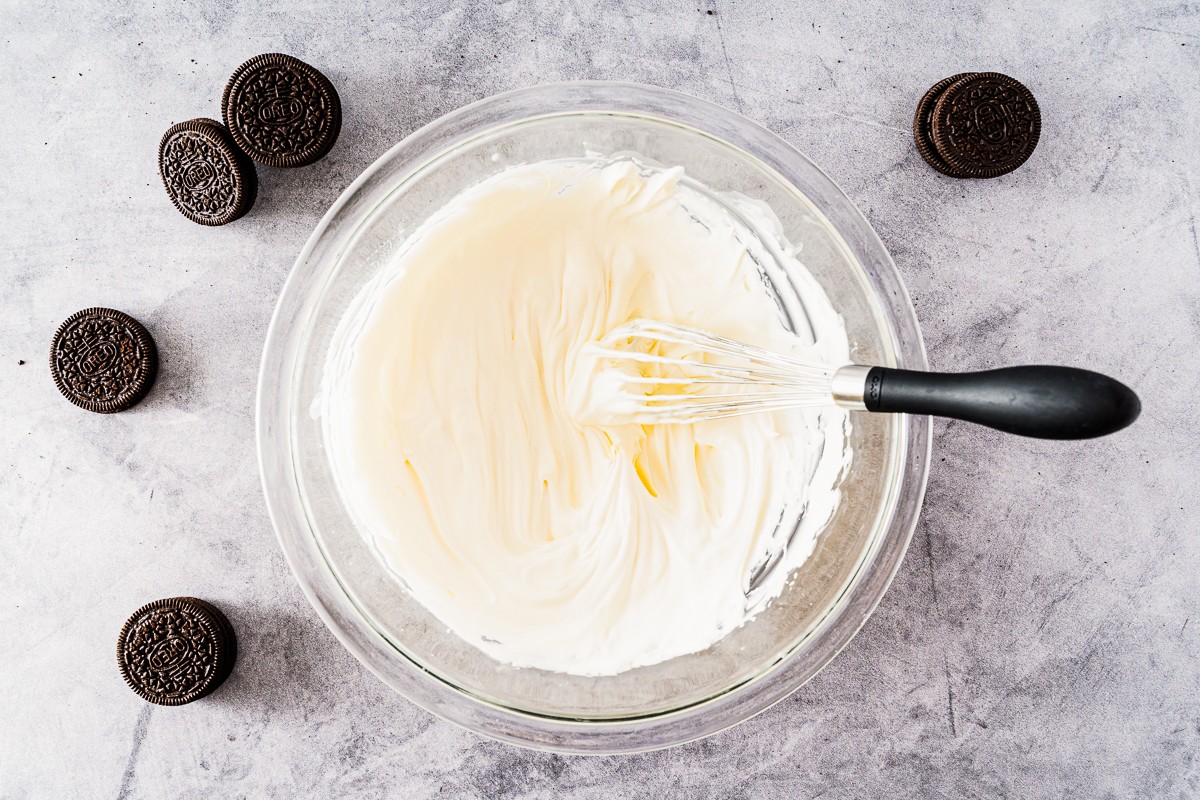 Mascarpone cheese combines a creamy and delicate sweetness with a touch of tang and rich texture. If you want a rich topping for your pancakes that offers a contrasting texture to the chewy, fluffy pancakes, then look no further than mascarpone cheese.
In addition to tasting great all on its own, mascarpone also works really well with stewed or macerated fruit. Take a note from this mascarpone french toast recipe and combine a hefty scoop of this cheese with homemade raspberry syrup, then sit back and enjoy the fruits of your labor.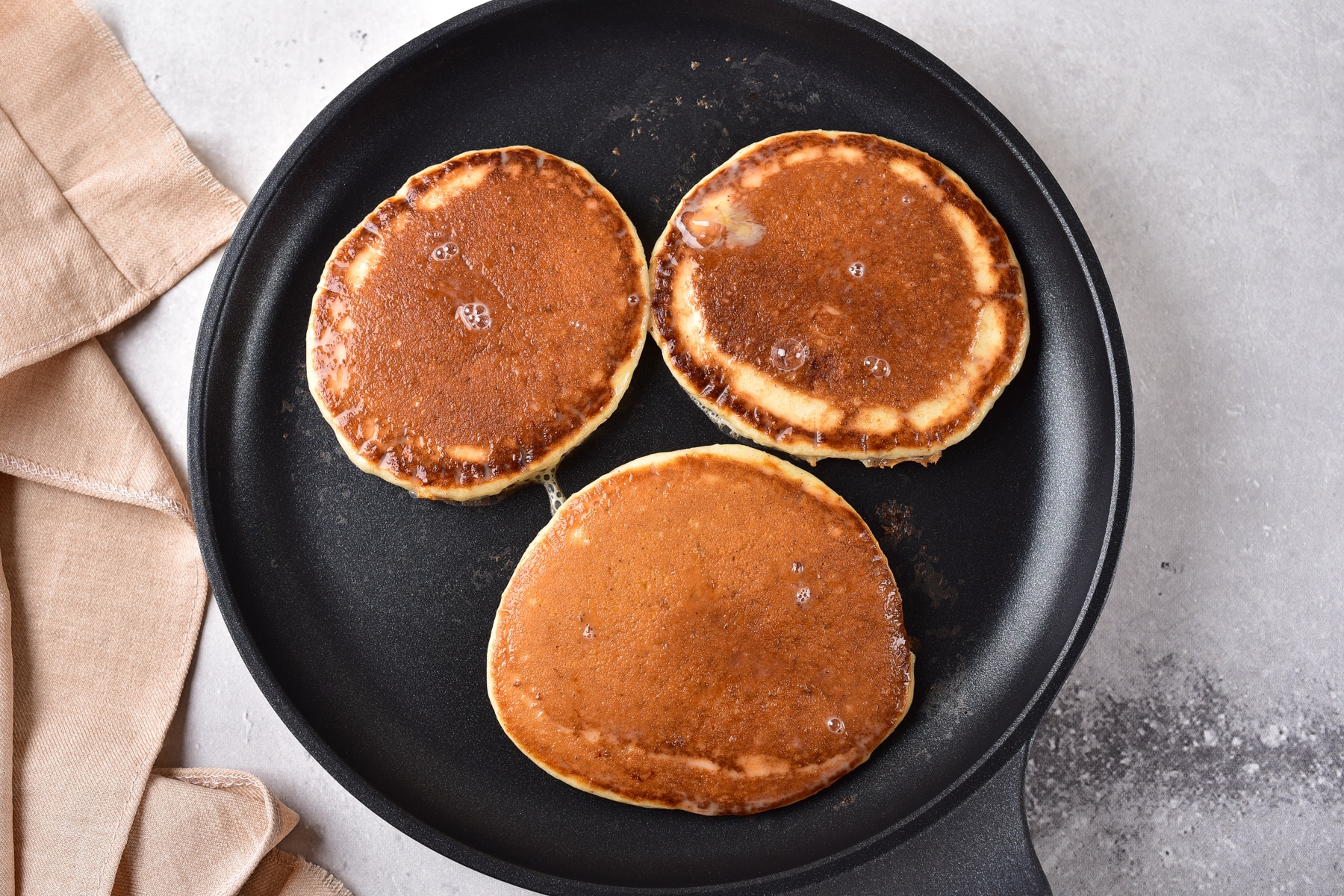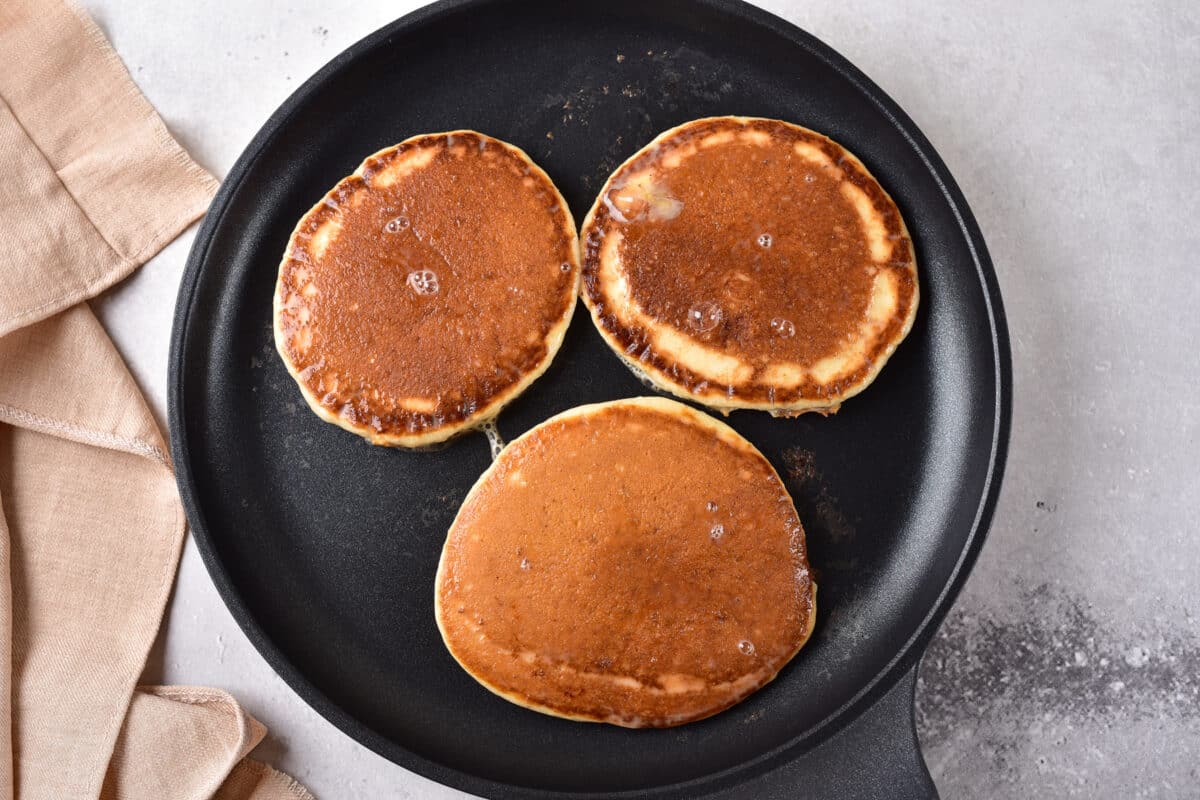 Pancakes can be the perfect accompaniment to a brunch feast, or they can be the main star, the choice is really up to you. So long as your guests have classic options, like old-fashioned maple syrup and honey, there's no harm in serving up a little something extra.
In the end, brunch should be easy and an opportunity to relax and get creative. If you're ever in need of more awesome brunch recipes and ideas, follow Golden Truffle along on Instagram and Pinterest for all the brunch inspiration you can handle. 
As always, don't forget to leave a comment down below and tell us some of your favorite sides to serve with pancakes.
---
What can you eat with pancakes besides syrup?
Pancakes can be served with anything from butter to whipped cream, to mascarpone cheese, sunnyside-up eggs, or a plate of bacon. There are no wrong answers. 
What do Americans serve with pancakes?
Traditionally, Americans serve pancakes with maple syrup and butter. 
Can pancakes be eaten as dinner?
Who doesn't love a little breakfast for dinner? Even though pancakes are usually a breakfast or brunch affair, they can make for a great dinner, especially if you try making savory pancakes with herbs, meats, and cheeses. 
Olivia has been in love with all things food and libations for nearly a decade. When she's not cooking up new recipes, she enjoys bikepacking, wine tasting, crocheting, and traveling in her camper van up and down the Pacific Northwest.