Rich and inviting, tart and just-sweet-enough, cranberry apple compote's gorgeous ruby-red color is only equaled by its bright fall flavors.
Served warm or cold, this topping can instantly elevate any meal if you have friends coming over for breakfast or need something quick to throw on your oatmeal before work. A great dish to have on hand because of its versatility, cranberries and apples are cooked with spices, cranberry juice, and sugar.
In just around 20 minutes, you'll have a delicious compote to eat and store in the fridge or freezer for later.
Cranberry apple compote adds a bit of zip to your next breakfast. It has a thick, chunky texture perfect to put on toast, waffles, or pancakes, or mix into oatmeal or yogurt. I love tart tastes, so pair this compote with a tall glass of cranberry juice.
But if that's not your thing, try a chai latte, or a cinnamon spice tea with a little milk – these drinks share many spices with the compote and will complement each other well.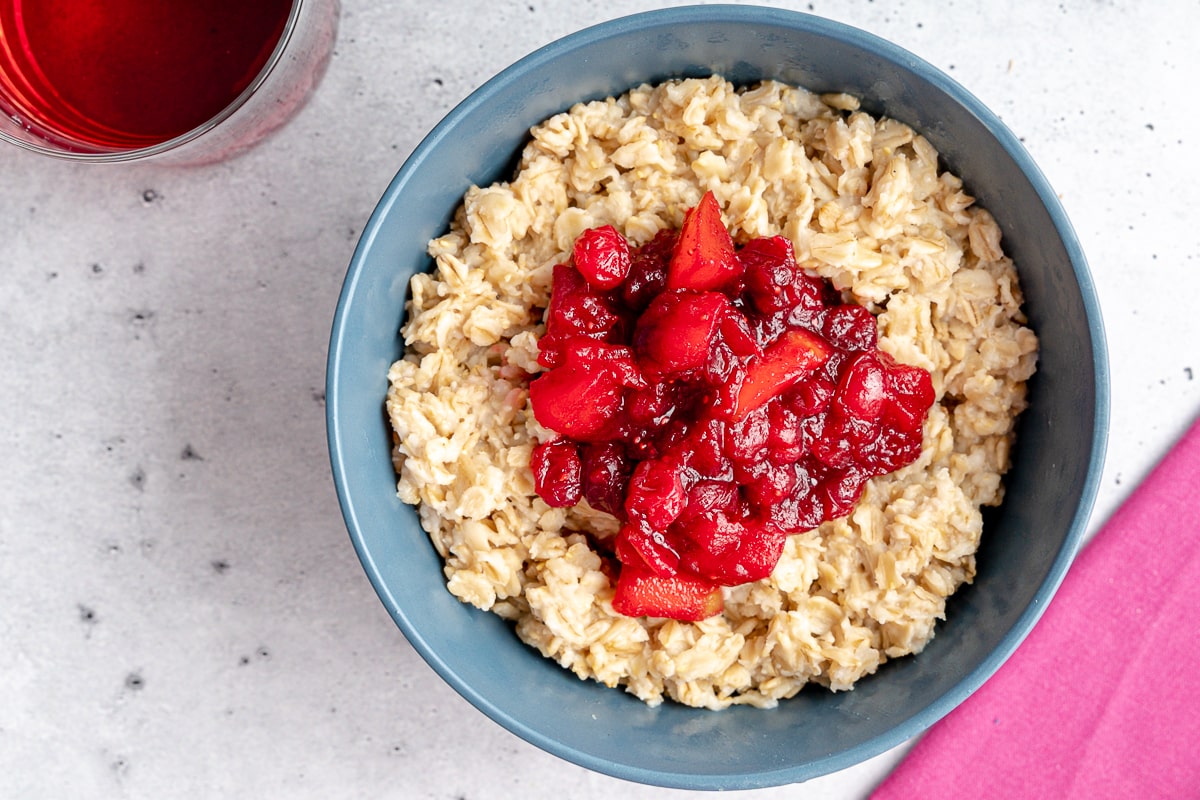 What You Need to Make Cranberry Apple Compote
For this dish, you will need cranberries, granulated sugar, salt, cranberry juice, granny smith apples, cinnamon, and nutmeg. You can use either fresh or frozen cranberries. If you use frozen, you may need to add a few extra minutes of cook time.
Granny smith apples lend a bright flavor to this recipe and hold their shape nicely during the brief cooking process. However, you can also use pink lady, honey crisp, or other crisp, sweet-tart apples. Because these other apples tend to be sweeter than granny smiths, you may need to reduce the amount of sugar that you use.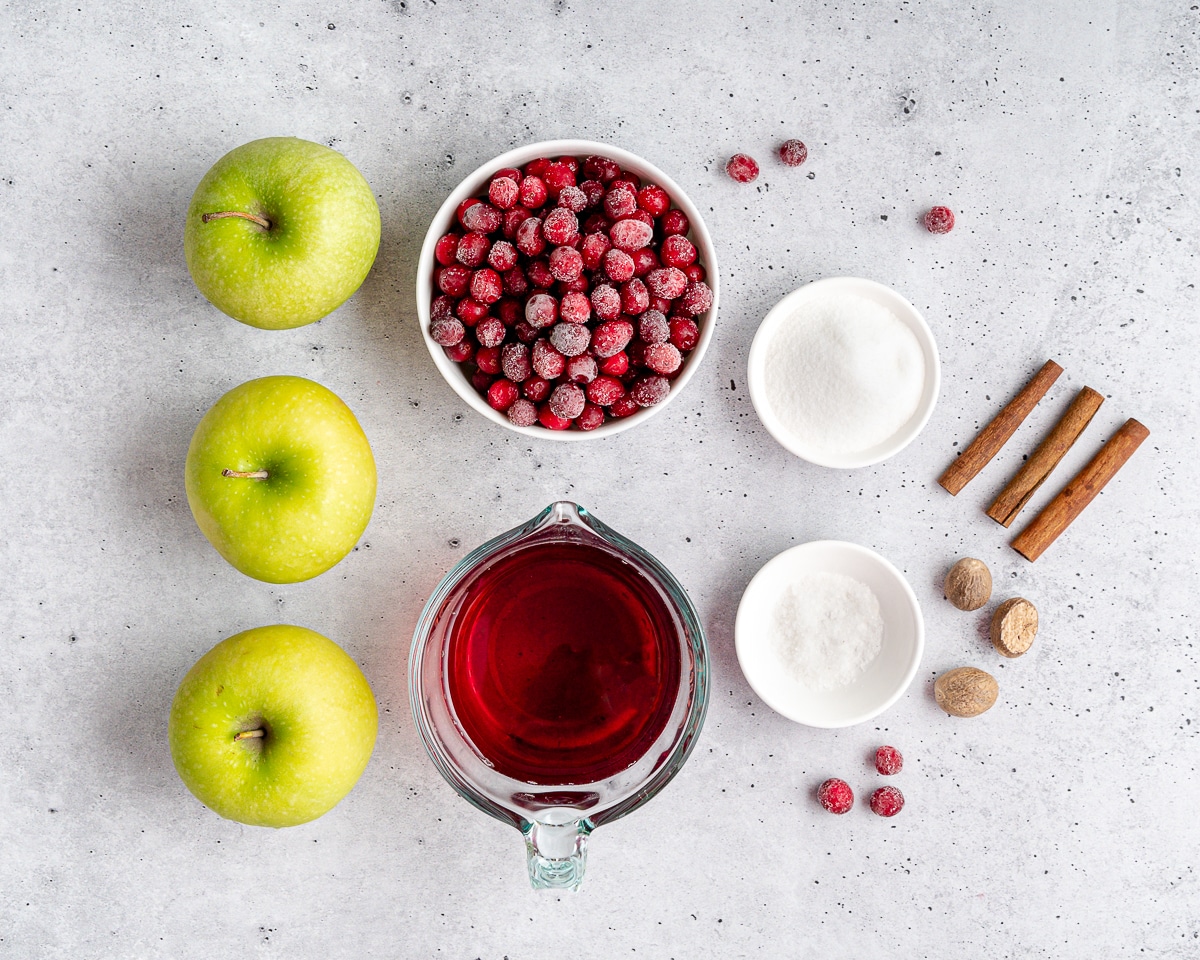 Ingredients:
Cranberries
Granulated Sugar
Cranberry juice
Granny Smith Apples
Cinnamon
Nutmeg
Salt
Tools:
Cranberry apple compote requires a small saucepan, a knife, a cutting board, and a peeler. That's it! I recommend making sure you have fresh spices on hand for this dish – it will really add an extra layer of flavor to the dish. And you'll also have them ready for your fall baking!
How To Make Cranberry Apple Compote
Wash, peel, and dice your apples.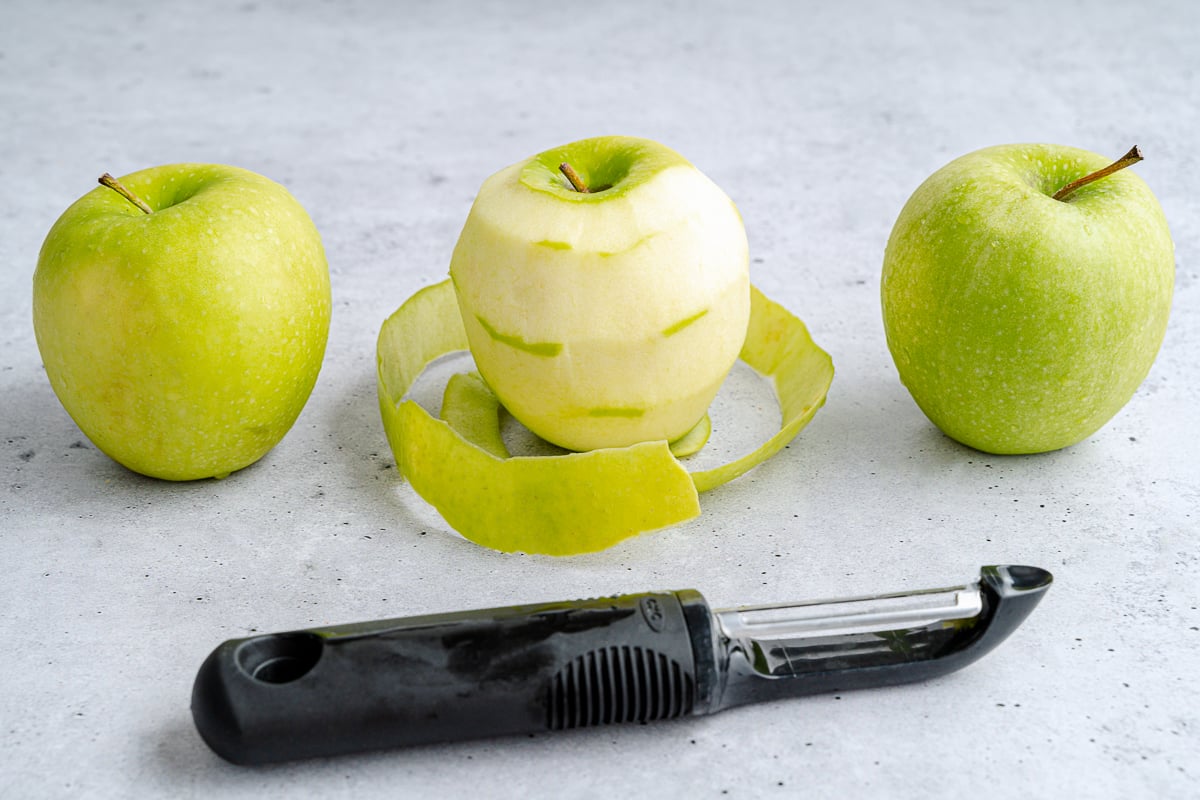 Place the cranberries, spices, cranberry juice, apples, salt, and sugar in a saucepan.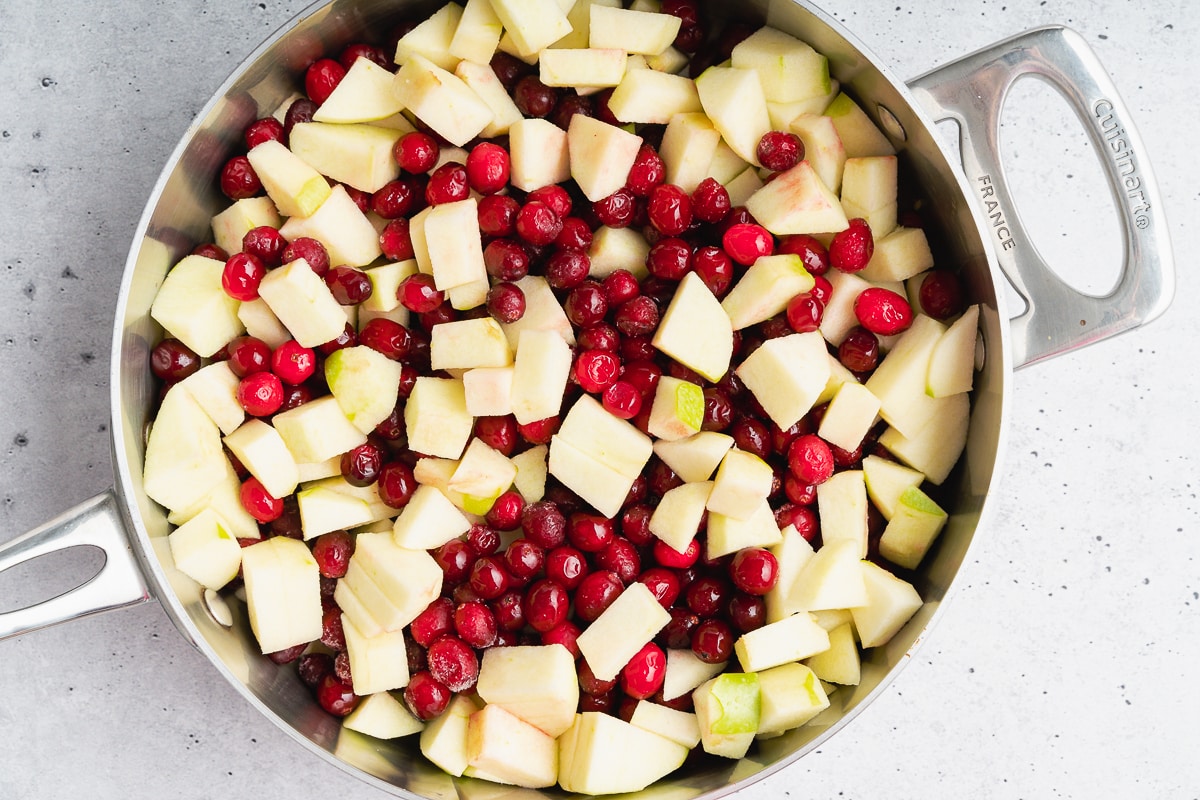 Bring the mixture to a boil and then reduce, cooking for an additional 15-20 minutes, or until the mixture has thickened. Remove from the heat and allow to cool.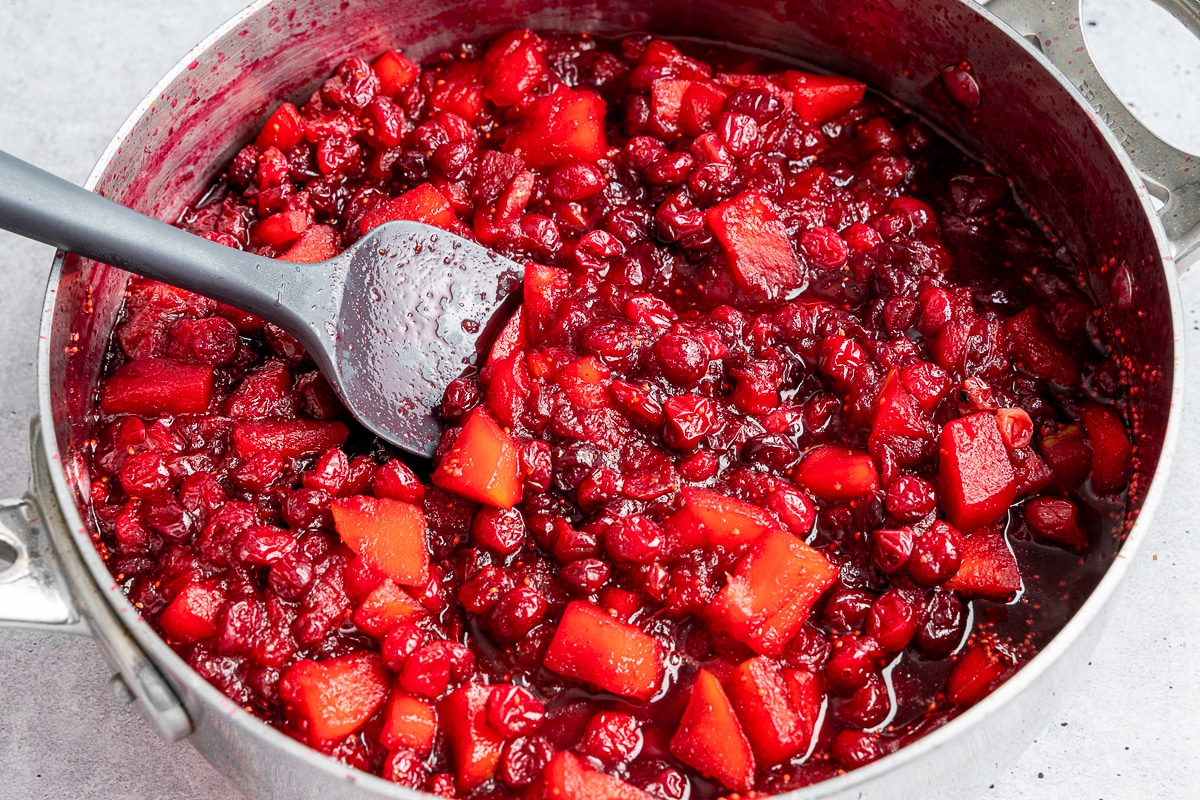 Put your compote on oatmeal, yogurt, spread on toast, on top of pancakes, or even waffles.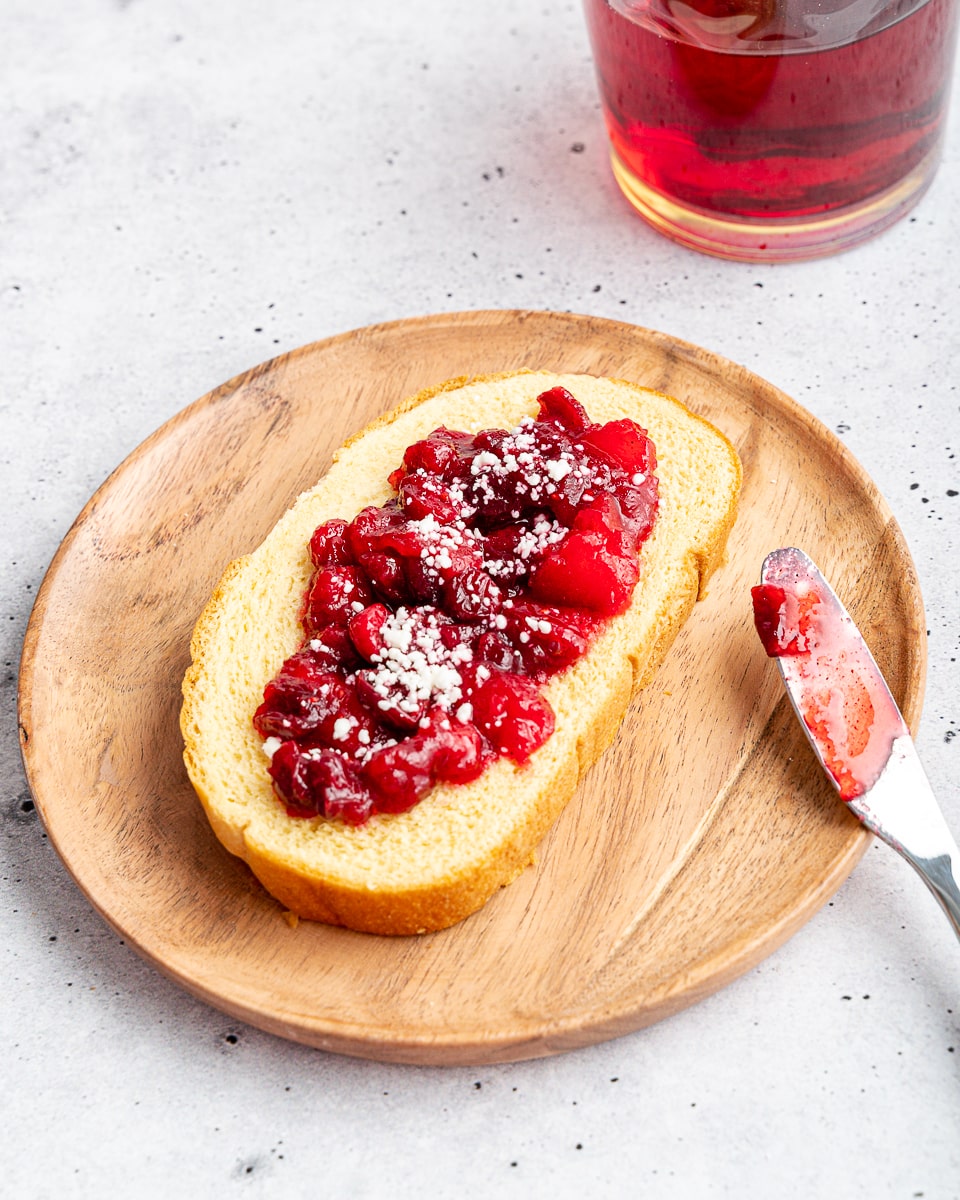 Can I use brown sugar?
I prefer to use granulated sugar in this recipe because it adds a very clean bright flavor to the dish. Brown sugar adds a deep flavor that I like less in this compote.
Can I use cranberry cocktail?
I use cranberry juice as opposed to cranberry cocktail or cranberry juice cocktail in this dish. While both are sweetened drinks, cranberry juice is often sweetened with fruit juices. Cranberry cocktail is additionally sweetened with sugars or high fructose corn syrup. Both will add tartness, sweetness, and the necessary cooking liquid for the compote, so you can use either depending on what you have on hand.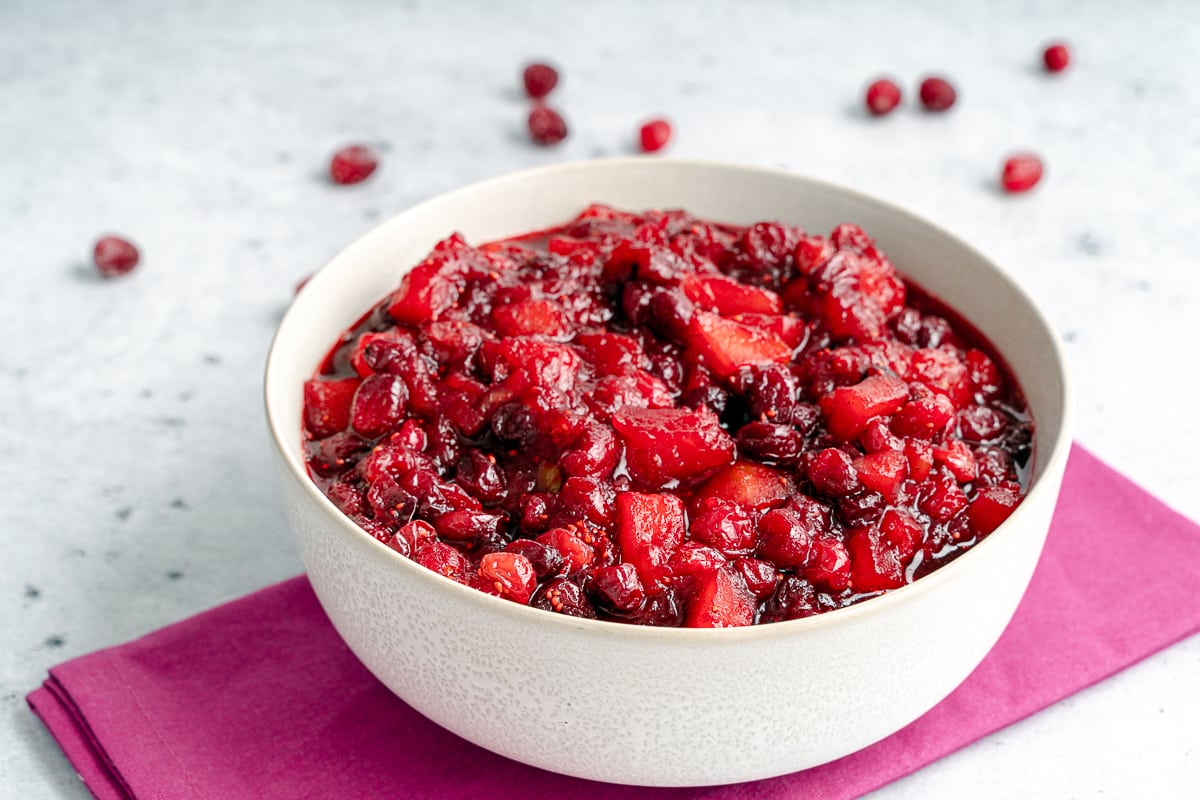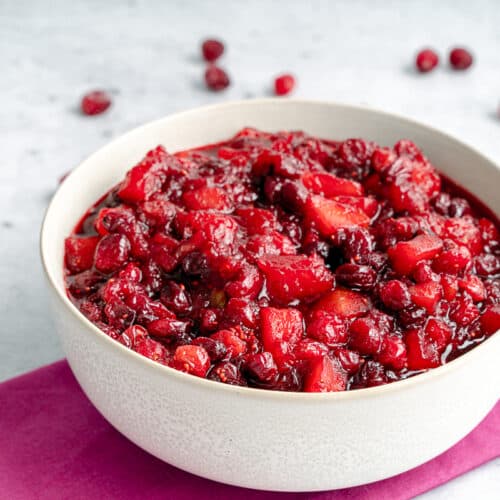 Cranberry Apple Compote
Cranberry apple compote will warm up your senses and make your taste buds explode with fall flavors. Cranberries and apples are cooked with spices and sugar into a bright red compote that can be put on many different dishes to give them a pop of tartness and sweetness. Enjoy this zippy compote throughout the fall and winter months.
Ingredients
3

cups

cranberries

fresh or frozen

½

cup

granulated sugar

¾

cup

cranberry juice

2 to 3

Granny Smith apples

½

tsp

cinnamon

½

tsp

grated nutmeg

pinch of kosher salt
Instructions
Wash and peel 3 granny smith apples.

Dice apples into small cubes.

Combine all ingredients in a saucepan and place over medium-high heat.

Bring the mixture to a boil, then reduce to a simmer for 7-8 minutes, or until the cranberries release their juices and the apples begin to soften. Stir occasionally.

Remove from the heat and enjoy with many of your favorite breakfast foods.
Notes
I let my compote cool in the saucepan before I store it in the fridge. I know my household can eat it in a few days. However, if you are going to keep the compote for longer, you will want to sterilize and prepare jars before you make the compote, and then seal the jars while the compote is still hot. If you use sterilized jars, the compote can be kept in the fridge for two weeks or three months in the freezer.
Nutrition
Calories:
98
kcal
Carbohydrates:
24.52
g
Protein:
0.35
g
Fat:
2
g
Saturated Fat:
0.04
g
Fiber:
2.9
g
Sugar:
19.39
g
Here are a few other recipes you might enjoy!
Arielle is a food and drink photographer based in Washington, D.C. She was previously a social science researcher before she fell in love with photography.