This delicious and simple loaded hash brown omelette is perfect for a make-ahead breakfast. It is easy to make, inexpensive, and lasts for a while in the fridge. It is simply everything you need and want in breakfast all in one dish: eggs, cheese, and hashbrowns.
I love pairing it with French toast and pancakes, adding it to lunch boxes, and incorporating it into my weekly meal prep routine.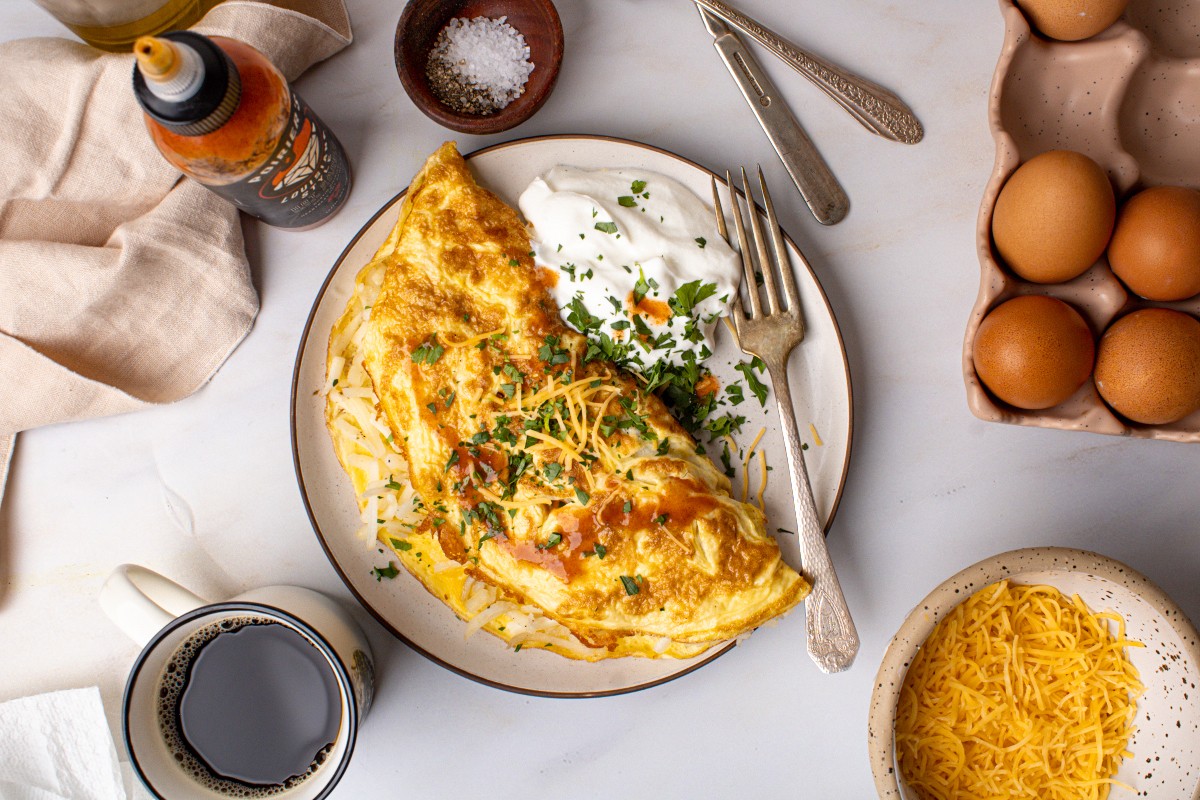 This hashbrown omelette recipe is simple but doesn't hold back on flavor. I love making it because it is very filling and gets my day going strong.
This omelette is very versatile and goes with absolutely any toppings or other ingredients. So, feel free to add anything else that you want to incorporate into it.
What You Need to Make This Hash Brown Omelette
As I already mentioned, this hash brown omelette is very delicious and simple to make. You don't need many ingredients, and you can add whatever you want to it.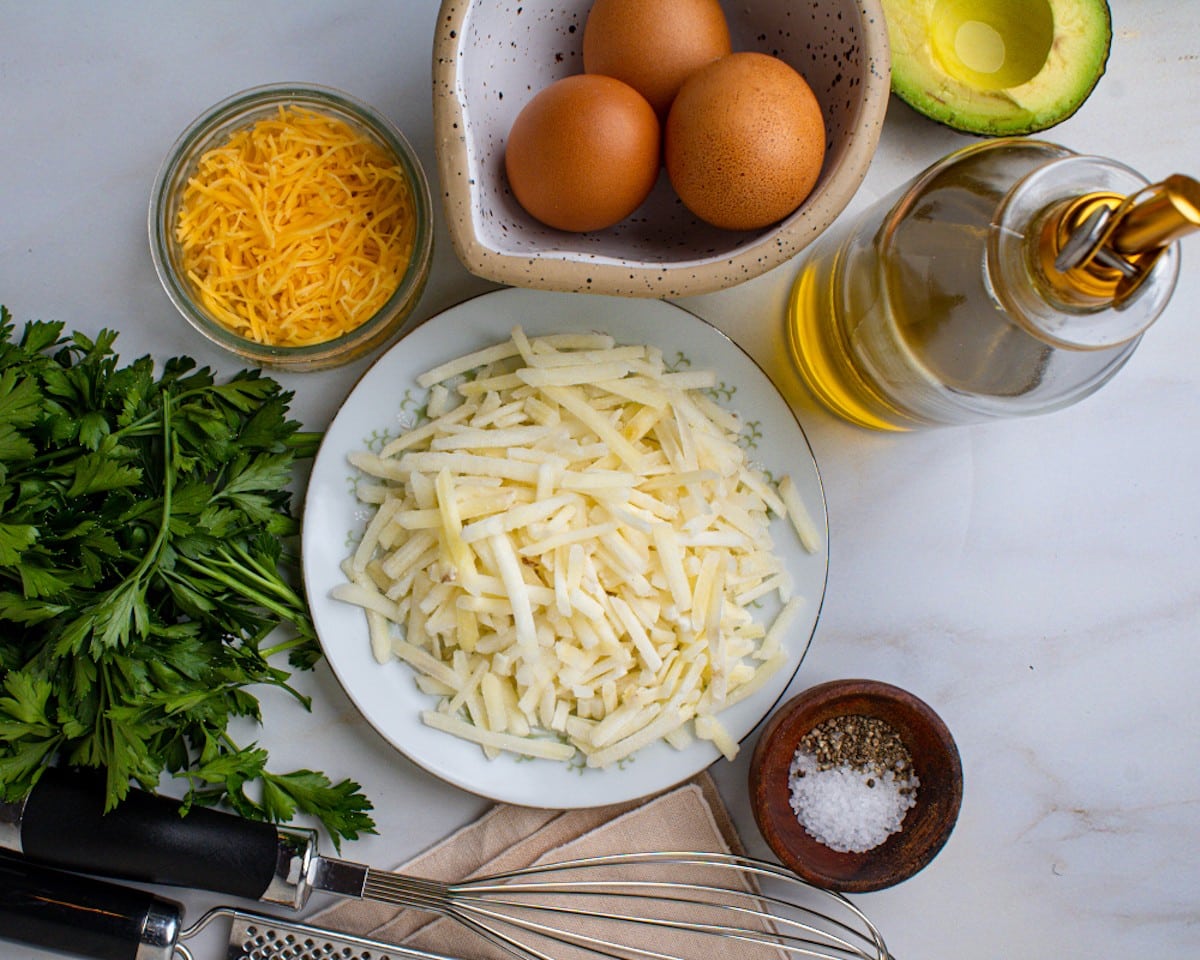 Ingredients:
Eggs
Hashbrowns – I used frozen, but feel free to shred your own. The fresher the ingredients, the better the omelette.
Cheese – cheddar, gouda, or pepper jack would do the trick. For extra cheesiness, add a mix of the three.
Sea Salt
Black Pepper
Fresh Parsley
For garnish and toppings:
Avocado
Salsa
Sour Cream
Hot Sauce
Tools:
Mixing Bowl
Spatula
Whisk
Non-stick pan – the size depends on how big the omelette is. I made a classic omelette with 3 eggs, so I used a medium skillet with a lid.
How To Make a Hash Brown Omelette
This recipe is so easy, that you will make it over and over again in the morning. It comes together in less than thirty minutes. Make sure you have all ingredients out before you start cooking, because eggs burn quickly.
To start, heat the non-stick pan to medium heat and drizzle with olive oil. Add the hashbrowns and season with salt and pepper. Toss a few times for the potatoes to crisp a bit and then turn the heat off.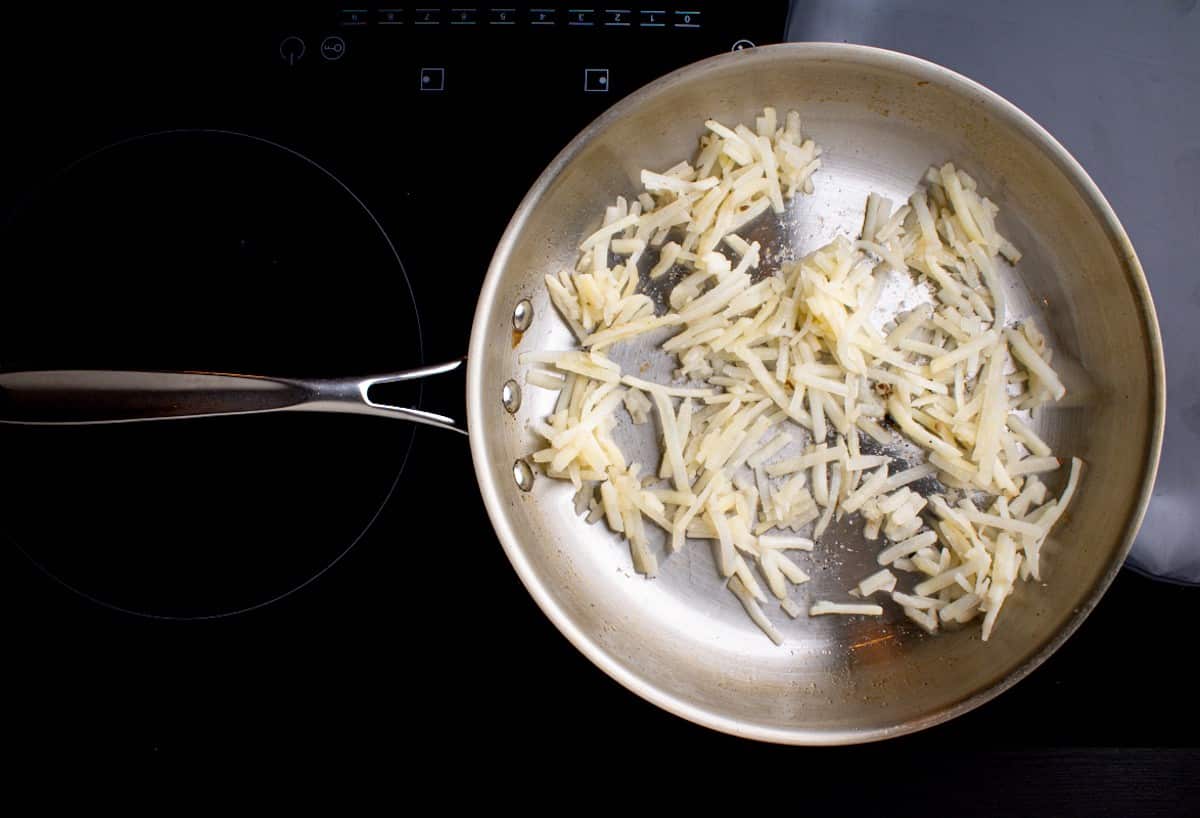 Transfer the hashbrowns to a plate and set them aside.
In a mixing bowl combine the eggs, salt, and pepper. Whisk well until well beat and frothy.
Heat the skillet back to medium heat and drizzle with olive oil. Add the egg mixture when the oil is hot but not smoking.
Using a spatula, push the edges as they settle. Cover and cook for a minute or two.
Add the hashbrowns and cheese on one side and flip the empty side on top using a spatula.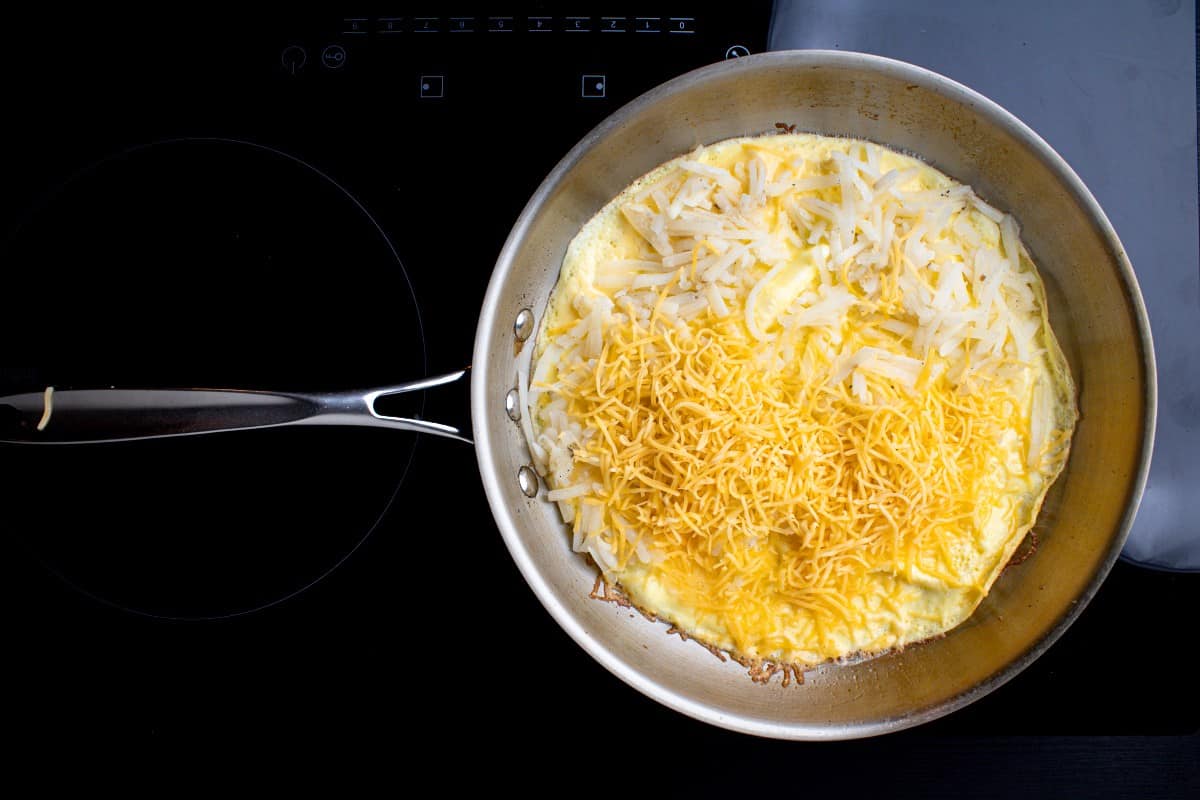 Turn the heat off and slide the omelette onto a plate. Garnish with your favourite toppings and finish with fresh parsley.
How long does this omelette last in the fridge?
If you have any leftovers or the dish for meal prep keep the omelette in an airtight container in the fridge for up to a week.
Should I add milk or water to the eggs?
I find that to be an old practice that waters down the eggs and makes them heavy. This method will not make your eggs fluffy. Instead, use a stainless steel whisk and beat very well until the eggs are frothy and slightly bubbly on top.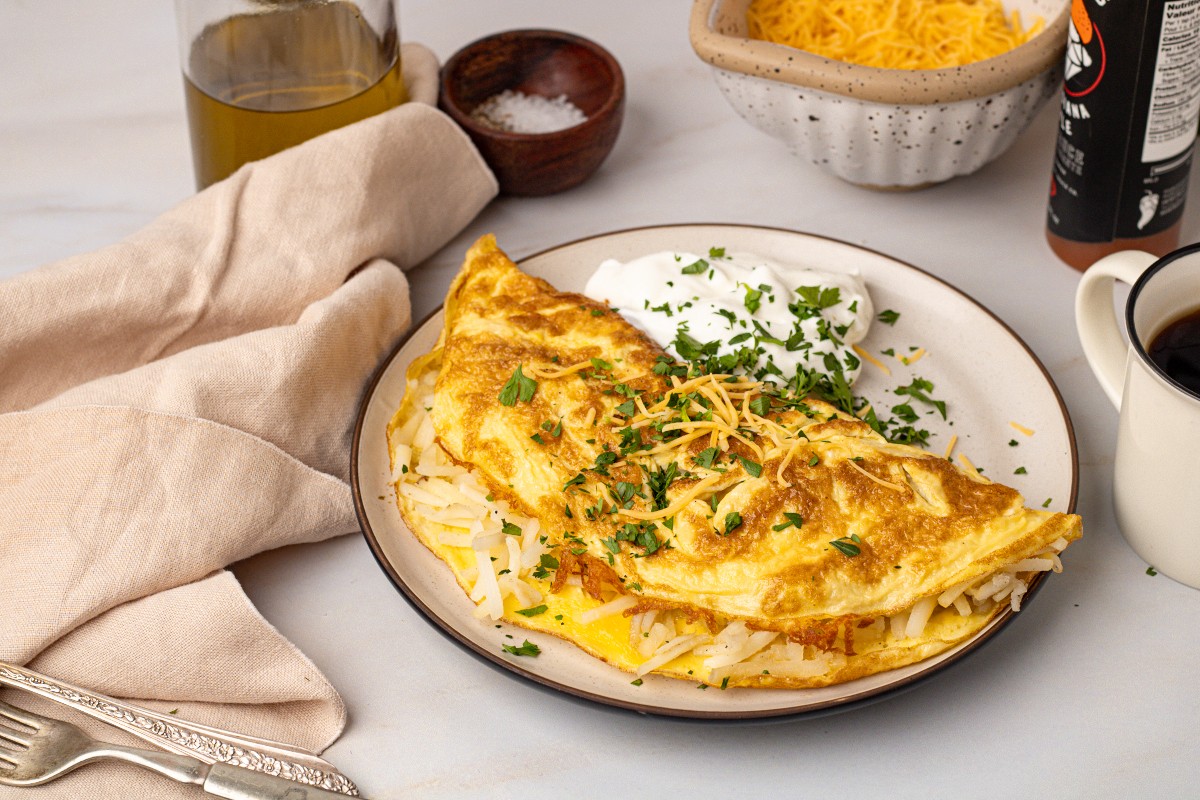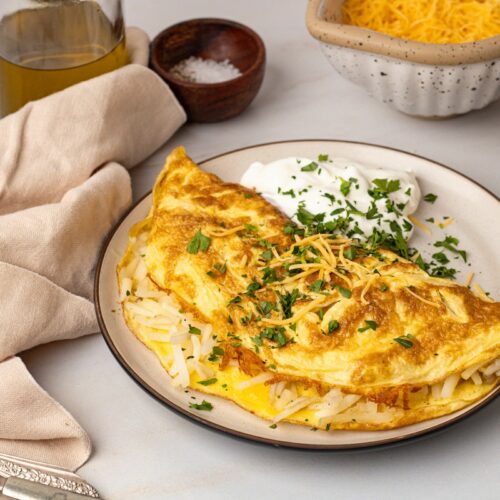 Hash Brown Omelette
This hash brown omelette is my new favorite breakfast. I love that it's so easy to make and that it's a hearty way to start the day. Plus, it's kid-friendly, too. If you're looking for a quick and easy breakfast option, be sure to give this omelette a try.
Ingredients
3

large eggs

1

tbsp

cheddar cheese

shredded

¼

cup

hash browns

shredded

¼

tsp

sea salt

¼

tsp

black pepper

sour cream

for garnish

parsley

for garnish

hot sauce

optional
Instructions
In a mixing bowl combine the eggs, salt, and pepper. Whisk to combine until frothy.

Heat a non-stick pan to medium heat and drizzle with olive oil. Add the eggs and cook.

Using a spatula push the ends in as they settle. Cook until the bottom is set and the top slightly wet.

Add the hash browns and cheese to one side of the omelette. Flip the other on top and slide it onto a plate.

Serve with sour cream and parsley.
Nutrition
Here are a few other recipes you might enjoy!
Hristina Polk focuses on Mediterranean fusion meals inspired by her Eastern European culture and the places she has traveled.