This shrimp omelette topped with mango salsa is so fresh, delicious, and tropical. I love the way the flavors of the seafood and the homemade salsa go so well together.
The shrimp is cooked and wrapped into the omelette. Then the omelette is topped with freshly chopped mango, jalapeno, and lime salsa. So good!
This amazing shrimp omelette recipe is healthy, full of flavor, and comes together in a matter of minutes.
What You Need to Make This Shrimp Omelette
I love this shrimp omelette recipe because it is easy to make and everyone around me loves it as much as I do. Here is everything you need.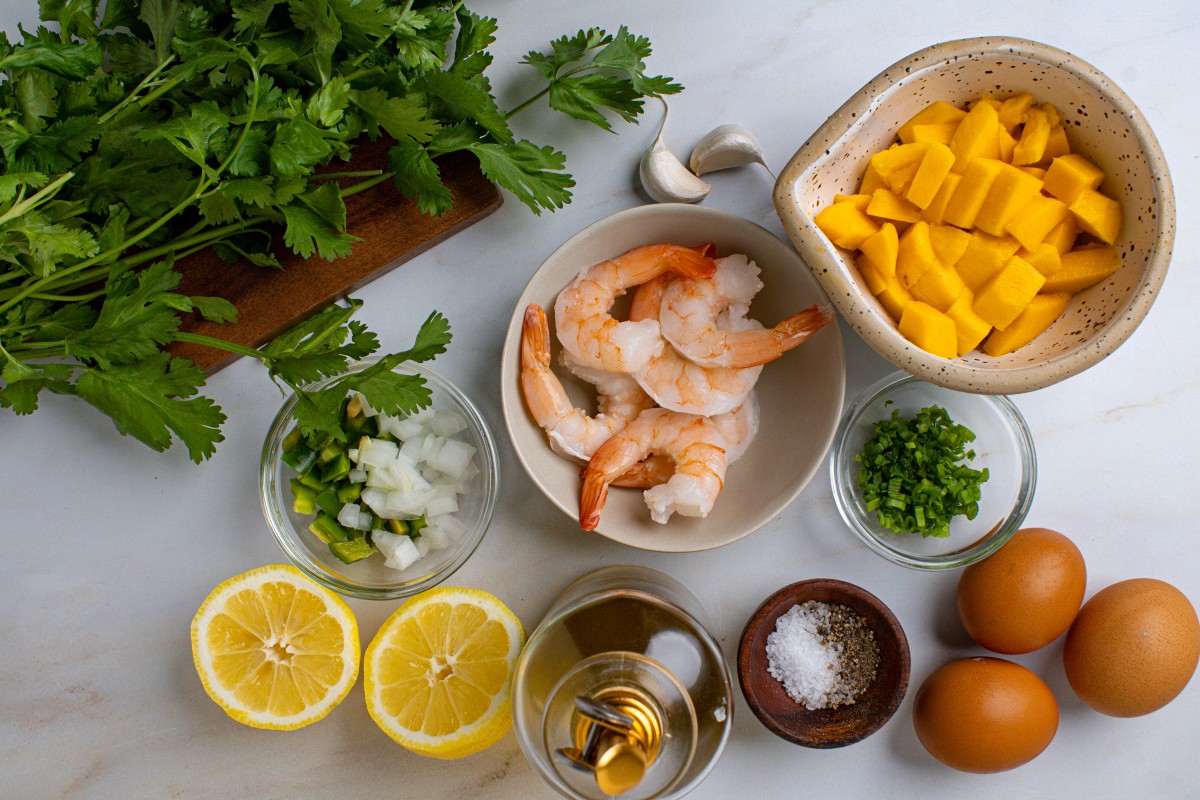 Ingredients:
Eggs
Shrimp – cooked and deveined. Make sure there is no shell left.
Mango
Jalapeno
Onion
Garlic
Cilantro
Sea Salt
Black Pepper
Olive oil
Lemon Juice
Tools:
Mixing bowls
Non-stick skillet
Spatula
Whisk
How To Make a Shrimp Omelette
The shrimp omelette recipe is pretty straightforward. The recipe for the mango salsa is even easier. It all comes together in less than thirty minutes.
Make sure to have all ingredients and tools available before you start cooking. The eggs burn quickly, so you want to make sure you are ready to keep an eye on them.
To start, make the mango salsa first so the flavors can marinate while you are preparing the omelette. In a mixing bowl, combine the mango, jalapeno, onion, a drizzle of olive oil and lemon juice.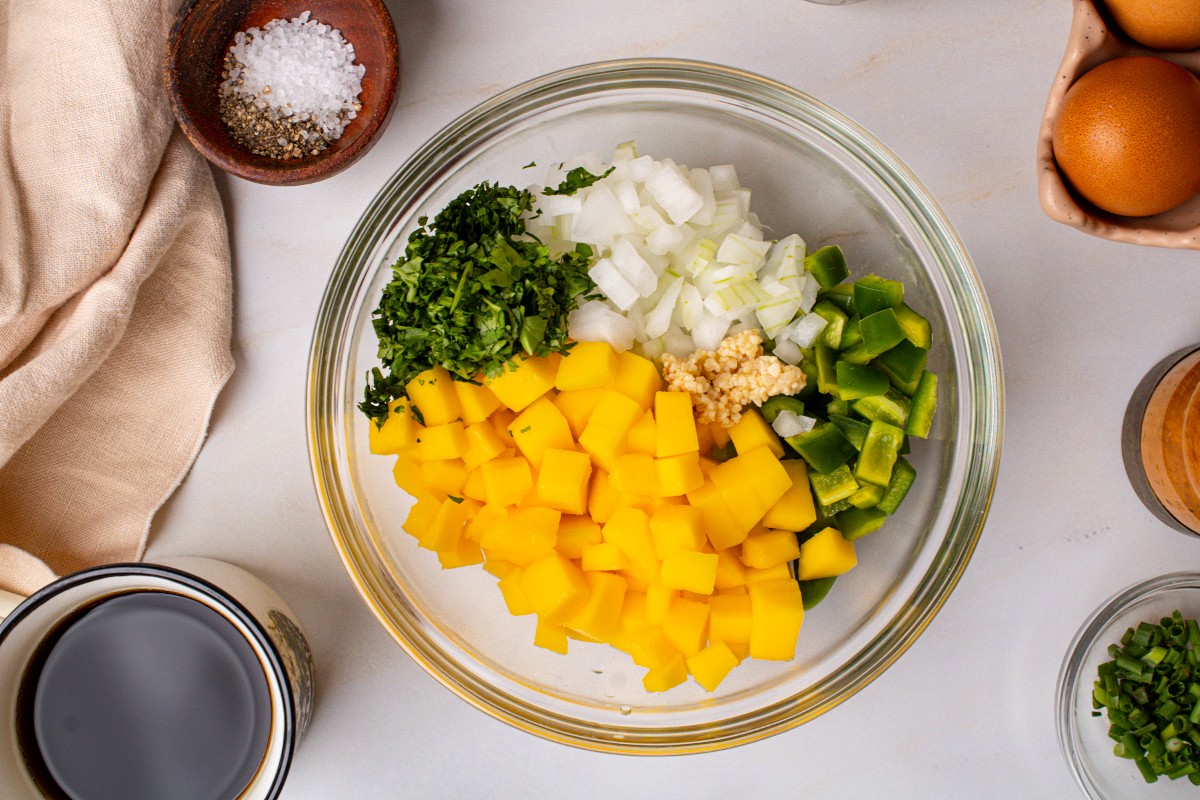 Toss to combine and cover the bowl with plastic wrap. Keep in the fridge until you are ready to serve it.
After that, whisk the eggs, salt, and pepper until frothy.
Heat a medium non-stick skillet to medium heat and drizzle with olive oil.
When the oil is hot, add the egg mixture and cook. Using a spatula, push the edges in as they settle. Cover and cook for about a minute or two. The omelette is done when set on the bottom and slightly wet on top.
Place shrimp on one-half of the cooked eggs.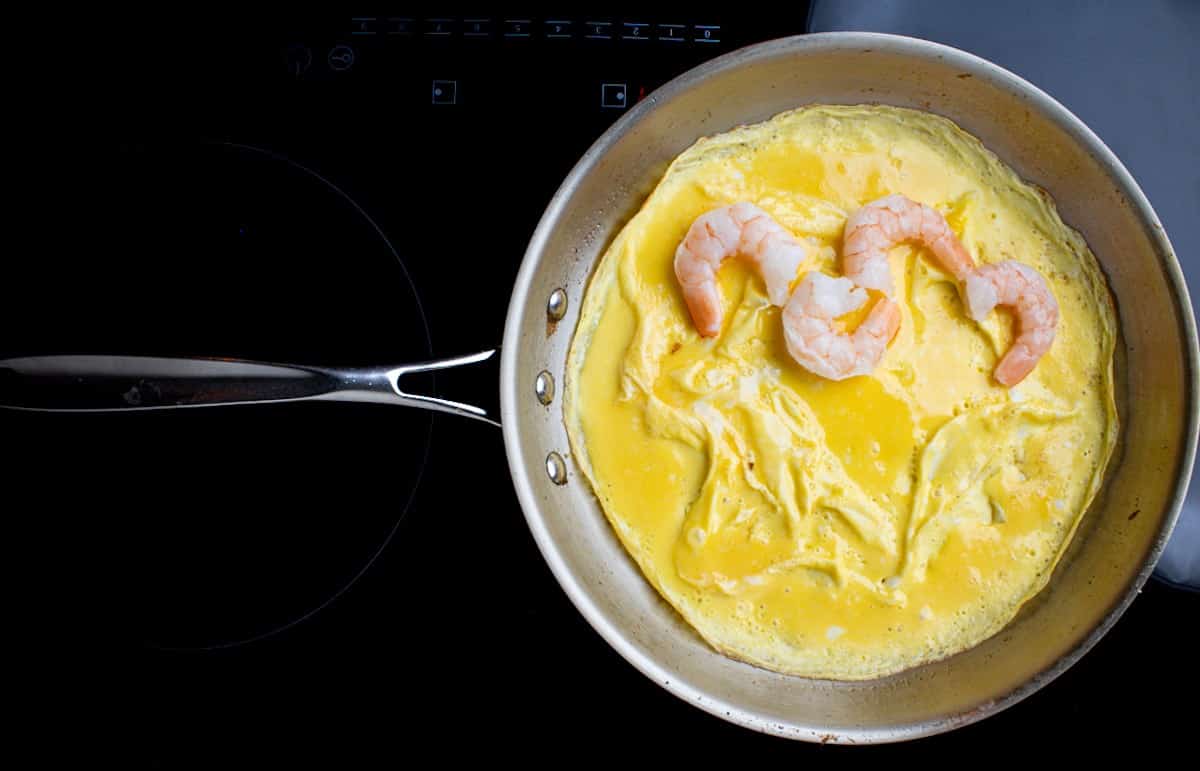 Using a spatula, flip the other side on top of the shrimp. Turn the heat off and slide the omelette onto a plate.
Top with the mango salsa and serve immediately.
What else can I add to the shrimp omelette?
I kept this recipe simple because the mango salsa has a lot of flavors and I didn't want it to clash with other ingredients as much. However, if you think it is a bit plain, you can add cream cheese, chives, or onions.
What type of shrimp should I use?
I used cleaned, cooked, and deveined shrimp for this recipe. You can do all of that yourself, or simply buy a bag of frozen shrimp. For my omelette, I used medium shrimp, but small (salad) shrimp will work even better.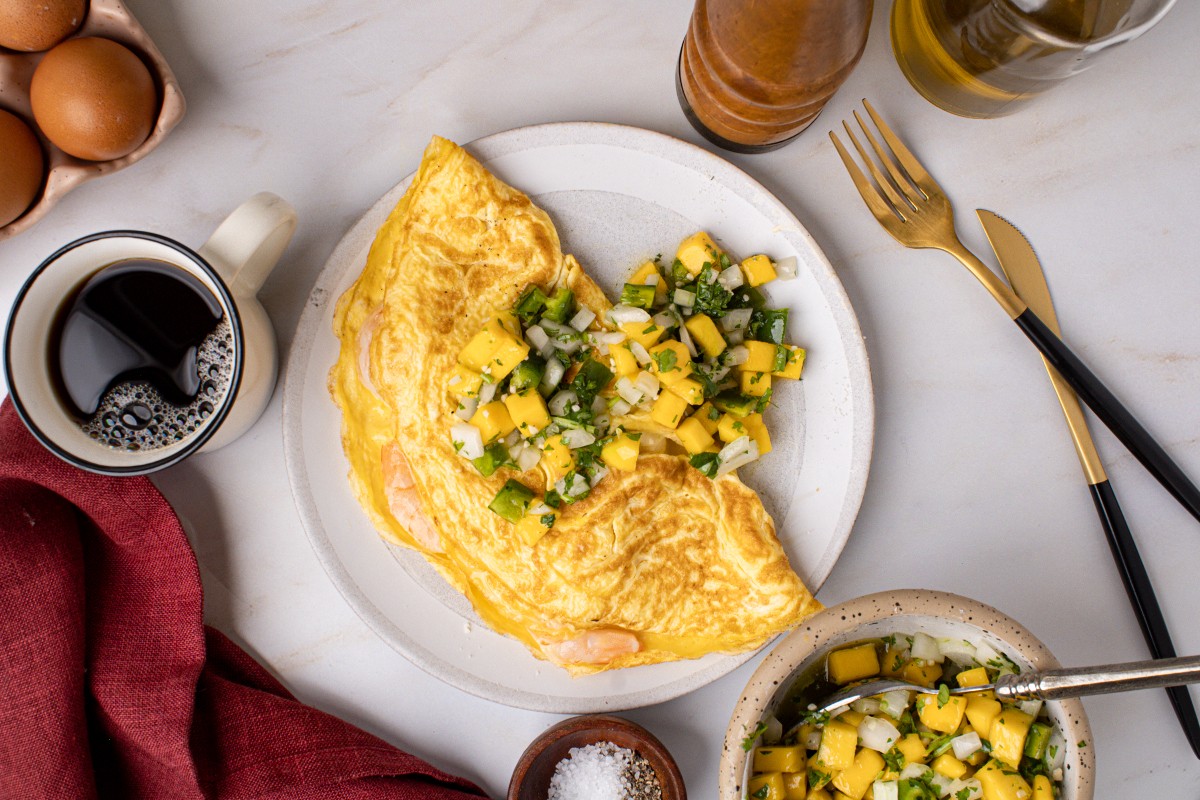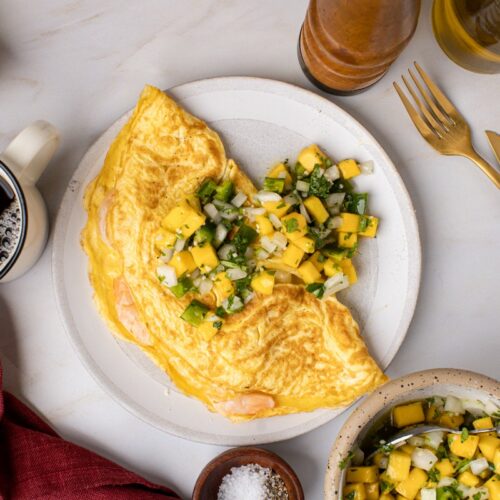 Shrimp Omelette
This remix of a classic shrimp omelette paired with mango salsa is delicious and flavorful. The seafood profile matches perfectly with the tangy and sweet flavor of the mango salsa. The kick of the jalapeno will help kickstart your day. Try it out today!
Ingredients
3

large eggs

2-3

medium shrimp

cooked and deveined

1

tbsp

mango

chopped into small pieces

½

tbsp

jalapeño

chopped into small pieces

1

tbsp

white onion

chopped

1

tsp

garlic

chopped

1

tbsp

cilantro

minced

1

tsp

sea salt

divided

1

tsp

black pepper

divided
Instructions
In a mixing bowl whisk the eggs half of the salt and half of the pepper. Whisk until frothy.

Preheat the non-stick pan to medium heat and drizzle with olive oil. Add the shrimp pieces and cook for a minute or two until heated up.

Add the eggs and cook for about 5-10 minutes. Using a spatula push the eggs as they settle. Transfer the flat omelette to a plate.

In a mixing bowl combine the mango, jalapeno, onion, cilantro, sea salt, black pepper, olive oil, and lemon juice. Toss to combine.

Fold the omelette in two and garnish with the mango salsa. Serve immidiately.
Nutrition
Here are a few other recipes you might enjoy!
Hristina Polk focuses on Mediterranean fusion meals inspired by her Eastern European culture and the places she has traveled.