This rich, creamy crab frittata is delicate and delicious. Crab meat is folded into a thick but fluffy mixture of egg, cream, and cream cheese. Sprinkled with spring onions and parsley, this is a surprisingly simple and deceptively complex meal. You might find this frittata reminiscent of a California sushi roll, but one that you can have for brunch!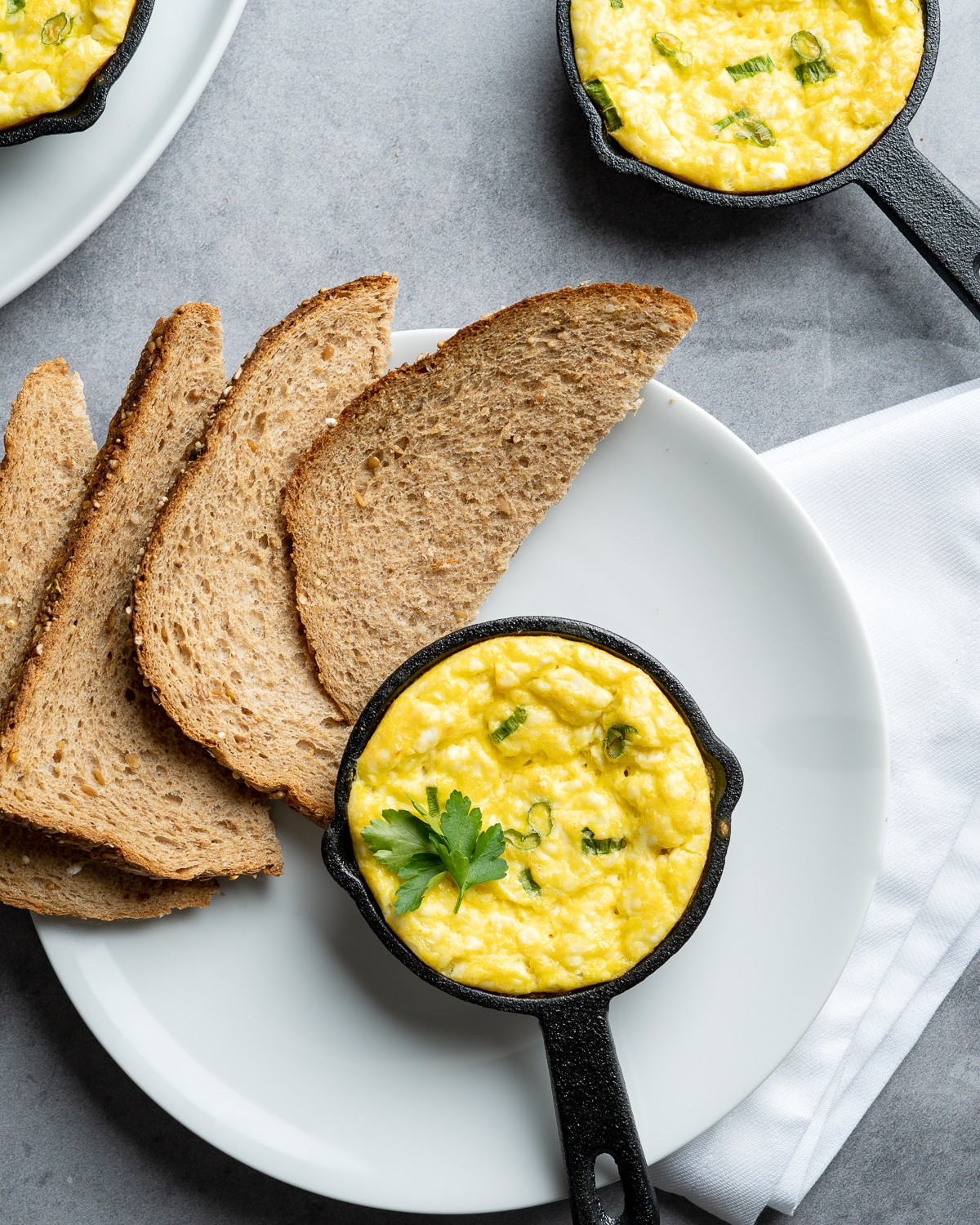 Looking for more egg recipes? Here are other recipes you might enjoy: Crab Omelette, Smoked Salmon Scrambled Eggs, Shrimp Omelette, and Mushroom Eggs Benedict.
Why You'll Love This Recipe
Flavorful: The decadent taste of the crab, cream cheese, and fresh herbs blend seamlessly together for a burst of flavors that is sure to please any palate. Whether you're a seafood lover or not, this recipe will leave you reaching for seconds.
Easy to make: This frittata recipe is simple and straightforward, making it perfect for an easy brunch, a quick weeknight dinner, or even a classy meal for guests. From whisking the eggs to baking the frittata, every step is user-friendly and manageable, even for beginners.
Unique twist: With a unique blend of crab and cream cheese, this frittata stands out from traditional egg dishes. It's a great way to elevate a simple meal into a gourmet delight that everyone will remember.
Recipe Ingredients
You'll need the following ingredients to make these frittatas with crab: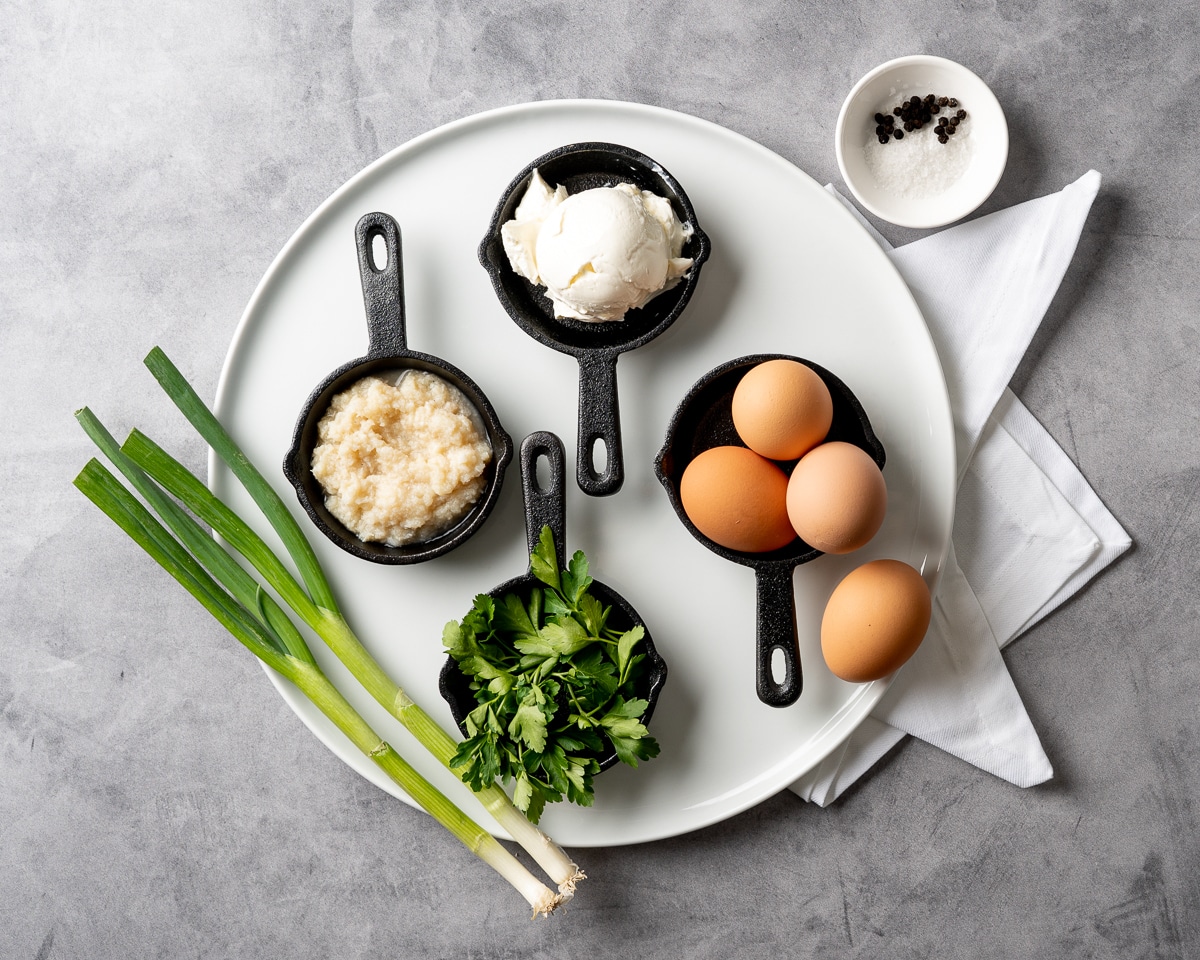 Ingredient Notes
Crab Meat: For this recipe, you can use any kind of crab meat, even canned crab! However, if you prefer, Dungeness crab also works perfectly, imparting a rich, decadent flavor to the frittata.
Cream Cheese: While the recipe calls for regular cream cheese, you could also substitute it with a healthier option like Neufchatel cheese, or add an indulgent touch with mascarpone.
Parsley: Freshly chopped parsley lends a vibrant color and a fresh, herby flavor to the frittata. However, if you do not have parsley on hand, you can substitute it with a small sprig of basil.
How To Make a Crab Frittata
Make the frittata mixture: In a large bowl, whisk the eggs, cream cheese, cream, and salt and pepper. Whisk until smooth. Then, fold in the crab meat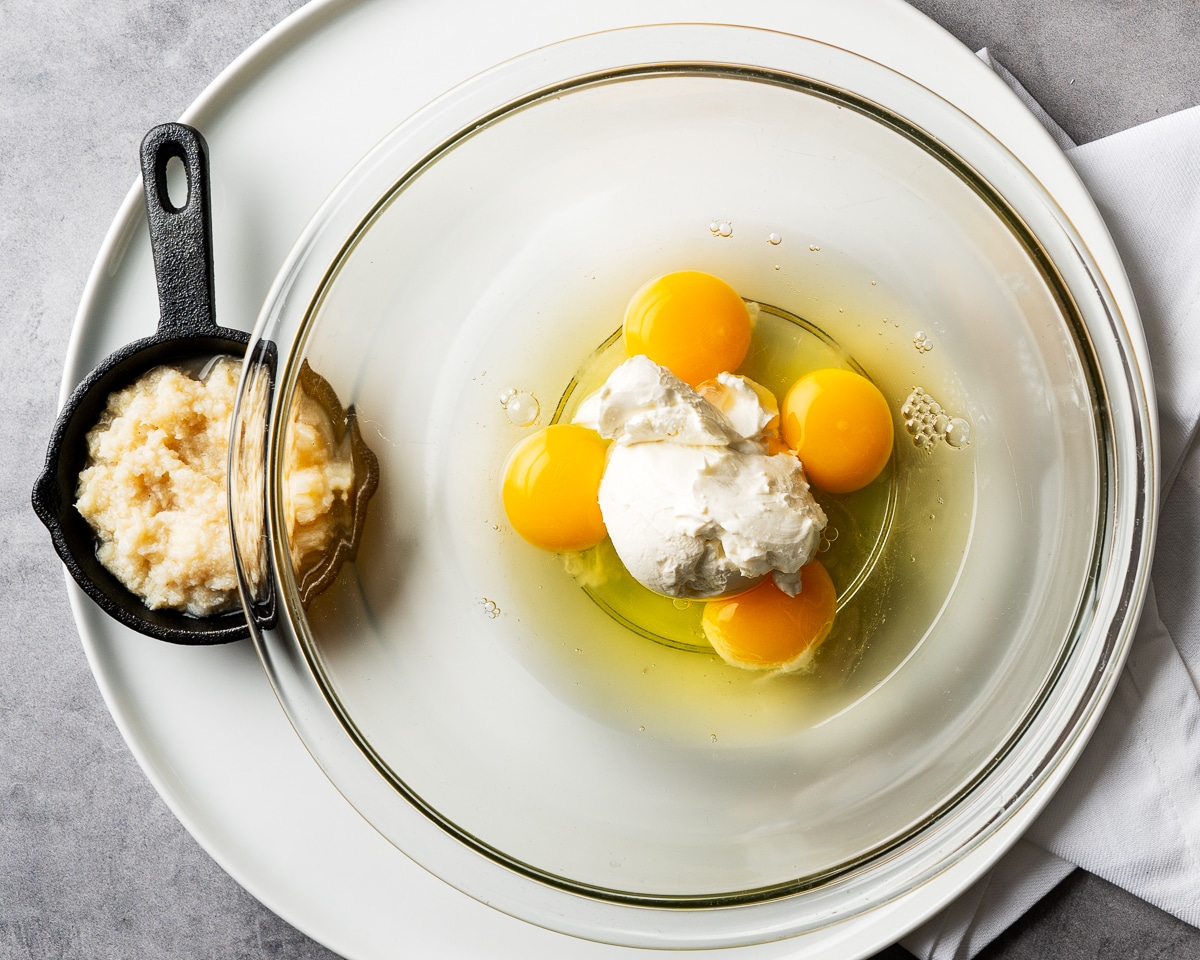 Prepare the toppings: Thinly slice the scallions using only the green portion of the stalk. Wash and dry a few sprigs of parsley.
Bake the frittata: Put the egg mixture in four small cast iron dishes. Sprinkle with scallions. Bake in an oven preheated to 375ºF for 15-20 minutes or until the eggs have gotten puffed and are set through the middle.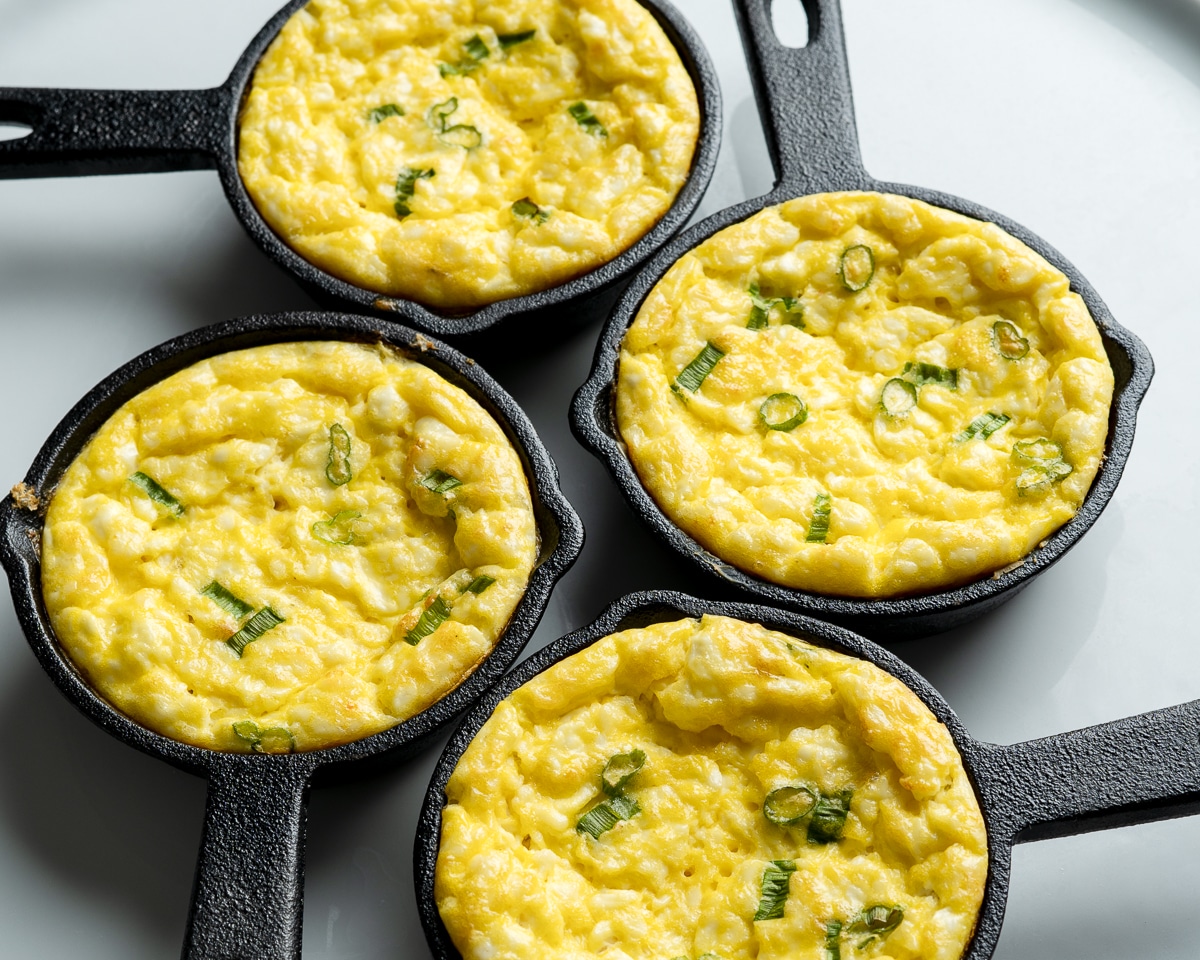 Serve: Remove the ramekins from the oven and top with parsley. Serve and enjoy!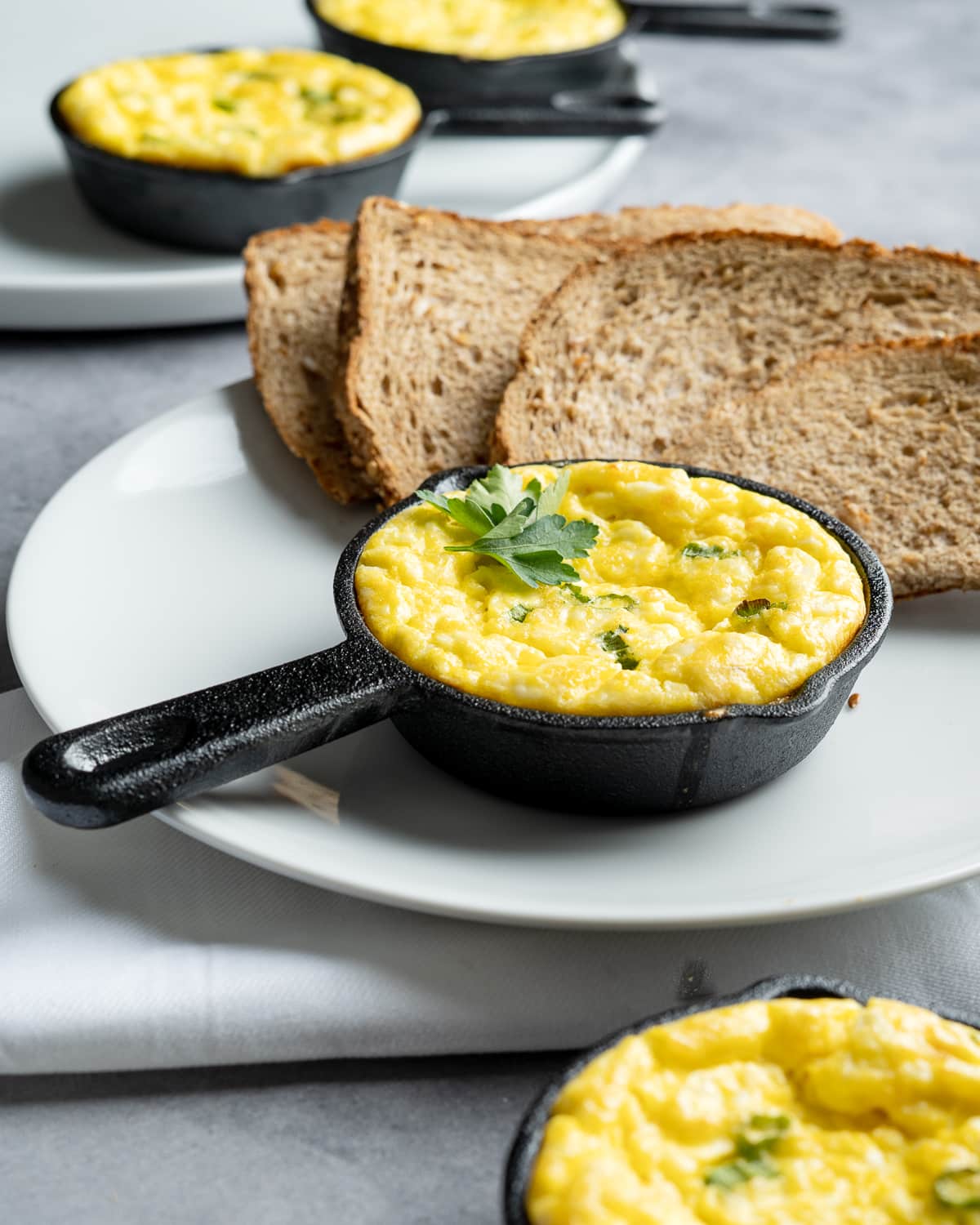 Recipe Tips
When preparing the frittata mixture, use a medium bowl for better maneuverability and ease of whisking the eggs.
Be sure to melt butter in an ovenproof skillet over medium heat before pouring the egg mixture. This ensures that your frittata doesn't stick to the bottom of the pan and turns a beautiful golden brown when baked.
To ensure even distribution of crab meat and cream cheese, fold these ingredients gently into the whisked eggs. Avoid overmixing as it can affect the fluffiness of your frittata.
Storage & Reheating
Store leftovers in an airtight container in the refrigerator for up to 3 days. To reheat, place the frittata in an ovenproof skillet and warm in a preheated oven at 325ºF for about 10-15 minutes or until heated through.
Additions & Substitutions
Red pepper or bell pepper would be a wonderful addition if you want to add some veggies to your frittata. Sauté them in a little olive oil over medium-high heat until softened before adding to your egg mixture.
If you're looking to reduce the sodium content, feel free to decrease the amount of salt. Remember, a teaspoon of salt goes a long way, especially with the natural saltiness of the crab meat.
Recipe FAQs
What should I serve with this frittatas with crab recipe?
This rich and flavorful crab frittata pairs wonderfully with a simple green salad tossed with olive oil and lemon zest. Additionally, some toasted bread lightly smeared with goat cheese would compliment the dish beautifully. Enjoy this meal with a glass of semi-sweet white wine or a refreshing mimosa for an ultimate brunch experience.
Can I bake this in a regular casserole dish?
Yes, you can, but I recommend doubling the recipe if you do.
Can I make this in advance?
This dish is best served shortly after it is made, but it can be reheated in a warm oven if made in advance.
---
Here are a few other frittata recipes you might enjoy!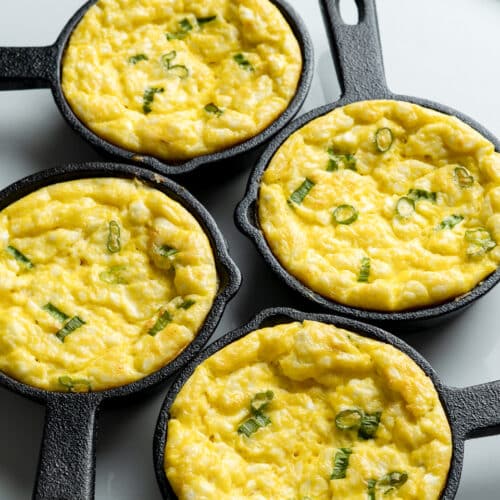 Crab Frittata
This crab frittata is a rich, delicious, and surprisingly easy dish to make for your next brunch. Serve it alongside a few pieces of toast, and you have an impressive meal that is simple yet elevated.
Ingredients
4

large eggs

4

oz

white crab meat

4

oz

cream cheese

softened

¼

teaspoon

kosher salt

¼

teaspoon

pepper

1

scallion

4-5

sprigs of parsley
Instructions
Preheat the oven to 375ºF.

In a large bowl, whisk 4 large eggs, 4 oz cream cheese, ¼ teaspoon kosher salt, and ½ teaspoon ground pepper until smooth.

Fold in 4 oz white crab meat until well combined.

Thinly slice the scallions; use only the green portion of the stalk.

Put the egg mixture in four small cast iron dishes.

Sprinkle with scallions.

Bake for 15-20 minutes or until the eggs are puffy and set through the middle.

Remove the ramekins from the oven, top with parsley, and serve.

Enjoy!
Notes
You don't need to use extremely expensive crab meat in this dish. I used canned crab (like canned tuna).
Allow the cream cheese to warm up to room temperature on the counter for at least 30 minutes so that it is soft enough to mix in with the eggs.
Mascarpone can also be used in this dish for a richer dish, or Neufchatel cheese for a dish that is slightly lighter.
If you use ramekins, make sure you oil them to prevent the frittata from sticking. You can also use a regular casserole dish, just be sure to double the recipe.
Nutrition
Calories:
164
kcal
Carbohydrates:
4.46
g
Protein:
19.98
g
Fat:
25.9
g
Saturated Fat:
13.597
g
Fiber:
0.4
g
Sugar:
2.66
g
Arielle is a food and drink photographer based in Washington, D.C. She was previously a social science researcher before she fell in love with photography.