This easy and delicious crab omelette recipe reminds me of long, hot summer days, lounging in an oceanside restaurant, feeling the cool breeze on my face and smelling the salt in the air.
The seafood flavor paired with lemon-y chimichurri and salty capers is the perfect combination. Pair with a glass of white wine for brunch or iced tea for breakfast.
This omelette is light, healthy, delicious, and the perfect way to use leftover crabmeat.
The recipe will take very little time to execute, and all you need is just a few ingredients. Follow the instructions below to make this delicious crab omelette today.
What You Need to Make This Crab Omelette
There aren't many ingredients for this recipe. The magic lies in the lemon and caper-infused chimichurri, which is full of flavor.
Prepare all the ingredients before you start cooking, because eggs burn quickly. Here is everything you need for this crab omelette.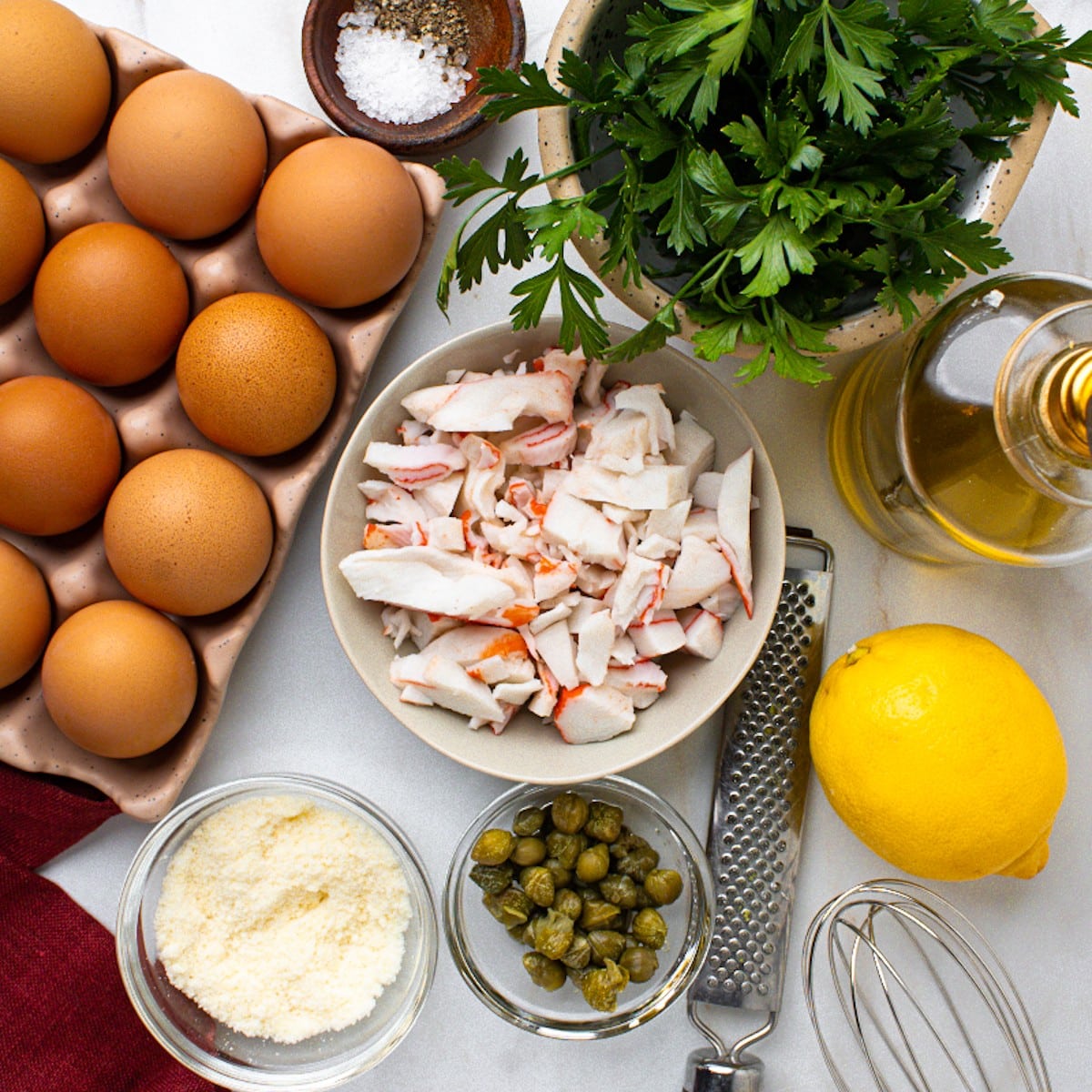 Ingredients:
Eggs
Cooked crabmeat – I cheated and used crab imitation because that was the only thing left in the store, but you can use white or dark crab meat (or a mix of both).
Lemon Zest
Parmesan Cheese
Fresh Chopped Parsley
Chopped capers
Olive oil
Sea Salt
Black Pepper
How To Make a Crab Omelette
This crab omelette recipe is pretty straightforward and doesn't require a lot of fussing around. It is still very flavorful and filling despite how easy it is to make.
In a mixing bowl, make the chimichurri by combining chopped parsley, lemon zest, capers, salt, pepper, and olive oil. Stir to combine.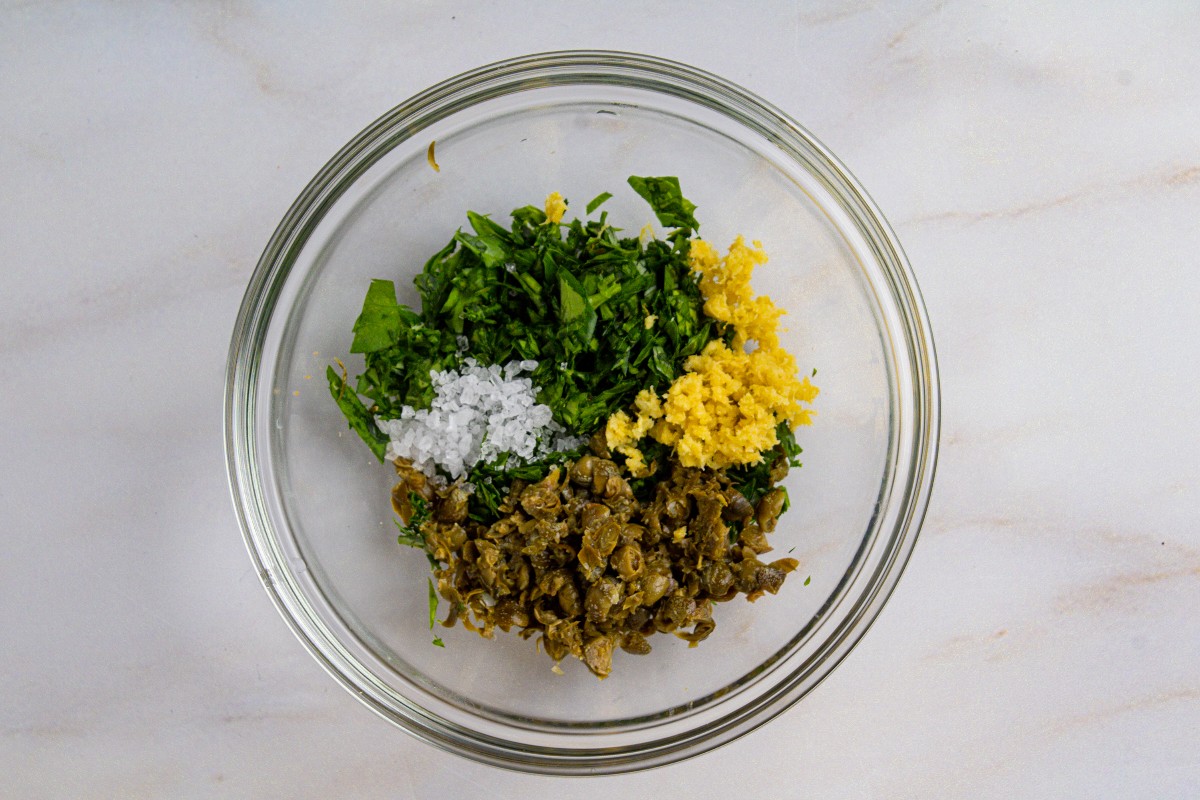 In a second bowl, combine the eggs, salt, and pepper. Whisk well until frothy and slightly bubbly on top.
Preheat a non-stick pan to medium heat and drizzle with olive oil. Make sure the oil covers the entire pan.
Add the eggs to the hot pan and cook for a few minutes. Using a spatula, push the edges as they settle. Cover with a lid and cook until the bottom is set and the top is slightly wet.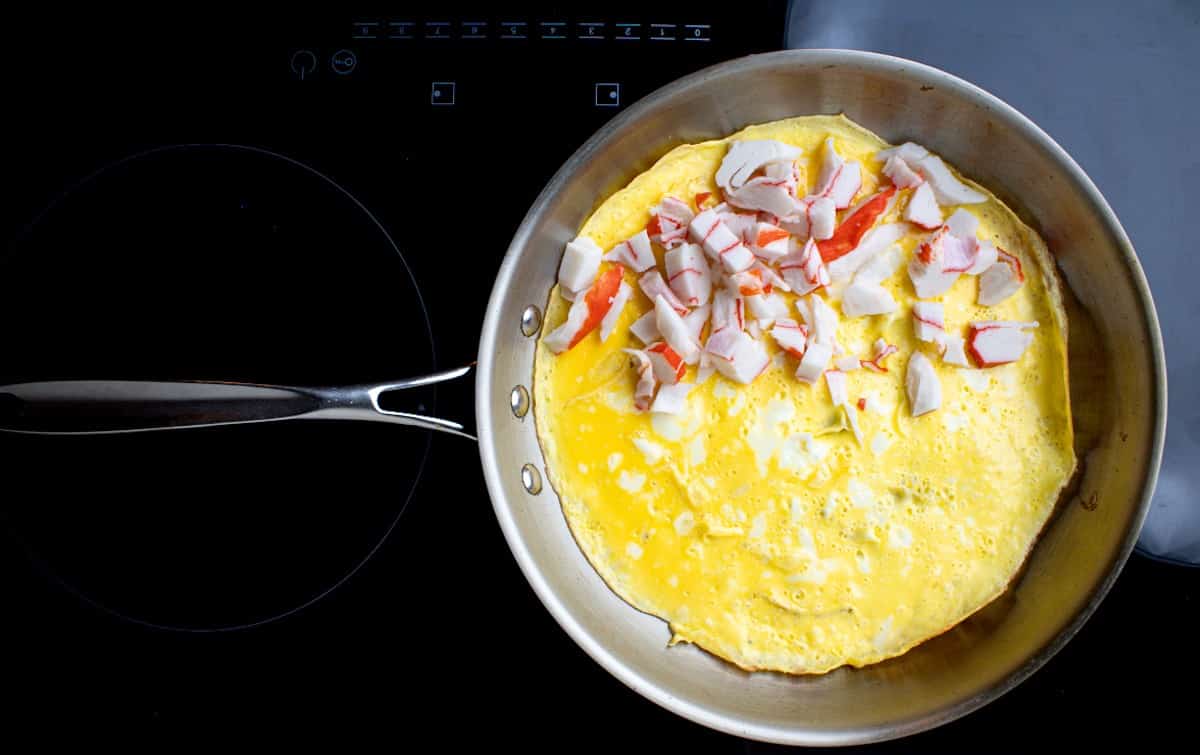 Add the parmesan cheese, crab meat, and capers to one side of the pan. Flip the other side on top and turn the heat off.
Slide the crab omelette to a plate and top with chimichurri.
Should I cook the crab before using it in the omelette?
Make sure to have fully cooked crab meat before you start the omelette. Leftover crab meat is the best option.
What kind of crab meat should I use?
I used crab imitation for this recipe because the store I went to had only that option. But you can use white or dark crab meat. You can also use canned crab meat.
What kind of cheese should I use?
For this recipe, I used parmesan cheese. A great option is Parmigianno Regianno. It is not the cheapest option but totally worth it. Plus, you won't have to use a lot of it since its taste is so prominent.
What should I pair this crab omelette with?
I like pairing it with crunchy toast or roasted potatoes. A glass of white wine or champagne for brunch will match the seafood theme very well.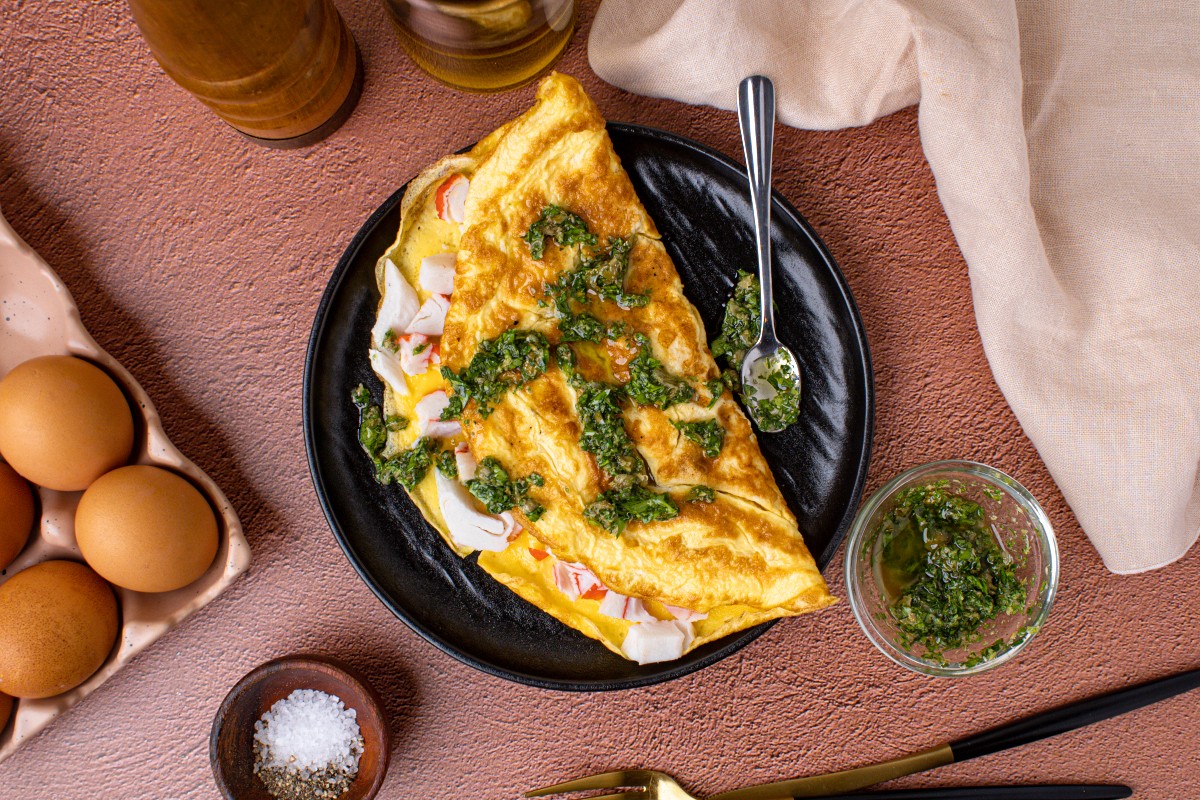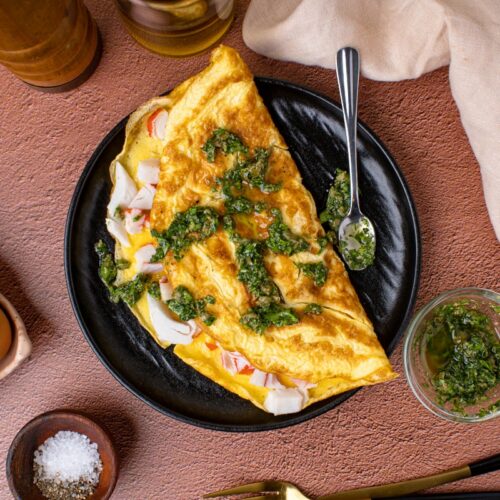 Crab Omelette
Do you love seafood? How about omelettes? If so, this crab omelette recipe is for you! It's easy to make and full of flavor. Plus, it's a great way to get your daily dose of protein.
Ingredients
3

large eggs

50

g

cooked crab meat

white

¼

tsp

lemon zest

2

tbsp

parmesan cheese

grated

2

tbsp

parsley

chopped

½

tbsp

capers

chopped

¼

tsp

sea salt

¼

tsp

black pepper
Instructions
In a mixing bowl, combine the parsley, capers, and lemon zest. Drizzle with a little bit of olive oil. Adjust the seasoning to taste.

In a separate bowl, whisk the eggs until frothy. Whisk in the parmesan cheese, salt, and pepper.

Preheat a non-stick pan to medium heat and drizzle with olive oil. Add the eggs and the crab meat. Let cook for several minutes. Using a spatula, push the ends slightly as they settle.

Fold the omelette into two and slide it onto a plate.

Garnish the crab omelette with the chimichurri.
Nutrition
Here are a few other recipes you might enjoy!
Hristina Polk focuses on Mediterranean fusion meals inspired by her Eastern European culture and the places she has traveled.