This classy, delicious, and healthy smoked salmon omelette is going to be your next favorite breakfast. Pair it with a crispy slice of bread and iced coffee, and you'll feel like you are in a 5-star restaurant.
This salmon omelette is light, flavorful, and filling at the same time. It comes together in less than 30 minutes, and all you need is a few ingredients.
What You Need to Make This Salmon Omelette
The ingredients are everything for this recipe, so make sure you are using quality ingredients for the best flavor.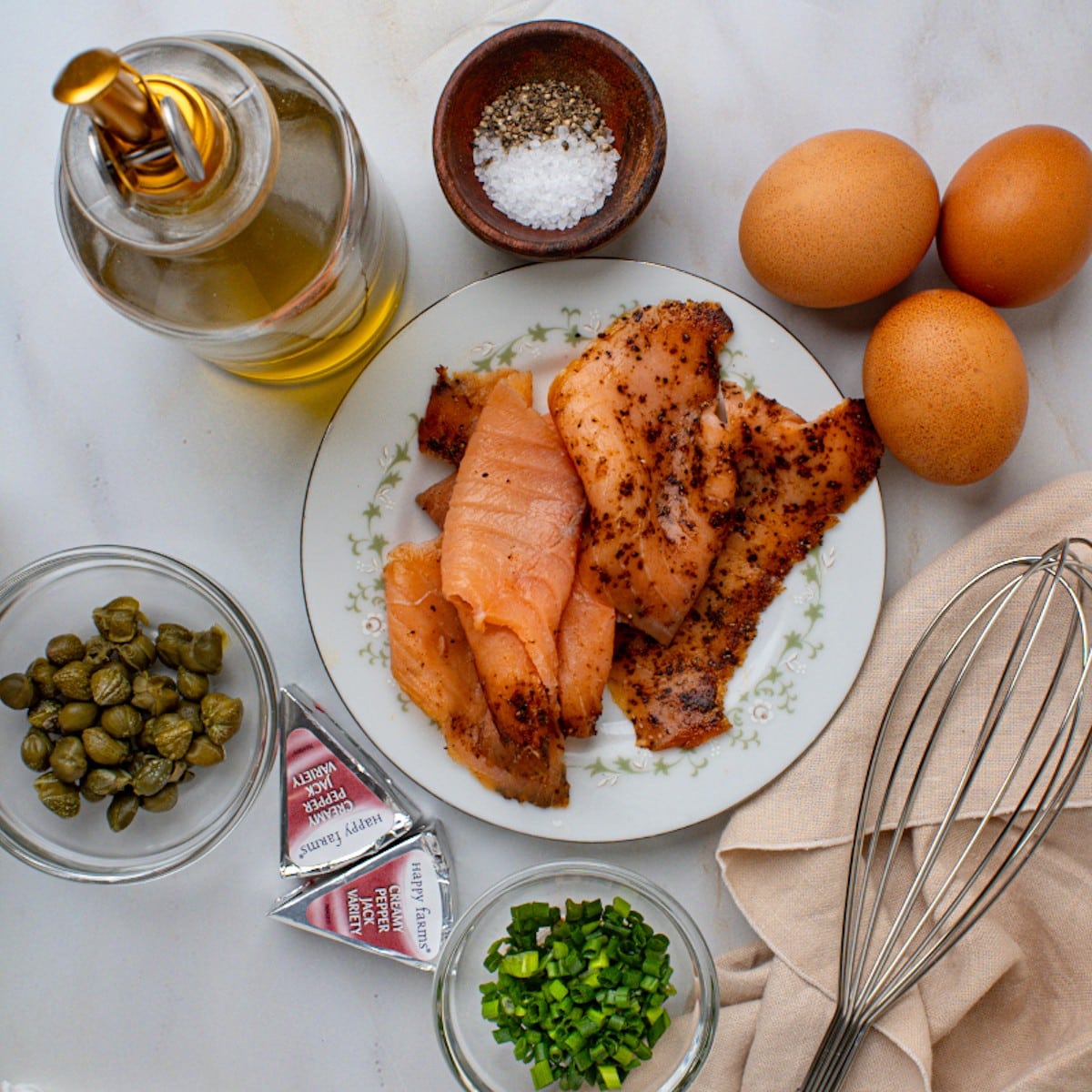 Ingredients:
Eggs
Smoked Salmon – lox is okay as well, but make sure it is a premium brand.
Cream cheese
Chives
Capers
Sea Salt
Black Pepper
Tools:
Mixing bowl
Spatula
Whisk
Non-stick pan – medium size with a lid is perfect. That way the egg mixture will spread evenly and cook better.
How To Make a Salmon Omelette
Making this omelette is easy and pretty straightforward. Make sure you have all of the ingredients and tools ready before you start, because eggs burn quickly.
In a mixing bowl, combine the eggs, salt, and pepper. Whisk well until fully beaten and frothy.
Heat a non-stick pan to medium heat and drizzle a little olive oil. When the oil is hot, add the egg mixture and cook. Using a spatula, push the edges as they settle. The eggs are done when the bottom is set and the top slightly wet.
Add the cream cheese to one side of the omelette. Add the smoked salmon, capers, and chives on top of the cream cheese.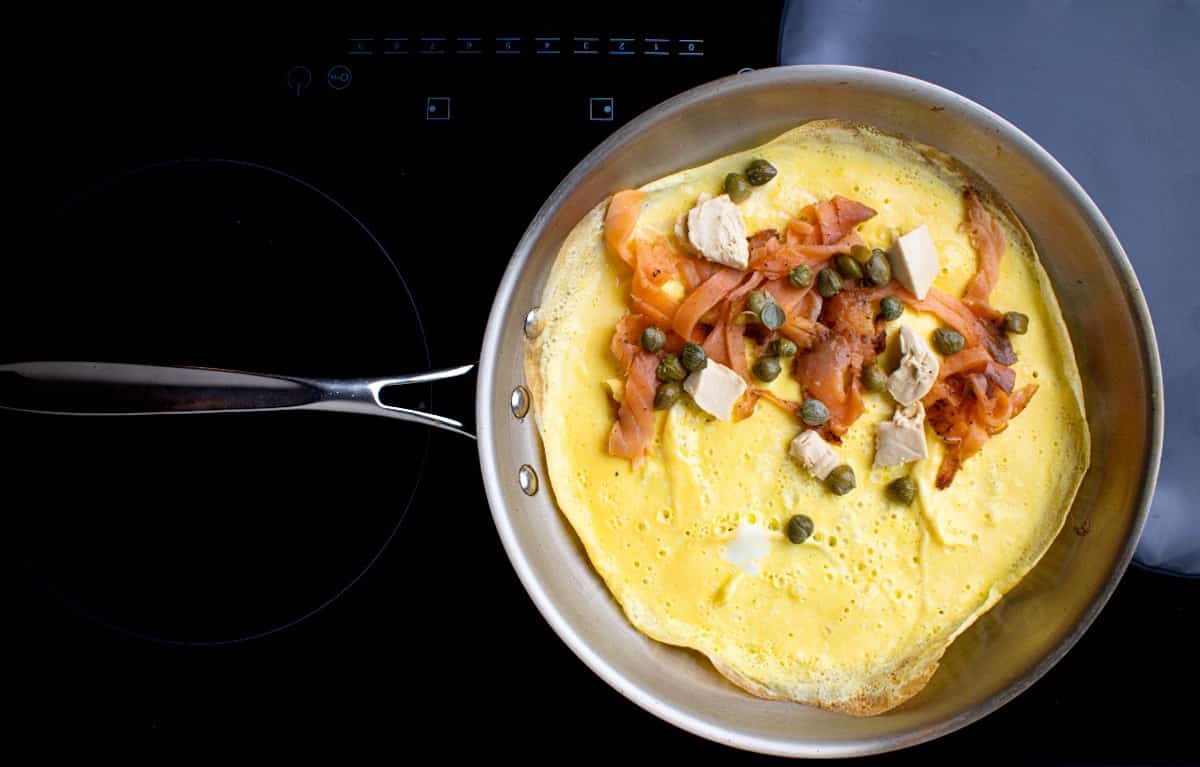 Flip the empty side on top and turn the heat off.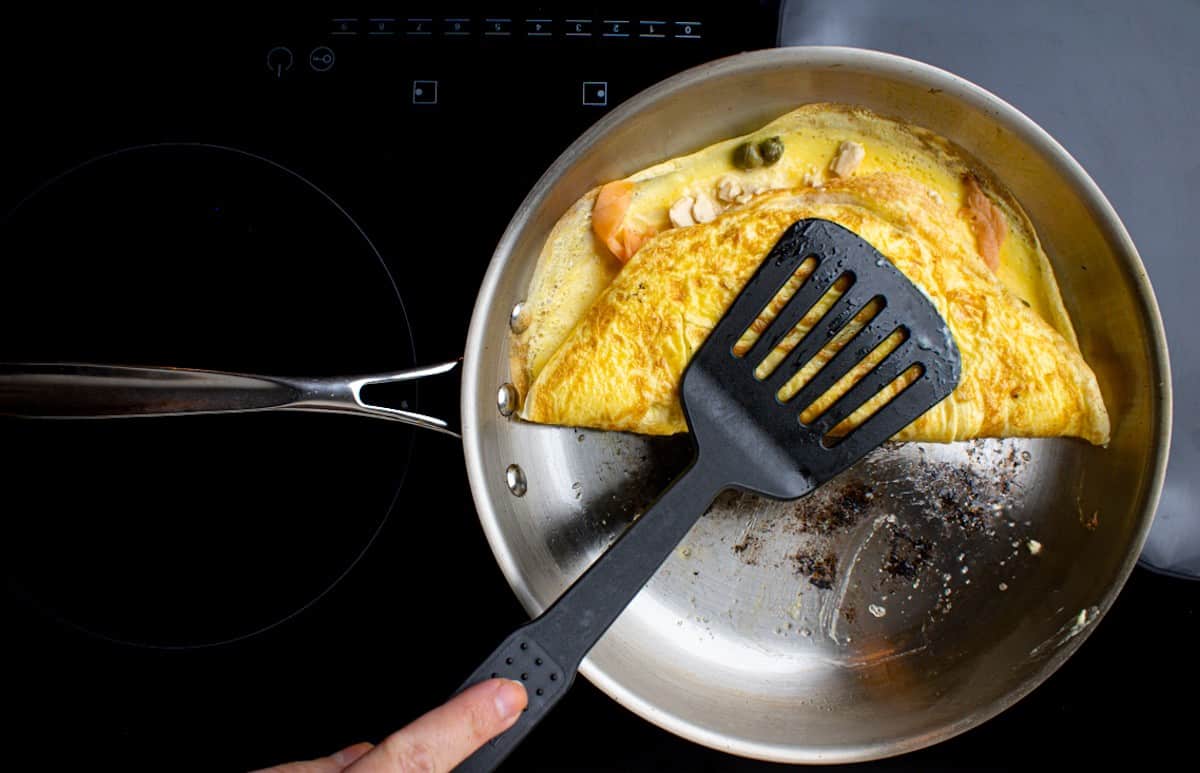 Slide onto a plate and garnish with more capers and chives.
What's the difference between lox and smoked salmon?
Smoked salmon is cured and brined, then smoked. Lox is just cured. This is why it is so important that you purchase from a reputable source if using lox.
Can I substitute the cream cheese?
If you are not a fan of cream cheese you can use any cheese you like but I would go for a good quality parmesan cheese or goat cheese.
What can I pair with this smoked salmon omelette?
I love garnishing this omelette with light sour cream or tzatziki sauce. You can pair it with a fruit bowl, crispy hash browns, or toast.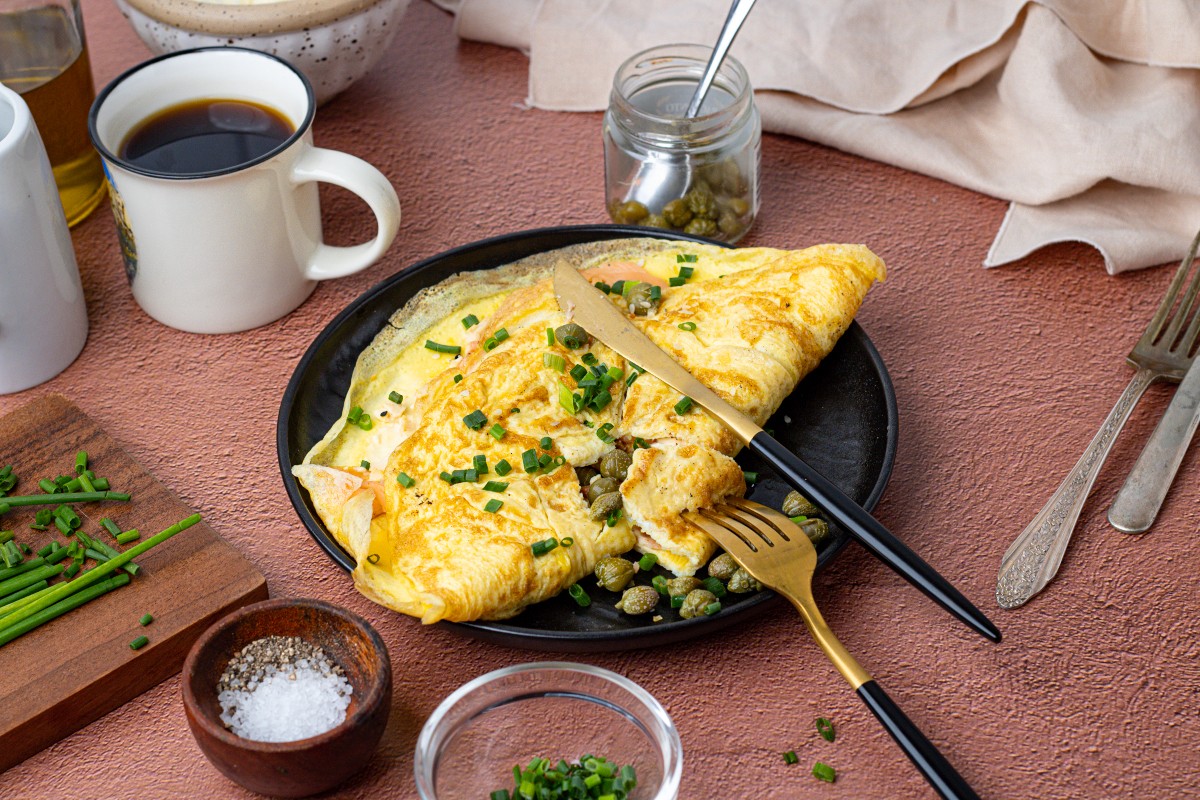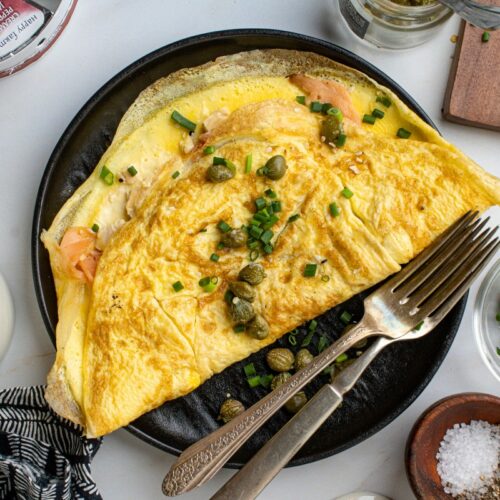 Salmon Omelette
Salmon is a powerhouse of nutrients, and this easy salmon omelette recipe showcases some of its best qualities. Packed with protein, Omega-3s and other vitamins and minerals, this dish is a great way to start your day. Best of all, it's easy to make and takes just minutes to prepare. Give it a try today!
Ingredients
3

large eggs

2

slices

smoked salmon

ripped into pieces

1

tbsp

cream cheese

½

tbsp

fresh chives

chopped

capers

for garnish

½

tsp

sea salt

¼

tsp

black pepper

plus more for garnish
Instructions
In a mixing bowl whisk the eggs until frothy. Add the salmon, chives, sea salt, and black pepper. Mix to combine.

Heat the skillet to medium and drizzle with olive oil. Add the egg mixture and cook for about 5-10 minutes. Using the spatula push the ends as it settles. Add the cream cheese on top and spread evenly.

Using the spatula fold the omelette on one side and slide it onto a plate. Garnish with capers and cracked black pepper.
Nutrition
Here are a few other recipes you might enjoy!
Hristina Polk focuses on Mediterranean fusion meals inspired by her Eastern European culture and the places she has traveled.