This classic sausage omelette is simple, delicious, and everyone loves it. If you are looking for a safe bet for a crowd, this recipe is perfect.
Choose your favorite sausage to go with cheddar or gouda cheese, which is enveloped into perfectly cooked fluffy eggs. Pull out your favorite hot sauce and serve with potatoes or a fruit bowl to round it all out.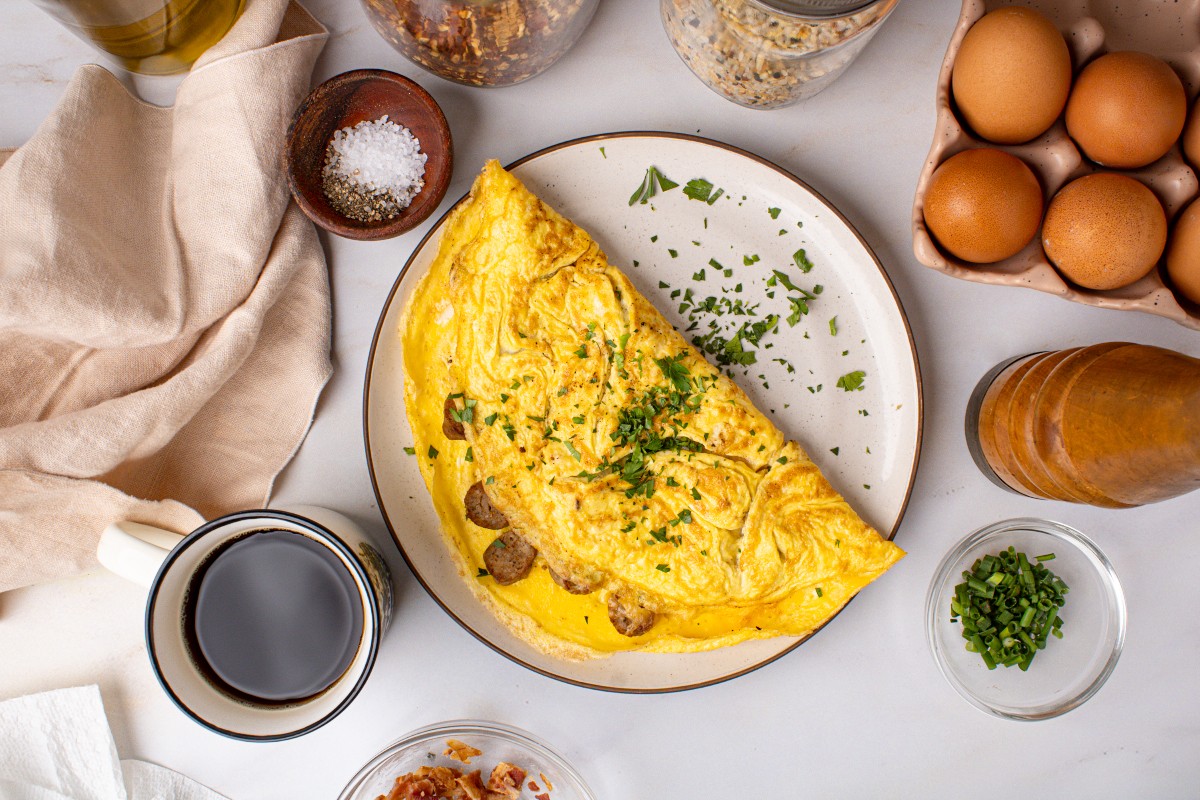 This classic sausage omelette recipe doesn't require much. You probably already have everything you need in your kitchen.
Find out below how to make this delicious oldie-but-goodie recipe and what to add to take it over the top.
What You Need to Make This Cheesy Sausage Omelette
There are not many ingredients required to make this sausage omelette. Since it is so simple, I recommend using quality products to ensure great flavor. Here is everything you will need for this recipe.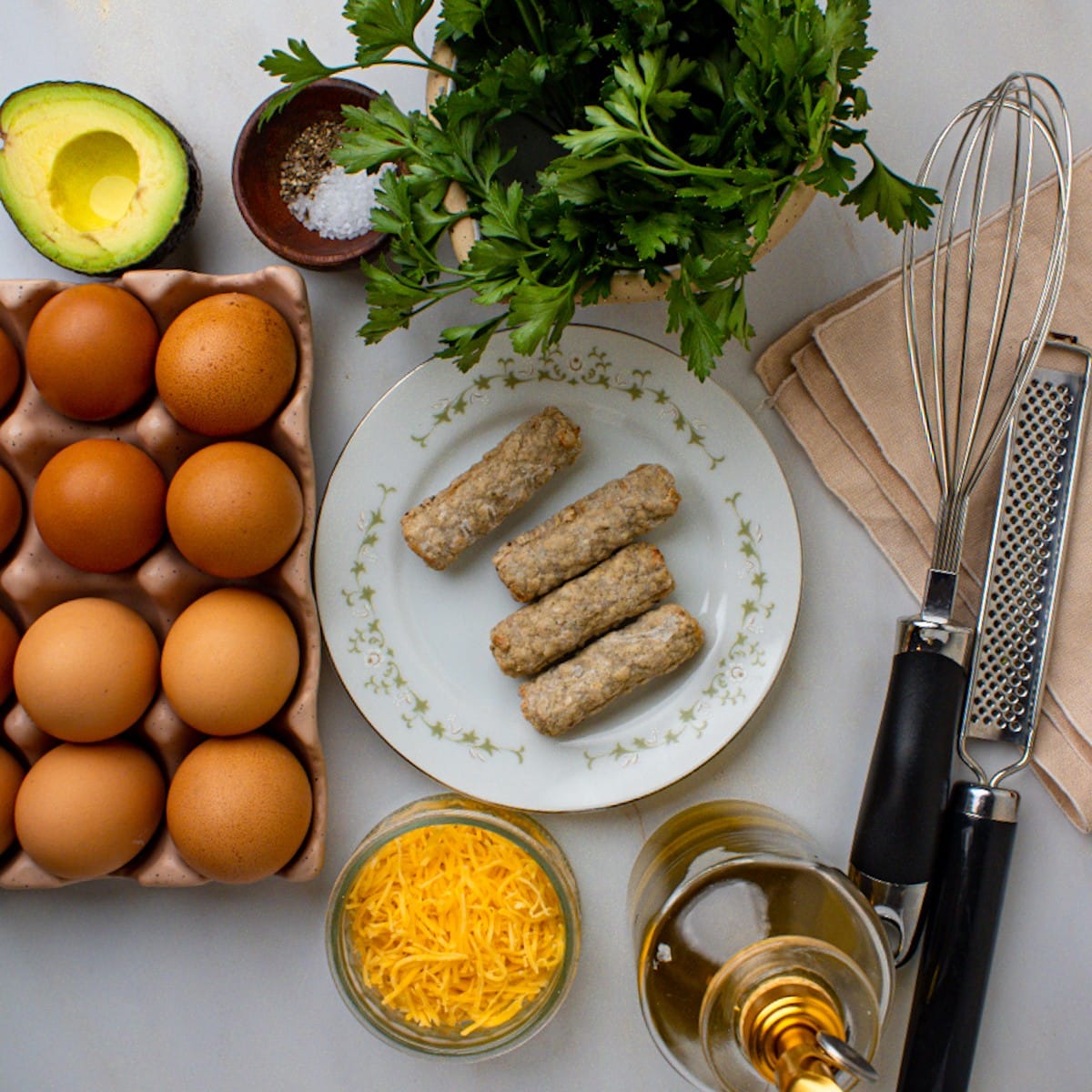 Ingredients:
Eggs
Sausage – I used regular sausage links and chopped them into pieces, but feel free to use Italian sausage or simple breakfast sausage bought straight from the butcher. There are many options out there, and this recipe is perfect for some experimentation with flavor.
Cheddar cheese – or gouda. Pepper jack will give the dish a little kick.
Sea Salt
Black Pepper
Fresh Parsley
Tools:
Mixing bowl
Whisk
Spatula
Non-stick pan – the size of the pan varies on how big you want the omelette. For this recipe, I used the standard of 3 eggs so the pan I needed was a medium skillet with a lid.
How To Make a Sausage Omelette
This recipe is so easy and comes together in less than 20 minutes. There are only a few steps, but don't underestimate the power of cautious cooking when it comes to eggs.
Make sure you have all tools and ingredients ready before you start cooking. If you are using frozen sausage, make sure it is thawed and ready to be reheated.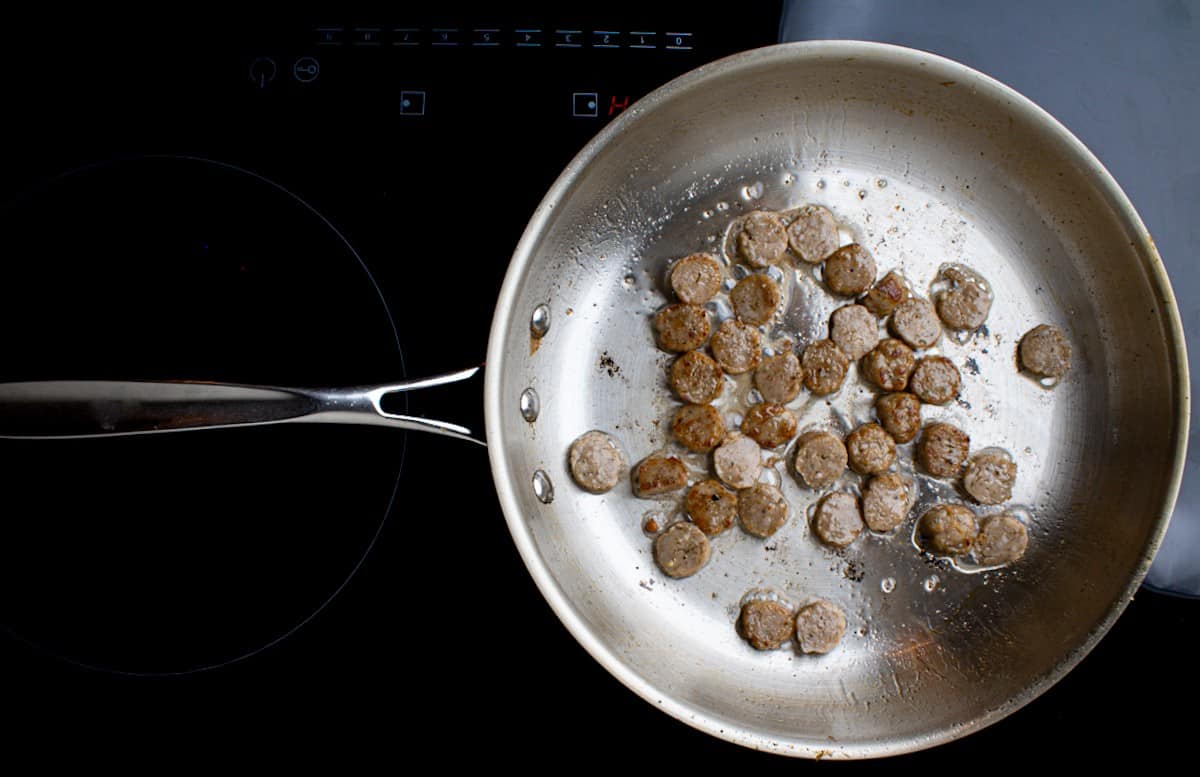 Heat the non-stick pan to medium heat and drizzle with olive oil. When the oil is hot but not smoking, add the sausage and cook until brown on both sides. I like to char mine a bit for some extra flavor.
Remove from heat and transfer to a plate. Set aside.
In a mixing bowl, combine the eggs, salt, and pepper. Whisk well until well combined and frothy. This step is important because it will determine how fluffy your eggs come out. The more you whisk the fluffier the eggs.
Heat the pan back to medium heat and drizzle with olive oil. Swirl the oil around to make sure it covers all of the pan.
When the oil is hot but not smoking, add the eggs. Using a spatula, push the edges in as they settle. Cover and cook for about a minute or two. The eggs are done when the bottom is set but the top slightly wet.
Add the cheese and sausage on one side and flip the empty side on top using a spatula. Turn the heat off and slide the omelette onto a plate.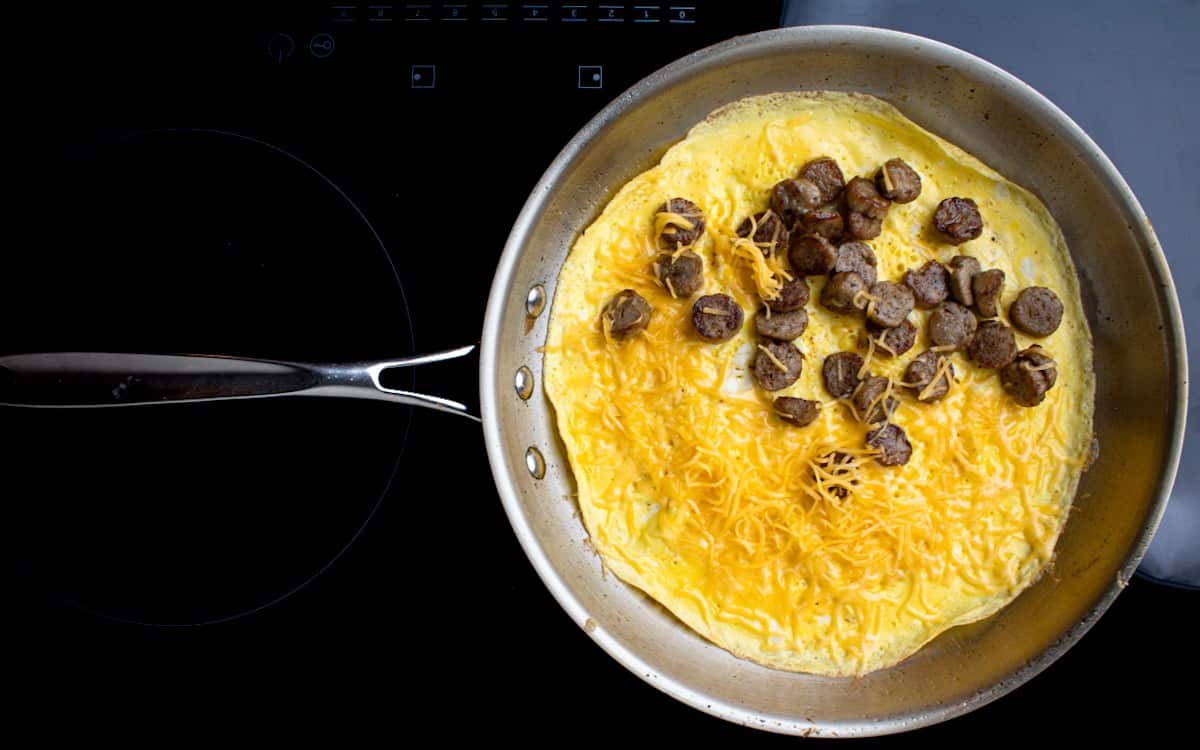 Garnish with fresh parsley.
What can I serve with this sausage omelette?
Because this recipe is so simple, you can add whatever you want to it when serving. I like to serve it with baked potatoes, salsa, or sour cream. You can add a bunch of sides for everyone on the table to customize their own plate.
Why do I have to cook the sausage before the eggs?
The sausage is cooked prior to the eggs to ensure it is hot and cooked through. It also leaves charred pieces behind, which get released when cooking the eggs and gives the entire dish more flavor.
What type of sausage should I use?
This is entirely up to you. If you are a fan of the classic pork breakfast sausage, add that. You can also substitute it for chicken, turkey, or vegan sausage. Or add several at one time.
How do I store it?
If you have leftovers, keep them in an air-tight container in the fridge for up to a week. This is why this omelette is so good for meal prep.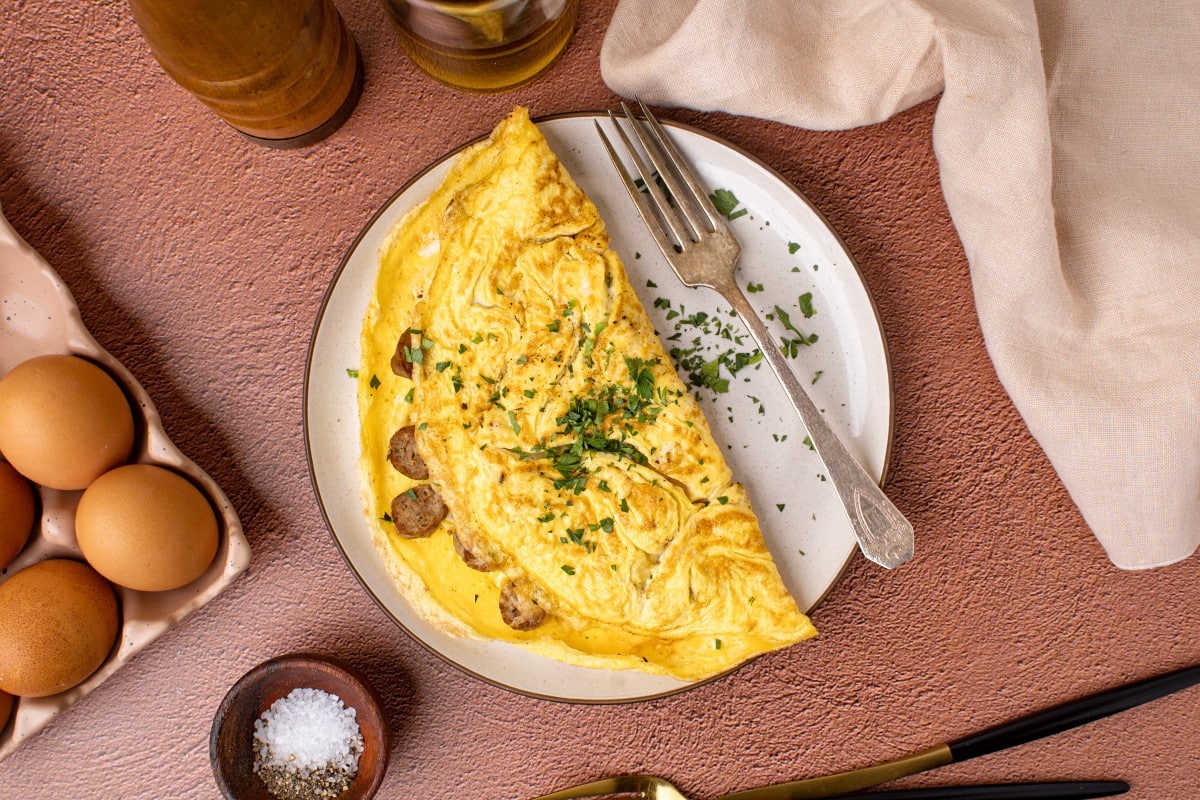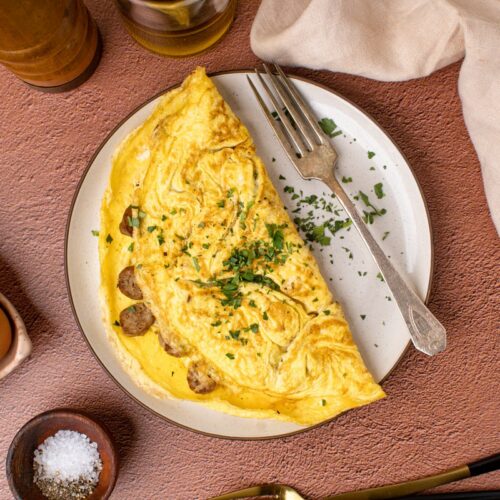 Sausage Omelette
This sausage omelette is a real crowd pleaser! Use your favorite sausage and a healthy dose of cheese, and you've got a tasty breakfast for everyone.
Ingredients
3

large eggs

2

tbsp

sausage

cut into small pieces

1

tbsp

cheddar cheese

¼

tsp

sea salt

¼

tsp

black pepper
Instructions
Heat a non-stick pan to medium heat and drizzle with olive oil. Add the sausage and cook for about 5-10 minutes until it is cooked through. Transfer to a plate.

In the same pan add the onion, tomato, salt, and pepper. Cook until the onion is transparent and the tomato slightly charred.

Meanwhile, in a mixing bowl whisk the eggs until frotty. Transfer to the pan and cook until cooked through on the bottom and slightly wet on top.

Add the sausage and cheese on one side of the omelette. Flip the other side on top and slide it onto a plate.

Garnish with more black pepper and parsley.
Nutrition
Here are a few other recipes you might enjoy!
Hristina Polk focuses on Mediterranean fusion meals inspired by her Eastern European culture and the places she has traveled.