This savory smoked salmon scrambled eggs recipe is perfect for spicing up an otherwise basic breakfast. The subtle addition of cream helps guarantee perfect fluffy eggs every time you make it. The sprinkle of chives helps bring freshness and a little extra touch of flavor to a perfectly balanced breakfast scramble.
Smoked salmon is the way to my heart—it's the perfect accompaniment to eggs, and they enhance each other wonderfully. I love serving this scramble with buttery toast and crunchy bacon.
This recipe is simple, with only a small handful of ingredients required and little to no prep time. The addition of smoked salmon not only bumps up the protein but also greatly enhances the flavor and makes the dish more hearty.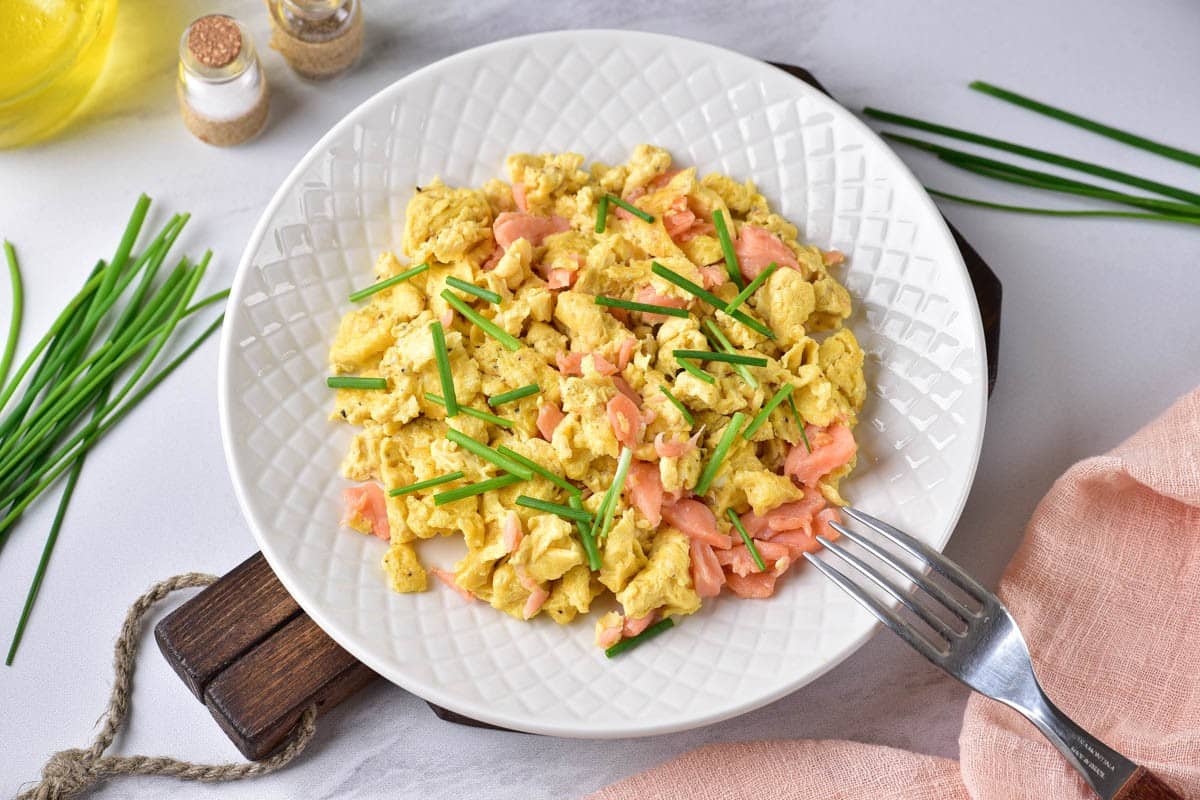 What You Need to Make Smoked Salmon Scrambled Eggs
This recipe calls for simple and easy-to-get ingredients that come together to make this epic egg scramble.
The addition of heavy cream adds richness and creaminess to the eggs, and the chives make for a nice fresh flavor and garnish.
You're welcome to add cheese to this recipe, in which case I would suggest something simple like parmesan or white cheddar, but I think this scramble holds up well as is.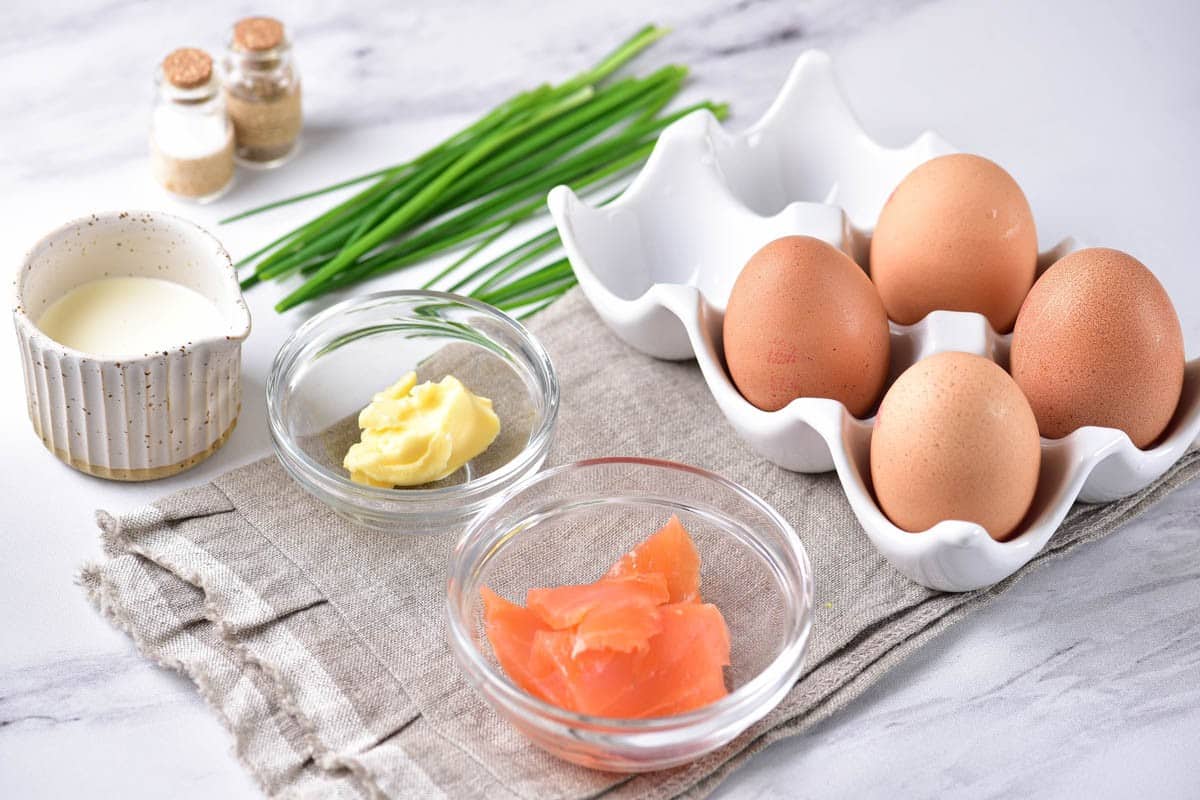 Ingredients:
Eggs
Heavy cream
Smoked salmon
Salt
Black pepper
Butter
Chives
For tools, you will need a bowl, whisk or fork, a nonstick pan, knife, cutting board, and a plastic spatula or wooden spoon.
How To Make Smoked Salmon Scrambled Eggs
This recipe is super simple, and you can easily use the first several steps to make any type of egg scramble in the future.
First, crack your eggs on a flat surface and empty them into your bowl. Then, add cream and a dash of salt and pepper. Whisk thoroughly until the mix is homogenized.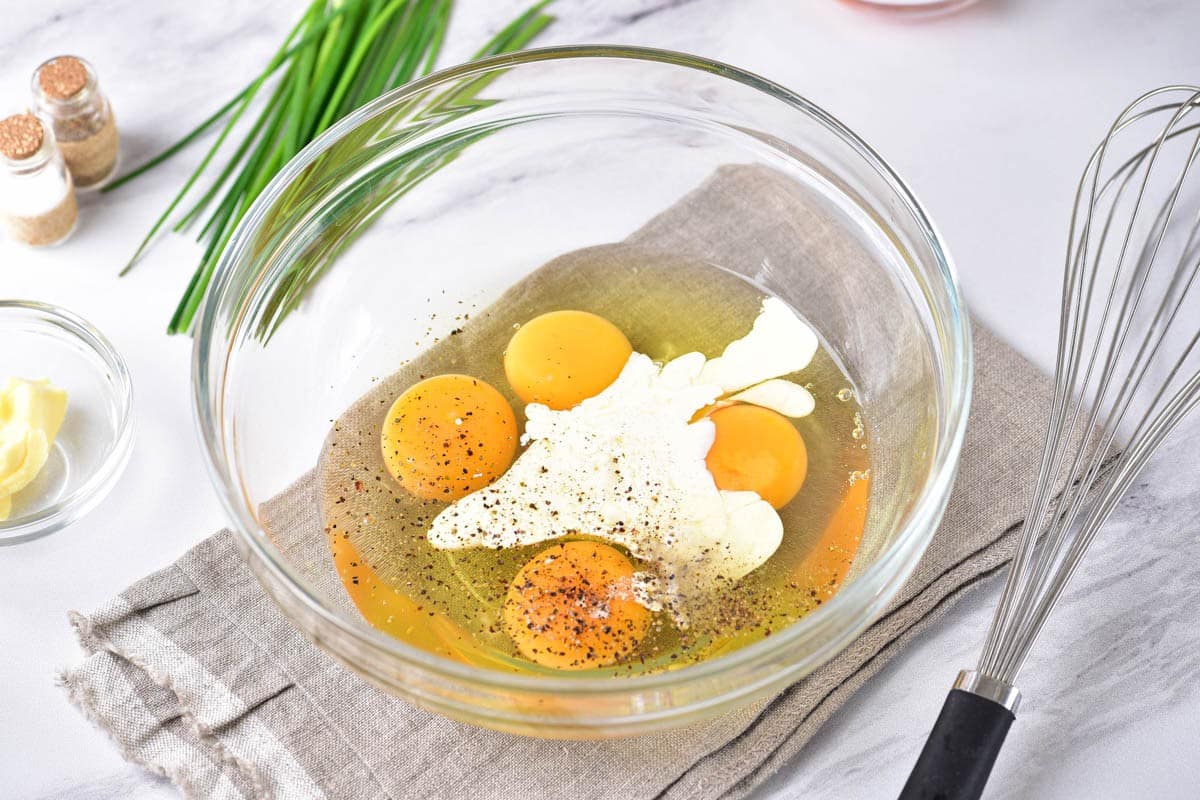 Next, set your pan to medium heat and add your butter (or other neutral cooking oil). Once your pan is hot, dump your egg mix into the pan.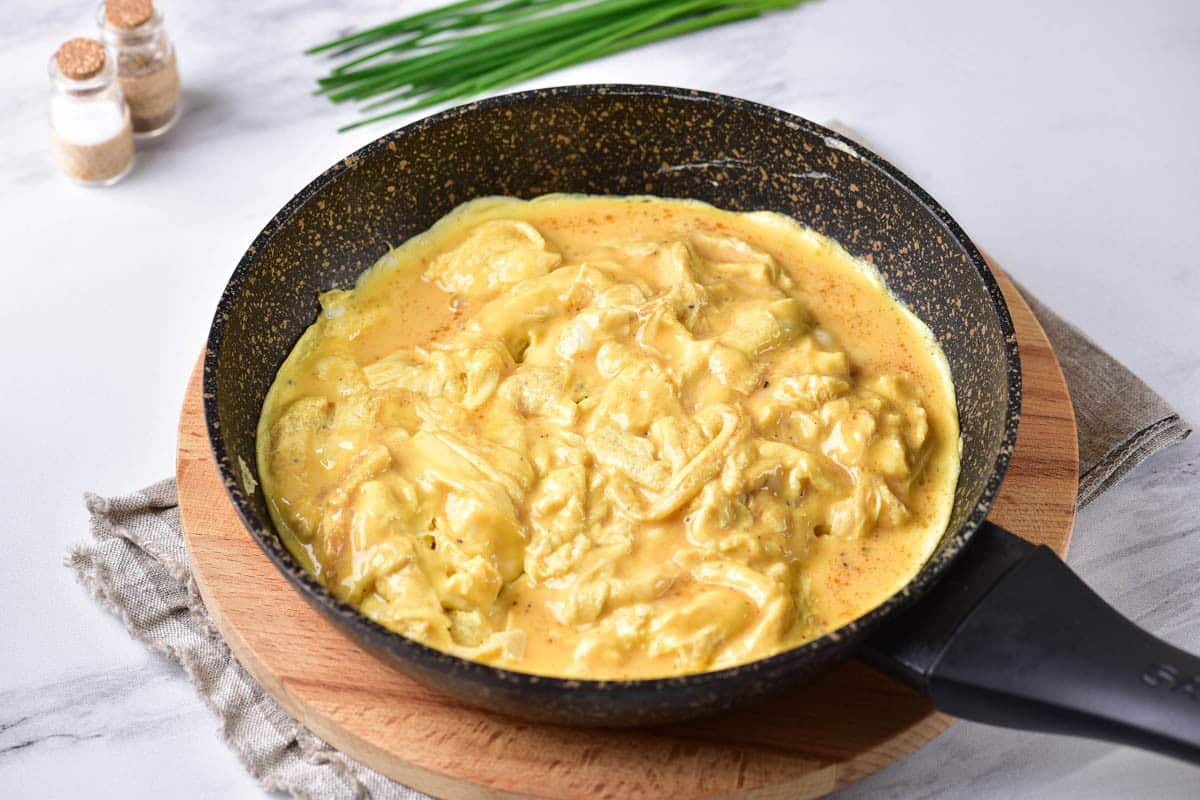 The next part is important, and practice makes perfect. Continuously mix up your egg mix with a plastic spatula or wooden spoon, making sure to scrape the sides of the pan to avoid crispy edges.
Once your eggs are not runny, but a little wet looking, add your smoked salmon. Stir the salmon in until well incorporated, then turn off the heat. Serve your eggs with chives for garnish and additional salt and pepper if necessary.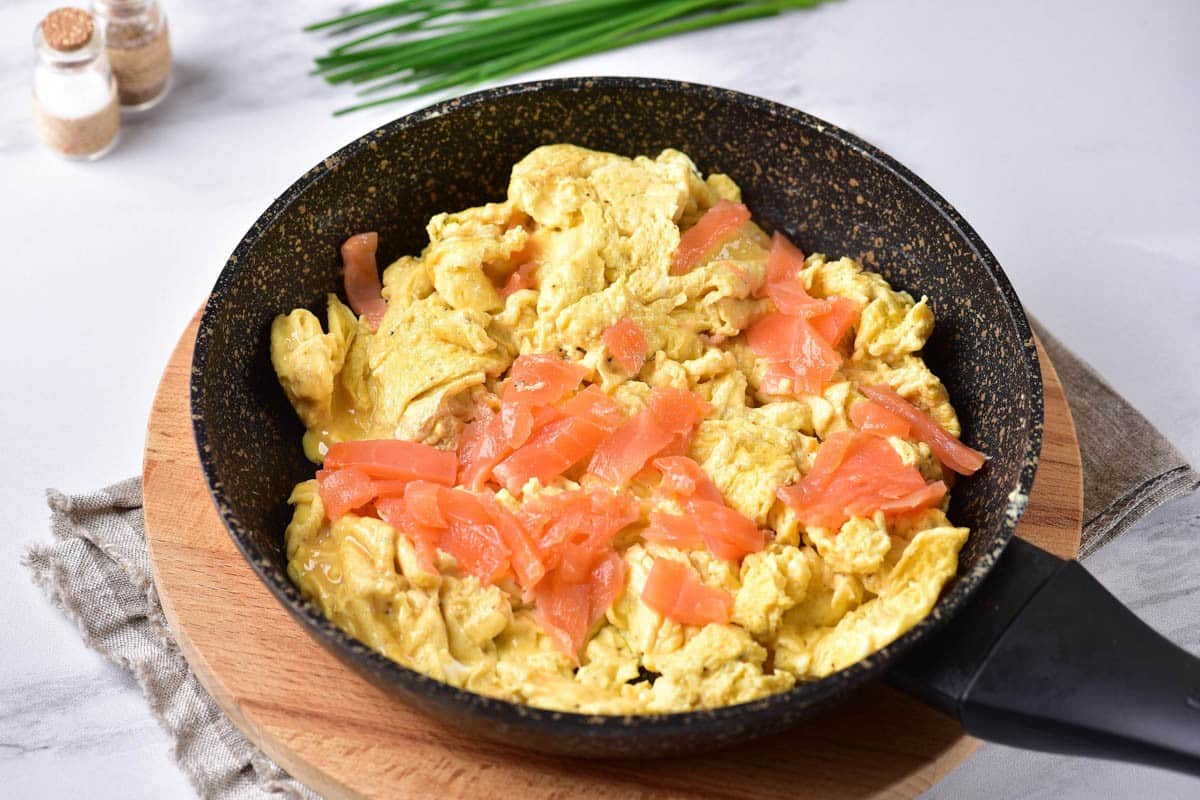 Can you eat salmon and eggs together?
You sure can! I love the combination of salmon and eggs. I think they both complement each other wonderfully and make for a fantastic breakfast.
How do you serve smoked salmon and eggs?
I like my smoked salmon and eggs served alongside buttery fresh toast and sauteed asparagus, as I think these flavor combinations are fitting for a royal breakfast.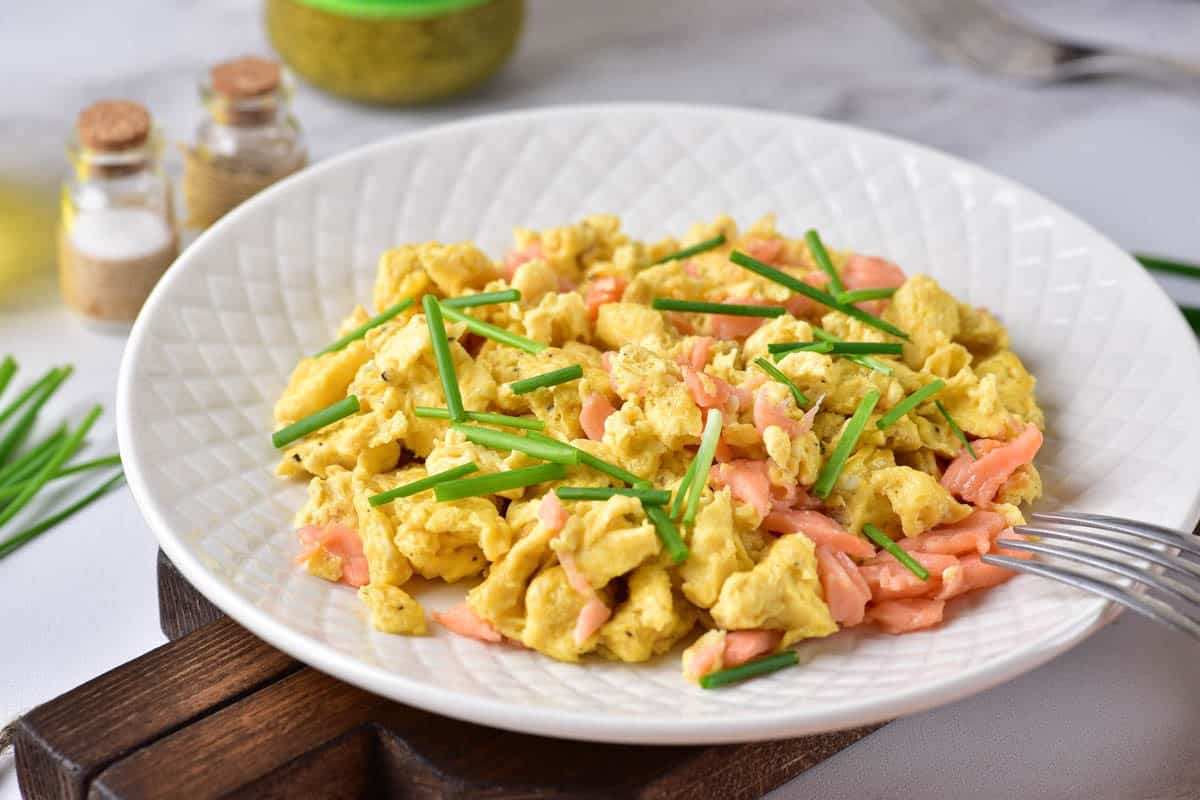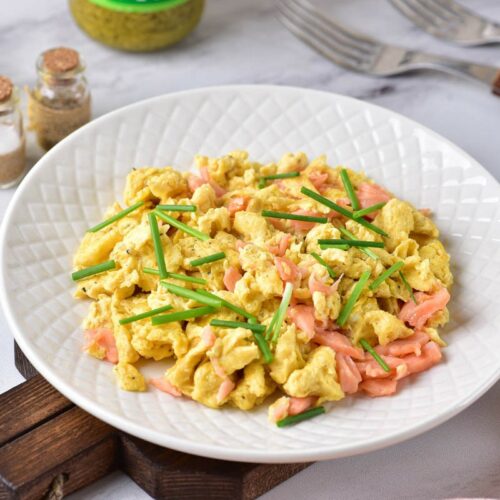 Smoked Salmon Scrambled Eggs
Smoked salmon is great no matter how you serve it, and this smoked salmon scrambled eggs recipe is just one of the many ways to enjoy it for breakfast. This dish features creamy, buttery, fluffy eggs with fresh chives and savory smoked salmon—what more could you ask for?
Ingredients
4

eggs

2

ounces

smoked salmon

salt and pepper

to taste

chives

for garnish

2

tbsp

heavy cream

½

tbsp

butter
Instructions
First mix your eggs, heavy cream, and a pinch each of salt and pepper into a small mixing bowl. Mix until well incorporated.

Set a pan to medium heat and add butter.

Once the butter has melted, add in your egg mixture, stirring regularly with a wooden spoon or plastic spatula.

Once the eggs are about halfway cooked, stir in smoked salmon.

Mix smoked salmon in the egg mixture, then remove from heat and serve with chives and additional salt and pepper if necessary.
Nutrition
Calories:
215
kcal
Carbohydrates:
3
g
Protein:
19
g
Fat:
12
g
Cholesterol:
435
mg
Sodium:
425
mg
Here are a few other recipes you might enjoy!
Olivia has been in love with all things food and libations for nearly a decade. When she's not cooking up new recipes, she enjoys bikepacking, wine tasting, crocheting, and traveling in her camper van up and down the Pacific Northwest.