If you've never had an egg puff before, get ready to discover your new favorite breakfast! This egg puff recipe is simple to make but will surely impress anyone you serve it to.
Egg puffs are hard-boiled eggs stuffed into crisp and buttery puff pastry with caramelized onions in a savory Indian spice blend. They are traditionally served as an evening snack in South India alongside chai tea or coffee, but it works wonderfully well as a breakfast treat.
The simple task of wrapping your egg in the pastry dough gives this dish a wonderful presentation. I find even kids will eat them if they get to help in the fun of making them!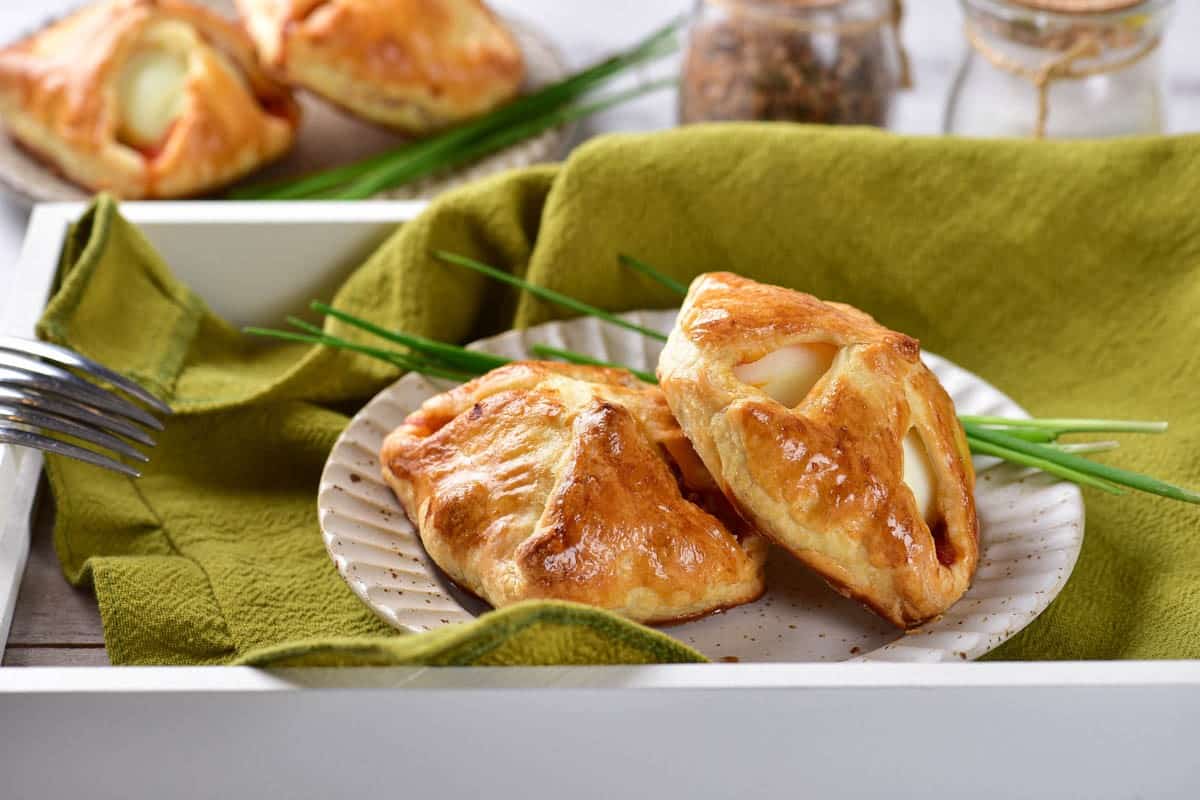 What You Need to Make Egg Puffs
For the filling, I'm using onion, carrot, garlic, ginger, tomato paste, and a selection of spices including salt, chili powder, turmeric, coriander, and a Garam masala blend.
Next, we need hard boiled eggs. Each will be sliced in half, with half going into each egg puff.
For the pastry dough, I recommend buying frozen premade pastry dough. Allow your pastry dough to thaw in the fridge for approximately 45 minutes before you are ready to assemble the puffs.
You will also need oil for sauteeing, and 1 additional egg to brush your pastry dough with before baking. The egg brush is optional.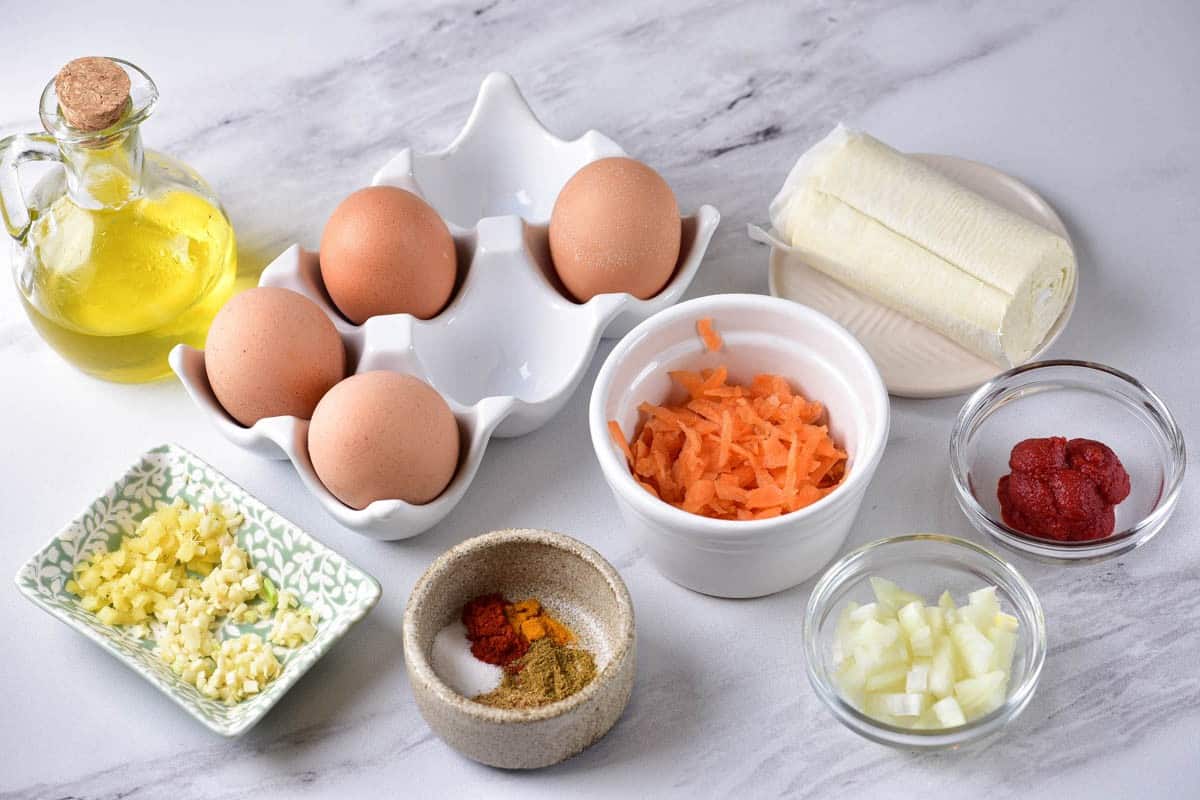 Ingredients:
Pastry dough sheets
Hard boiled eggs
Onion
Carrot
Garlic
Ginger
Tomato paste
Salt
Coriander
Chili powder
Turmeric
Garam Masala spice blend
Oil for sauteeing
Egg (for egg wash)
The tools required for this dish are a pan, knife, cutting board, 2 baking sheets with parchment paper, a saucepan, and 1 bowl with ice water. For the optional egg wash, you need a small bowl and a basting brush.
Garam Masala Spice Ingredients
Want to make your own Garam masala? Blend the following ingredients and store in an airtight container:
1 tablespoon cumin
1 ½ teaspoons black pepper
1 ½ teaspoons coriander
1 teaspoon cardamom
1 teaspoon cinnamon
½ teaspoon cloves
½ teaspoon nutmeg
How To Make Egg Puffs
First, make your hard-boiled eggs and set aside. To do this, put a pot of water to boil. Once the water has boiled, place your eggs gently in the pot and let cook on medium-high heat for approximately 10 minutes. Then, drain your eggs and submerge them in an ice bath.
Peel your eggs when they are cool enough to handle, slice each egg in half, sprinkle with a dash of sea salt, and set aside.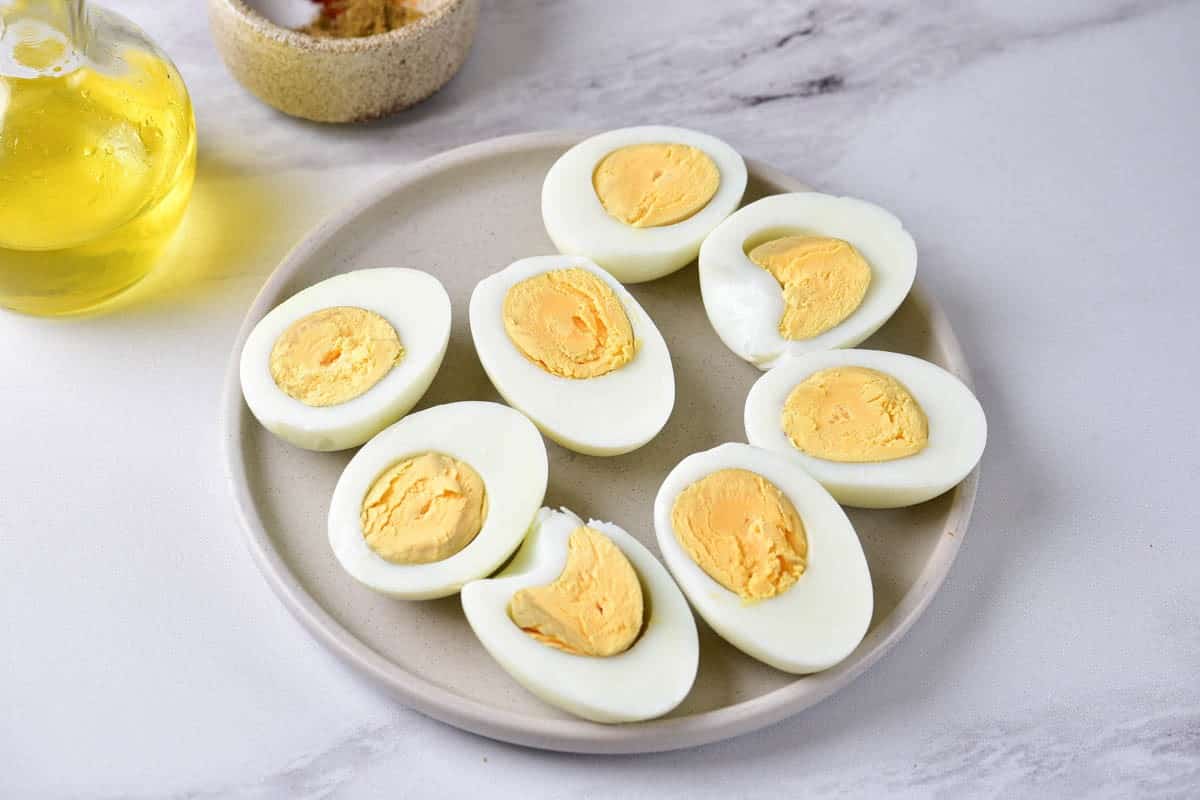 Next, preheat your oven to 400°F and prepare your veggies by grating your carrot and dicing the onion, garlic, and ginger. Heat a pan over medium-low heat. Once your pan is hot, add oil and then veggies to the pan.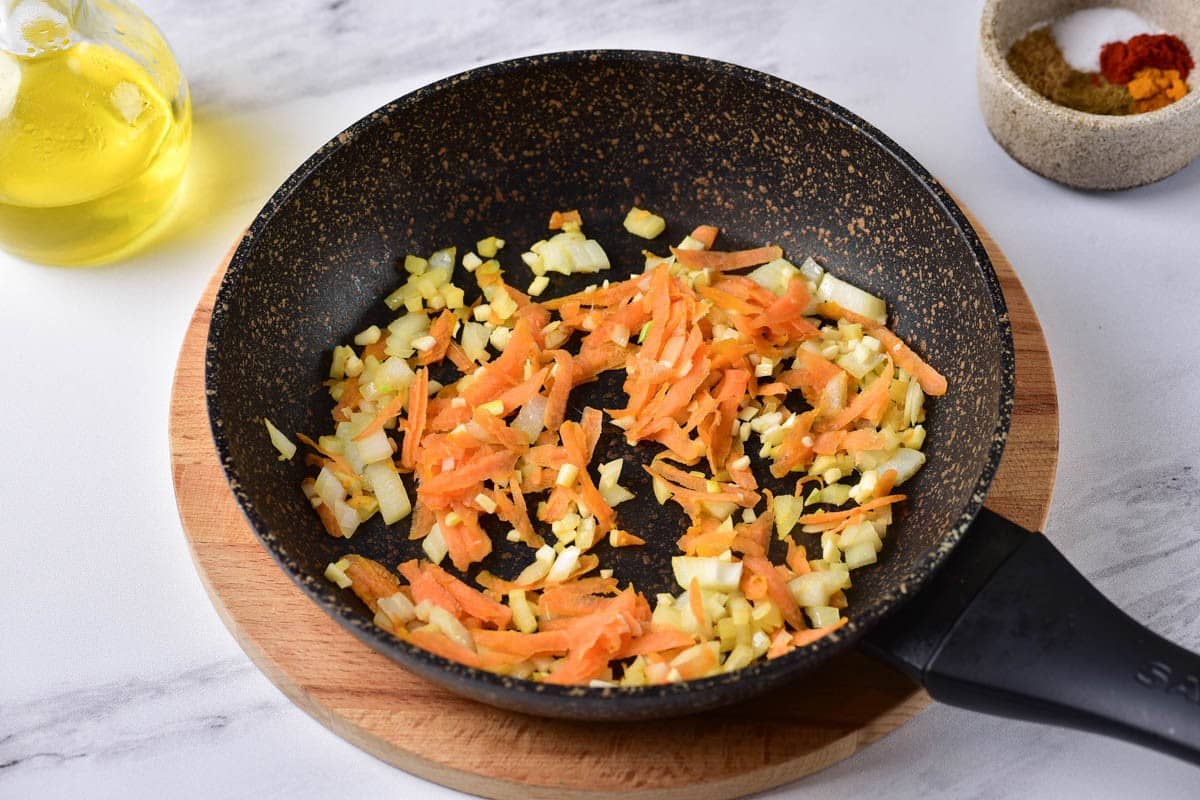 Let your veggies sautee for about 4-5 minutes until your onions are fragrant and translucent. Then add tomato paste and your spices. Let this mix simmer for 2-3 minutes, then turn off the burner.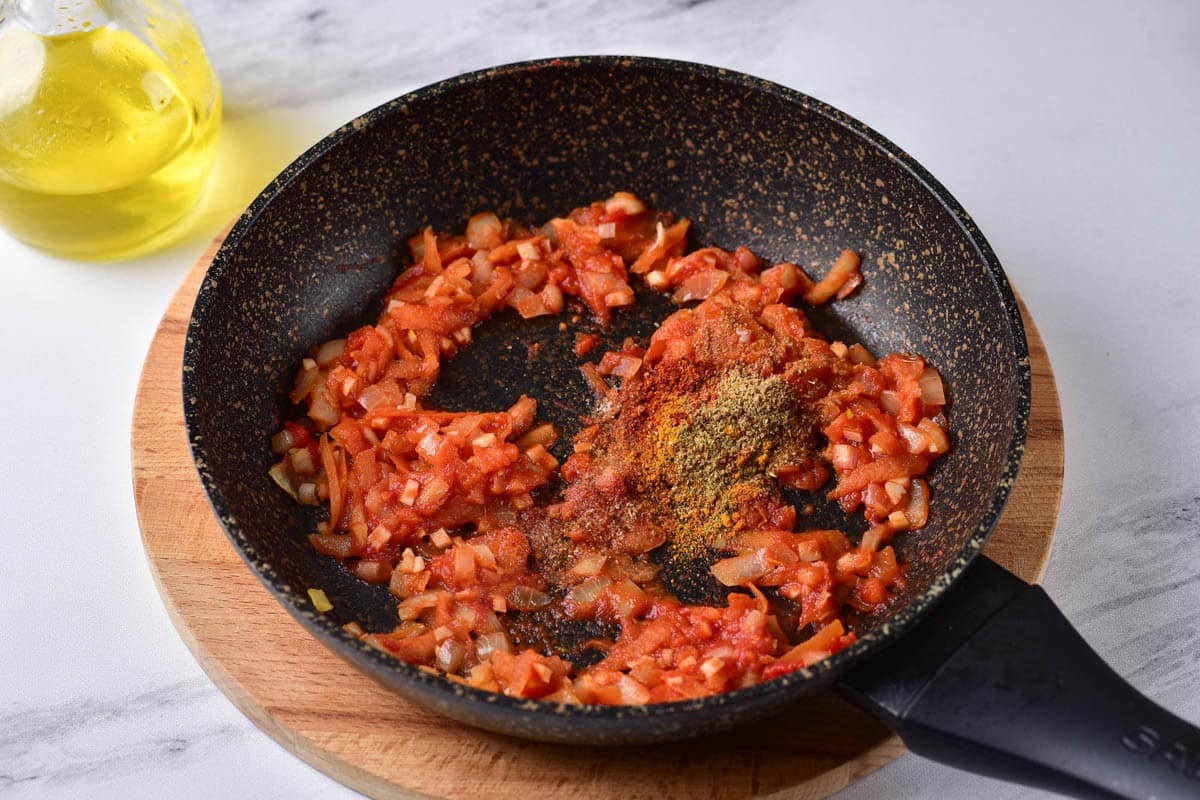 Next, prepare your pastry dough. Your dough may need to thaw for 45 minutes if grabbed straight from the freezer, so take this into consideration. You'll want your dough to be cold to the touch but not so cold that it tears when you wrap it.
To prepare your dough, lay it out over a large cutting board and use a sharp knife to cut it into 4.5"x4.5" squares.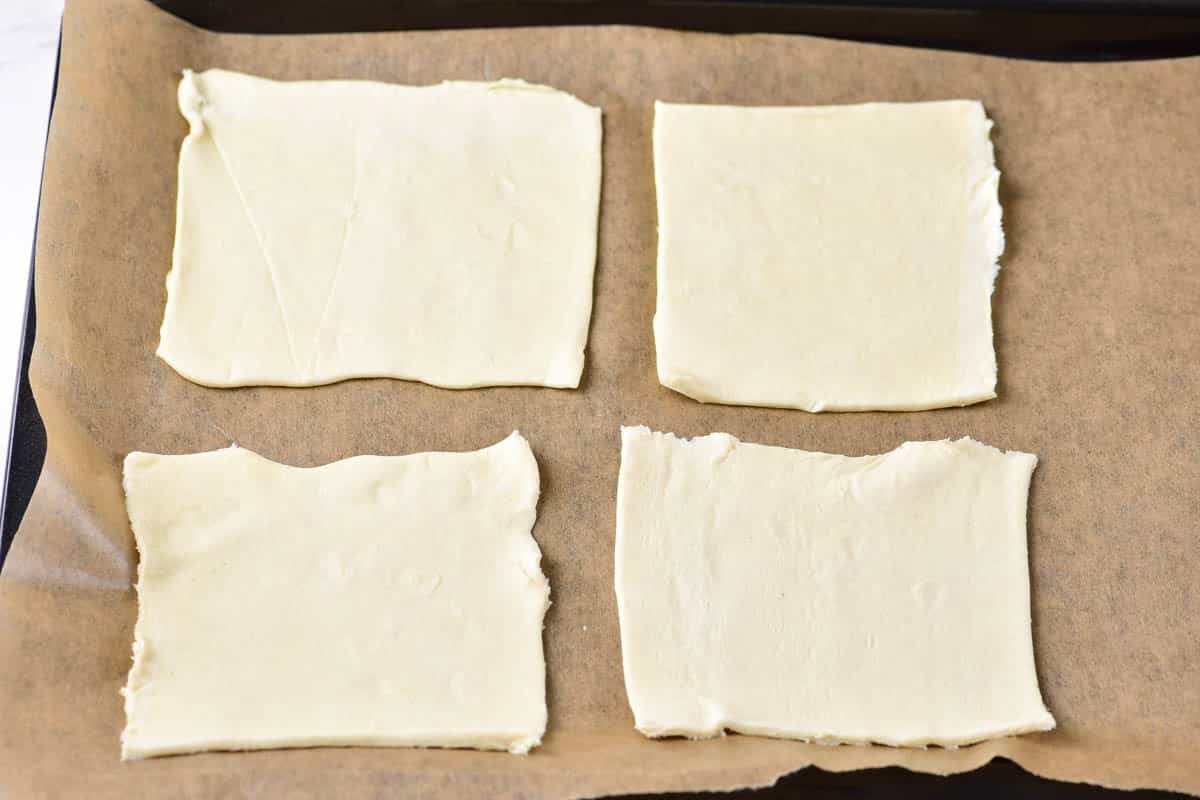 Now it's time to start building the egg puffs. To do this, put about 2 tablespoons of your onion mix into each square of pastry dough, then put each half of your hard boiled eggs on top of the onion mix, face down.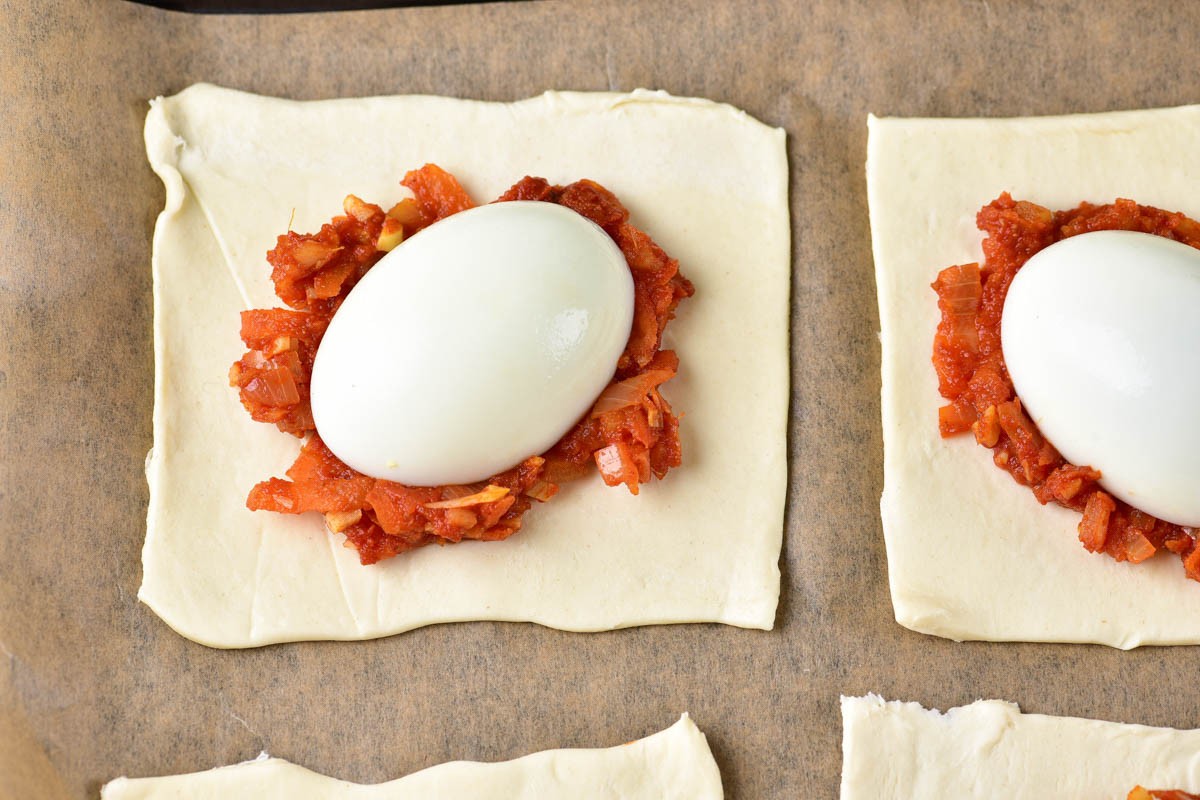 Stretch the corners of your dough till they meet in the middle. Pinch the 4 corners together and gently put your puff on a baking sheet lined with parchment paper.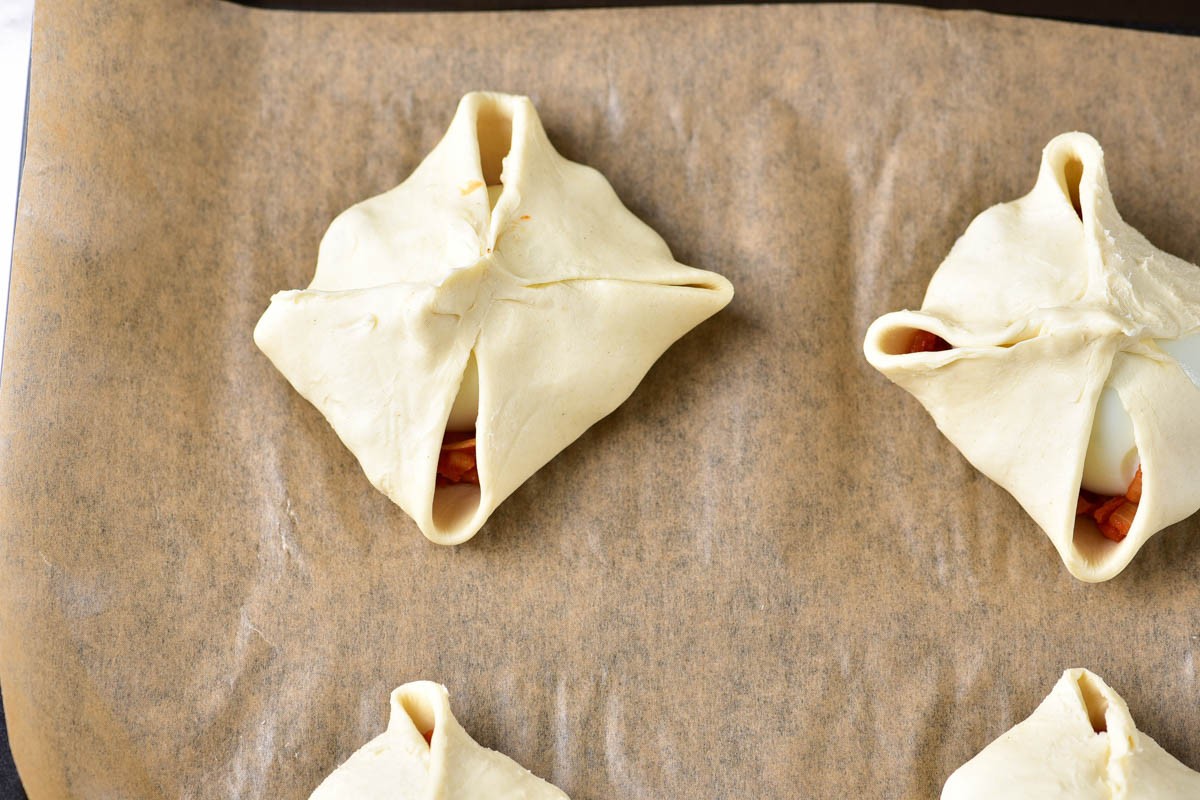 Once all your egg puffs are built, brush them with the optional egg wash and put them in the oven for 18-20 minutes, until they are golden brown.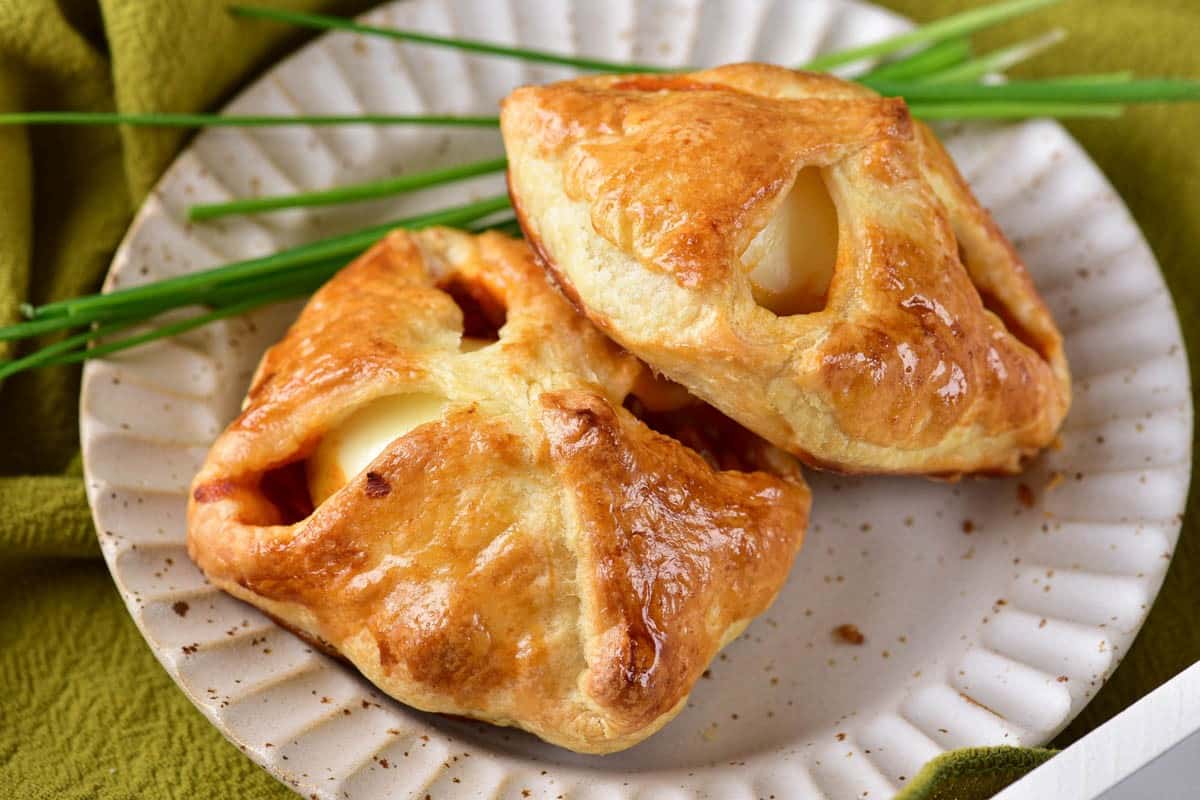 How do you make homemade egg puffs?
First, cook the hard boiled eggs. Then, make the filling by sauteing veggies and spices. Next, prepare your pastry dough by cutting into squares, adding your filling, and pinching each corner together. Then bake at 400 degrees for 18-20 minutes.
What temperature do you bake egg puffs at?
I recommend cooking your egg puffs at 400 degrees for 18-20 minutes, but any range from 350-400 will work—it just might take longer for them to cook.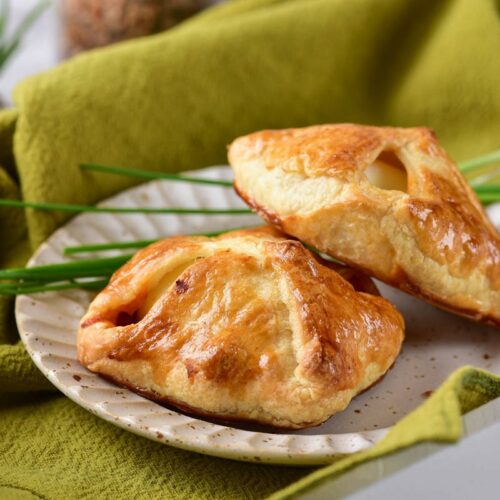 Egg Puff Recipe
These buttery, crispy, savory Indian-spiced egg puffs are the perfect treat to spice up your next breakfast. Delicate pastry dough wraps around this Indian veggie and spice blend, all topped with a hard boiled egg and baked to golden brown perfection.
Ingredients
1

container

pre-made pastry dough

4

hard-boiled eggs

½

medium sized yellow onion

diced

2

small carrots or 1 medium carrot

peeled and grated

2

tbsp

tomato paste

3

cloves

garlic

minced

½

inch

ginger

peeled and minced

1

tsp

coriander

1

tsp

Garam masala

½

tsp

chili powder

½

tsp

turmeric

2

tbsp

oil

for sauteeing

1

raw egg

mixed (optional)

salt

to taste
Instructions
For hard boiled eggs:
Put a pot of water to boil.

Once the water has boiled, gently place your eggs in the pot.

Let cook for 10-12 minutes, then drain out the water.

When eggs have been drained, submerge in ice water and let sit for several minutes.

Once eggs are cool enough to touch, peel, slice in half, sprinkle with a dash of salt, and set aside.
For the Indian vegetable and spice blend:
Put a pan to medium high heat and add oil for sauteeing.

Add in your onion, carrot, ginger and garlic to the pan, let cook until fragrant and the onion is translucent, about 4-5 minutes.

Stir in tomato paste and spices.

Let simmer for 2-3 minutes, adjust seasonings if necessary.

Turn off the burner and set the veggie mix aside.
For the pastry dough:
Remove the pastry dough from the freezer about 45 minutes before you want to assemble your egg puffs.

Once thawed, lay out over a large cutting board and slice 8 4.5"x4.5" squares.

Place each square on a baking sheet lined with parchment paper.
To assemble egg puffs:
In each square, place 2 tablespoons of your Indian veggie mix into the center, do not press down on the veggies.

On top of each dollop of veggies, place 1 half egg face down. Gently press each egg into the veggie mix.

Bring all 4 corners of each square to the center until they touch, then pinch them together.

Brush each egg puff with optional egg wash.

Bake for 18-20 minutes, or until the dough is golden brown.
Nutrition
Calories:
240
kcal
Carbohydrates:
20
g
Protein:
5
g
Fat:
16
g
Saturated Fat:
5
g
Cholesterol:
90
mg
Sodium:
150
mg
Fiber:
1
g
Here are a few other recipes you might enjoy!
Olivia has been in love with all things food and libations for nearly a decade. When she's not cooking up new recipes, she enjoys bikepacking, wine tasting, crocheting, and traveling in her camper van up and down the Pacific Northwest.