If you love soft boiled eggs, get ready to have your mind blown with the wonders of your air fryer. By the time you read through this recipe, you will know how to make perfectly cooked soft boiled eggs in your air fryer in minutes, all with little to no mess.
After making this air fryer soft boiled eggs recipe once, I am hooked! Now, you can quickly enjoy perfectly cooked soft boiled eggs, every single time.
What You Need to Make Air Fryer Soft Boiled Eggs
This recipe is super simple. You only need eggs, salt, pepper, and your air fryer. I also recommend you prepare an ice bath to cool down your eggs when they're out of the air fryer.
As for kitchen supplies, you of course need an air fryer. I love my air fryer because it's simple to use and does the hard work for me. You'll also need tongs to grab your hot eggs with, and a large bowl with ice and cold water for your ice bath.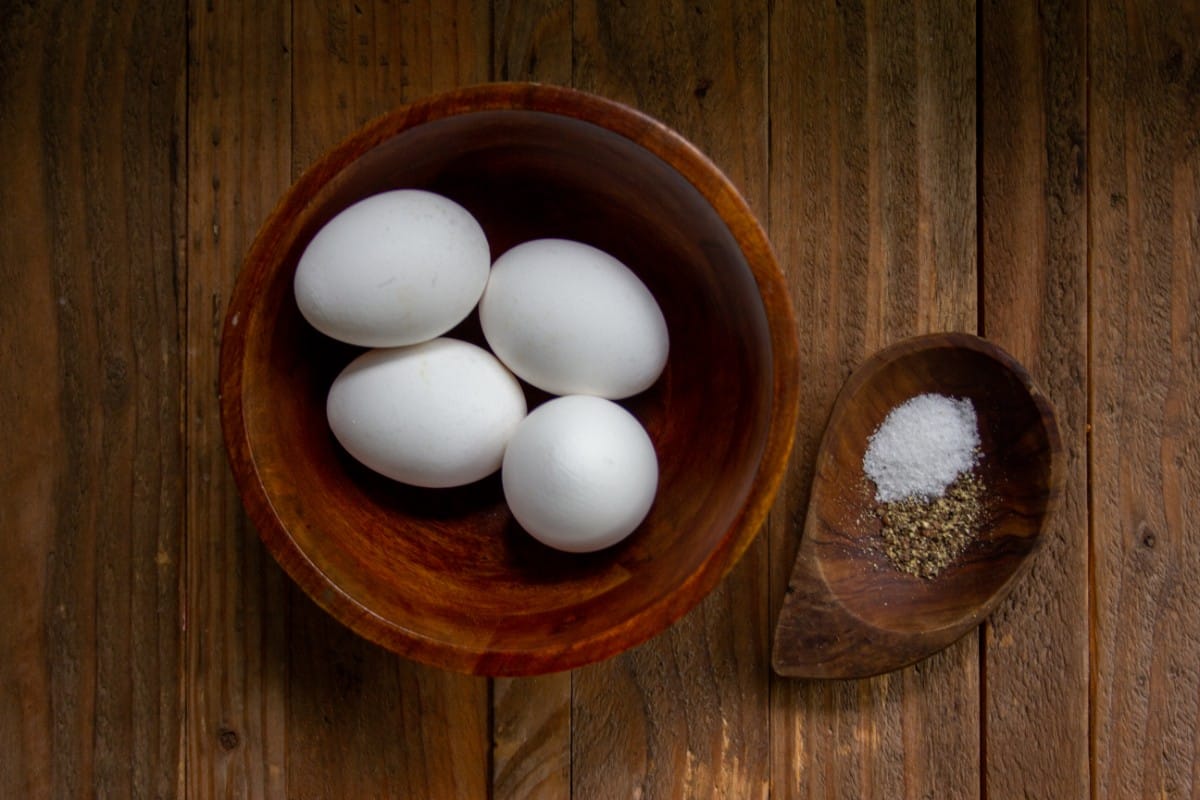 Ingredients:
How To Make Air Fryer Soft Boiled Eggs
First, preheat your air fryer. Low temperature is best for properly cooking eggs. I had mine set to 260°F.
Next, add your eggs, leaving a little bit of room between them.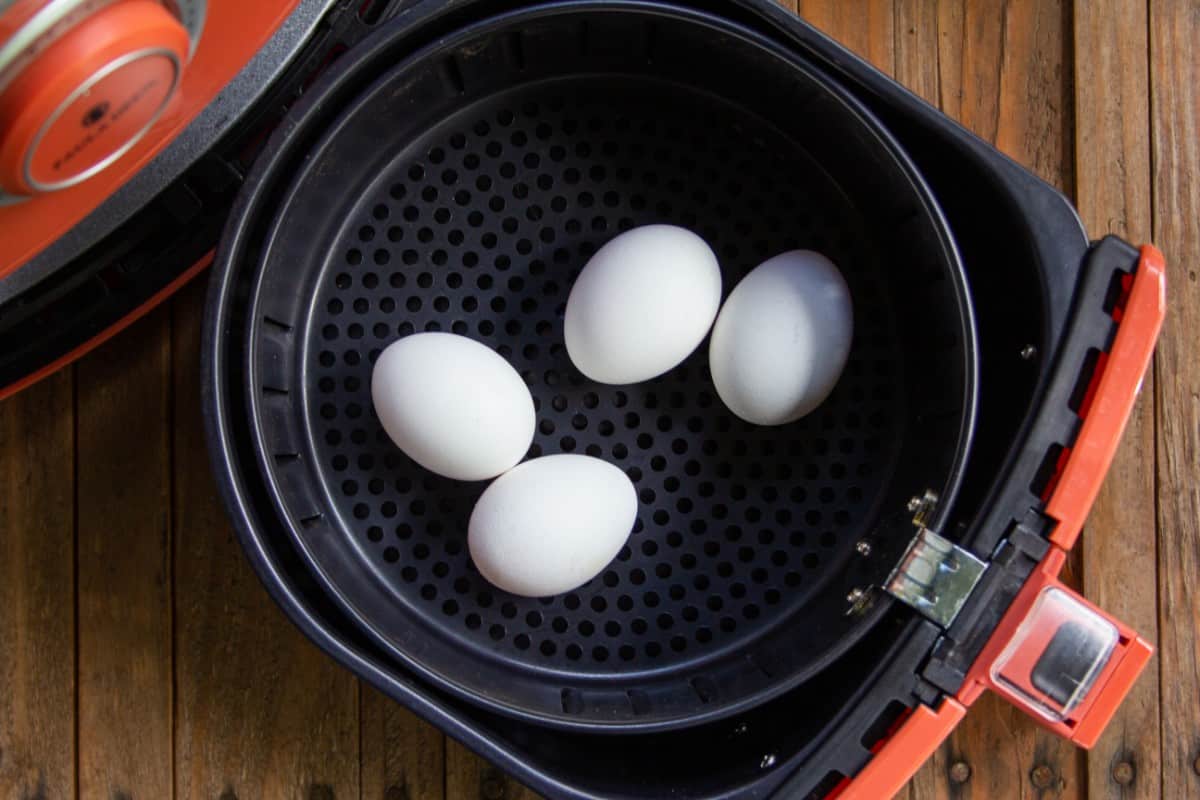 Let your eggs cook for 9 to 10 minutes to get soft boiled eggs. As soon as your eggs are done cooking, remove them from the air fryer and plunge them into an ice bath. This step will stop the cooking process so your eggs don't get overcooked.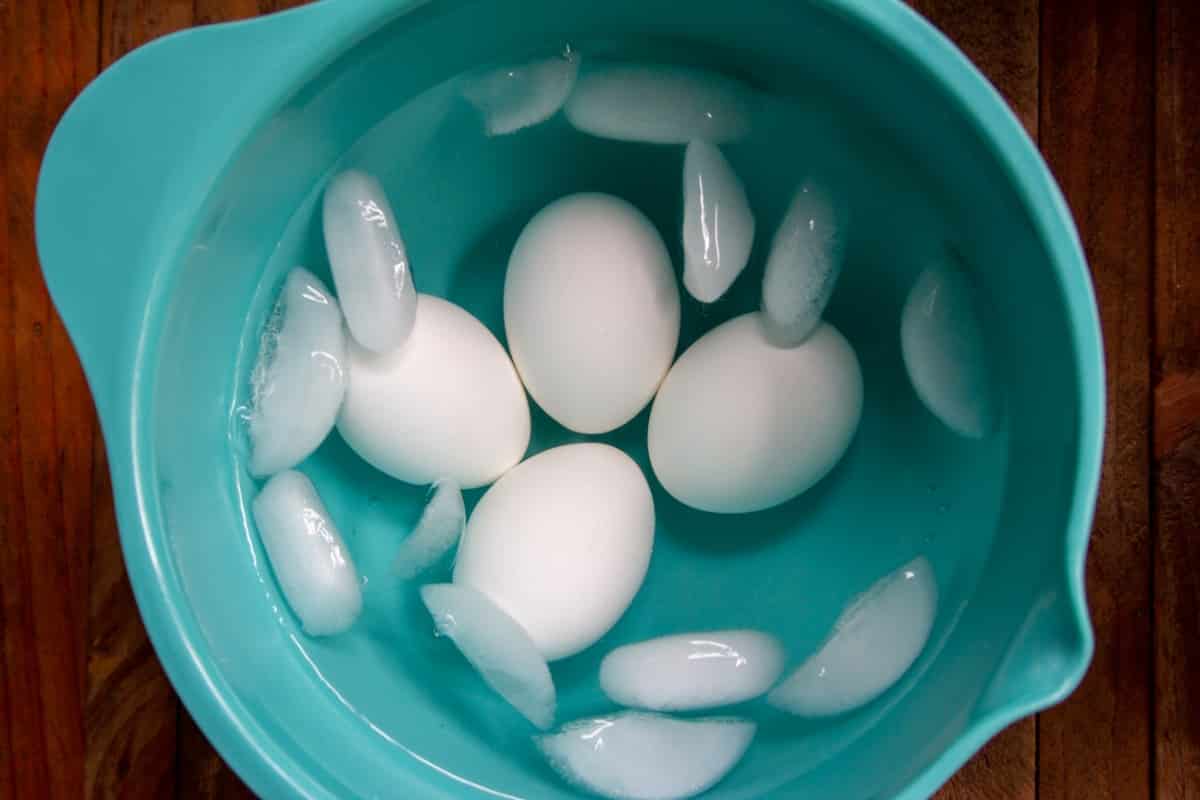 Let your eggs sit in the ice bath for several minutes, until they are cool enough for you to handle them, but not cold. You can then peel your eggs, sprinkle them with salt and pepper, and serve them as you like!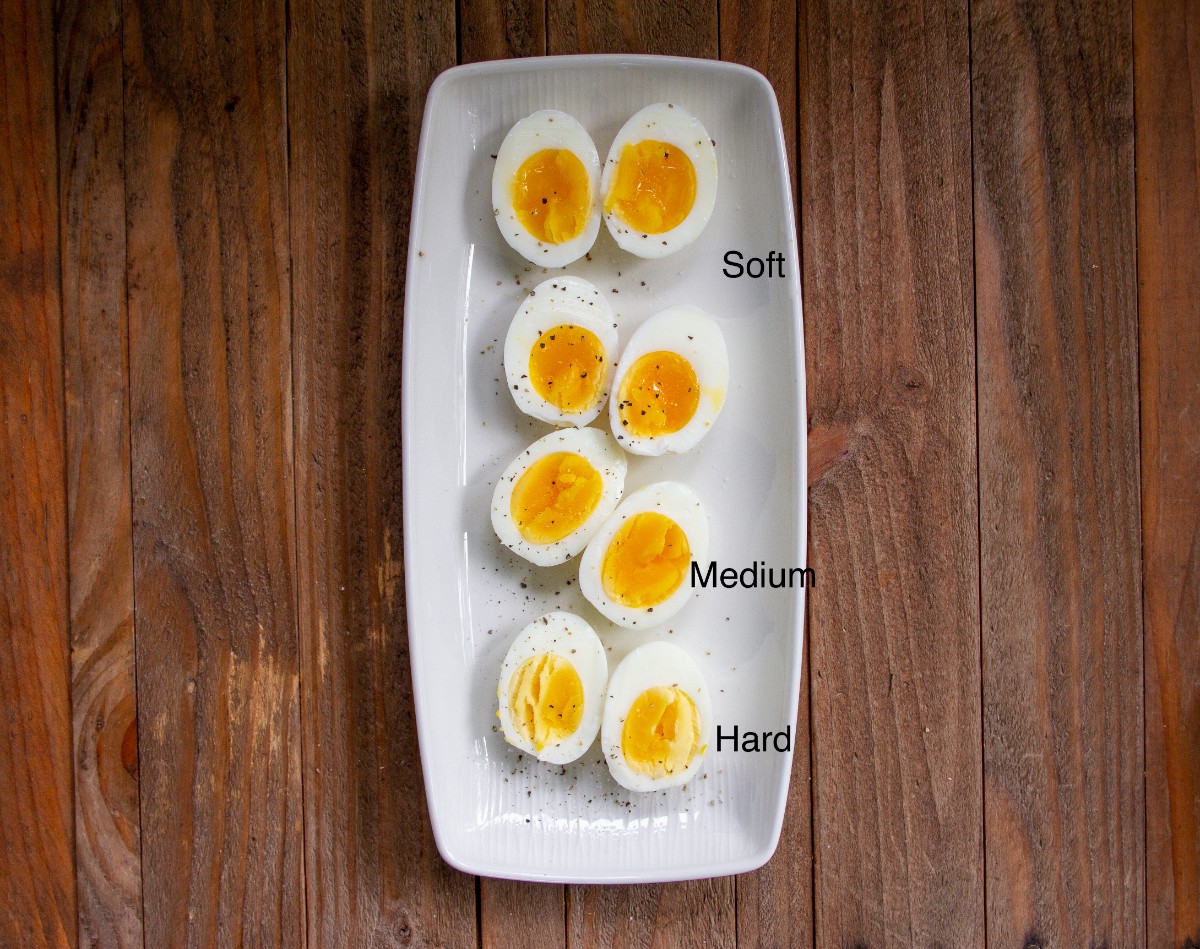 Ways to Eat Air Fryer Soft Boiled Eggs
I love eggs, plain and simple. Not only are they packed with protein, vitamin A and antioxidants, but they can accompany so many different types of dishes. Here are a couple of my favorite ways to enjoy soft boiled eggs:
On buttery toast with avocado and microgreens
Atop your next salad, in place of hard-boiled eggs
Served with ramen
In a niçoise salad
Atop miso or sweet & sour soup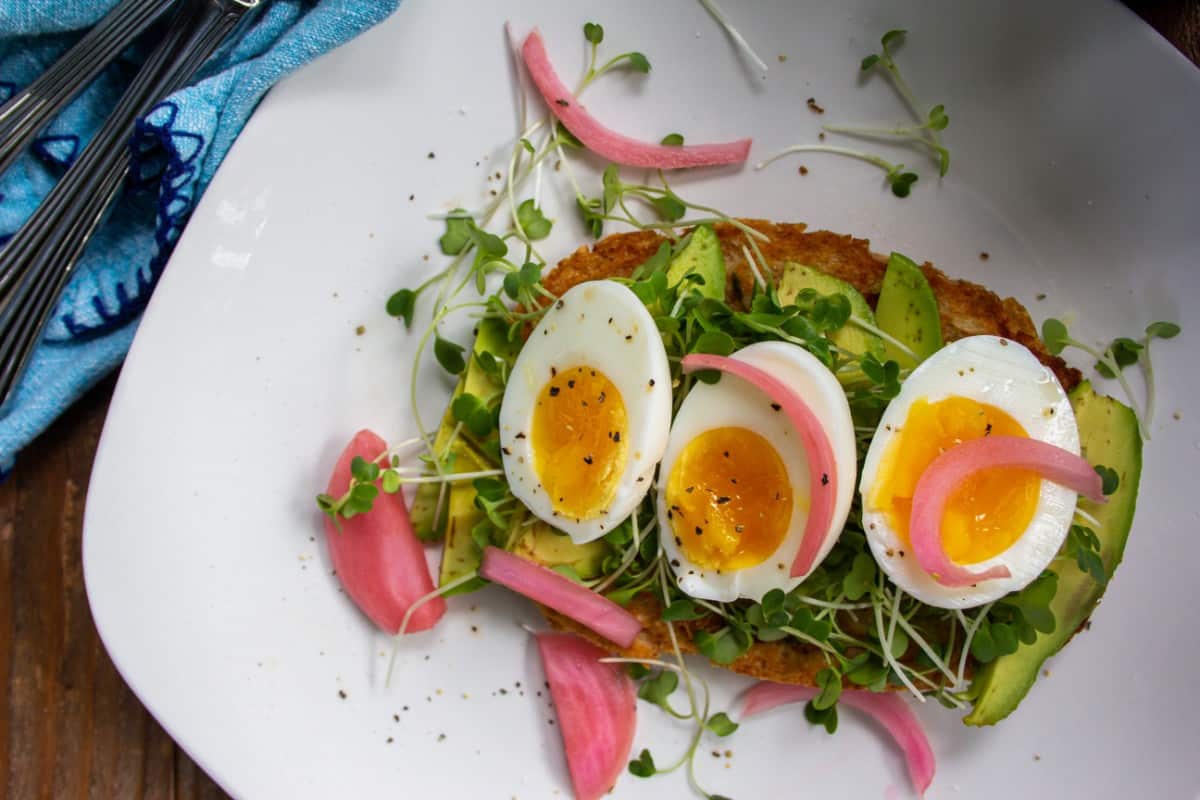 How do you soft boil an egg in an air fryer?
Great question! All you have to do is place your raw eggs in an air fryer set to a low temperature and let them cook for 9-10 minutes, then peel once they've cooled down and serve.
How long does it take to boil an egg in an air fryer?
The amount of time it takes to boil an egg in an air fryer depends on how you want it cooked. Soft boiled eggs need about 9-10 minutes. Medium eggs need 11-12. Hard boiled eggs need about 13-15. This of course will depend on your individual air fryer settings, so these times may need to be adjusted slightly.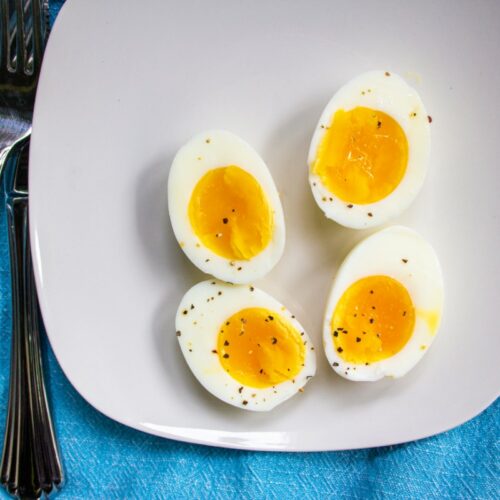 Air Fryer Soft Boiled Eggs
These air fryer soft boiled eggs are quick to make, always consistent, and make almost no mess. I love making a double batch of these soft boiled eggs and tossing them in my meals all week long. After you make these eggs once, you'll be amazed at how easy it is!
Ingredients
4

medium-sized eggs

1

tsp

salt

½

tsp

pepper
Instructions
Preheat your air fryer to a low temperature.

Place your eggs in the air fryer basket, leaving some room between them.

Let cook for desired time. For soft boiled, about 9-10 minutes.

While your eggs cook, prepare an ice bath with ice cubes and cold water in a large bowl.

Remove your eggs from the air fryer with a pair of tongs and place in an ice bath.

Let your eggs sit for several minutes, then, when they're cool enough to touch, peel, sprinkle with salt and pepper, and serve.
Nutrition
Calories:
140
kcal
Carbohydrates:
1
g
Protein:
14
g
Fat:
10
g
Cholesterol:
420
mg
Sodium:
200
mg
Here are a few other recipes you might enjoy!
Olivia has been in love with all things food and libations for nearly a decade. When she's not cooking up new recipes, she enjoys bikepacking, wine tasting, crocheting, and traveling in her camper van up and down the Pacific Northwest.