Shrimp frittata is a beautiful baked egg dish to make for a brunch that you plan to share with a few friends. In this recipe, creamy ricotta and eggs surround sautéed shrimp and fingerling potatoes seasoned with paprika and topped with fresh parsley. As colorful as it is full of flavor, this recipe is a feast for the eyes and the stomach.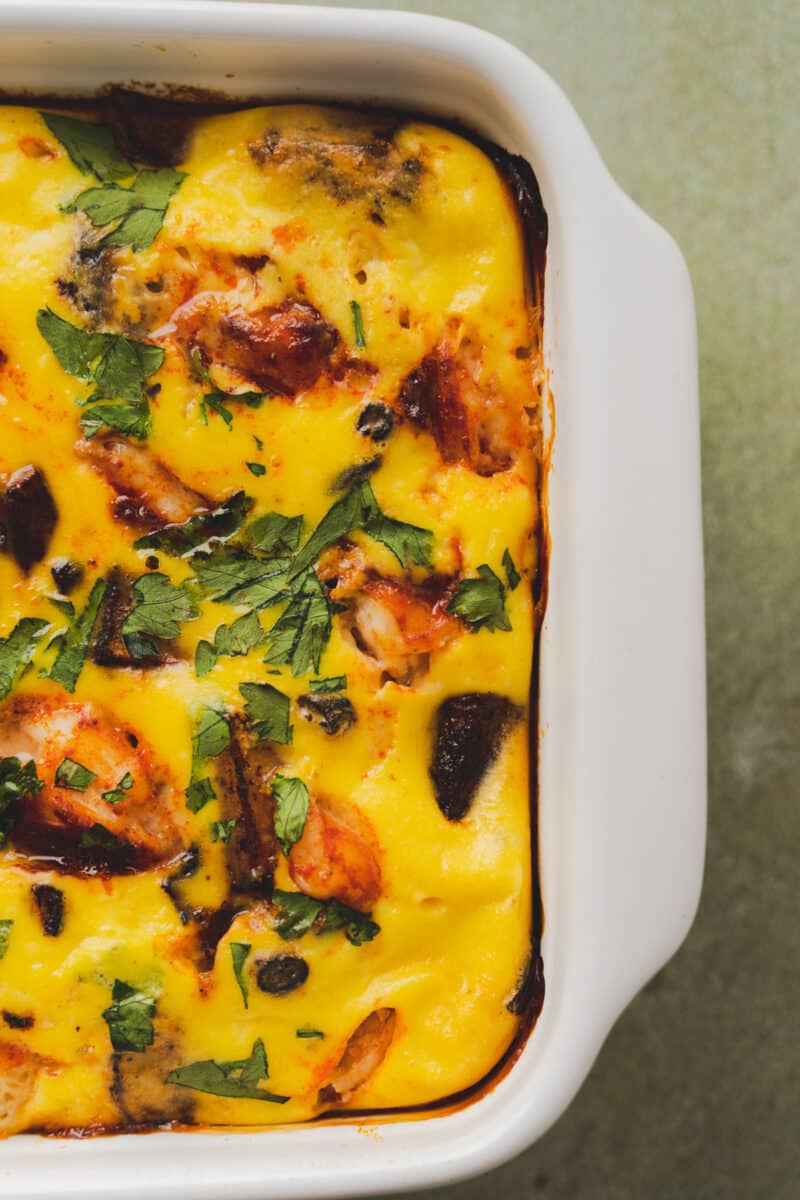 Looking for more egg recipes? Here are other recipes you might enjoy: Air Fryer Frittata, Shrimp Omelette, Crab Omelette, and Smoked Salmon Scrambled Eggs.
Why You'll Love This Recipe
Perfect brunch dish: Shrimp frittata is a sophisticated yet easy-to-make dish, perfect for brunch with friends or family. This recipe, with its creamy ricotta and rich eggs, offers a heartwarming touch to your weekend brunches.
Versatile: This recipe is extremely versatile and can be adapted according to your taste preferences. Whether you like your frittata spicy, herby or cheesy, you can easily switch up the ingredients to your liking.
Healthy and nutritious: With high-quality protein from the eggs and shrimp, this frittata is not only delicious but also packed with essential nutrients. The addition of fingerling potatoes adds a good dose of dietary fiber making this a wholesome meal.
Recipe Ingredients
You'll need the following ingredients to make these frittatas with shrimp recipe:
Ingredient Notes
Olive Oil: Olive oil is used for sautéing the shrimp and vegetables and for greasing the baking dish. Choose a good quality extra-virgin olive oil for the best flavor. If you don't have olive oil on hand, any other cooking oil can also be used.
Shrimp: Using jumbo shrimp adds a nice bite to the frittata. You can opt for fresh or frozen, but ensure they are well cleaned and deveined. Smaller shrimp can also be used but adjust the cooking time accordingly to avoid overcooking.
Scallion: Scallions, also known as green onions, add a mild, sweet flavor and a crunch to the dish. They are best sautéed on medium heat to bring out their flavor.
How To Make a Shrimp Frittata
Prepare the vegetables: Slice the scallions and potatoes. Set aside. Chop the parsley and set aside.
Prepare the shrimp: Defrost your shrimp and peel them, leaving the tail on. Heat the olive oil in a non-stick skillet.
Once the oil has heated, add the paprika and stir it around for 20 seconds. Add in the shrimp and cook for 2-3 minutes on one side or until that side has gotten a light sear.
Remove from the pan. Remove and discard the tails and chop the shrimp into bite-sized pieces.
Cook the vegetables: Using the same pan (do not clean it!), fry the potatoes and scallions until the potatoes are tender, 6-7 minutes.
Make and assemble the egg dish: Whisk together eggs, ricotta, salt, and pepper.
Pour the mixture into a greased 7 x 11-inch baking dish. Add the sautéed vegetables and shrimp, distributing the potatoes and shrimp evenly. Scatter the parsley on top.
Bake the frittata: Bake in a preheated oven set to 375ºF for 30-40 minutes or until the eggs have set. Be very careful not to let the egg dish bake for too long so that you don't overcook the shrimp.
Serve: Slice and serve.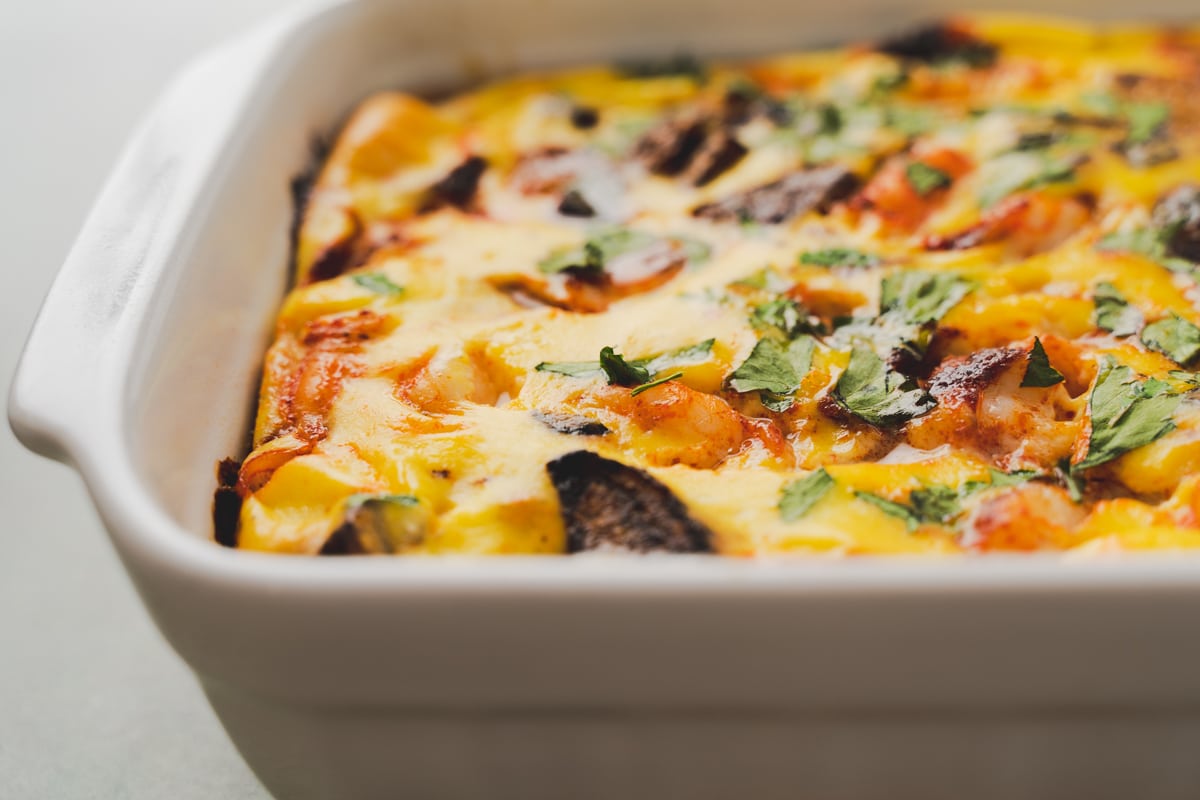 Recipe Tips
Cook the shrimp and vegetables on medium-high heat. This will help in searing the shrimp and making the vegetables tender.
Whisk the eggs, ricotta, salt, and pepper in a large bowl. This will ensure a smooth and homogenous mixture.
Ensure to distribute the sautéed vegetables and shrimp evenly in the greased baking dish before pouring the egg mixture. This will result in even baking and every slice having an ample amount of shrimp and veggies.
Storage & Reheating
Store the leftover frittata in an airtight container in the refrigerator for up to 3-4 days. To reheat, warm it in the oven at 300ºF until heated through. Alternatively, you can also reheat it in a microwave but make sure to cover it with a microwave-safe lid to avoid any splatters.
Additions & Substitutions
For a spicy kick, consider adding some chopped red pepper or a pinch of red pepper flakes. If you are not a fan of ricotta, feel free to substitute with other types of cheese. Cottage cheese or feta would also work well. If you want to add more vegetables, bell peppers, red onion, or zucchini can be great additions.
Recipe FAQs
What should I serve with this seafood frittata recipe?
This Shrimp Frittata can be served with a fresh green salad and a crusty baguette. For an Italian twist, you can serve it with a side of an Italian egg-based dish like a crustless quiche. To keep things light and refreshing, consider serving it with a glass of prosecco or lemon-infused water.
Do I have to use jumbo shrimp?
No, you can use any kind of shrimp you'd like. If you use large shrimp rather than jumbo, include an extra 2-3 shrimp in your final dish. I also recommend searing the shrimp with the tails on for more flavor, but you can also use fully cleaned shrimp.
Can I use other spices besides paprika?
You definitely can adapt this recipe to your tastes. I use a mixture of sweet and smoked paprika here to add a little depth. But you could also use thyme and rosemary for an herby flavor or sautée a little garlic with your vegetables.
Can I make this in advance?
This dish lasts for a few days in the fridge, so you can definitely make this dish in advance. While it tastes best just out of the oven, you can also rewarm it in a 300ºF oven before serving. It also is great cold and at room temperature, so you can also have it as leftovers.
---
Here are a few other frittata recipes you might enjoy!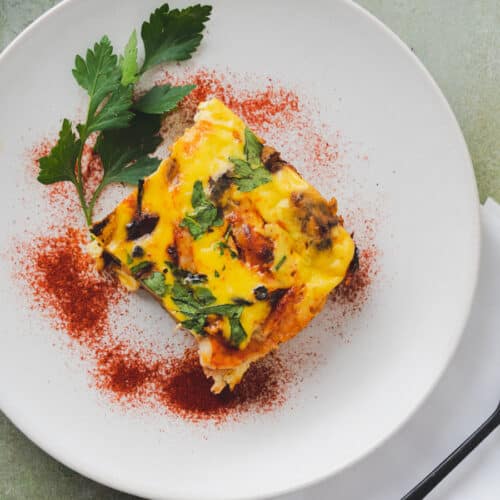 Shrimp Frittata
Shrimp frittata is a beautiful, aromatic, and delicious egg dish. Packed with paprika, potatoes, ricotta, and shrimp, this recipe is impressive to look at but simple to make. Serve it to your friends for brunch alongside a light glass of white wine, prosecco, or lemon water.
Ingredients
6

large eggs

1

cup

whole or part-skim ricotta

3

scallions

½

pound

fingerling potatoes

¼

cup

of chopped fresh parsley

½

teaspoon

table salt or more to taste

2

tablespoons

olive oil

½

teaspoon

freshly ground pepper or more to taste

6-7

jumbo shrimp

½

tablespoon

smoked paprika

1

tablespoon

sweet paprika
Instructions
Preheat the oven to 375 ºF.

Cut up ½ lb fingerling potatoes into bite-sized pieces, 3 scallions into thin rounds, and roughly chop ¼ cup of fresh parsley.

Heat 2 tablespoons of oil in a non-stick skillet.

Add 1 tablespoon of sweet paprika and ½ tablespoon of smoked paprika and allow to cook for 20 seconds. Stir the spices around with a spatula.

Add the defrosted shrimp and cook on one side for 2-3 minutes.

Remove the shrimp from the frying pan and set aside.

Add the scallions and potatoes to the hot pan. Cook for 6-7 minutes or until the potatoes are tender. Remove from the heat.

Remove the tails from the shrimp and cut the shrimp into small pieces.

In a bowl, whisk together 1 cup of ricotta, 6 large eggs, salt, and ground pepper until smooth.

Grease a 7×11-inch baking dish and pour in the egg mixture.

Evenly spread the potatoes, scallions, and shrimp across the egg mixture. Top with the chopped parsley.

Bake for 30-40 minutes or until the eggs are set.

Remove from the oven and serve.

Enjoy!
Notes
When you fry the shrimp, only cook them on one side for at most 3 minutes. We want the shrimp to get a nice sear but do not want to cook them all the way through. It is really easy to overcook shrimp, so err on the side of less rather than more.
Use the same pan you sautée your shrimp in for your potatoes and scallions. This way, you can infuse the flavors from the shrimp and spices into the potatoes, adding a really nice depth of flavor.
This dish lasts for a few days in the fridge, so you can definitely make this dish in advance. While it tastes best just out of the oven, you can also rewarm it in a 300ºF oven before serving. It also is great cold and at room temperature, so you can also have it as leftovers.
Nutrition
Calories:
269
kcal
Carbohydrates:
14.26
g
Protein:
17.07
g
Fat:
15.98
g
Saturated Fat:
5.982
g
Fiber:
1.9
g
Sugar:
1.26
g
Arielle is a food and drink photographer based in Washington, D.C. She was previously a social science researcher before she fell in love with photography.