Strawberry French toast transforms traditional French toast into a light, not-too-sweet treat perfect for your next brunch or weekend breakfast.
Layers of thick bread, strawberries, and cream combine into a soft, silky mouthfeel that is dreamy, creamy, and rich. The toast is fluffy and airy, and when paired with whipped cream and sweetened strawberries, it's like floating on a cloud.
Perfect when you want a luscious breakfast, but don't want something too heavy, this dish pairs well with bright, light fruity drinks, like a strawberry shrub, or a frothy espresso drink, like a latte, cappuccino, or flat white.
Keep it simple; this is a dish that is elegant in its simplicity, where the key ingredients taste beautiful on their own.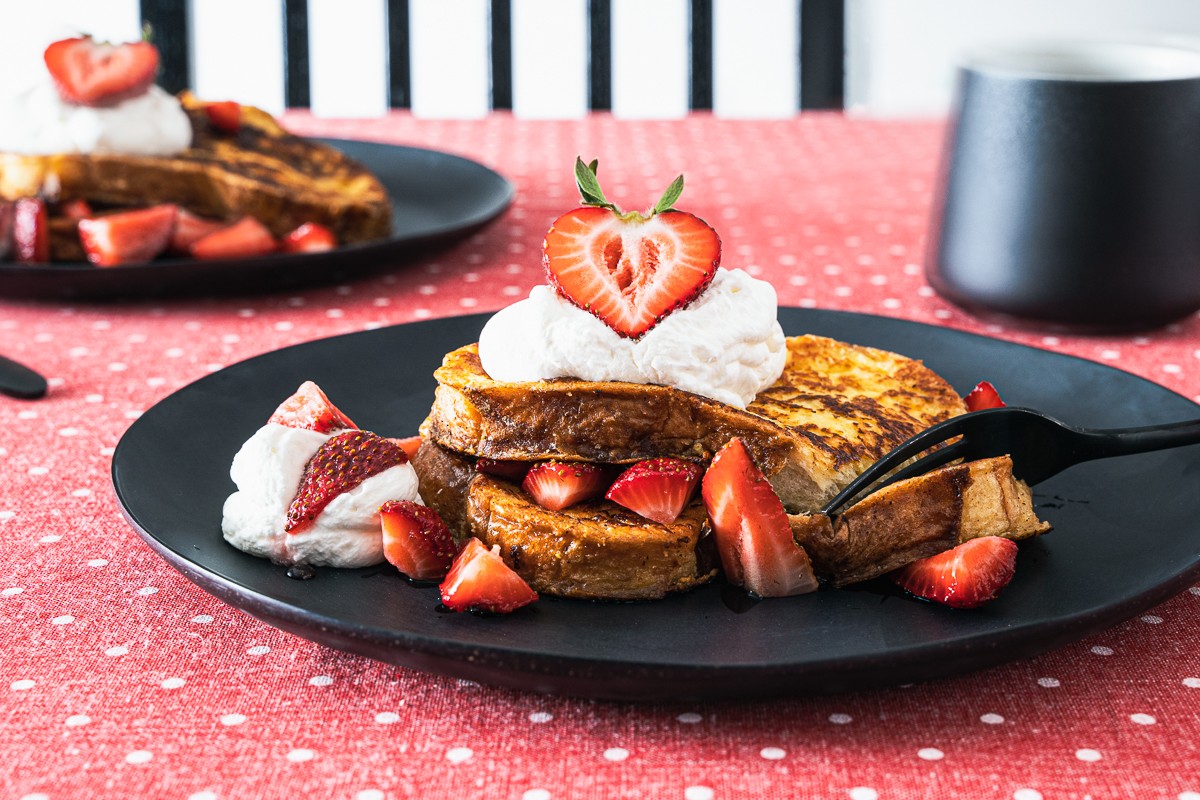 What You Need to Make Strawberry French Toast
The secret to making Strawberry French toast is starting with the right bread. You want to use a bread that is light and rich. I like to use challah, but brioche or any bread made with a generous amount of eggs, butter or oil will work.
Think about how a brioche or challah coats your mouth in its silky texture and rich flavor. That's the kind of bread we're looking for. The bread should be at least a day or two old so it can soak up more of the custard mixture.
You probably already have some of the ingredients and supplies for this toast—eggs, milk, sugar, lemon, and salt.
But the key ingredients—the stars of the recipe—may require a trip to the store. Fresh strawberries, challah or brioche, and heavy cream are musts.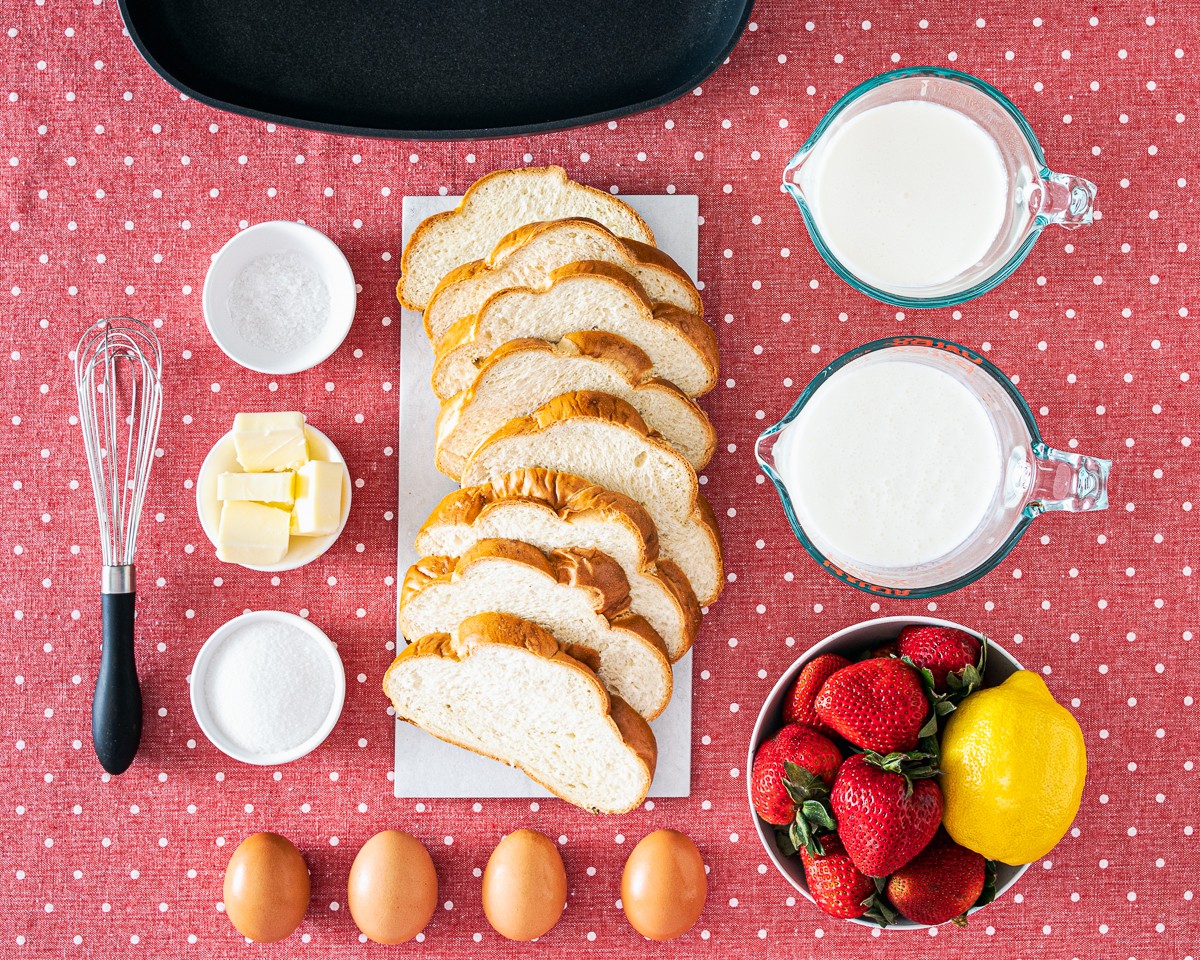 Ingredients:
Loaf of challah or brioche
Fresh strawberries
Lemon
Sugar
Eggs
Milk
Heavy cream
Salt
Butter
The equipment for strawberry toasts is minimal. You need a non-stick skillet, a whisk, a few bowls including a stainless steel bowl, and 1-2 shallow baking dishes.
This recipe halves or doubles easily, and for that reason is a great dish for both a party and a quiet breakfast at home.
How To Make Strawberry French Toast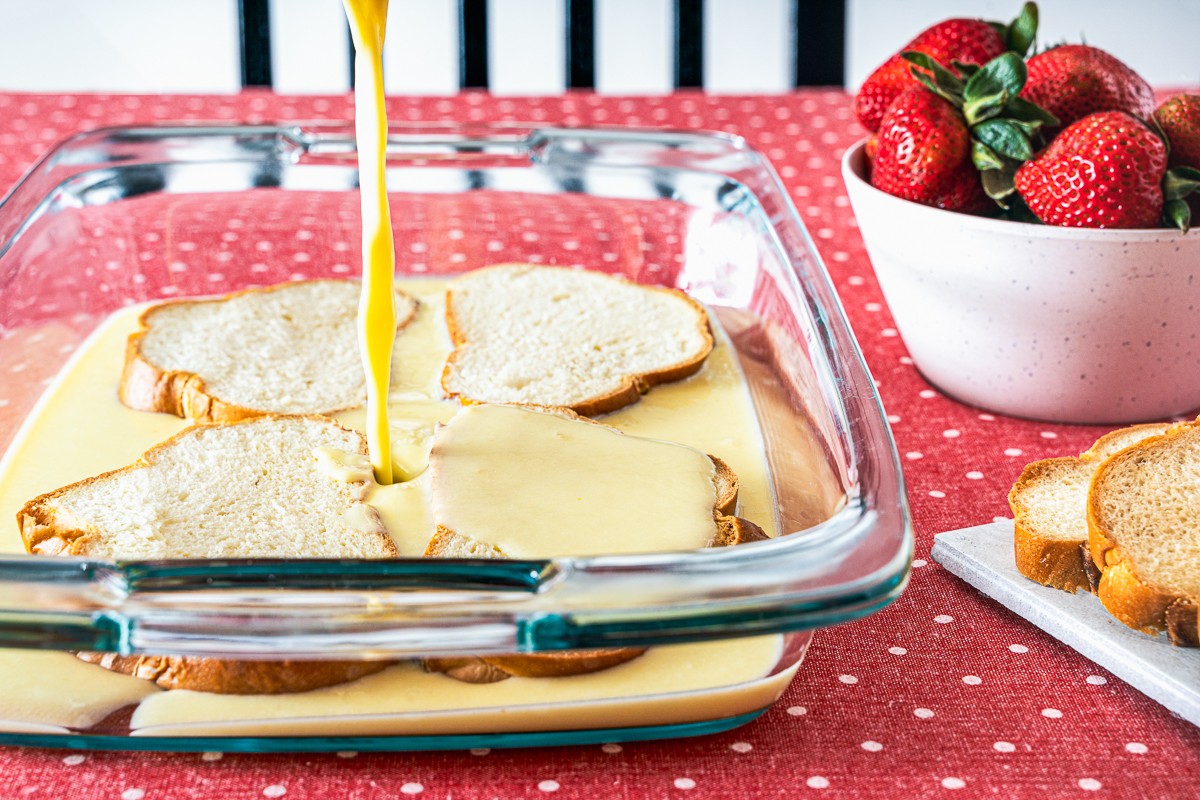 I know it's tempting to speed up this recipe, but do not skimp on soaking the bread. Give the bread at least 20 minutes to soak up the custard so that you ensure a light, fluffy texture.
The recipe is timed so that while the bread soaks, you'll be working on the strawberries and whipped cream. And you need to let the strawberries sit, too! This gives them enough time to dissolve the sugar and begin to release their juices, resulting in a near-effortless strawberry topping.
For the whipped cream, put your stainless steel bowl and whisk in the freezer for 15-20 minutes to get really cold, and make sure your whipped cream is well chilled. Having really cold equipment and ingredients will help your heavy cream whip up in a flash.
Steps:
Make the French toast: In a bowl, whisk together cream, milk, eggs, sugar, lemon zest and salt until they are well combined.
Pour this custard mixture over the slices of bread and allow to soak for at least 20 minutes, preferably 30. After 10-15 minutes, flip the bread to ensure both sides absorb the custard.
Then, heat 2-3 tablespoons of butter in a large nonstick skillet over medium heat. Once the butter has melted and you begin to smell its aroma, place several slices of bread in the skillet and allow to cook for 2-3 minutes or until browned.
Flip the toast and repeat on the other side. Continue cooking several slices of toast until all toasts are finished, adding more butter to the pan in between each batch.
Do not crowd the pan. The bread will not brown properly if there is no space around each slice of bread.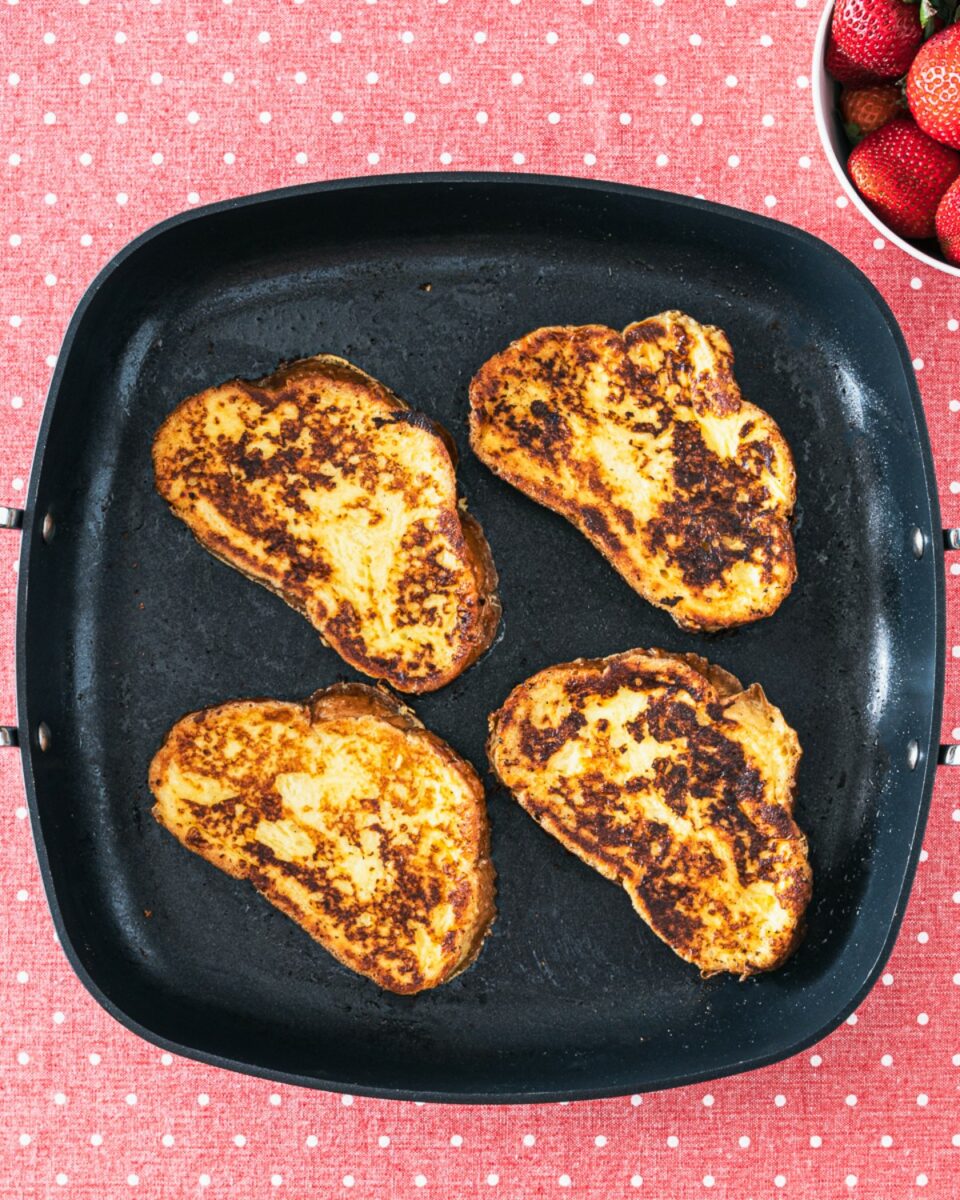 Make the macerated strawberries: Macerating strawberries means we soak them in sugar and their juices to soften and sweeten the fruit. The result is a light, syrupy strawberry that, while softened, still has much of its texture.
While the bread is soaking, top and quarter strawberries and toss with granulated sugar and a pinch of salt. Set aside for at least 30 minutes (or until you're ready to assemble your French toast).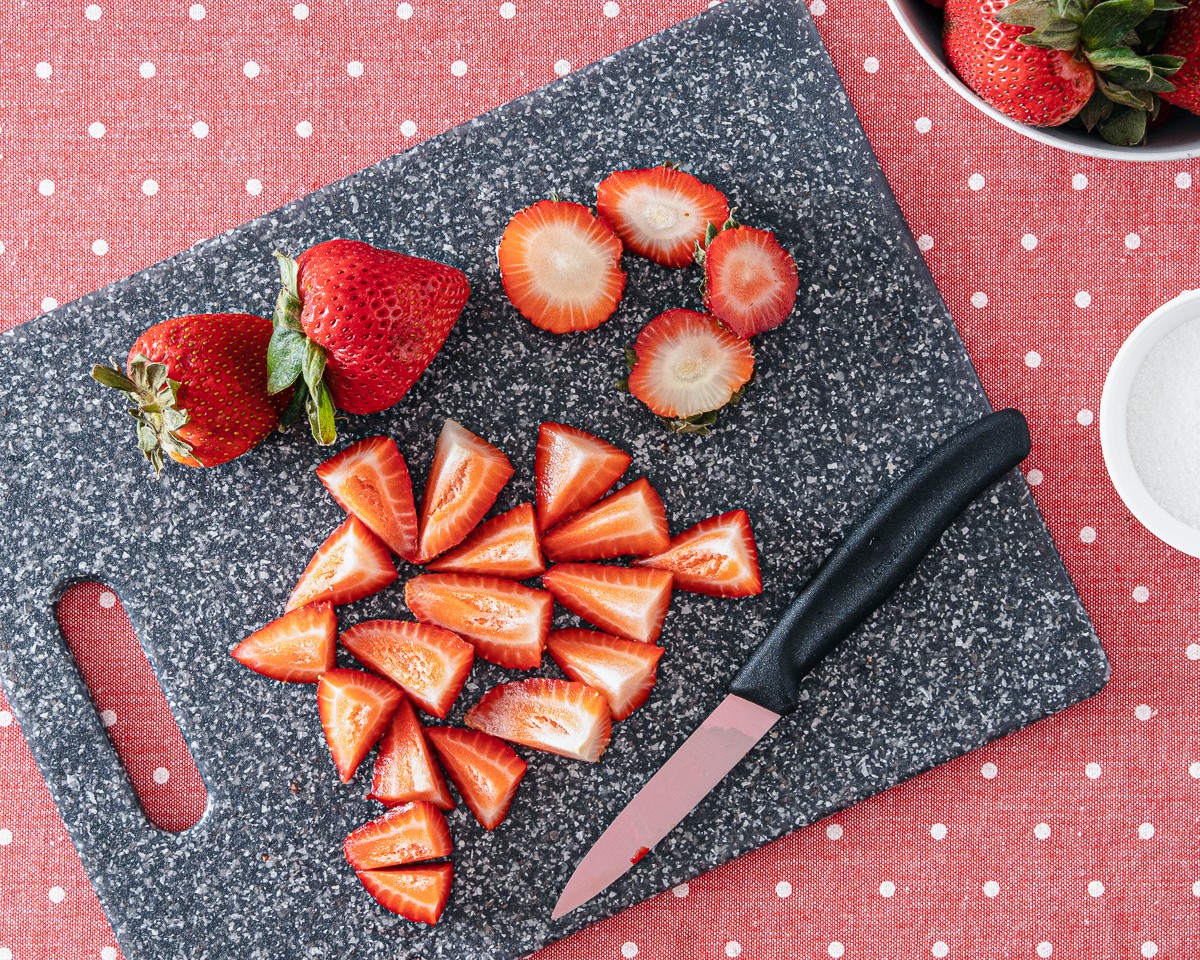 Make the whipped cream: Whip the heavy cream in a chilled stainless steel bowl and whip for 2 minutes, or until it becomes thick and holds a stiff peak.
If you are beating by hand, you will feel the whipped cream suddenly become much thicker—this means you are nearly there. Keep beating until it holds a stiff peak, but do not overbeat.
You can also use a stand mixer or hand mixer (I just don't like to haul out appliances if I don't need to!).
I like the fresh clean taste of just the whipped cream that helps cut through the sweetness of the strawberries, but if you prefer sweeter whipped cream, add 1 tablespoon of confectioner's sugar to the heavy cream before you begin whipping. Store in the fridge until you are ready to use.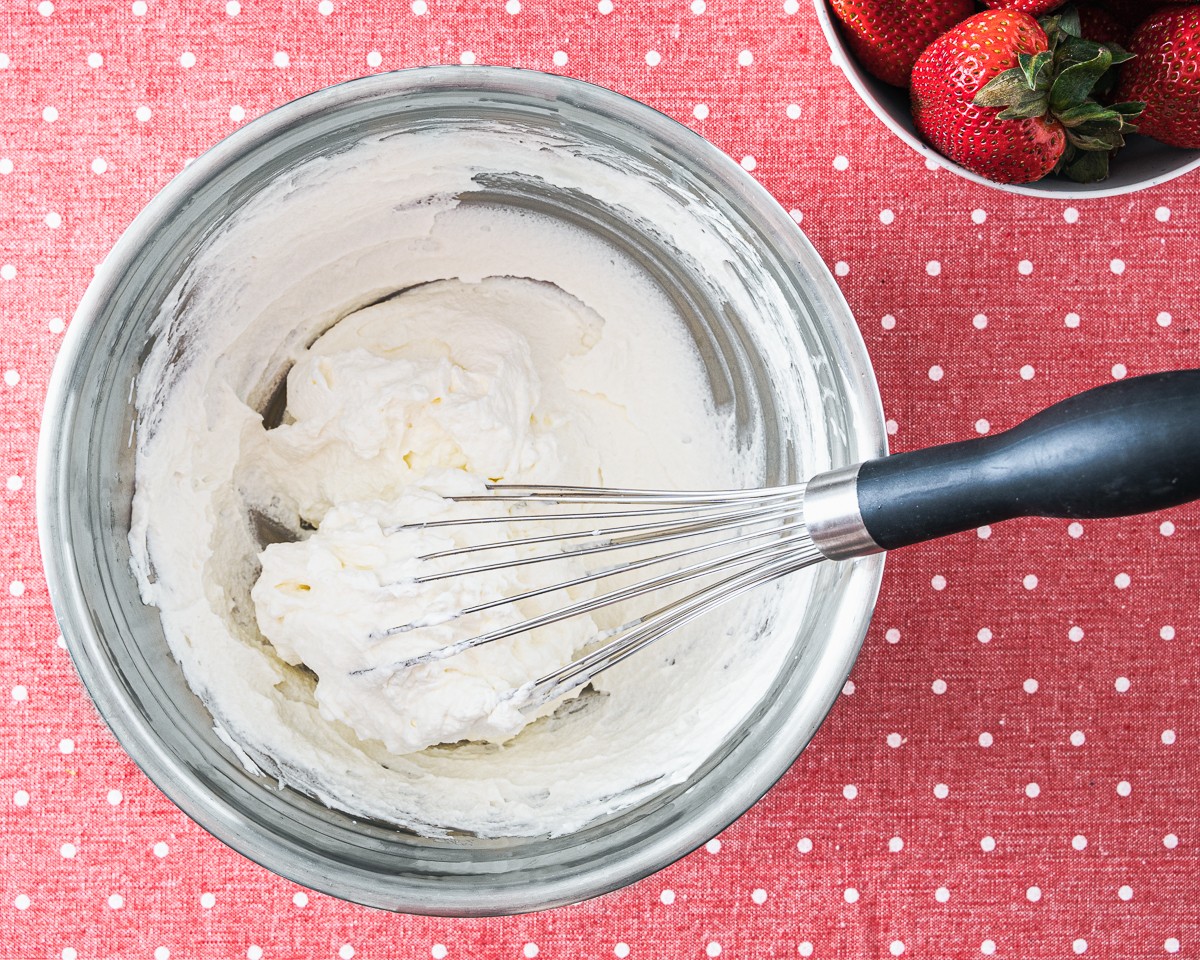 Assemble the French toast: Plate the toast and top with a few dollops of whipped cream and strawberries, making sure to include strawberry juices. You can garnish with powdered sugar, a fresh strawberry, or just more whipped cream!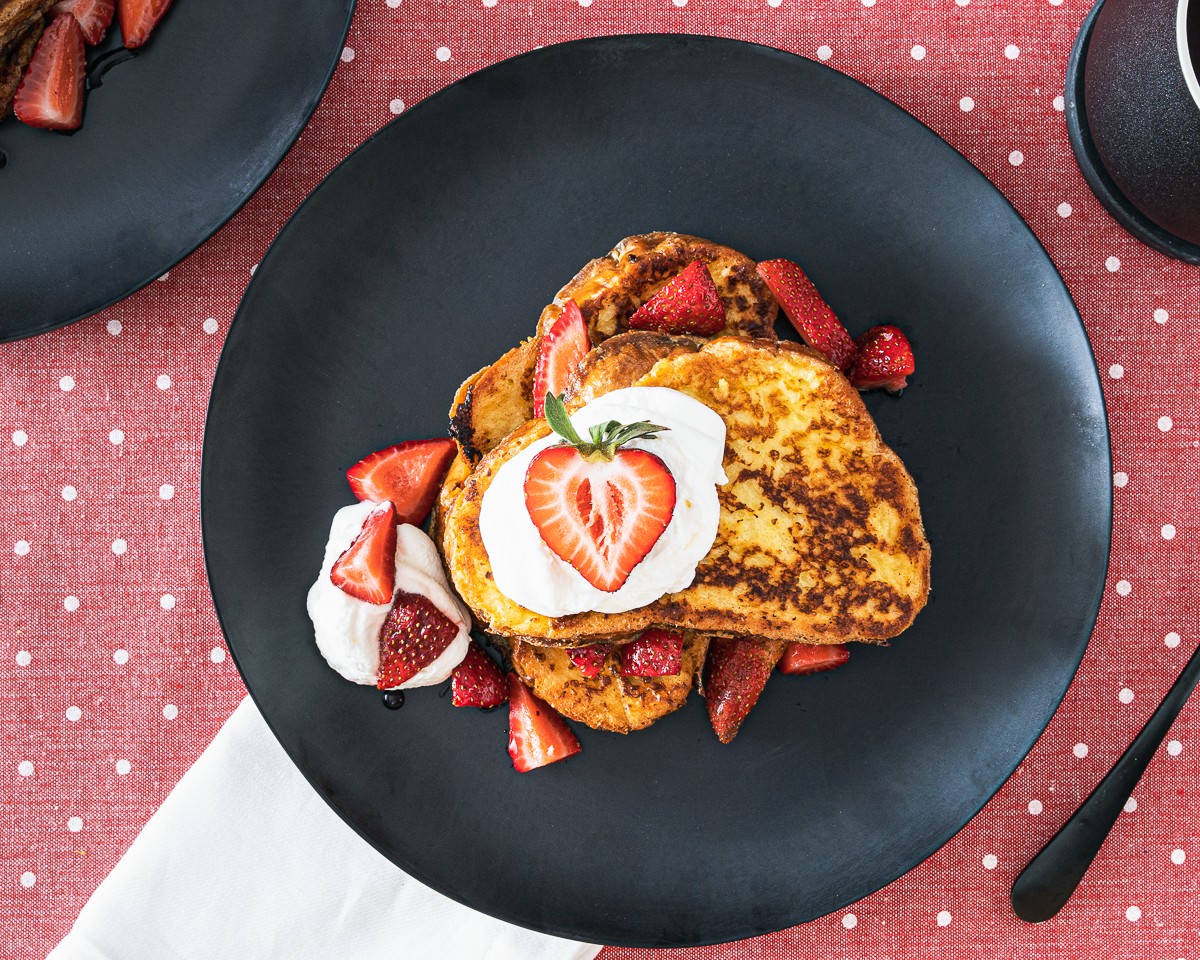 Do I need to use fresh strawberries?
Yes, frozen strawberries can be macerated, but the texture will be very mushy and will not be as pleasing.
Can I use canned whipped cream?
You can, but I suggest you give making whipped cream a try. You'll already have heavy cream on hand for the custard mixture, and you'll be surprised at just how easy it is to make whipped cream and how much better it tastes. You may never go back!
Can I make this with dairy-free alternatives?
You can use dairy alternatives in the custard and for the whipped cream. Just be aware that many dairy-free milks have their own flavor, so the final dish will not taste the same.
Coconut milk is the easiest alternative to turn into whipped cream. For other dairy alternatives (almond, soy, etc.), you may want to buy premade whipped cream.
Is there anything I can make ahead of time?
You can make the macerated strawberries up to one day in advance. The whipped cream can be made up to a few hours in advance or can be stabilized with 1 tablespoon of powdered sugar allowing it to keep for 12-24 hours, although I have had success for even longer.
Can I use store-bought bread?
You can absolutely use store-bought bread for this recipe! Even though I make challah regularly, unless I have some that I need to use up already, I buy the bread I use in this recipe and it tastes great. Keep this recipe simple!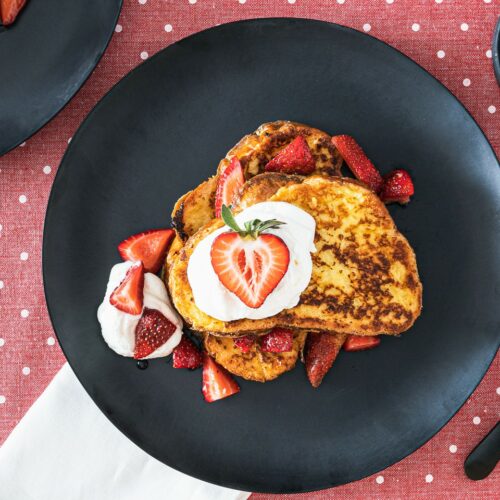 Strawberry French Toast
Strawberry French toast is a light and airy alternative to traditional French toast that boasts just the right amount of sweetness and richness. Eggy, creamy French toast is topped with sugar-soaked strawberries and whipped cream to create soft silky layers. Perfect for a brunch or a quiet breakfast at home, the recipe can be halved and doubled easily.
Ingredients
2

cups

fresh strawberries

quartered

4

large eggs

⅔

cup

granulated sugar

1 ½

cups

whole milk

1 ½

cups

heavy cream

several pinches of kosher salt

½

tsp

lemon zest

8

½ inch slices of challah or brioche

4-6

tbsp

butter
Instructions
Whisk together 4 eggs, 1 ½ cups whole milk, ½ cup heavy cream, 1/3 cup granulated sugar, ½ teaspoon lemon zest, and a pinch of salt.

Arrange slices of bread in a shallow baking dish in one layer. You may need two baking dishes.

Cover bread with custard mixture for 20-30 minutes, flipping the bread halfway through the soaking period.

Wash and dry 2 cups of strawberries.

Top and quarter strawberries and toss in 1/3 cup granulated sugar and a pinch of salt. Set aside.

Whip 1 cup chilled heavy cream for 2 minutes, or until thick and stiff peaks form. Put in the fridge until ready to use.

Heat 2-3 tablespoons butter in a large non-stick skillet on medium heat until melted.

Place several slices of bread in the skillet and cook 2-3 minutes per side, or until browned.

Repeat steps 7 and 8 until all slices of bread are made

Assemble French toasts with macerated strawberries and whipped cream. Serve immediately.
Nutrition
Calories:
469
kcal
Carbohydrates:
45.97
g
Protein:
9.14
g
Fat:
28.28
g
Saturated Fat:
16.06
g
Fiber:
1.7
g
Sugar:
26.4
g
Here are a few other recipes you might enjoy!
Arielle is a food and drink photographer based in Washington, D.C. She was previously a social science researcher before she fell in love with photography.