Some days you just need a kick of heat to get the day started. This chili cheese toast has just the right amount of heat, cheesiness, and crunch and can be ready in less than 10 minutes.
This is a cheese-lovers' breakfast dish. No beans or tomato sauce needed—just spicy, gooey cheese. A quick dish that can serve one or a crowd, try it the next time a cheese craving hits.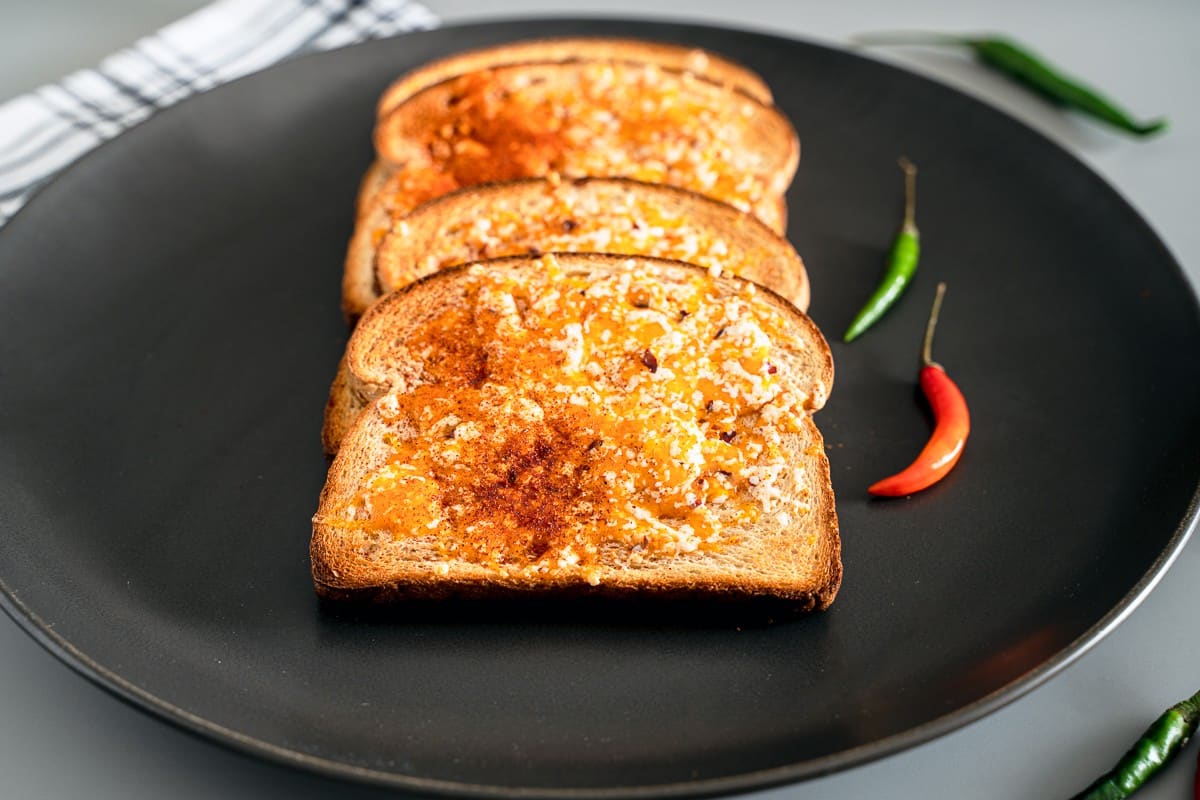 Try pairing it with a peach mango smoothie for a cooling contrast, or with a Bloody Mary if you are really looking to turn up the heat.
Chili cheese toast can be served alone or paired with a small salad tossed in a citrus vinaigrette for a bright contrast of flavors.
Some people like to dip their chili cheese toasts in guacamole or sour cream. If you do this, I recommend cutting your toasts into triangles.
What You Need to Make Chili Cheese Toast
To make this recipe, you will need a cheese grater or box grater, a sheet pan, and an oven with a broil setting or a toaster oven.
Don't worry too much about what size cheese grater you use. I like to finely grate my cheese, but larger shreds are perfectly fine.
Be careful not to burn your toasts if you are using a broiler. Once the bread goes in the oven, watch it carefully. DO NOT walk away.
It can take almost no time for the toasts to burn, so you'll want to be there to pull them out of the oven as soon as you see them starting to catch color. Really, they can burn quickly!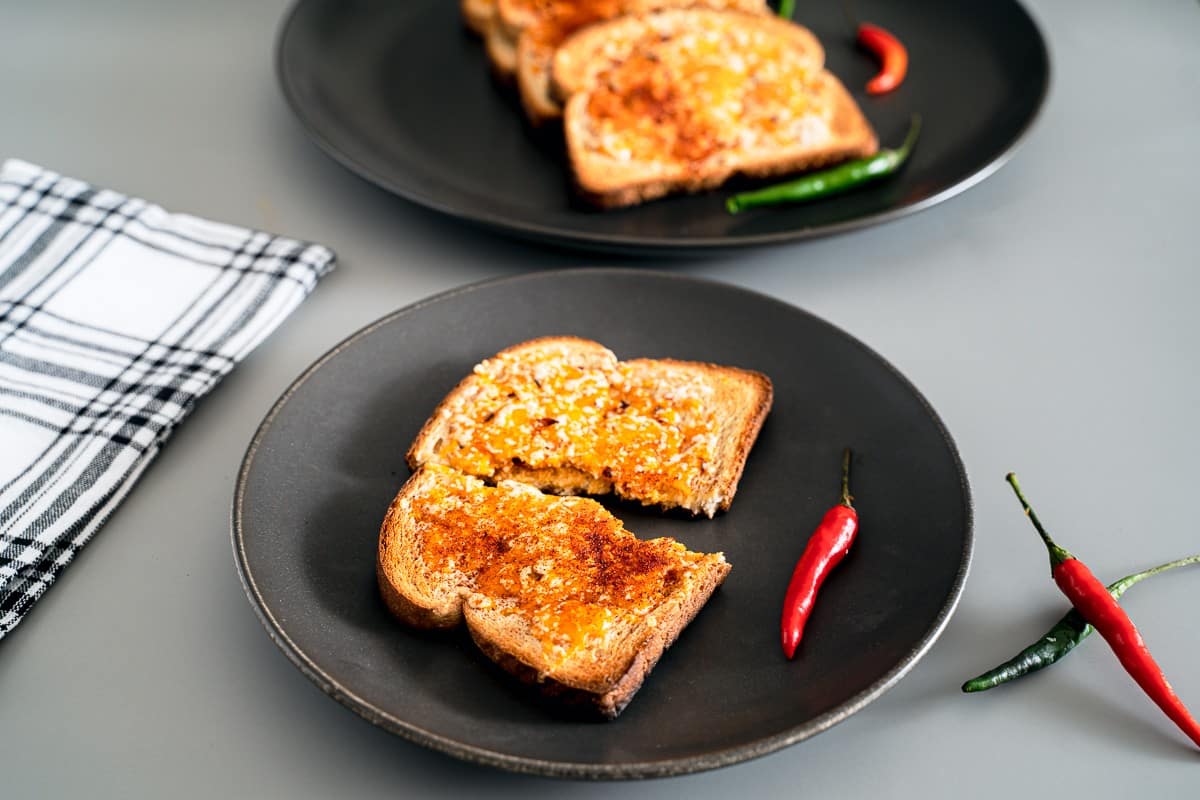 The great thing about this recipe is that you can adapt it to your tastes and preferences. If you love hot, spicy foods, you can easily add more spice.
If heat isn't your thing, you can just cut back on the spices. The proportions I recommend here make a mild toast.
You can also play around with the cheeses. Mozzarella melts beautifully, so I recommend continuing to use it, but you don't have to use smoked mozzarella, like I do here.
You can also swap the sharp cheddar cheese for a pepper jack, a smoked gouda, or an asiago. Try different combinations to find the one that you like the best!
If you want a real kick of heat, thinly slice a few chili peppers and place them on the finished toasts as soon as you take them out from under the broiler.
If you leave the seeds in the peppers when you do this, you'll get a really hot kick. If you take them out, the chilis will be less hot (but still pretty hot!).
The oils from the chilis can burn your eyes and mouth, so wash your hands well after handling them or use gloves.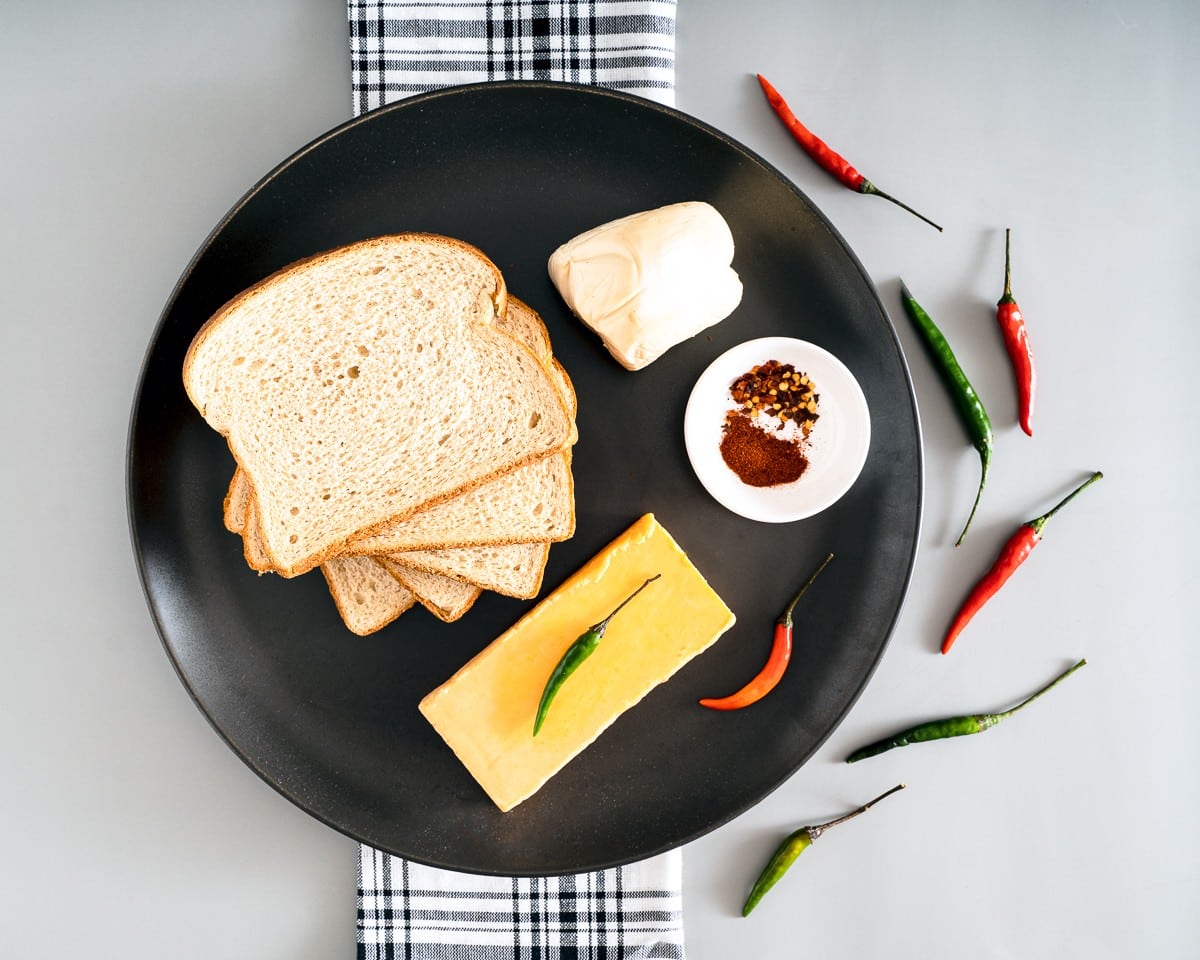 Ingredients:
Smoked Mozzarella
Sharp Cheddar
Chilis (optional)
Smoked Paprika
Chili pepper flakes
Sandwich bread or any crusty white bread
How To Make Chili Cheese Toast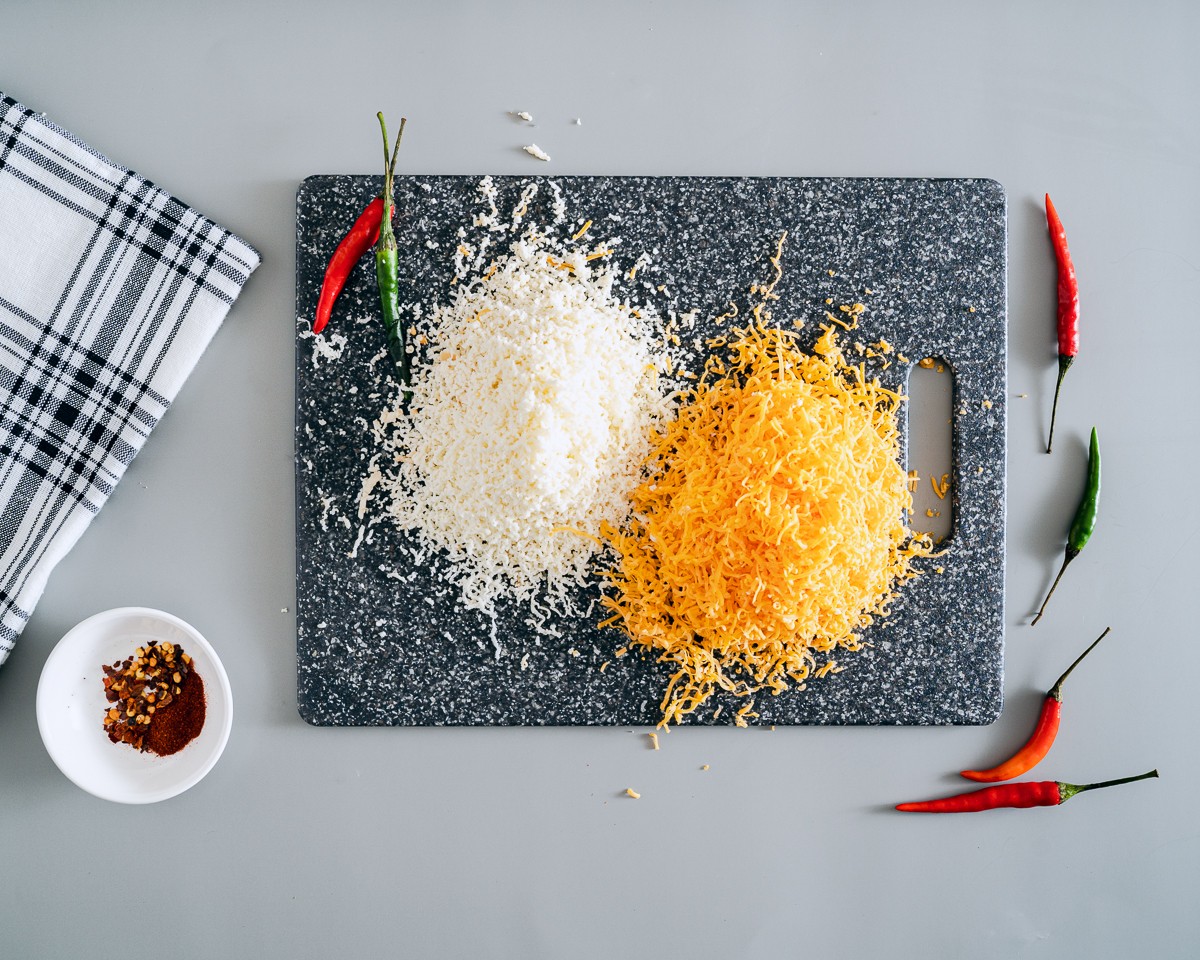 Prepare the cheese: Using a cheese grater or box grater, grate the mozzarella and cheddar cheese and toss with spices to combine. Set aside.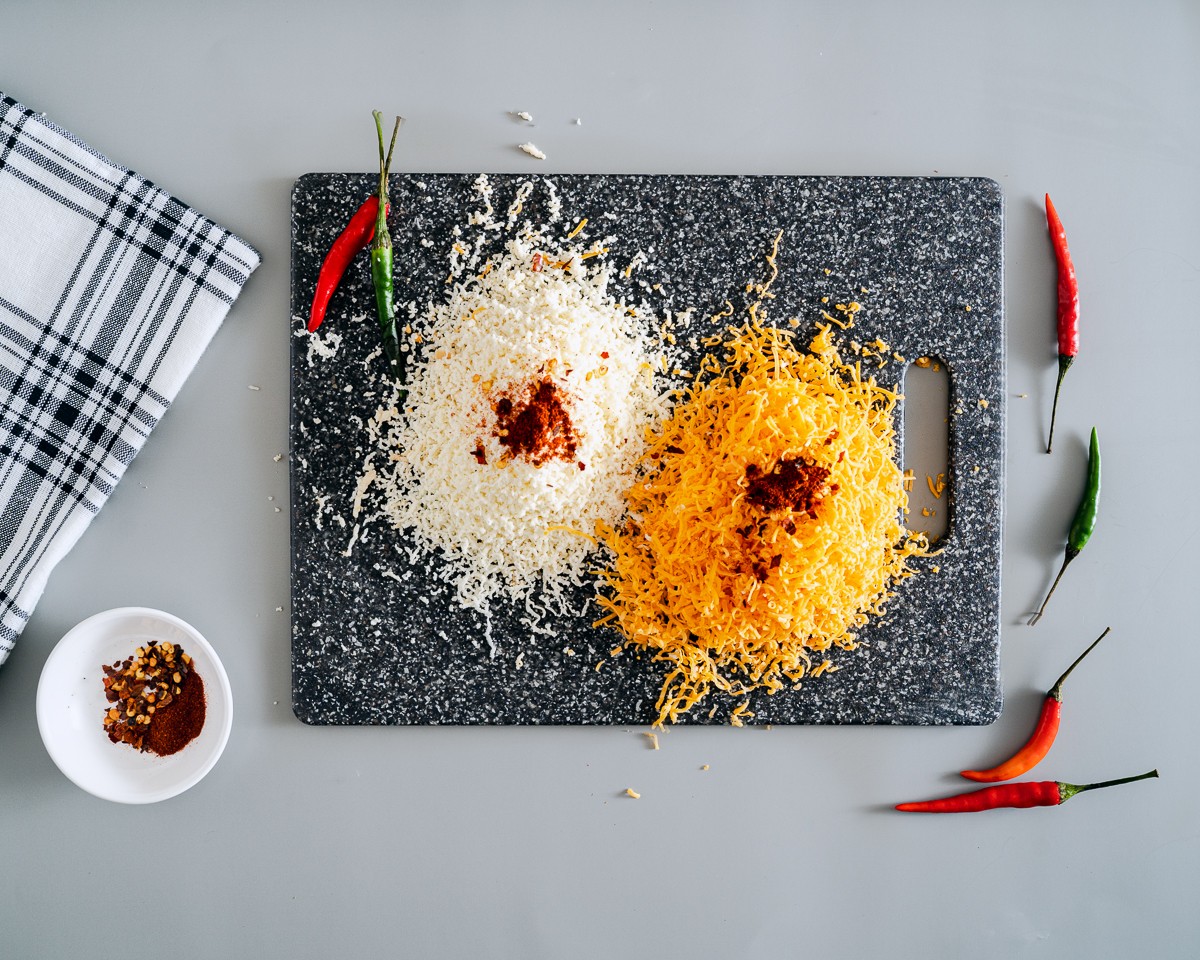 Prepare the toasts: We need to toast both sides of the bread, so we will first toast one side without any cheese before toasting the other side with cheese.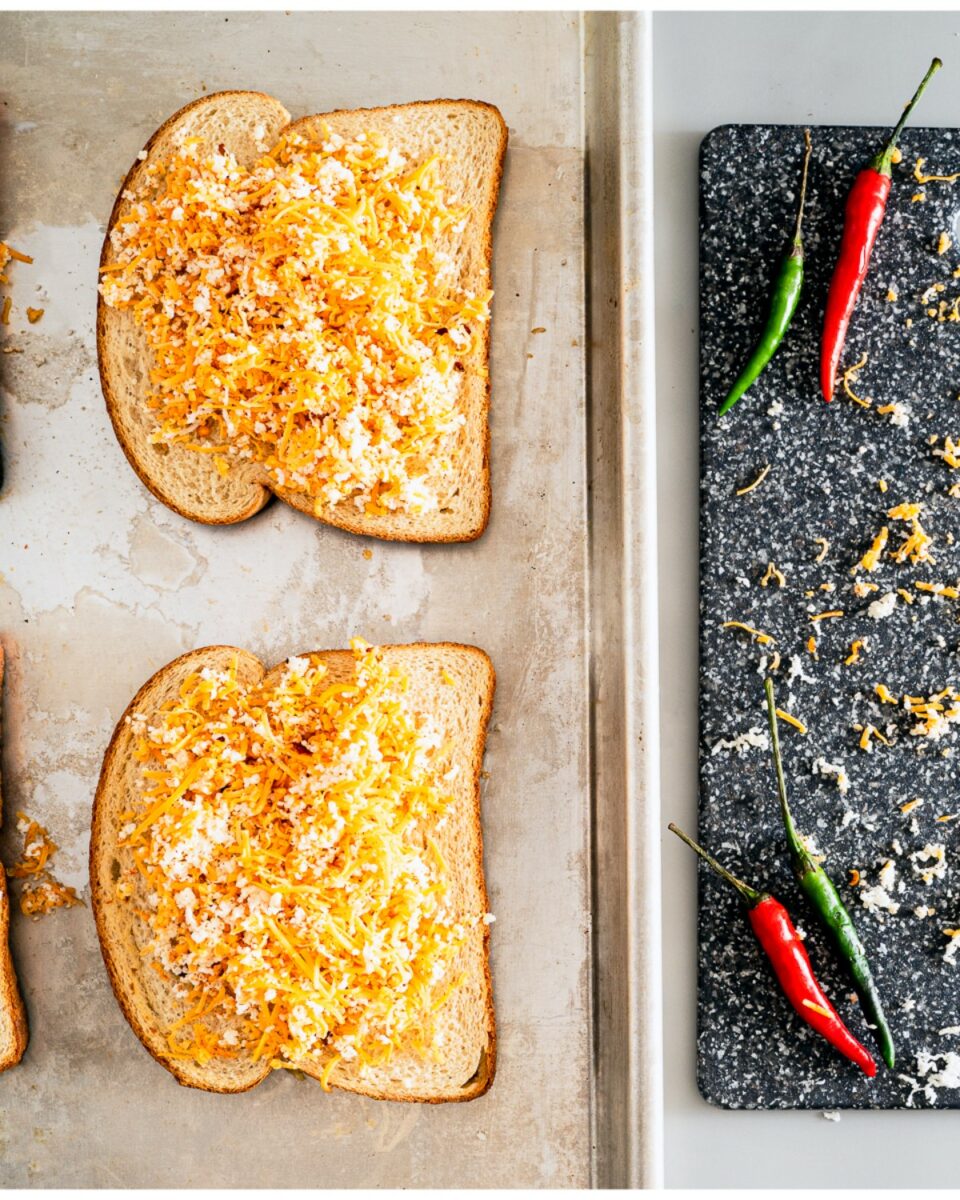 Heat your broiler. Place slices of bread on an unlined baking sheet and put them in the oven for 1-2 minutes or until they just begin to take on color.
Remove from the oven and flip to the other side. Arrange cheese on the toasts and put them back in the oven for 1-2 minutes, or until the cheese just begins to melt.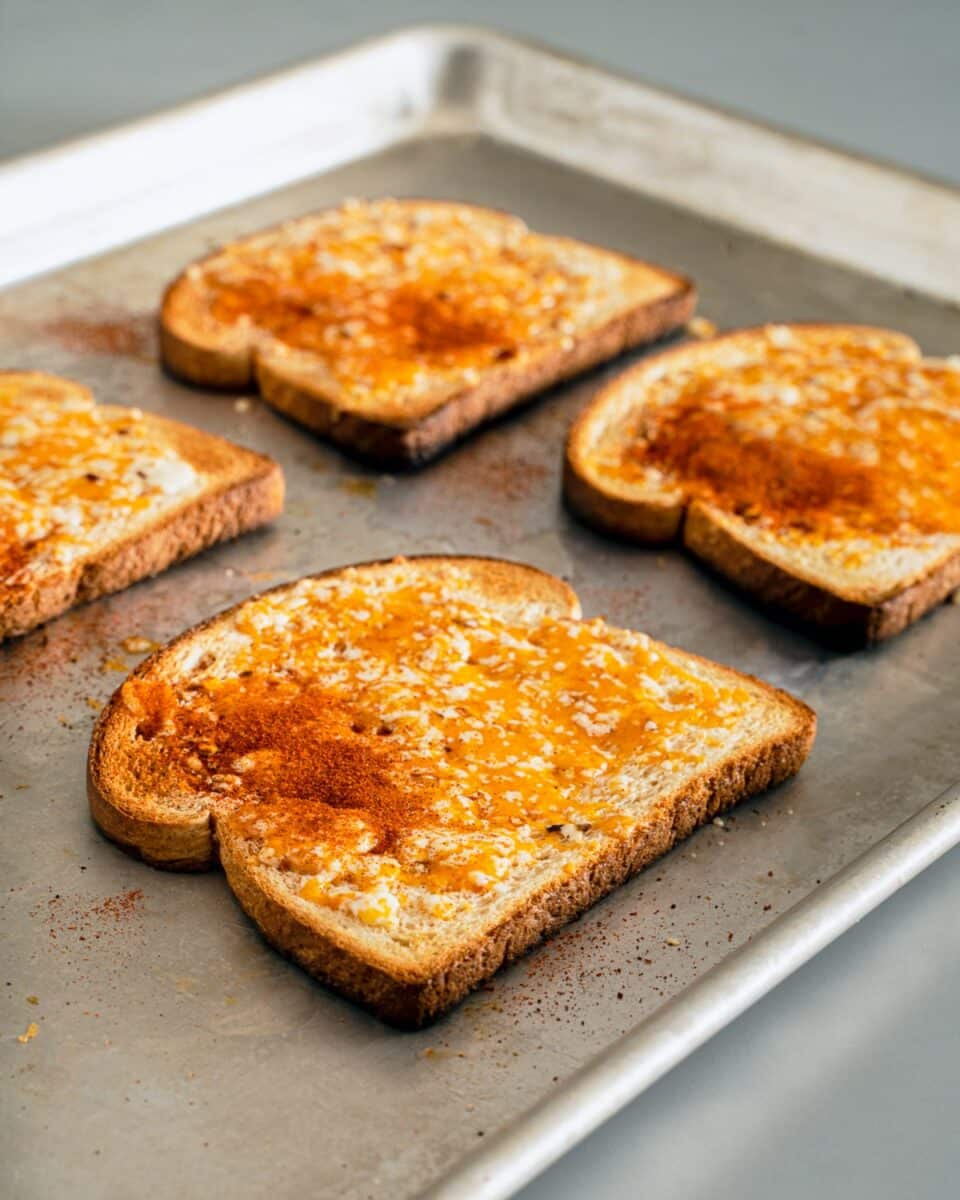 Assemble the toasts: After removing the melted cheese toasts from the oven, dust with smoked paprika to taste. Serve immediately.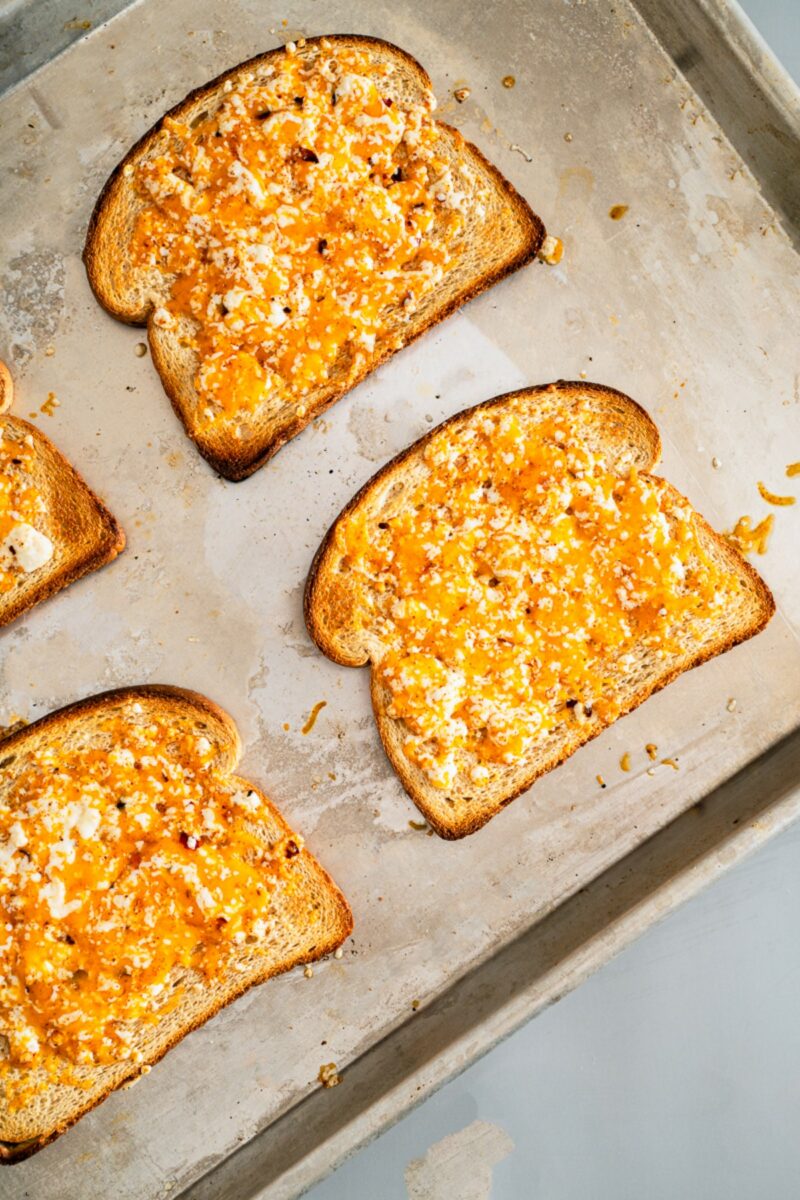 Can I use pre-grated cheese?
I highly recommend grating your own cheese. The cheese will melt better and your final product will taste better.
Shredded cheese is often coated in potato starch and other agents that keep it from clumping. Shredding your own takes just a few extra minutes and is well worth the effort (but no judgment if you use shredded to get your cheese-fix sooner!).
Can I reheat chili cheese toast?
While chili cheese toast is best eaten shortly after it's been made, you can reheat any leftovers that you have stored in the fridge. I recommend using the oven rather than the microwave so that the toasts retain their crispiness.
Preheat an oven to 350ºF and place the toast in the oven for a few minutes. The idea is to heat up the toasts but not to toast them again, so avoid using the broiler.
I really don't like smokey flavors. Can I substitute those ingredients?
Yes! Smoky flavors can be a bit polarizing, and if you don't like the flavor, substitute regular mozzarella and sweet paprika for their smoked counterparts. The flavors will be bright, crisp, and spicy, rather than deep, smokey, and spicy. It's all up to your personal tastes!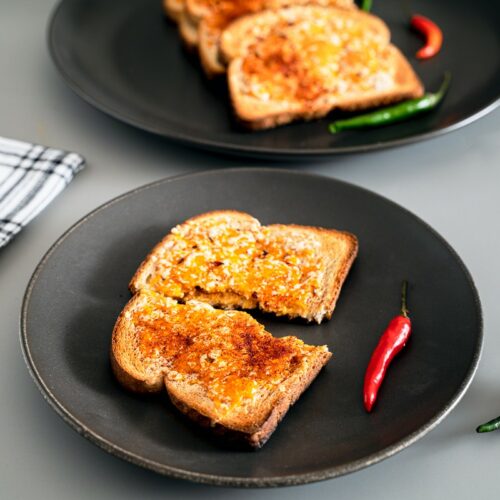 Chili Cheese Toast
Chili cheese toast is the perfect recipe for when you want something cheesy and spicy right now. Freshly grated smoked mozzarella and sharp cheddar cheese are tossed with smoked paprika and chili pepper flakes, then melted on bread placed under the broiler. In just a few minutes, you'll have a delicious cheesy dish that is easily adaptable to your tastes, and can be made for just yourself or scaled up for a crowd.
Ingredients
1

cup

shredded smoked part-skim mozzarella

1

cup

shredded sharp cheddar cheese

1

tsp

smoked paprika

plus more for dusting

1

tsp

chili pepper flakes

1-2

chili peppers

(optional)

4

slices

sandwich bread or other white bread
Instructions
Preheat your oven's broiler. If it has heat settings, set it to low.

Grate smoked mozzarella and sharp cheddar cheese until you have 1 cup shredded of each cheese.

Toss cheese with 1 teaspoon smoked paprika and 1 teaspoon chili pepper flakes. Set aside.

Place 4 slices of bread on an unlined baking sheet and place under the broiler until the bread starts to toast, 1-2 minutes.

Remove the baking sheet from the oven and flip the slices of bread.

Evenly place cheese mixture on top of the untoasted side of the bread and return the baking sheet to the oven.

Allow bread and cheese to toast for 1-2 minutes, or until the cheese begins to melt.

Remove from the oven and dust with smoked paprika and sliced chili peppers (optional).
Nutrition
Calories:
277
kcal
Carbohydrates:
18.25
g
Protein:
15.96
g
Fat:
15.21
g
Saturated Fat:
8.51
g
Fiber:
1.3
g
Sugar:
3.08
g
Here are a few other recipes you might enjoy!
Arielle is a food and drink photographer based in Washington, D.C. She was previously a social science researcher before she fell in love with photography.