Custard French toast is a decadent brunch dish best saved for a special event or a celebration. Warm and inviting yet easy to make, it is a perfect recipe to be shared when you have a lot of guests.
Eggy challah is soaked for several hours in a maple-egg-cream custard, topped with cinnamon sugar, and then baked in the oven.
What comes out of the oven is a luscious, silky, and sweet experience that is like French toast, bread pudding, and crème brûlée all at the same time. It simply tastes gorgeous.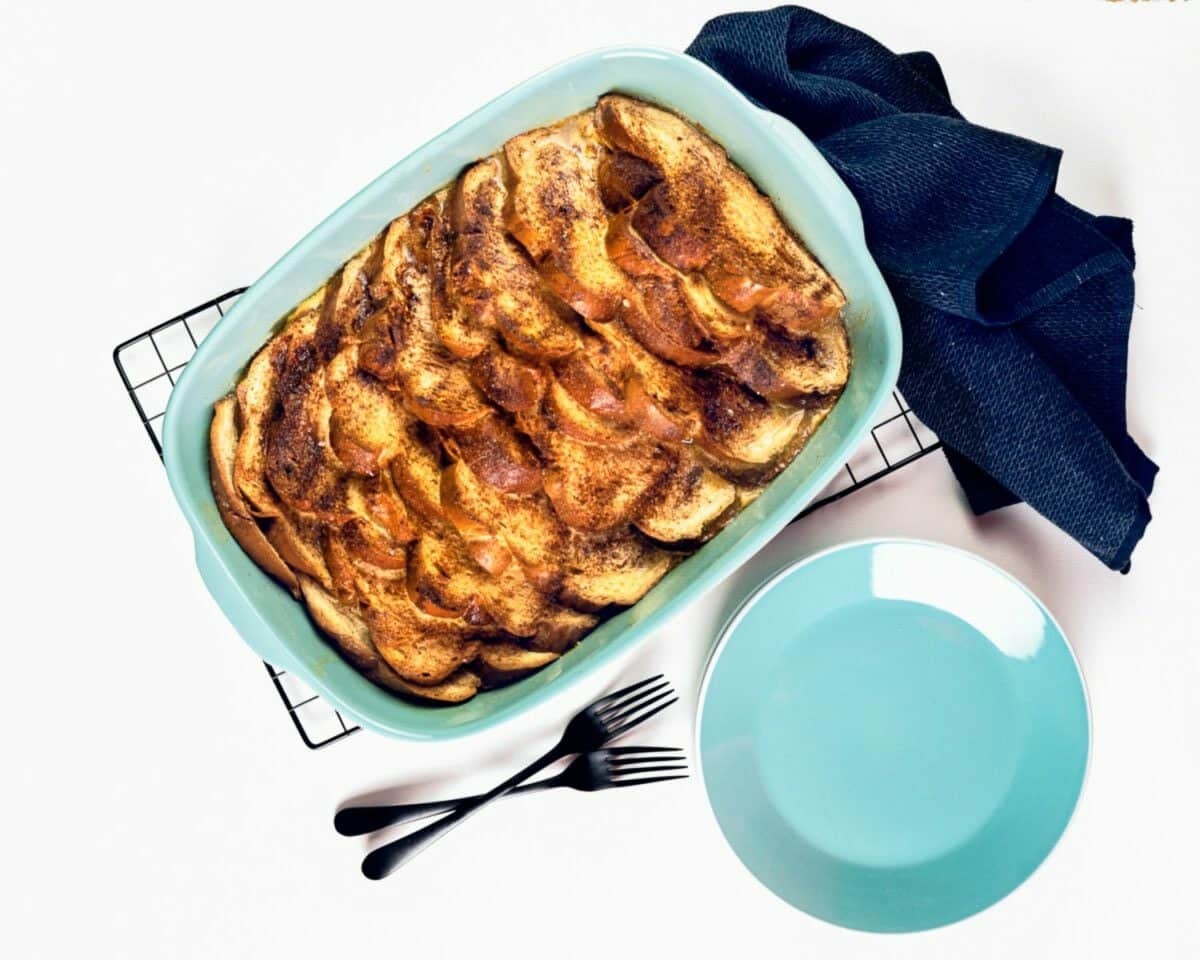 Custard French Toast can be served with maple syrup, caramelized bananas, sautéed peaches, or a berry compote for more textures and flavors.
This dish is deeply flavorful, full of comforting flavors and aromas. Try pairing it with a warm and subtly spiced drink, like a hot cider, cinnamon hot chocolate, or an amaretto coffee.
What You Need to Make Custard French Toast
You will need a few pantry staples for this recipe: eggs, brown sugar, maple syrup, cinnamon, granulated sugar, and salt.
For the bread, I use challah, but you can easily use brioche or another rich bread cut into 1/2-inch to 1-inch slices. Just make sure the bread you use is a day or two old. That staleness helps it better absorb the custard.
You can also substitute half-and-half for the heavy cream, or a mixture of half cream and half whole milk. To get the creamy, custardy texture, we want to use these higher fat liquids, so I would avoid using entirely milk, particularly nonfat, 1% or 2%.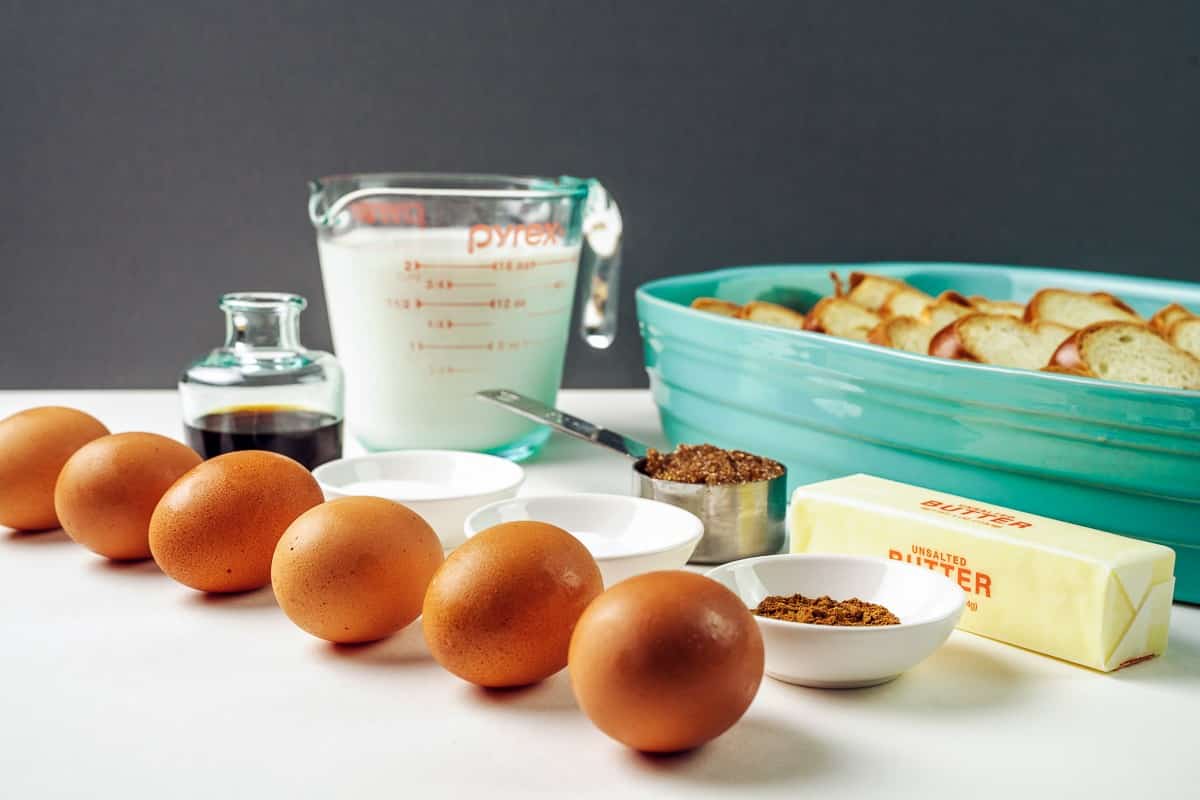 Ingredients:
Large Eggs
Heavy Cream
Maple Syrup
Butter
Cinnamon
Granulated Sugar
Dark Brown Sugar
Salt
How To Make Custard French Toast
Custard French toast is made in three stages, most of which are hands-off.
In the prep stage, you'll make the custard and pour it over the bread. In the soaking stage, you will let the bread soak up the custard for several hours or overnight, and in the baking stage, you bake it!
It's really very simple for something that tastes so complex.
You will need a large mixing bowl, whisk, and large casserole dish.
The only trick to this recipe is patience. The magic happens by letting time pass and allowing your bread to really soak up the custard. Use the extra time to make some drinks, put together French toast toppings, or get ready for your guests.
Make the custard: Whisk together cream, maple syrup, brown sugar, eggs, and salt until smooth.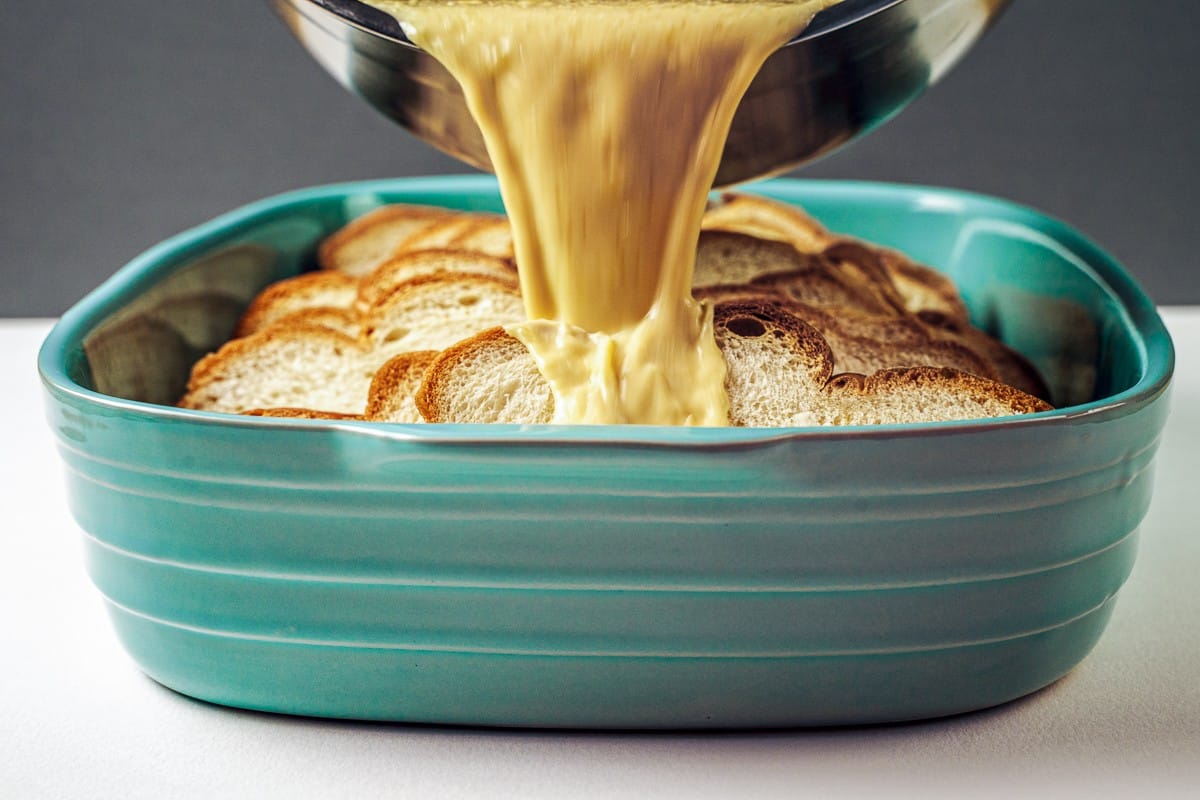 Prepare the French toast: Grease a large baking dish with butter and arrange slices of bread in the pan.
You want to arrange the bread so that the slices overlap slightly and so that 2 slices will fill the width of the pan. The slices should be leaned at a slight diagonal.
Pour the custard over the bread. Toss together cinnamon and granulated sugar, and sprinkle over top of the French toast.
Cover and refrigerate for 3-4 hours, or overnight.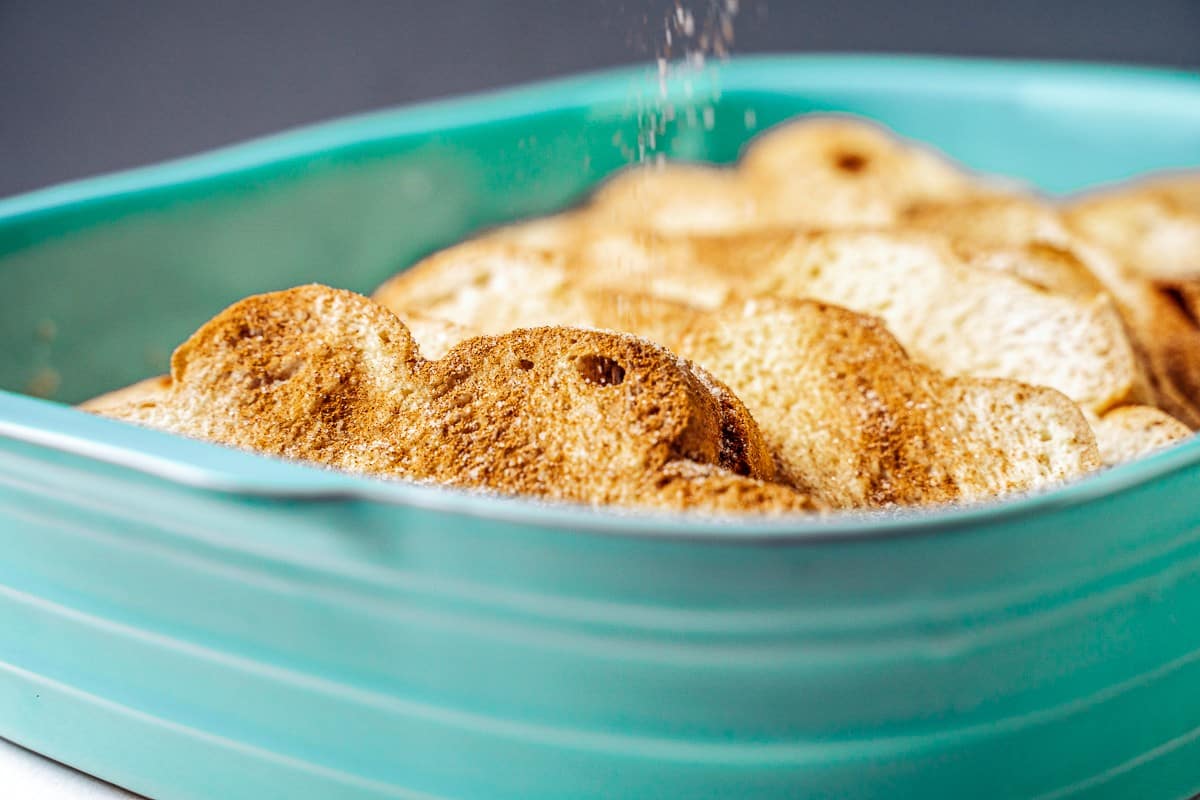 Bake the French Toast: Remove the casserole dish from the refrigerator and allow it to come up to room temperature, about 30 minutes.
Preheat the oven to 350ºF. Bake the French toast for 45-50 minutes.
If the crust of the bread begins to brown too much, tent it with foil. If you bake this dish for longer, it will not be as custardy and pudding-like.
Serve the French Toast: Cut squares of the French toast and serve with maple syrup.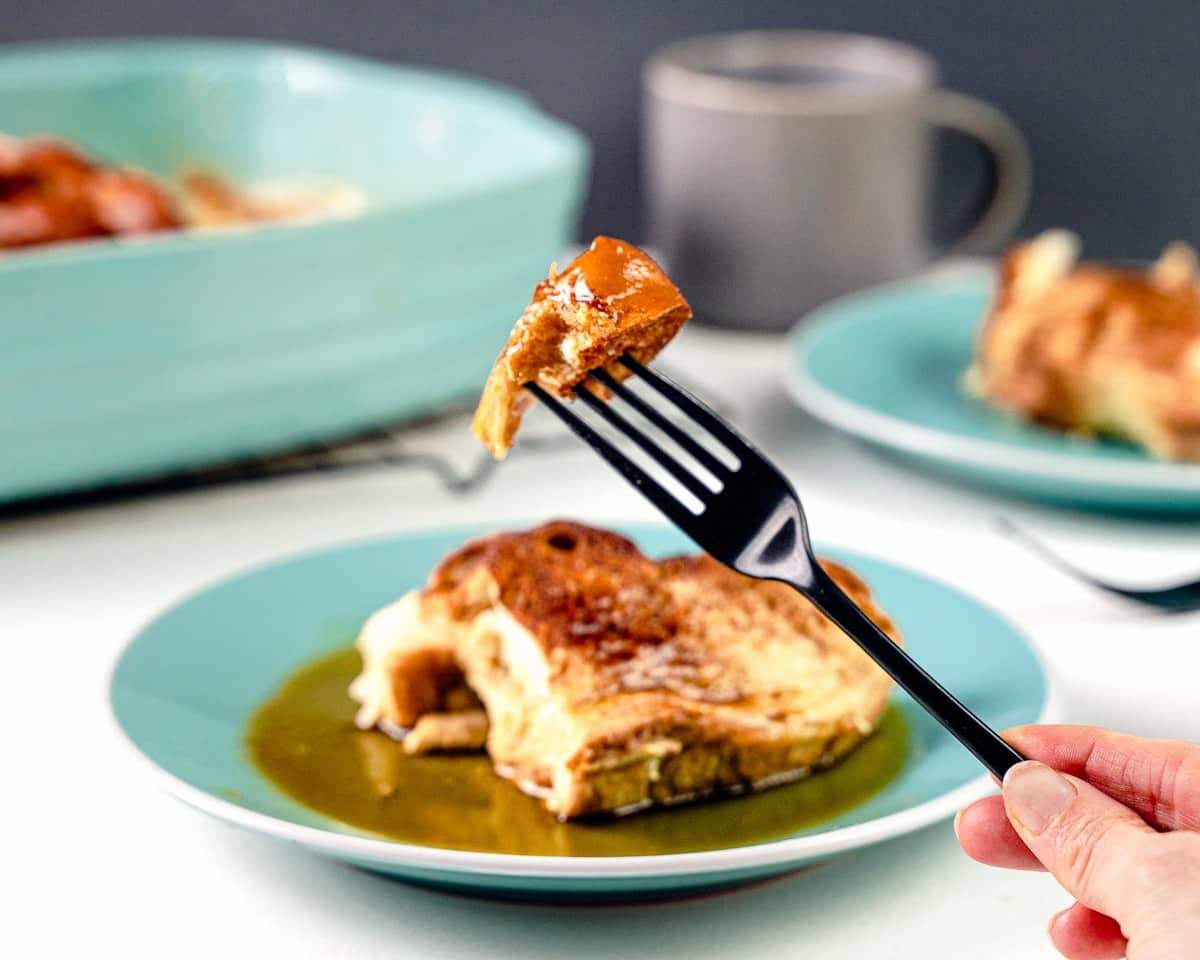 What if I want this to be even more custardy?
This recipe uses slices of bread which I think reflects French toast. However, many recipes call for tearing the bread apart in chunks and soaking the bread to produce an even softer texture. I like how the bread slices retain a slight structure, but you can absolutely make it this way.
Can I reheat custard French toast?
Yes! Leftovers can be reheated in a warm oven (350ºF). If these are still in the casserole dish and have been chilled, allow the casserole dish to warm up before reheating.
You can also warm leftovers in a covered skillet, although you may want to coat the pan in a little butter to prevent the toast from sticking.
Can I freeze this dish?
Yes. This is a good way to make this dish ahead of time. After your dish has cooled, tightly wrap it in a freezer-safe casserole dish and use it within 3 months.
When defrosting, allow it to slowly warm up in the refrigerator, which can take up to a day, and then reheat in a 350ºF oven.
What kind of maple syrup do I need?
I always recommend using real maple syrup in French toast recipes because I don't think the flavor can be beaten. I used a Grade B here, which generally has a darker flavor than Grade A varieties.
This is the kind of depth of flavor we are going for and is also often the cheaper option at the grocery store. But if you prefer maple syrup alternatives, use your favorite brand, or try subbing in dark honey for a more floral flavor.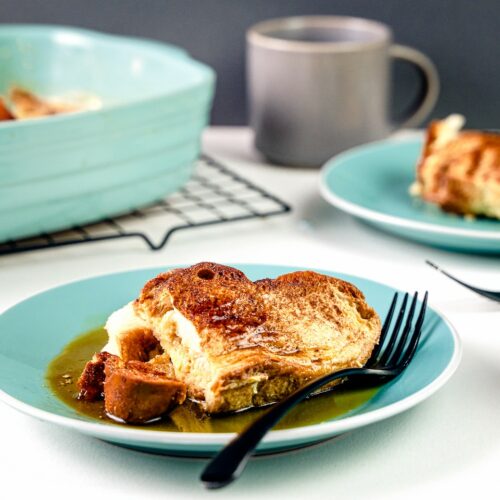 Custard French Toast
Custard French toast is a silky, decadent treat, perfect for a party or a special brunch. Challah is soaked in a maply brown sugar custard and then baked with a cinnamon sugar topping. Served with a healthy pour of maple syrup, this dish is rich, creamy, warm, and custardy—like French toast, bread pudding, and crème brûlée all rolled into one.
Ingredients
1

pound

challah

stale, sliced in ½ -1 inch slices

6

eggs

2

cups

heavy cream

1

tbsp

unsalted butter

plus some for greasing pan

1

pinch

table salt

2

tsp

cinnamon

4

tbsp

granulated sugar

¼

cup

dark brown sugar

¼

cup

Grade B maple syrup
Instructions
Whisk together 2 cups heavy cream, ¼ cup brown sugar, ¼ cup maple syrup, 6 large eggs, and a pinch of salt. Stir together until mixture is well combined.

Grease a large casserole dish with butter.

Arrange slices of bread in the casserole dish and pour over the custard mixture.

Toss together 2 teaspoons of cinnamon with four tablespoons of granulated sugar. Sprinkle over the casserole.

Cover and refrigerate for 3-4 hours or overnight.

Remove the casserole dish from the fridge and allow it to warm up.

Preheat the oven to 350ºF.

Bake the casserole uncovered for 45-50 minutes, tenting with aluminum if the top begins to turn a deep brown.

Remove it from the oven and cut into squares.

Serve with more maple syrup.
Nutrition
Calories:
465
kcal
Carbohydrates:
49.94
g
Protein:
10.93
g
Fat:
25.1
g
Saturated Fat:
11.73
g
Fiber:
1.6
g
Sugar:
24.01
g
Here are a few other recipes you might enjoy!
Arielle is a food and drink photographer based in Washington, D.C. She was previously a social science researcher before she fell in love with photography.