If you (secretly) love sugary kids' cereals, this Fruity Pebbles French toast recipe is for you. The creamy French toast is coated in sweet Fruity Pebbles and topped with vanilla ice cream.
The Fruity Pebbles add a bright, colorful crunch that looks a bit like confetti. What better breakfast dish to celebrate the weekend or for a kid's birthday?
A simple recipe, this is great for a morning when you want to make something special with your kids or take a trip down memory lane to your own childhood breakfasts.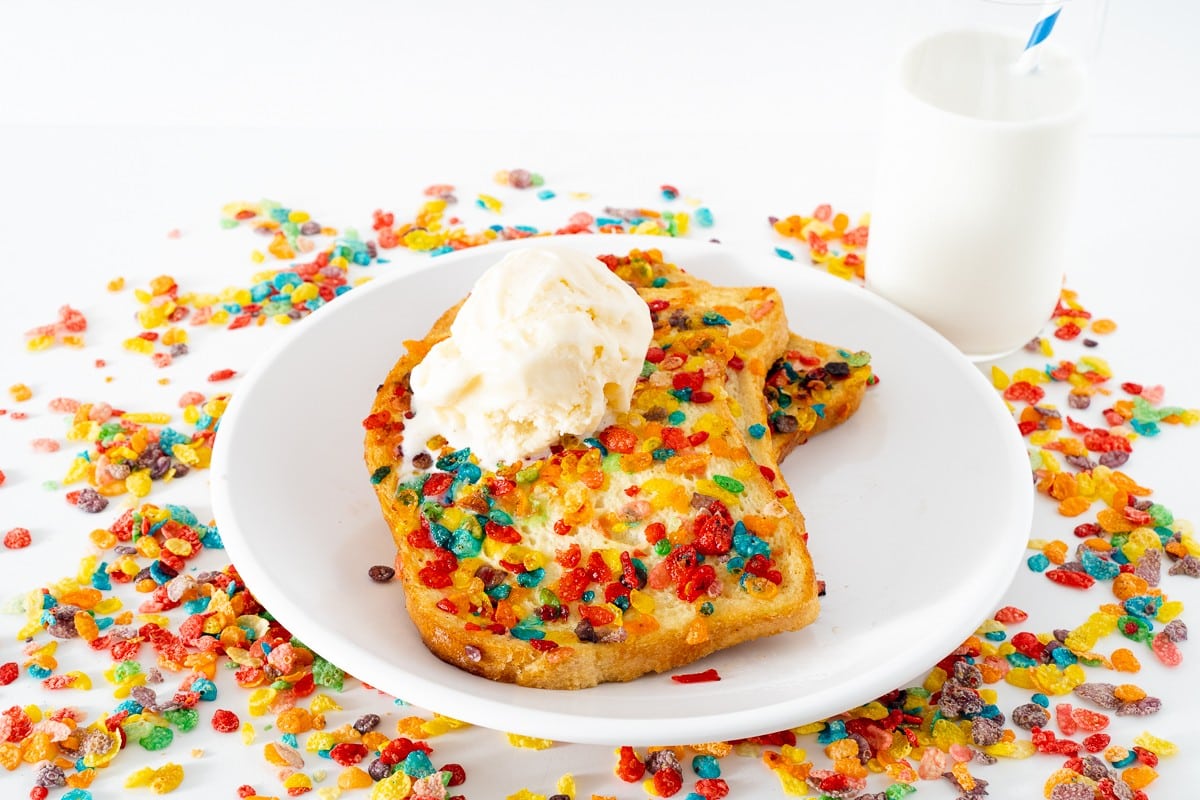 Looking for more French toast recipes? Here are other recipes you might enjoy: Hawaiian Roll French Toast, Blueberry Toast, Strawberry French Toast, Buttermilk French Toast, and Custard French Toast.
Why You'll Love This Recipe
A fun twist to the classic favorite breakfast: This recipe takes the simple, classic French toast and elevates it to a fun breakfast level. The crunchy coating of Fruity Pebbles brings in new textures and flavors, turning a regular breakfast into a special occasion meal.
Quick and easy to make: If you have the ingredients, you can make this delicious dish in no time. It's as simple as whisking eggs, dipping slices of bread, and frying on a medium-high heat. It's perfect for a lazy weekend morning.
Versatile: The best part about this recipe is that it is very adaptable. If Fruity Pebbles are not available, similar cereals like Cocoa Pebbles or crushed Fruit Loops can be used. Also, you can serve this with various toppings such as fresh fruits, cream cheese, or even a drizzle of maple syrup, making every breakfast unique.
Recipe Ingredients
You'll need the following ingredients to make this French toast with Fruity Pebbles: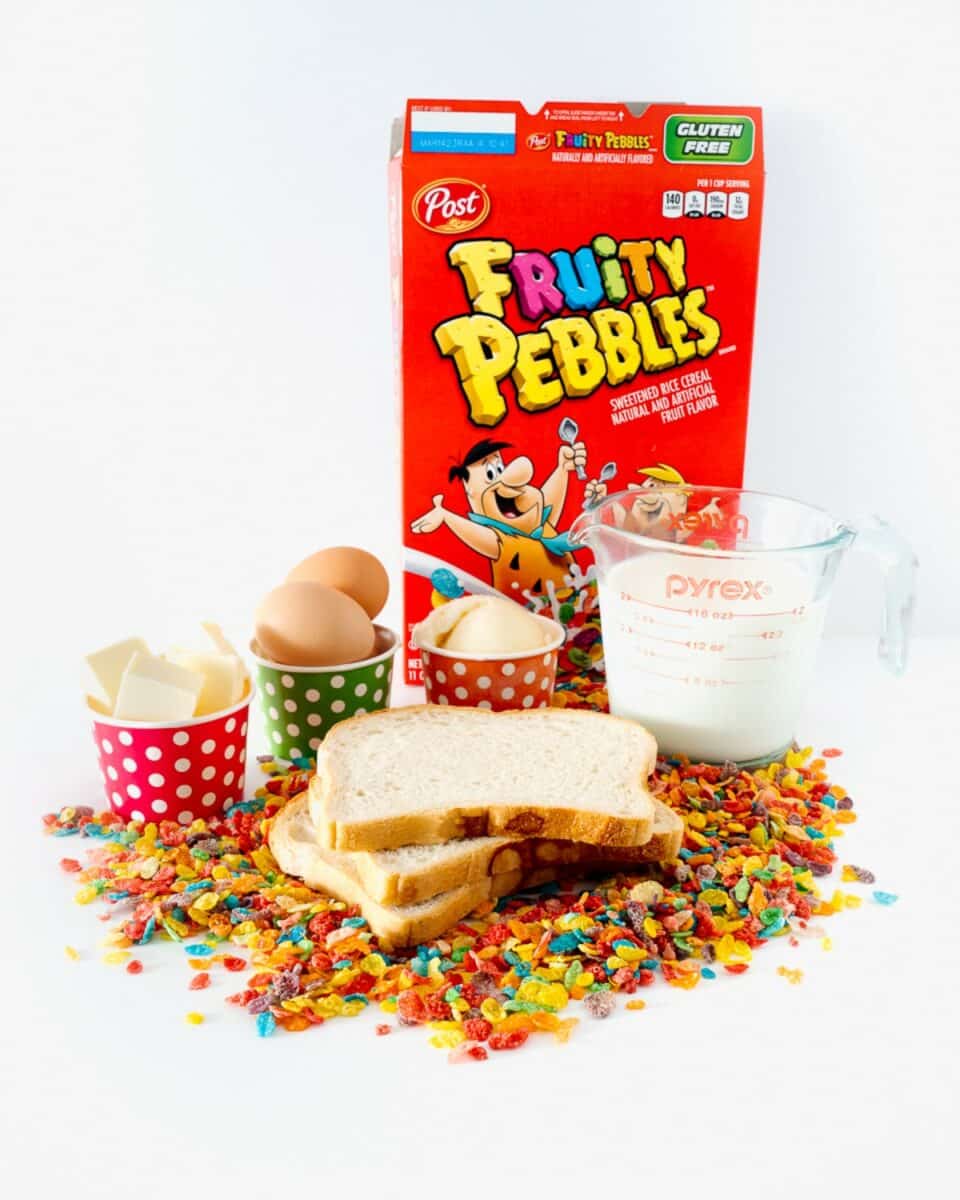 Ingredient Notes
Bread: Regular sandwich bread works perfectly for this recipe. The type of bread you use can affect the final product, so if you want a denser and richer French toast, try brioche or challah.
Heavy Cream: This recipe calls for half-and-half, but you can substitute it with heavy cream for a richer taste. It also helps in achieving a golden brown color when frying.
Butter: This is used to fry the French toast. You can use cooking spray for a lighter version, but butter adds a nice flavor to the dish.
How To Make Fruity Pebble French Toast
Prepare the egg and cream mixture: Whisk together eggs, half-and-half, and vanilla (if using), until well combined.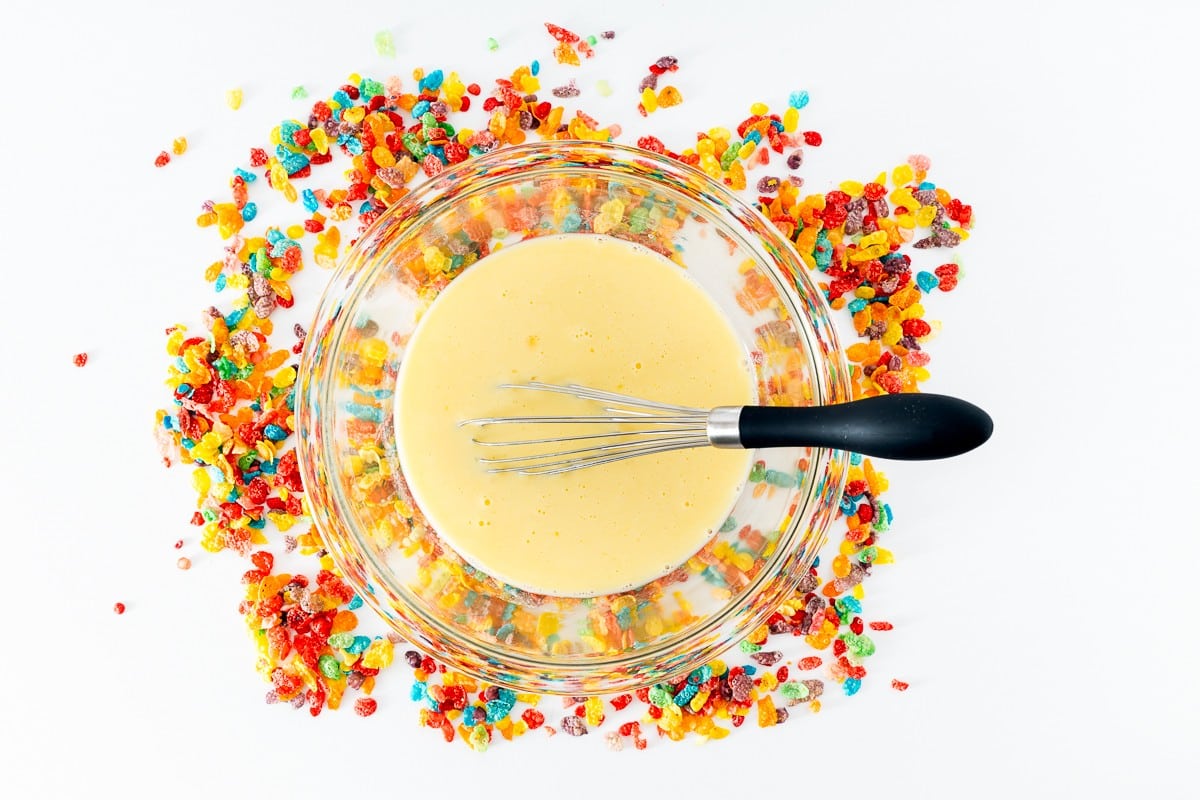 Set up your French toast assembly system: Lay out a baking dish, a Fruity Pebble plate, and a clean plate.
Pour the egg and half-and-half mixture into a shallow baking dish.
Pour 2-3 cups of Fruity Pebbles onto one plate. You may need to add more cereal as you prepare your toasts. The clean plate is where your coated toasts will wait to be cooked.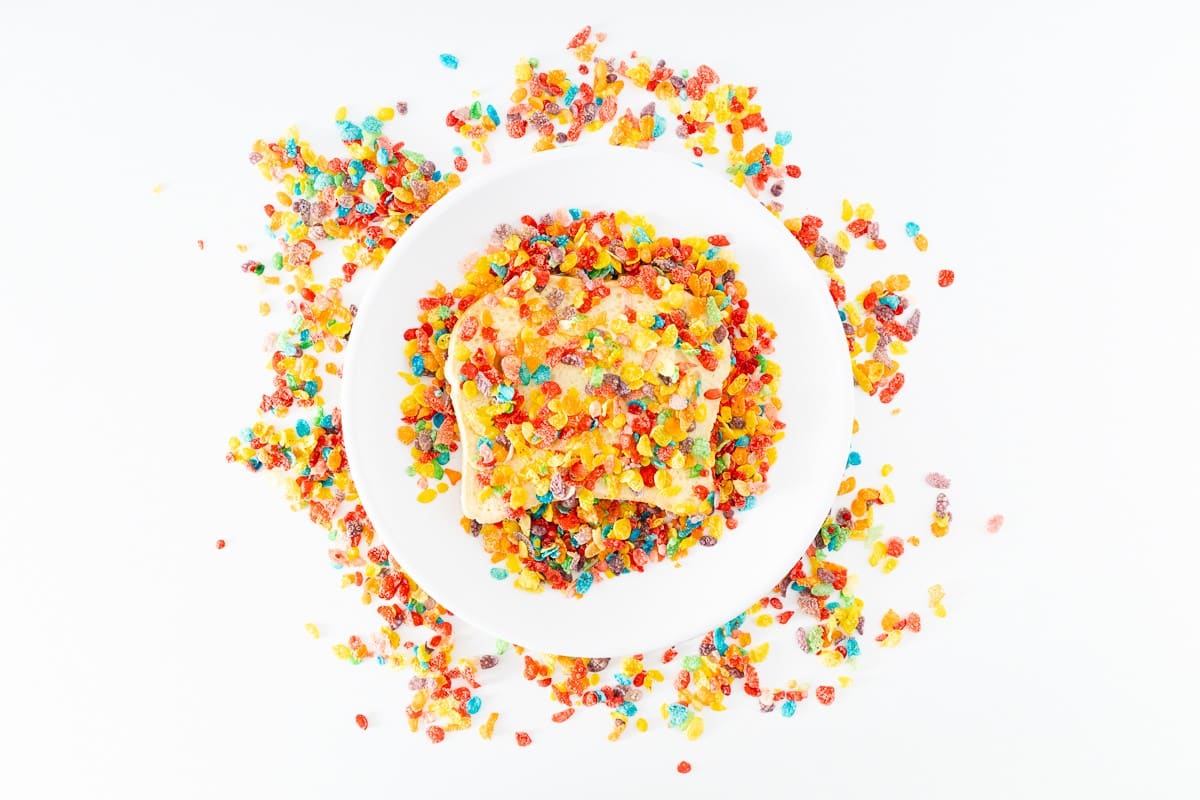 Prepare the French toasts: Dip (do not soak) each slice of bread in the egg and half-and-half mixture.
Put the dipped bread into the Fruity Pebbles, flipping the bread several times. You may need to pat Fruity Pebbles into the bread to ensure they are evenly and fully coated.
Place these slices on the clean plate until you are ready to use them. I recommend only preparing 1-2 toasts at a time so that you don't have to stack them.
When you are coating the toasts, you should also be heating your non-stick pan with butter.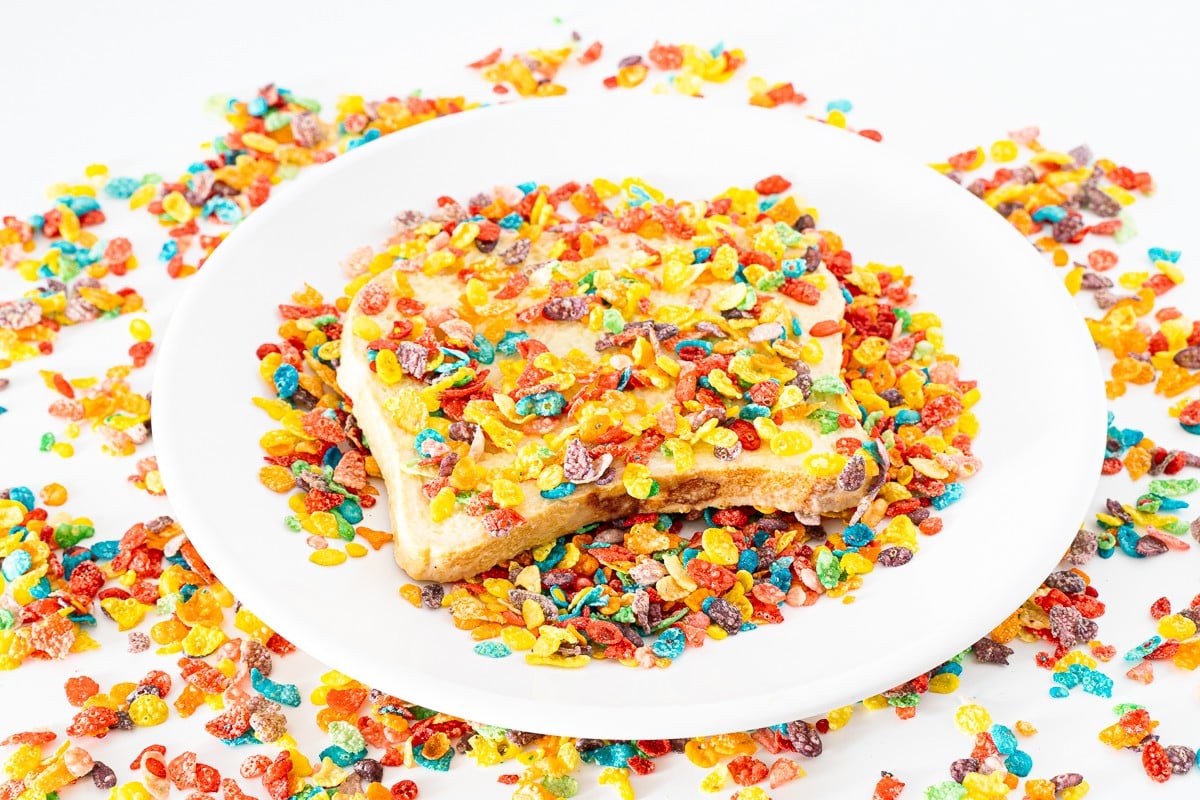 Make the French toasts: Heat 1 tablespoon of butter in a non-stick skillet on low-medium heat. Once the butter has melted, place the bread in the skillet allowing the cereal to toast, but not burn.
Flip the toast and fry the other side. Cook 1-2 toasts at a time depending on the size of your pan. In between batches, wipe down the skillet to remove any cereal that has fallen off.
Assemble the French toasts: Put the French toasts on a plate and top with a scoop of ice cream or frozen yogurt. Serve immediately.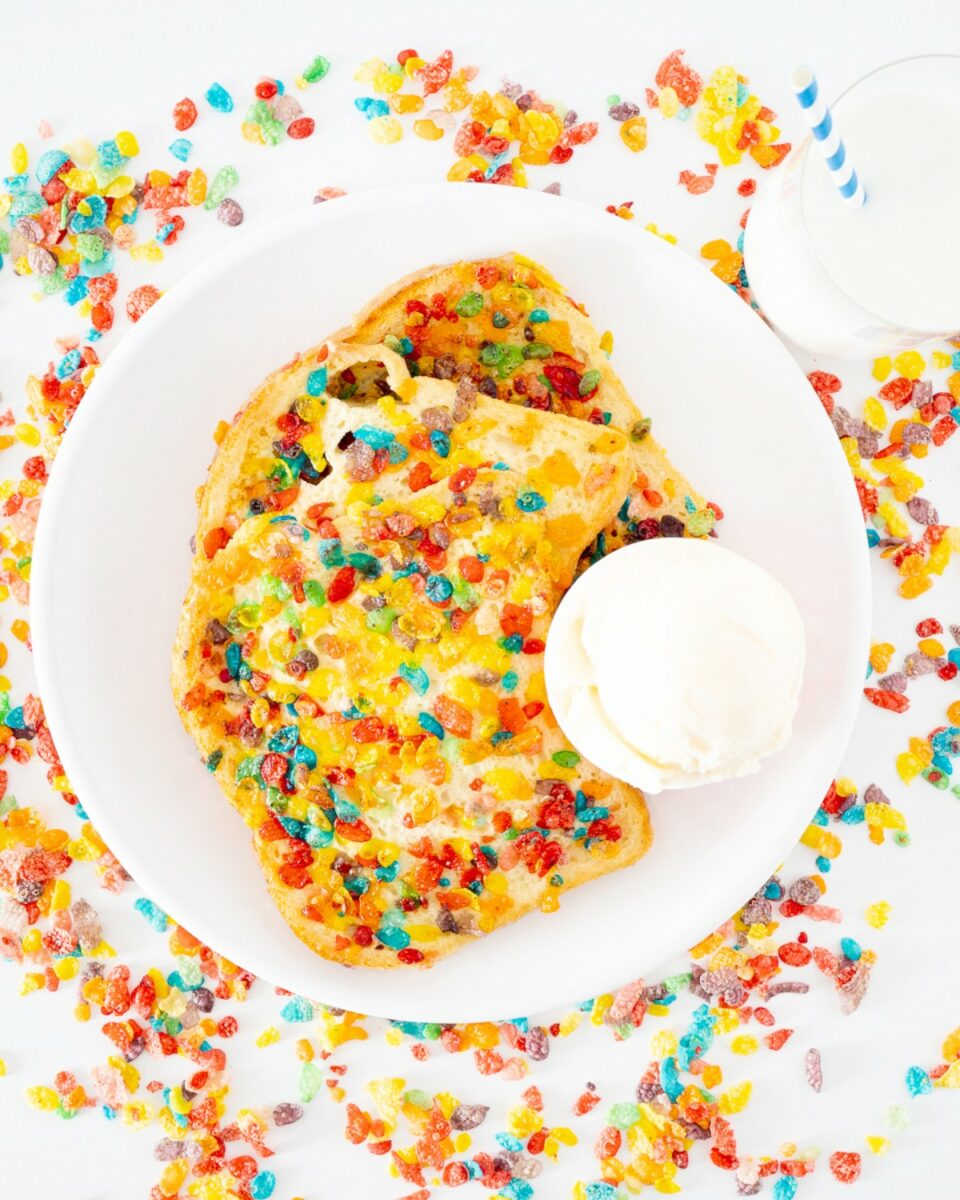 Recipe Tips
Dip, don't soak, the bread slice in the egg mixture. Soaking may cause the bread to become too soggy, resulting in a mushy French toast.
Cook your cereal-coated French toast on medium heat. A hot skillet helps achieve a crispy cereal coating, but too high heat can burn the Fruity Pebbles.
This recipe is best when served fresh. The Fruity Pebbles maintain their crunch and the toast is at its most flavorful.
Storage & Reheating
Store any leftover Fruity Pebble French Toast in a freezer bag. They can be frozen and later reheated for a quick and easy way to enjoy this fun breakfast any day of the week. To reheat, you can use an oven or an air fryer. For oven, preheat to 350ºF and warm the frozen French toast for a few minutes. For air fryer French toast, set the temperature at 360°F and heat for around 3-5 minutes or until warm.
Additions & Substitutions
While Fruity Pebbles are the star of this dish, other cereals can also provide a new twist. Cocoa Pebbles or similar cereals like Fruit Loops can be used instead. For a dairy-free version, replace half-and-half with a non-dairy alternative like almond or coconut milk, and use a non-dairy butter substitute for frying. Regular bread can also be swapped out for challah or brioche for a richer taste.
Recipe FAQs
What should I serve with this cereal French toast recipe?
This cereal French toast can be served with a variety of accompaniments. You can enjoy it with whipped cream, fresh fruits like berries or banana slices, or even a dollop of cream cheese. For a special occasion breakfast, try serving it with a dusting of powdered sugar, or even a little bit of maple syrup. Remember, the idea is to make this a good breakfast that's also a fun breakfast!
What if I don't have vanilla extract?
If you have vanilla beans, you can scrape a few seeds into your egg mixture. However, if you only have artificial vanilla, omit it. It can have a very strong flavor, and you will already have vanilla flavor from your ice cream.
---
Here are some other French toast recipes you might enjoy!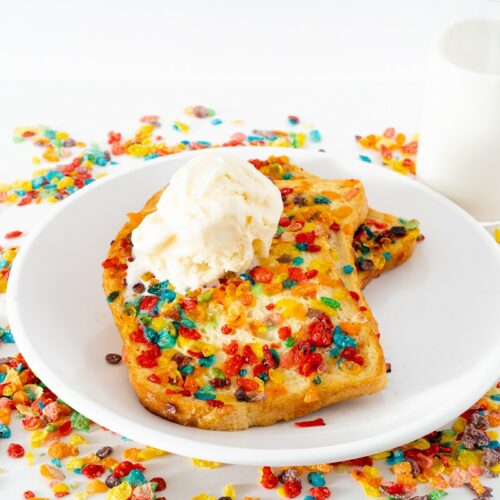 Fruity Pebble French Toast
A sweet, crispy, creamy reboot of a breakfast classic, Fruity Pebble French toast turns a bowl of cereal into French toast. Bread is coated in crunchy colorful cereal, cooked in butter and topped with ice cream. It is as fun to look at as it is to make and eat. Try making it with kids or friends for a fun breakfast on the weekend.
Ingredients
3

large eggs

1

cup

half-and-half

3

cups

Fruity Pebbles

8

slices

sandwich bread

vanilla extract

(if using)

4-8

tbsp

butter

2

cups

vanilla ice cream

to serve
Instructions
Whisk together 3 eggs, 1 cup of half-and-half, and vanilla, if using. Pour into a shallow baking dish.

Put 2-3 cups of Fruity Pebbles on a plate. Set out an additional clean plate.

Heat 1 tablespoon of butter in a non-stick pan on low-medium heat.

Dip (do not soak) bread in egg and half-and-half mixture.

Coat bread in Fruity Pebbles, flipping the bread to ensure it is coated in cereal. Pat on additional cereal if necessary.

Once the butter has melted, fry 1-2 slices of toast in the pan, flipping after 3-4 minutes or once the cereal has started to toast.

Repeat with the remaining slices of bread, wiping out cereal from the frying pan in between batches.

Plate Fruity Pebble French Toast with a scoop of ice cream. Serve immediately.
Nutrition
Calories:
415
kcal
Carbohydrates:
39.42
g
Protein:
9.48
g
Fat:
24.5
g
Saturated Fat:
13.88
g
Fiber:
1.1
g
Sugar:
21.98
g
Arielle is a food and drink photographer based in Washington, D.C. She was previously a social science researcher before she fell in love with photography.