If you (secretly) love sugary kids' cereals, this Fruity Pebbles French toast recipe is for you. The creamy French toast is coated in sweet Fruity Pebbles and topped with vanilla ice cream.
The Fruity Pebbles add a bright, colorful crunch that looks a bit like confetti. What better breakfast dish to celebrate the weekend or for a kid's birthday?
A simple recipe, this is great for a morning when you want to make something special with your kids or take a trip down memory lane to your own childhood breakfasts.
Best served with a glass of cold milk (cereal and milk, anyone?), you can also enjoy this French toast with a fancy latté or a chai. And, you can easily adapt this recipe to feed a few or a crowd.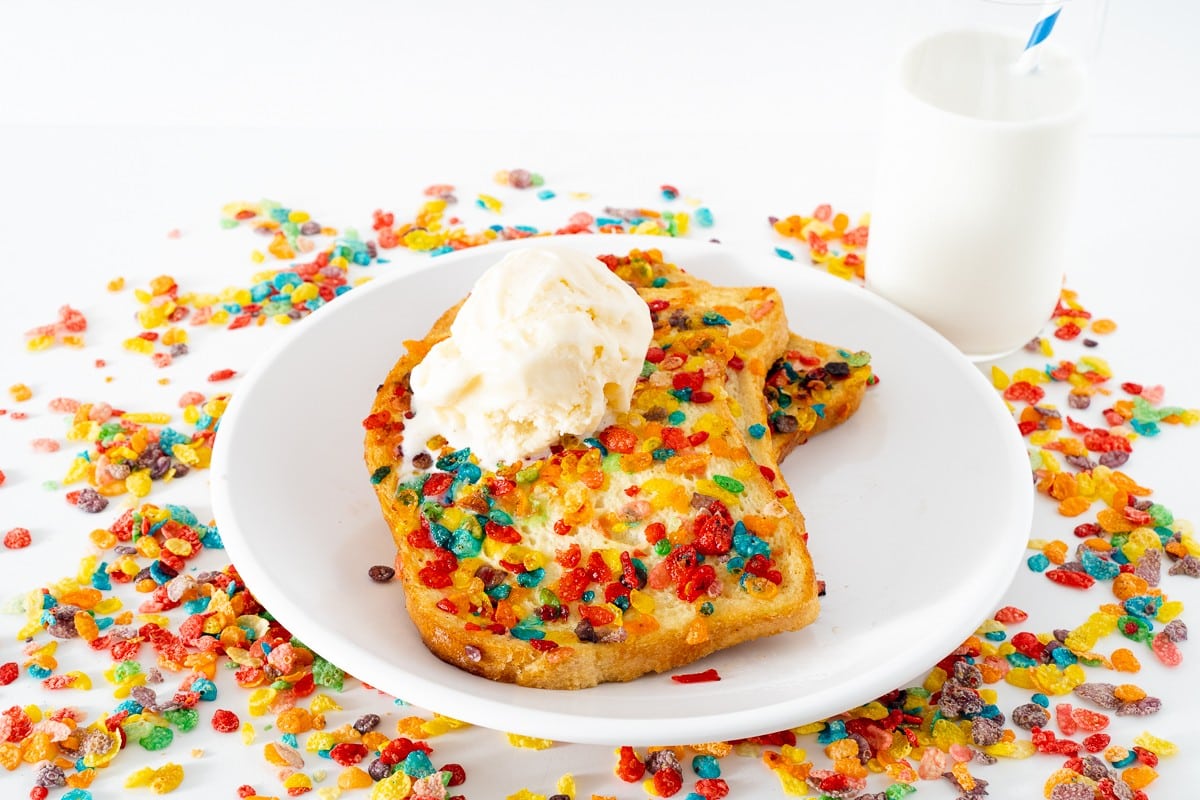 What You Need to Make Fruity Pebble French Toast
Fruity Pebble French toast requires…Fruity Pebbles! But if you can't find them (or a store brand version) or you just want to experiment with other cereals, you can. Flaky cereals work best as a substitute, but you can also crush cereals like Fruit Loops, Apple Jacks, or Honey Nut Cheerios for different textures.
You will need sandwich bread, eggs, butter, and half-and-half for this recipe. If you don't have half-and-half on hand, you can use 2% or whole milk as a replacement. The result will be less rich, but you can add an extra scoop of vanilla ice cream to compensate!
Vanilla frozen yogurt also tastes delicious here, and I sometimes prefer the extra tang that it adds. Vanilla extract is called for in this recipe, but is optional.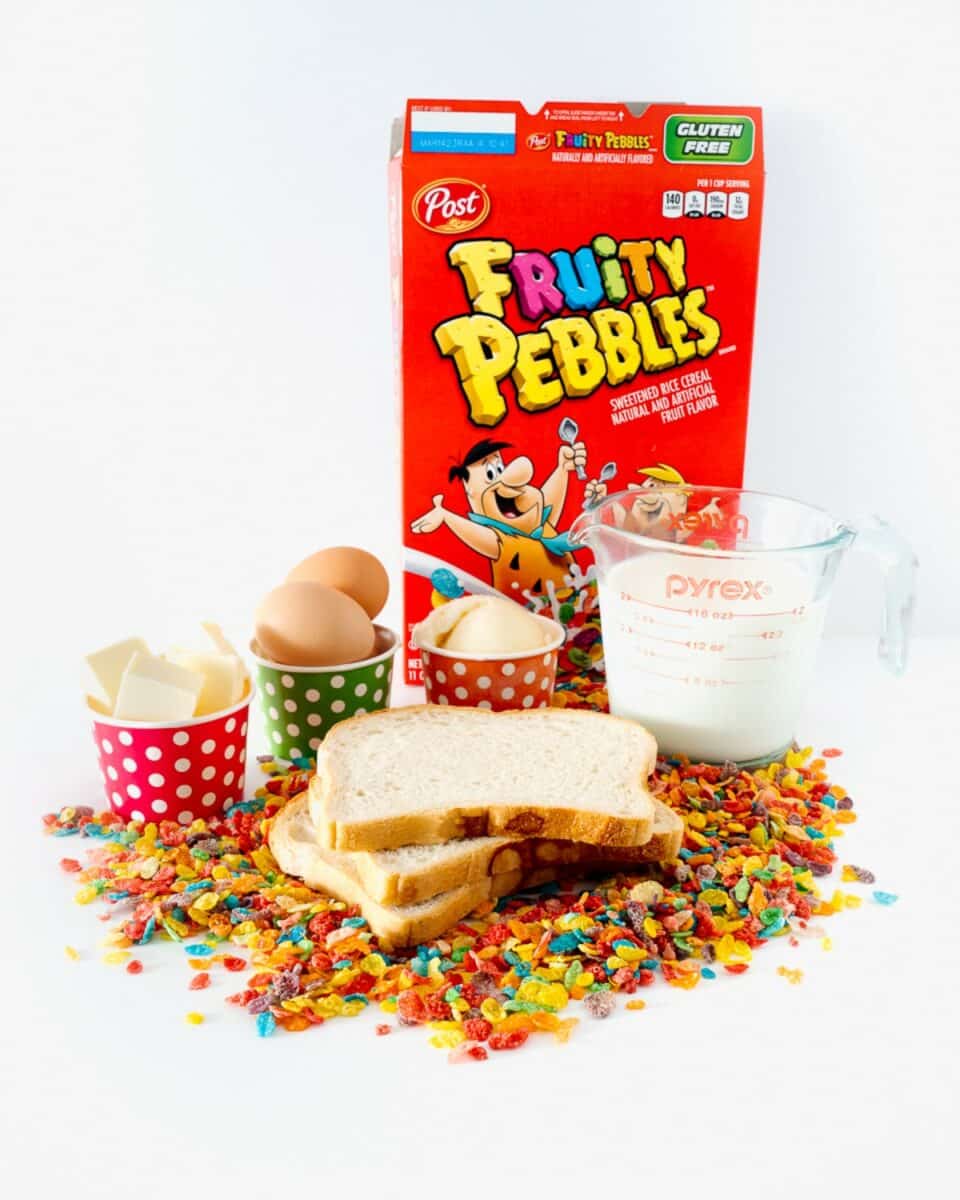 Ingredients:
Sandwich bread
Fruity Pebbles
Half-and-half
Large Eggs
Ice cream or frozen yogurt
Butter
Vanilla (if using)
The tools required for this recipe are a bowl, a whisk, a shallow baking dish, a few plates for coating the toast, and a non-stick skillet.
How To Make Fruity Pebble French Toast
To make this recipe, you'll dip sandwich bread in a creamy egg mixture, and then coat the bread in Fruity Pebbles before frying it in butter.
You want to make sure that you dip the bread and do not soak it. The liquid helps the cereal adhere and adds a nice richness to the bread, but we don't want the bread to get soggy. This process can be a little bit messy, but it's a lot of fun.
When you fry the toast, use low-medium heat. I recommend letting the butter melt but not brown. If the pan is too hot, the Fruity Pebbles will burn.
You may also want to wipe down the pan in between batches to remove any Fruity Pebbles that fell off your toast so that they don't burn also.
Steps:
Prepare the egg and cream mixture: Whisk together eggs, half-and-half, and vanilla (if using), until well combined.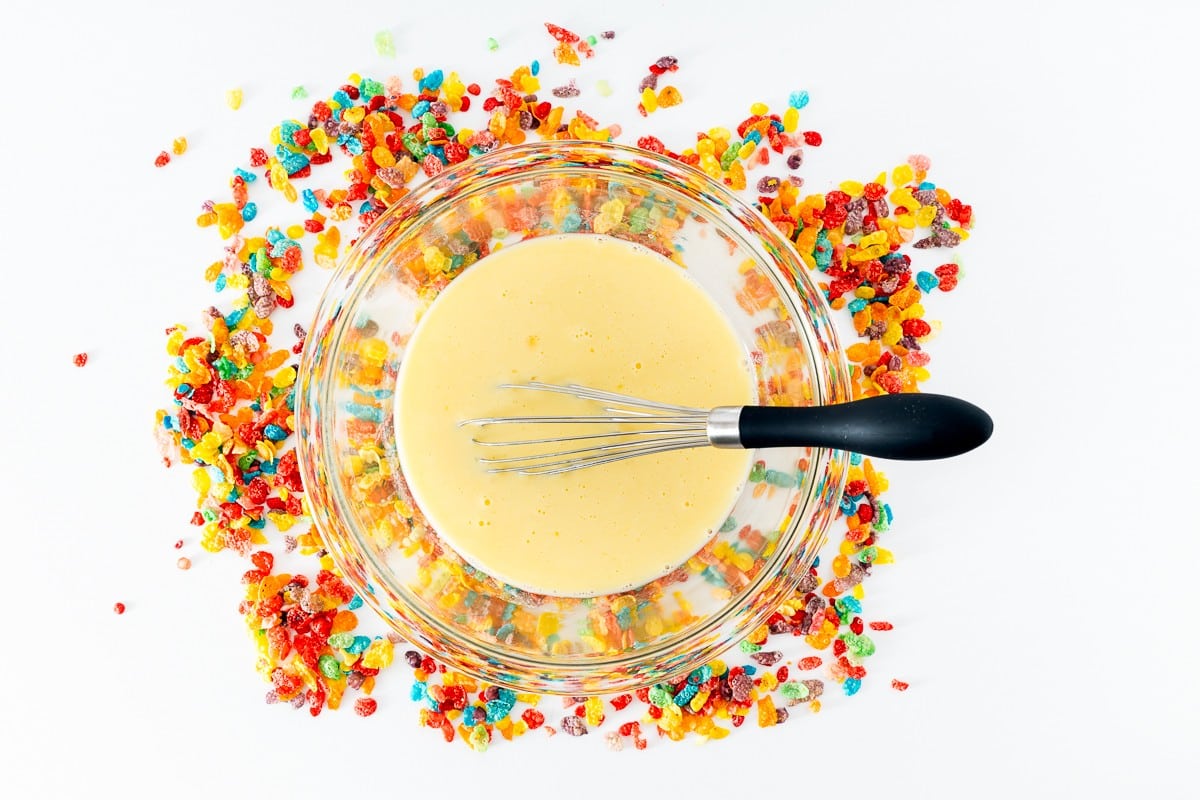 Set up your French toast assembly system: Lay out a baking dish, a Fruity Pebble plate, and a clean plate.
Pour the egg and half-and-half mixture into a shallow baking dish.
Pour 2-3 cups of Fruity Pebbles onto one plate. You may need to add more cereal as you prepare your toasts. The clean plate is where your coated toasts will wait to be cooked.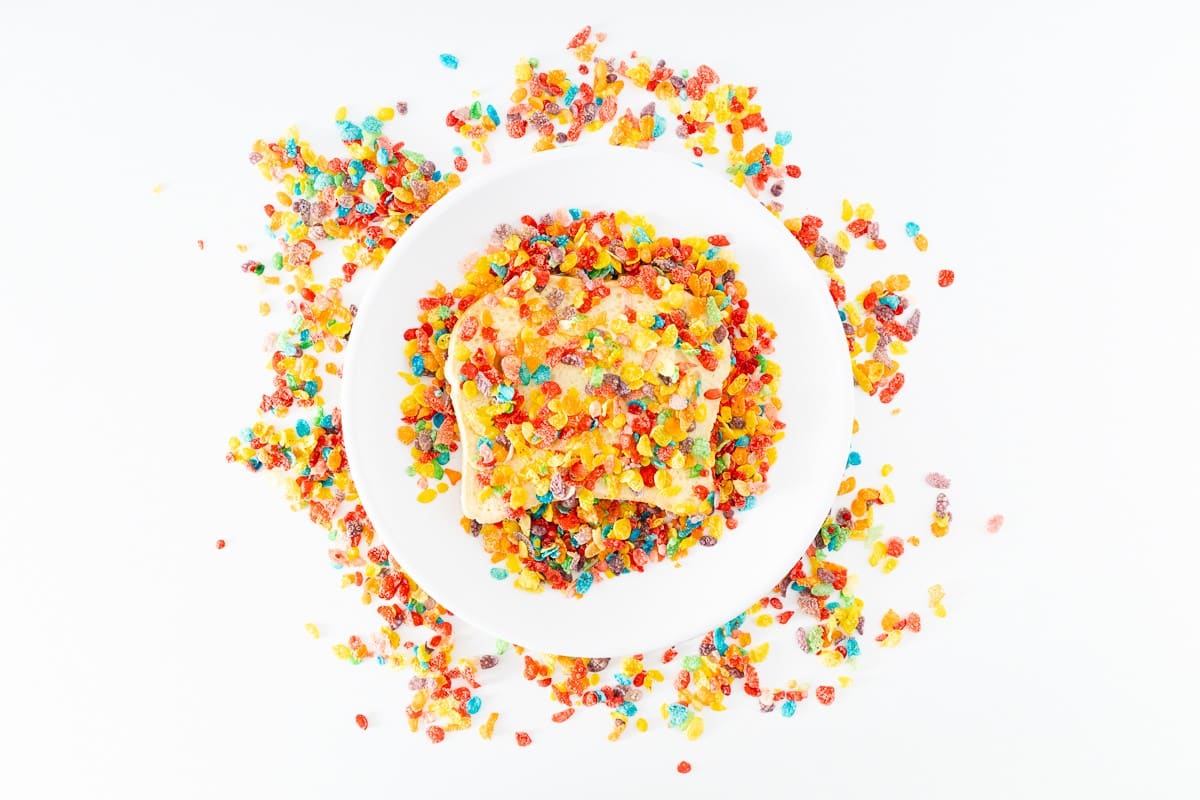 Prepare the French toasts: Dip (do not soak) each slice of bread in the egg and half-and-half mixture.
Put the dipped bread into the Fruity Pebbles, flipping the bread several times. You may need to pat Fruity Pebbles into the bread to ensure they are evenly and fully coated.
Place these slices on the clean plate until you are ready to use them. I recommend only preparing 1-2 toasts at a time so that you don't have to stack them.
When you are coating the toasts, you should also be heating your non-stick pan with butter.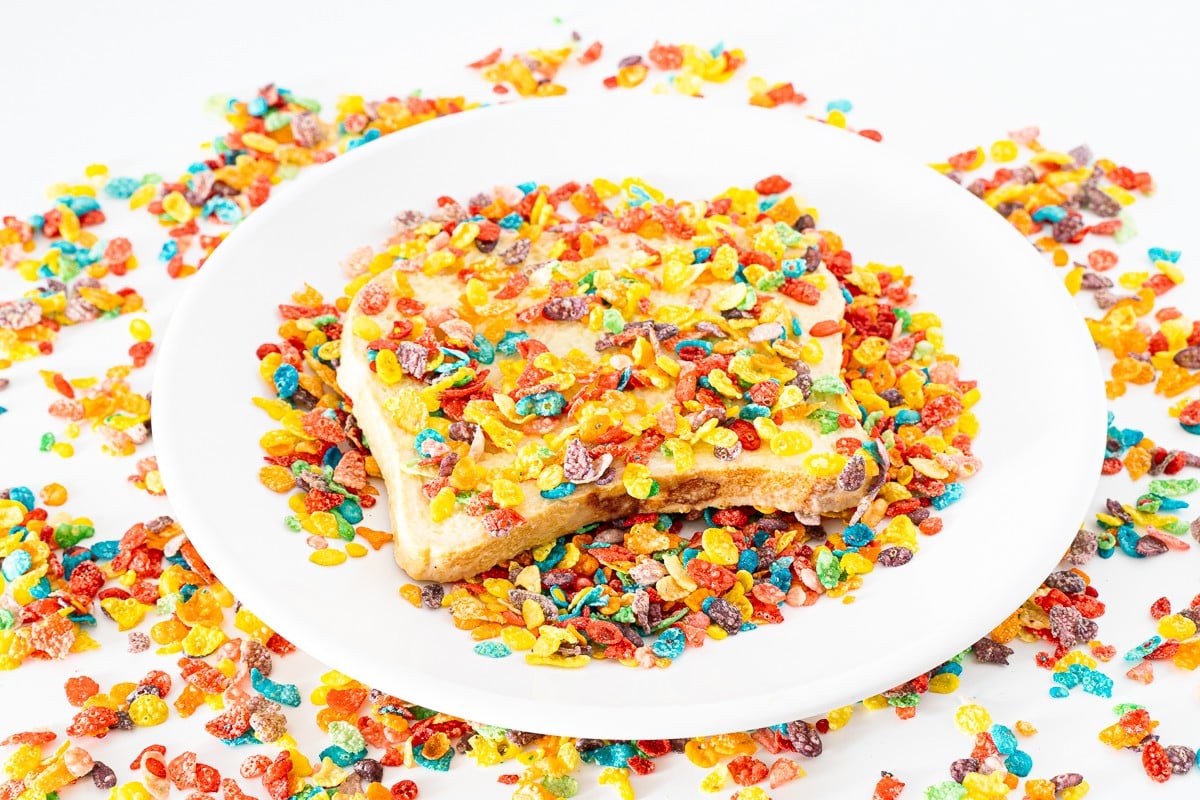 Make the French toasts: Heat 1 tablespoon of butter in a non-stick skillet on low-medium heat. Once the butter has melted, place the bread in the skillet allowing the cereal to toast, but not burn.
Flip the toast and fry the other side. Cook 1-2 toasts at a time depending on the size of your pan. In between batches, wipe down the skillet to remove any cereal that has fallen off.
Assemble the French toasts: Put the French toasts on a plate and top with a scoop of ice cream or frozen yogurt. Serve immediately.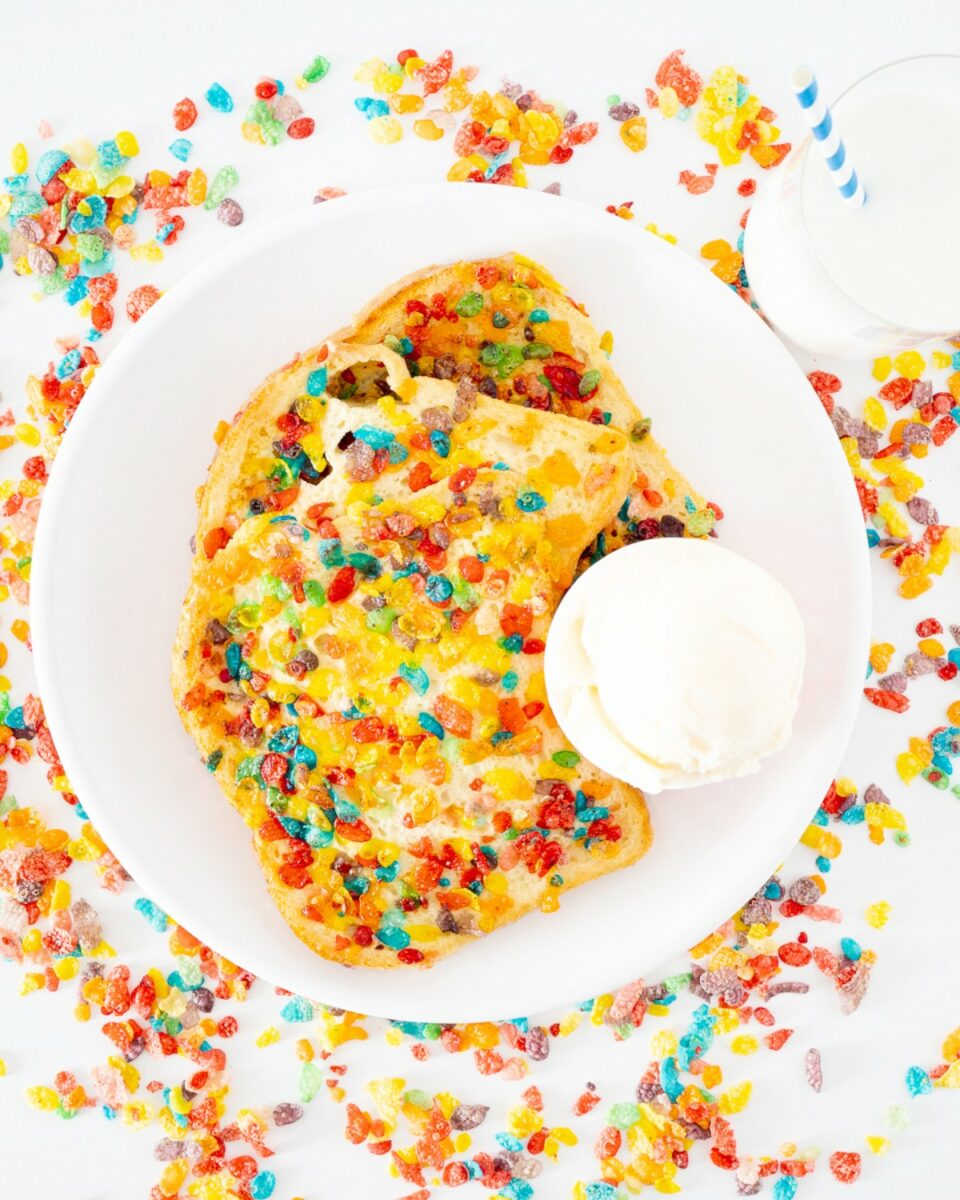 Can Fruity Pebble French Toast be reheated?
Yes. Place any leftover toasts on a baking sheet lined with parchment paper and warm in an oven preheated to 350ºF for a few minutes.
What else can I serve with this French toast?
Fruity Pebble French Toast would be great with whipped cream, maple syrup, fresh berries, or sliced banana. Think about what you might put on a bowl of cereal!
Can I make it dairy-free?
Yes. From their ingredient list, Fruity Pebbles do not have dairy products. You can easily substitute half-and-half for a non-dairy alternative (almond or coconut creamer would add a subtle, but complementary flavor). You can also sub in non-dairy ice creams.
What other kinds of bread can I use?
I use sandwich bread here to keep things simple, but for a richer, sturdier bread, try using challah or brioche.
Avoid bread that has a lot of competing flavors and textures, like multigrain bread, or is very airy and full of holes. Use a bread that has a big surface area to collect more cereal flakes.
What if I don't have vanilla extract?
If you have vanilla beans, you can scrape a few seeds into your egg mixture. However, if you only have artificial vanilla, omit it. It can have a very strong flavor, and you will already have vanilla flavor from your ice cream.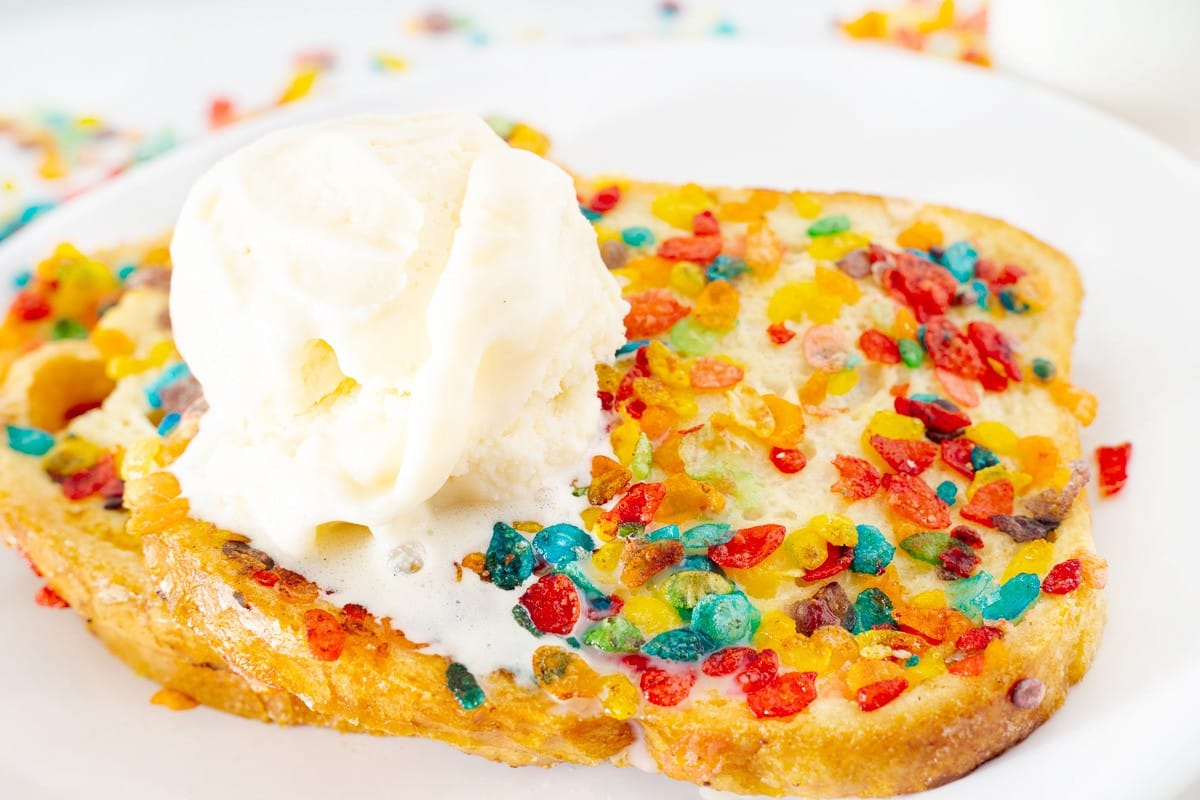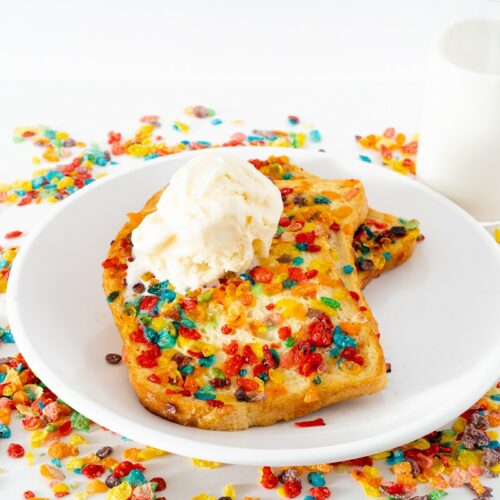 Fruity Pebble French Toast
A sweet, crispy, creamy reboot of a breakfast classic, Fruity Pebble French toast turns a bowl of cereal into French toast. Bread is coated in crunchy colorful cereal, cooked in butter and topped with ice cream. It is as fun to look at as it is to make and eat. Try making it with kids or friends for a fun breakfast on the weekend.
Ingredients
3

large eggs

1

cup

half-and-half

3

cups

Fruity Pebbles

8

slices

sandwich bread

vanilla extract

(if using)

4-8

tbsp

butter

2

cups

vanilla ice cream

to serve
Instructions
Whisk together 3 eggs, 1 cup of half-and-half, and vanilla, if using. Pour into a shallow baking dish.

Put 2-3 cups of Fruity Pebbles on a plate. Set out an additional clean plate.

Heat 1 tablespoon of butter in a non-stick pan on low-medium heat.

Dip (do not soak) bread in egg and half-and-half mixture.

Coat bread in Fruity Pebbles, flipping the bread to ensure it is coated in cereal. Pat on additional cereal if necessary.

Once the butter has melted, fry 1-2 slices of toast in the pan, flipping after 3-4 minutes or once the cereal has started to toast.

Repeat with the remaining slices of bread, wiping out cereal from the frying pan in between batches.

Plate Fruity Pebble French Toast with a scoop of ice cream. Serve immediately.
Nutrition
Calories:
415
kcal
Carbohydrates:
39.42
g
Protein:
9.48
g
Fat:
24.5
g
Saturated Fat:
13.88
g
Fiber:
1.1
g
Sugar:
21.98
g
Here are a few other recipes you might enjoy!
Arielle is a food and drink photographer based in Washington, D.C. She was previously a social science researcher before she fell in love with photography.