Creamy, sweet, and light, cottage cheese toast is perfect for a meal when you aren't looking for something heavy and rich, but still want something yummy and substantial.
This lightly-sweetened French toast becomes a custardy vehicle for cottage cheese, summer berries, and honey. It's refreshing and not overly sweet, making it a perfect protein-packed meal to have on a hot day or following an intense workout.
This recipe helps turn cottage cheese into a food that even those who typically don't like cottage cheese can get behind (like members of my own family!). The textures of cottage cheese, berries, and French toast blend together beautifully, as do its combination of tang, sweetness, and milkiness.
Cottage cheese toast tastes great with a refreshing drink, like mint lemonade. If you're someone who lives for your weekend bike ride or long run, this is a great meal to look forward to with your post-workout smoothie.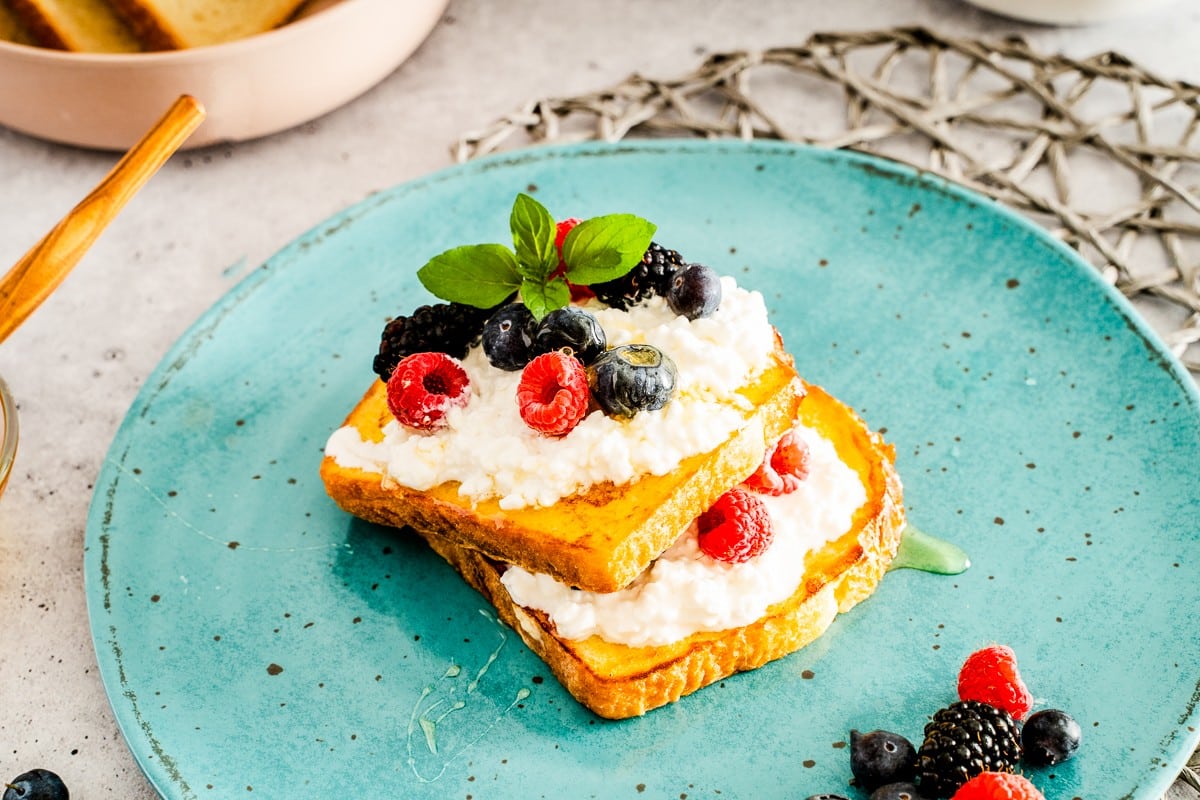 What You Need to Make Cottage Cheese Toast
This recipe only calls for a few ingredients. You probably already have many of them like eggs, milk, honey, and salt, but may want to specifically buy white bread, cottage cheese and berries. If you have access to mint as a garnish, that is nice, but not necessary.
I like to use a milk bread in this recipe, but other white sandwich breads will work too. The idea is to use something that is fairly sturdy and creamy, but not too rich. However, you can always use a challah or brioche for more of a treat.
You can use any honey that you like. I think that a light honey with more floral notes pairs well with berries. But if you prefer a more robust, dark honey, you can use that here, too.
You may decide to swap out the berries for sliced or caramelized banana or pineapple. If so, you could try a stronger honey or even maple syrup. Experiment until you find what you like!
One important note about this dish: while you can adapt the fruits, sweeteners, and milk to what you have or what you like, you absolutely cannot skimp on the quality of the cottage cheese that you use.
I recommend using high-quality cottage cheese with a small curd. You want to look carefully at the ingredient list and look for brands that are basically made of milk, cream, and salt.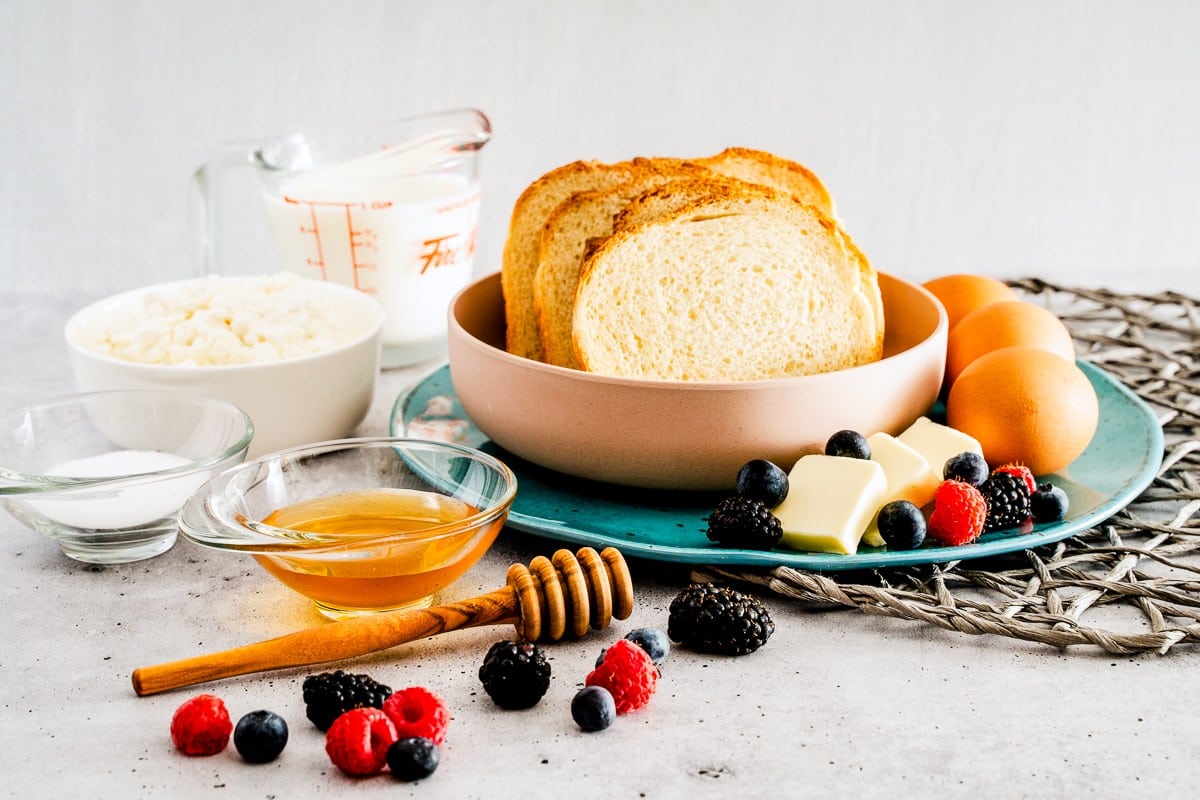 Ingredients:
Large Eggs
1%, 2% or whole milk
Honey
Butter
Berries
Cottage Cheese
Salt
Bread
Mint (optional)
How To Make Cottage Cheese Toast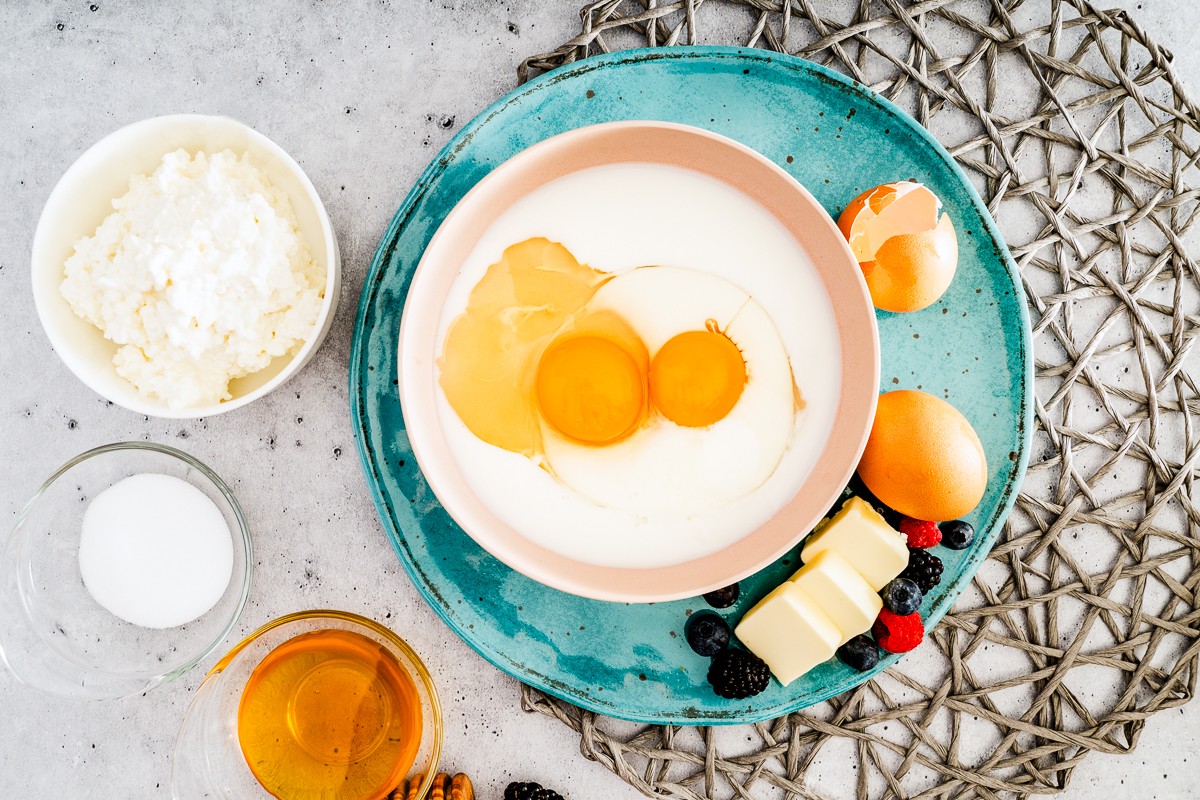 Make the custard: Whisk together milk, honey, salt, and eggs until smooth.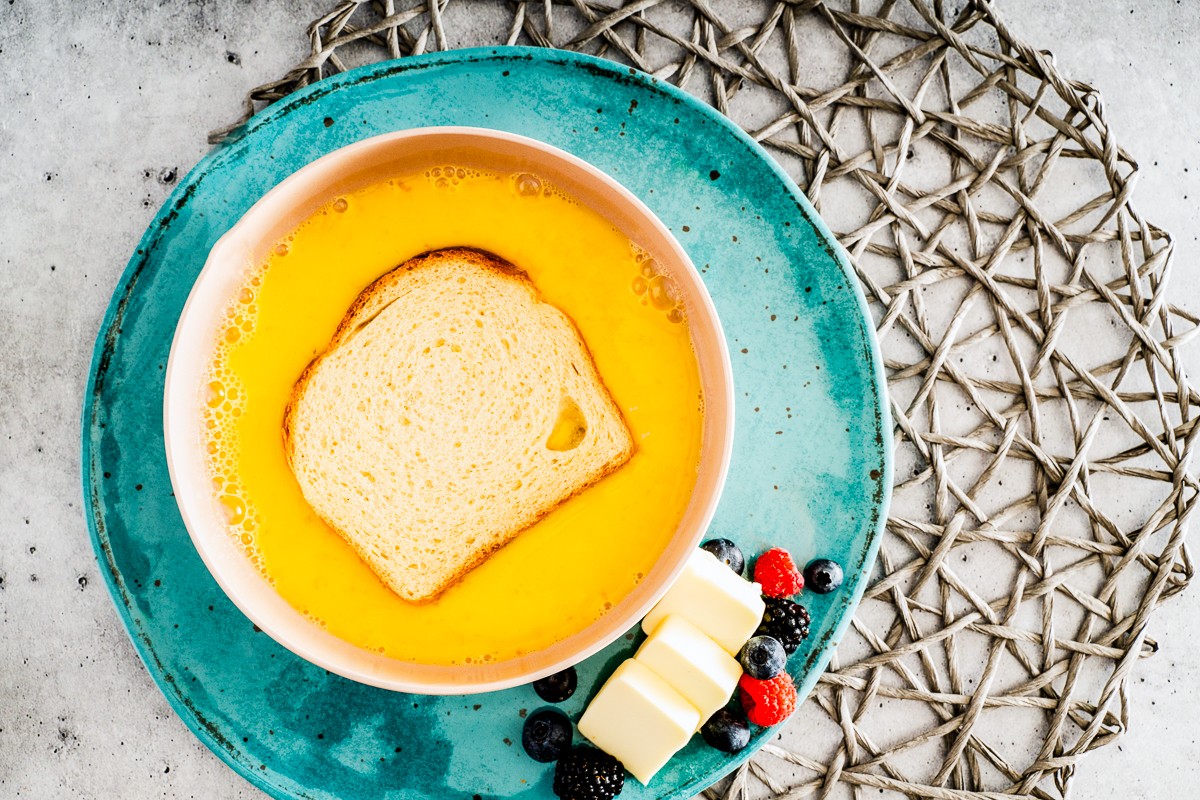 Prepare the French toast: Soak bread slices in the custard for 3-4 minutes per side. You want the bread to absorb some of the mixture, but you don't want it to become completely sodden.
Prepare the cottage cheese: Does your cottage cheese have a lot of liquid at the top? If so, drain it through a fine-mesh sieve before putting it in a bowl. Toss the cottage cheese with a little honey and set aside.
Make the toast: Melt butter in a pan on medium-high heat. Once the butter has melted, fry the toast for 3-4 minutes per side, or until golden brown.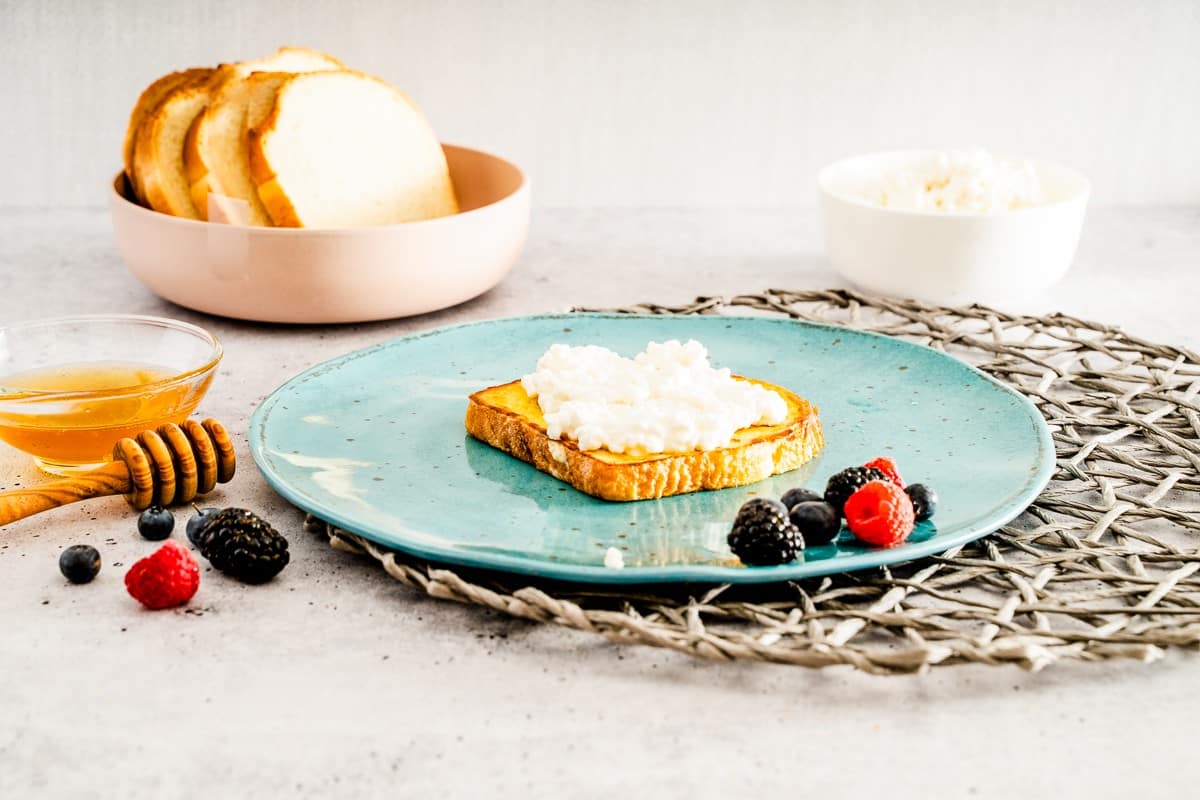 Assemble the French toast: Take one slice of French toast and cover it with a thick layer of cottage cheese, then top with berries. Add another layer of toast and top with another thick layer of cottage cheese and berries. Finish with a drizzle of honey and some mint for garnish.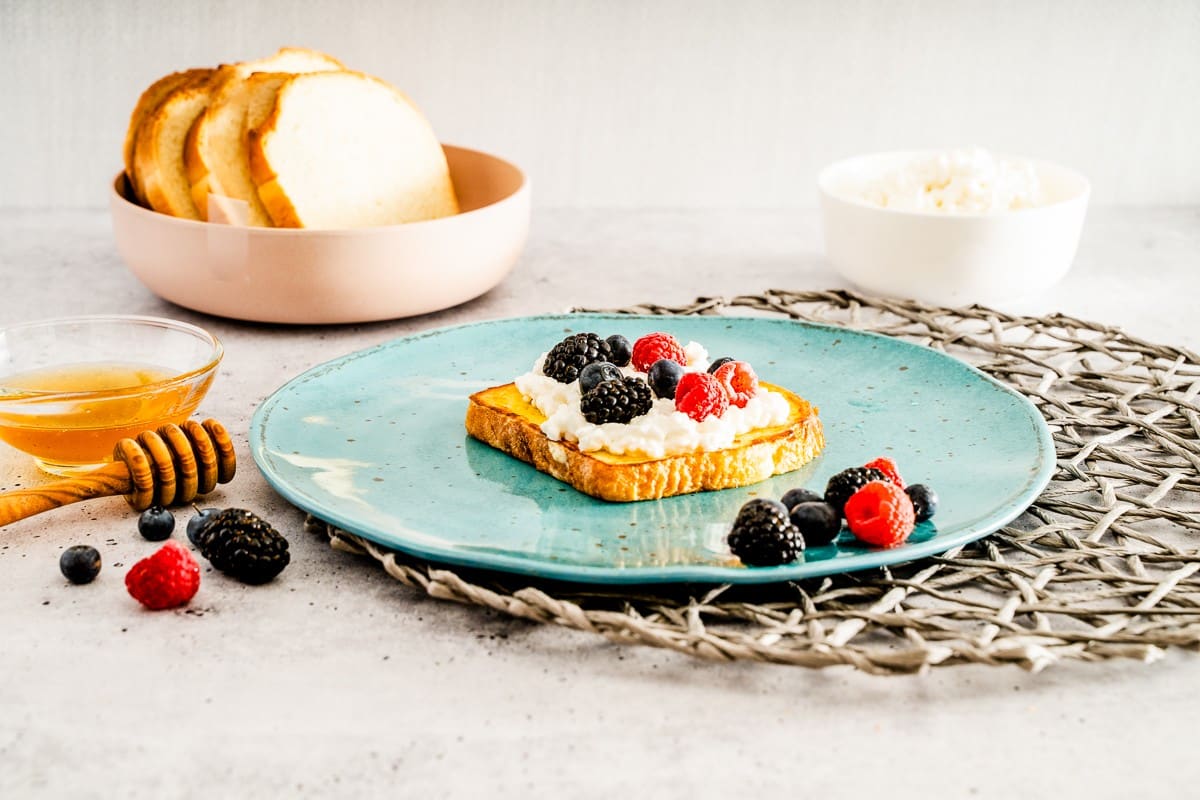 What kind of cottage cheese should I use?
The cottage cheese you use here is really critical. You can use 1%, 2%, or 4% cottage cheese, but make sure that it is of high quality.
Many brands have additives, stabilizers and gel agents. I find that often these have a slightly off flavor and rubbery texture that is extremely off-putting (and why I think so many people think they don't like cottage cheese!).
Look for brands that have minimal ingredients to achieve the clean tasting, creamy, salty, tangy combination we are looking for. I also recommend using small curds (not large curds or whipped) because it gives this toast the best texture. Do not use no-salt cottage cheese.
Can I make anything ahead of time?
The French toast can be made ahead of time and rewarmed, preferably in a skillet with a small amount of butter (to avoid sticking). You can also mix the honey and cottage cheese in advance.
What other kinds of toppings can I use?
I love the combination of berries, cottage cheese and honey. While the berries and honey add a nice texture to this dish, you can really use any other French toast toppings such as fruits or a sweetener you like. Sliced or caramelized banana or pineapple would be delicious, and for fruits with deeper flavors, you may find you prefer maple syrup to the honey used here.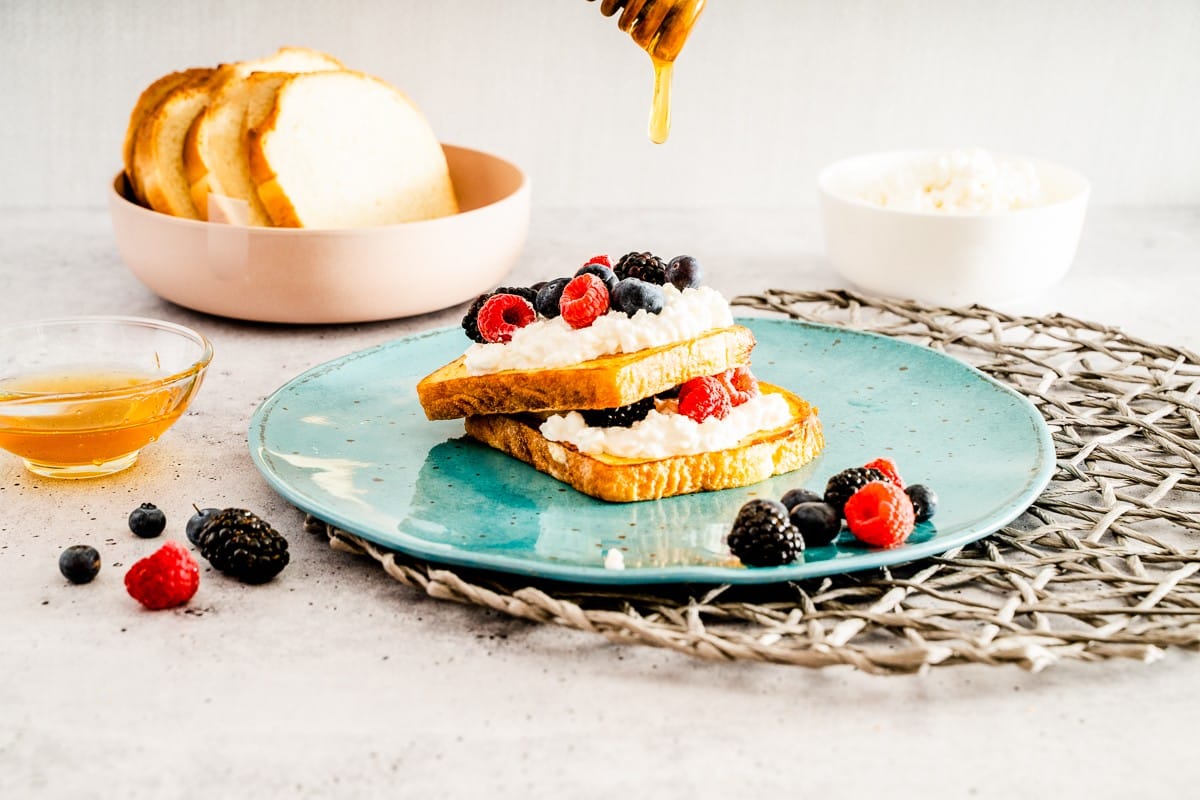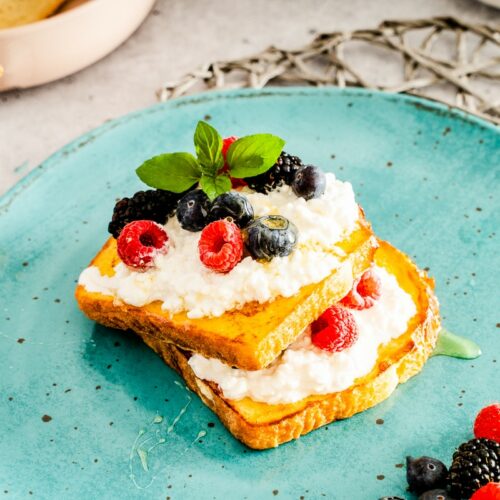 Cottage Cheese Toast
A protein-rich, refreshing dish, this cottage cheese toast is perfect for a day when you want a substantial breakfast, but not something too sweet or too heavy. Milky, eggy French toast is topped with cottage cheese, honey, and berries to make a breakfast that is full of flavor and texture. Whether you are drained from a workout, or need something hearty and fresh to start the day, this dish will both replenish and power you.
Ingredients
8

slices

milk bread

Pullman loaf, or other sturdy white sandwich bread, preferably stale, cut into ½ inch slices

3

large eggs

1

cup

1%, 2% or whole milk

3

tbsp

honey

divided, plus more for garnish

2

tbsp

butter

1

cup

assorted berries

2

cups

cottage cheese

pinch of table salt

4

sprigs of mint

(optional)
Instructions
Whisk together 1 cup milk, 1 tablespoon honey, 3 eggs, and a pinch of salt until well incorporated.

Soak bread in egg and milk mixture for 2-3 minutes per side.

While bread is soaking, drain cottage cheese in a fine sieve, if necessary. Mix with 2 tablespoons honey.

Melt 1 tablespoon butter in a non-stick skillet over medium heat.

Fry slices of bread in butter, 3-4 minutes per side or until golden brown.

Arrange finished toast on a plate. Top with ¼ cup cottage cheese and berries. Place a second slice of toast on top and top with ¼ cup cottage cheese and more berries.

Garnish with a drizzle of honey and/or mint.
Nutrition
Calories:
337
kcal
Carbohydrates:
50.37
g
Protein:
21.19
g
Fat:
15.42
g
Saturated Fat:
7.29
g
Fiber:
2.7
g
Sugar:
26.07
g
Here are a few other recipes you might enjoy!
Arielle is a food and drink photographer based in Washington, D.C. She was previously a social science researcher before she fell in love with photography.