This Oreo French toast is a lavish and sinfully decadent breakfast or brunch option. French toast encrusted in chocolate cookie dust is smothered in a rich mascarpone whipped cream and then topped with Oreo pieces.
It's like eating Oreos dunked in milk, but in a way that is richer, creamier, and more elegant. The perfect balance of sweetness, creaminess, and chocolate, this is a dish that is perfect for a special brunch with kids, a Valentine's day treat, or a morning when you really want to treat yourself.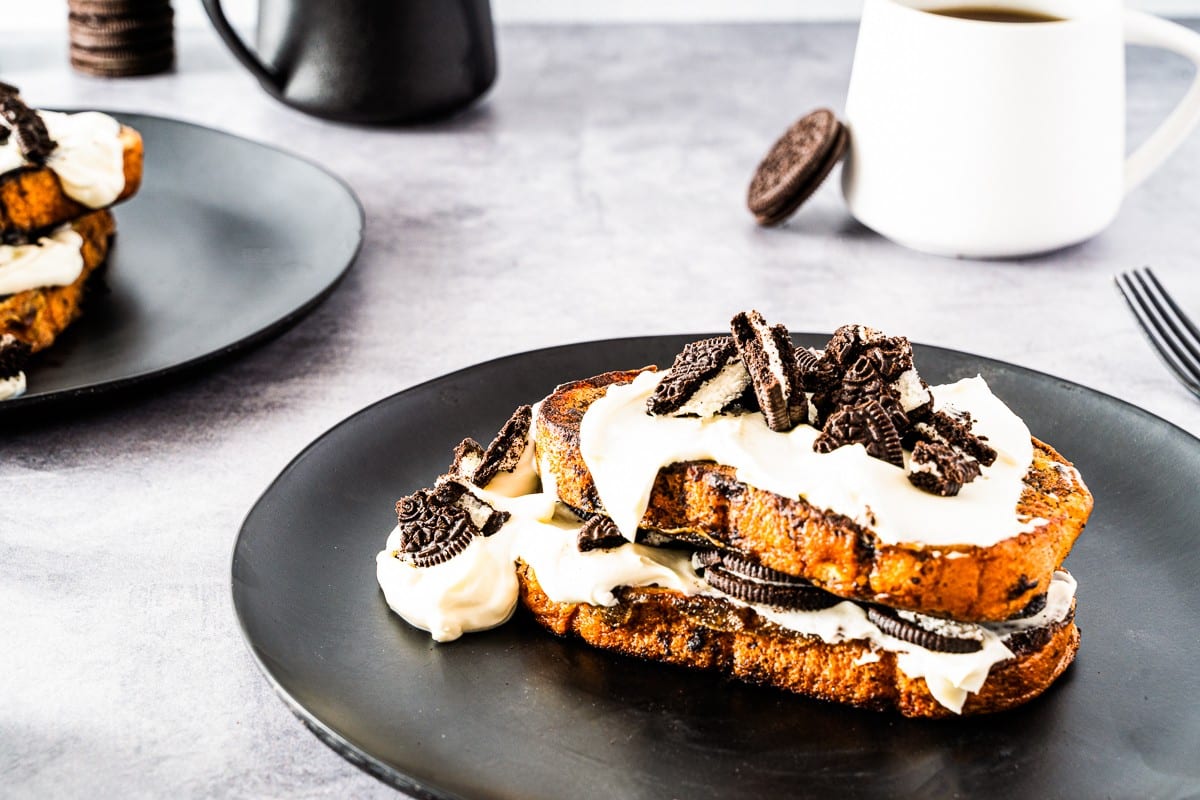 Looking for more French toast recipes? Here are other recipes you might enjoy: Candy Cane French Toast, French Vanilla French Toast, Bagel French Toast, Sourdough French Toast, and Mascarpone French Toast.
Why You'll Love This Recipe
Indulgence in every bite: This Oreo stuffed French toast is an indulgent breakfast treat that combines the sweetness of Oreo cookies with the creamy goodness of mascarpone whipped cream, offering a unique French toast experience. Perfect for special occasions or simply for a day when you want to treat yourself!
Burst of flavors: With every bite, your taste buds will be hit with a ton of flavors from the cream cheese, Oreo cookies, and the brioche bread slices doused in egg wash and turned golden brown on the pan. It's an exciting, playful, and delicious twist on the regular French toast.
Perfect for Oreo cookies fans: If you love Oreo cookies, this French toast recipe is for you. The crushed Oreo in the dish adds a touch of cookie flavor and crunchy texture to the soft, creamy French toast. It's a dream come true for Oreo cookies fans.
Recipe Ingredients
You'll need the following ingredients to make these French toast with Oreos: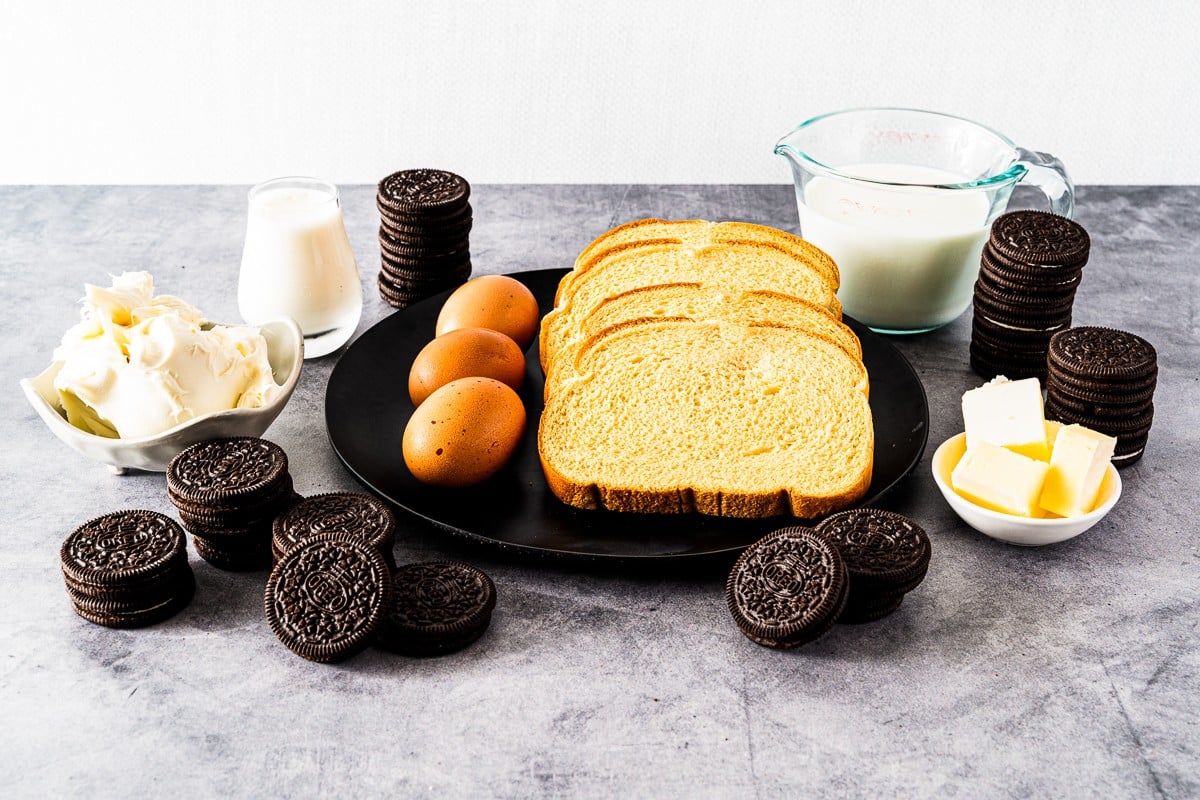 Ingredient Notes
French Bread: This recipe calls for day-old, slightly stale bread as it holds up well while soaking up the egg mixture. You can use brioche, but a regular slice of French bread also works well!
Cream Cheese: Adding cream cheese in the mascarpone whipped cream can add an extra tang and creaminess to your topping. If you don't have mascarpone on hand, cream cheese can be a great substitute!
Vanilla Extract & Maple Syrup: These are not necessary, but a dash of vanilla extract in your egg mixture or a drizzle of maple syrup on top before serving can enhance the overall flavor profile of your French toast, making it a unique French toast.
How To Make Oreo French Toast
Make the Oreo dust: Place 8-9 Oreos in a food processor and pulse until the Oreos are small crumbles or even dust. If you don't have a food processor, place the Oreos in a plastic bag and crush them with a rolling pin until they are the right consistency.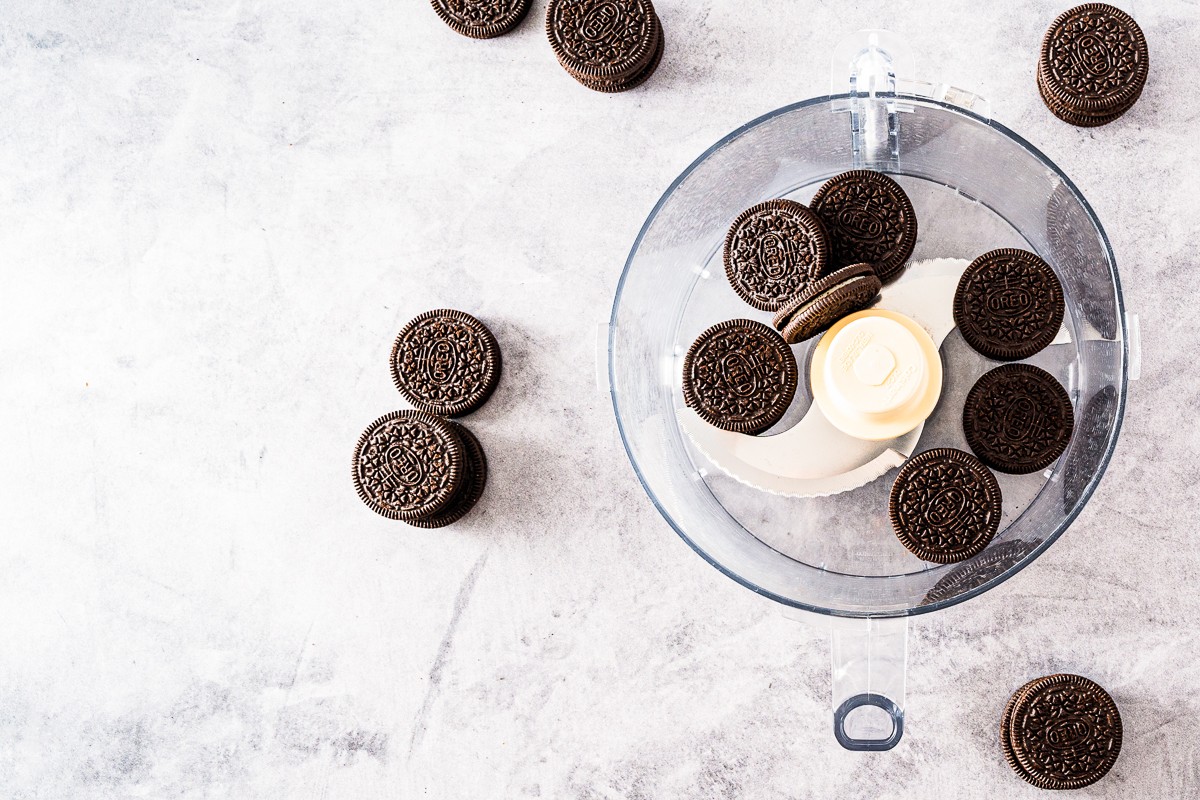 Make the custard: Whisk together milk, Oreo dust, and eggs until smooth.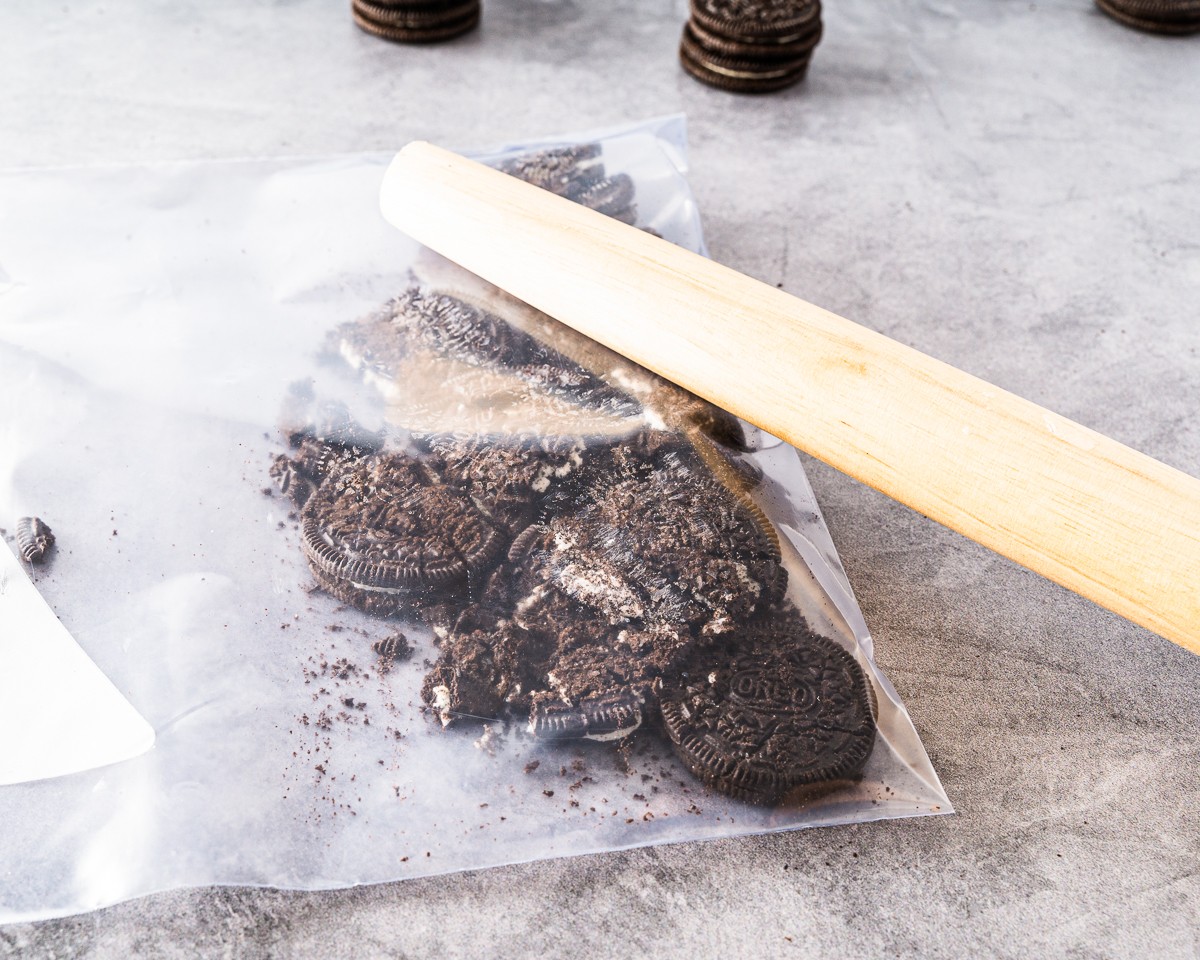 Make the Oreo pieces: Place 8-9 Oreos in a plastic bag and hit several times with a rolling pin to create Oreo pieces.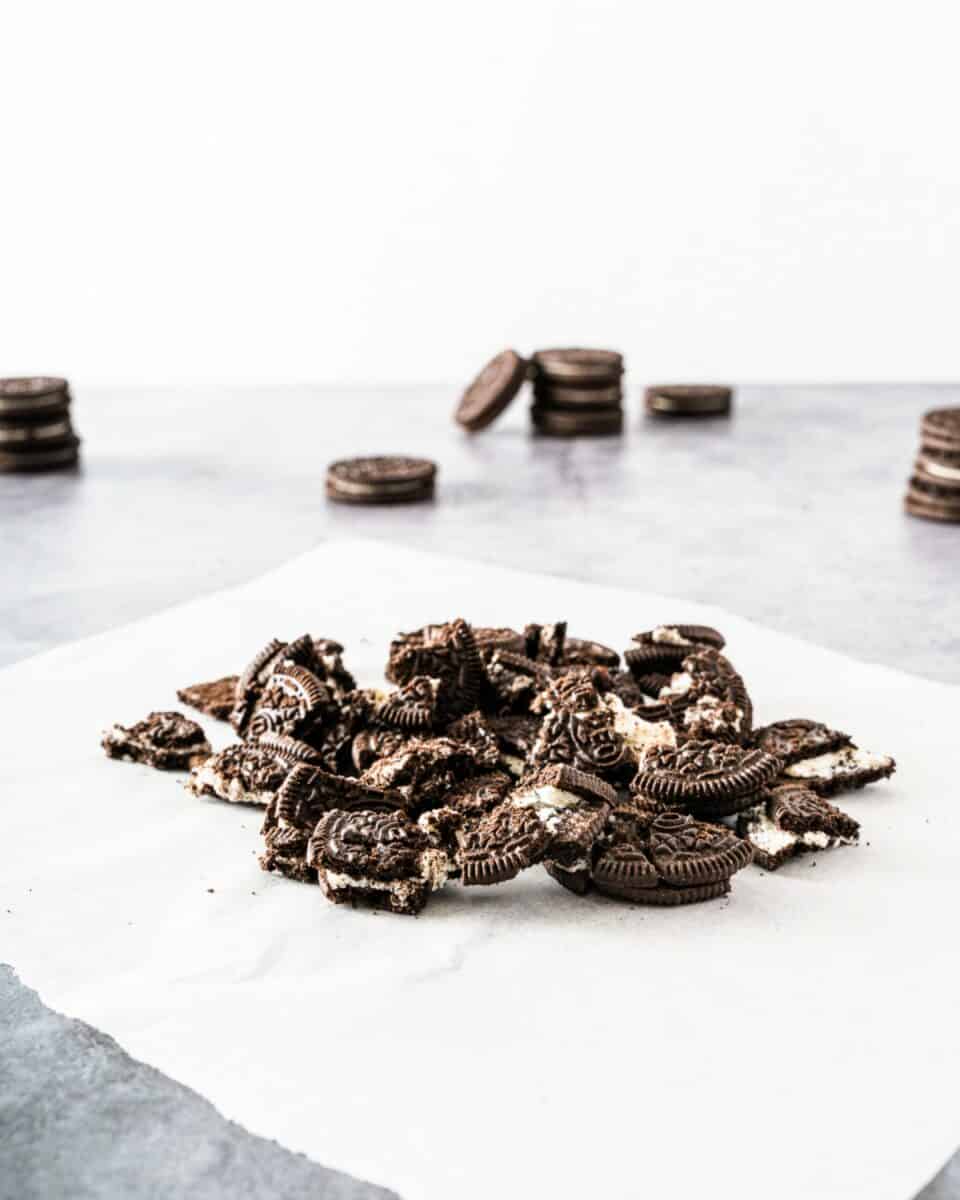 Make the French toast: Put the custard mixture in a shallow baking dish. Soak slices of brioche in the egg mixture for 4-5 minutes per side.
Use your hands or a spoon to bring up any Oreo dust that has fallen to the bottom of the dish and ensure that both sides get coated in Oreos.
Heat a non-stick skillet with butter on medium heat, and fry each piece of French toast for 4-5 minutes per side.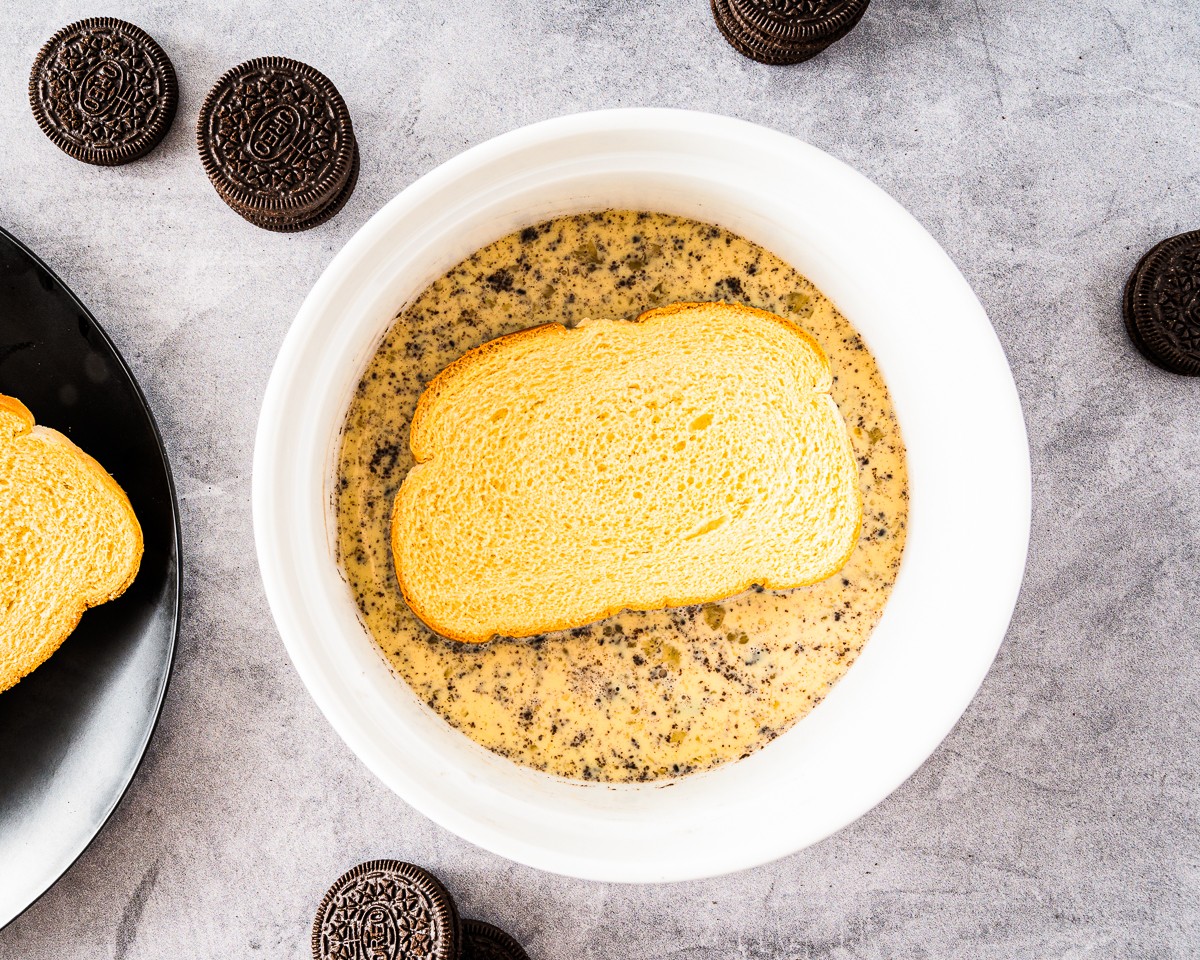 Make the mascarpone whipped cream: Put the whipped cream and mascarpone in a bowl and whip until well combined and thick.
When you make whipped cream, the ingredients, bowl and whisk have to be extremely cold. With mascarpone whipped cream, the temperature is less important (the mascarpone is already thick), but you do want your ingredients to be chilled.
This mascarpone whipped cream is not too sweet, which I like, as it adds a nice counterbalance to the sweetness of the cookies. You can add a tablespoon or two of powdered sugar for a sweeter version or a stabilized version.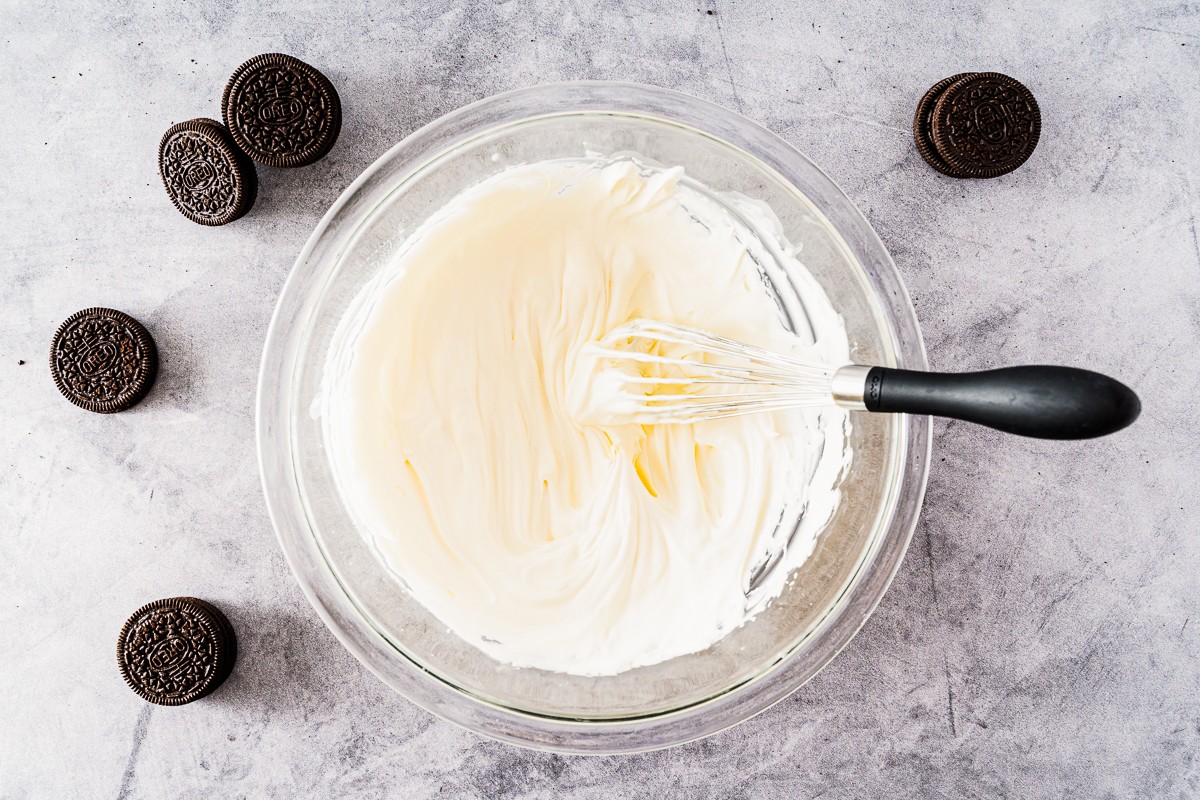 Assemble the French toast: Place one slice of French toast on a plate and cover with a thick layer of mascarpone whipped cream. Add a layer of Oreo pieces. Serve immediately.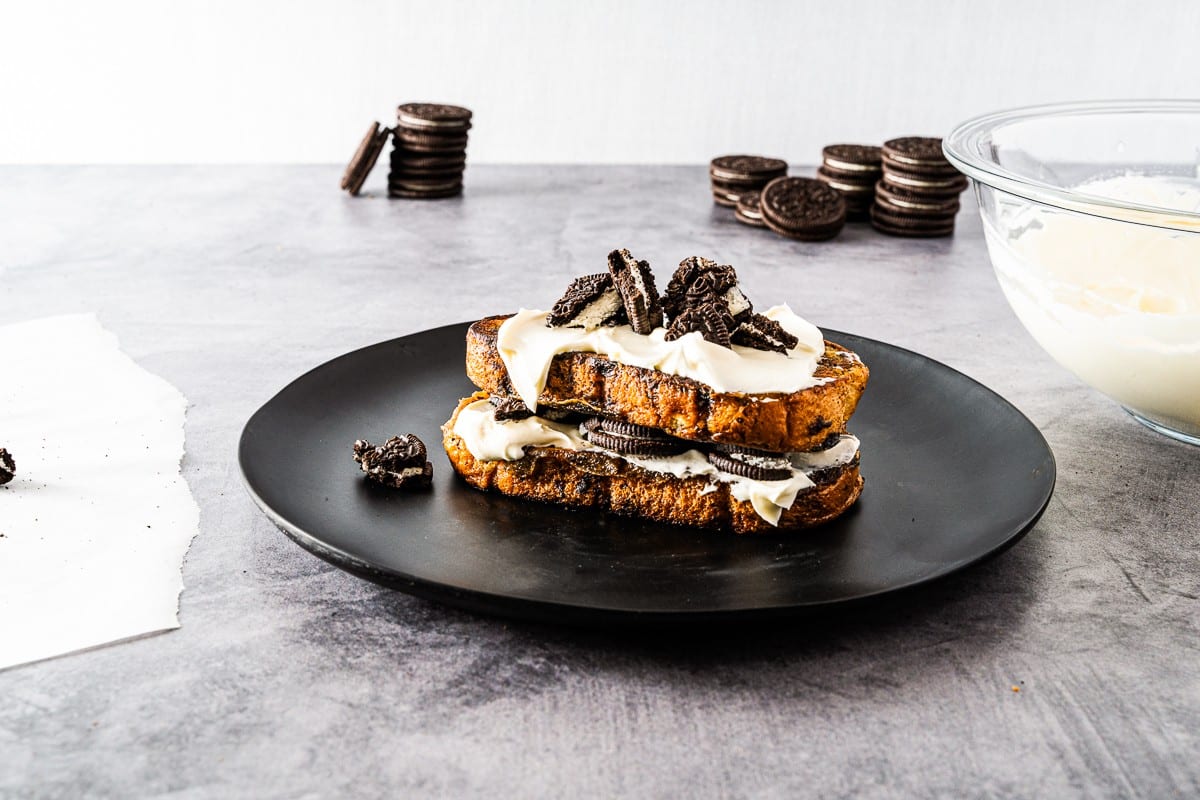 Recipe Tips
Ensure a quick dunk of the bread in the egg wash to avoid your bread from getting too soggy.
Cook your French toast on medium-high heat to achieve a crispy outer layer and a soft, fluffy inside.
Crush the Oreo into small pieces to get a better crunch in every bite. Use a ziplock bag and a rolling pin for this step if you don't have a food processor.
Storage & Reheating
Store the leftover French toast in an airtight container in the refrigerator. It's best consumed within two days. When ready to eat, heat a non-stick pan over medium heat, add a tablespoon of butter, and reheat the toast on each side until warm and crispy. Avoid using a microwave as it could make the toast soggy.
Additions & Substitutions
If you want to play around with different flavors, substitute regular Oreos with golden Oreos or even flavored ones. You can also add fresh berries or other fresh fruit for a touch of acidity to balance the sweet. For those who love an extra crunch, consider adding crushed nuts on top. If you prefer a less indulgent breakfast, replace the mascarpone or cream cheese with Greek yogurt.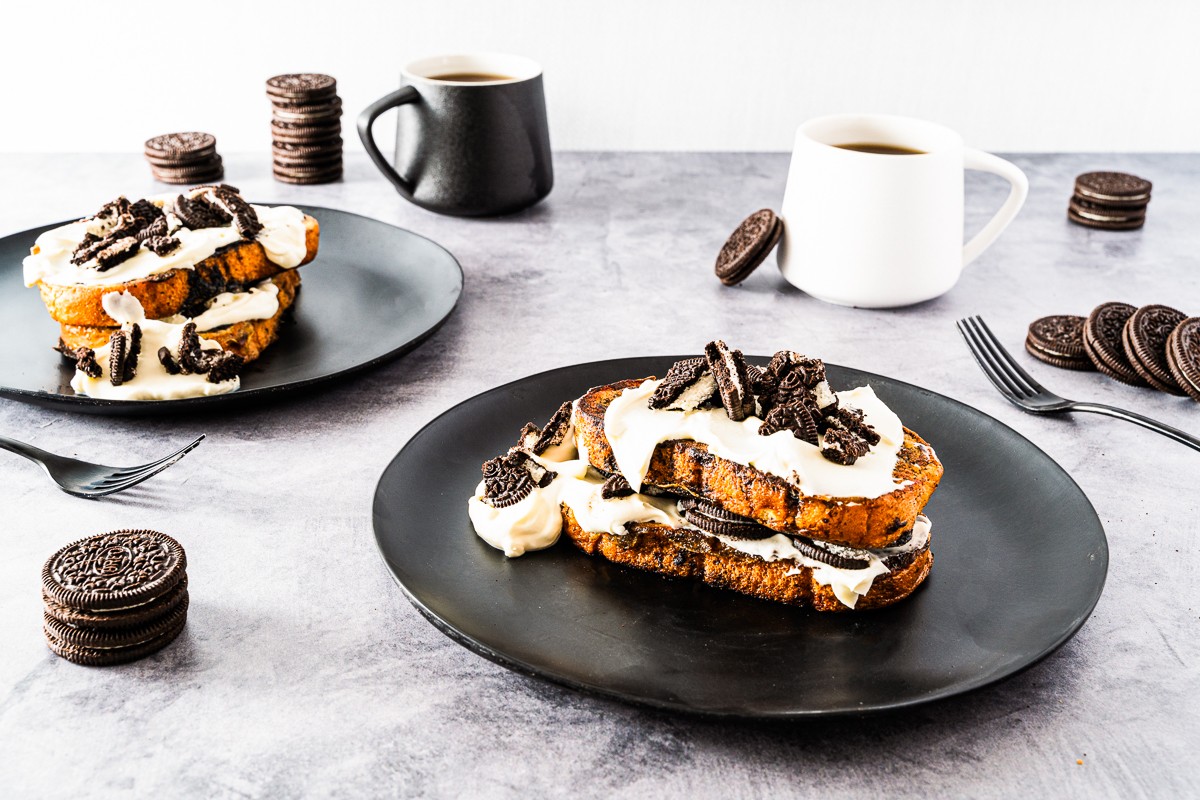 Recipe FAQs
What should I serve with this French toast with Oreo recipe?
To balance out the sweetness, consider serving the Oreo French toast with some fresh fruit like berries, bananas, or apples. A cup of hot coffee or a glass of cold milk would also complement this dish perfectly. It's a brunch treat the whole family will love!
What can I do with extra mascarpone whipped cream?
Mascarpone whipped cream is perfect on anything you would put whipped cream on. Mascarpone has a higher fat content and is thicker than heavy whipping cream, and so adds an even more decadent, richer flavor and texture. Try pairing it with a bowl of fruit or berries, or dipping your leftover Oreos in it for a rich treat.
Can I make anything ahead of time?
The Oreo pieces and Oreo dust can be made ahead of time and stored in plastic bags for a few days before you use them. The whipped cream can also be made ahead of time, but unless you stabilize it with powdered sugar, you will want to use it within a few hours.
The French toast can be re-warmed in a skillet with a small amount of butter to avoid sticking if made a day in advance.
What other kinds of toppings can I use?
The toppings in this dish are pretty great on their own, but if you don't like the texture of the crushed Oreos, you could also top it with other French toast toppings like chocolate syrup or chocolate sprinkles.
---
Here are some other toast recipes you might enjoy!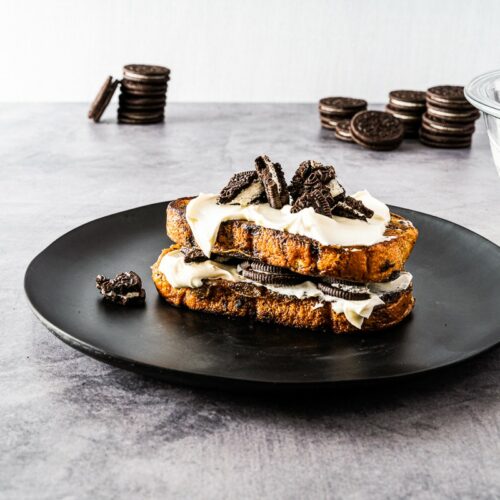 Oreo French Toast
A rich, indulgent dish, Oreo French toast is like dessert for breakfast. Thick slices of brioche are covered in Oreo dust before being fried in butter, then topped with a mascarpone whipped cream and crushed Oreos. It has the right amount of sweetness and richness, and tastes like a really luscious serving of Oreos and milk.
Ingredients
8

slices

brioche

cut into ½ inch slices, preferably stale

3

large eggs

1

cup

heavy cream

1

cup

whole milk

½

cup

mascarpone

2 to 4

tbsp

butter

16 to 18

Oreos
Instructions
Place 8-9 Oreos in a food processor and pulse until crumbled and dust-like. Alternatively, place 8-9 Oreos in a plastic bag and smash with a rolling pin until crumbled and dust like.

Whisk together 1 cup whole milk and 3 large eggs until eggs are fully combined with the milk. Whisk in the Oreo dust.

Place custard with Oreo dust in a shallow baking dish and soak slices of brioche for 4-5 minutes per side, making sure to coat each side with Oreo dust that may have sunk to the bottom.

Heat 1-2 tablespoons of butter in a non-stick skillet on medium heat and fry the brioche for 4-5 minutes per side.

Place 8-9 Oreos in a plastic bag and smash a few times with a rolling pin until large pieces are formed.

Whisk together 1 cup heavy cream and ½ cup mascarpone cheese until it is thick and able to hold its shape, 1-2 minutes.

Assemble the French toast by spreading a layer of mascarpone whipped cream onto the toast and topping with crushed Oreos.
Nutrition
Calories:
535
kcal
Carbohydrates:
55.71
g
Protein:
12.2
g
Fat:
29.99
g
Saturated Fat:
11.93
g
Fiber:
2.2
g
Sugar:
19.54
g
Arielle is a food and drink photographer based in Washington, D.C. She was previously a social science researcher before she fell in love with photography.