These spooky pop tarts will scare and delight your guests at your next Halloween-themed brunch. These simple and easy-to-make pop tarts taste better than the original and are almost as easy to make.
Premade pie crust is cut into thick strips, filled with sweet strawberry jam, then decorated with Halloween monsters, ghosts, and goblins. These pop tarts are easily adaptable, quick, and fun – perfect to involve the kids.
These pop tarts take me right back to childhood. That strawberry filling surrounded by a flaky pastry calls out for a tall glass of milk to wash it down. For something even more decadent, a strawberry milkshake would also be delicious. If you want to make this a little boozier, try a strawberry mimosa to pair with the jam on the inside.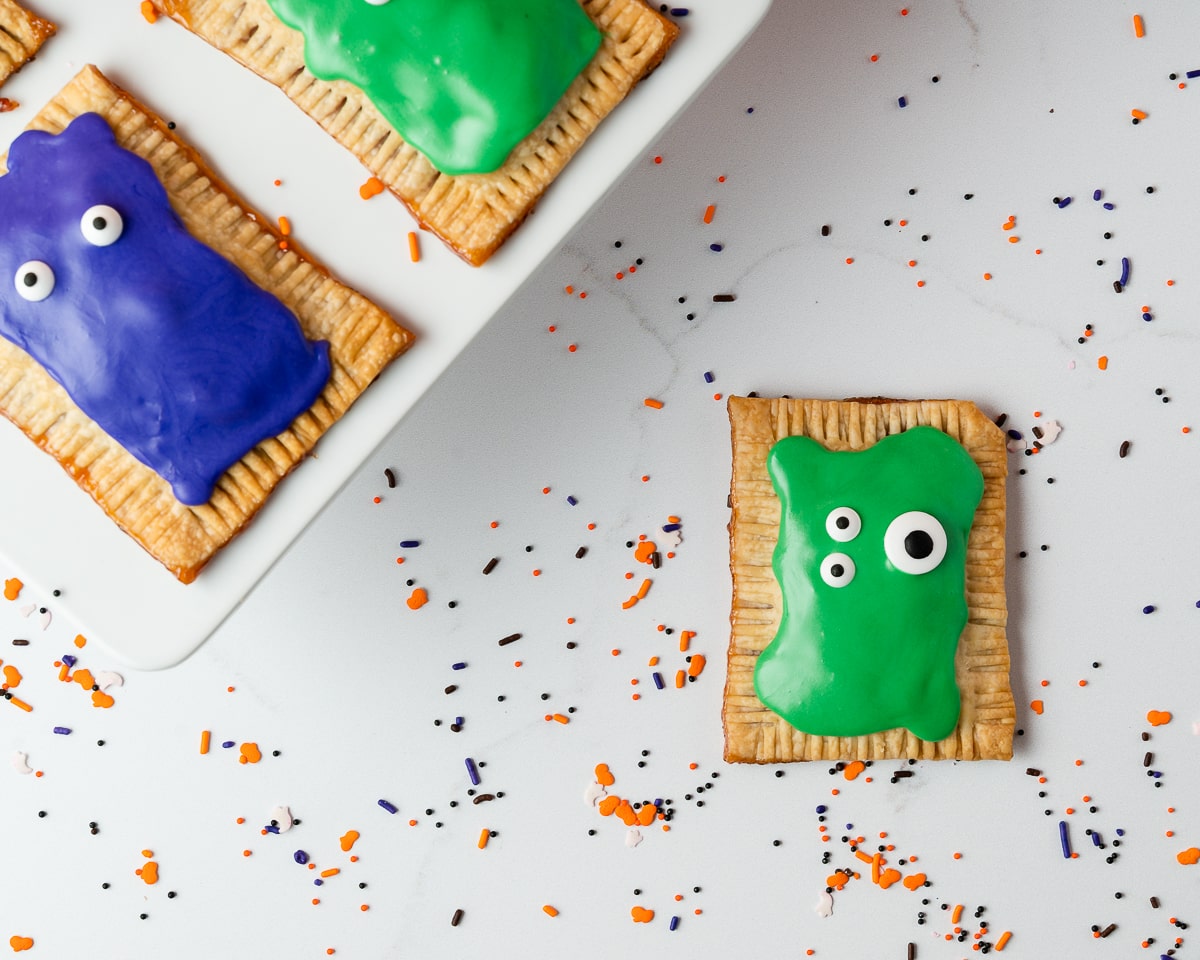 The most challenging part of this recipe is figuring out how to decorate your pop tarts! Whenever I make something decorated, I set aside one item to be the tester where I throw out all my favorite ideas to see how things look.
I also think it's just as fun to let the pop tarts take on strange organic looks – hand over the decorating to your kids and see what imaginative things they come up with.
What You Need to Make Halloween Pop Tarts
You will need two pre-made pie crusts, jam, confectioner's sugar, cornstarch, candy eyes, food coloring, and heavy whipping cream. The cornstarch helps thicken the jam but is not necessary.
The vanilla adds a little flavor to the icing but is also optional. You can also fill these pop tarts with whatever you want. A brown sugar and cinnamon spread, Nutella, chocolate… strawberry jam looks a little like blood for a monster theme and tastes amazing. That's why I use it here.
I found that purple, green, and white icing worked well for the monsters and ghosts I wanted to create, but you should use whatever colors you want or whatever colors you have on hand. Halloween sprinkles, candy eyes, and black food gel for noses and mouths can be fun decorations also.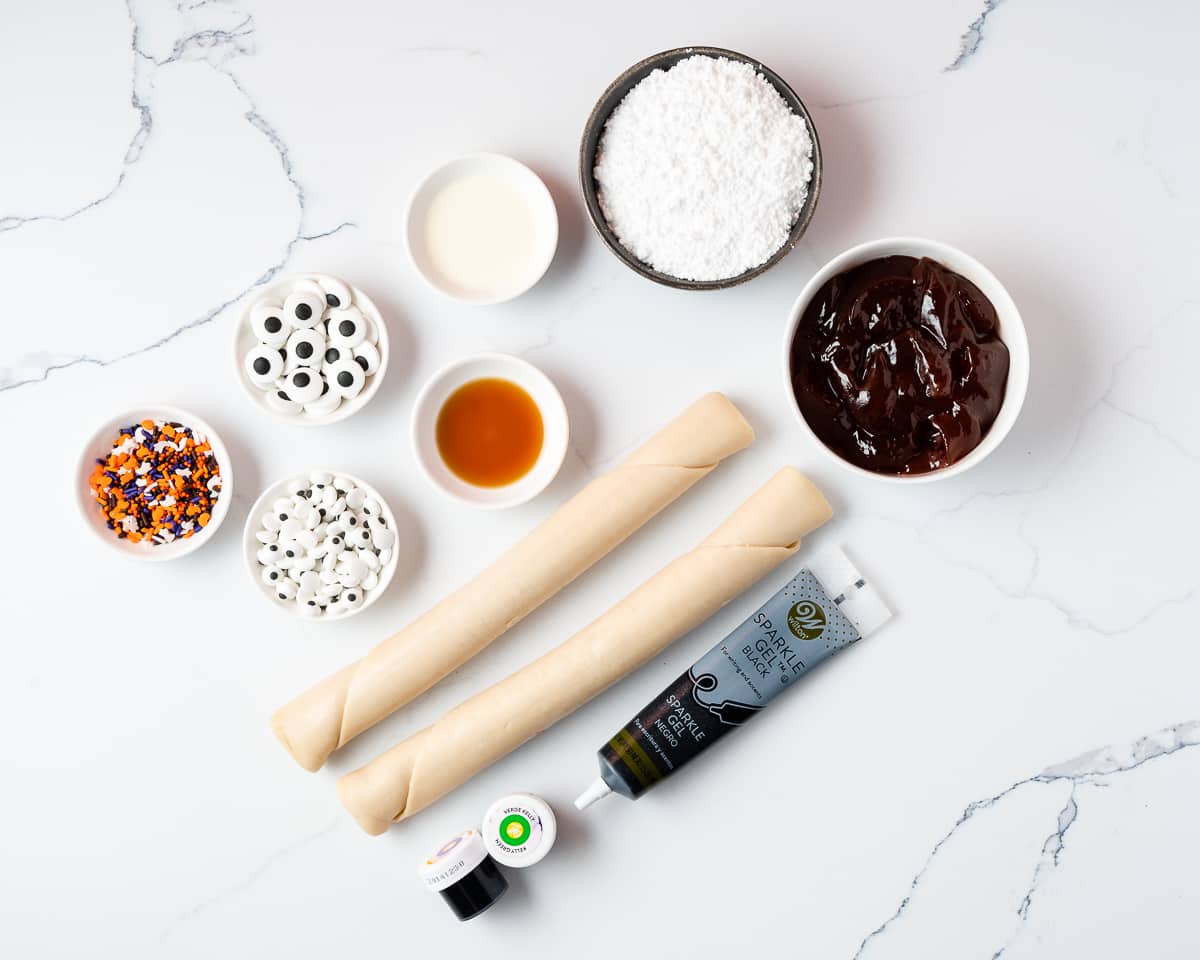 Ingredients:
Premade pie crust
Confectioner's sugar
Vanilla extract
Strawberry Jam
Heavy whipping cream
Candy eyes
Sprinkles
Food coloring
Tools:
Spooky pop tarts require a rolling pin, a whisk, a knife or pizza cutter, a few bowls, a fork, and a few pastry bags or plastic bags. A ruler can also be helpful as you slice up the pie dough into even strips.
How To Make Spooky Pop Tarts
Prepare the pop-tart dough: Roll out the pie dough to roughly ¼ inch thickness. Try to form the dough into a rectangle rather than a circle.
Using a sharp knife or pizza cutter, cut the edges off to form a rectangle with sharp edges. Cut this rectangle into three strips.
Repeat with the second pie dough. Reroll and shape the scrap dough that you cut off to make two additional strips.
Make the pop tarts: Preheat an oven to 375ºF. On one half of a pie dough strip, dollop a little jam.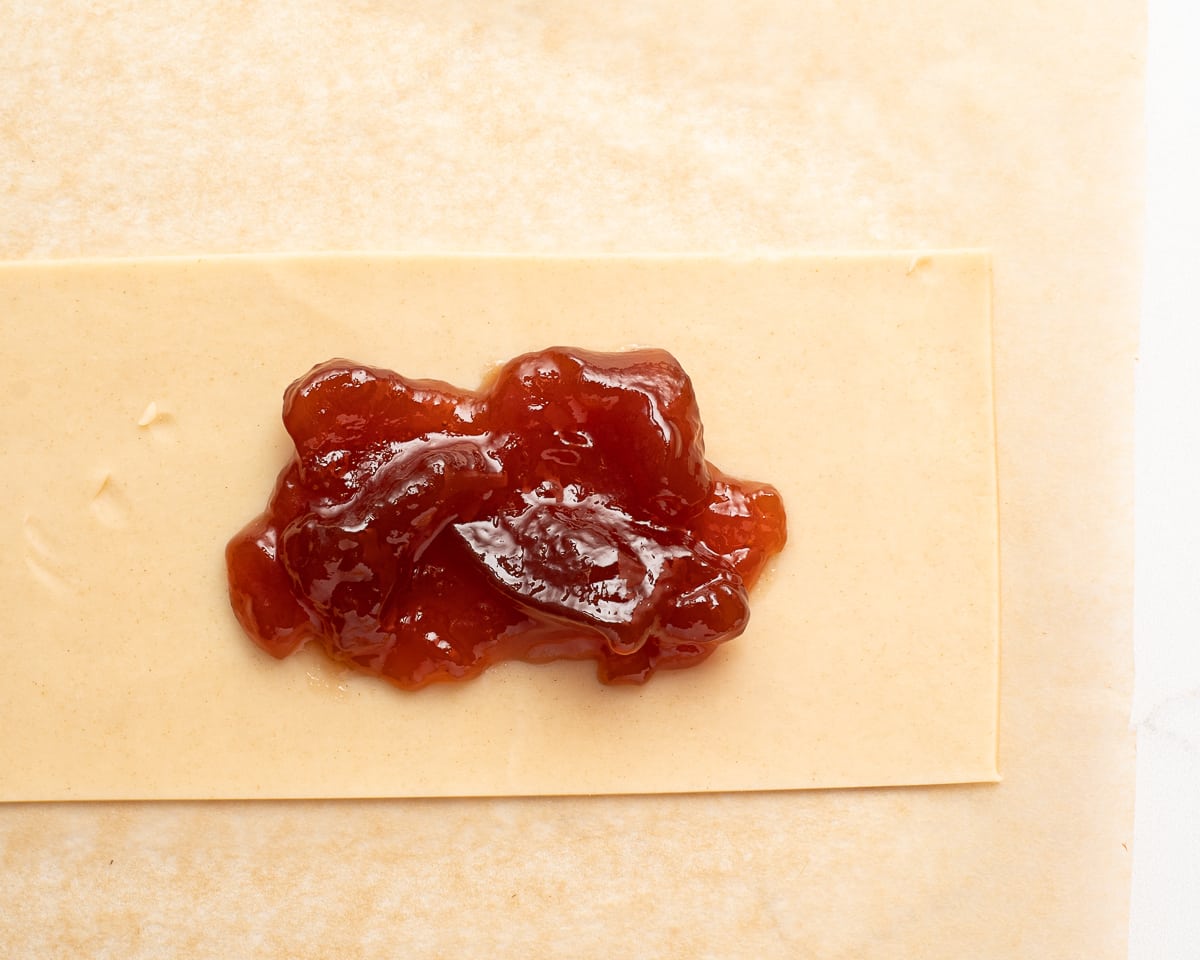 Fold the unfilled side of the dough over the filled side. Using the tines of a fork, seal the edges of the pastry together. Bake for 18-20 minutes or until golden brown.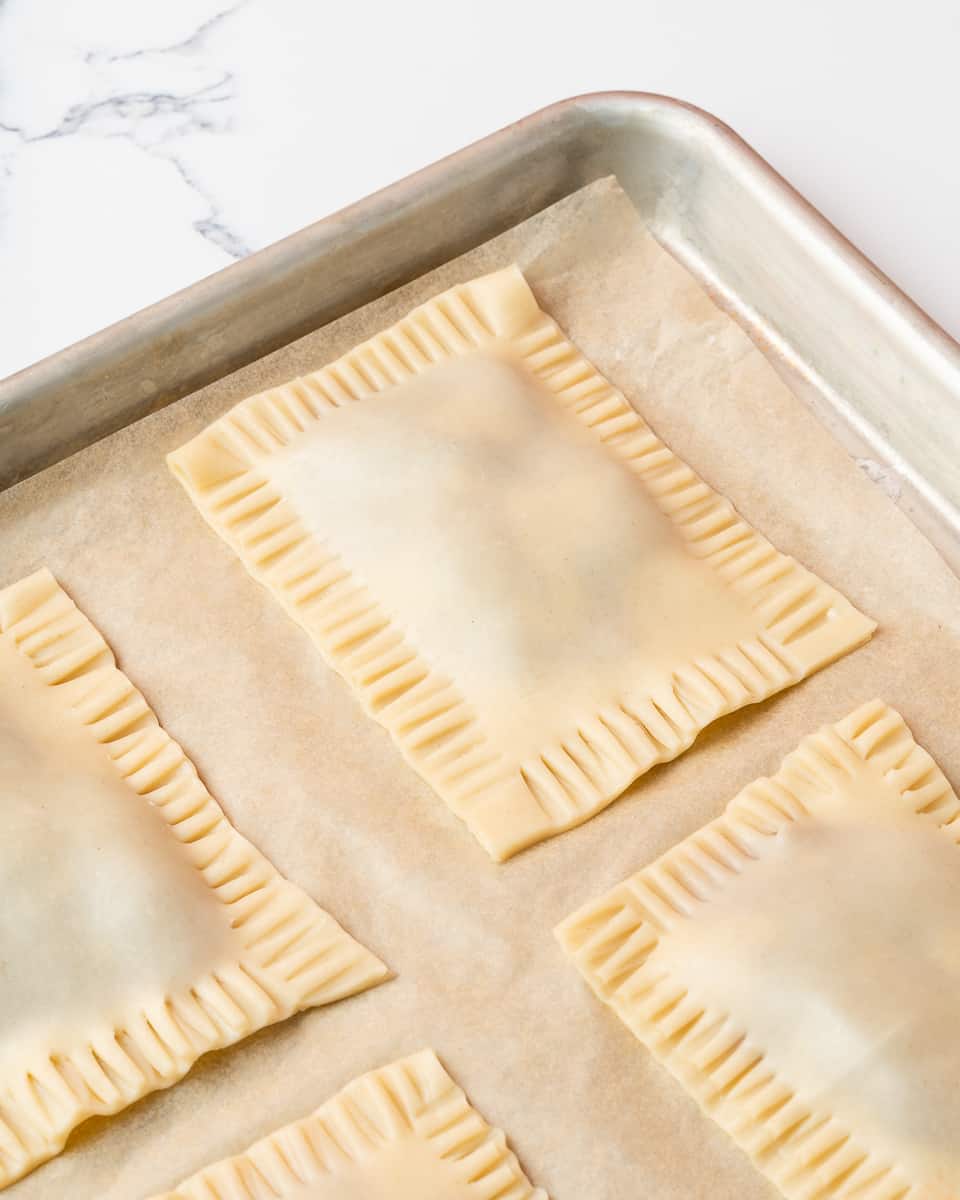 Transfer the pop tarts to a cooling rack and allow them to cool.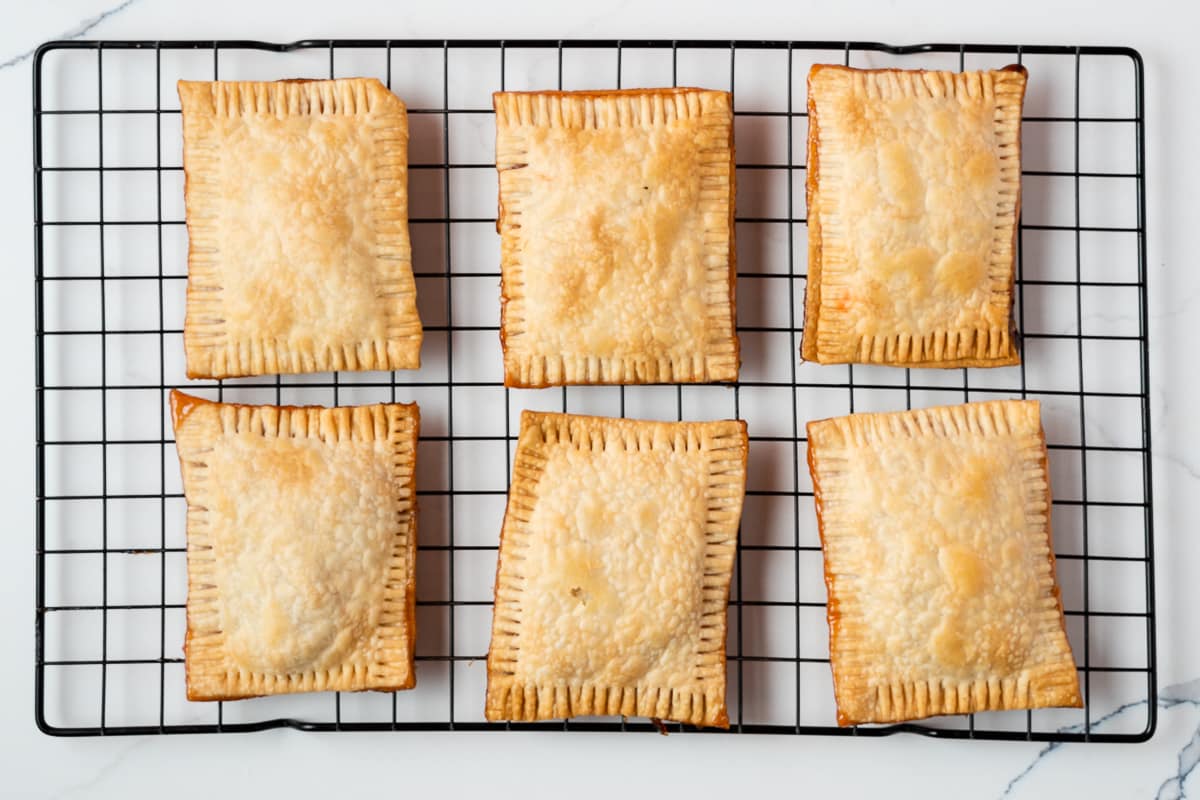 Make the icing: Whisk together powdered sugar, vanilla extract, if using, and whipping cream until smooth. Separate into several bowls and tint with food coloring as desired for decorating.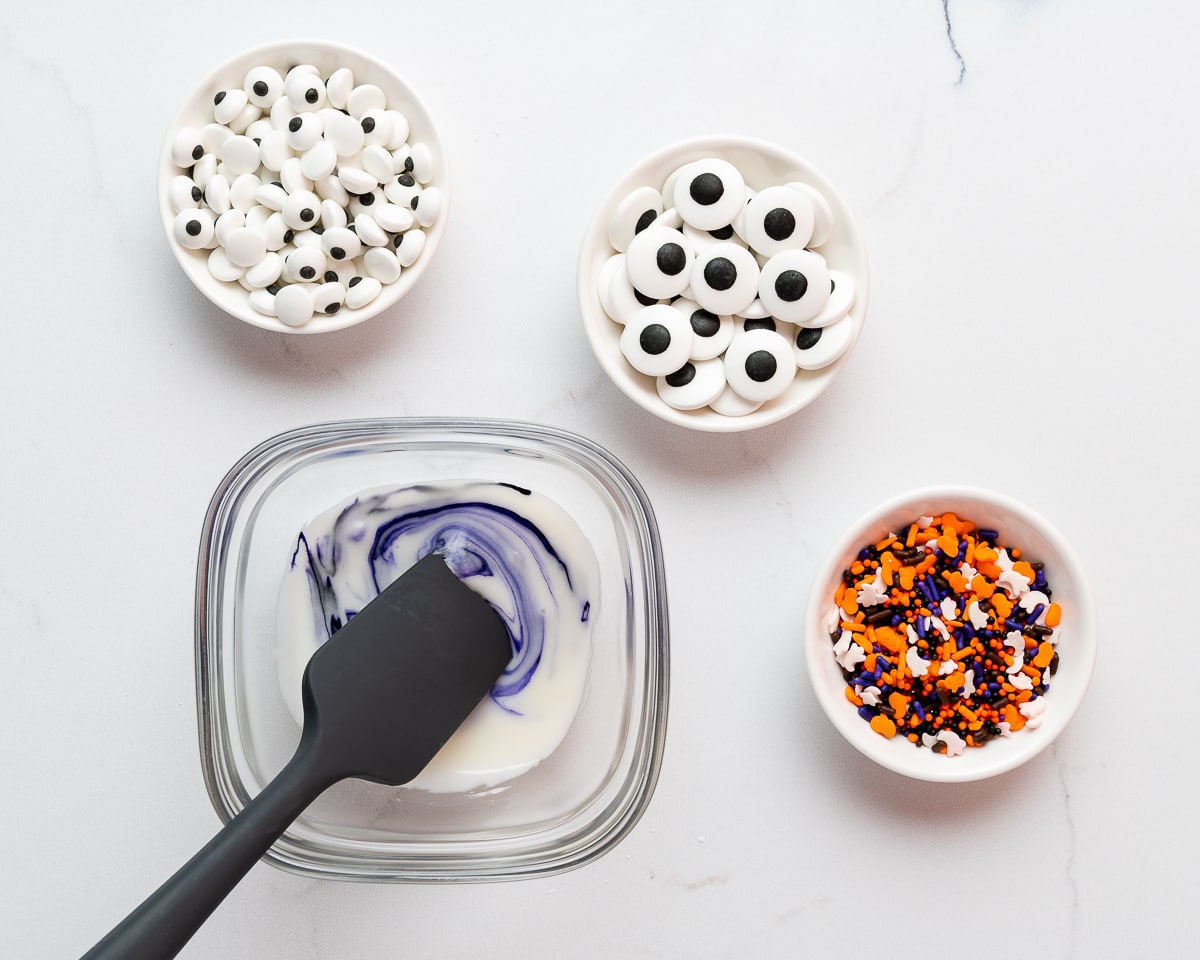 Decorate: Place colored icing into pastry bags or plastic bags with a corner cut off to create a tip for the bag. Using the icing, trace a rectangle or other spooky shape around the edges of the pop-tart and then fill in, or "flood" the shape with more icing.
Add candy eyes, mouths, or any other decoration you desire for your pop tart ghosts and monsters.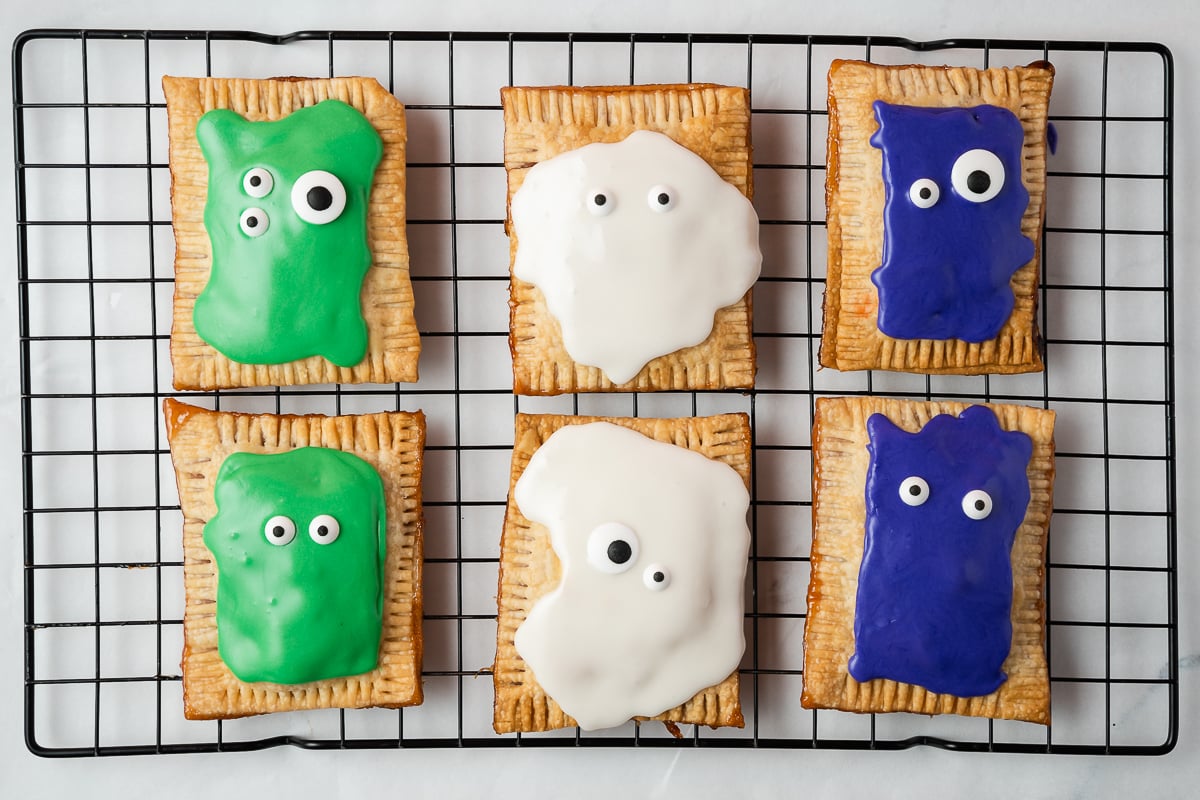 Allow your decorated Halloween pop tarts to harden for at least a few minutes, but if you plan to store them, allow the icing to dry for at least several hours.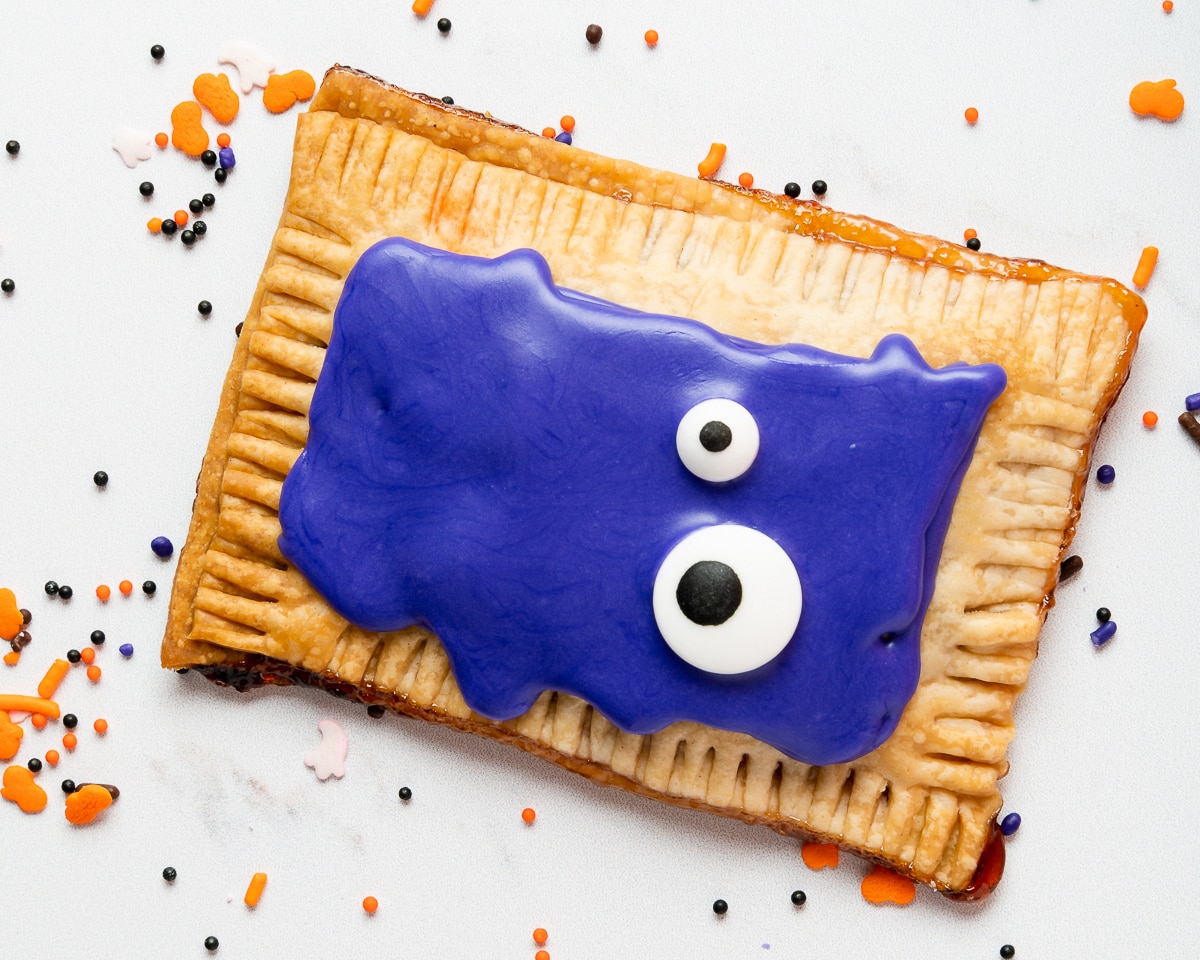 What else can I fill these pop tarts with?
You can fill these pop tarts with anything you like: Nutella, cinnamon sugar paste, another jam, chocolate. I'm partial to the classic, sweet flavors, but you can also make them with goat cheese, ricotta, and other savory fillings.
Can I use sugar-free or reduced sugar jam?
I do not recommend using sugar-free or reduced-sugar jam. The sugar in regular jam is necessary to get the right consistency inside the pop tart. Sometimes even conventional jam is a little loose, so you may find it helpful to stir a tablespoon of cornstarch into your jam to thicken it up further before filling your pop tarts. A loose jam can ooze out while cooking.
Can I make my pie dough?
This recipe is about celebrating Halloween and making it as fun and easy to do with kids as possible. If you want to make this a little fancier and have extra time on your hands, consider making two galette doughs and using them instead. Galette doughs will produce a wonderful buttery dough and are easier to manipulate and shape than all-butter pie doughs.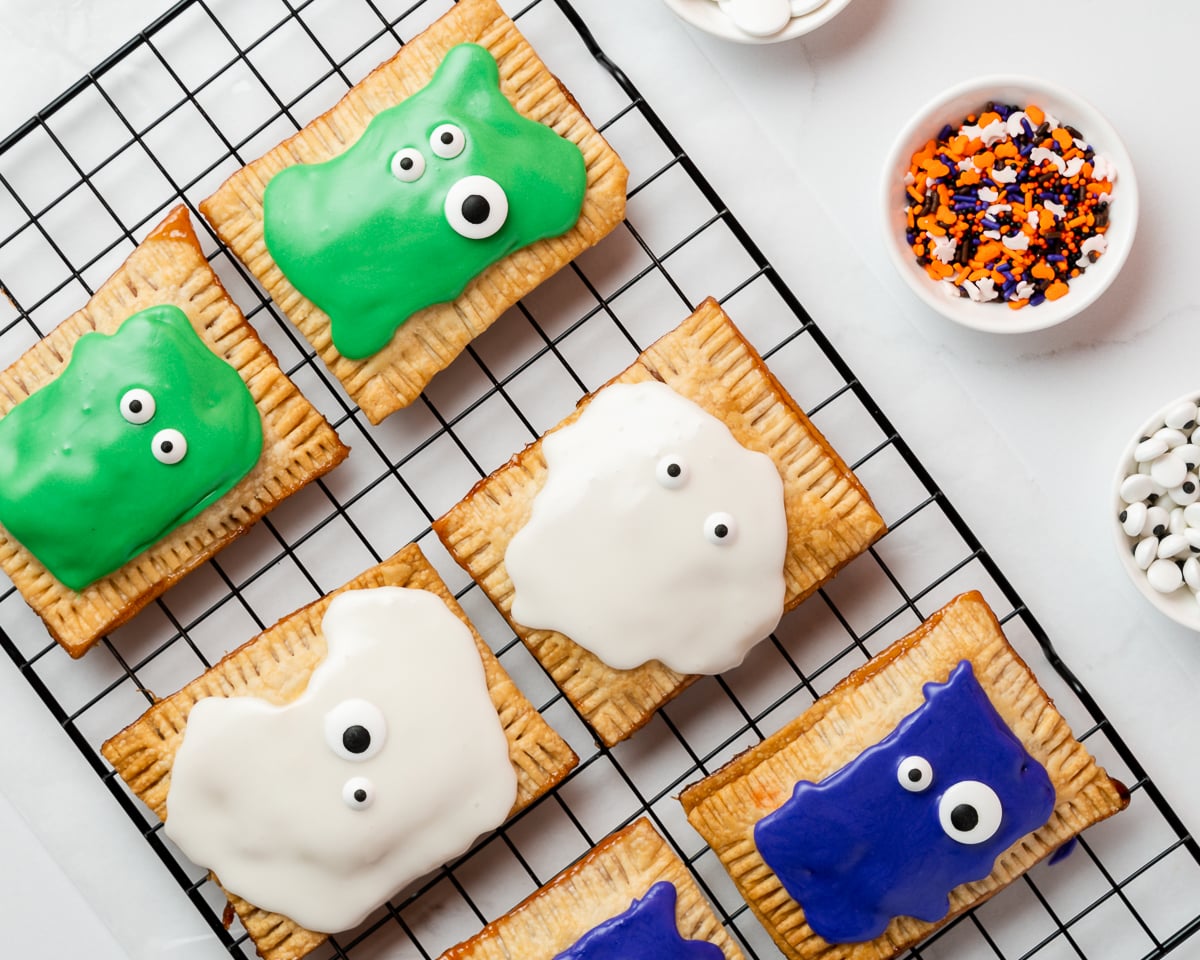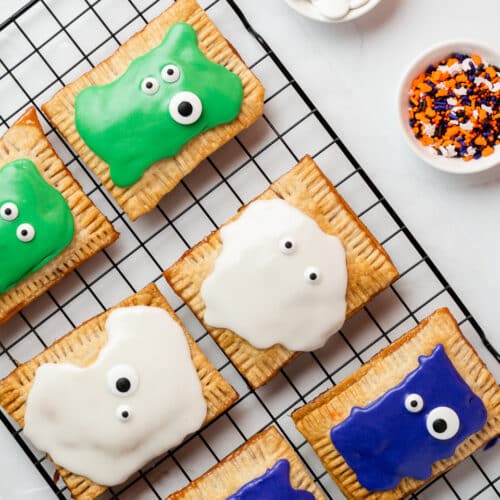 Spooky Halloween Pop Tarts
The perfect Halloween breakfast recipe to make with kids, these spooky pop tarts have it all. Made with just a few ingredients, they are quick to assemble, fun to decorate, and even better to eat. Make some the next time you have a Halloween party with kids or want to put together a fun, creative baking activity with your family.
Ingredients
2

premade pie crusts

2

cups

confectioners sugar

1

tsp

vanilla extract

¾

cup

strawberry jam

3

tbsp

heavy whipping cream

16 to 20

candy eyes

sprinkles

for decorating

food coloring

for decorating
Instructions
Roll out the pie dough to a 1/4 inch thickness in the shape of a rectangle.

Use a knife or pizza cutter to trim the edges of the pie dough, then slice each section into 3-inch strips. You can reroll the extra dough you cut off to make two additional pop tarts.

On one half of the strip, put 2 tablespoons of jam.

Fold the unfilled half of the dough over the filled half and use a fork to seal the edges.

Preheat your oven to 375ºF. Bake the pop tarts until golden brown, about 18-20 minutes.

Place the pop tarts on a cooling rack and allow them to cool.

Place 2 cups of confectioner sugar, 3 tablespoons of heavy whipping cream, and 1 tsp vanilla in a bowl and whisk together until smooth. Add extra cream or powdered sugar to get it to a thick, yet still spreadable consistency.

Divide icing into bowls and color with the food coloring of your choosing.

Decorate with colored icing, candy eyes, sprinkles, or anything else you prefer.

Allow the icing to set for a few minutes before enjoying.
Notes
Make sure that you fully cool the pop tarts before you decorate them. Also, allow the icing to harden a little before you serve them. If you want these to be stackable and keep for even longer, use a more robust icing like royal icing.
Nutrition
Calories:
387
kcal
Carbohydrates:
65.84
g
Protein:
2.8
g
Fat:
12.41
g
Saturated Fat:
3.23
g
Fiber:
1.1
g
Sugar:
39.09
g
Here are a few other recipes you might enjoy!
Arielle is a food and drink photographer based in Washington, D.C. She was previously a social science researcher before she fell in love with photography.