Halloween waffles will cast a spell on your senses and prime everyone in your household for an evening of pumpkin carving and a night of trick-or-treating dressed up in spooky costumes.
The cinnamon and pumpkin in this waffle are so tasty, but this dish is particularly fun because you get to decorate and play with your food first. Cinnamon-spiced pumpkin waffles are decorated into…Jack-O-Lantern waffles! What better way to celebrate Halloween?
This is the kind of dish you can turn into a fun weekend activity with your kids as you'll be decorating the waffles with colored whipped cream and candy eyes.
Halloween waffles are a hefty, filling dish, but you can pair it with a spicy hot chocolate with marshmallows, a pumpkin spice latte, or any other fall-flavored drink that you like. Make it indulgent, sweet, and fun. This dish is all about enjoying yourself and not taking things too seriously!
So have fun! The weirder your pumpkins look, the creepier and spookier they will be! Don't worry too much about how they look when you decorate them. They will be just as delicious.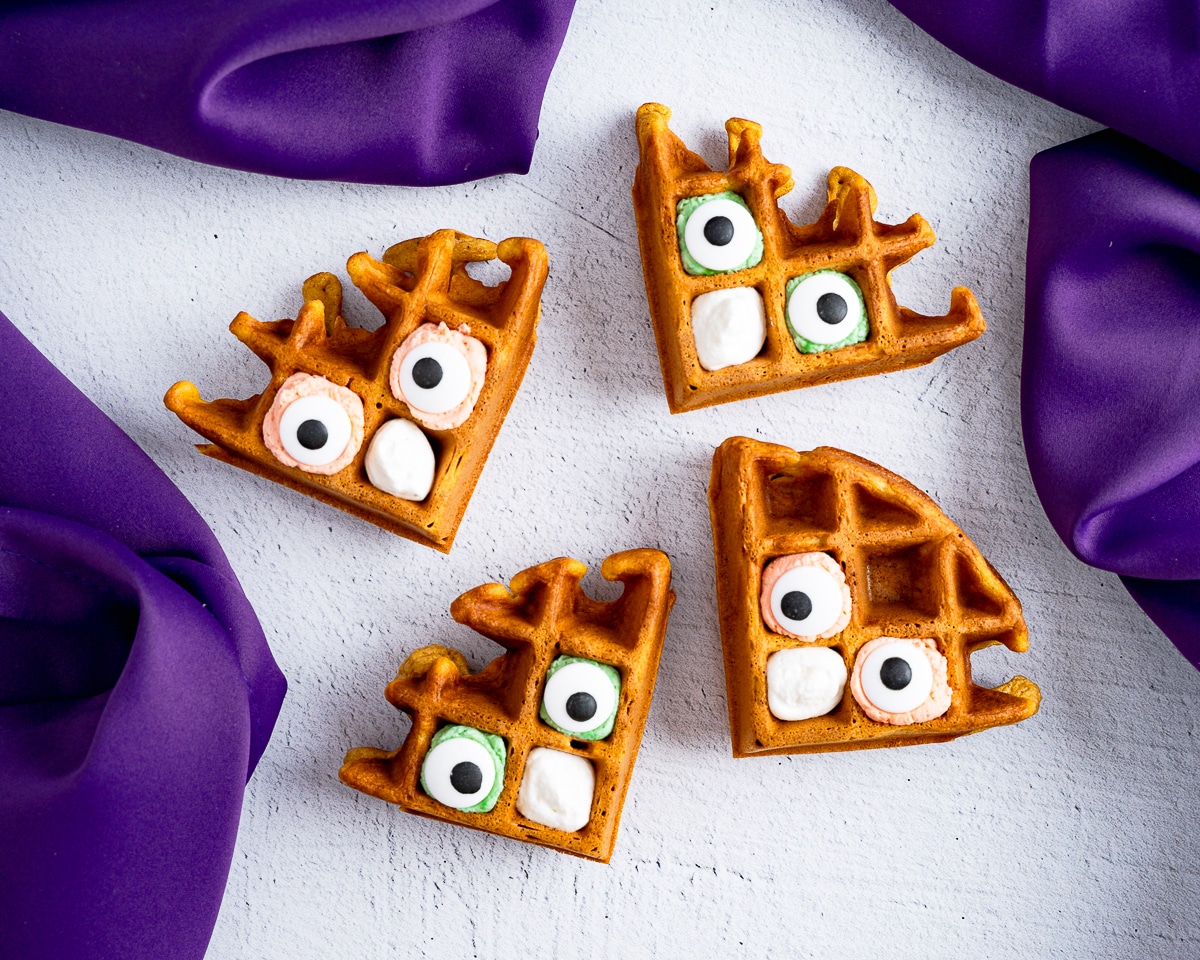 What You Need to Make Halloween Waffles
You will need a lot of staple items you probably regularly use for baking, like butter, eggs, milk, cinnamon, baking soda, baking powder, all-purpose flour, brown sugar, and salt.
You will also need canned pumpkin, yogurt, maple syrup, and whipping cream. I also recommend buying candy eyes. You can usually find these in the baking aisle of the grocery store.
Food coloring here is optional but makes the decorating feel Halloween-y and festive. I recommend using green and orange colors for pumpkins, but feel free to experiment!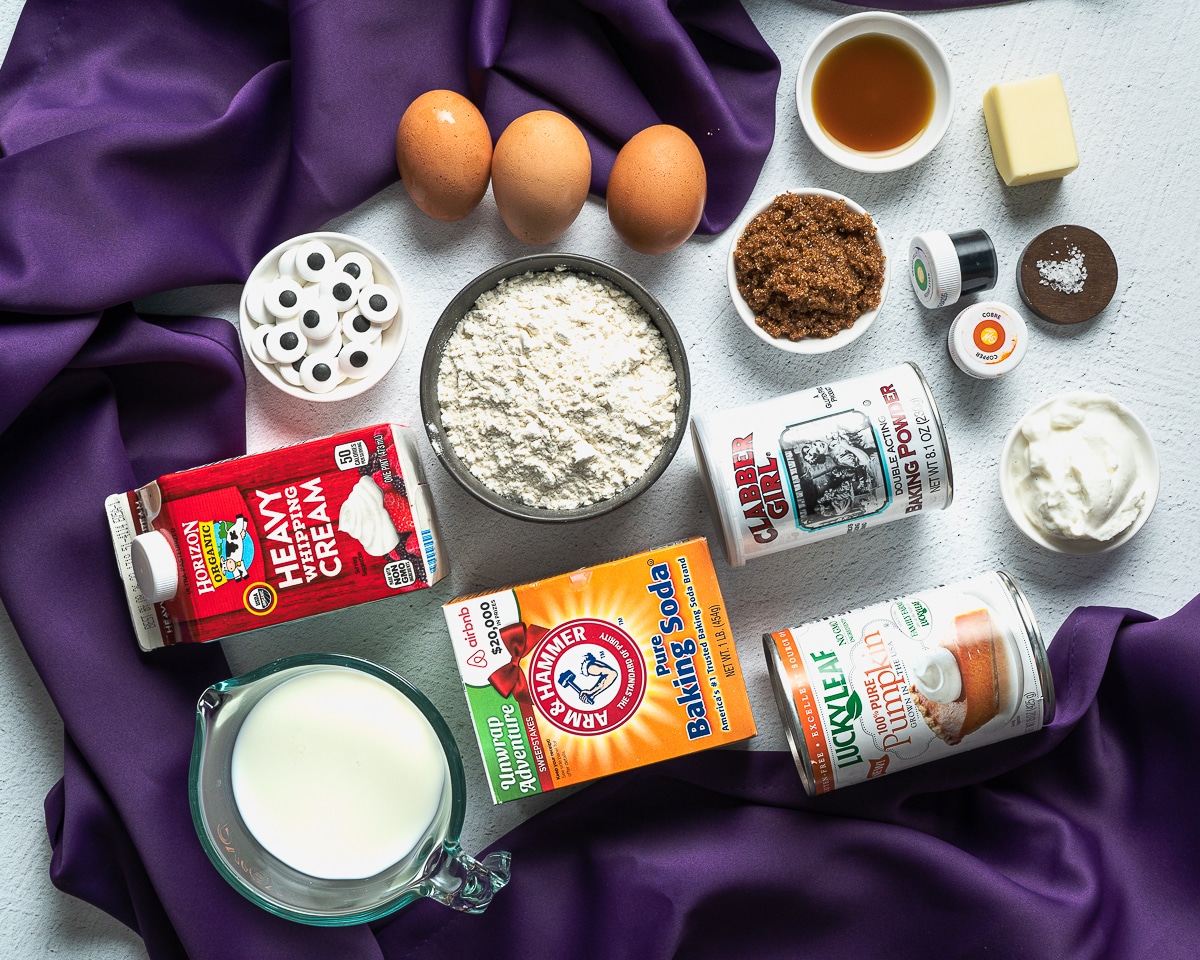 Ingredients:
All-purpose flour
Baking powder
Baking soda
Canned pumpkin
Milk
Plain yogurt
Brown sugar
Large eggs
Butter, melted
Cinnamon
Salt
Heavy whipping cream
Maple syrup, plus more for serving
Candy eyeballs (optional)
Food coloring, orange, green (optional)
Tools:
Halloween waffles require a waffle iron, several bowls, two whisks, a few small spatulas, and several sandwich bags or pastry bags.
I recommend using a Belgian waffle iron (it's round like a pumpkin) but you can use whatever shape of iron you have. A square iron could be an excuse to make Frankenstein heads!
How To Make Halloween Waffles
Make the waffle batter: Turn on your waffle iron and allow it to heat. Separately, melt the butter and allow it to cool slightly. Once cool, whisk together eggs, melted butter, pumpkin, yogurt, sugar, and milk until smooth.
In a separate bowl whisk together flour, salt, baking powder, and baking soda. Add the dry ingredients to the wet ingredients and whisk until no lumps of flour remain, but do not over-mix.
If using, add 1-2 drops of orange or copper food coloring to the batter and whisk carefully until it's a homogenous color. Do not mix more than you need to. The resulting batter should be somewhat loose and form ribbons.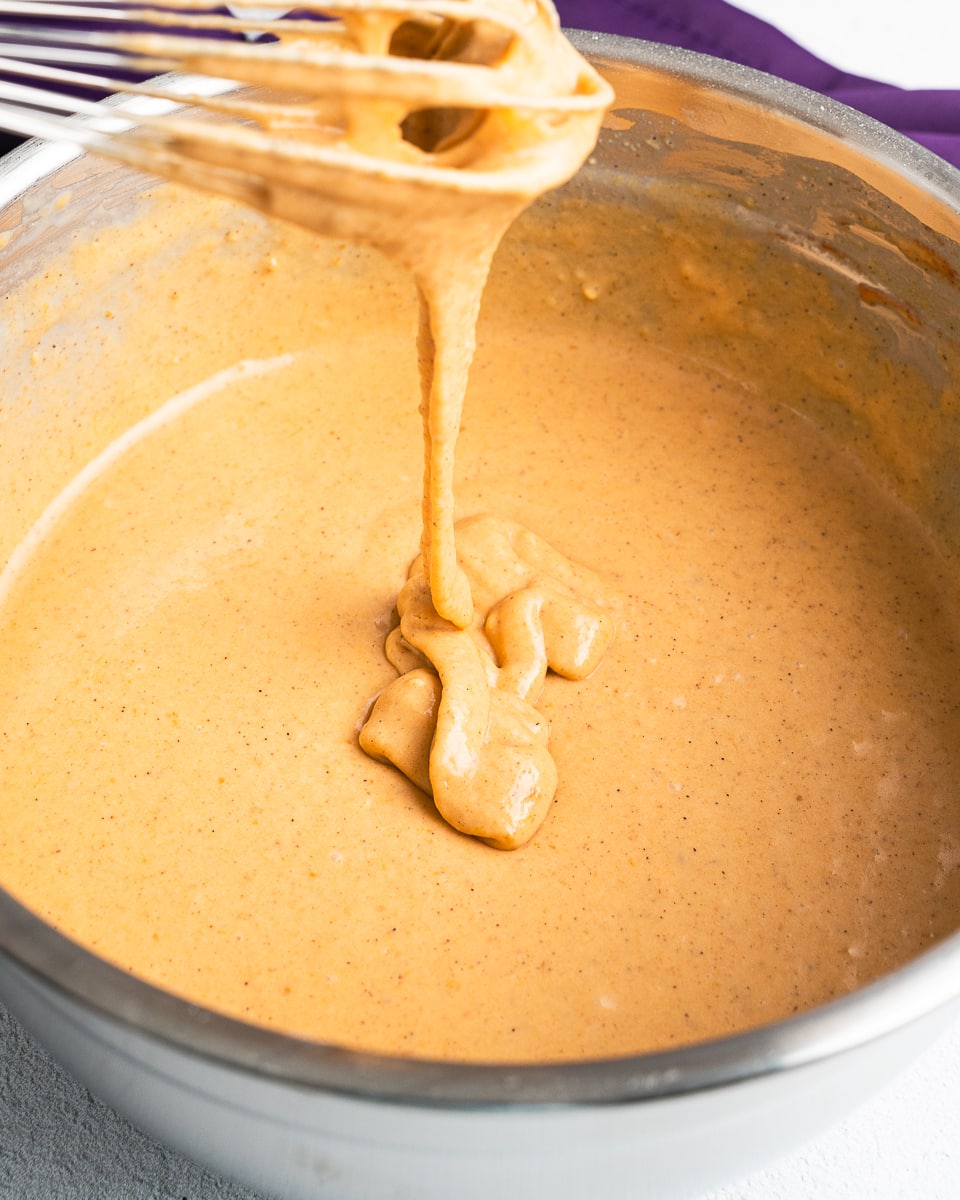 Make the waffles: Once your waffle iron is hot, fill the entire waffle iron but do not add so much that it is overflowing. In my standard Belgian waffle iron, this was a little more than one cup of batter.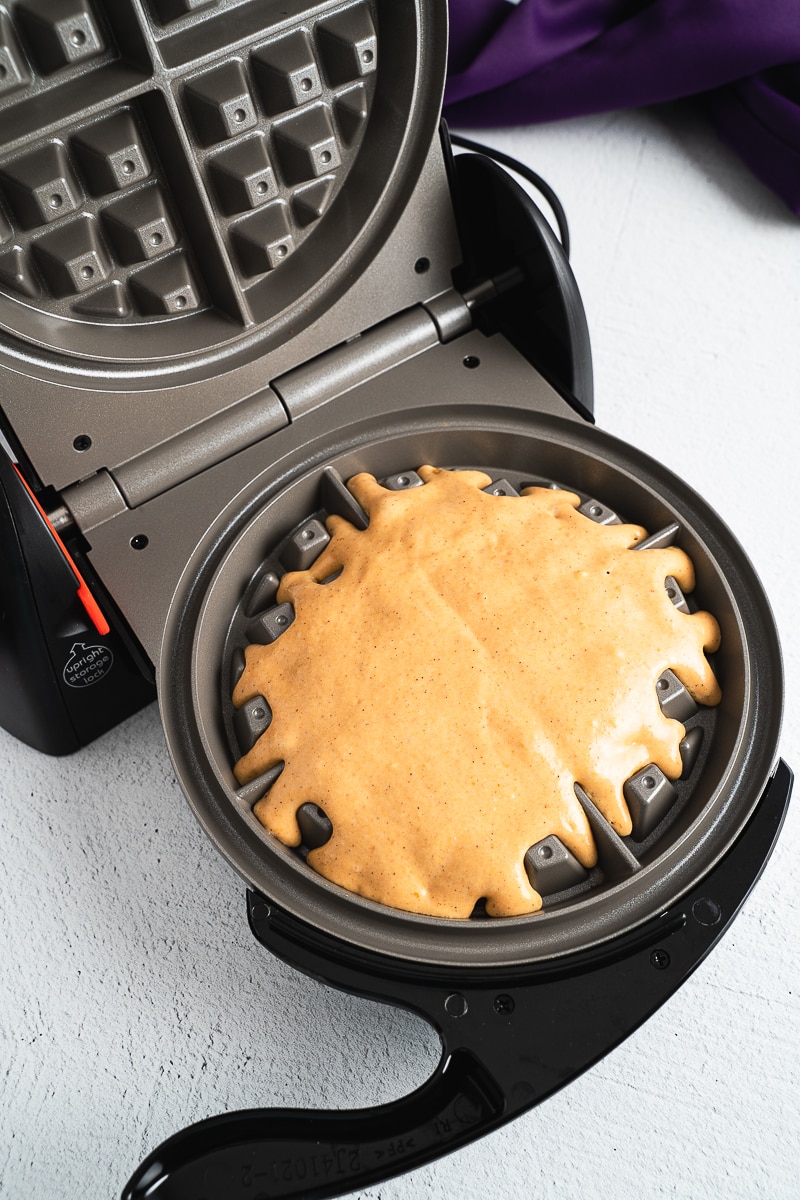 Close the iron (and flip if using a Belgian waffle iron). Allow it to cook for 4-5 minutes or until the steam stops rising from the iron.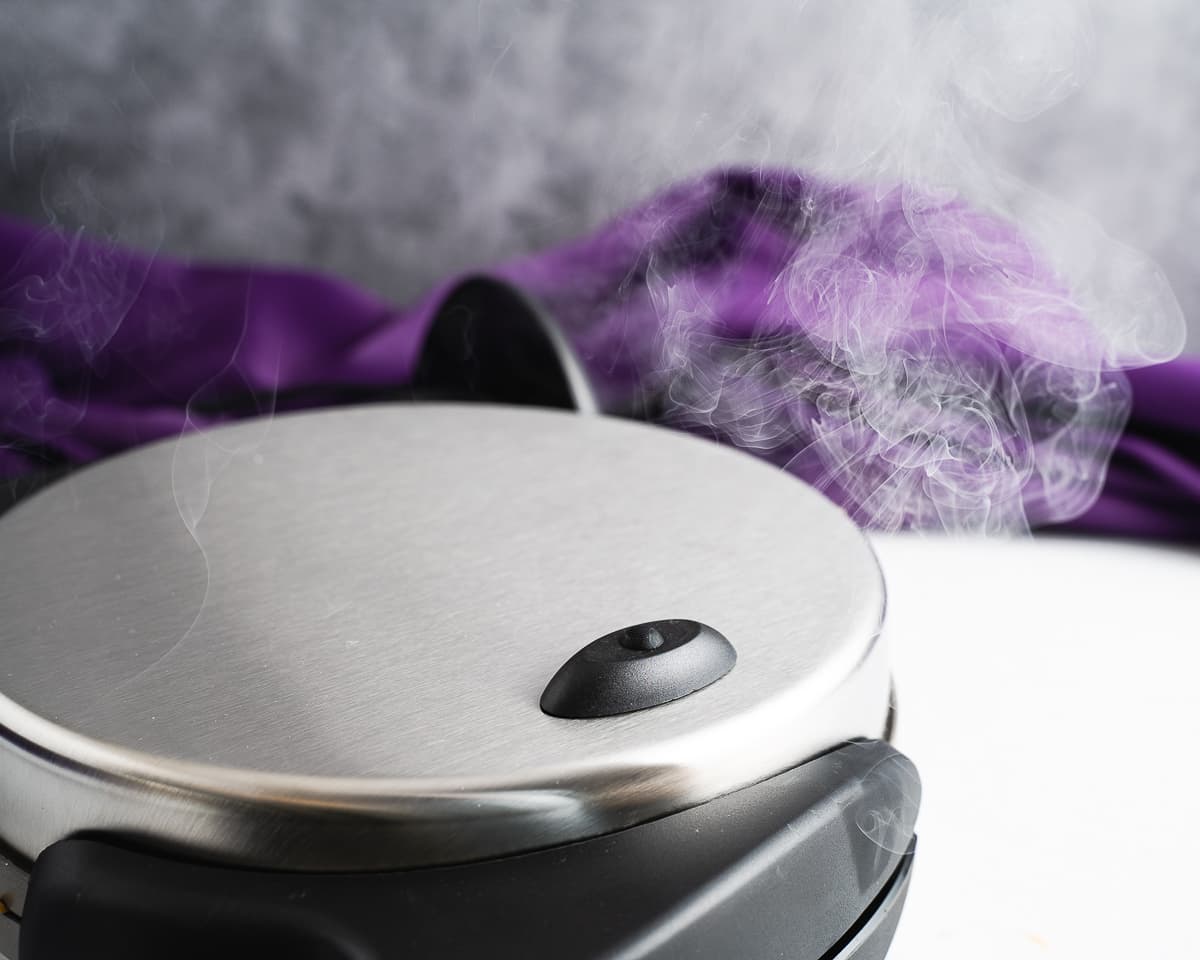 Remove the waffle and close the machine, allowing it to heat up again before making the next batch of waffles.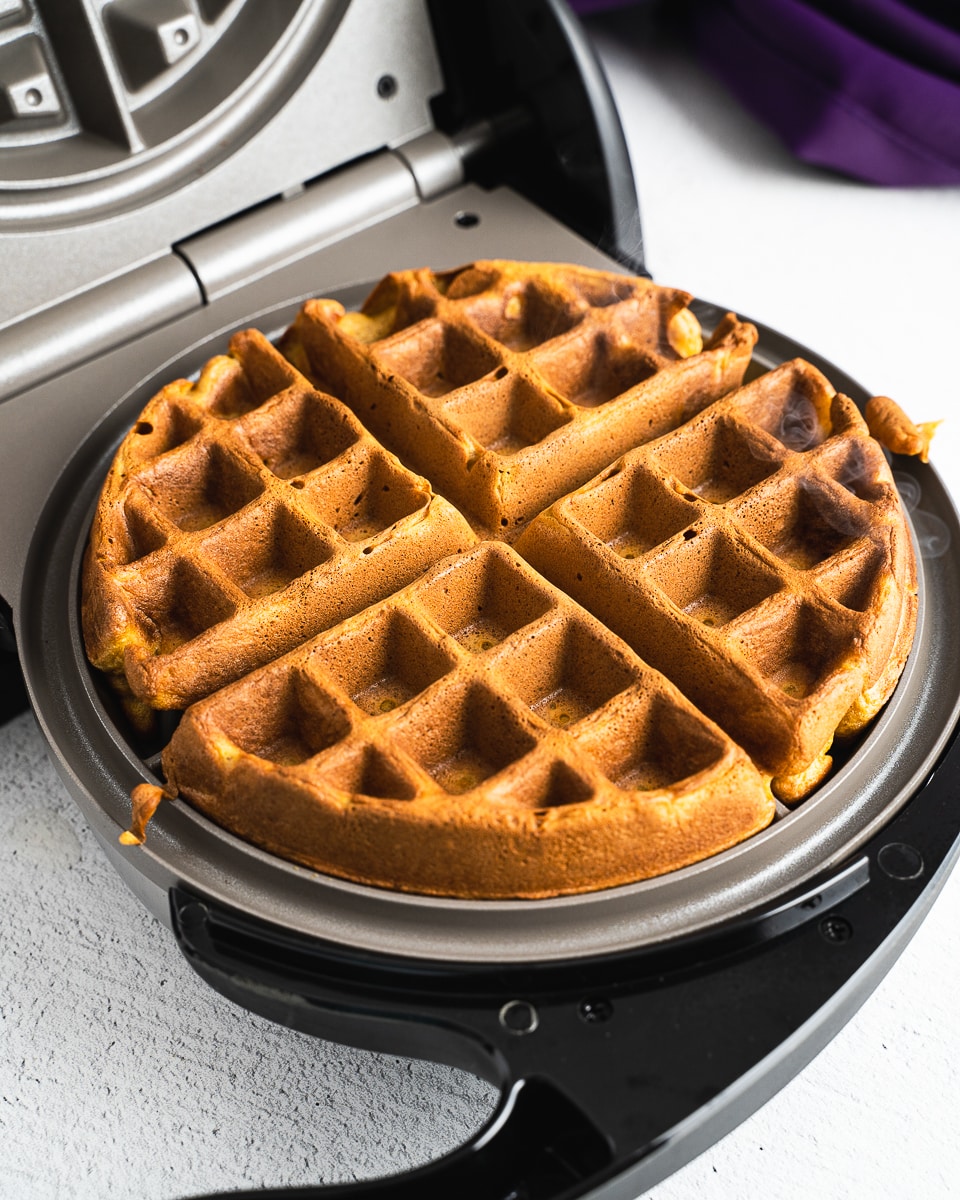 Place finished waffles on a cooling rack.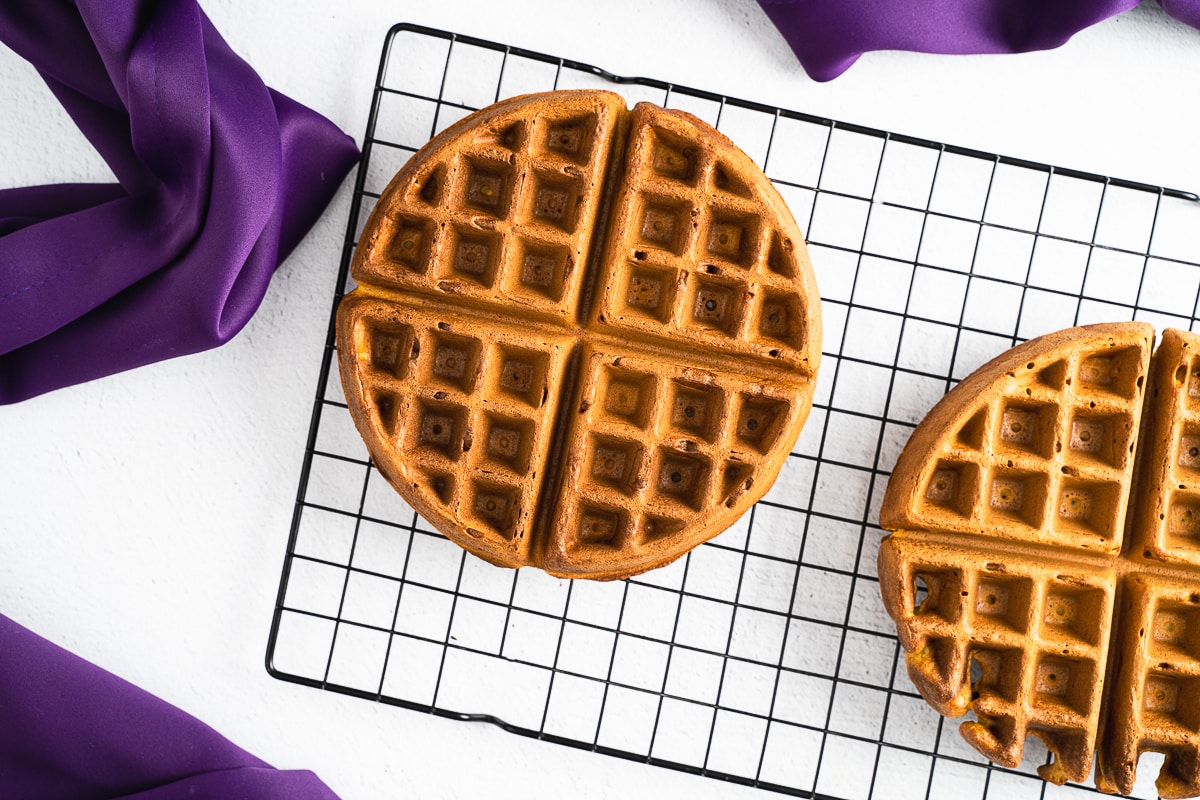 Make the whipped cream: Place very cold heavy whipping cream and maple syrup in a chilled bowl and whip until stiff peaks form.
Divide the whipping cream into 2-3 bowls, depending on how many colors you plan to decorate with. I used white, green, and orange, so I used two additional bowls to create the green and orange colors.
In each bowl, add 1 drop of food coloring, and using a rubber spatula, mix until the color is consistent across the batter. Be careful not to deflate the whipped cream.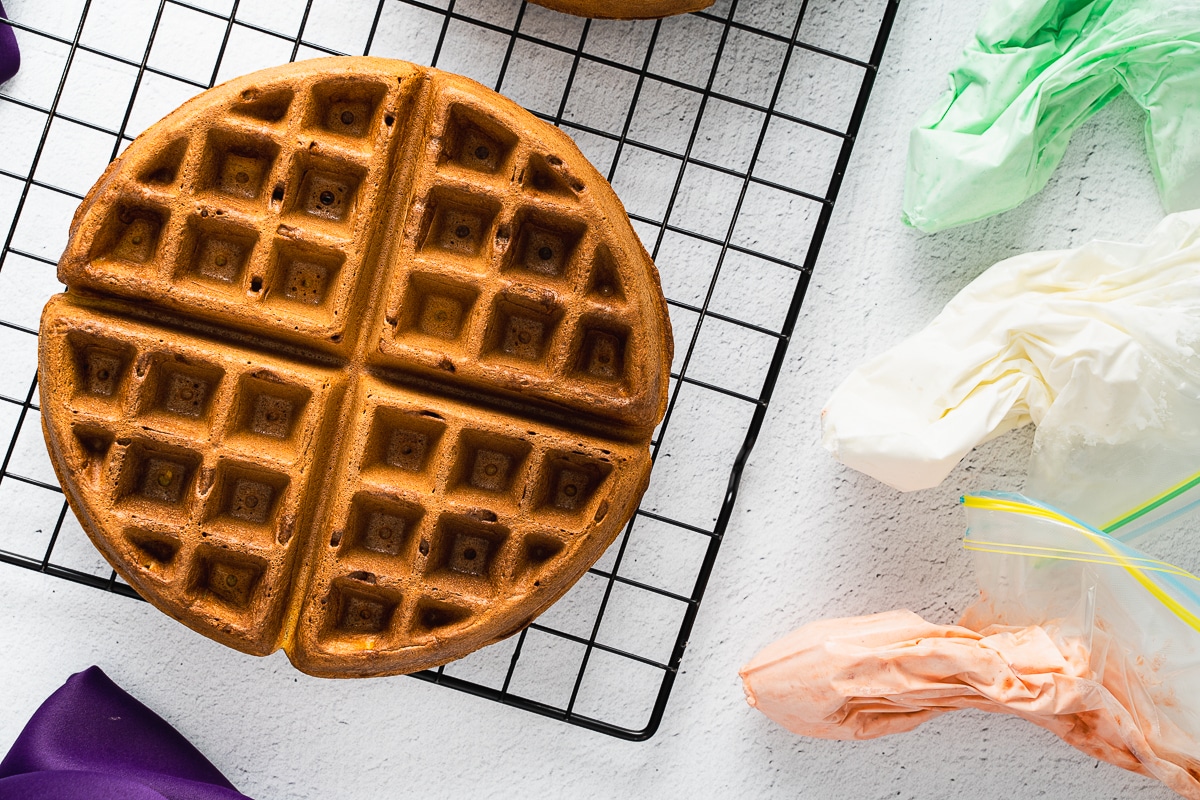 Decorate: Place the colored whipped creams into separate sandwich bags and snip off the corners to create pastry bags, or use pastry bags if you have them. Experiment and have fun with making eyes, vines, mouths, and whatever else you want on your pumpkin waffles.
Make sure to add a few candy eyeballs as well. Serve immediately with more maple syrup.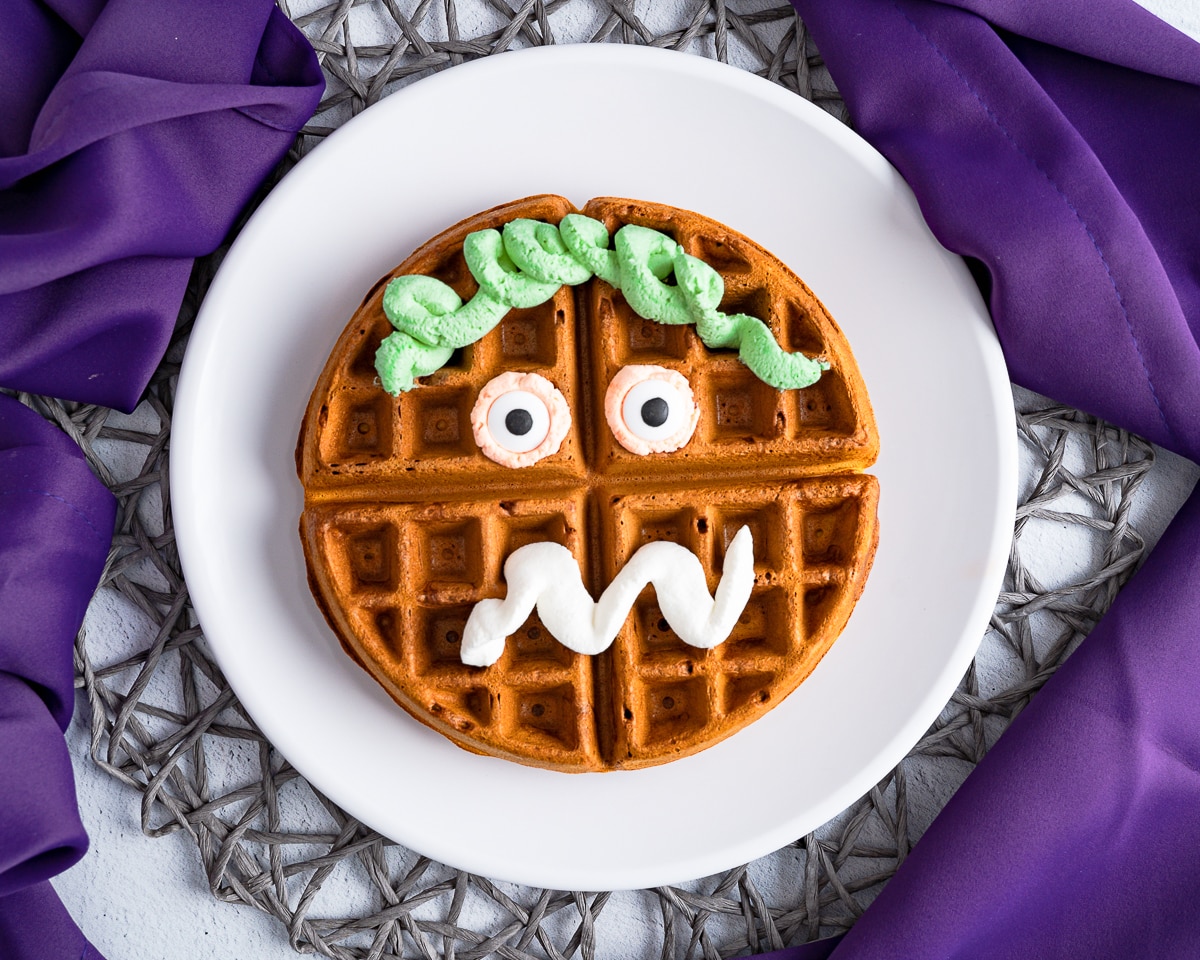 Belgian waffles are so big! My child can't eat an entire one themselves. What can we do?
The great thing about Belgian waffles is that you can cut them up into halves or fourths very easily, and still have fun decorating! See what other kinds of funny faces and designs you can come up with if you use different waffle shapes for little tummies.
What colors work best in the waffle dough?
Because the waffles have canned pumpkin in them, the dough will already be tinted orange. I recommend dying your waffle dough orange to get a brighter orange color.
I used copper food coloring, but you can also use orange. I have also had success using green in the dough, but colors like red and purple have not yielded good effects.
Do I need to whip my egg whites?
Usually, waffle recipes tell you to whip the egg whites before adding them to the batter to get the crisp exterior. However, in my experience with this recipe, this did not produce a crispier waffle, so I have excluded this step (who doesn't want to get to eat the waffles faster?!).
How much food coloring should I use?
Food coloring is very potent. You can always add more, but you can't subtract the color that you've added. Always start slow and add more if you feel your colors aren't vibrant enough.
I can't find candy eyes, what else can I use?
You can decorate with anything you like! Green, orange, or purple sprinkles are fun and festive. You can also use black icing gel to create little eyes in dollops of whipped cream. Experiment and have fun!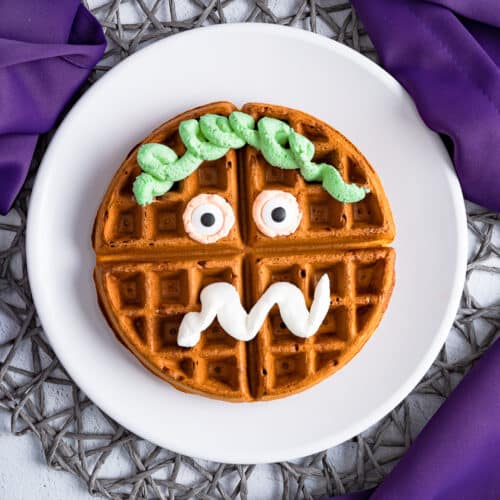 Halloween Waffles
Halloween waffles are the recipe to make for your next Halloween celebration with kids. Simple pumpkin waffles are decorated with candy eyes and colored maple whipped cream for a delicious and festive brunch meal. Don't forget to wear your costume as you serve this dish with a strong pumpkin spice latte, a spicy hot chocolate, and of course, a lot of fall festive fun.
Ingredients
2

cups

all-purpose flour

1 ½

tsp

baking powder

1 ½

tsp

baking soda

1

cup

canned pumpkin

1 ¼

cup

1%, 2%, or whole milk

¼

cup

plain yogurt

⅓

cup

brown sugar

3

large eggs

4

tbsp

melted butter

1

tsp

cinnamon

½

tsp

salt

1

cup

heavy whipping cream

1

tsp

maple syrup

plus more for serving

food coloring

(optional)

candy eyes

(optional)
Instructions
Melt 4 tablespoons of butter and allow to cool.

Whisk together melted butter, eggs, pumpkin, 1 ¼ cups milk, ¼ cup yogurt, 1/3 cup brown sugar, and 3 large eggs until smooth.

In a separate bowl, whisk together 2 cups of all-purpose flour, 1 ½ teaspoon baking powder, 1 ½ teaspoon baking soda, 1 teaspoon cinnamon, and ½ teaspoon kosher salt.

Add dry ingredients to wet ingredients and whisk just until no clumps of flour remain.

Add 1-2 drops of food coloring, if using, and mix until color is fully incorporated.

Once the waffle iron is fully heated, add enough batter to fill the waffle iron. This will vary based on your waffle iron. Cook until the steam stops rising from the machine.

Place finished waffles on a cooling rack.

Allow the waffle iron to reheat before continuing with the next waffle. Repeat until no waffle batter remains.

Place 1 cup of cold whipped cream and 1 teaspoon of maple syrup in a chilled bowl and whip until stiff peaks form 1-2 minutes.

Divide the whipped cream into several bowls, one for each color you will use to decorate.

Add 1 drop of food coloring to each bowl. Use a rubber spatula to blend the color into the whipped cream, being careful not to deflate the whipped cream.

Place the whipped cream into pastry bags or sandwich bags and snip off a corner of each bag.

Use the bags of whipped cream to decorate the waffles. Add candy eyes and other decorations as you see fit.

Serve immediately with more maple syrup.
Notes
There are a few tricky parts to this recipe. First, be patient! You need to let the waffle iron get hot before you start making the waffles and again in between making each waffle. If your waffle iron has an indicator on it, let the waffle iron continue to heat for an extra 30-45 seconds past when it tells you it is ready. You also want to keep cooking your waffles until there is almost no more steam coming out. This will help you get crisp, sturdy waffles.
When you take your waffles out of the iron, put them on a cooling rack to cool slightly before you decorate them. This will keep your waffles from re-steaming and will also allow your waffles to cool a little bit so that the whipped cream doesn't melt while you decorate.
Nutrition
Calories:
563
kcal
Carbohydrates:
66.29
g
Protein:
12.72
g
Fat:
28.18
g
Saturated Fat:
16.51
g
Fiber:
3.6
g
Sugar:
19.91
g
Here are a few other recipes you might enjoy!
Arielle is a food and drink photographer based in Washington, D.C. She was previously a social science researcher before she fell in love with photography.