These waffle tacos filled with ice cream are fun, delicious, and can be made in less than an hour. All you need is a good waffles recipe, some ice cream, and your favorite toppings to enjoy a delicious summer snack.
This recipe is easy to make and involved enough to keep the kids entertained throughout. It is pretty straightforward since it is a classic chocolate waffles recipe made even more delicious when the ice cream and other toppings are added.
If you love waffles as much as we do, check out these recipes for Peanut Butter Waffles, Nutella Waffles, and Mochi Waffles.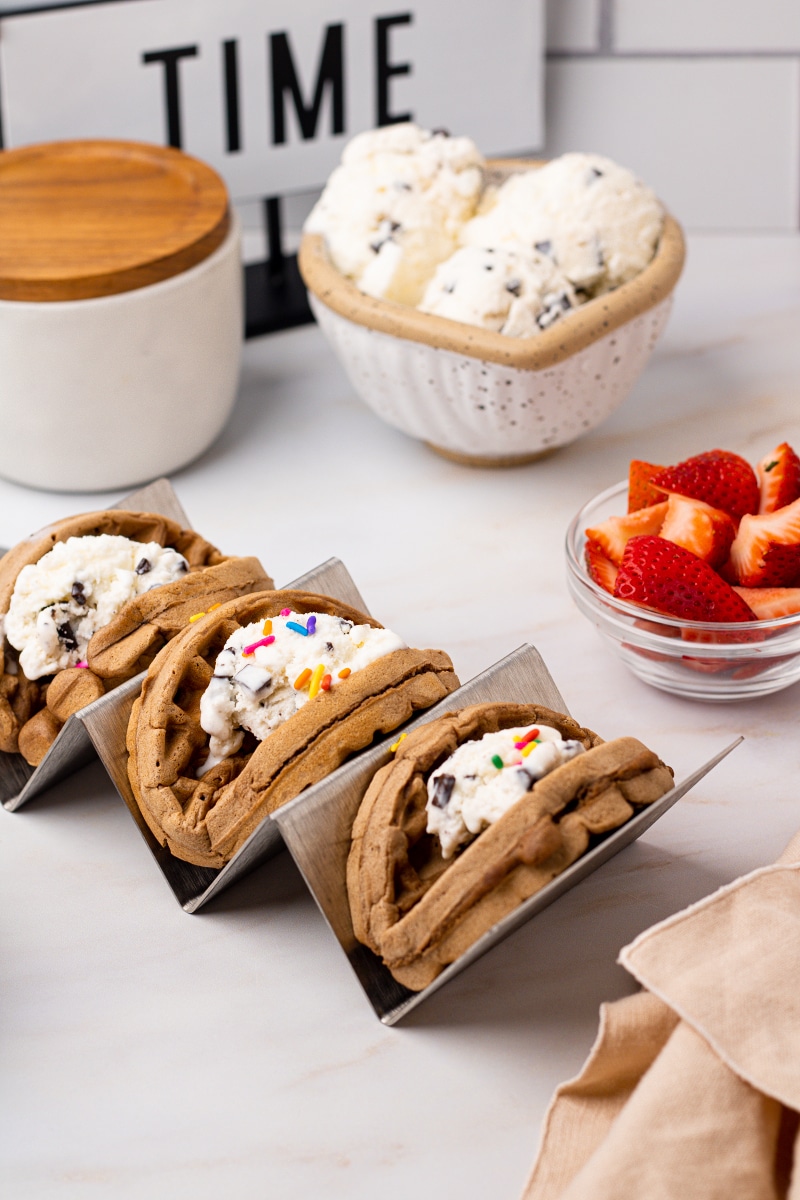 Why You'll Love This Recipe
Sweet and Fun Twist on Tacos: Who said tacos need to be savory? This fun recipe transforms breakfast tacos into a sweet, irresistible treat by using waffles and ice cream. Plus, who doesn't love a good taco shape dessert like ice cream tacos?
Versatile Toppings: The beauty of these waffle tacos lies in the customization. Whether you want to drizzle with maple syrup, sprinkle on some cookie crumbs or load up on fresh berries, the choice is yours.
Engaging and Easy Recipe: This is not just a recipe, but a fun activity to keep the kids engaged. They'll love making and eating these delicious waffle tacos, making it a hit with the whole family.
Recipe Ingredients
You'll need the following ingredients to make this taco waffle recipe: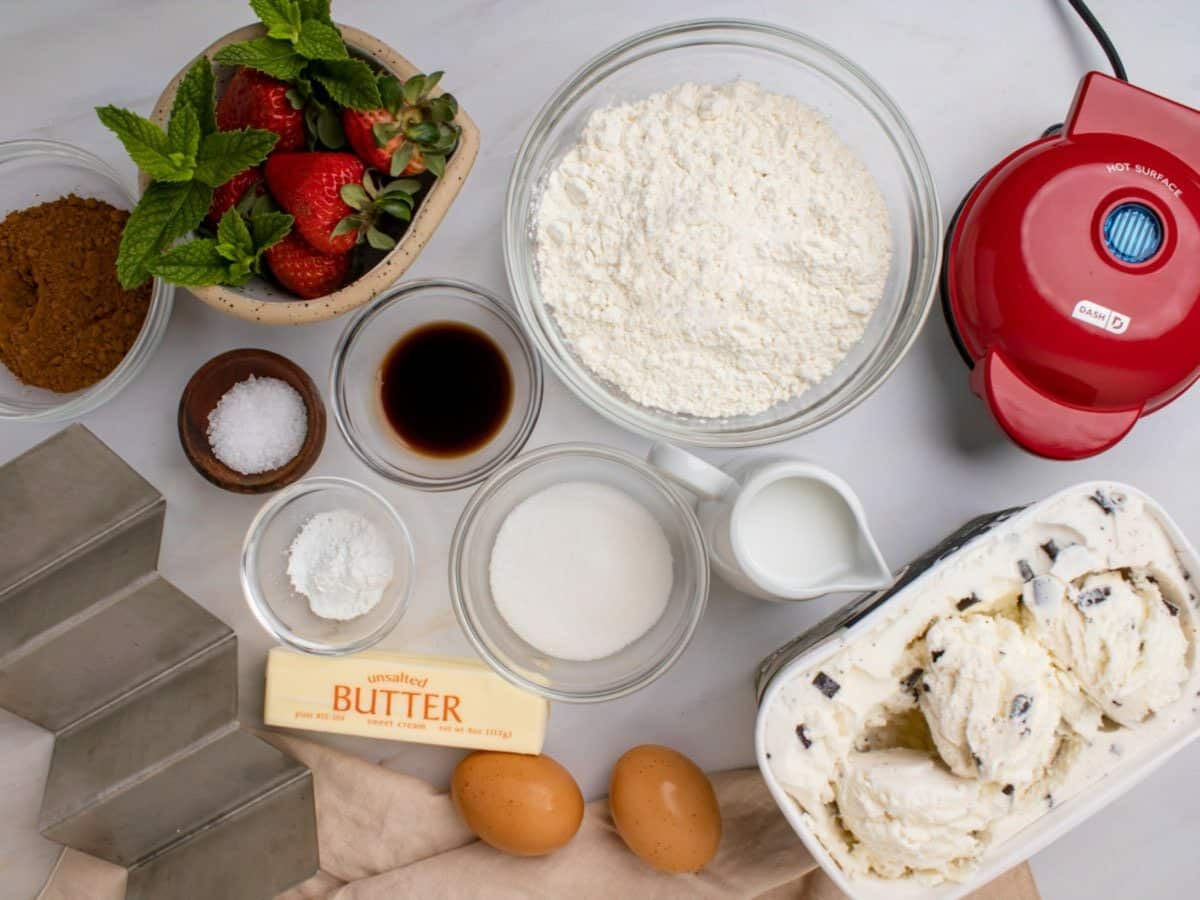 Ingredient Notes
Flour: The recipe calls for all-purpose flour, but you can switch it up for whole grain flour for a healthier twist. Keep in mind that the texture might differ slightly.
Ice Cream: Choose your favorite ice cream flavor for the filling. Mint chocolate chip, vanilla, strawberry, or even butter pecan, anything works!
Toppings: This is where you can get really creative. You can use anything from a simple chocolate drizzle to exotic fruits. Consider adding a drizzle of maple syrup for an extra layer of flavor.
How To Make Waffle Tacos
In a mixing bowl, combine the flour, cocoa powder, baking powder, sugar, and salt. Stir to combine and set aside.
In a second bowl, combine the wet ingredients: eggs, milk, butter, and vanilla extract. Whisk to combine until frothy.
While stirring, add the wet ingredients to the dry. Continue whisking until the mixture is smooth.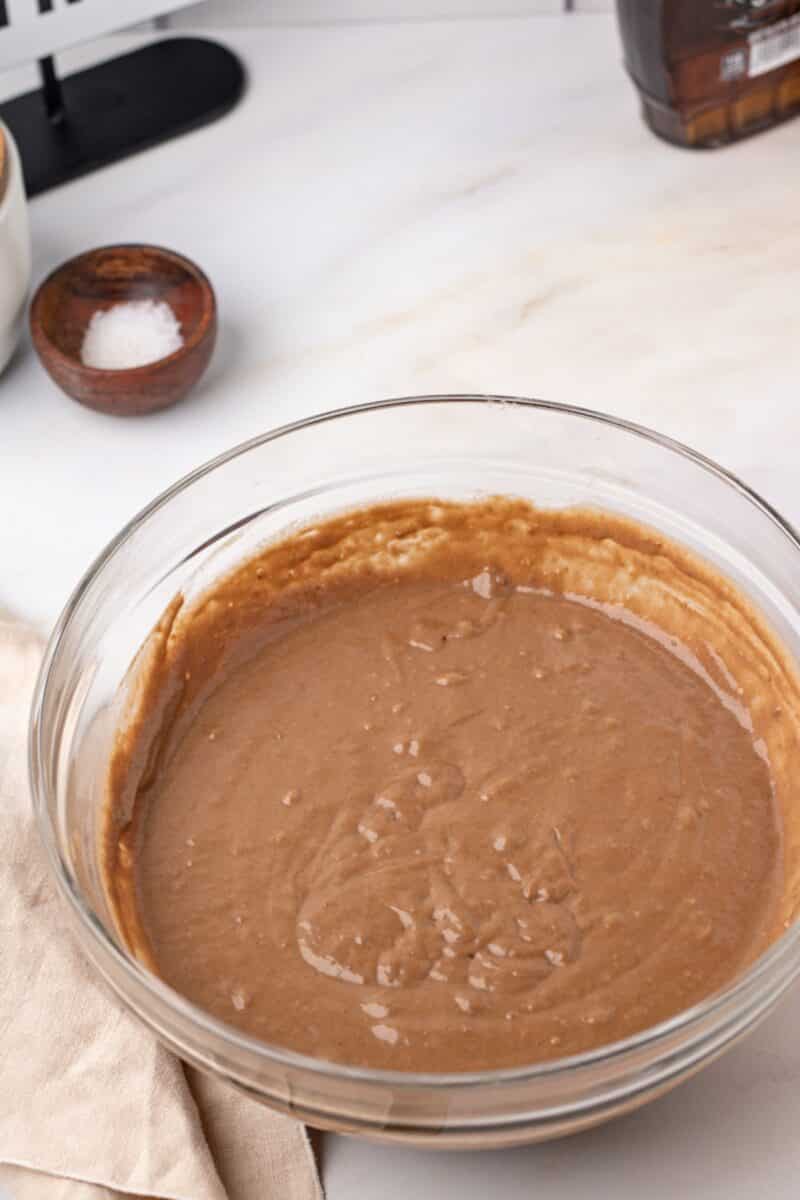 Heat the waffle maker and brush both sides with vegetable oil. Scoop the batter onto the waffle maker and close. Cook until you are able to open the waffle maker without force and the waffles are golden brown.
Transfer the waffle to a plate and repeat with the remaining of the batter.
When the waffles are slightly cooled and more pliable, put them on the taco holder.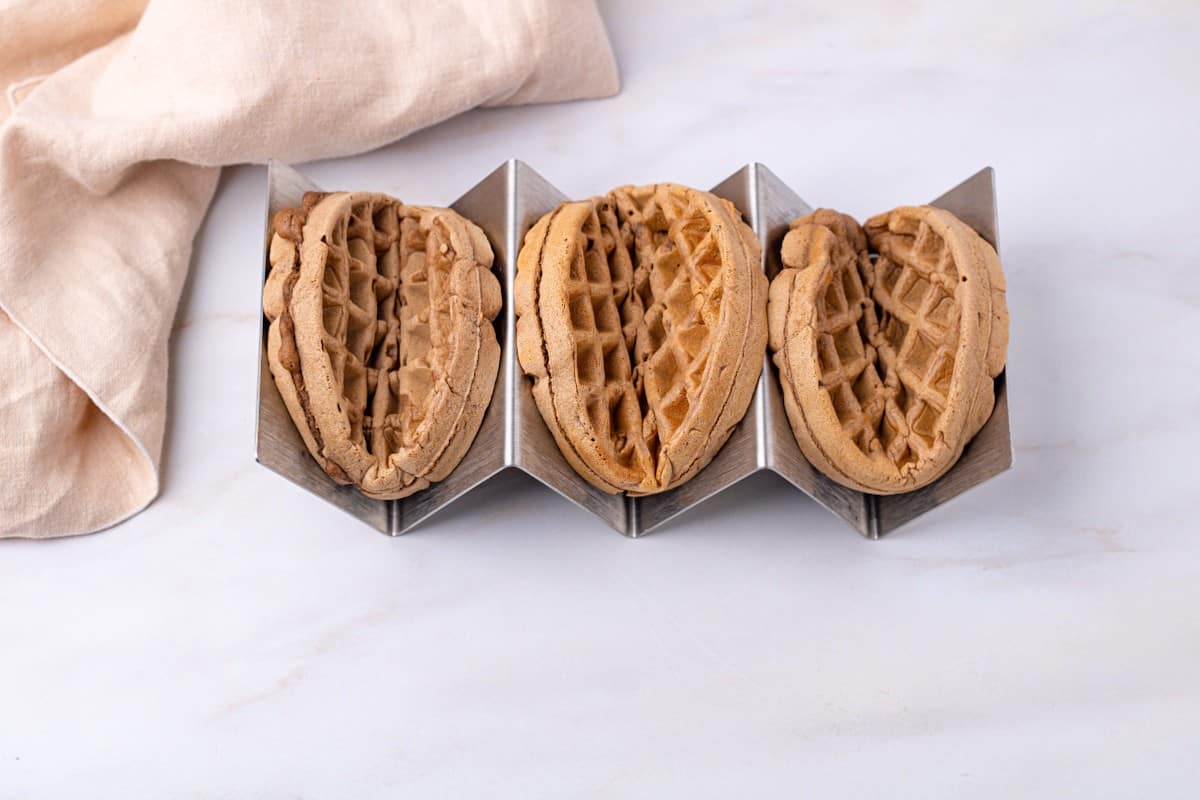 Add a scoop of ice cream and top with sprinkles, chocolate syrup, or your favorite toppings. Enjoy!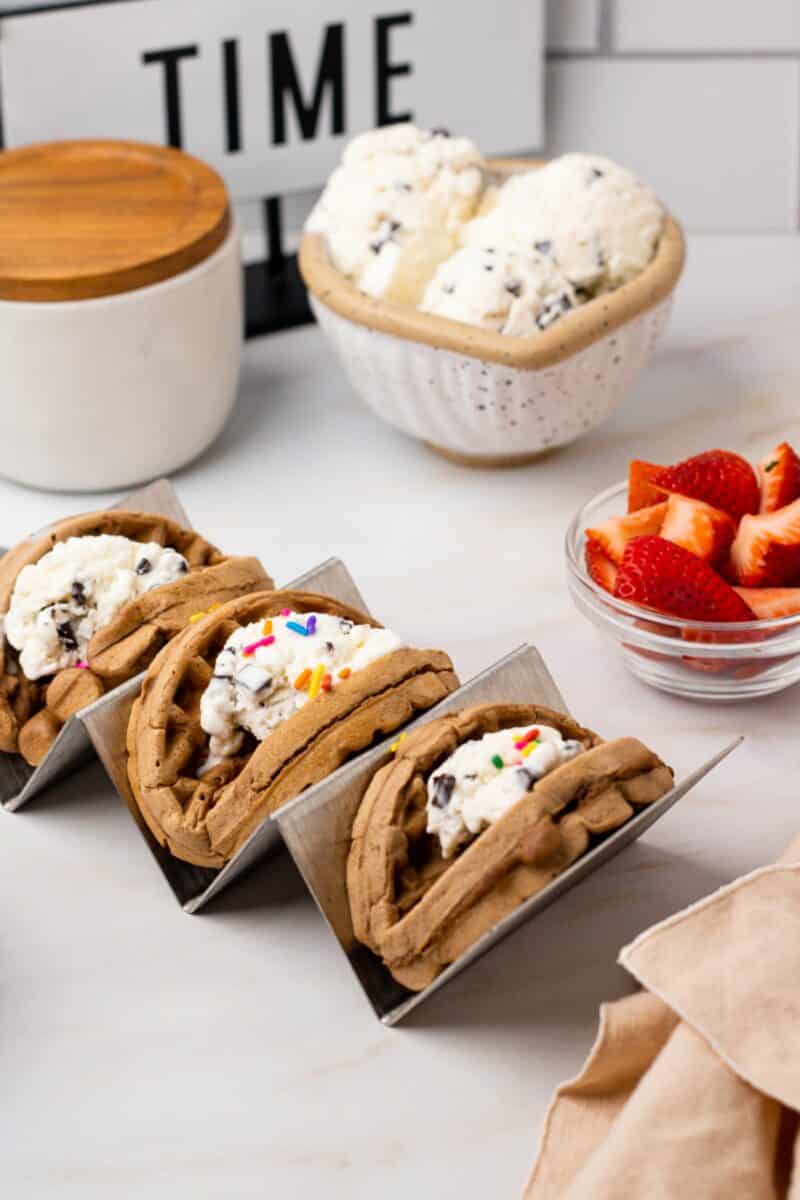 Recipe Tips
Preventing Cracks: Let the waffles cool slightly before forming them into a taco shape. This prevents them from cracking and makes them easier to handle.
Frothy Batter: Make sure your wet ingredients are well whisked until frothy before adding them to the dry ingredients. This ensures your waffles come out light and fluffy.
Cooking Time: Be patient when cooking your waffles. Trying to open the waffle maker too soon might tear the waffle. It's done when you can open the waffle maker without force.
Storage & Reheating
These waffle tacos are best served fresh, but if you have leftovers, store them in an airtight container in the fridge for a day or two. To reheat, place the waffle in a toaster or oven until heated through. Add the ice cream and toppings just before serving.
Additions & Substitutions
You can swap out the regular waffles for a crispy waffle variation for a different texture. Similarly, if you want a fun breakfast spin, you could fill the waffle taco with scrambled eggs and cheese, turning these into breakfast tacos.
For a more decadent version, consider filling the waffle tacos with a combination of ice cream and fruit like bananas or peaches. The possibilities are endless!
Recipe FAQs
How do I prevent the waffles from cracking?
I usually let the waffles cool off and become softer on the outside before putting them on the taco holder. This will ensure that the waffles stay whole and don't crack in the middle.
What should I serve with these taco waffles?
A fresh fruit salad made with a mix of berries, kiwi, and pineapple would be a vibrant, tangy side that balances the richness of the ice cream. Similarly, a chilled glass of mint or fruit-infused water could offer a refreshing contrast. If you're looking to amplify the dessert vibes, consider serving a hot beverage like a rich hot chocolate or a creamy latte.
---
Here are some other waffle recipes you might enjoy!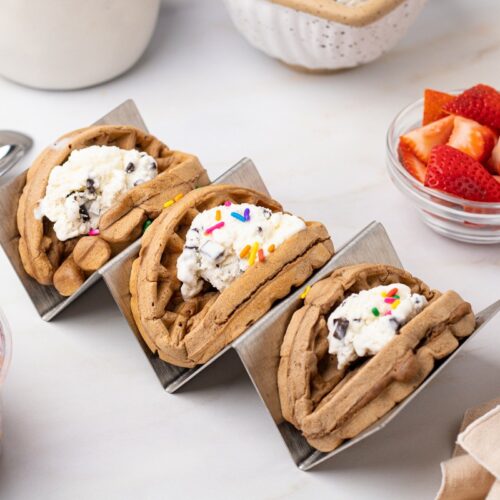 Waffle Tacos
Indulge in these delightful waffle tacos filled with your favorite ice cream for a sweet twist on the traditional taco. With a crispy waffle shell and a rich ice cream filling, this fun recipe promises a tasty adventure. Customize with your preferred toppings, be it fresh berries, chocolate drizzle, or even a dash of maple syrup. Quick to whip up, these waffle tacos make for a perfect summer treat or a fun weekend activity with the kids.
Ingredients
1 ¾

cup

all-purpose flour

½

tsp

salt

1

tbsp

baking powder

2

tbsp

sugar

2

large eggs

1 ¼

cup

whole milk

¼

cup

butter

melted

1

tsp

vanilla extract

1

cup

mixed berries

chocolate drizzle sauce

ice cream

french mint

optional
Instructions
In a mixing bowl combine the flour, salt, baking powder, and sugar. Whisk to combine and set aside.

In a second mixing bowl combine the eggs, milk, butter, and vanilla. Whisk to combine until frothy and pour over the flour mix. Whisk to combine until smooth.

Preheat the waffle iron and spray with non-stick spray. Scoop 1 cup of the batter and pour into the waffle maker. Try not to overfill it because it will make a mess.

Close the waffle iron and cook for a minute or two. Lift the top and transfer the waffle to a taco holder. Repeat with the rest of the batter.

Top the waffles with a few ice cream scoops and drizzle with the chocolate sauce. Top with fresh berries and mint.
Nutrition
Hristina Polk focuses on Mediterranean fusion meals inspired by her Eastern European culture and the places she has traveled.