This carrot waffles recipe is the perfect way to eat your veggies! It is delicious, easy-to-make, and healthy. I love adding flavor by playing around with the spices, but for the sake of affordability, I kept the recipe simple without taking out the flavor.
I like how this recipe has everything you need in a meal. It contains vegetables like carrots, sweet potatoes, and onion, and is also breaded with flour and an egg.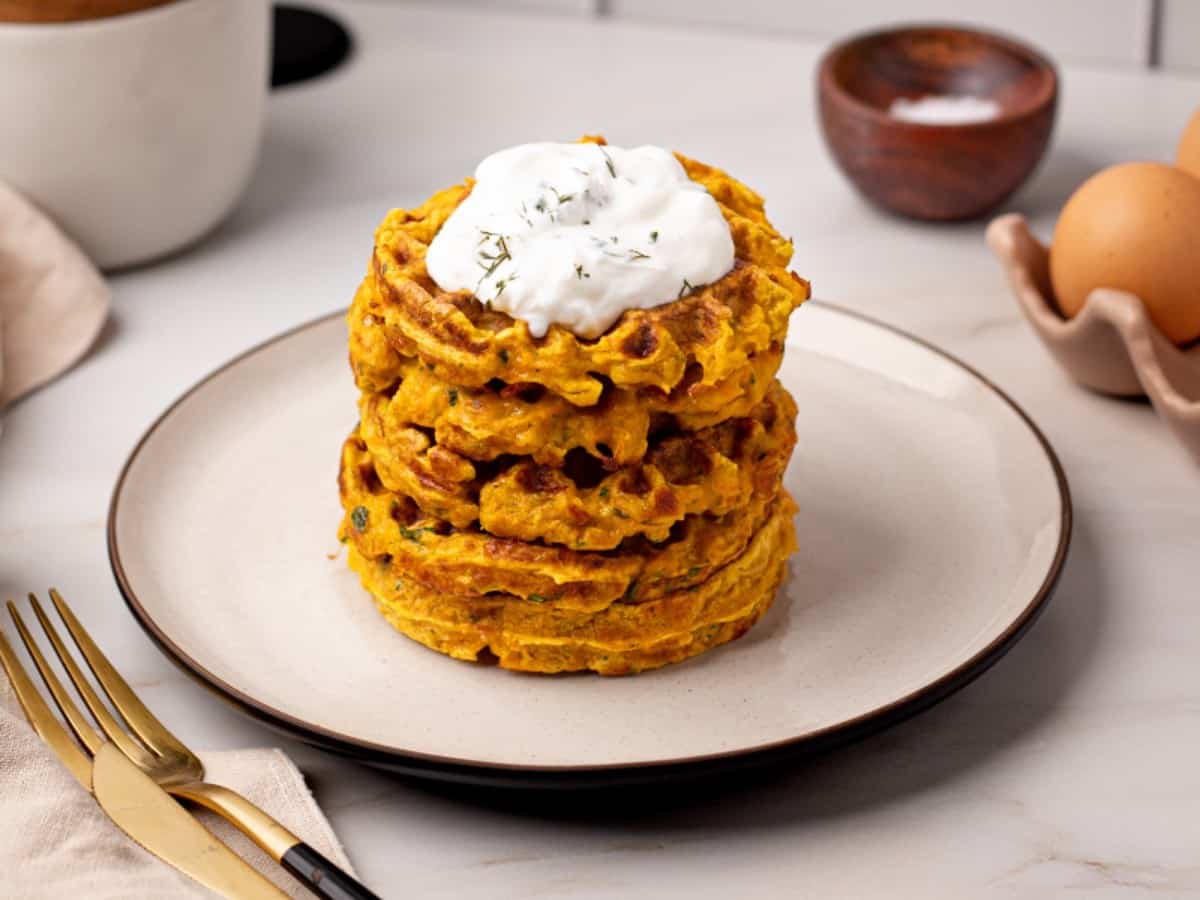 The recipe is pretty straightforward and it comes together much quicker than other waffle recipes. You will need a few tools to make sure it is executed well, but the ingredients you most likely already have in the fridge.
This carrot waffles recipe keeps fresh in the fridge or freezer for a while and is perfect for meal prep, putting on sandwiches, or accompanying soups instead of bread.
What You Need to Make Carrot Waffles
The ingredient count on this carrot waffles recipe is low. However, it is important that everything is prepped beforehand. Here is everything you will need.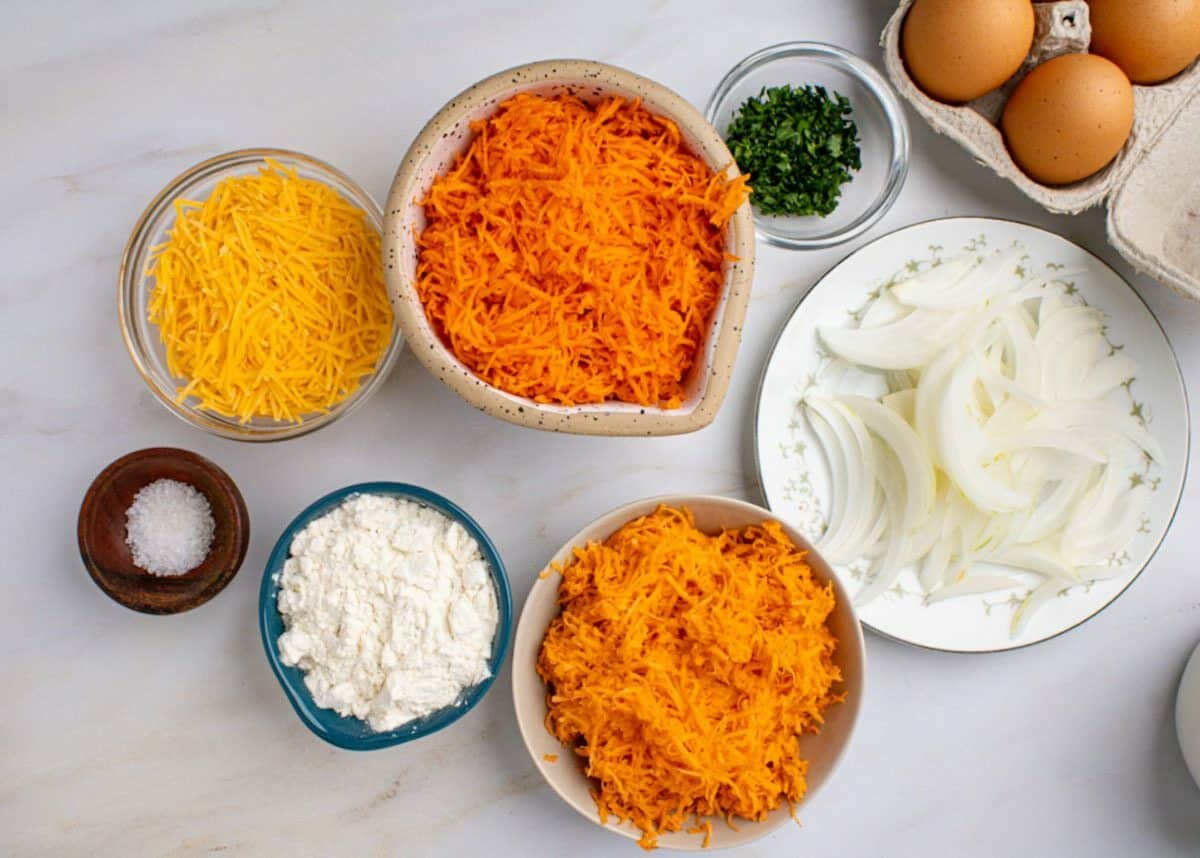 Ingredients:
Grated Carrots
Grated Sweet Potato
Chopped Onion
Shredded Cheddar Cheese
Flour
Eggs
Parsley
Sea Salt
Freshly Ground Black Pepper
Options for serving:
Hummus
Sour Cream
Chives
Yogurt
Tools:
Waffle Maker
Whisk
Mixing Bowls
Vegetable Grater
How To Make Carrot Waffles
Combine all ingredients in a large mixing bowl.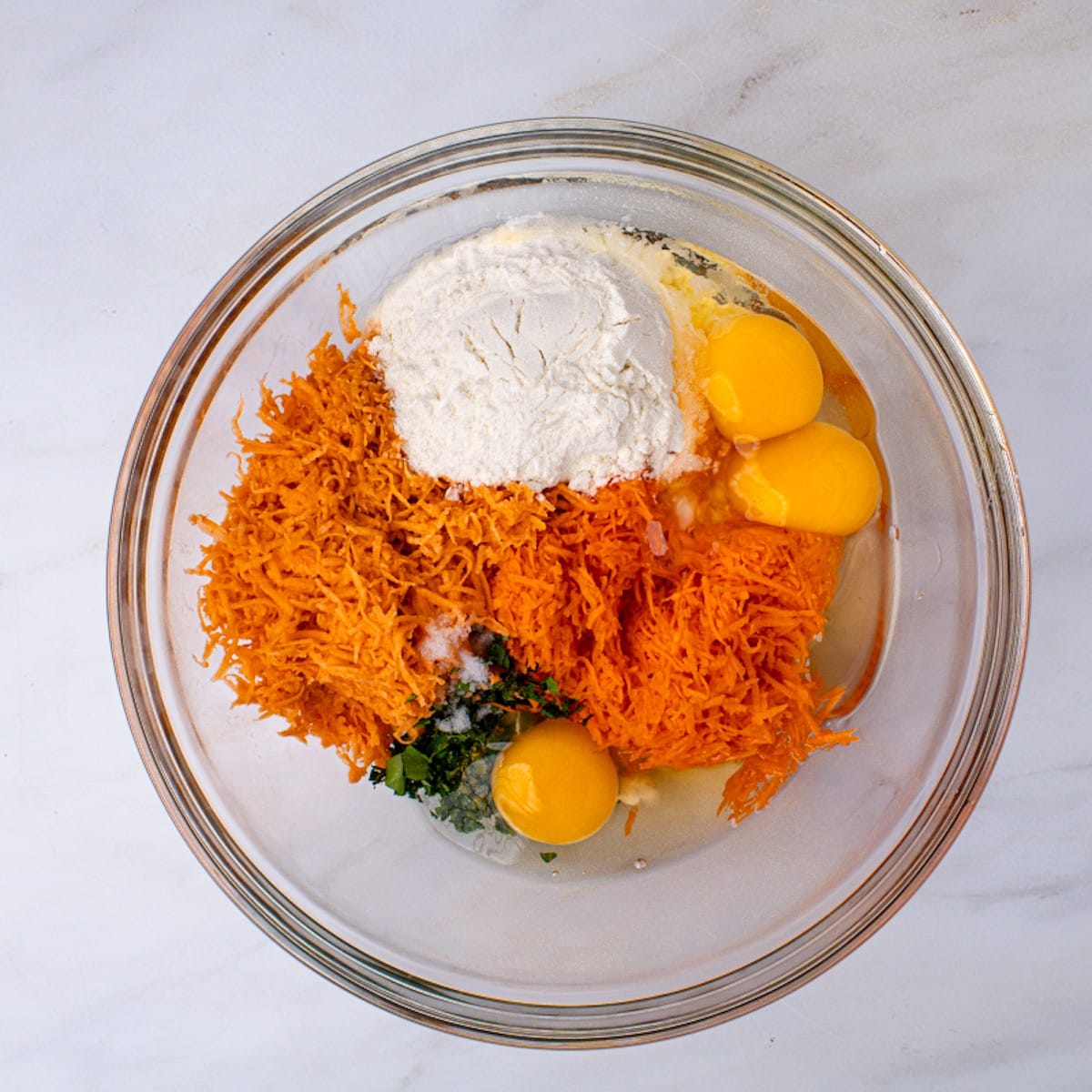 Mix until everything is well combined and a batter is formed.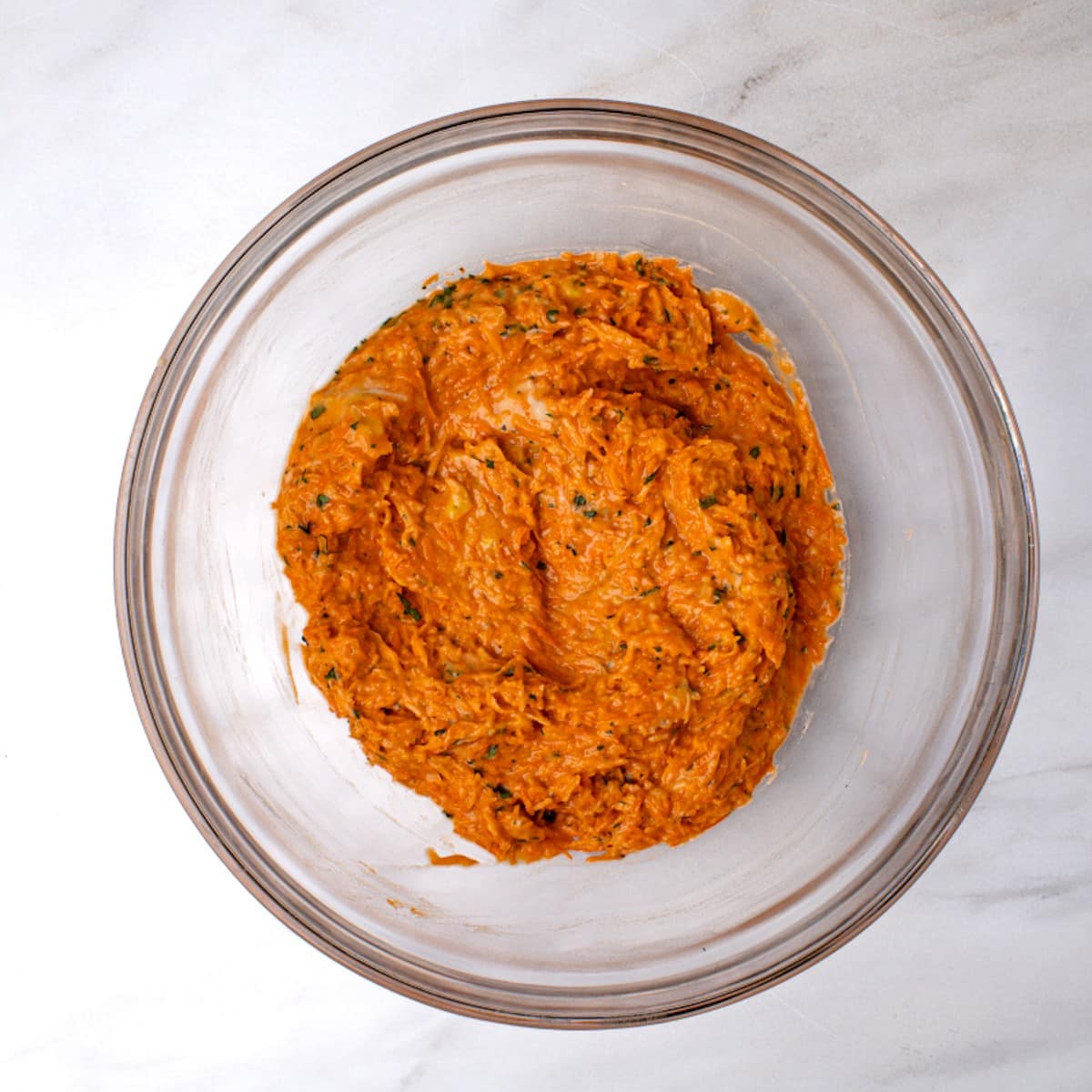 Heat the waffle maker and spray with a non-stick spray or brush with a little bit of vegetable oil.
Scoop about a cup of the batter and pour over the waffle maker. The amount really depends on the size of your waffle maker, so start small and increase if needed.
Close it and cook for a minute or two or until cooked through. You should be able to take the waffle out without it falling apart.
Transfer to a plate and serve immediately.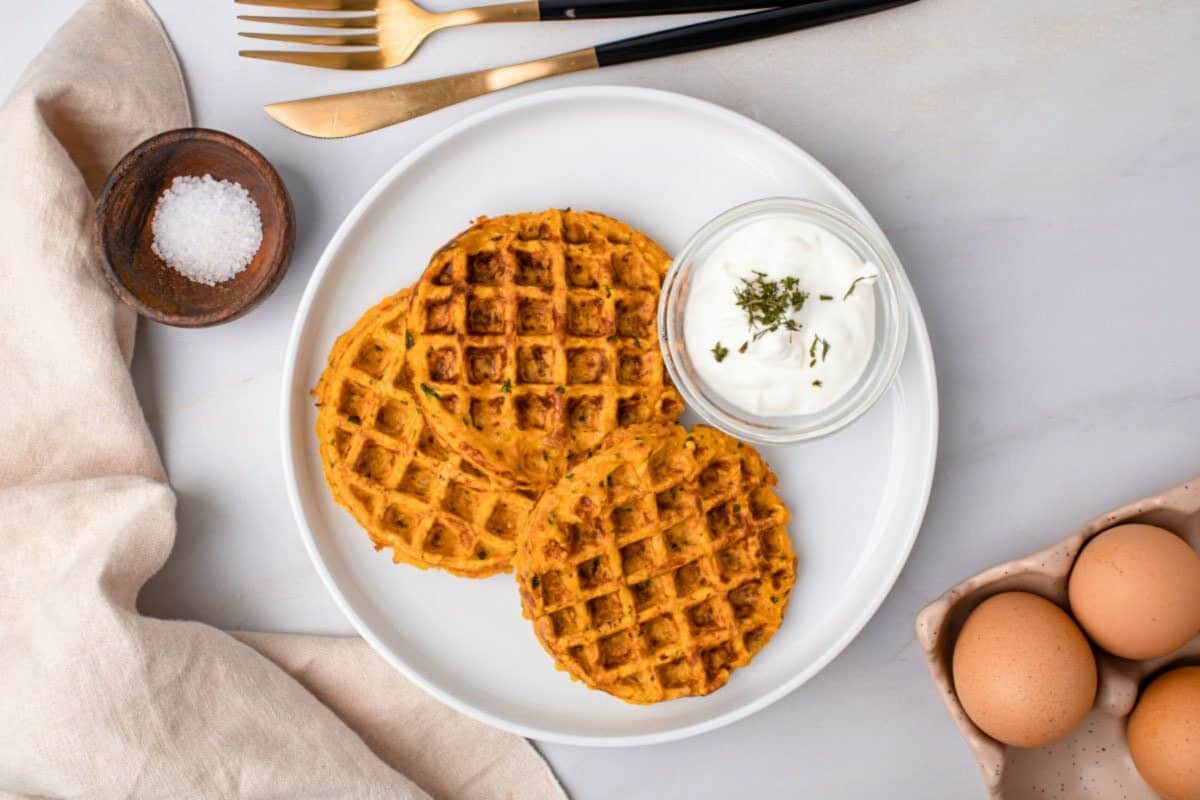 What should I pair carrot waffles with?
I like eating them just as they are with some sour cream or hummus on the side. However, you can pair them with any breakfast or lunch you are having as well. They go great with salads or on a sandwich.
How long should I cook them for?
Generally speaking, the waffle maker does all the work. If you can lift the top without pulling, the waffles are ready to come out. If you are looking for a crispier texture, than leave them on for a minute longer.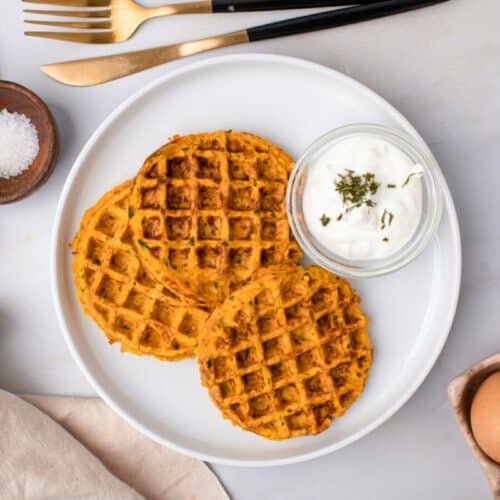 Carrot Waffles
This carrot waffles recipe is the perfect way to eat your veggies! It is delicious, easy-to-make, and healthy.
Ingredients
1

cup

carrot

grated

1

cup

sweet potato

peeled and grated

½

onion

peeled and thinly sliced

1

cup

cheddar cheese

shredded

½

cup

all-purpose flour

1

tbsp

fresh parsley

chopped

3

eggs

lightly beaten

1

tsp

salt

1

tsp

black pepper
Instructions
In a mixing bowl combine all ingredients except for the garnishes. Mix well until well incorporated.

Preheat the waffle iron and spray with non-stick spray. Scoop 1 cup of the batter and pour into the waffle maker. Try not to overfill it because it will make a mess.

Close the waffle iron and cook for a minute or two. Lift the top and transfer the waffle to a plate. Repeat with the rest of the batter and serve immediately.
Nutrition
Here are a few other recipes you might enjoy!
Hristina Polk focuses on Mediterranean fusion meals inspired by her Eastern European culture and the places she has traveled.