If you're someone who loves a delicious and hassle-free breakfast, this frozen waffles in air fryer hack is just what you need. Frozen waffles thaw and warm up in the air fryer in less than 10 minutes.
So, in less than 10 minutes, you can have perfectly cooked waffles for breakfast that taste just as good as they do out of the waffle maker.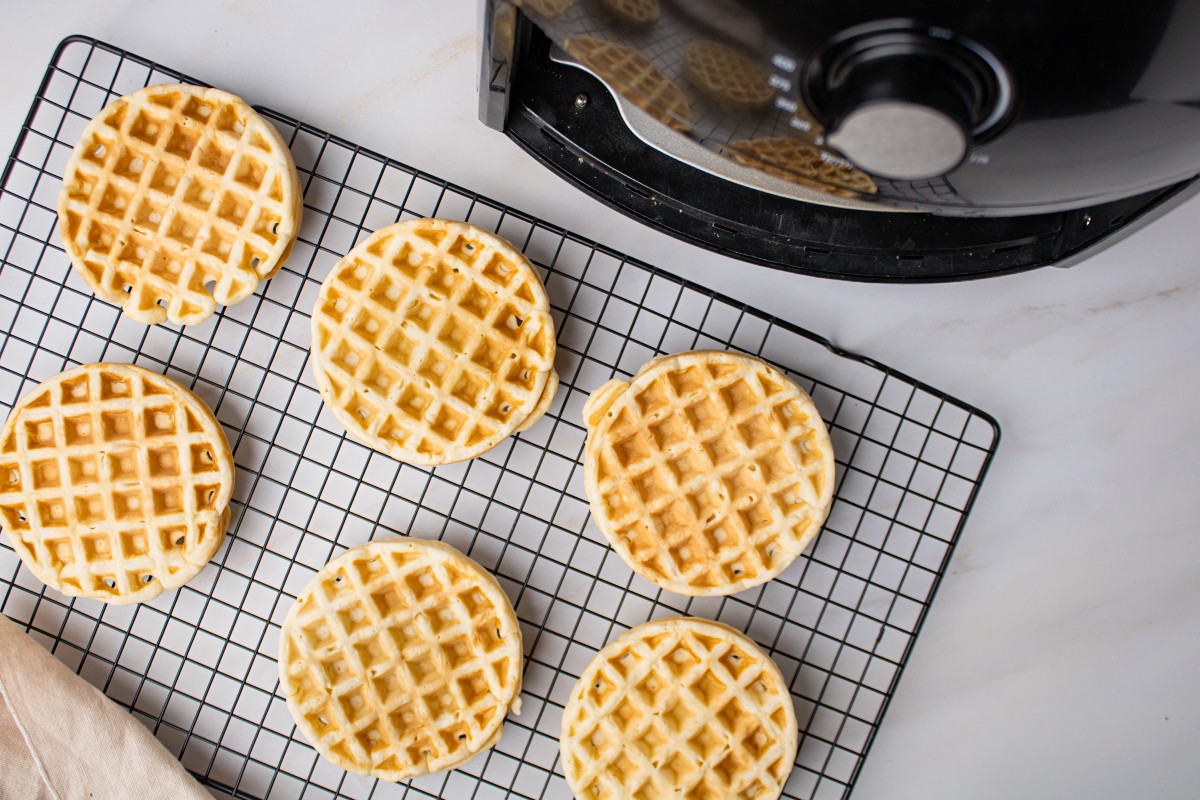 You can use this method for store-bought frozen waffles or a batch of waffles that you've made and frozen for later.
It is so easy, it takes very little time and almost no clean up. Keep your waffles in the freezer from now on, because thawing and reheating just got much easier.
Love waffles? Me too! Here are other waffle recipes you might enjoy: Mochi Waffles, Nutella Waffles, Carrot Waffles, Malted Waffles, Waffles With No Milk, and Halloween Waffles.
Why You'll Love This Recipe
Time-saver: With the air fryer, you can enjoy perfectly cooked waffles in just a fraction of the time it takes to use a traditional waffle maker or toaster oven. No more waiting for the waffle iron to heat up or dealing with uneven toasting in the toaster.
Crispy texture: Air frying the waffles gives them a wonderfully crispy texture on the outside, while keeping them soft and fluffy on the inside. It's the perfect combination for a satisfying breakfast treat.
Versatility: Whether you prefer classic waffles, chocolate chip waffles, or even gluten-free waffles, this air fryer method works with various types of waffles, making it a versatile and convenient way to enjoy your favorite breakfast.
Recipe Ingredients
You'll need the following to make these air fryer waffles: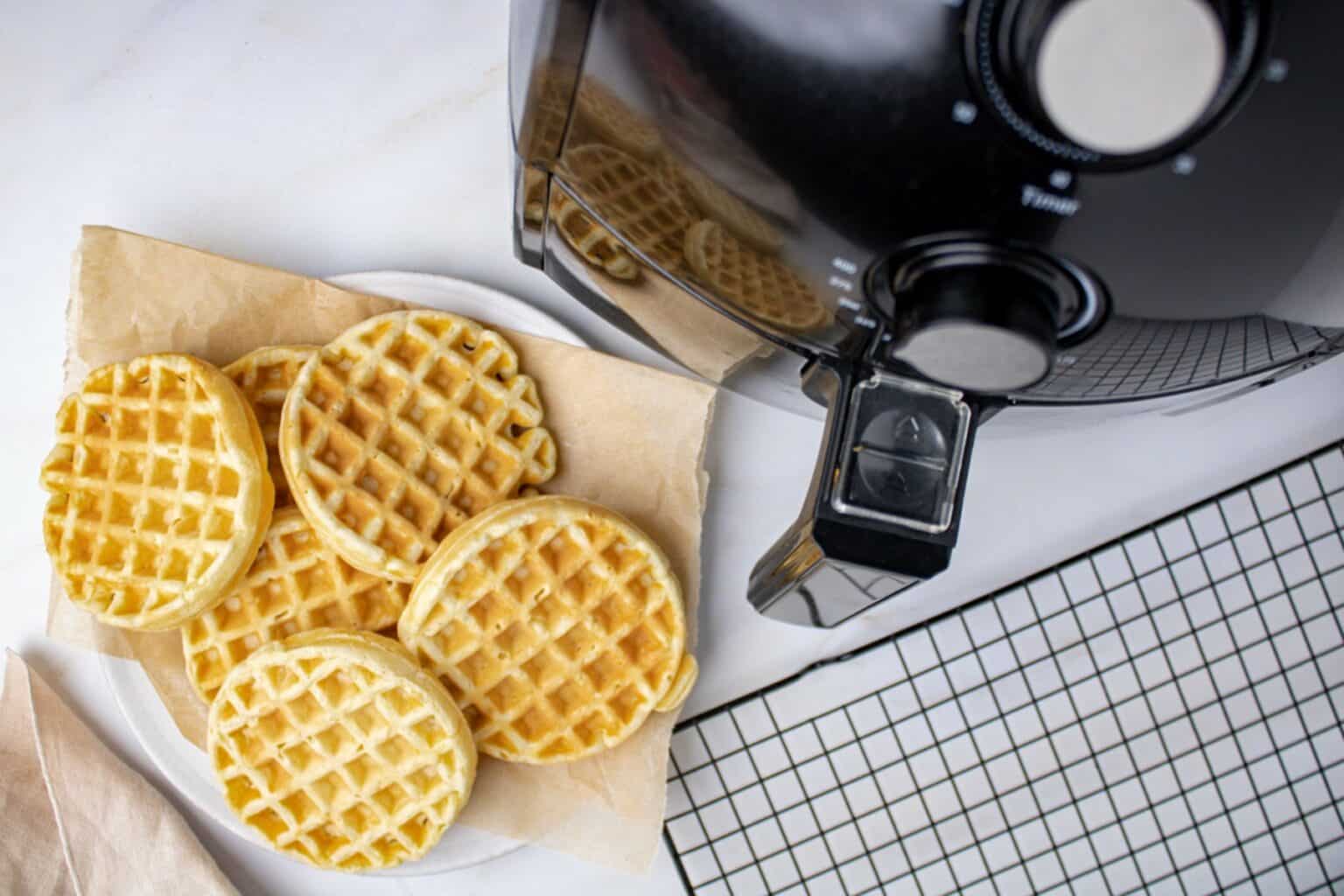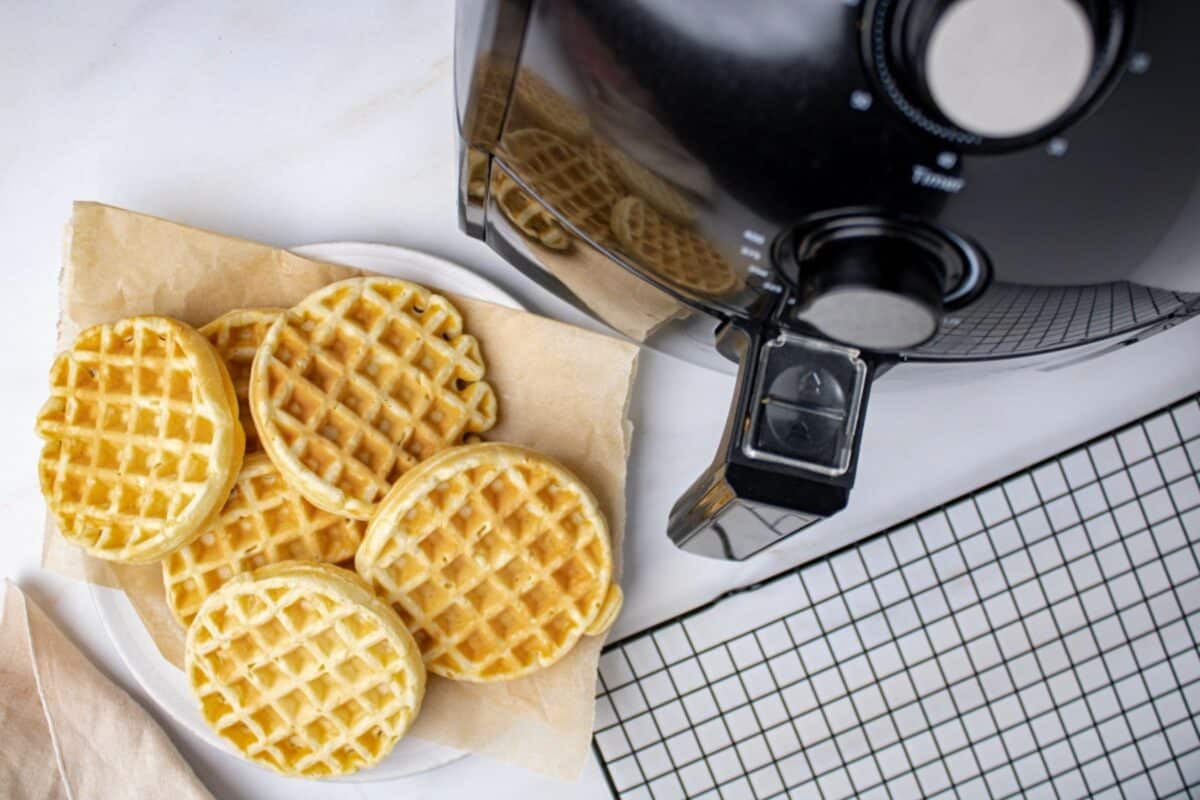 Ingredient Notes
Frozen Waffles: You can use any type of frozen waffles for this recipe, including classic Eggo mini waffles, Belgian waffles, or even potato waffles for a savory twist.
Cooking Spray: To prevent sticking, lightly coat the air fryer tray with cooking spray before placing the waffles on it. This ensures easy removal and cleanup.
Waffle Toppings: Serve your air-fried waffles with your favorite toppings, such as maple syrup, whipped cream, fresh berries, chocolate chips, or even a scoop of ice cream for a special treat.
How To Warm Frozen Waffles in the Air Fryer
Take the waffles out of the freezer and arrange on a single layer in the air fryer basket. Depending on how big the air fryer is and the size of the waffles, you might have to work in batches.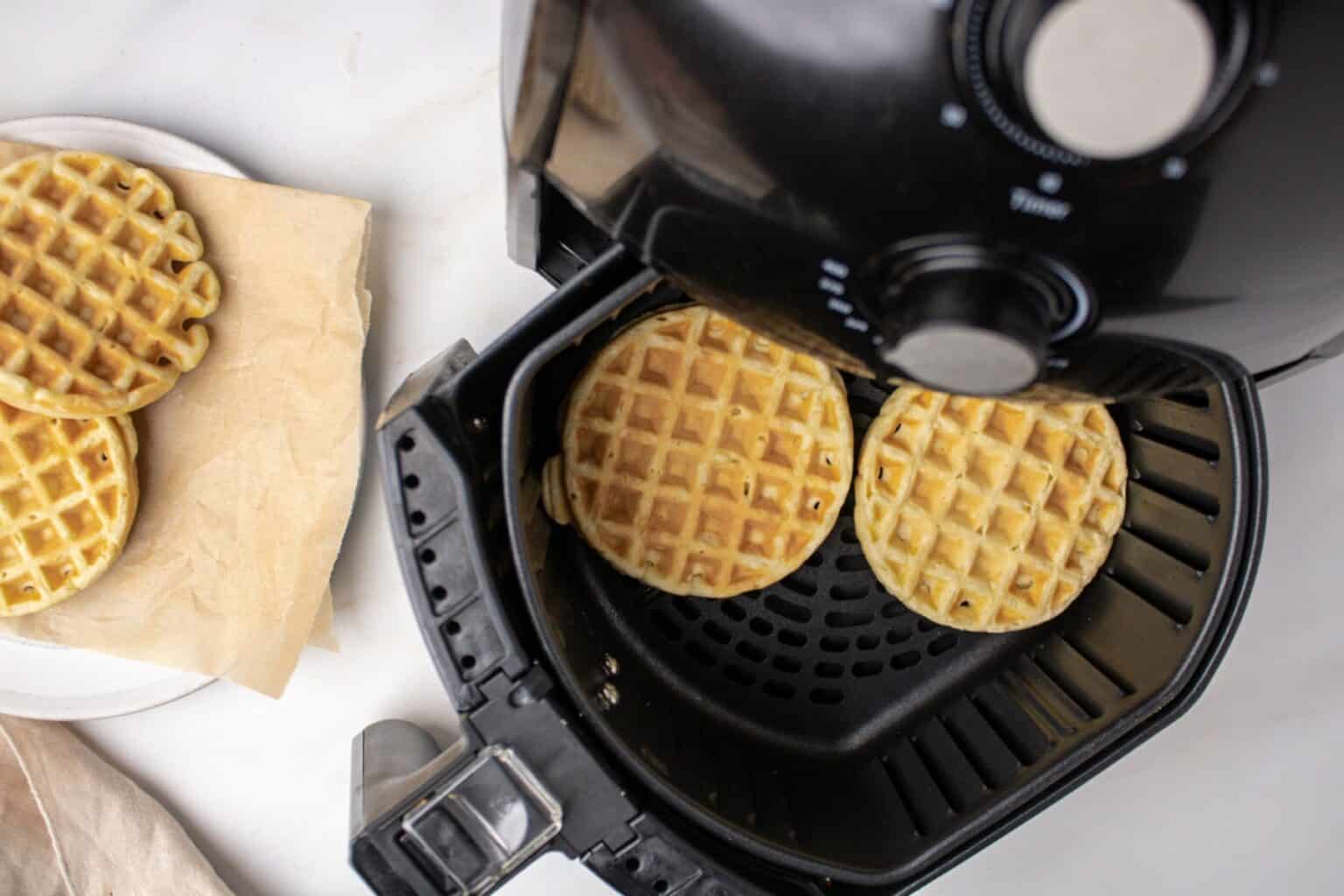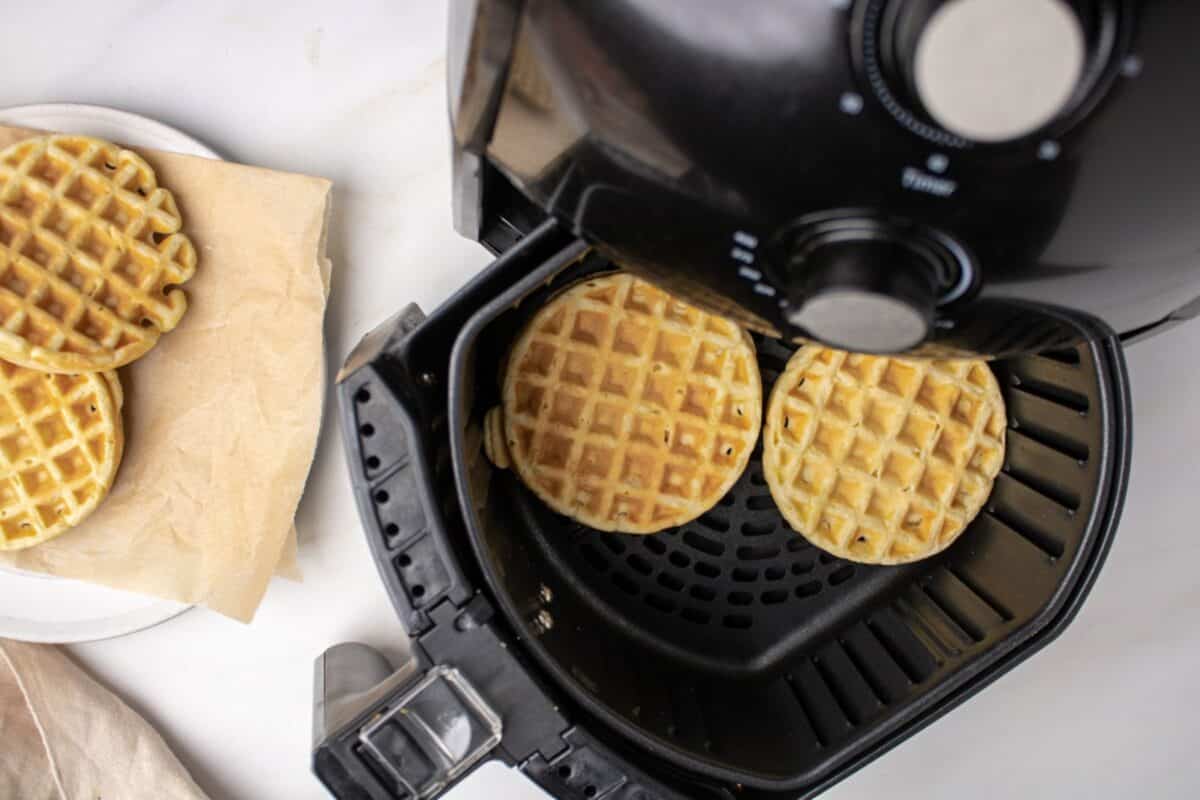 Turn the air fryer to 350F and cook for about 5 minutes, flipping midway through.
Remove from the air fryer basket and lay on top of a cooling rack. Repeat with the rest of the waffles.
Use your favorite toppings and serve.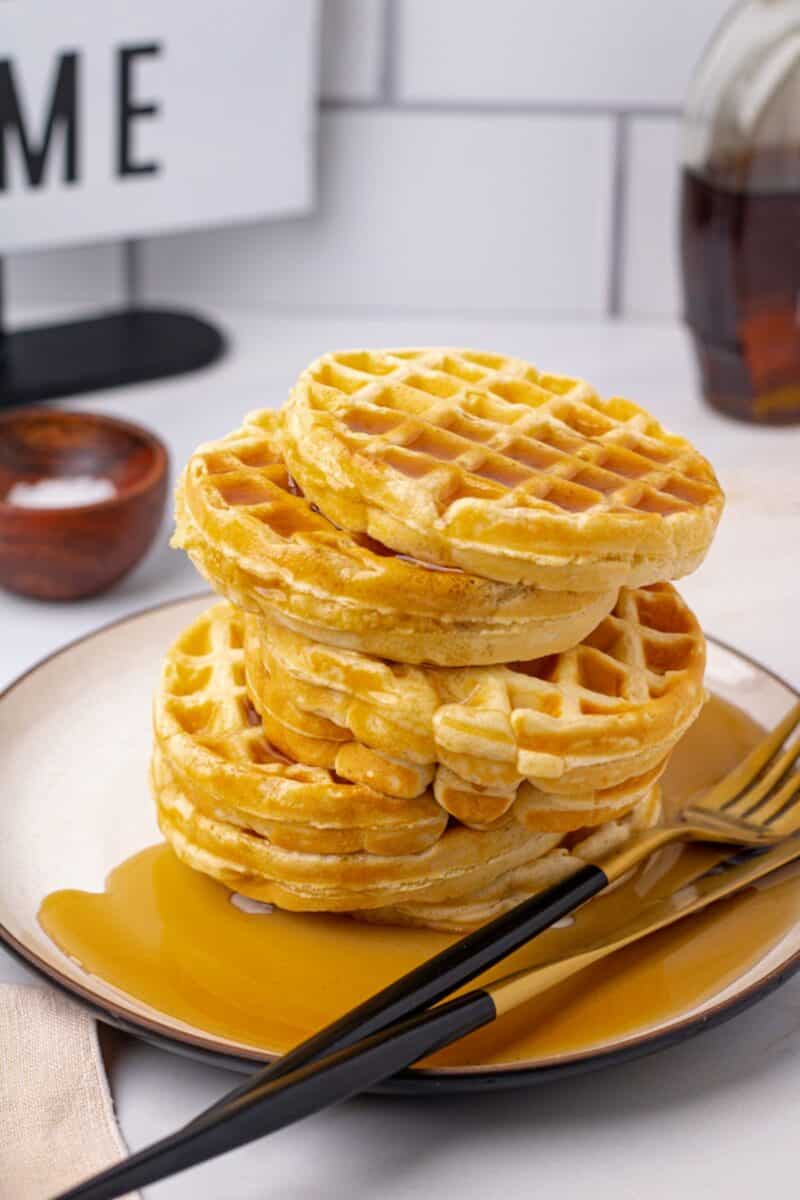 Recipe Tips
For the best results, arrange the frozen waffles in a single layer on the air fryer tray. This allows them to cook evenly and achieve that crispy texture we all love.
If you're working with thicker waffles, you may need to increase the cooking time slightly to ensure they're fully warmed through.
Experiment with the temperature and cook time based on the model of your air fryer and your personal preferences. Some air fryers may require higher or lower temperatures to achieve the desired results.
Storage & Reheating
After air frying your waffles, if you happen to have any leftovers, store them in an airtight container in the freezer. They can be easily reheated in the air fryer for 1-2 minutes whenever you crave a quick breakfast.
Alternatively, you can store the cooked waffles in the fridge for a day or two. To reheat, simply pop them back into the air fryer for a few minutes to regain their crispy texture.
Additions & Substitutions
For those with dietary restrictions, opt for gluten-free waffles and follow the same air fryer method to enjoy a delicious gluten-free breakfast.
Experiment with a variety of toppings to take your waffle breakfast to the next level. Fresh fruit, nuts, or a drizzle of your favorite syrup can elevate the flavor and presentation of your air-fried waffles.
Recipe FAQs
What should I serve with these air fryer waffles?
Air-fried waffles pair perfectly with a wide range of toppings and accompaniments. Top with a generous dollop of whipped cream and a drizzle of maple syrup for a delightful and easy breakfast. You can also garnish with fresh berries and a dusting of powdered sugar for a refreshing and colorful morning treat.
For a special occasion, add a handful of chocolate chips to the waffle batter and serve with a scoop of ice cream for an irresistible dessert-inspired breakfast.
---
Here are a few other easy air fryer breakfast recipes you might enjoy!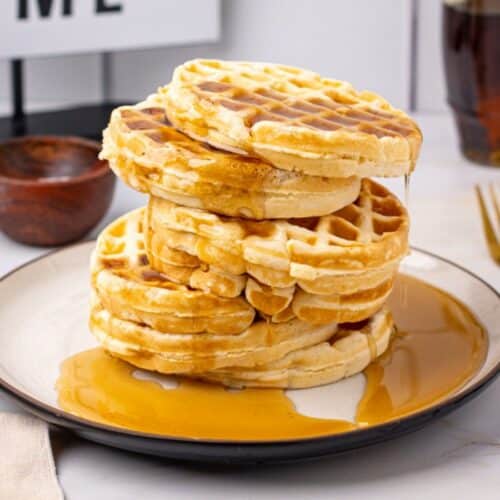 How To Cook Frozen Waffles in the Air Fryer
In less than 10 minutes, you can have perfectly cooked waffles for breakfast that taste just as good as they do out of the waffle maker!
Ingredients
8

frozen waffles

such as Eggos

toppings

such as maple syrup, fresh berries, etc.
Instructions
Preheat the air fryer to 350F.

Remove the frozen waffles from the freezer and place them in the air fryer basket. If you can't fit all of them at once work in batches.

Cook for about 5 minutes flipping midway through. The time depends on the fryer so keep an eye on them.

Remove from the air fryer and serve immediately with your favorite toppings.
Nutrition
Hristina Polk focuses on Mediterranean fusion meals inspired by her Eastern European culture and the places she has traveled.