These muffin mix waffles provide the taste of soft, fluffy muffins and the crunch of a waffle. And for an added twist, I added apple cinnamon which caramelizes as it cooks, giving a deliciously sweet and festive feel.
Waffles are the best crowd-pleasing breakfast, but they can get boring, am I right? Check out these creative waffle recipes to reignite your love for waffles: Waffle Sandwich, Stuffed Waffles (Made With Biscuits), and Waffle Tacos.
Why You'll Love This Recipe
Versatility: Whether you're using a blueberry muffin mix or your regular waffle recipe, you can adapt this dish to your liking. Want to add chocolate chips for a sweet surprise? Go ahead!
Ease of Preparation: This recipe requires minimal effort and the wet ingredients are simple to mix together. Plus, using nonstick cooking spray means less clean-up later!
Flavorful and Healthier: The caramelized apples and cinnamon provide a delicious depth of flavor, while the use of a muffin mix typically means less sugar than regular waffles. This is a great balance for the health-conscious family members who still want a tasty treat!
Recipe Ingredients
Here's what you'll need to make these waffles from muffin mix:
Ingredient Notes
Blueberry Muffin Mix: This could be a delightful twist on the recipe. Swap the oatmeal muffin mix with blueberry for a different flavor profile.
Vegetable Oil: Consider adding a bit of vegetable oil to the batter and the waffle iron to prevent sticking and promote an even golden brown color.
Maple Syrup: A traditional waffle topping, maple syrup brings out the natural sweetness of the waffles and the fresh fruit toppings.
How To Make Muffin Mix Waffles
Prepare the batter: In a large bowl, make the muffin mix according to package instructions. This included an egg and water. Whisk until combined.
Add the apples and cinnamon: Add apples and cinnamon to the batter. Mix until they are fully incorporated.
Cook Waffles: Pour batter into a waffle maker and cook until golden brown. Repeat this until all the batter is gone.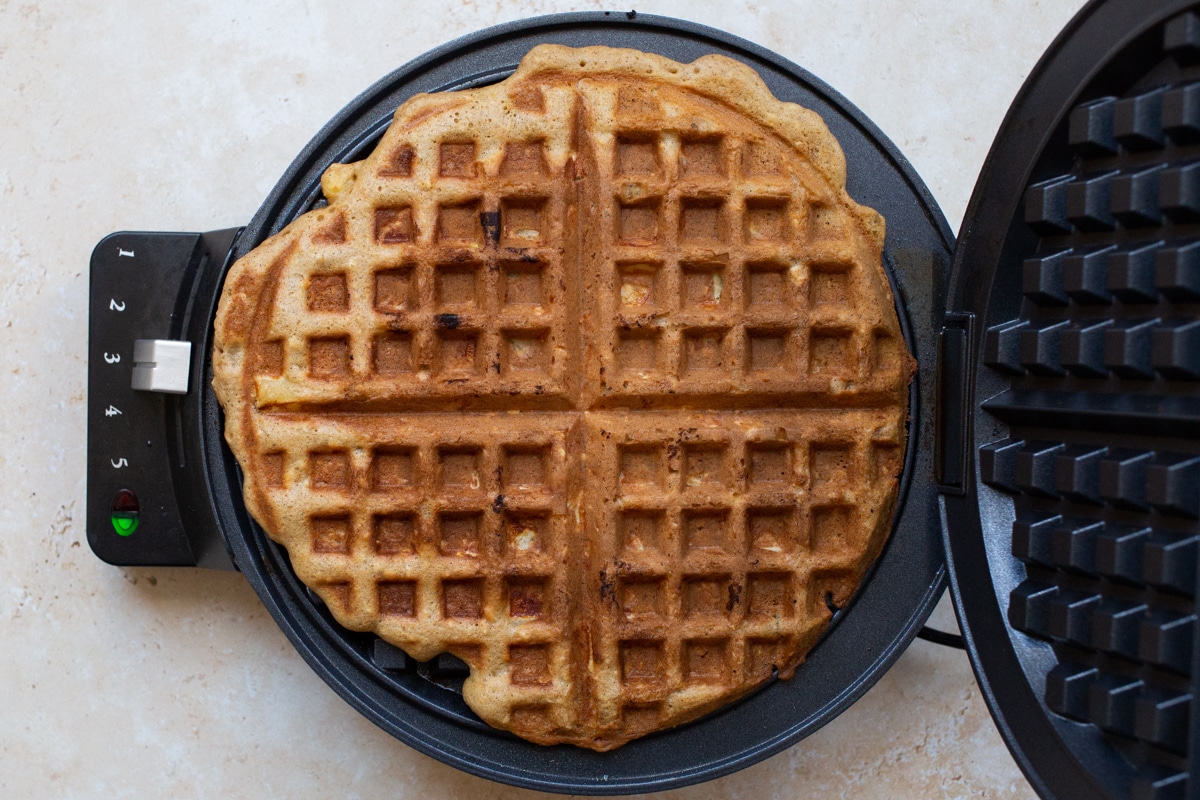 Garnish your waffles: Top your waffles with sliced apples, whipped cream (optional), cinnamon, or your favorite toppings, and serve!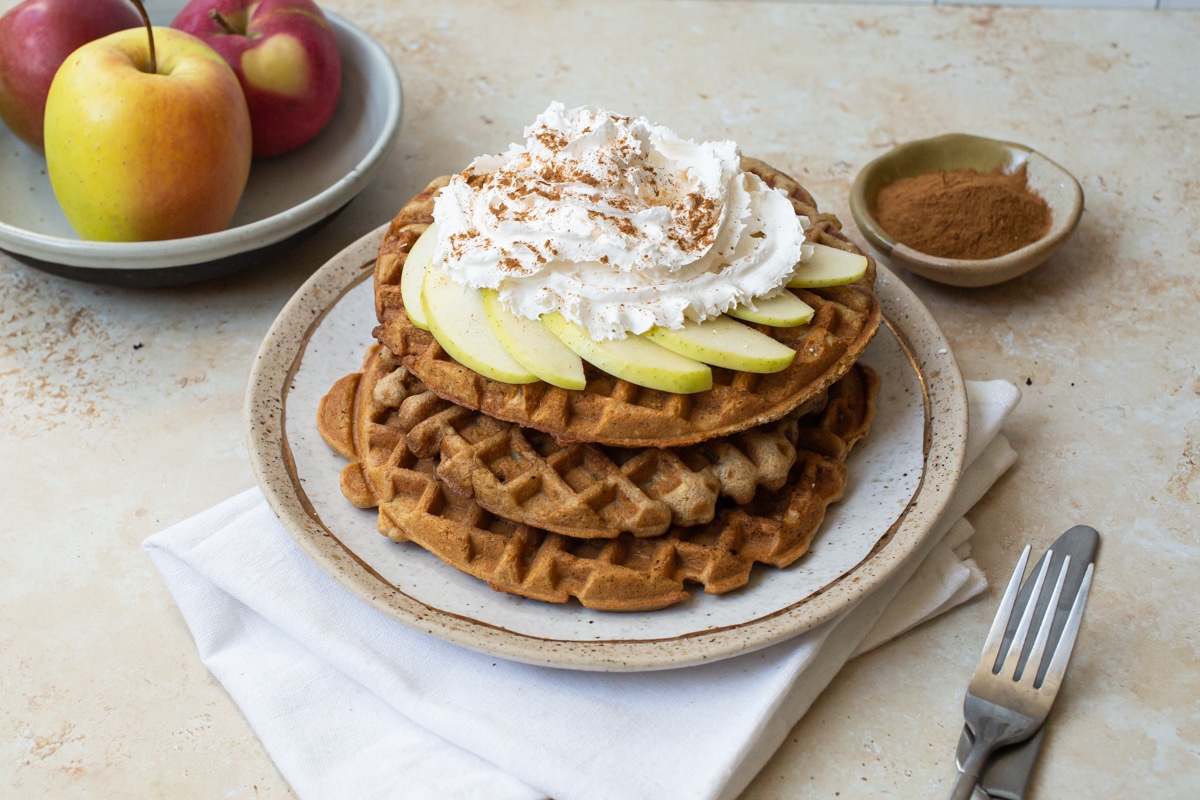 Recipe Tips
Serving Suggestions: These waffles are delightful when served with fresh strawberries, fresh blueberries, or any fresh fruit you have on hand. Sprinkle with a touch of cinnamon sugar for extra flavor.
Nonstick Cooking Spray: To ensure your waffles come out easily and maintain their shape, spray your waffle iron with a nonstick cooking spray before adding the batter.
Adding Texture: Consider adding chocolate chips to your batter for a bit of a crunch and sweetness in your waffles.
Storage & Reheating
Place any leftover waffles in an airtight container in the fridge. Reheat in a toaster until crispy. They are just as delicious the next day!
Additions & Substitutions
This waffle recipe is highly adaptable. Try different muffin mixes, or add a dash of almond milk to the wet ingredients for a different flavor. For a healthier option, substitute maple syrup with a light drizzle of honey.
Recipe FAQs
Can I put muffin mix in a waffle maker?
You absolutely can! There were no alterations needed for this waffle batter mix as it was the same consistency as waffle batter. If you are concerned about sticking, adding 2 tbsp of a neutral oil to your batter and the waffle iron will help keep it non-stick.
Are pancake and waffle mixes the same as a baking mix?
Between all the different variations of mixes, using fresh ingredients will yield a thicker batter, albeit it typically also has more sugar, fat, and carbs. Muffin mixes often have more flavor packed in rather than pancake mix, which makes it an ideal companion to a waffle iron.
What should I serve with these waffles made from muffin mix?
Enjoy your waffles with a spread of fresh fruit and a warm cup of coffee on the side for the perfect breakfast. You could even serve these with a glass of almond milk for a healthier twist. Share this fun recipe with your family members for a great way to start to the day!
---
Here are some other waffle recipes you might enjoy!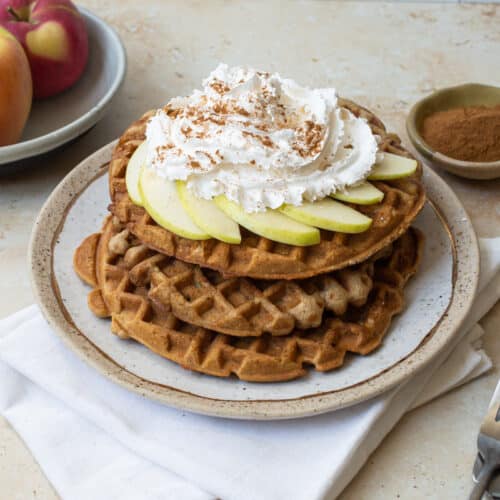 Muffin Mix Waffles
These delicious fluffy yet crispy muffin mix waffles are the best of both worlds. Made with cinnamon, apples, and oatmeal muffin mix, you have autumn on every plate. Top with whipped cream, and you're in heaven.
Ingredients
6

servings oatmeal muffin mix

1

egg

2

apples

(peeled and diced + slices to garnish)

¾

cup

water

2

tbsp

cinnamon + 1 tsp to garnish

Whipped cream to garnish

(optional)
Instructions
In a large bowl, prepare the muffin mix according to the package instructions.

Add apples and cinnamon. Whisk until combined.

Pour batter into waffle iron and cook until golden brown, 3-5 minutes.

Repeat until all batter is used.

Top waffles with apples, whipped cream, and cinnamon, and serve.
Notes
Use apples on the sweet side. These can be granny smith, Honeycrisp, and Golden Delicious. This will make it easier to break down in the waffle iron and give you that sweet caramelized taste. Keep in mind is to dice the apples very finely — about 1 cm cubes. That will ensure a tasty apple piece in every bite.
You can substitute the egg with apple sauce. This will act as the binding agent and have the same intended result. If you can't find oatmeal muffin mix, blueberry or another muffin mix will also work.
Nutrition
Calories:
210
kcal
Carbohydrates:
42.6
g
Protein:
3.3
g
Fat:
4.4
g
Saturated Fat:
1.1
g
Fiber:
3
g
Sugar:
20.6
g
Matthew is a recipe developer and food photographer based in Canada. He enjoys all things food, drink and makes his best decisions with a mimosa in hand.