Cranberry jam is perfectly tart and sweet and the perfect spread for a cool autumn morning. This recipe is great to serve at brunch with your family over the holidays, or just to have on hand during the colder seasons. The recipe takes only a few minutes to make and keeps for weeks.
Cranberry jam goes on so many things! Spread it on buttery toast or scones for a creamy comforting meal, or top a bagel and cream cheese for a tangy-tart treat.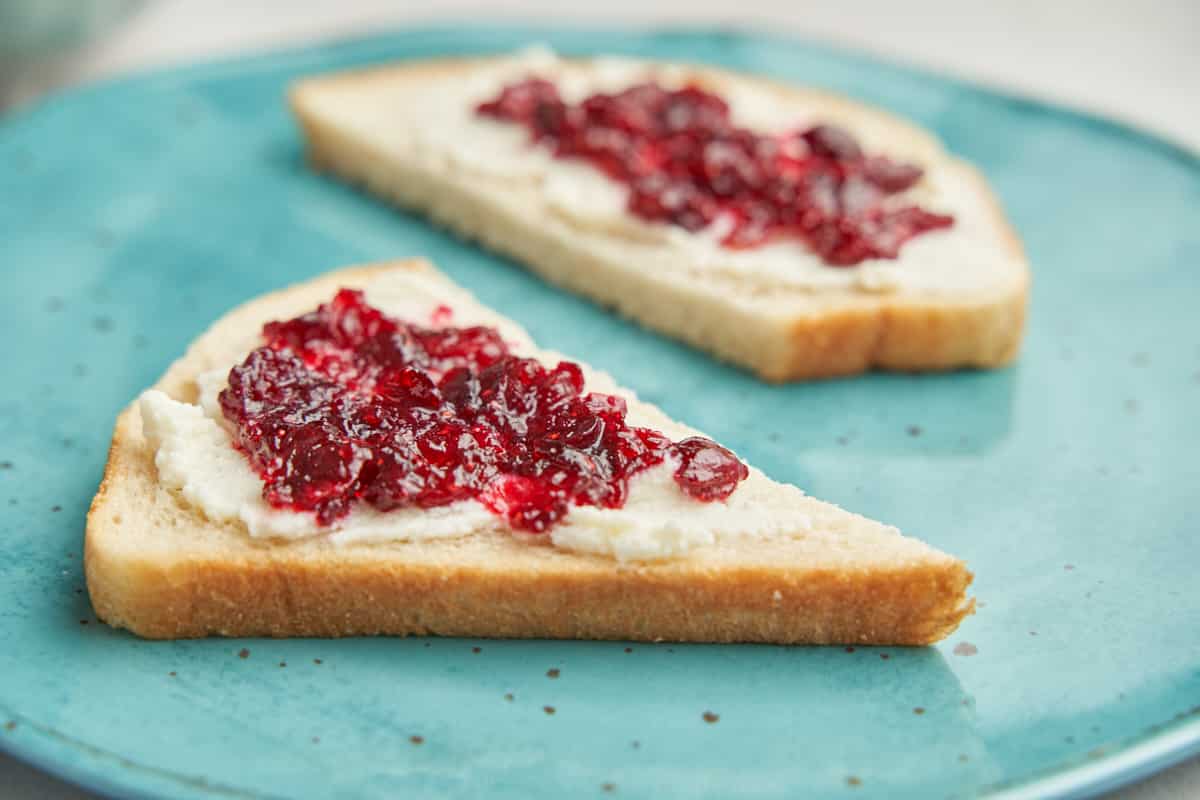 Cranberry jam is undeniably sweet, so pair it with a drink that is lightly sweetened or unsweetened. A coffee, black or with milk or a black tea would be simple and delicious. This jam is meant to be easy and versatile for many different morning moods.
What You Need to Make Cranberry Jam
Cranberry jam requires just a few ingredients: granulated sugar, cranberries, cranberry juice, lemon juice, and salt.
You can use fresh or frozen cranberries. Frozen cranberries will take slightly longer to cook but are a great option (and are what I used!).
You can also use either a lemon or orange in this recipe for the juice. Although I used lemon, orange is often used traditionally in many cranberry sauce recipes and tastes delicious, too.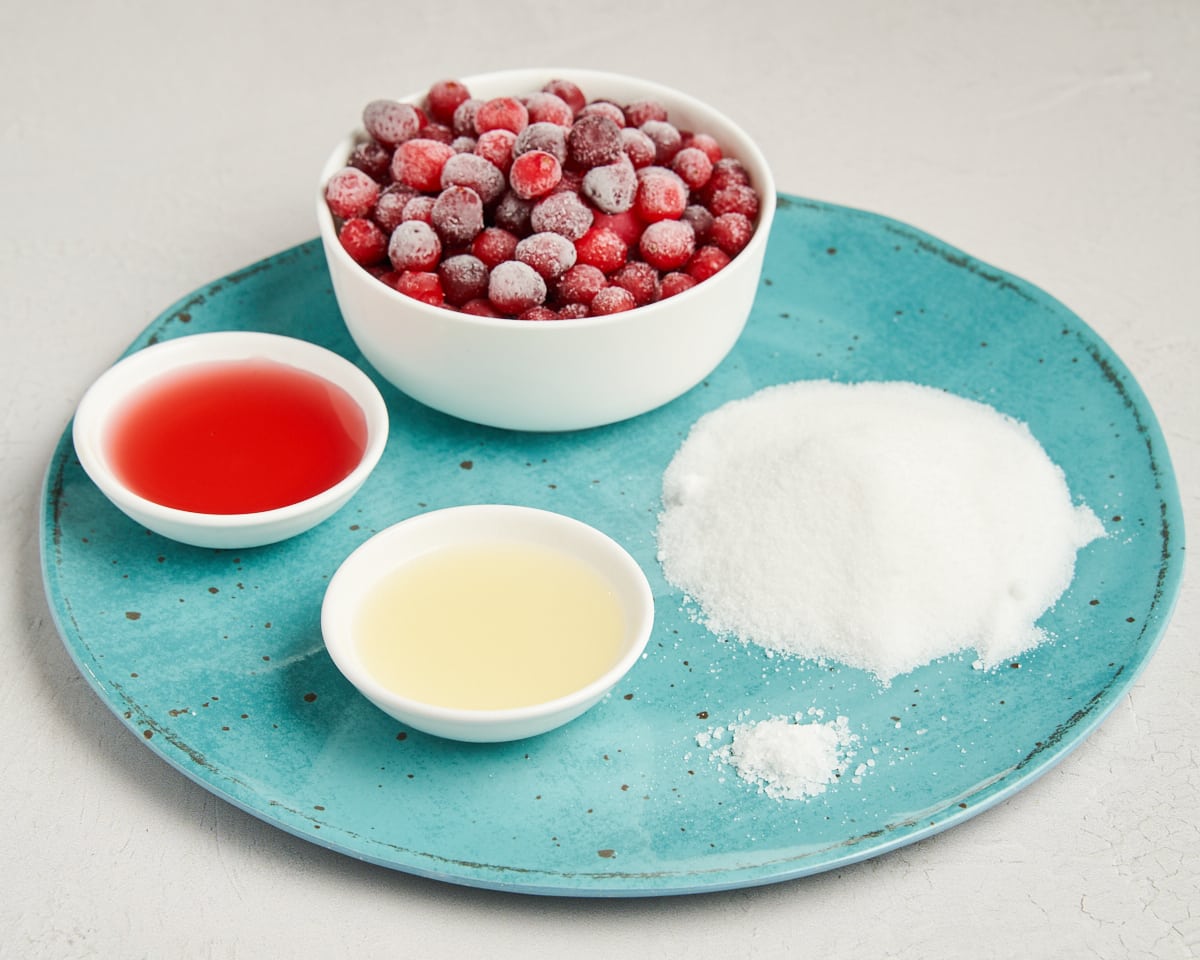 Ingredients:
Cranberries, fresh or frozen
Granulated Sugar
Cranberry juice
Lemon juice
Salt
Tools:
You need some equipment to make cranberry jam: a saucepan, a spoon, and a blender, food processor, or immersion blender. You can also use a candy thermometer in the recipe to check the doneness of your jam. However, it is not required.
Cranberries have a lot of pectin in them and the jam will set well.
How To Make Cranberry Jam
Juice a lemon. You want roughly 3 tablespoons of lemon juice. Some larger lemons will produce this by juicing just half.
Put all the ingredients in a small saucepan on medium-high heat. Bring to a boil and then reduce the heat to a simmer for 8-10 minutes. Stir occasionally. The jam should be bubbly and thick.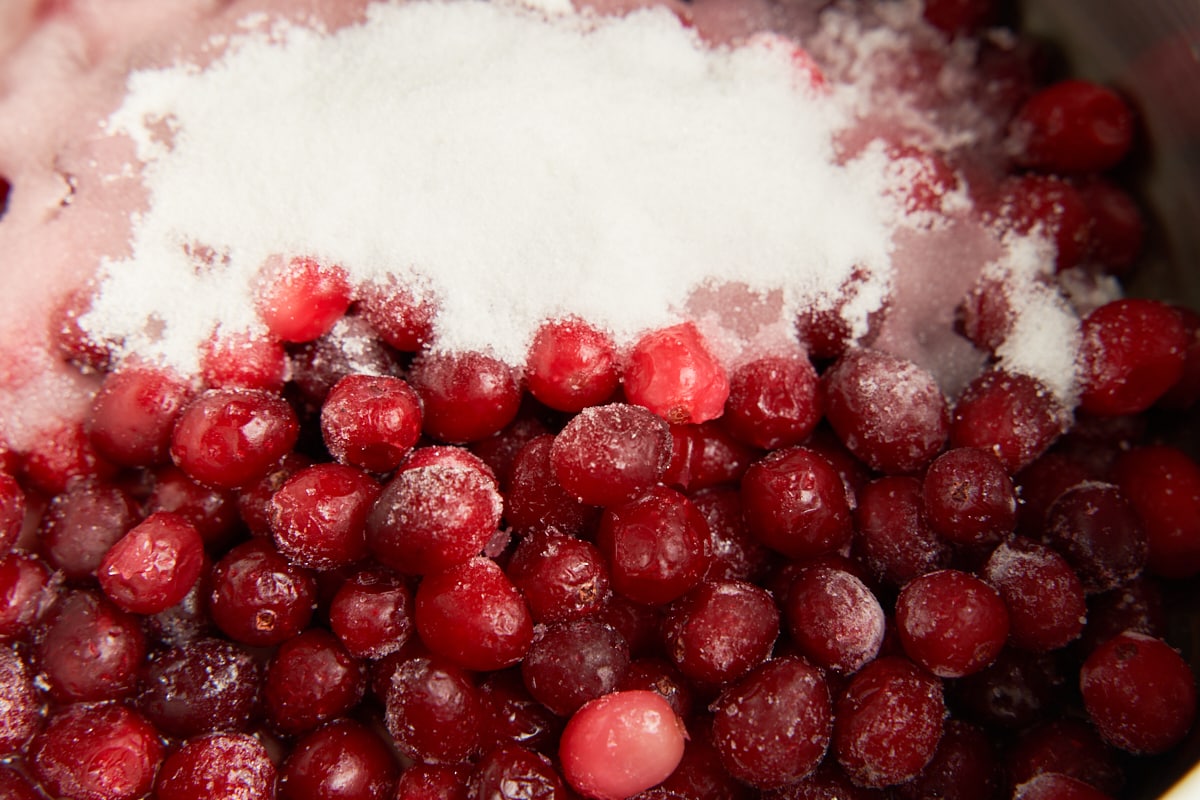 You can test the jam in a few ways. (1) Lift your spoon/spatula out of the jam. If thick droplets drop off your utensil, the jam is done. If it runs off, allow it to cook for longer. (2) Use a candy thermometer. When it reads 220ºF, your jam is done.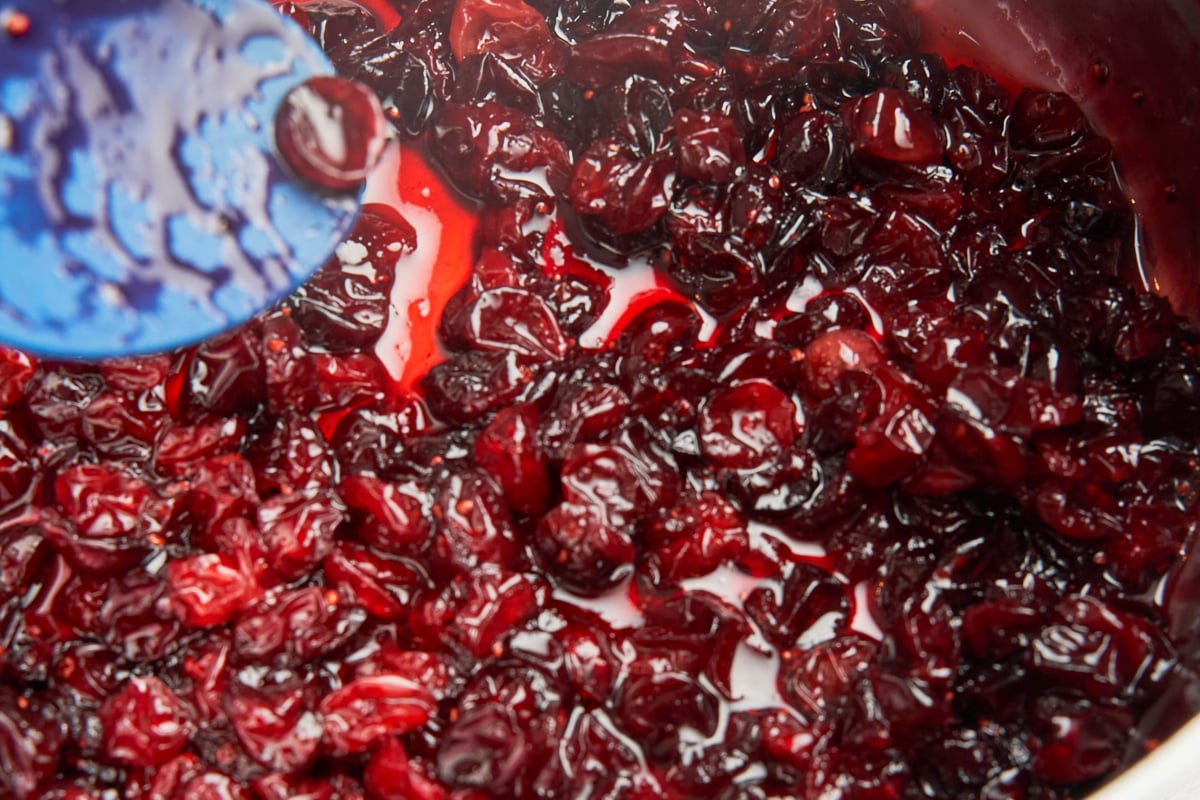 Allow the jam to cool slightly. Then put in a food processor and pulse a few times to break up the cranberries.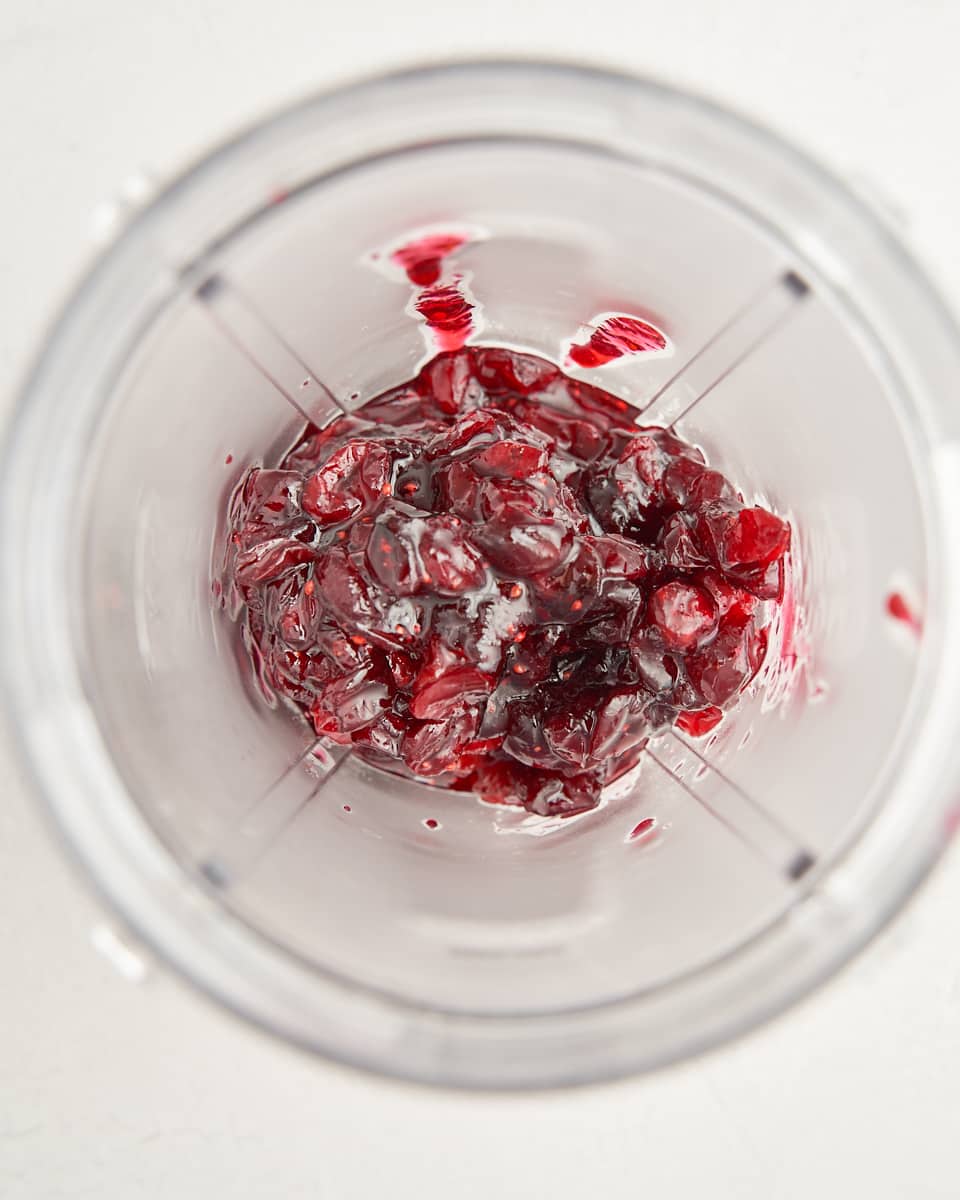 Do not puree. 3-4 pulses should be sufficient. Cool completely before storing in the refrigerator and using.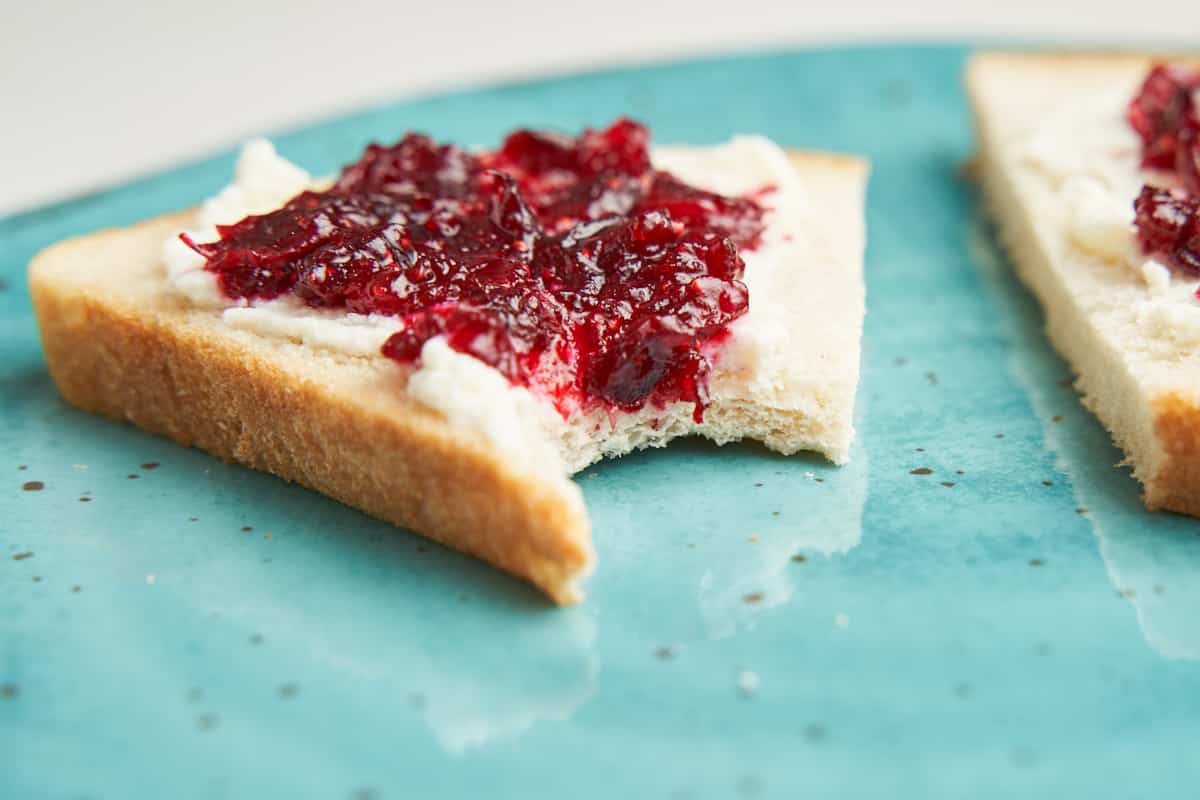 Can I use spices in this jam?
Yes! If you want cranberry jam that has warm flavors, you can add small amounts of cinnamon, nutmeg, allspice, and/or cloves. These spices can be potent, however, so use them sparingly. I prefer the bright taste of this cranberry jam without the extra spices.
What can I do with leftover jam?
Because this jam lasts a long time and doubles and triples easily, you can do a lot with it. Spread it on buttered toast, mix it into yogurt, or put it on top of whipped feta, ricotta, or cream cheese. You can also give this jam away as a Christmas gift. Just make sure you follow instructions on how to sterilize and fill jars.
How is cranberry jam different from cranberry sauce?
Cranberry jam is both thicker and has a lot more sugar than most homemade cranberry sauces.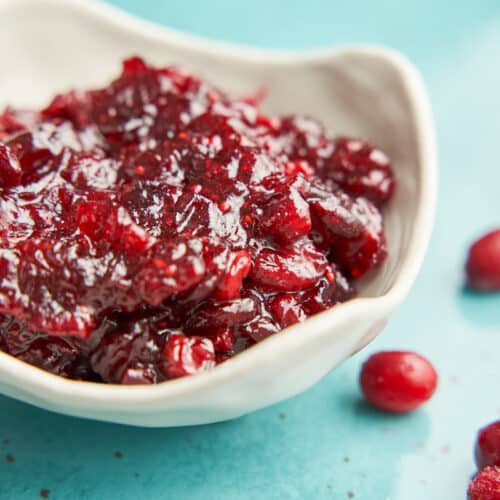 Cranberry Jam
Cranberry jam is a simple, elegant spread that you can serve to guests over the holidays at brunch. Its bright ruby color is matched by the sweet and tart flavors of this jam. Cranberry jam lasts for several weeks in the fridge, and you can also double or triple this recipe if you want to make more to give away as gifts.
Ingredients
1 ½

cups

cranberries

fresh or frozen

1

cup

granulated sugar

pinch of kosher salt

3

tbsp

lemon juice

⅓

cup

cranberry juice
Instructions
Juice 1 lemon to get 3 tablespoons lemon juice.

Place 1 ½ cups cranberries, 1 cup granulated sugar, a pinch of salt, 1/3 cup cranberry juice, and 3 tablespoons lemon juice in a saucepan on medium-high heat.

Reduce heat and simmer for 8-10 minutes.

Test the jam with a candy thermometer, or by observing the jam as it drips off a spoon. The jam should drip slowly rather than quickly run off the spoon.

Once the jam is cooked, set aside and allow to cool for 10-15 minutes.

Using a food processor, blender, or immersion blender, pulse the mixture to break up the cranberries further. 3-4 pulses should be sufficient.

Allow to fully cool and thicken before storing in the refrigerator and serving. Enjoy!
Notes
One thing that is important with this and any jam recipe is to not skimp on the sugar. Sugar not only cuts through the tartness of the cranberries but helps the jam set. It also helps preserve the jam so that you can keep it for longer.
Nutrition
Calories:
61
kcal
Carbohydrates:
15.49
g
Protein:
0.02
g
Fat:
0.05
g
Sugar:
14.43
g
Here are a few other recipes you might enjoy!
Arielle is a food and drink photographer based in Washington, D.C. She was previously a social science researcher before she fell in love with photography.