Eggs are a superfood, and they deserve respect. While good old fashioned salt and pepper is all well and good, sometimes you want to branch out. I've created a list of the 45 best seasonings for scrambled eggs below.
Each of these options are easy to get at your nearest grocery store, and many of them even have the perfect recipe to accompany them.
Hot Sauce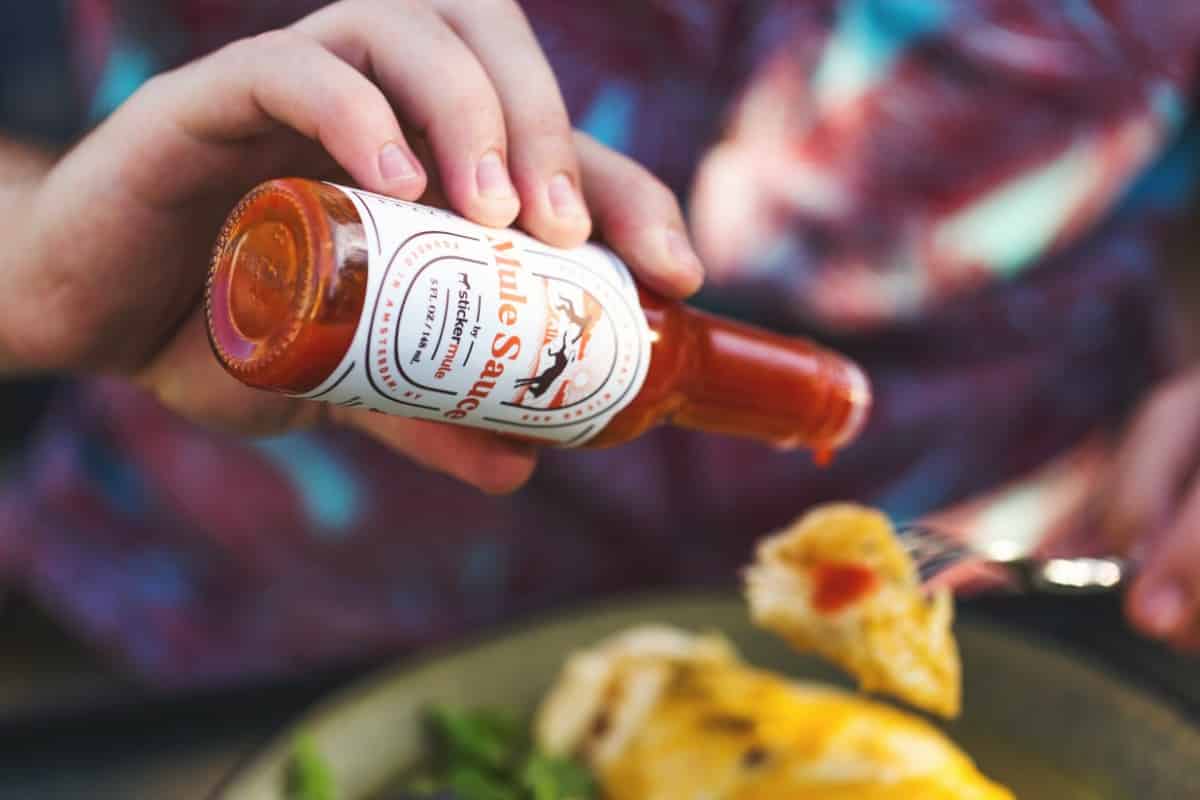 Okay, I put this one first because it's my favorite. I always have a bottle of hot sauce at my brunch table. The best part about hot sauce is that there are so many options! Even if you aren't a spice nut, this can be the perfect addition to your next egg dish.
Fresh Parsley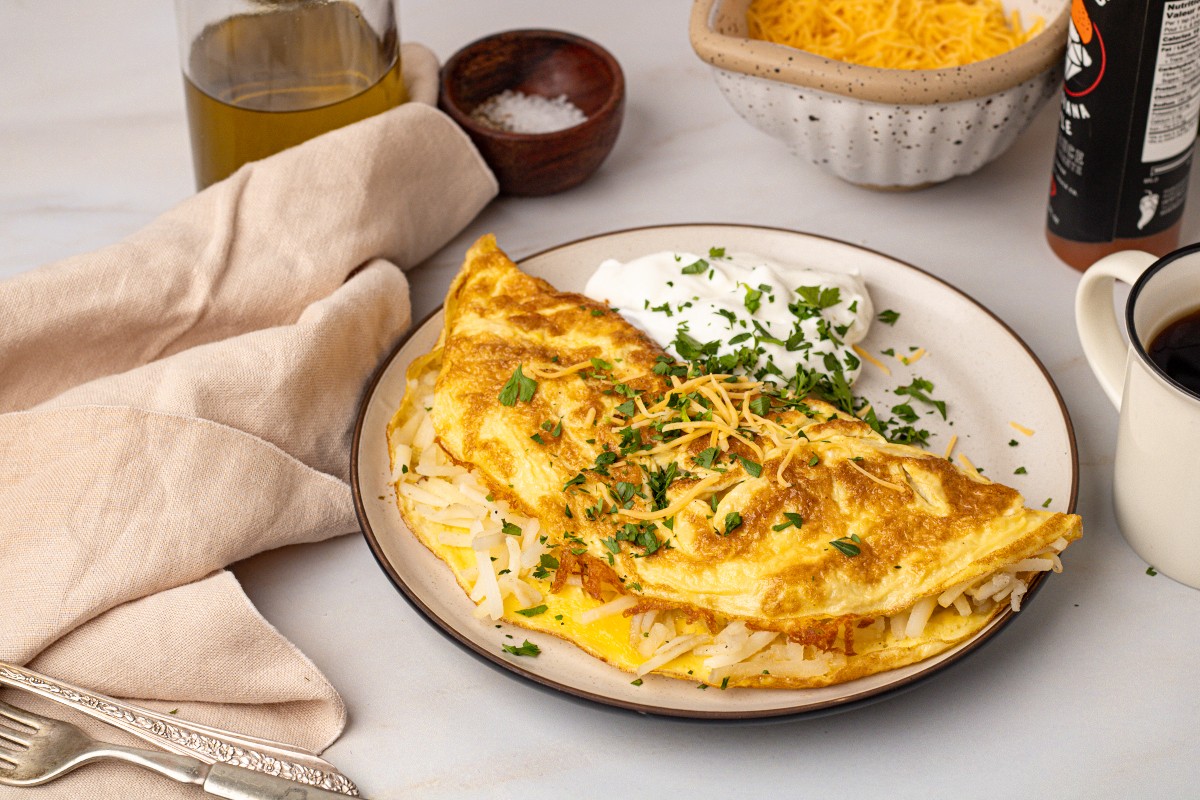 I love just a touch of fresh herbs on the plate. It adds a nice pop of color and brightens up the dish. Fresh parsley is a common herb that's typically available year-round. I especially love how fresh parsley elevates this Hash Brown Omelette.
Quick tip: you can keep your fresh herbs alive longer by wrapping the stems in a wet paper towel and keeping them in the vegetable drawer of the fridge.
Chipotle Powder
Chipotle peppers are made by drying and smoking jalapenos, which makes them super smokey and not super spicy. While canned chipotles are great, chipotle powder is easy to come by and adds a wonderful smokey element to scrambled eggs.
Bacon Grease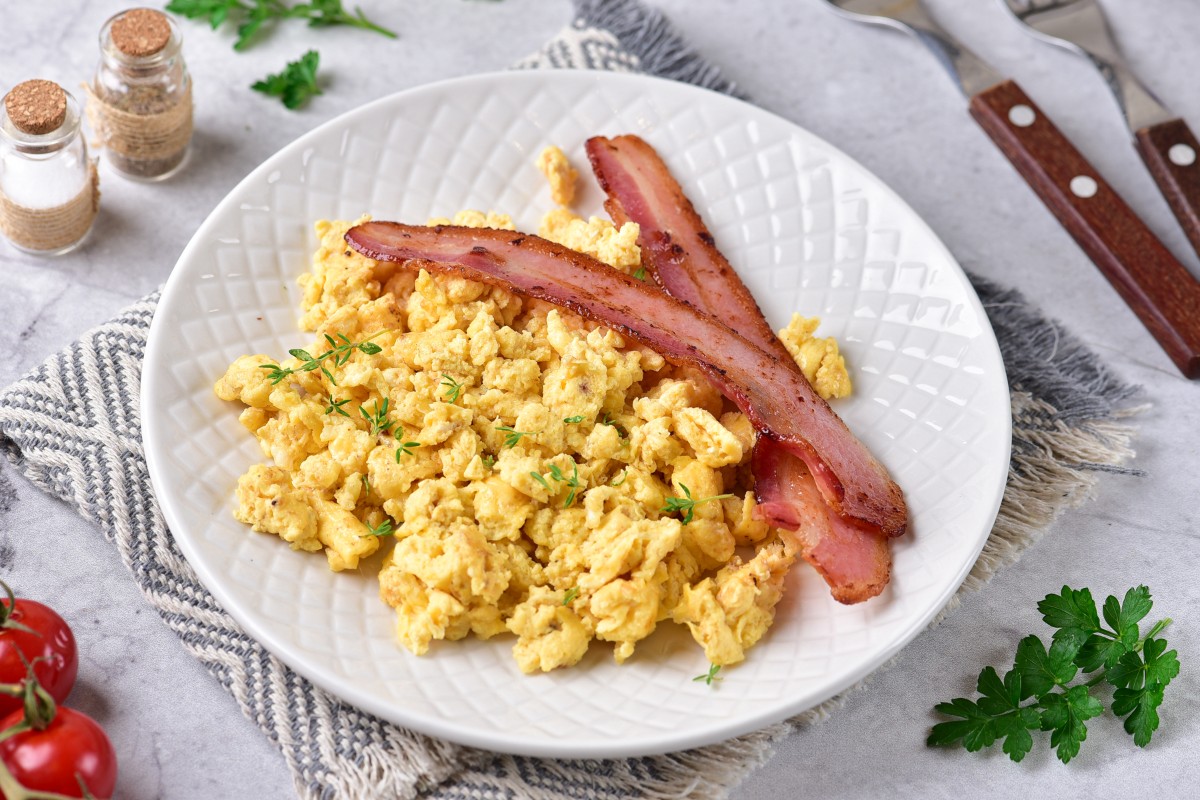 Now this is a fun one! If you love bacon, you should check out this post about cooking eggs in bacon grease. I always serve bacon at brunch, and by simply reserving the bacon grease to cook your eggs, you can enjoy the same smokey, savory flavor that we all love in bacon!
Chili Powder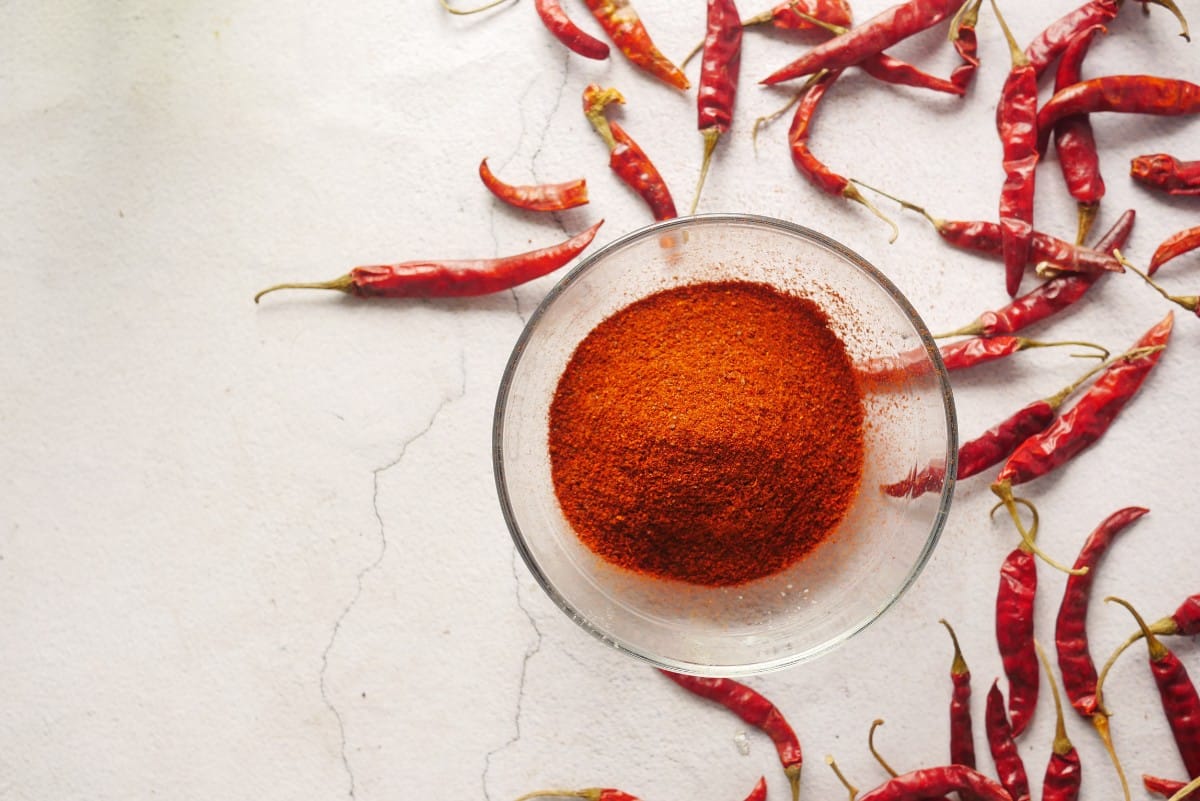 Chili powder is a great seasoning choice when you want that spice flavor to really sink into your scrambled eggs. I particularly like how perfect the chili powder flavor fits in with this Mexican Omelette.
Garam Masala Indian Spice Blend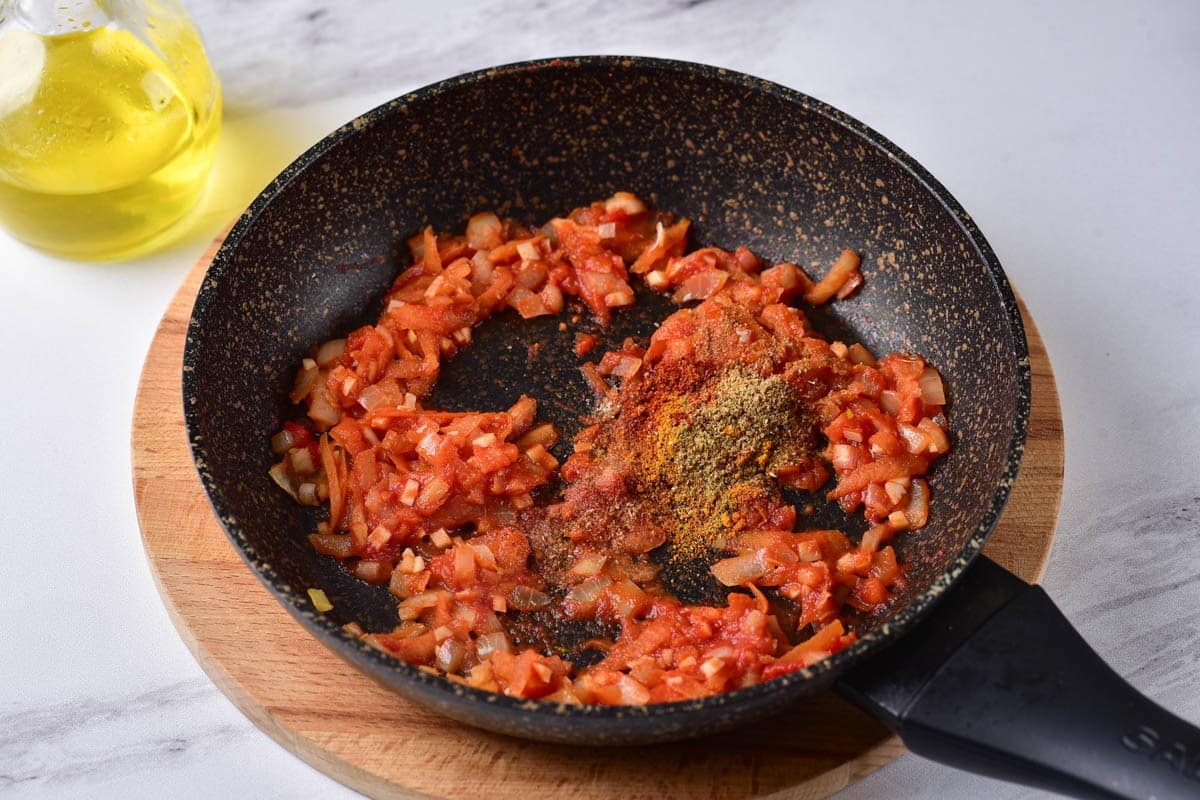 Garam masala is a blend of Indian spices that's both richly flavorful and aromatic. I use this spice blend when I make these Egg Puffs, but just a tiny bit works really nice in even a simple plate of scrambled eggs.
Smoked Sea Salt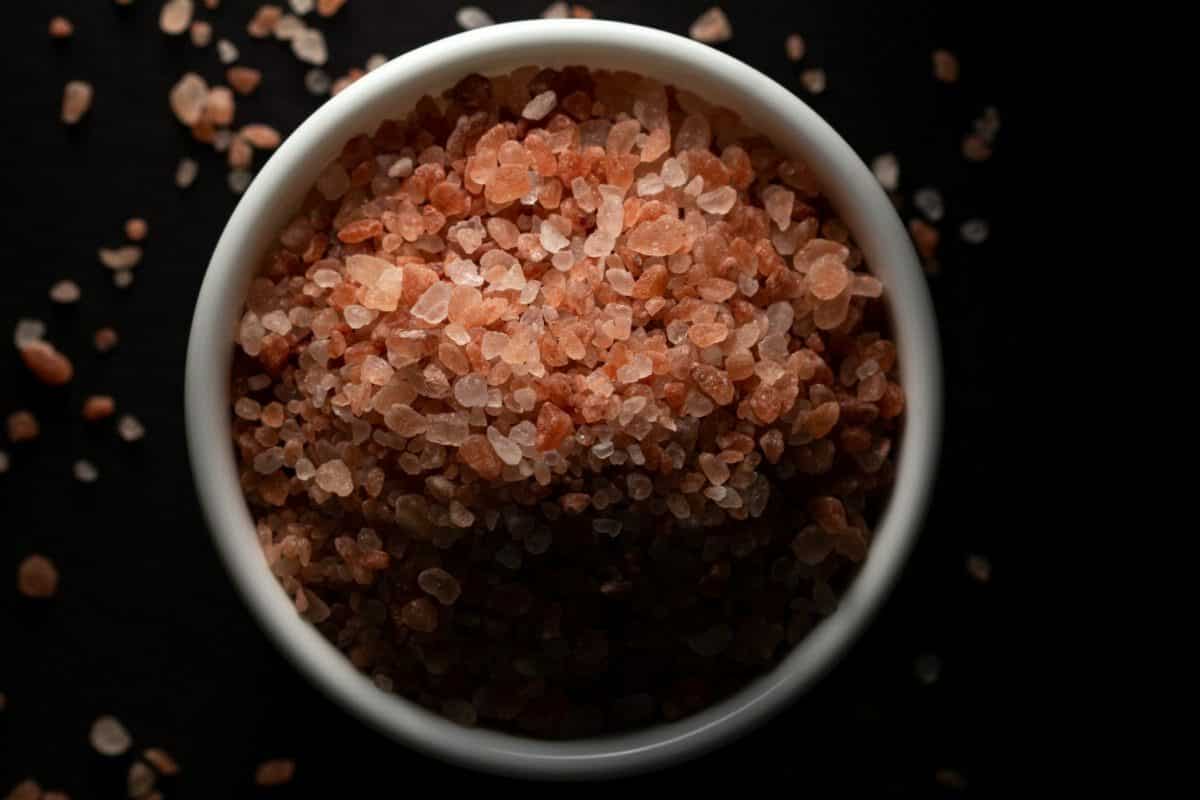 Normal kosher salt is good and all, but when you really want to hit it out of the park, you should reach for a nice smoked sea salt. Smoked sea salt imparts much the same flavor as cooking with bacon grease, but you can keep this seasoning in your drawer and pull it out at a moment's notice!
White Pepper
White pepper is more mild than black pepper, and it makes a great choice if you don't want pepper to be an overpowering flavor in the dish. White pepper is also a good choice when you want a lighter colored dish that's not distracted by flakes of black pepper.
Horseradish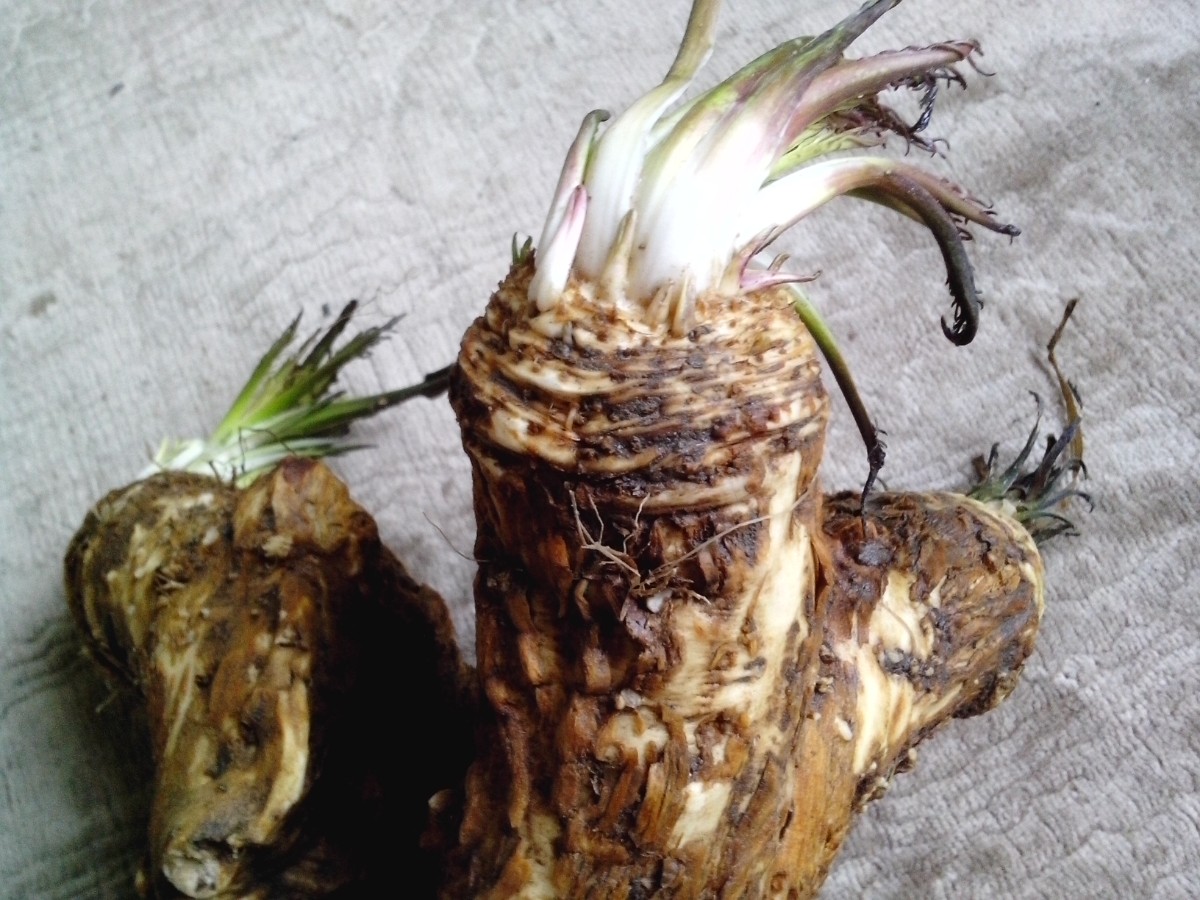 Hey you spice heads! If you think a dash of hot sauce is good on your eggs, you should try a spoon of horseradish. I think it works wonderfully in this Chicken Omelette recipe, and adds a crazy element that your brunch guests won't be able to put their finger on.
Pesto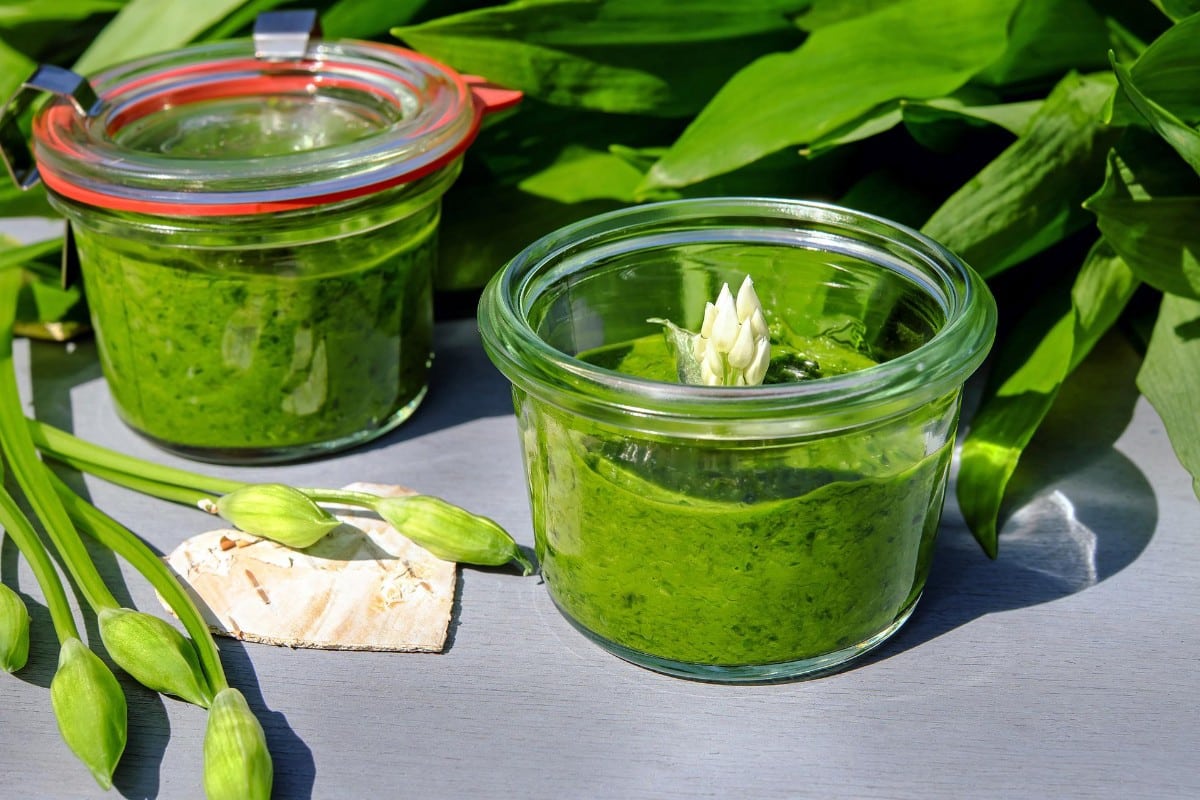 Basil, pine nuts, parmesan cheese and extra virgin olive oil blend to make the perfect pesto sauce, loaded with fresh flavor. It's one of the best seasonings for scrambled eggs–or anything else, really. I think it would work wonderfully alongside this Sausage Omelette recipe.
Chimichurri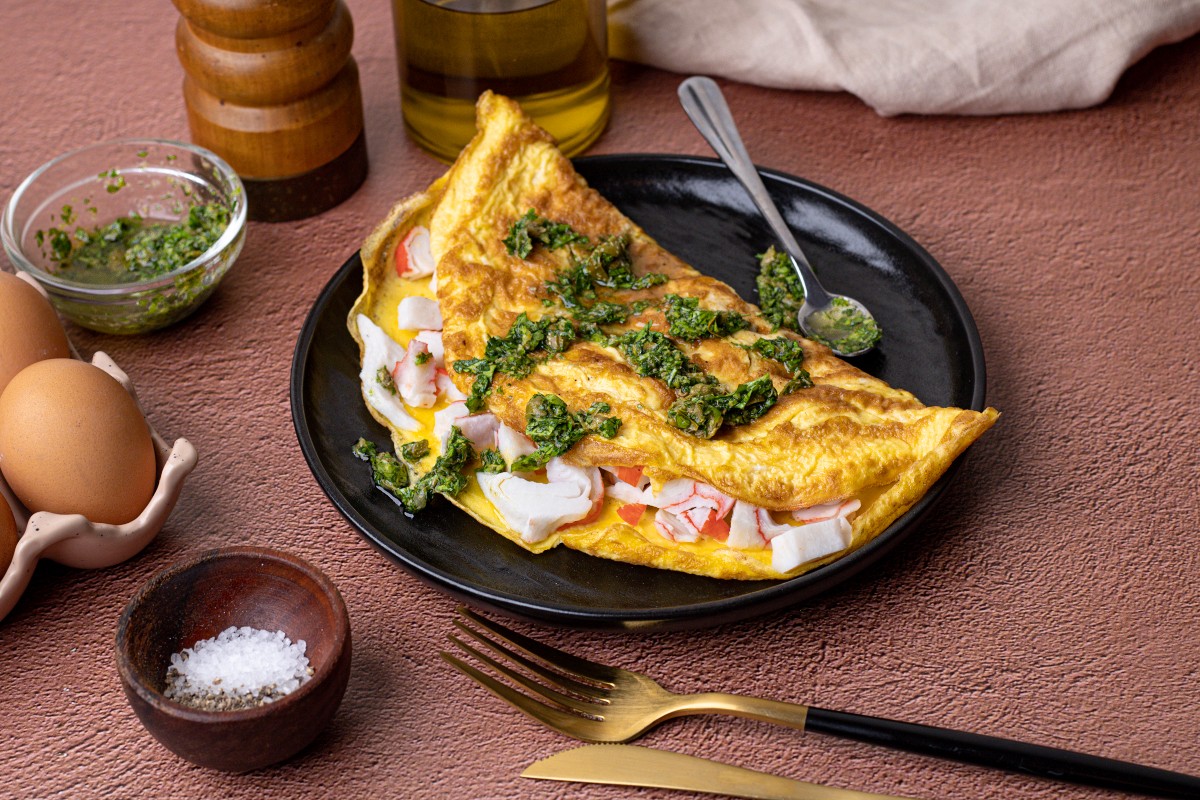 Similar to pesto, this Argentinian blend of herbs and spices is vibrant and delicious. Parsley plays the lead role in this sauce, making it the perfect choice for your next plate of scrambled eggs. On top of our Crab Omelette, it really brings out the best of all the flavors together.
Mango Salsa
I love salsa, and topping scrambled eggs with a fresh mango salsa is the ideal brunch. While any salsa is sure to be delicious on a plate of scrambled eggs, I particularly like it when I'm making this Shrimp Omelette.
Harissa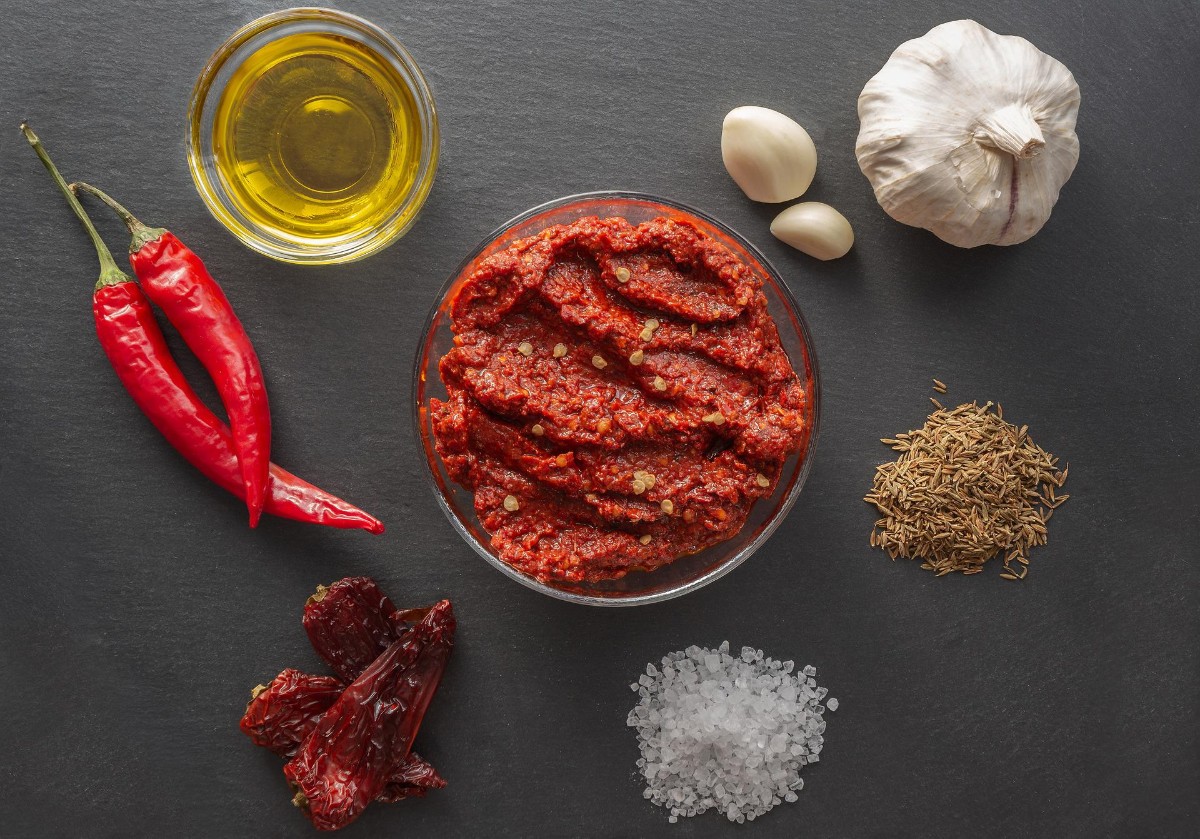 Harissa is a spicy Tunisian blend of red chili, herbs such as cumin, and citrus or rose. This is, in my opinion, the best ingredient when you want to add the perfect amount of spice and character to an otherwise simple plate of scrambled eggs.
Sriracha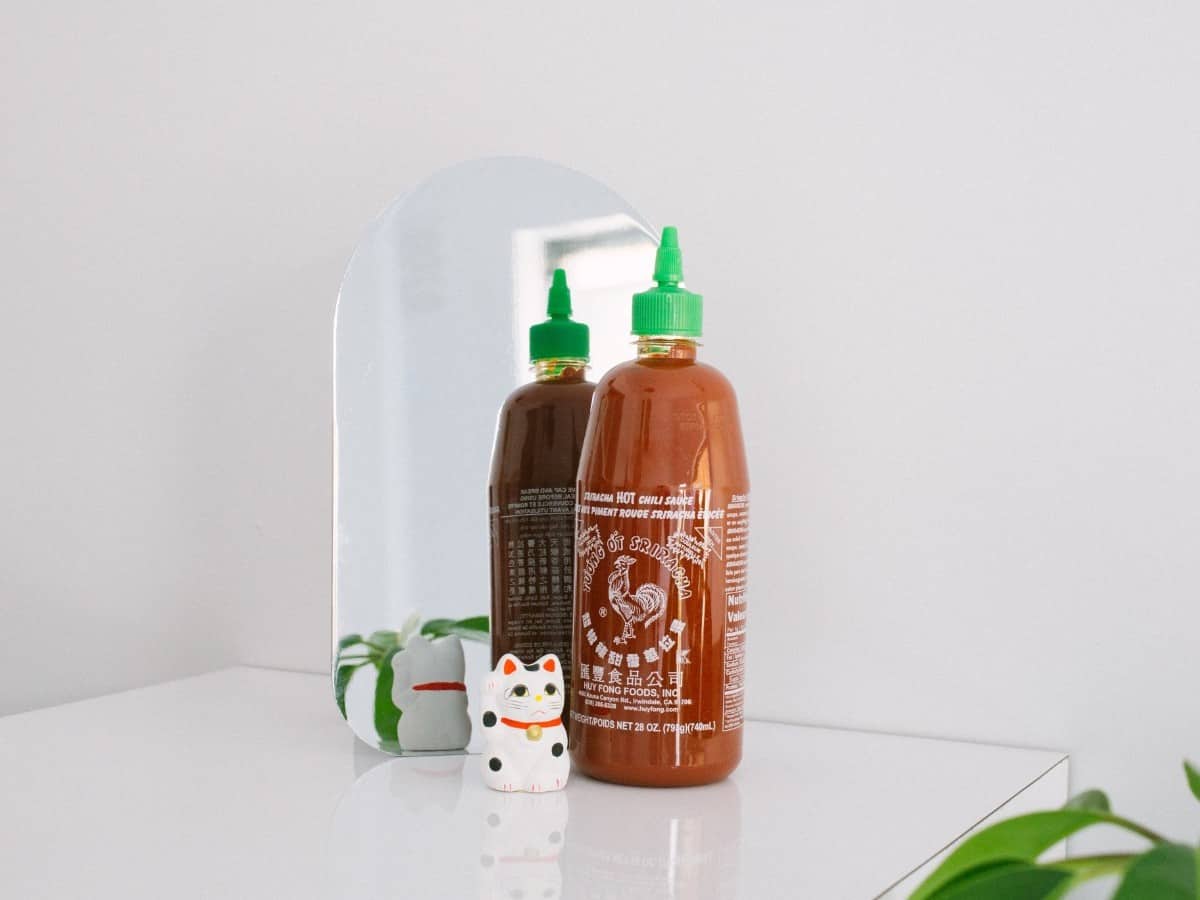 If you can get your hands on it, sriracha may be the #1 hot sauce and one of the best seasonings for scrambled eggs. With just a tiny bit of sugar, this hot sauce really hits all the bases and makes for a perfectly balanced seasoning option for your next brunch date. I especially think a drizzle of sriracha belongs on this recipe for Overhard Eggs.
Parmesan Cheese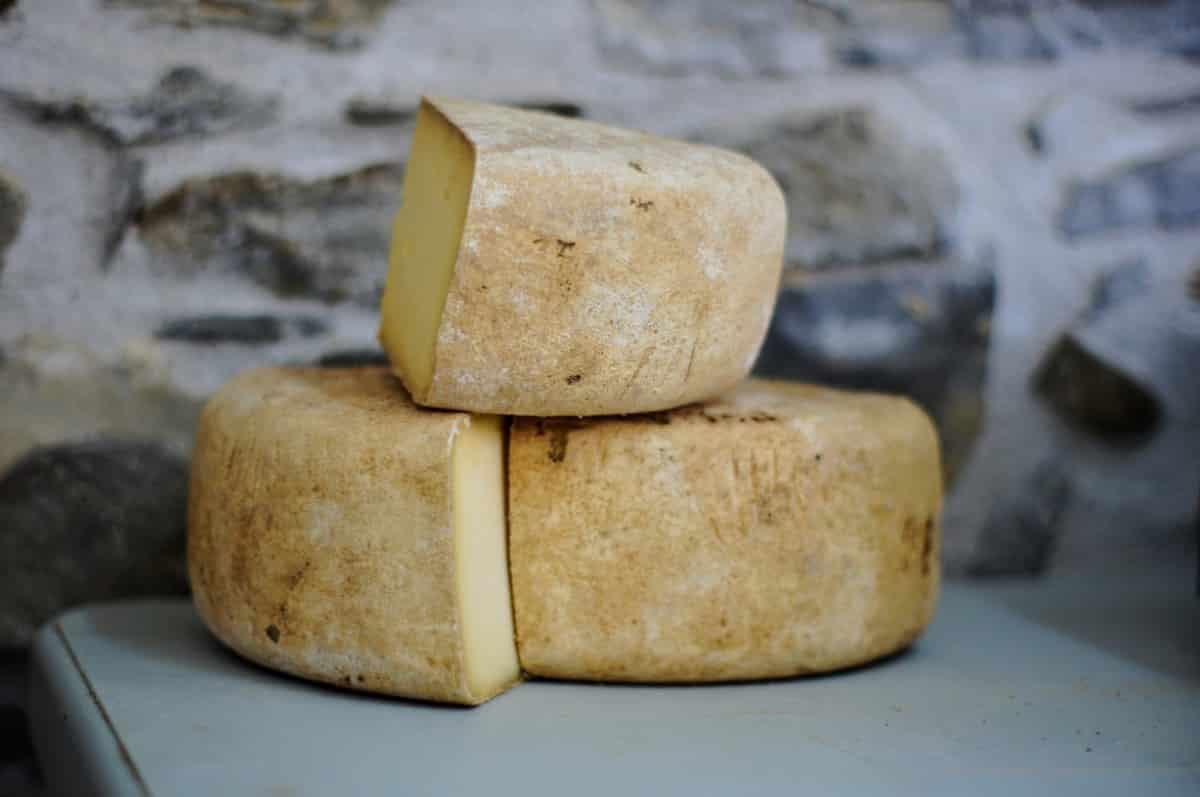 I can't believe it took me this long to get to cheese! Cheese is great at everything it does, and it especially makes for a great flavor booster to scrambled eggs. Parmesan cheese in particular adds a great savory quality to scrambled eggs, or in this epic Asparagus Omelette recipe.
Fresh Basil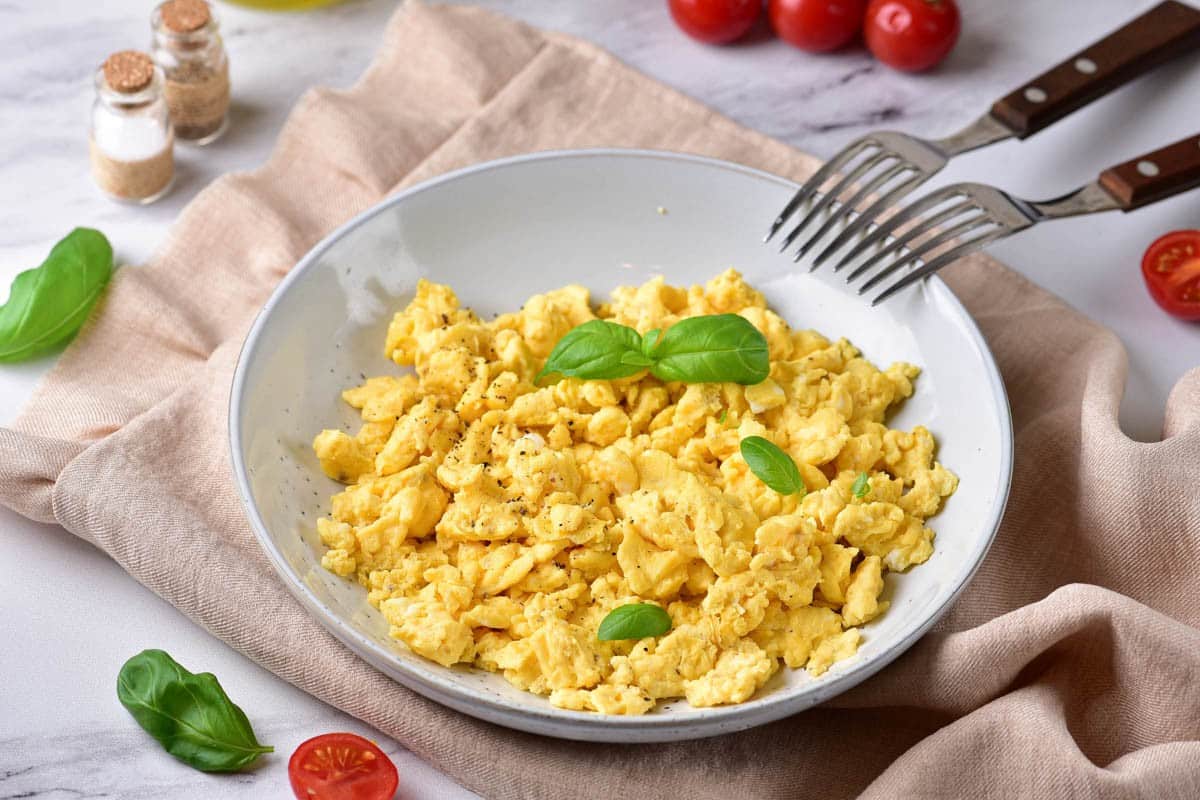 Fresh basil may be my favorite herb, and I love it on scrambled eggs. It's such a simple flavor that elevates any dish it's added to. Sometimes I'll add fresh basil to my eggs while they're cooking, causing them to wilt. Other times, I will just garnish my eggs with fresh chopped basil.
Minced Garlic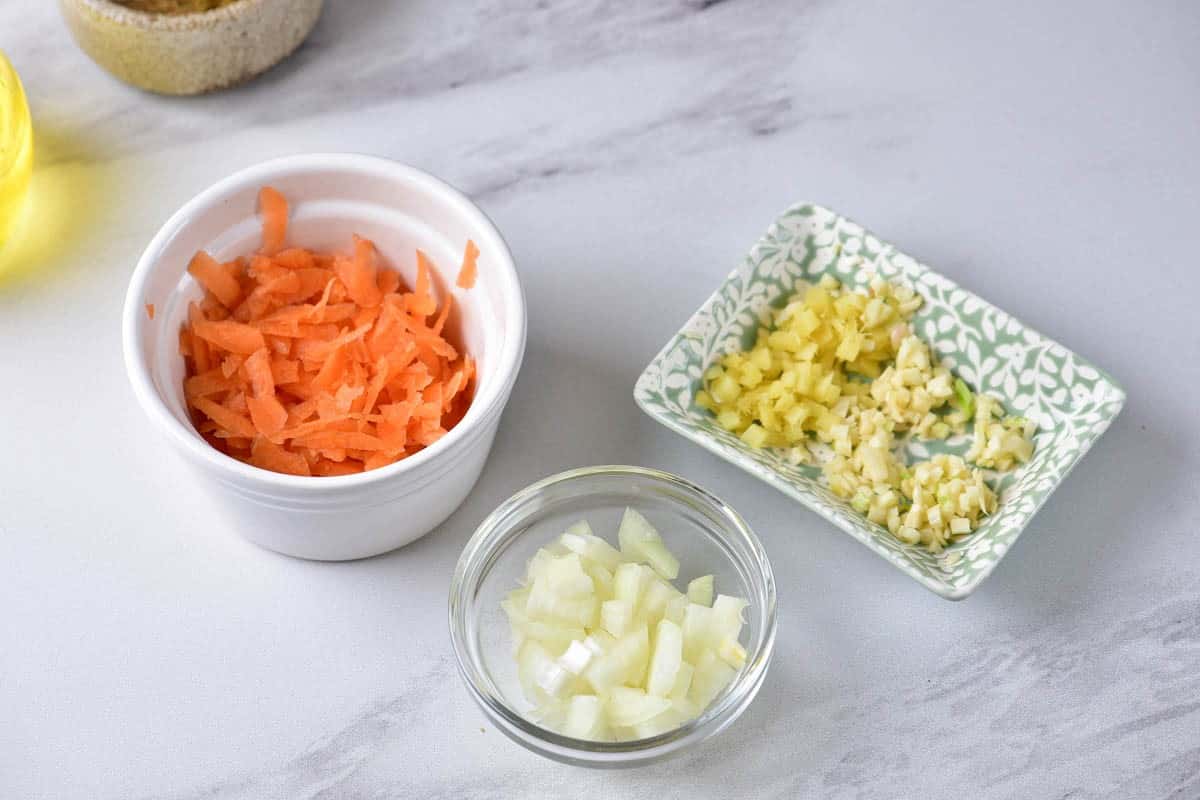 If you love garlic, you should be adding it to your eggs. Just a tiny amount of garlic flavor brings so much life to your egg dish. Just a pinch of garlic powder or 1 minced garlic clove per serving and you'll be in garlic heaven.
Chili Oil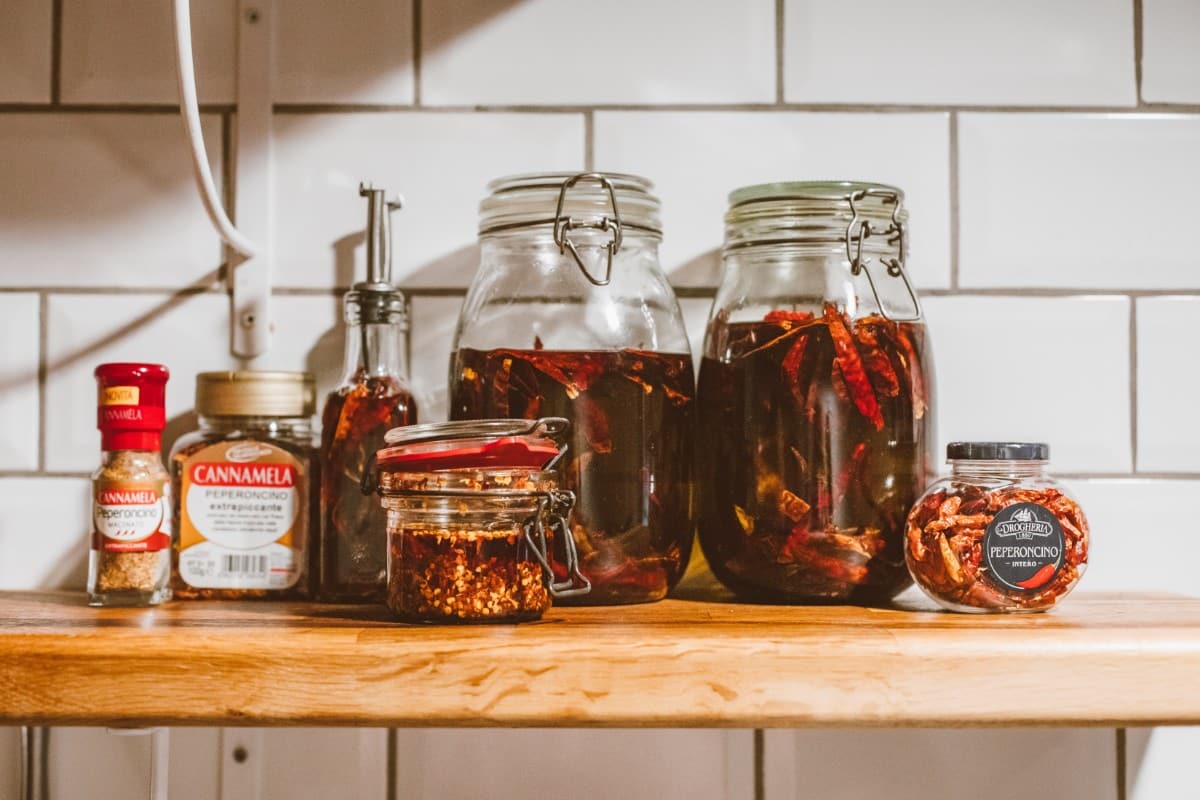 Chili seasoning and hot sauce are great choices, but if you haven't tried using infused chili oil to cook with, then you're really missing out. Infused oils are fun to work with because they add such a great depth to everything you use them in. I highly recommend you swap half or all of your cooking oil for your scrambled eggs and use a chili-infused oil instead.
Truffle Salt
Nowadays, most grocery stores sell truffle-infused salt. It's worth every penny, I promise. Since I discovered truffle salt, my scrambled eggs have gotten 100% better. I think swapping your salt for truffle salt in this Air Fryer Soft Boiled Eggs recipe is probably the best thing you can do to your brunch game.
Thyme
There's always time for thyme. Seriously though, thyme is an underutilized seasoning for scrambled eggs. It's earthy with a touch of mintiness similar to rosemary. The way this seasoning elevates dishes makes it the perfect addition to your next scrambled egg brunch.
Onion Powder
Onion powder is a classic, go-to spice that I use all the time. It adds that same onion flavor without making you cry or making you pull out the cutting board. Just a little sprinkle on your eggs is all it takes to make your dish stand out without being overpowering.
Chives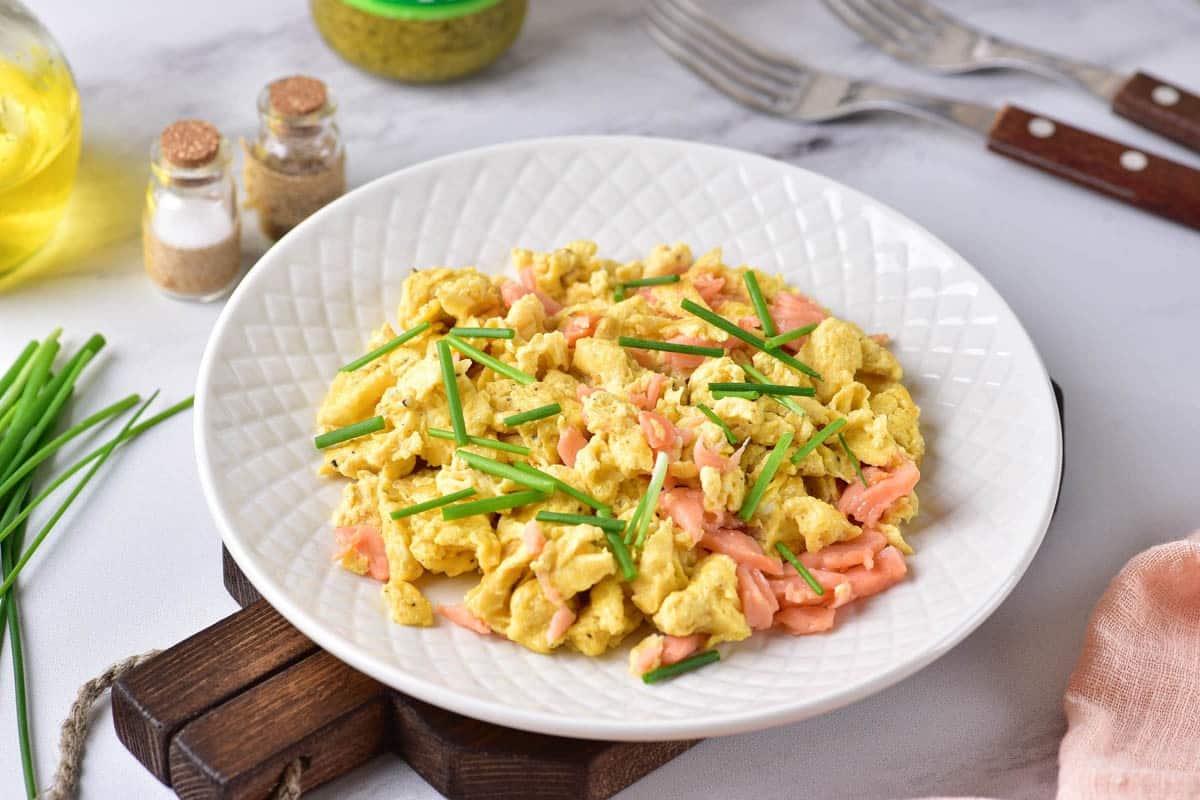 Chives are perfect for breakfast, and they might be the best seasoning for scrambled eggs. They're fresh, vibrant, and add a touch of onion flavor that's not overpowering. I love using chives in this Smoked Salmon Scramble.
If you can get your hands on chive flowers, sprinkle the petals over your next plate of scrambled eggs and get ready for the most Instagramable brunch ever!
Marjoram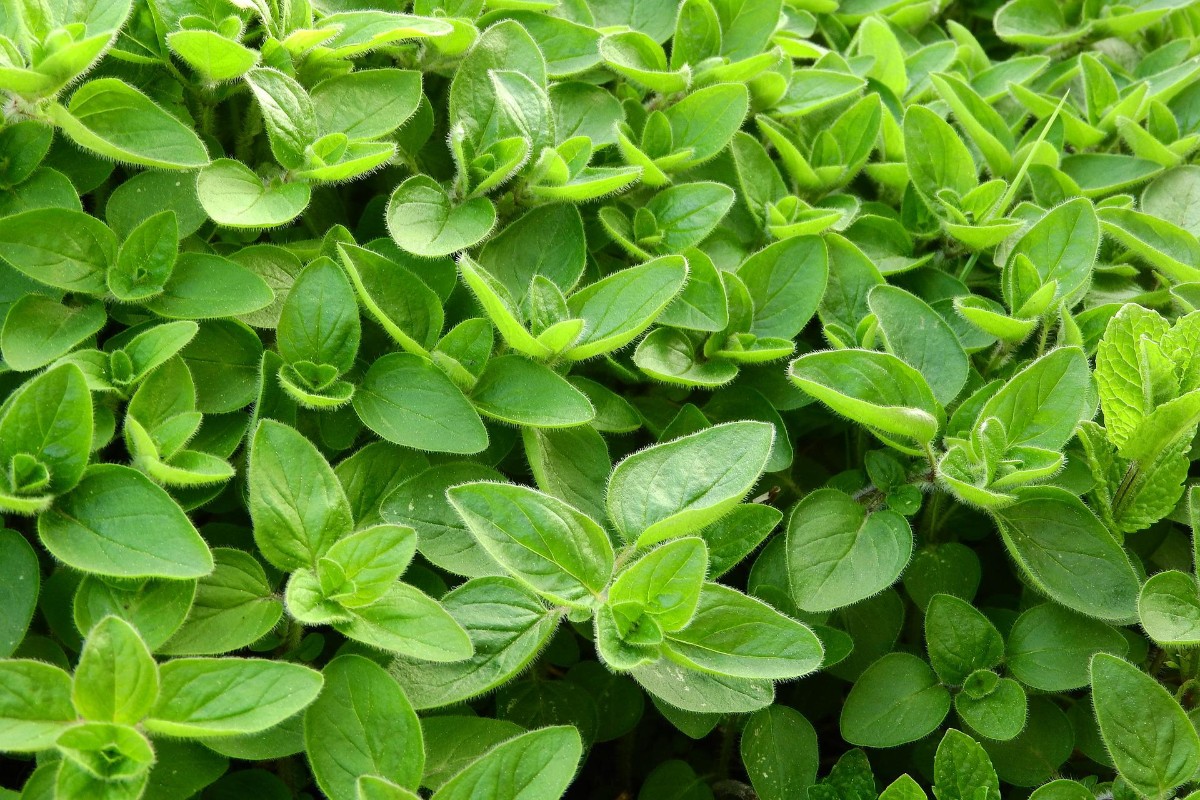 Marjoram is an underutilized seasoning that I think belongs on the brunch table. Its flavor is similar to oregano, but more complex and delicate. Typically used as an herb in meat dishes, I think this would go nicely in a scramble with sausage.
Nutritional Yeast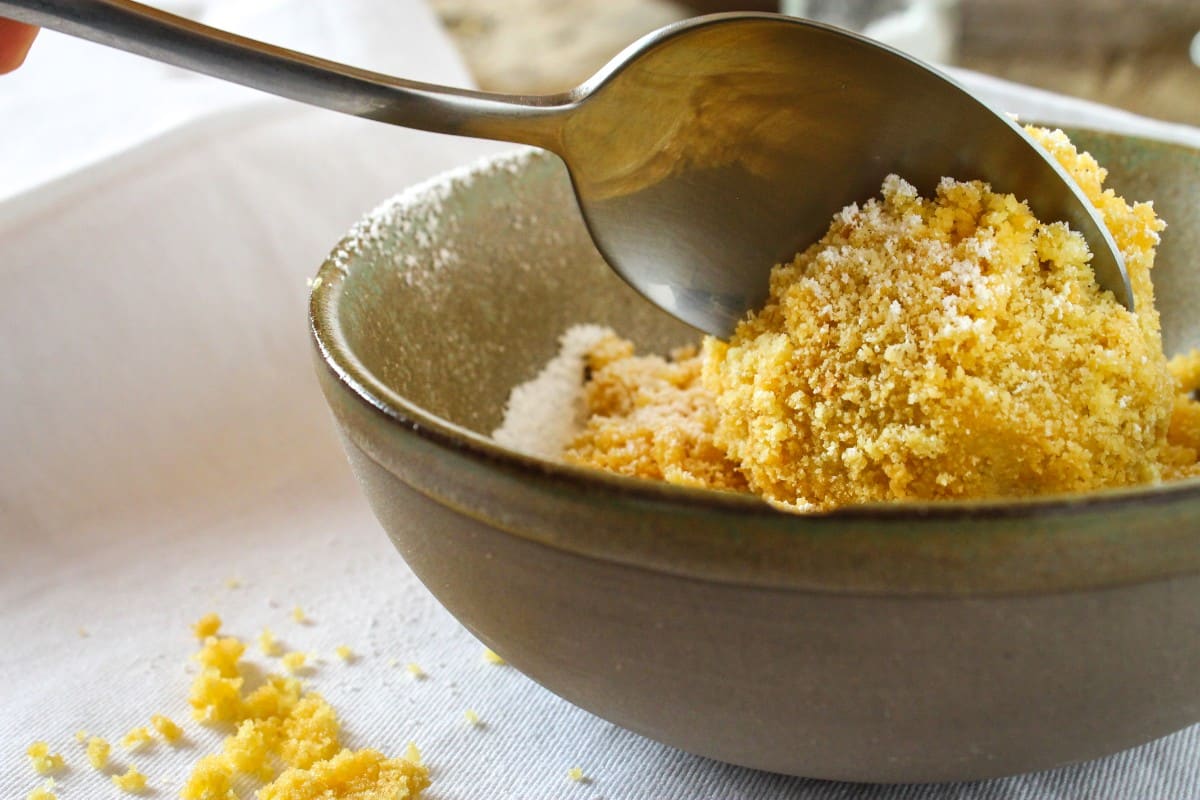 Nutritional yeast offers a wonderfully cheesy flavor, while also being rich in B vitamins. I love sprinkling this onto my eggs, as it adds a rich cheese flavor without the fat or calories. In fact, I enjoy adding nutritional yeast on pretty much everything!
Celtic Sea Salt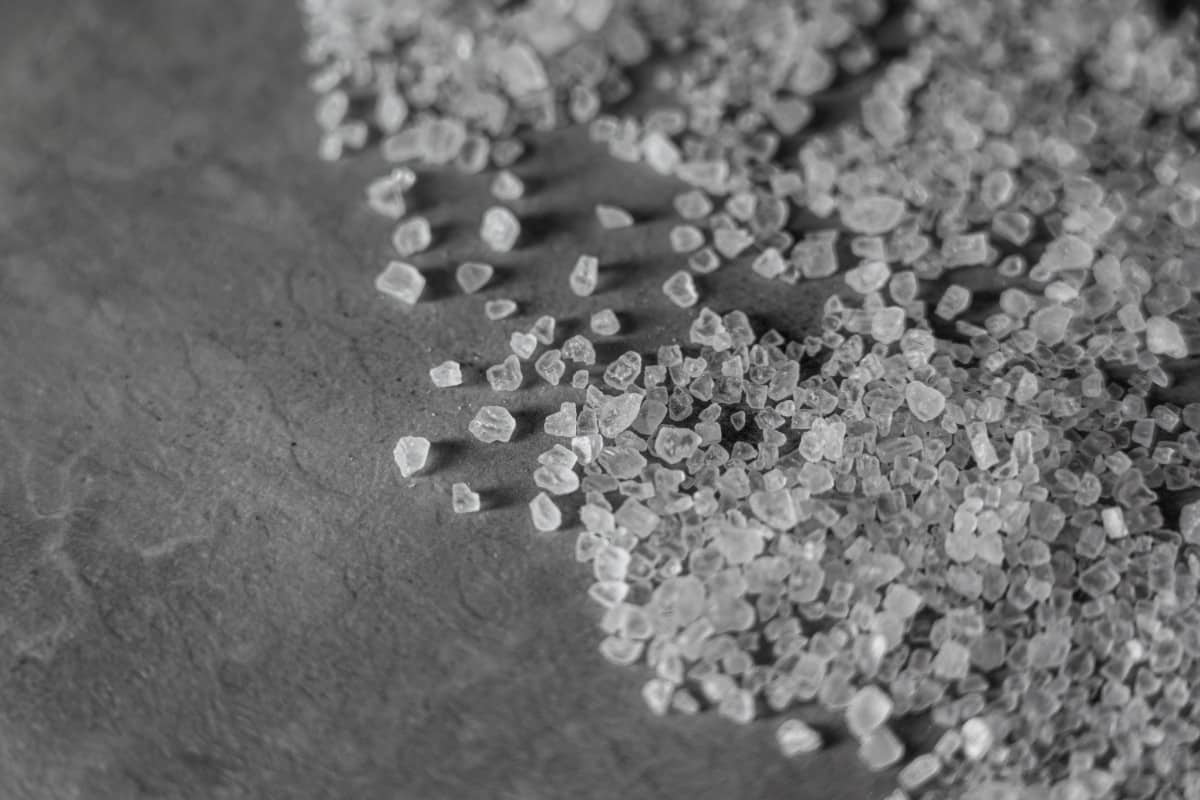 Celtic sea salt comes from the Celtic sea off the coast of France, and its grayish hue perhaps makes it an odd choice for this list. That being said, this sea salt is incredibly rich in minerals and adds a depth of flavor that's unmatched. I love sprinkling a pinch of this salt on my Cast Iron Scrambled Eggs.
Paprika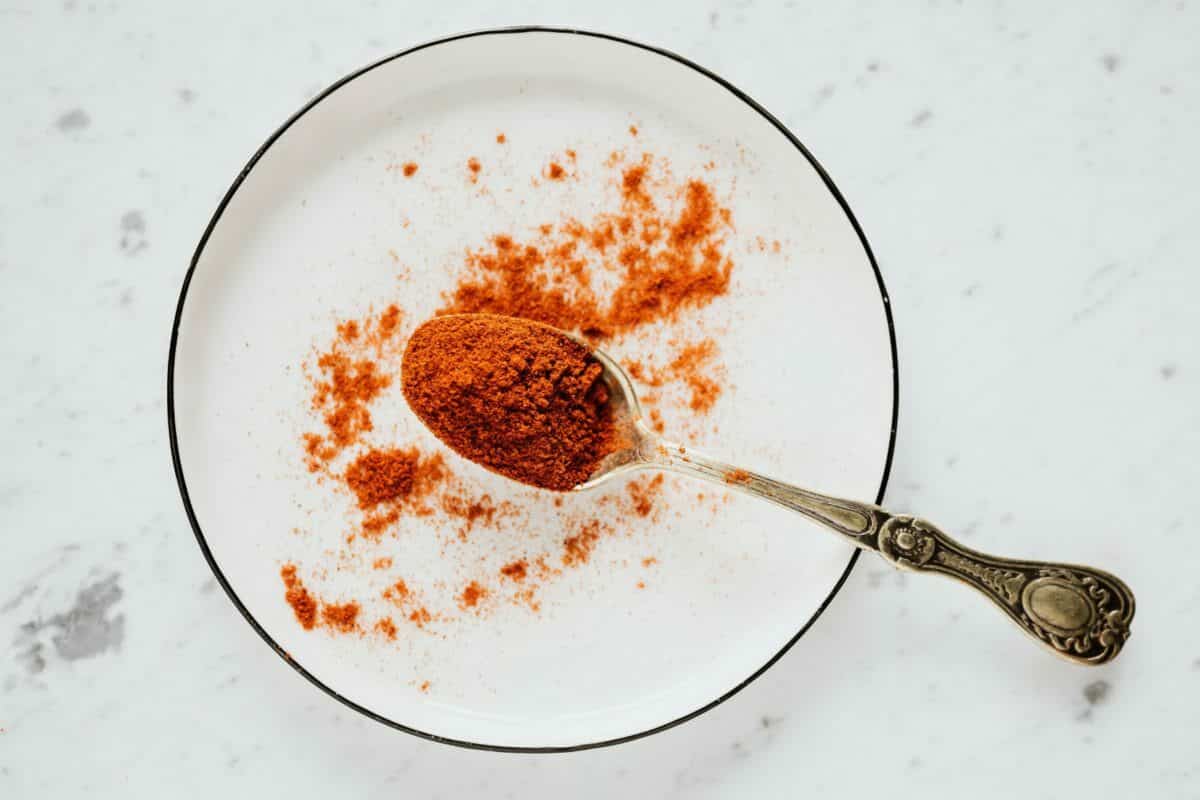 I probably use paprika the most when I'm making breakfast. Depending on the type of paprika you get it can be slightly sweet, very smokey, or even a touch spicy. I recommend experimenting to find your favorite.
Cilantro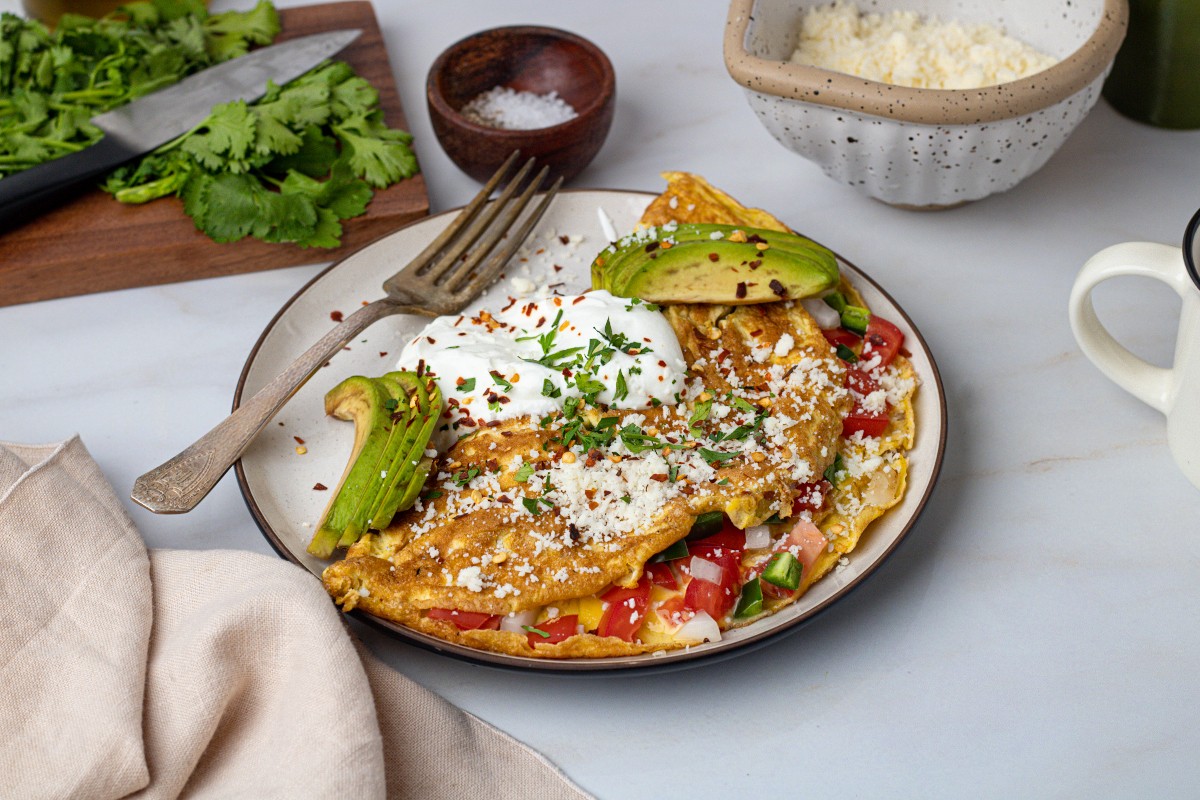 Cilantro is a beautiful fresh herb that brightens up any dish it is added to. Traditionally, cilantro would best be served with something like this Mexican Omelette recipe, where it complements the salty cotija and zesty pico.
Garlic Scapes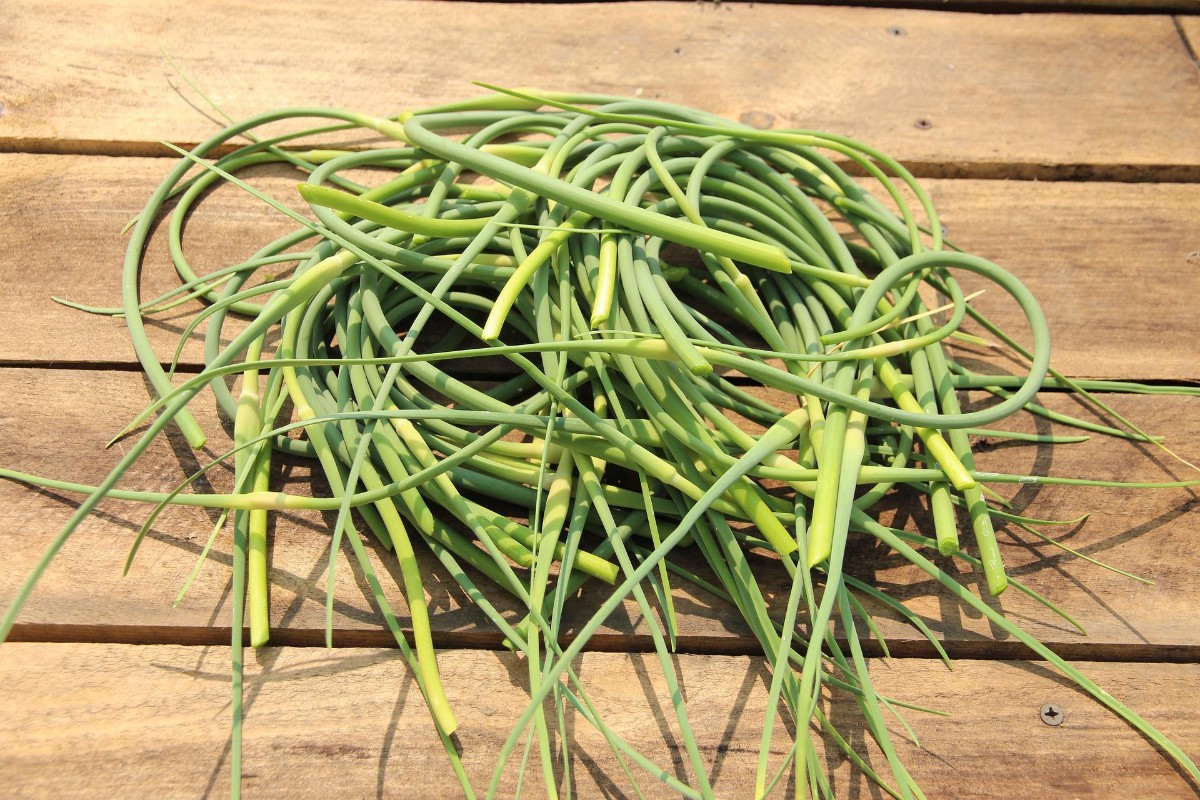 Garlic scapes are kind of like the green onion of the garlic plant. They're long, twirly, and green. They come from the garlic plant and thus have a really nice, mild garlic flavor. They're the perfect choice for a brunch date where you want to impress with your cooking skills, and not with your garlic breath!
Ranch Seasoning
Did you know that you can buy dry seasoning that's packed with that crazy good Ranch flavor? If not, then get ready to have your mind blown. Once I discovered ranch seasoning, I started putting it on everything.
I think it goes especially well atop scrambled eggs. Your brunch guests will never know what hit them!
Black Garlic Powder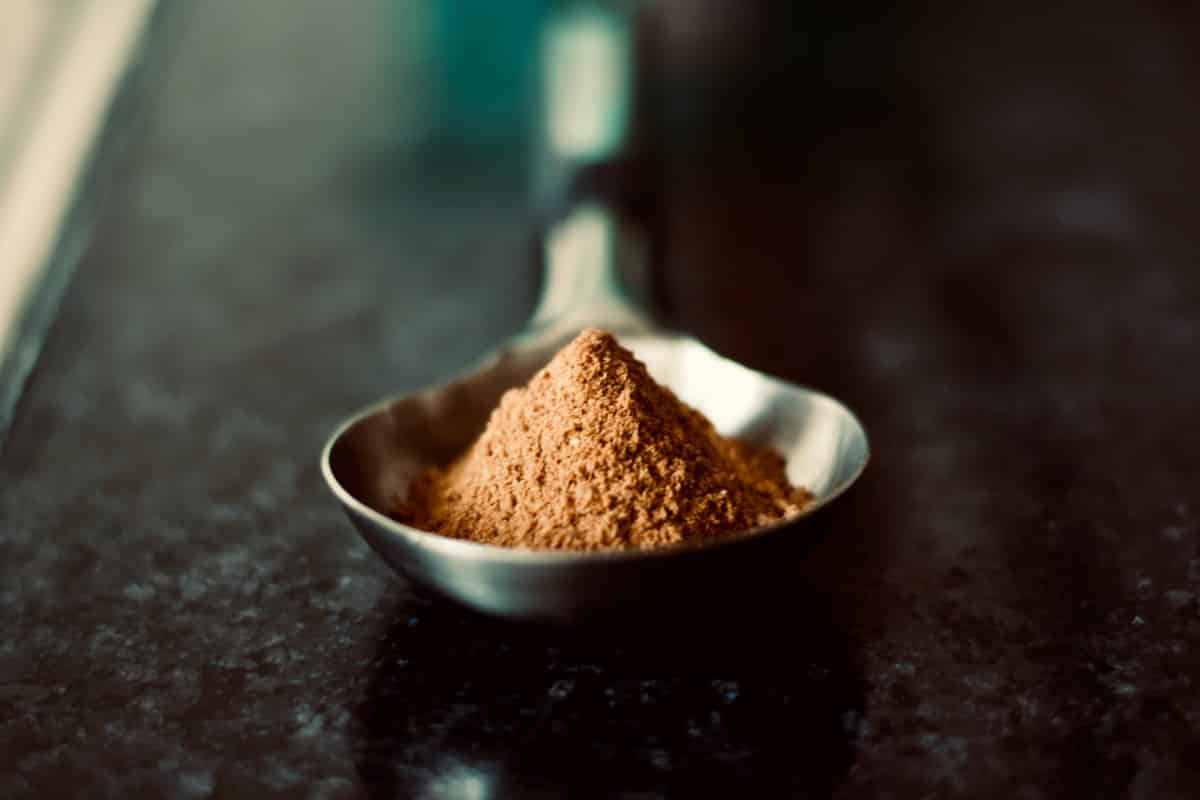 Black garlic is traditionally an ingredient used in Asian cuisine and is made by aging garlic until it turns black. This is not only a fun ingredient to serve at a party, but its powder form makes for a great spice. Adding black garlic powder to your scrambled eggs will bring complexity and a rich flavor to your next brunch.
Fresh Sage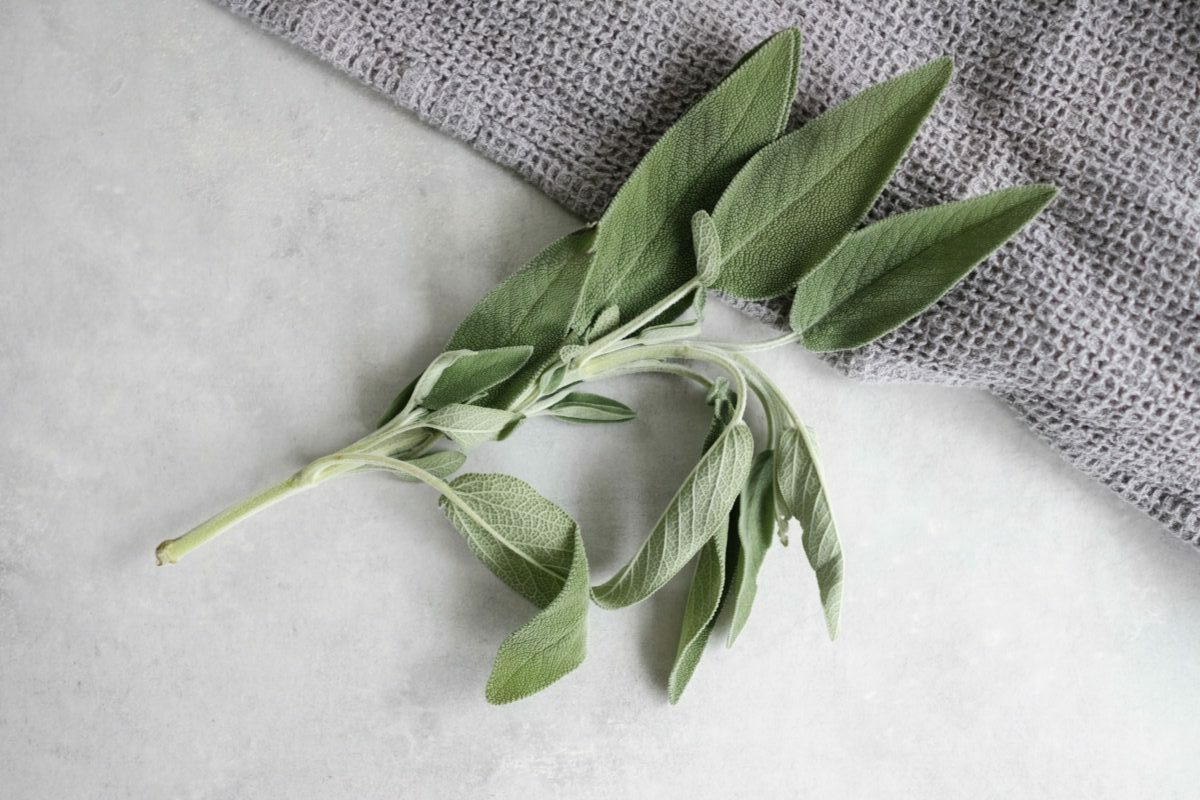 Sage is a fantastic herb and I believe it's underutilized. It's earthy and slightly peppery, with just a touch of mintiness similar to rosemary. Adding a couple of chopped leaves as garnish will add depth and make your eggs really stand out.
Adobo Seasoning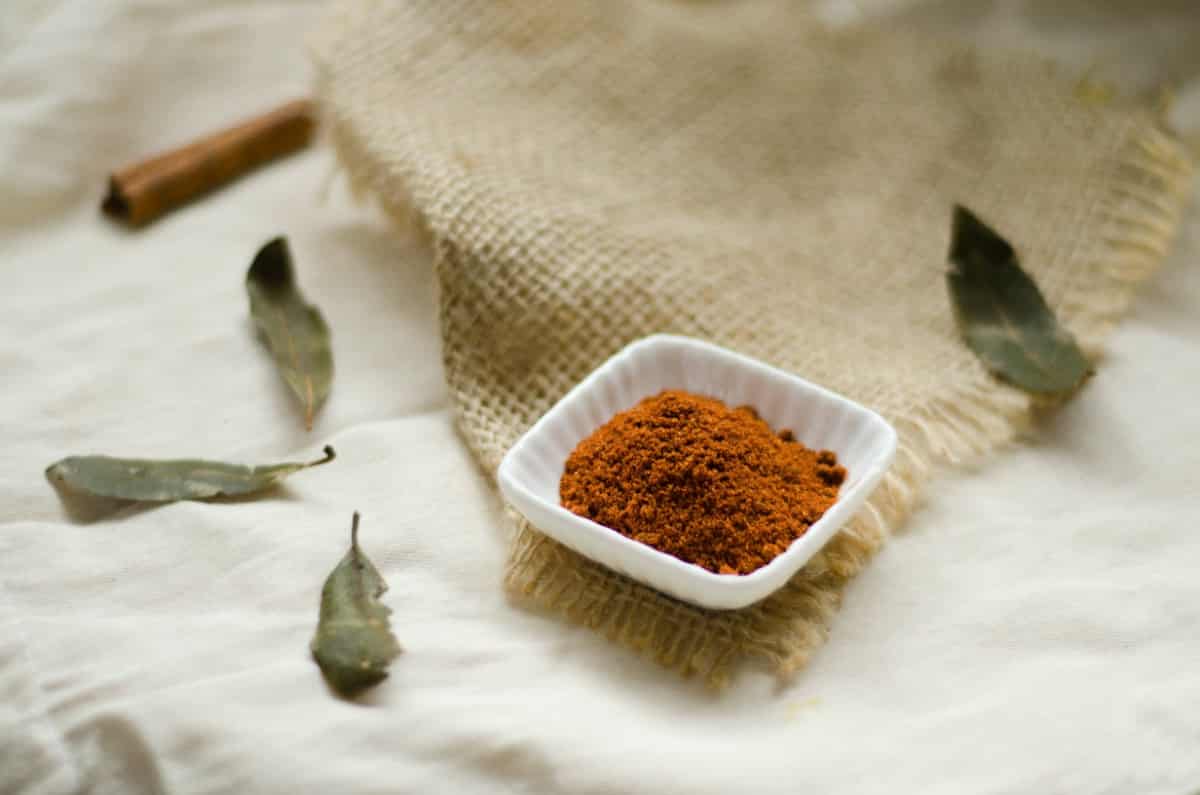 Adobo seasoning is a versatile ingredient that mostly consists of garlic powder, onion powder, oregano, salt, pepper, and sometimes dried citrus like orange or lemon. Traditionally used in Latin America, this is a useful spice blend to keep on hand for anything and a great seasoning for scrambled eggs.
Pink Peppercorns
Pink pepper is not only pretty to look at, but it is different than black pepper and thus deserves a place in your spice cabinet. Pink pepper is slightly less potent than black pepper, and is also a bit fruity and brighter.
I use pink peppercorns when I want to add a fun color to my dish and not overpower it with too much pepper flavor.
Za'atar Spice Blend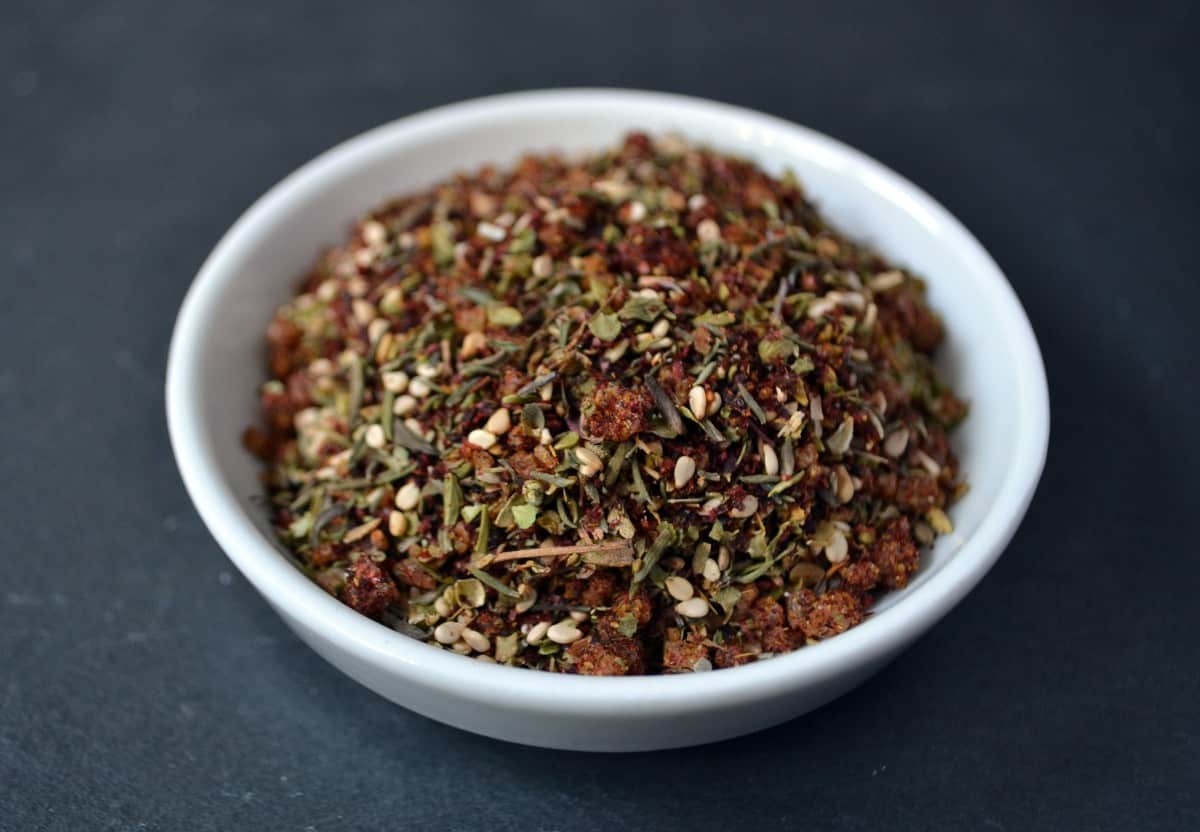 Now this is a fun one. A Za'atar spice blend consists of oregano, marjoram, cumin, coriander, sesame seeds, salt, and sumac. This definitely requires you to break out of your comfort zone, but I promise it will be worth it.
Dried Parsley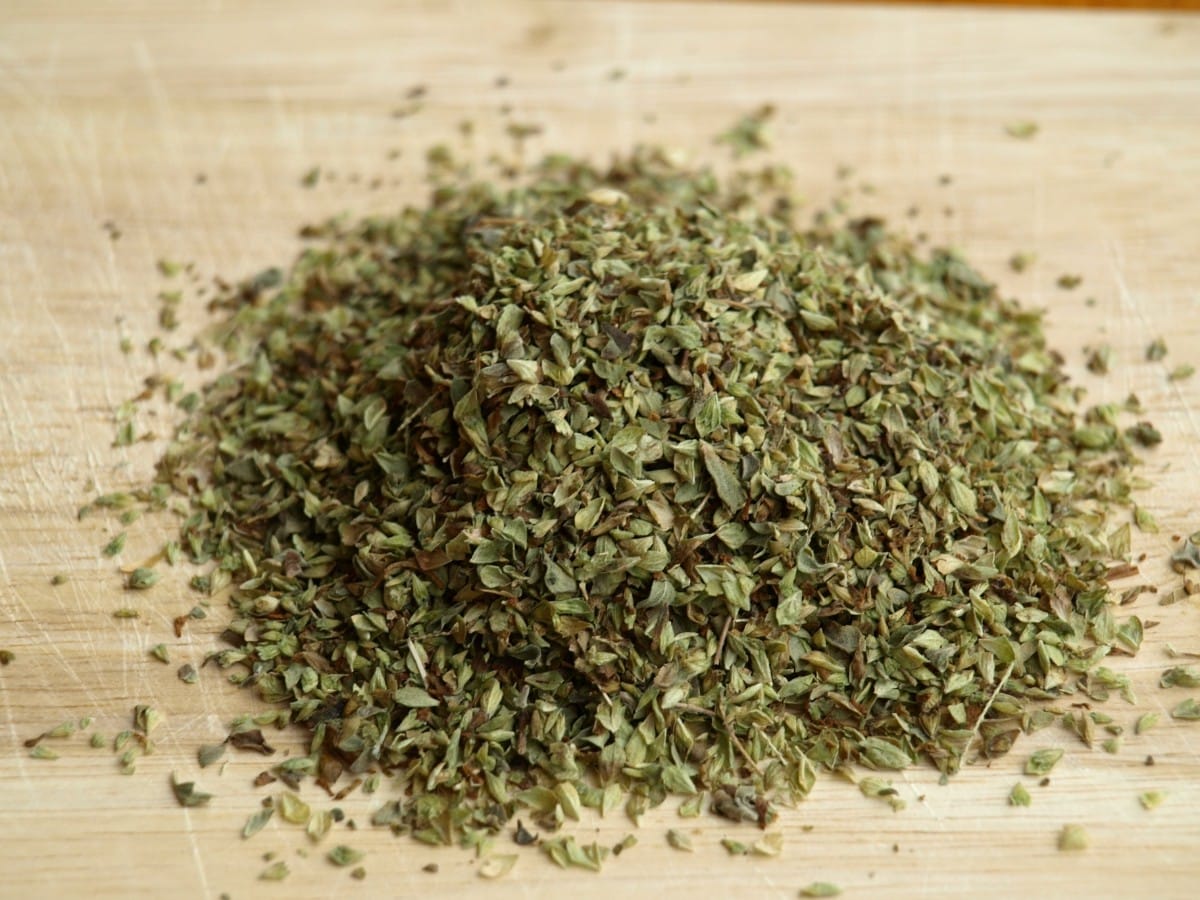 Similar to fresh parsley, dried parsley offers an herbaceous, slightly bitter flavor that will make your eggs stand out. Dried herbs don't offer the same level of brightness as fresh, but they have the benefit of being more subtle, not to mention shelf stable.
BBQ Spice
Who doesn't love BBQ? It's smokey, salty, tangy, and everything you love out of food. If you've never picked up a bottle of BBQ seasoning, then you're missing out. After you put a dash of this on your scrambled eggs, you will wonder what took you so long!
Garlic Infused Olive Oil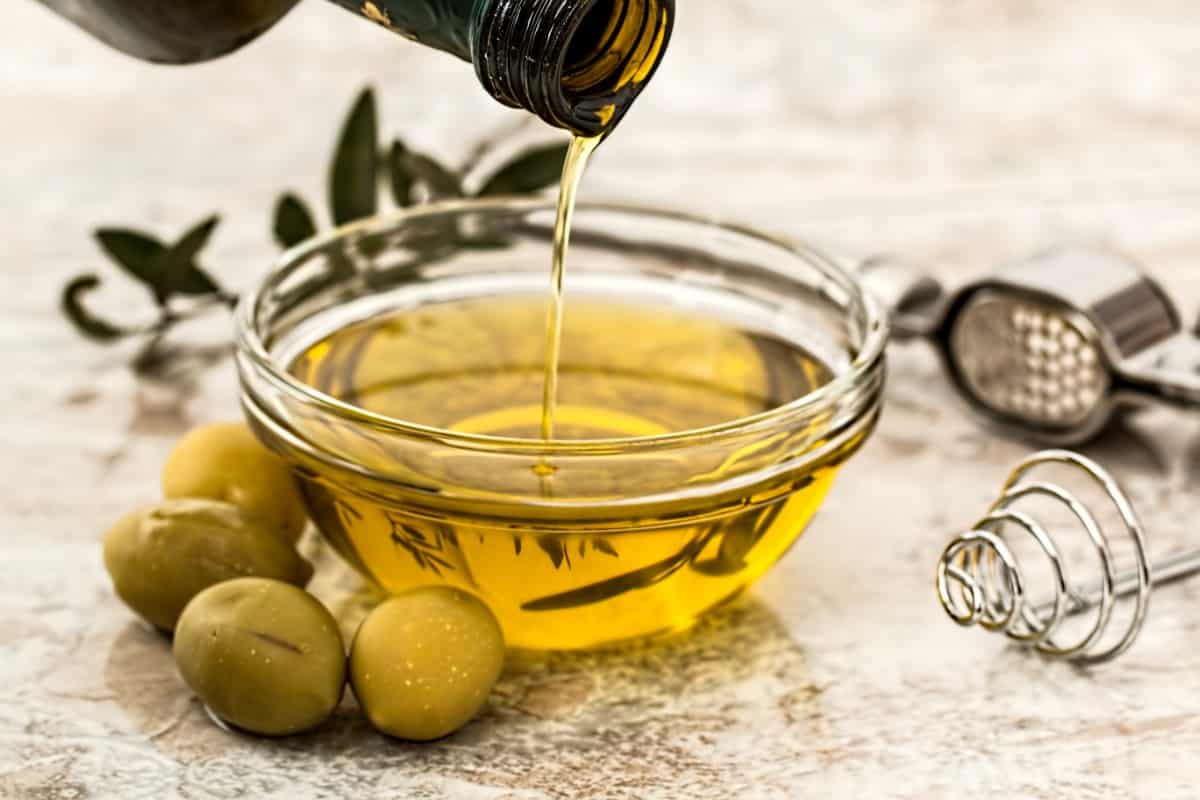 If you're looking to subtly incorporate flavor into a simple dish like scrambled eggs, then infused oils are the way to go. I love using garlic oil because it incorporates that flavor with little to no extra work. I would recommend using a garlic infused olive oil when following this Cast Iron Scrambled Eggs recipe.
Pink Sea Salt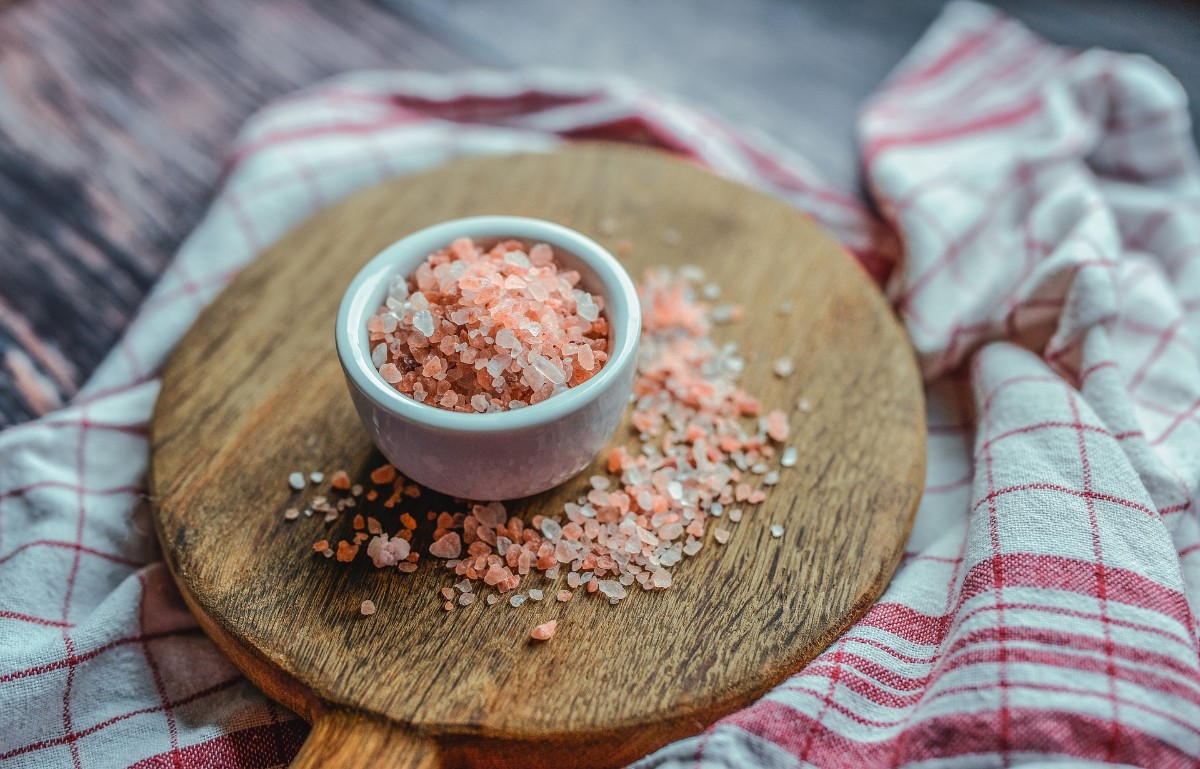 Pink sea salt, or Himalayan sea salt, is a rock salt that originates in Pakistan. Its bright pink color has made it a popular choice over the last few years in the food and beauty scene. This sea salt has a pink hue due to its increased mineral content, making it a good choice to season your scrambled eggs.
Garlic Powder
Garlic is, of course, the best seasoning of all time. Its rich flavor is unmistakable. I like using garlic powder because it is a no-fuss way of incorporating that delicious garlic flavor without being too overpowering.
Dill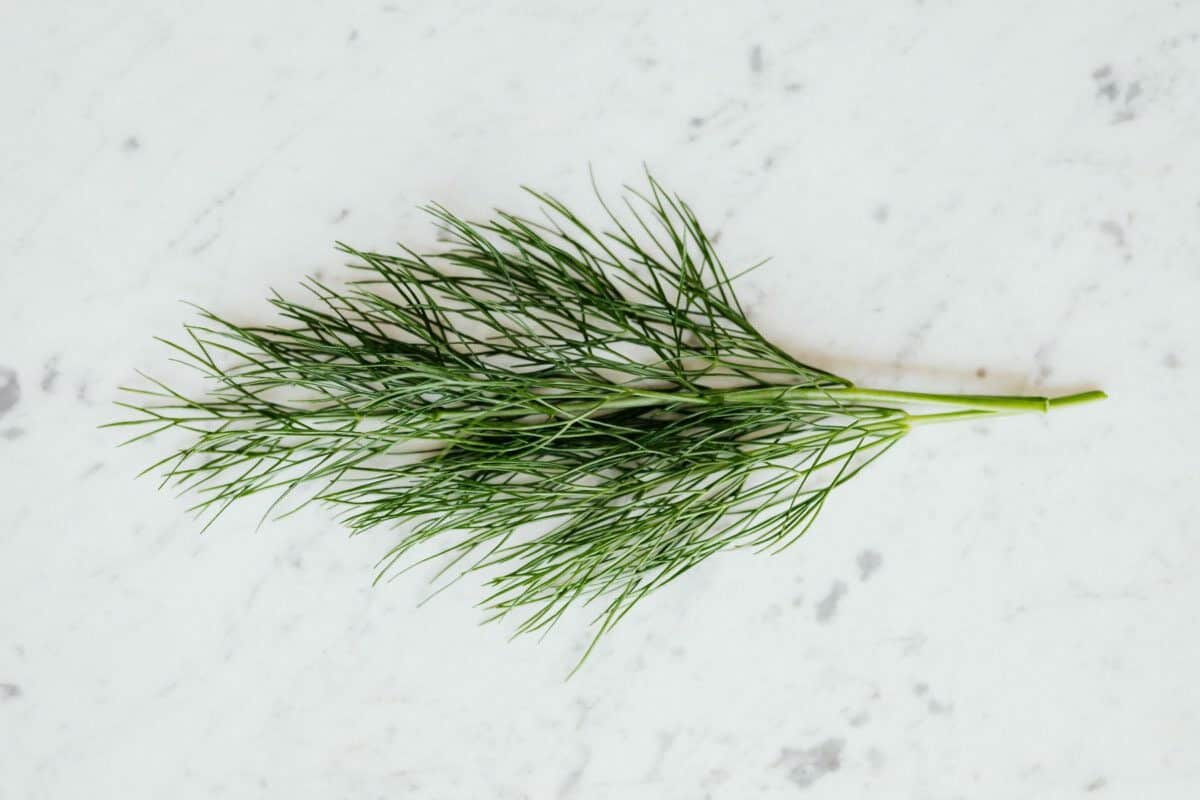 Dill is a fun herb, as it has a very unique flavor profile. It's fresh and has a grassy, somewhat citrusy flavor. Whether dried or fresh, dill is a great ingredient to incorporate in an egg scramble.
Green Onion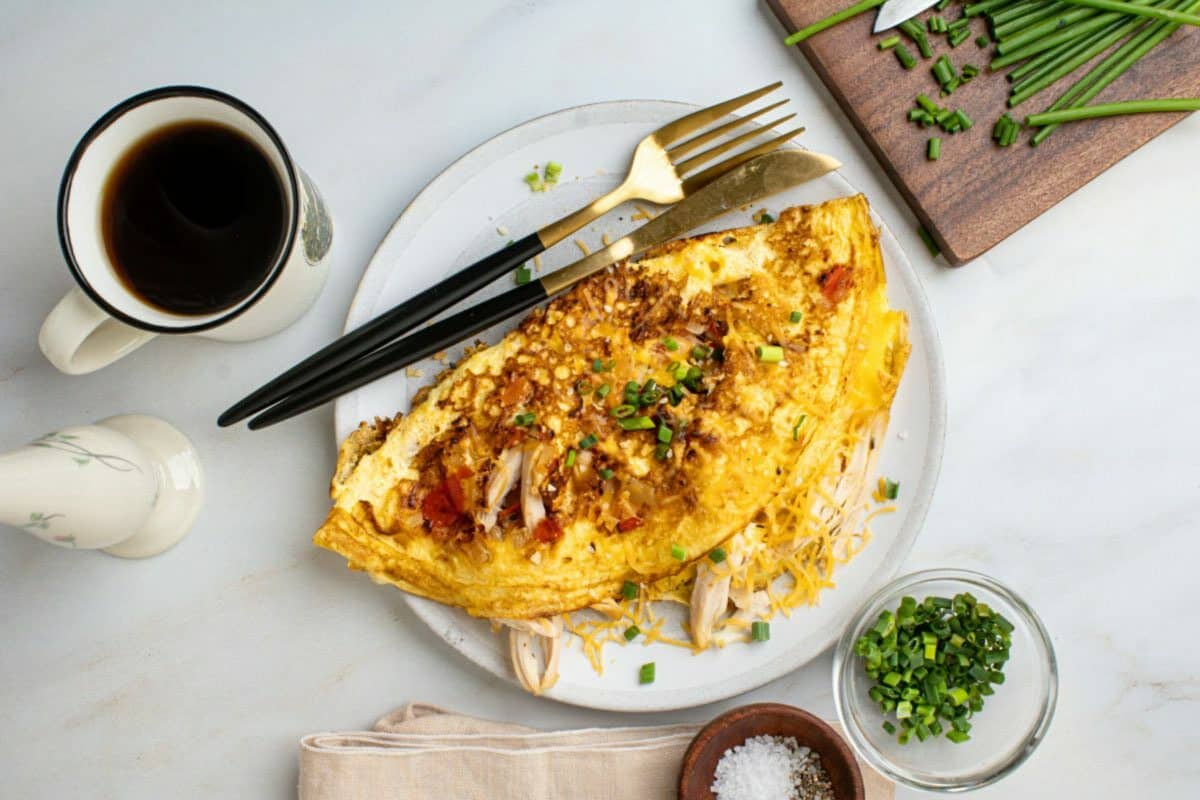 A classic, green onions offer onion flavor without being too overpowering. They also add a nice pop of color to the plate. Green onion is also known as scallions, but no matter what you want to call it, a few pinches of this and your scrambled eggs will get kicked up a notch.
Herbs de Provence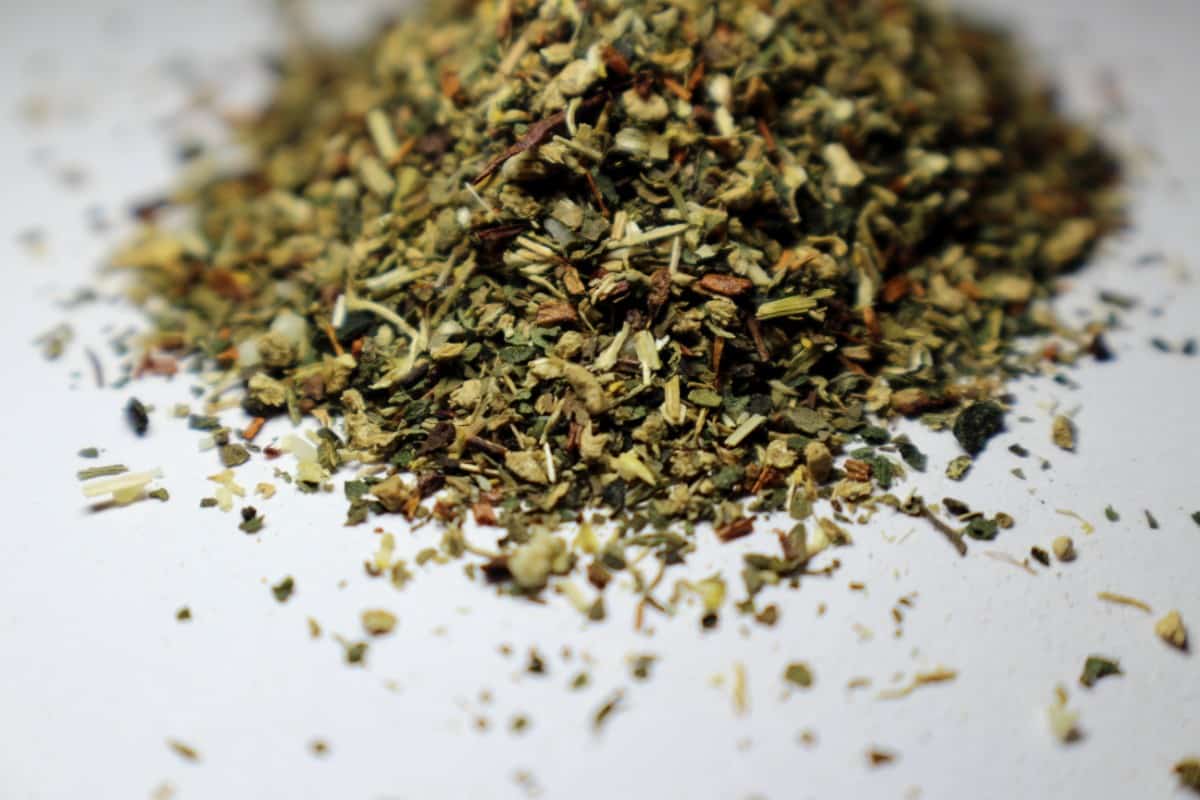 This aromatic herb blend combines marjoram, thyme, basil, rosemary, fennel, tarragon, and most notably, lavender. This unique blend is not as commonly used as it should be, and I think it's the perfect hack to impress at your next brunch party.
Dried Mushroom Powder Seasoning
Regardless if you love or hate mushrooms, dried mushroom powder imparts a wild umami flavor that's impossible to replicate. Whether it's made with shiitake, porcini, lion's mane, etc., a little sprinkle of this seasoning on your scrambled eggs is enough to amp up your breakfast.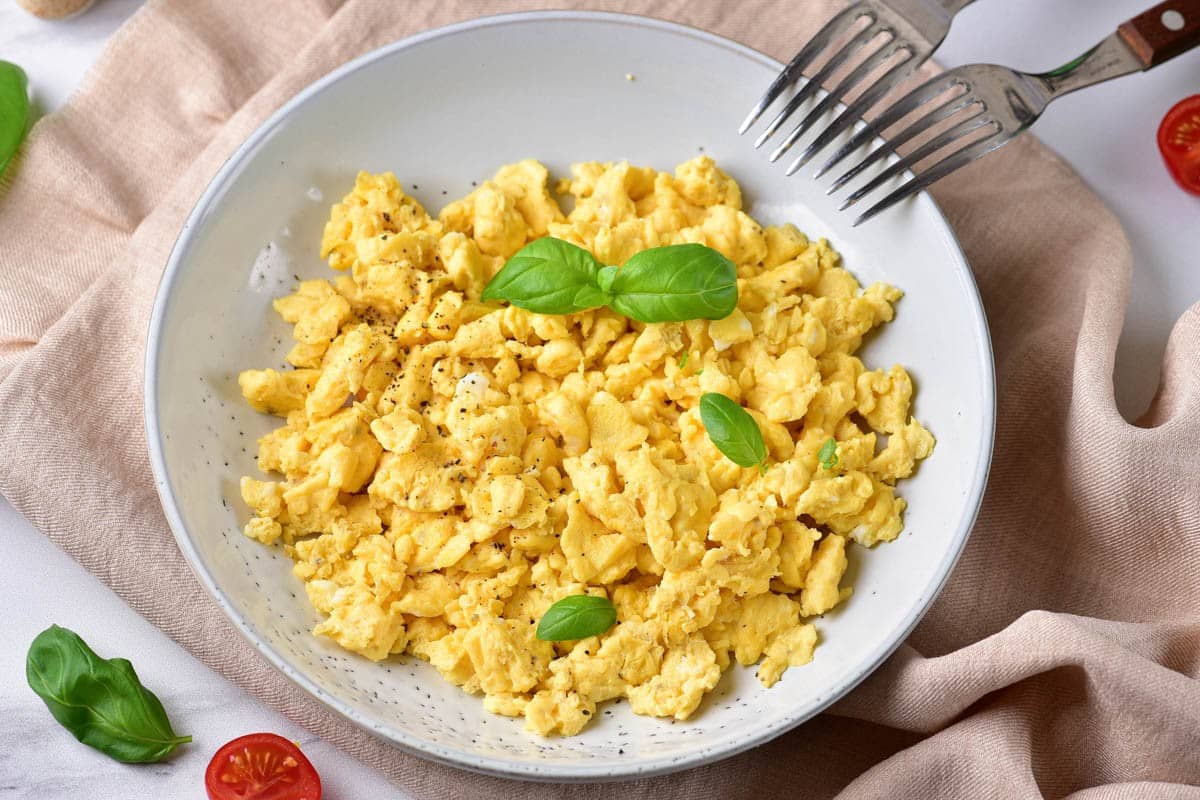 Breakfast is the most important meal of the day, and nothing beats a plate of hard-working scrambled eggs. But don't ever think they have to be boring! Salt and pepper work just fine, of course, but the next time you're pushing those eggs around the pan, reach for a new seasoning to elevate your mornings.
Olivia has been in love with all things food and libations for nearly a decade. When she's not cooking up new recipes, she enjoys bikepacking, wine tasting, crocheting, and traveling in her camper van up and down the Pacific Northwest.