French toast is a brunch classic that takes day-old bread and gives it a new life as an elevated, rich, and nostalgic treat. As good as it is plain with maple syrup, it tastes even better when paired with equally flavorful side dishes.
Whether you're looking to satisfy your sweet tooth, you prefer salty and sweet, or something boozy, there are endless delicious sides to serve up with a fat stack of french toast.
Keep reading for every pairing you could think of, plus tons of simple and awesome recipes to choose from to make your next brunch fun for the whole family.
Caramelized Bananas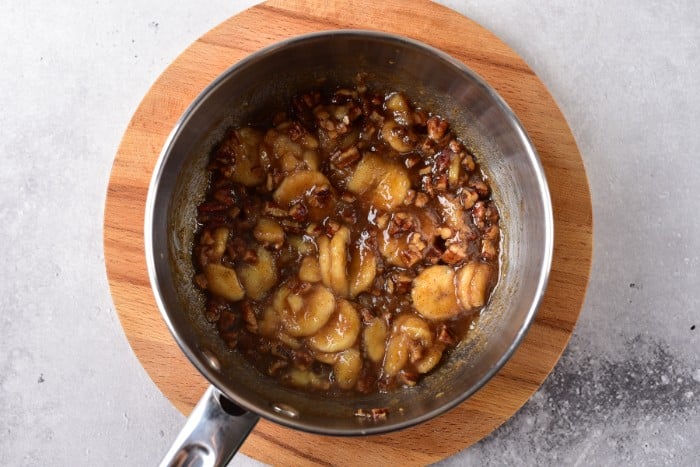 Fresh bananas are great and all, but if you're planning a brunch feast, it seems only logical to surprise your guests with a warm, caramelized banana topping.
These banana foster pancakes explain how to make a rich, sweet, and decadent banana foster topping that will leave your guests feeling spoiled. The best part about serving a caramelized banana topping is that you will still have the option of fresh bananas if that is what your guests prefer.
Pumpkin Butter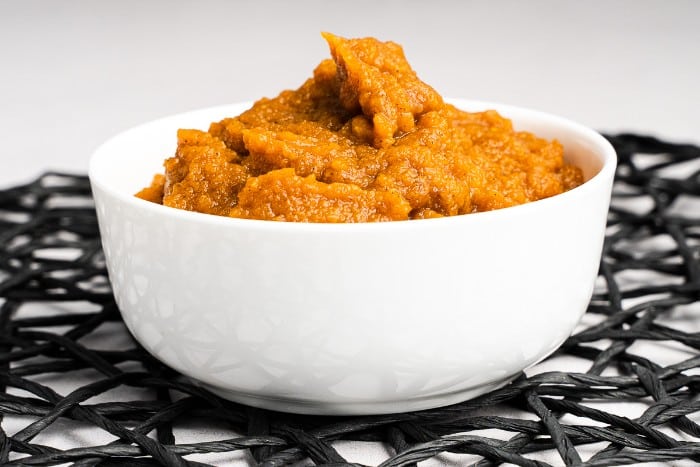 Pumpkin butter is the perfect embodiment of fall. It's creamy, satisfying, and rich in aromatic fall spices. When layered between crispy yet soft slices of french toast, it's irresistible.
The best part about pumpkin butter is that you don't need to wait until the fall season. You can get a can of pumpkin any time of the year, and in about 15 minutes, you can have a thick, perfectly sweetened batch of pumpkin butter to use for moments like this.
If you're looking for the perfect pumpkin butter recipe, then look no further than this pumpkin toast.
Stewed Peaches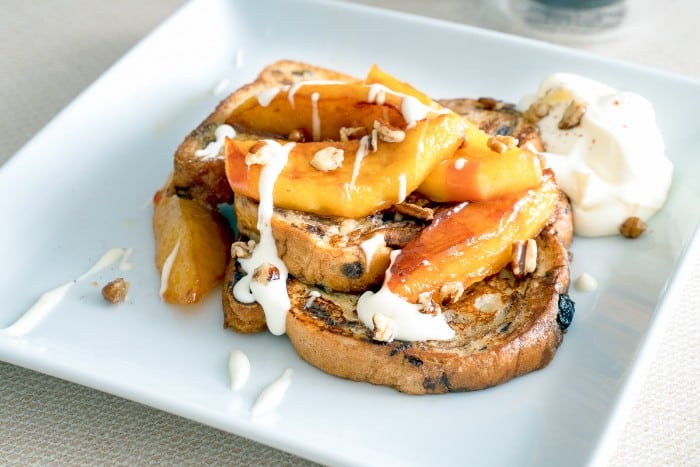 If you're craving warm, lightly spiced fruit to serve up with your french toast, then look no further than this cinnamon raisin french toast. This recipe shows how to make the perfect batch of stewed peaches with a touch of cinnamon that will warm you up and leave you deeply satisfied.
Fried Chicken
Fried chicken and waffles are great and all, but why stop there? Fried chicken is the perfect decadent addition to any brunch dish. After all, it's crispy, and savory, and tastes even better when covered in a heavy pour of sweet maple syrup.
The best part about making fried chicken is that your guests will think you went all out when in reality it couldn't be easier to make. And, if you're feeling really wild, you can take a note from this fried chicken and waffle sandwich and make a french toast fried chicken sandwich.
Fresh Fruit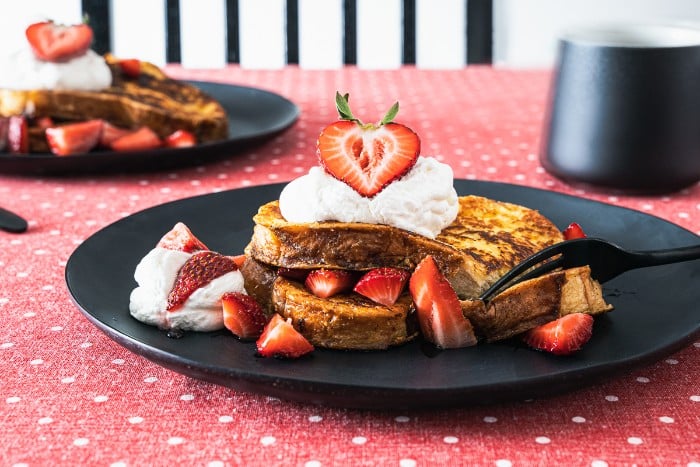 Fresh fruit is a great option if you're looking to cut back on calories, or you just want a light side that won't weigh you down.
Your fresh can be whatever fruit you prefer, whether it's sliced bananas, strawberries, or blueberries. Setting out a tray of multiple options will give your guests the chance to customize their french toast. Even better, set out a bowl of freshly whipped cream.
Even if you plan on serving additional sides with your french toast, it's always a good idea to offer your guests a light fruit salad to start.
Bacon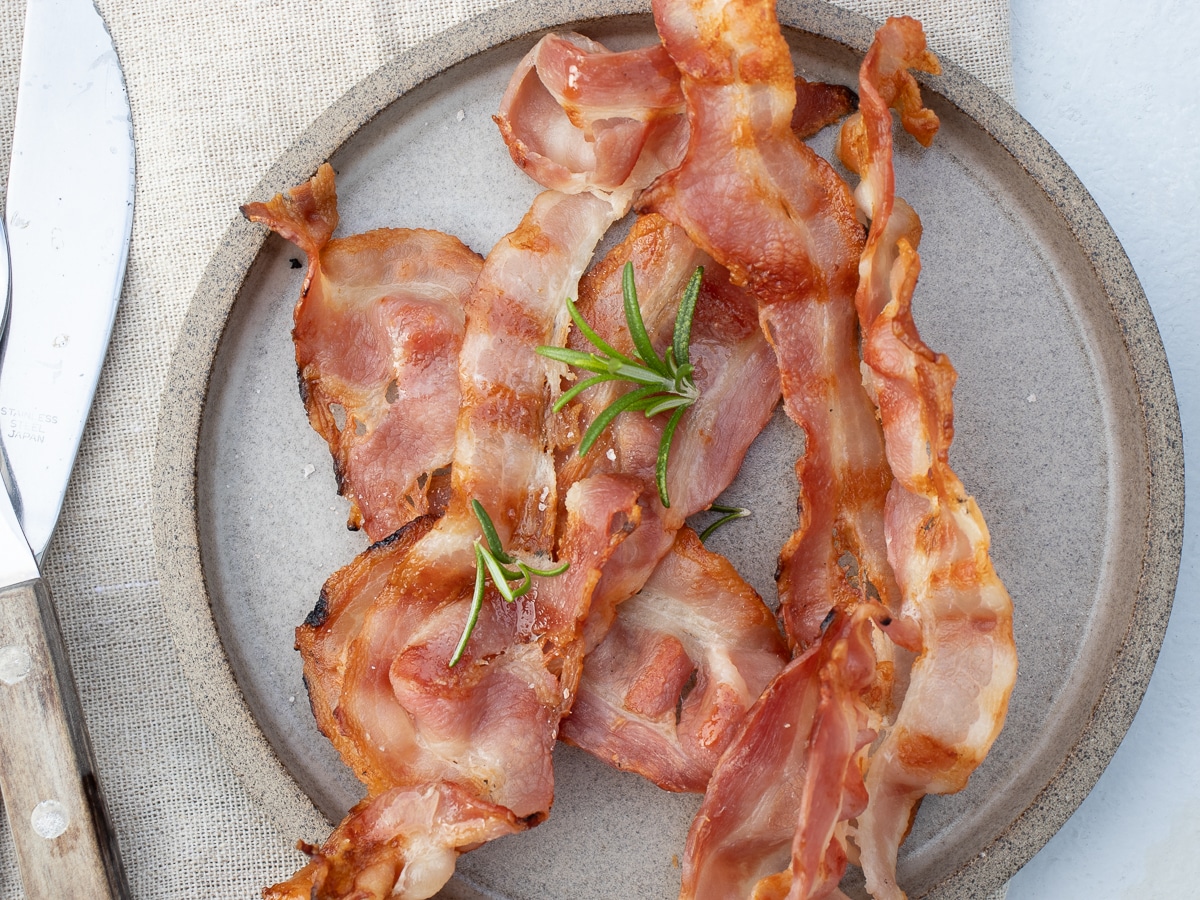 Bacon belongs with brunch, and it especially belongs as an accompaniment with a sweet brunch dish like french toast. The best part about serving bacon as your side is that you can make it as simple or as kid-friendly as you want.
For simplicity, try this recipe for cooking bacon in the air fryer. For a kid-friendly treat, try these fun bacon twists. Either way, bacon is your friend when it comes to brunch.
Boozy Fruit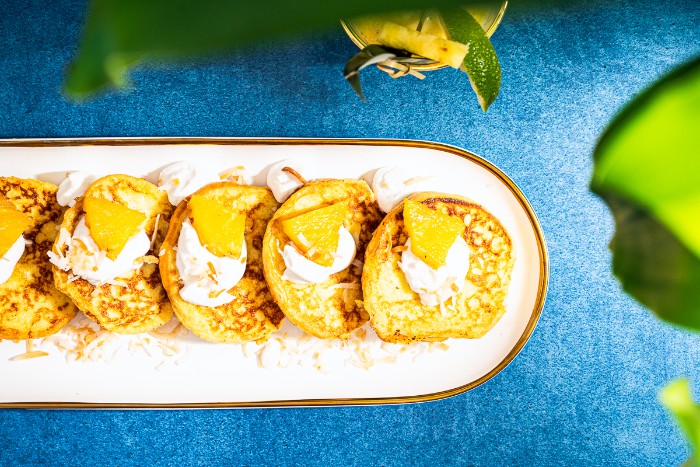 If you're hosting a 21+ brunch date, then you seriously need to consider serving up some alcohol-infused fruit. After all, what's better than cocktails and french toast?
Serving alcohol-soaked fruit is surprisingly easy. This Hawaiian roll french toast recipe explains how to make rum-soaked pineapple for your french toast, but you could easily swap the pineapple for strawberries or raspberries for a similar effect.
Make a Monte Cristo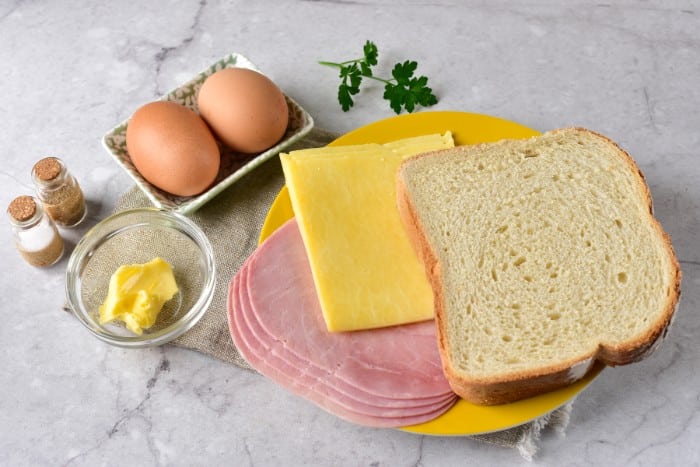 If you've never had a Monte Cristo then get ready to have your mind blown. A Monte Cristo is essentially a sandwich made of french toast with layers of ham, turkey, and swiss cheese. Also known as the best ham and cheese sandwich of your life, and perfect for brunch.
To make a Monte Cristo, follow a simple french toast recipe, then layer your meat and cheese and grill exactly as you would for a normal grilled cheese sandwich. You can include maple syrup for dipping, though it is not necessary.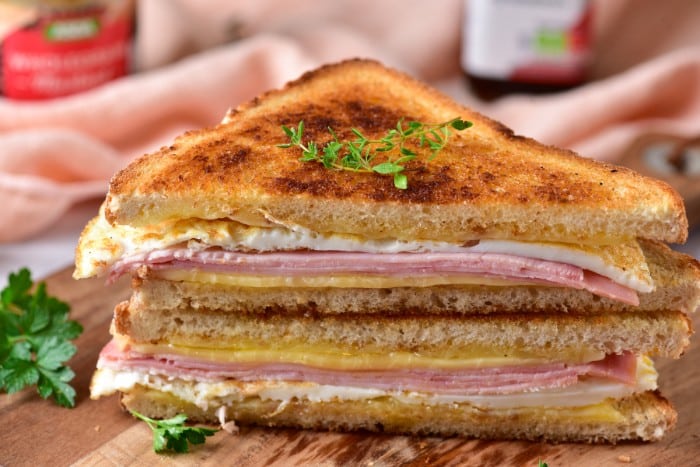 If you don't have turkey, then make this ham and cheese sandwich, swapping the bread for french toast. It's not a Monte Cristo, but it's pretty darn good.
A Chai Latte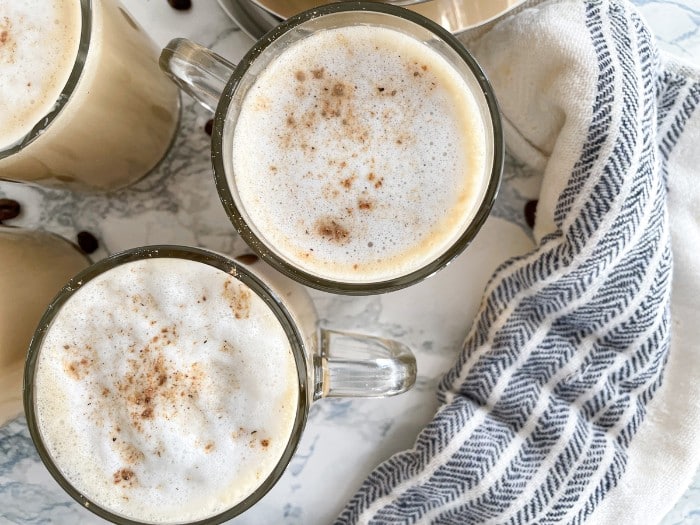 Nothing complements a stack of french toast like a warm cup of your favorite beverage. This is especially true as the seasons get colder. Next time you don't know what to serve alongside your french toast, offer your guests a pumpkin chai latte or a dirty chai latte.
Now, if chai isn't your thing, you can easily swap this for coffee or tea. Giving your guests options will add a nice touch that won't go unnoticed.
Yogurt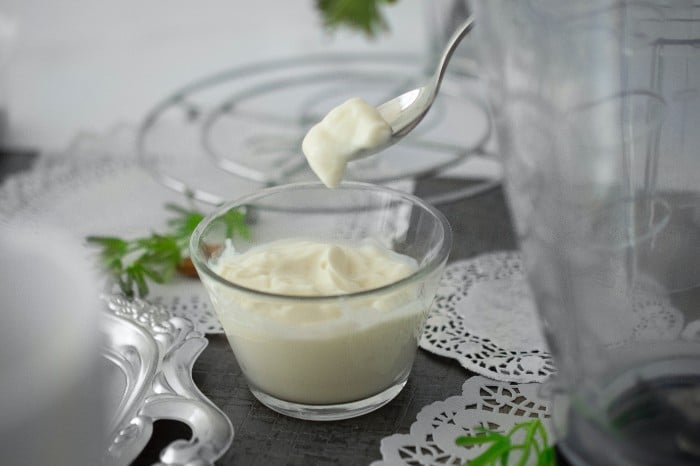 Yogurt is another excellent healthy choice that will add tons of flavor to your french toast, without weighing you down.
This can be plain Greek yogurt or flavored. If you're not sure what you're guests like, opt for an unsweetened plain yogurt and combine this with your fresh fruit and either honey or maple syrup.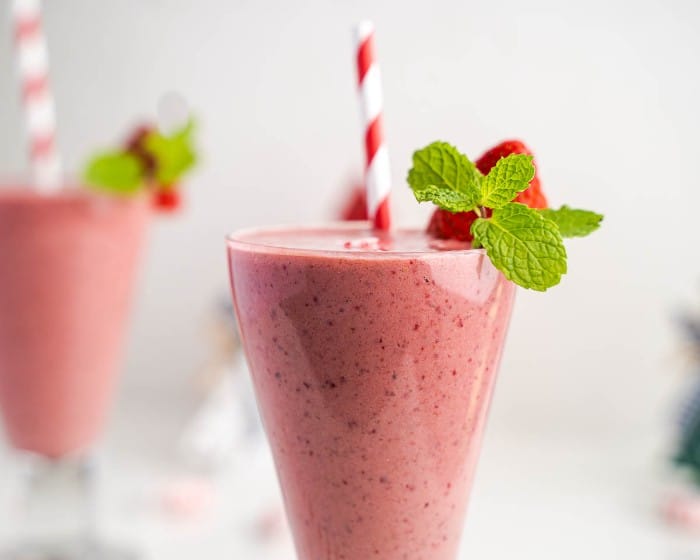 If you have any leftover yogurt, you could even make a pitcher of strawberry mint smoothies.
Cocktails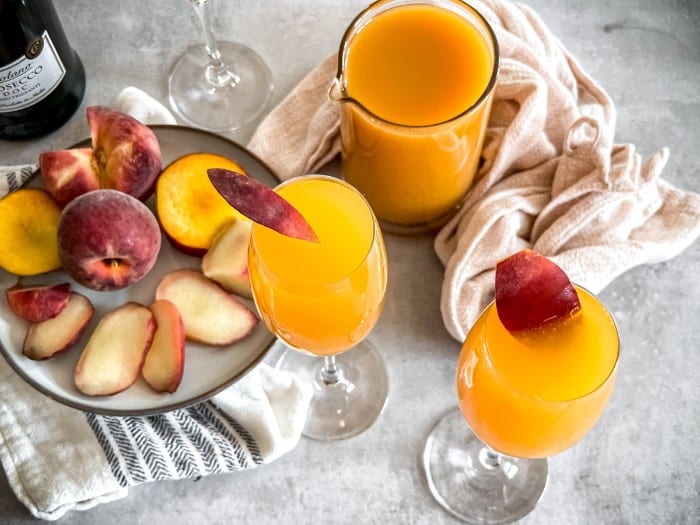 Life is short, so why not serve a cocktail with your French toast? Mimosas are a great choice if you don't want to commit to a full bar, and this Grinch mimosa makes for a great holiday-themed adult beverage. Otherwise, this peach mimosa is wonderfully refreshing and makes for a perfect outdoor brunch cocktail.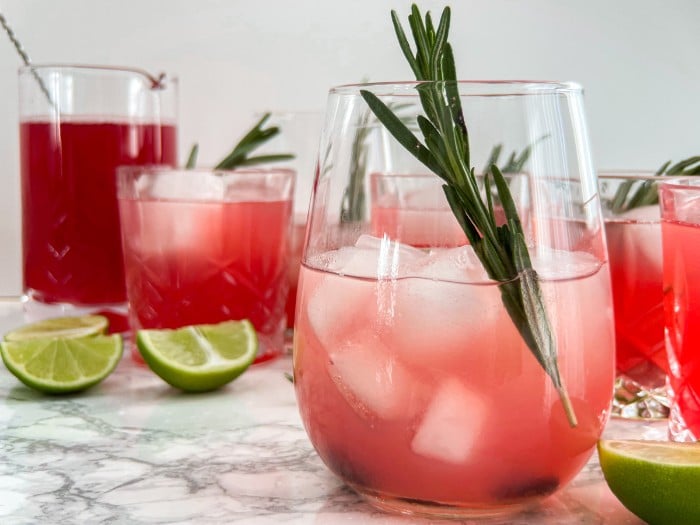 If you want to get straight to the point, this cranberry ginger ale takes a vodka cranberry to a whole other level in a refreshing, zippy sparkling beverage.
Brunch is an opportunity to relax, have a mimosa, and enjoy quality time with your family. Thankfully, french toast is the perfect main course to serve as part of a fuss-free day, and it pairs wonderfully with all sorts of dishes. For more answers to your brunch-related questions, be sure to follow Golden Truffle on Pinterest and Instagram.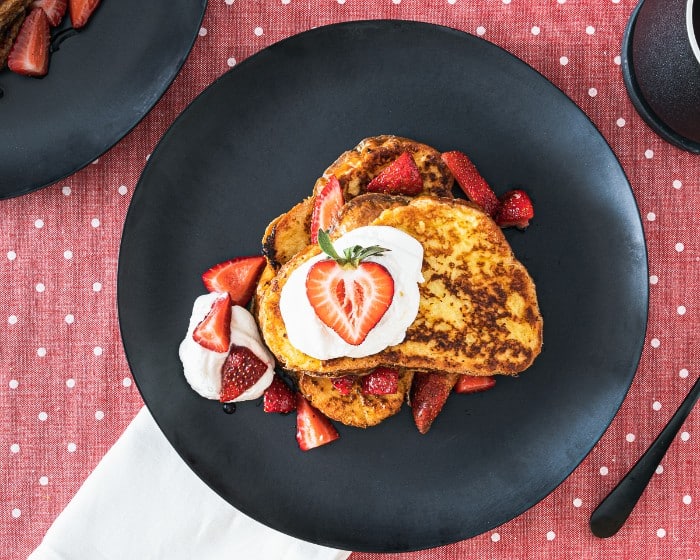 Is it okay to have french toast for dinner?
Having breakfast for dinner is such a fun meal, and French toast is the perfect dish for it.
What can I serve with french toast for dinner?
Serve it alongside eggs, bacon, or even hash browns. If you want a more savory-sweet combination, pair french toast with fried chicken.
What goes with french toast for a crowd?
Eggs are a great side dish to serve with French toast for a crowd. You can also try fresh fruit, bacon, cocktails, and toppings.
Here are some French toast recipes you might enjoy!
Olivia has been in love with all things food and libations for nearly a decade. When she's not cooking up new recipes, she enjoys bikepacking, wine tasting, crocheting, and traveling in her camper van up and down the Pacific Northwest.