Kick your holiday get-togethers into high gear with delicious and festive grinch mimosas! Every bit as delicious as the original but turned bright green by the addition of blue curaçao, grinch mimosas are a thematic cocktail that require minimal effort and will fill everyone with holiday joy.
They're great for high-energy holiday brunches, office parties, and holiday mornings with the family and are a must for any "The Grinch" watch party.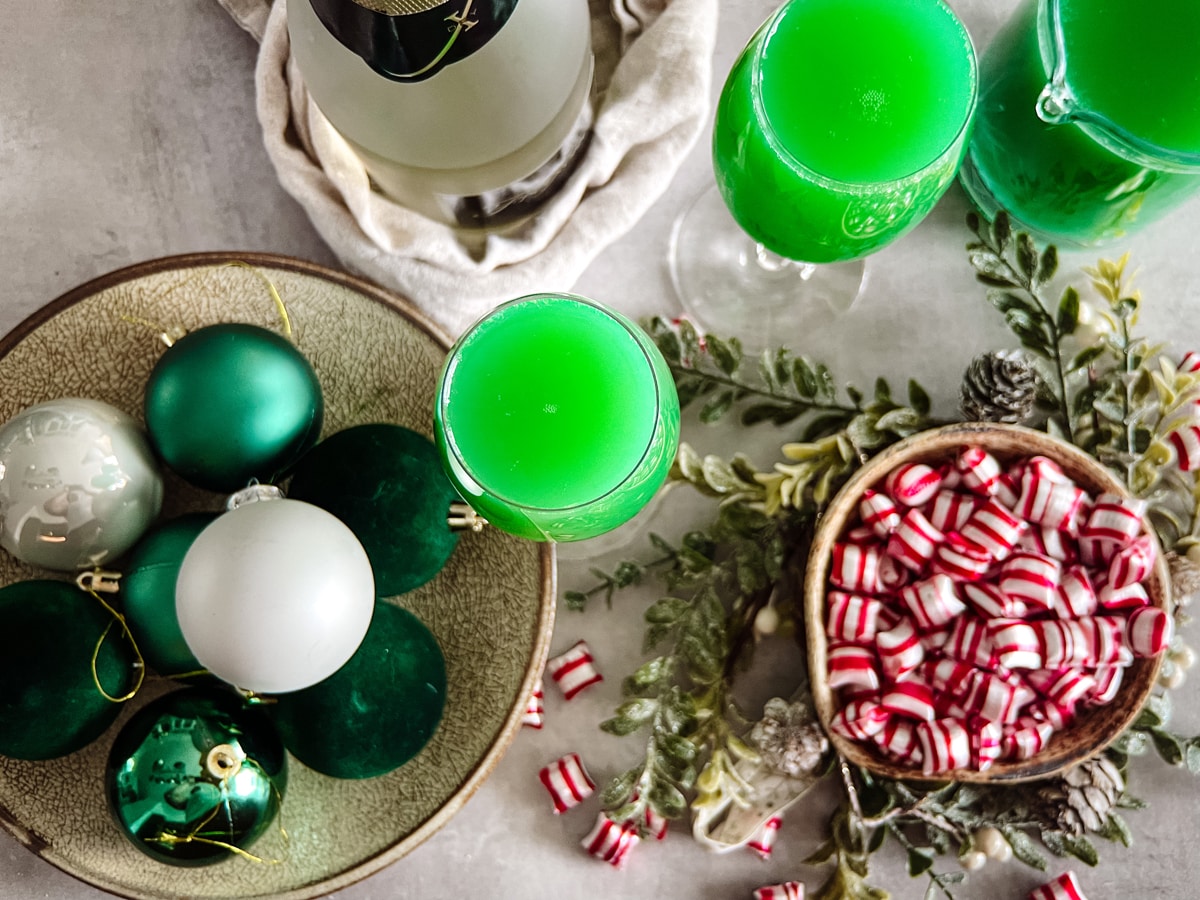 The only real difference between classic mimosas and grinch mimosas is the color, so you can serve them just like you would the original.
Looking for more cocktail recipes? Here are other recipes you might enjoy: Apple Cider Martini, Easter Mimosa, Cranberry Ginger Ale Cocktail, and Mango Mimosa.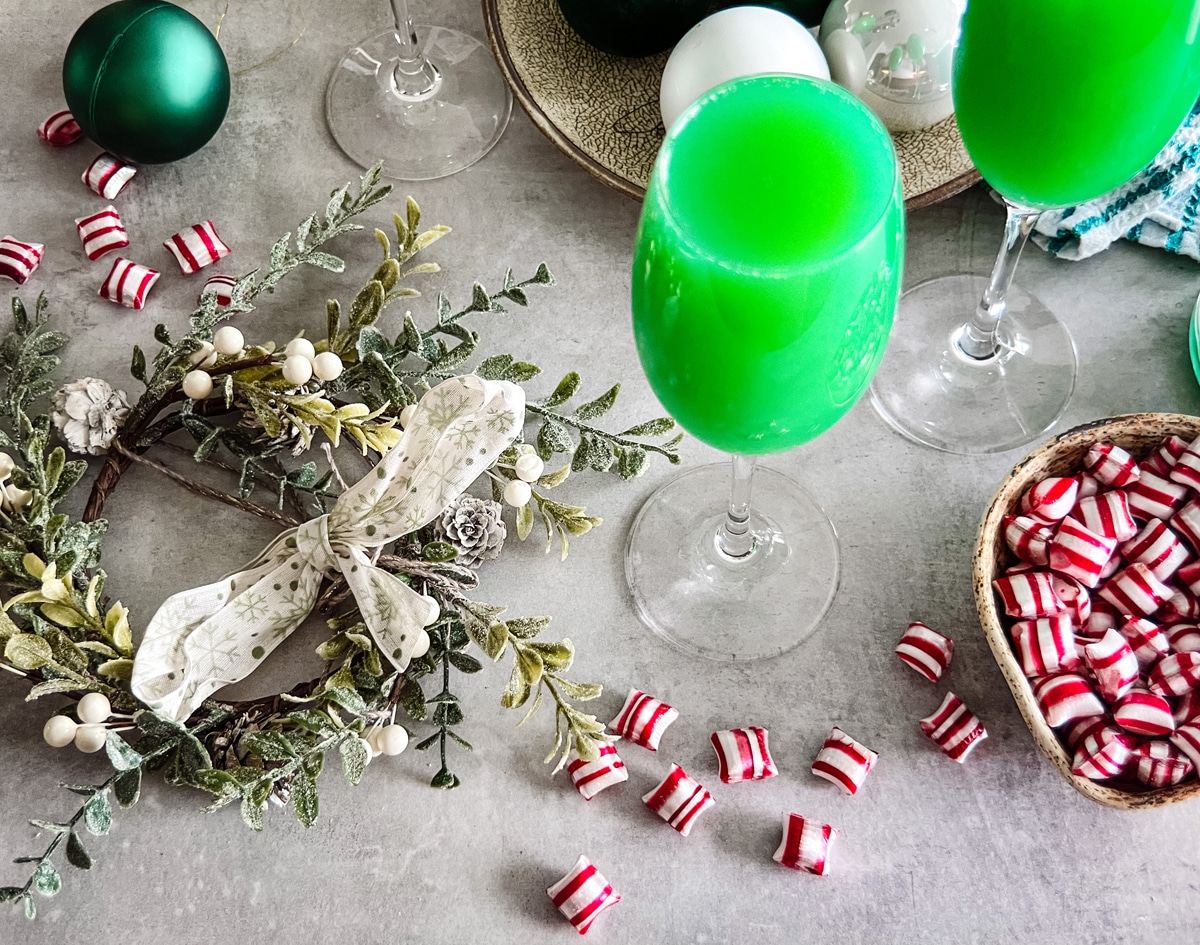 Why You'll Love This Recipe
Bright colors: This grinch mimosa recipe is an easy way to add a festive touch to your holiday party. The bright green color sets a joyous tone, perfect for getting everyone in the holiday spirit.
Simple ingredients: This recipe uses ingredients easily found in your local grocery store, making it an accessible and trendy holiday cocktail to serve at any holiday festivities.
Holiday cheer: Aside from being a flavorful and fruity drink, grinch mimosas also offer a fun visual element to your Christmas morning or holiday movie night. It's an easy way to create holiday cheer and will be a hit with both adults and kids (when made without alcohol).
Recipe Ingredients
You'll need the following ingredients to make these green mimosas: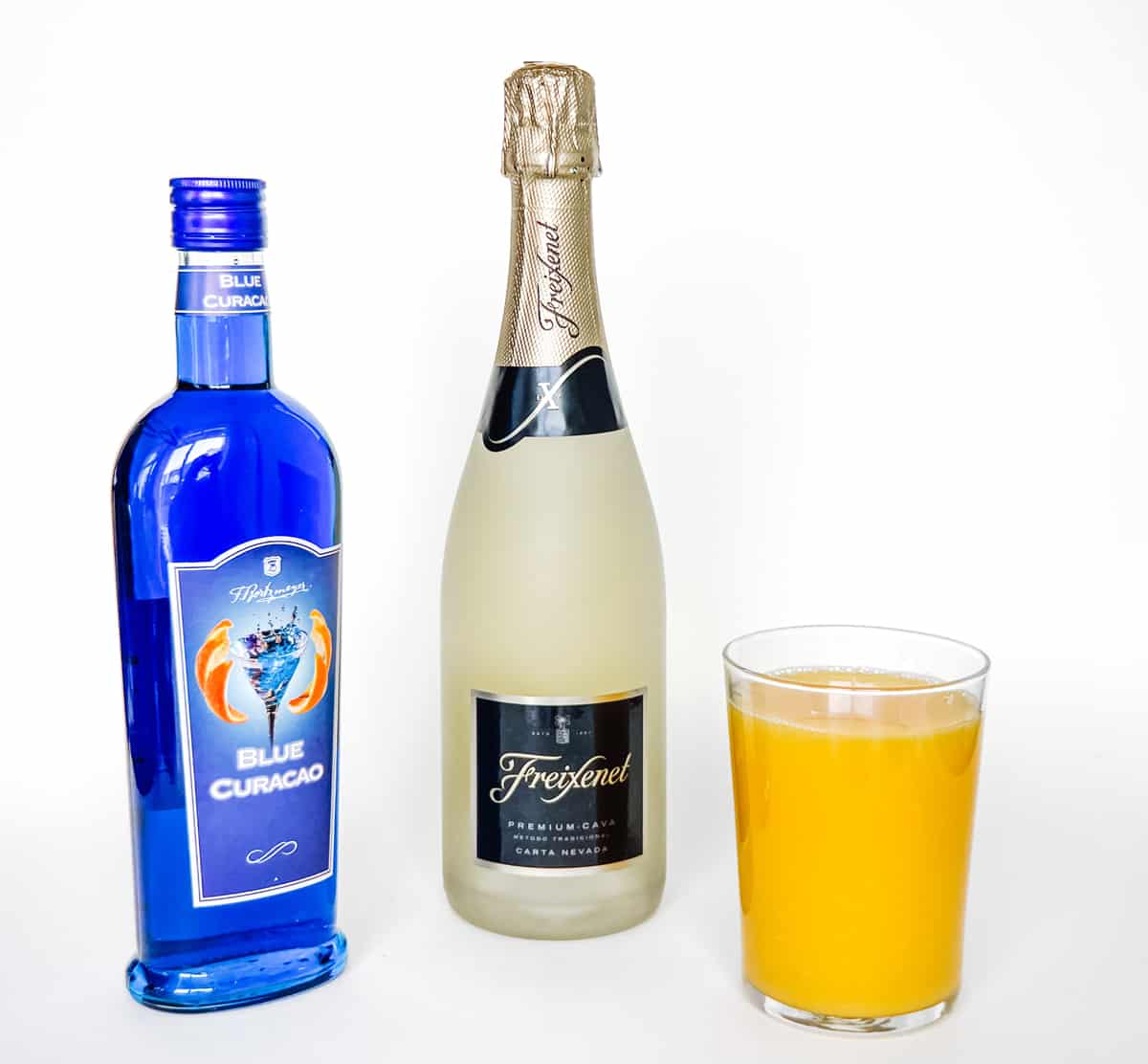 Ingredient Notes
Sparkling Wine: This recipe calls for Cava, Crémant, or Prosecco. These are great alternatives to the traditional champagne used in mimosas. They are produced using the same winemaking method as champagne, providing similar qualities at a fraction of the price. But if you're feeling festive, your favorite champagne will also do the trick!
Orange Juice: Fresh orange juice, ideally with no pulp, is the best choice for this recipe. An electric juicer will get you the freshest juice! Mango juice or pineapple juice could be substituted if preferred.
Blue Curaçao: This blue, orange-flavored liqueur is key to giving the grinch mimosa its bright green color. It is primarily used as a coloring agent here, so an entry-level bottle should serve you well.
How To Make a Grinch Mimosa
Pour blue curaçao and orange juice into a champagne flute and swirl to combine.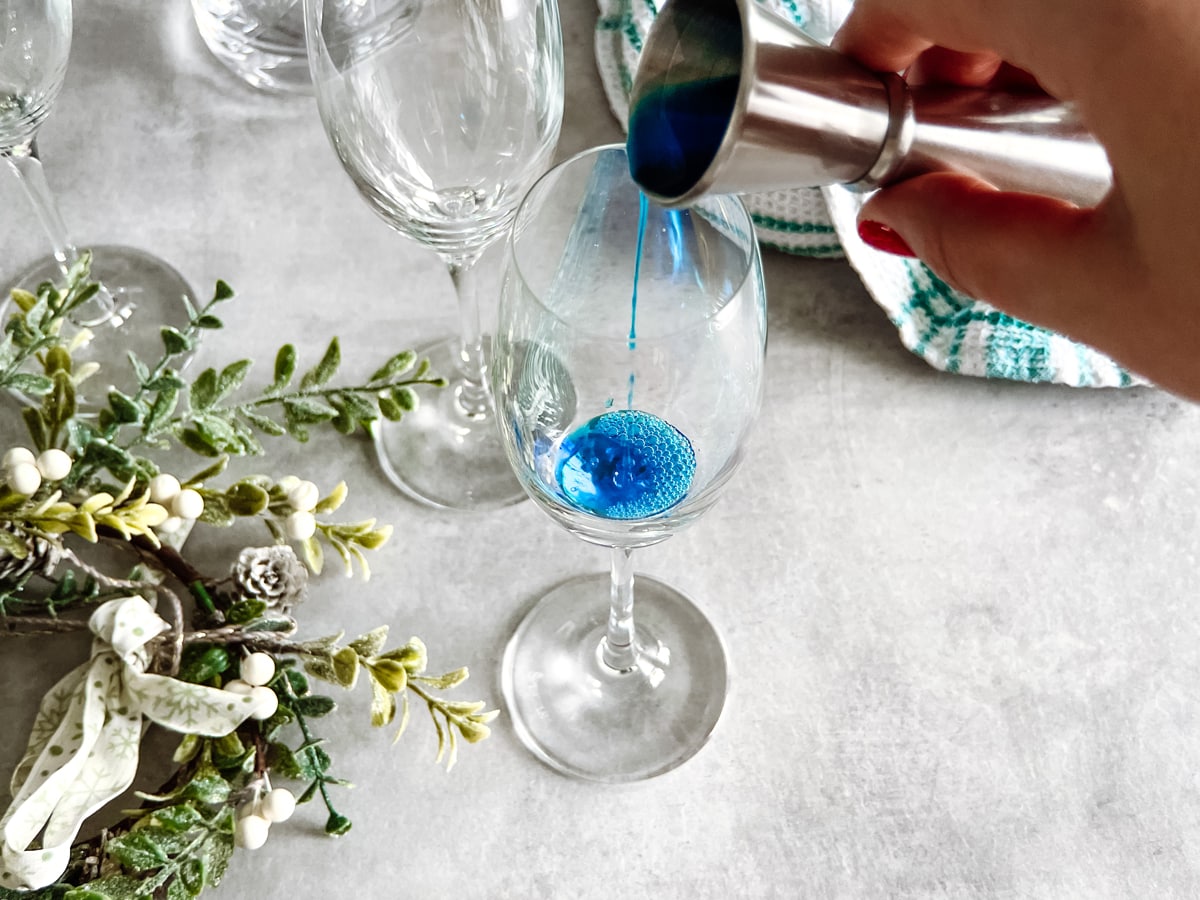 Tilt the glass at a 45-degree angle to reduce fizz spillover and slowly pour in the sparkling wine and top off.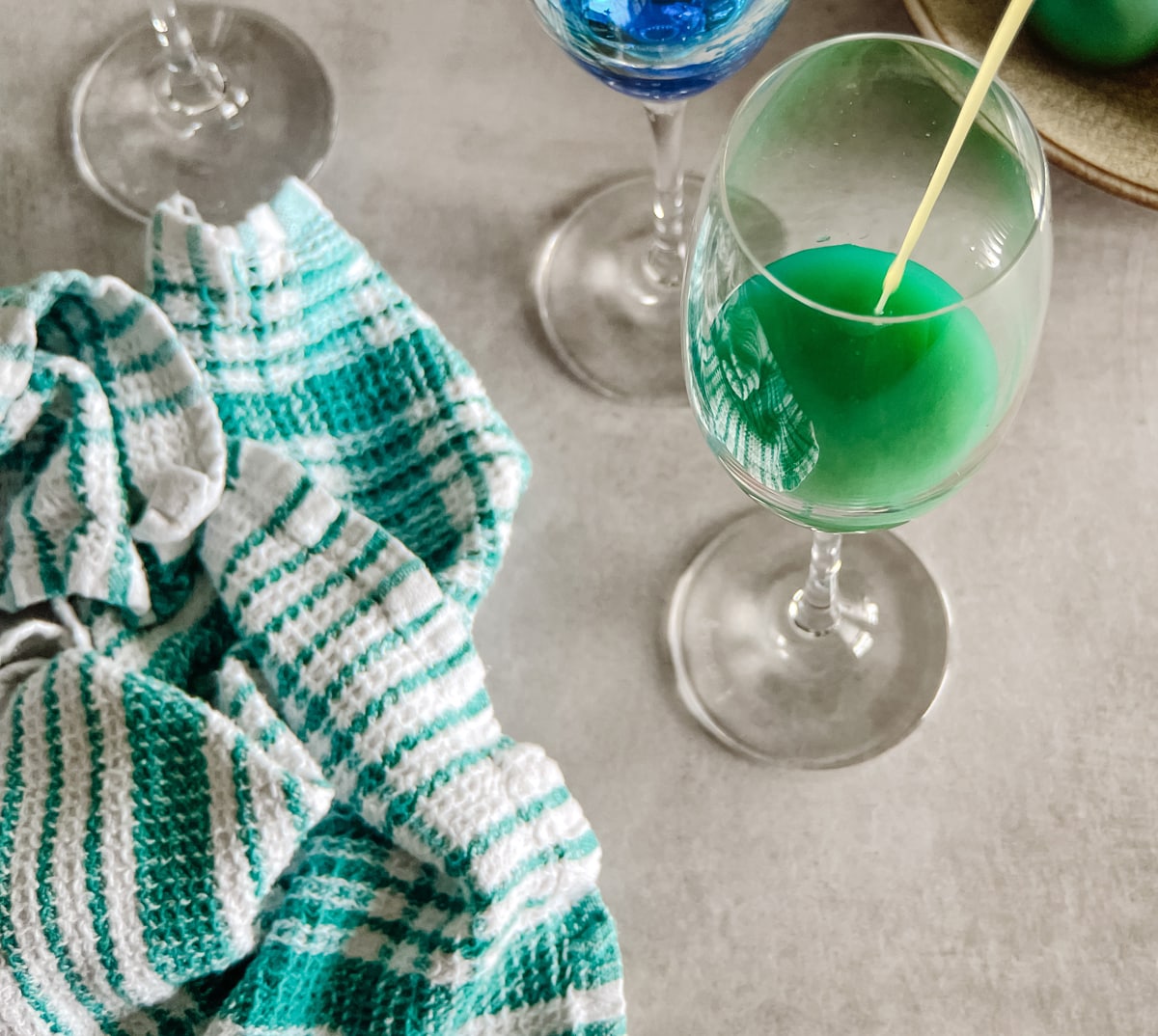 If the bubbles form too much of a head, let them fall down before pouring in more.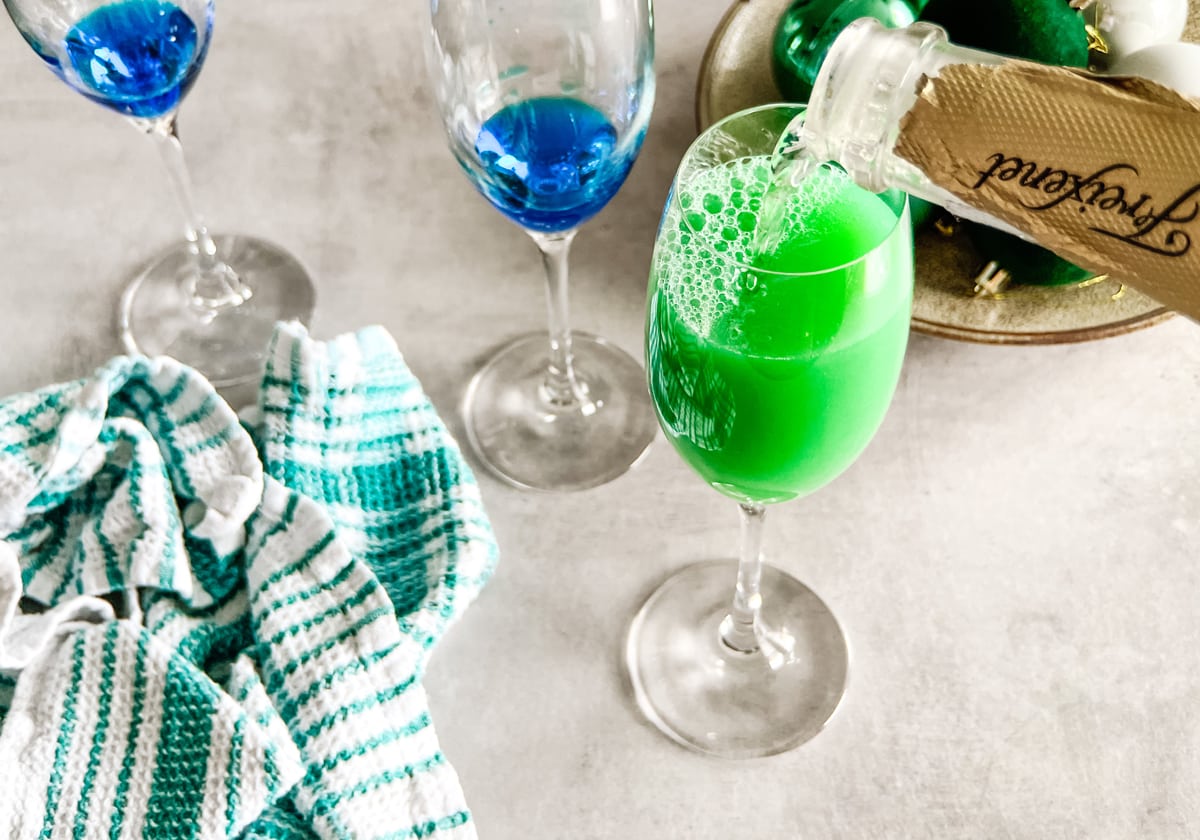 Do not shake or stir.
Serve immediately and enjoy!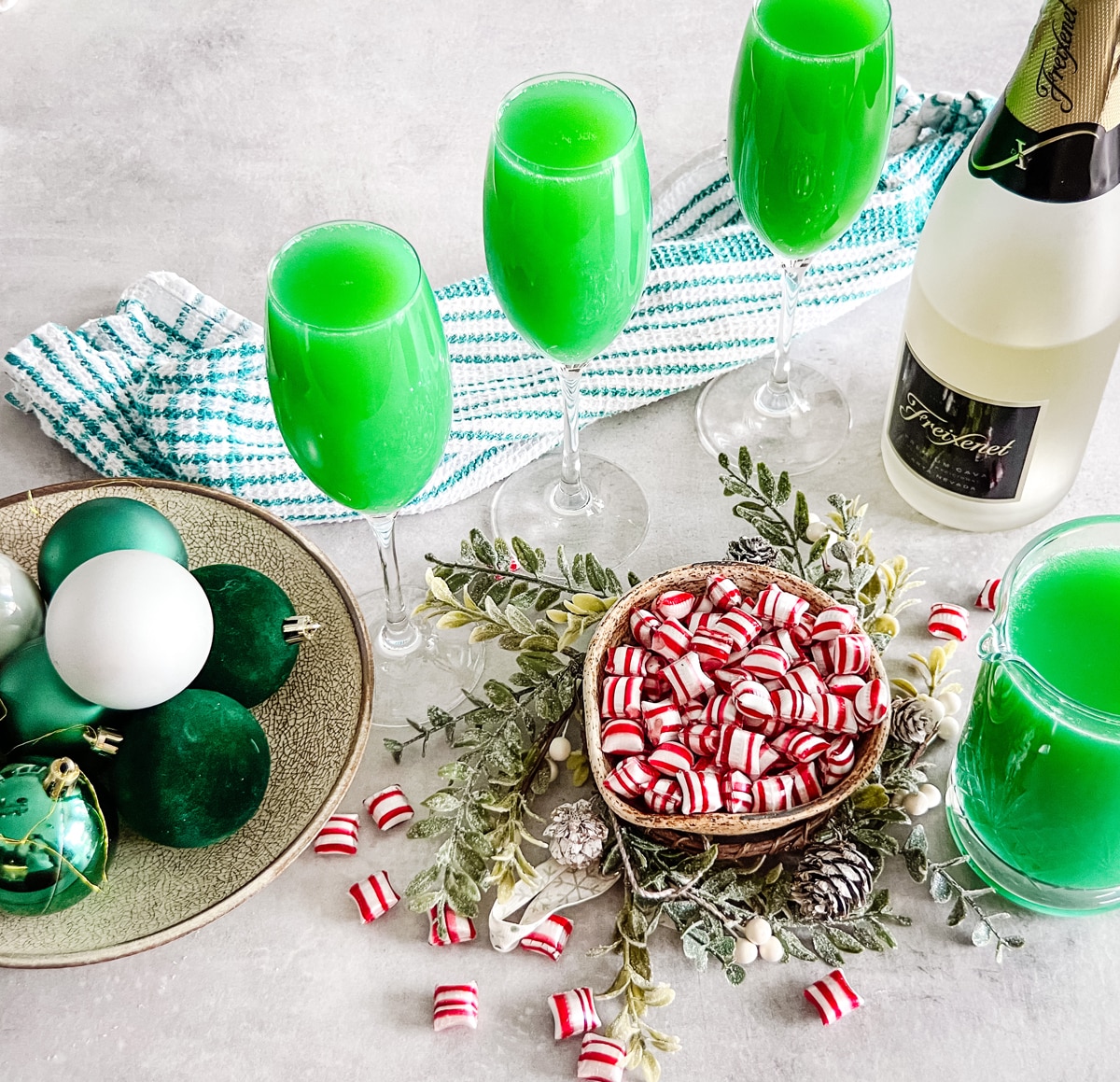 Recipe Tips
For a brighter green hue, consider adding a few drops of green food coloring. It's an easy way to ensure the color pops, even if the orange juice and blue curaçao don't perfectly mix.
If you're serving this at a holiday brunch, consider garnishing the drink with an orange slice or lime wedges for a refreshing, citrusy twist.
Add a sugar rim to your glasses with green sugar or crushed candy cane for a festive way to add a little holiday cheer and sweeten your mimosas.
Storage & Reheating
As grinch mimosas are a cocktail best served fresh, they aren't suitable for storing and reheating. The sparkling wine will lose its fizz over time and the colors may blend and lose their vibrant green color. It's best to make the amount you plan to serve and enjoy them immediately!
Additions & Substitutions
You can substitute blue curaçao with blue food coloring for a non-alcoholic version. Mix it with ginger ale or sparkling white grape juice for that fizz! Instead of orange juice, you can try other light-colored juices like apple cider, mango, or pineapple for a different fruity flavor.
For an added festive touch, garnish your mimosas with cranberries, lime wedges, or an orange slice.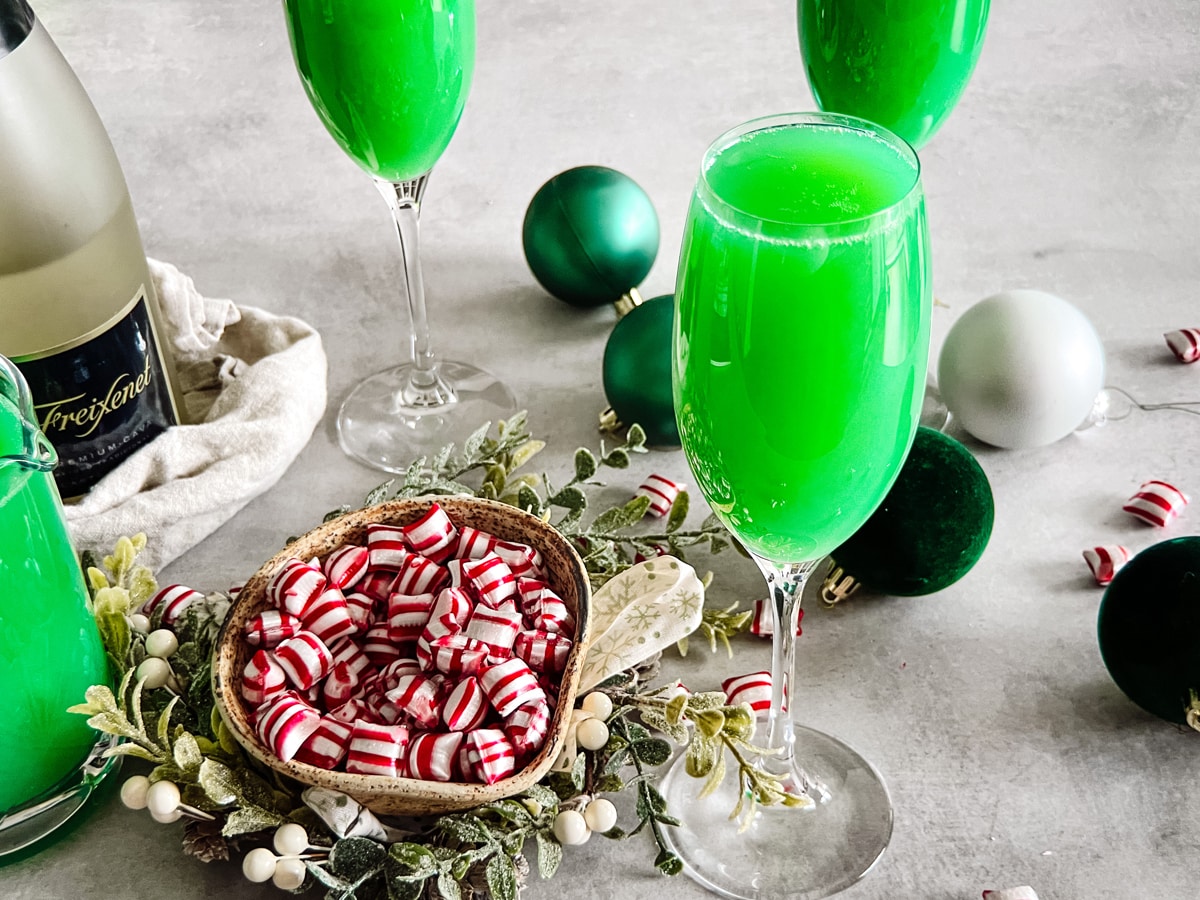 Recipe FAQs
What should I serve with this green mimosa recipe?
A grinch mimosa is a versatile drink that pairs well with a variety of dishes. This makes it a perfect addition to a holiday brunch, served alongside savory egg dishes, fluffy pancakes, or pastries. It could also be the star of your Christmas cocktail party, served with grinch-themed appetizers or grinch food for a full holiday-themed spread. No matter how you choose to serve it, grinch mimosas will certainly bring holiday cheer to your table.
What is blue curaçao?
Blue curaçao is a liqueur flavored with the peel of the laraha fruit, a type of bitter orange that grows on the island of Curaçao. The liqueur itself is clear but is dyed blue to achieve its iconic color.
How can I make a grinch mimosa for kids?
To make a grinch mimosa for kids, use blue curaçao syrup as a non-alcoholic coloring agent and mix it with orange juice and sparkling white grape juice or seltzer. Blue curaçao syrup can be found in the flavored syrup section of most grocery stores (look for the Monin brand) and can easily be ordered online.
Can I make grinch mimosas in large batches?
Yes, but don't make a batch too far in advance or the sparkling wine will go flat. To make several mimosas in one go, add equal amounts of sparkling wine and orange juice to a pitcher, then add in the blue curaçao 1 tablespoon at a time until you've achieved your desired shade of green. Cover tightly and store in the fridge until ready to use.
---
Here are a few other mimosa recipes you might enjoy!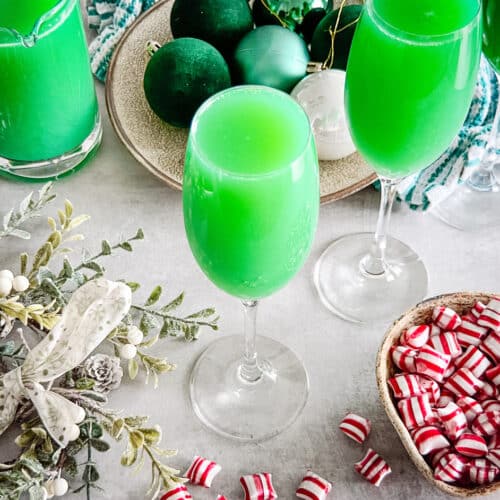 Grinch Mimosa
Kick your holiday get-togethers into high gear with a thematic and festive grinch mimosa and fill your party guests with holiday cheer! Every bit as delicious as the original but turned bright green by the addition of blue curaçao, grinch mimosas are great for holiday brunches, end of year office parties or any event that needs a festive boost. Enjoy them on their own or alongside sweet and savory brunch fare, cheese plates, holiday roasts and more!
Ingredients
3

oz

sparkling wine

3

oz

orange juice

½

ounce

blue curaçao
Instructions
Pour blue curaçao and orange juice into a champagne flute and swirl to combine.

Tilt the glass at a 45 degree angle and top off with sparkling wine, letting any excess foam fall down before pouring in more.

Do not shake or stir. Serve immediately and enjoy!
Nutrition
Calories:
165
kcal
Carbohydrates:
11
g
Potassium:
195
mg
Sugar:
7
g