This recipe turns a blueberry crumble into a breakfast food! A cross between a fruit crumble and a bowl of oatmeal, this baked oats without banana recipe is a breakfast that is hearty enough to stick with you throughout the morning, pretty enough to share, and simple enough that you'll want to make it over and over.
Layers of blueberries, oatmeal, brown sugar, and nuts bake into an oaty bar oozing with blueberries. Just sturdy enough to be cut into squares, the inside is soft, sweet, and chewy.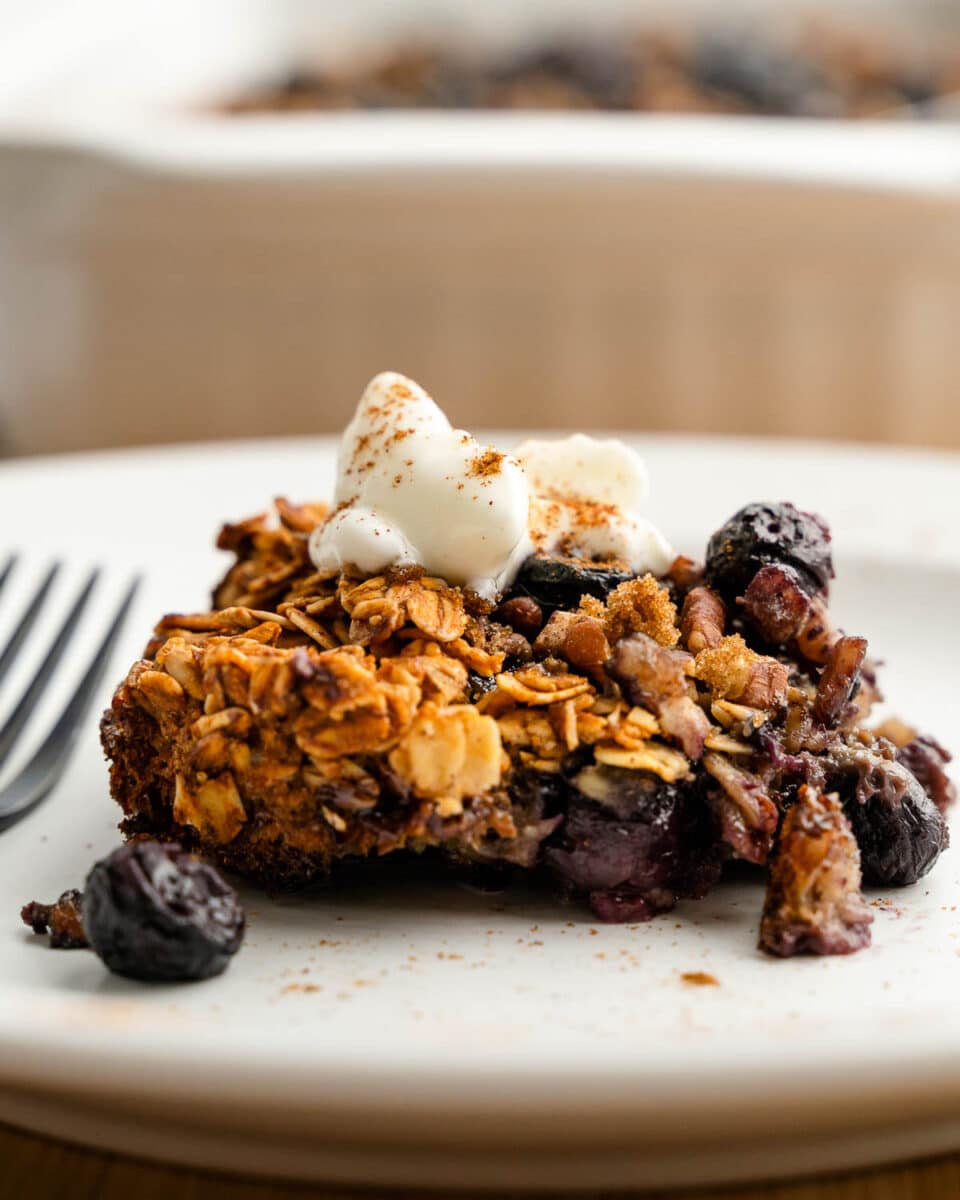 A healthy, easy dish perfect for a potluck or brunch, this baked oatmeal tastes delicious with a creamy dollop of Greek yogurt, crème fraiche or whipped cream. The darker flavors from the brown sugar and pecans will taste delicious with robust flavors from a coffee espresso or strong cup of tea.
For a heartier meal, try having it alongside a blueberry smoothie. This dish also keeps well and can be made ahead of time and rewarmed or eaten cold.
What You Need to Make Blueberry Baked Oats Without Banana
This recipe requires rolled oats, blueberries, pecans, dark brown sugar, eggs, salt, milk, butter, baking powder, ground ginger, and cinnamon.
If you don't like pecans, you can omit them entirely or use almonds or walnuts instead. You can use frozen or fresh blueberries depending on what you have on hand. Either works well.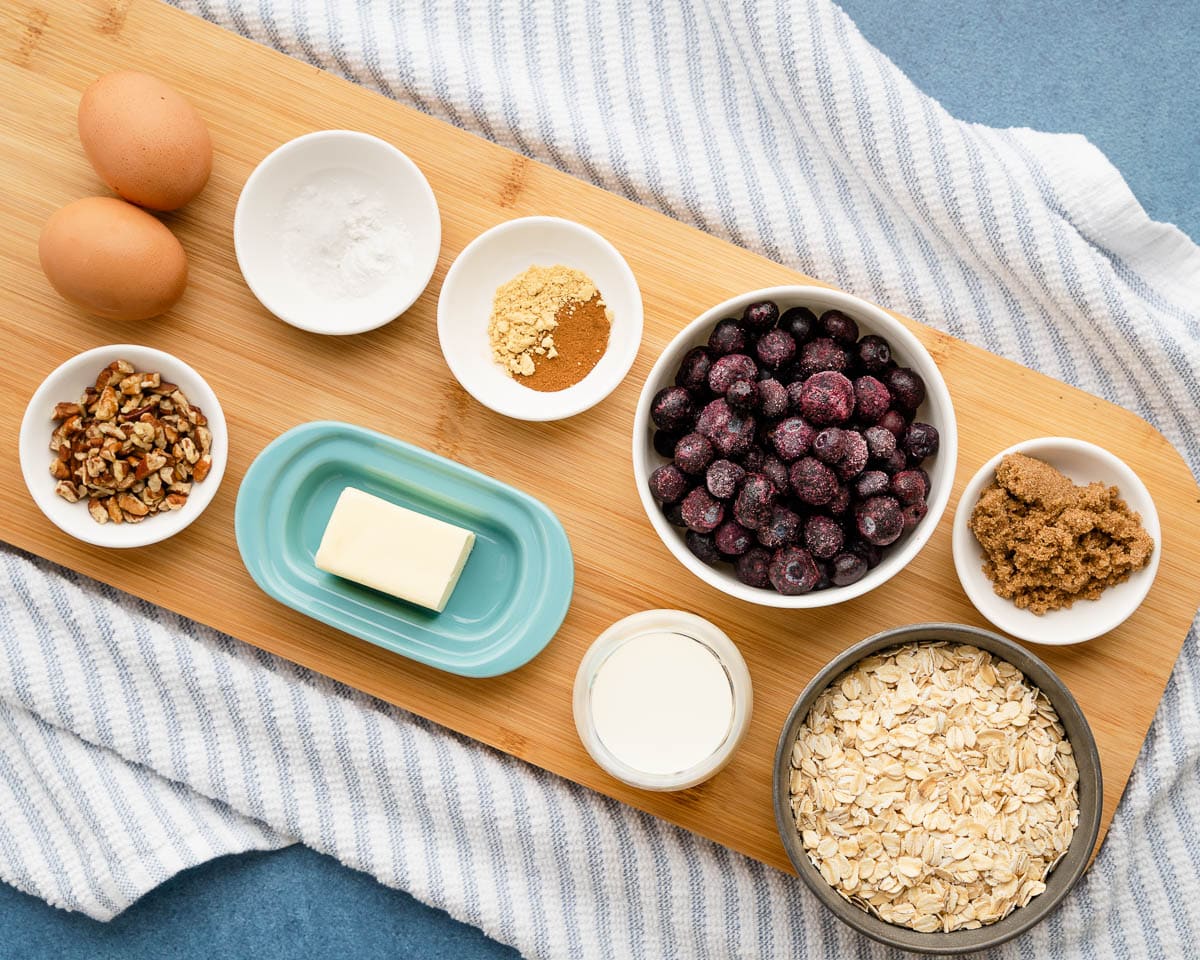 Ingredients:
Blueberries, fresh or frozen
Pecans, chopped
Dark brown sugar
Ground ginger
Cinnamon
Large eggs
Whole milk
Baking powder
Salt
Unsalted Butter
Rolled oats
Tools:
Blueberry baked oatmeal requires a 6×9 inch casserole dish, two bowls, a whisk, a spatula, and a baking sheet. If your nuts are whole, you will need a knife and cutting board to cut them up.
How To Make Baked Oats Without Banana
Toast the nuts: Preheat your oven to 375ºF and line a baking sheet with parchment paper. Place chopped pecans on your baking sheet and toast for 6-8 minutes, stirring halfway through.
Remove the nuts from the oven when they start to take on color and give off an aroma. Err on the side of under-toasting the nuts rather than over-toasting them.
Prepare the Oats: Put the oats, brown sugar, spices, and baking powder in a bowl, reserving 1 tablespoon of brown sugar. Mix in the melted butter until the mixture is well combined.
In a separate bowl, whisk together the eggs and milk. Fold the egg and milk mixture into the oat mixture until well combined. The mixture will be thick and moist.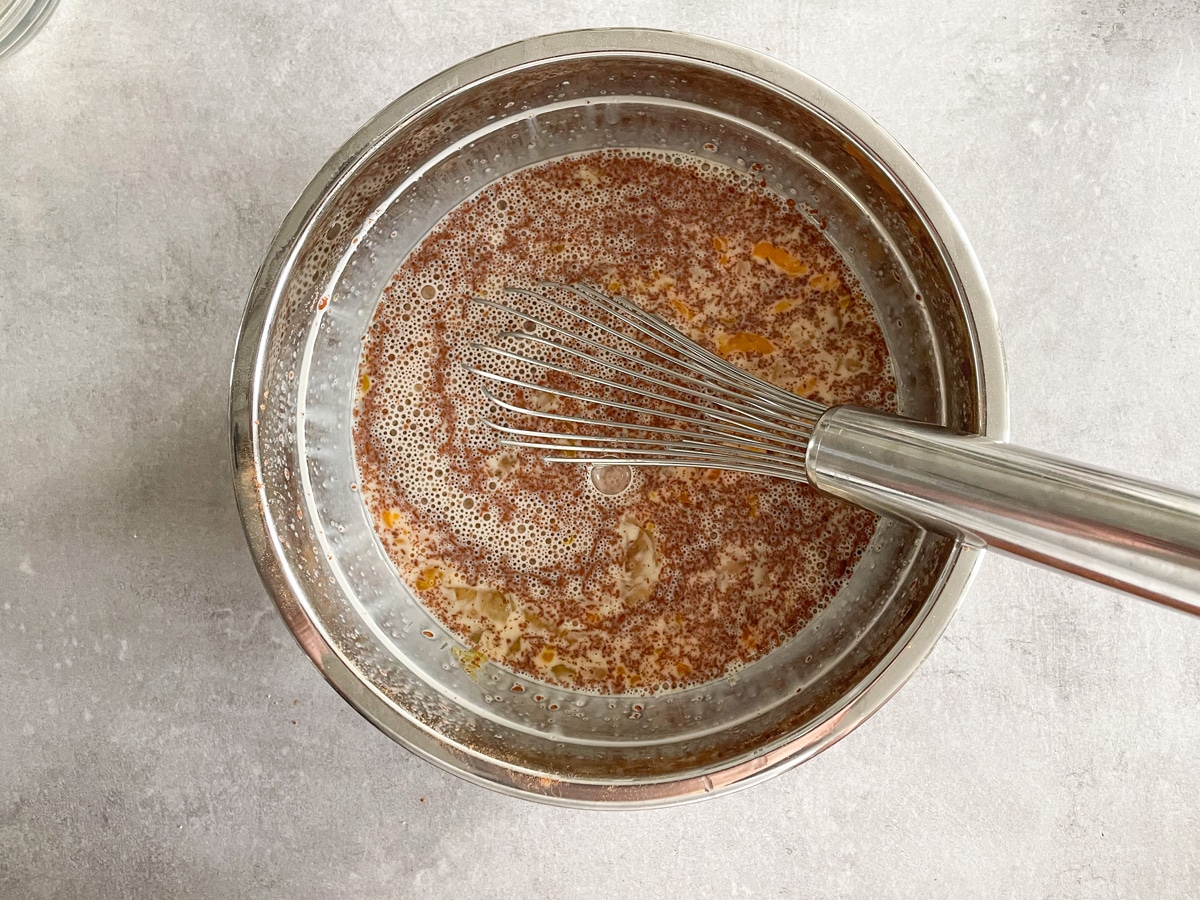 Assemble the bake: Drop the temperature of the oven to 350ºF. Spray or butter a baking dish and put blueberries in the bottom. Top with the oat mixture.
Add more blueberries on top, then a layer of pecans and the reserved brown sugar. Place in your preheated oven and bake for 40-50 minutes. You may need to adjust your baking time to be longer if you use frozen blueberries.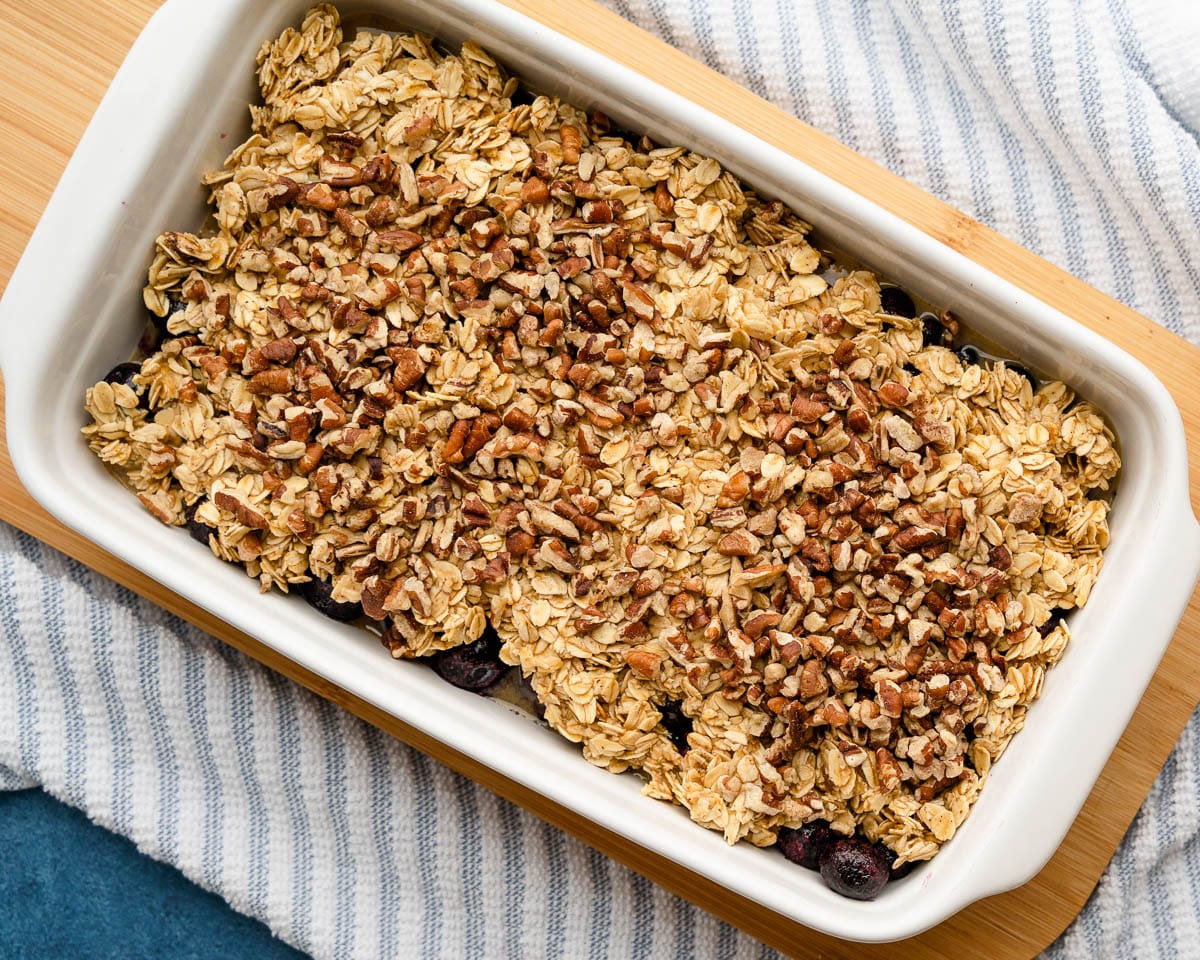 Serve: Remove from the oven and allow to cool for several minutes. Cut or scoop out portions and enjoy!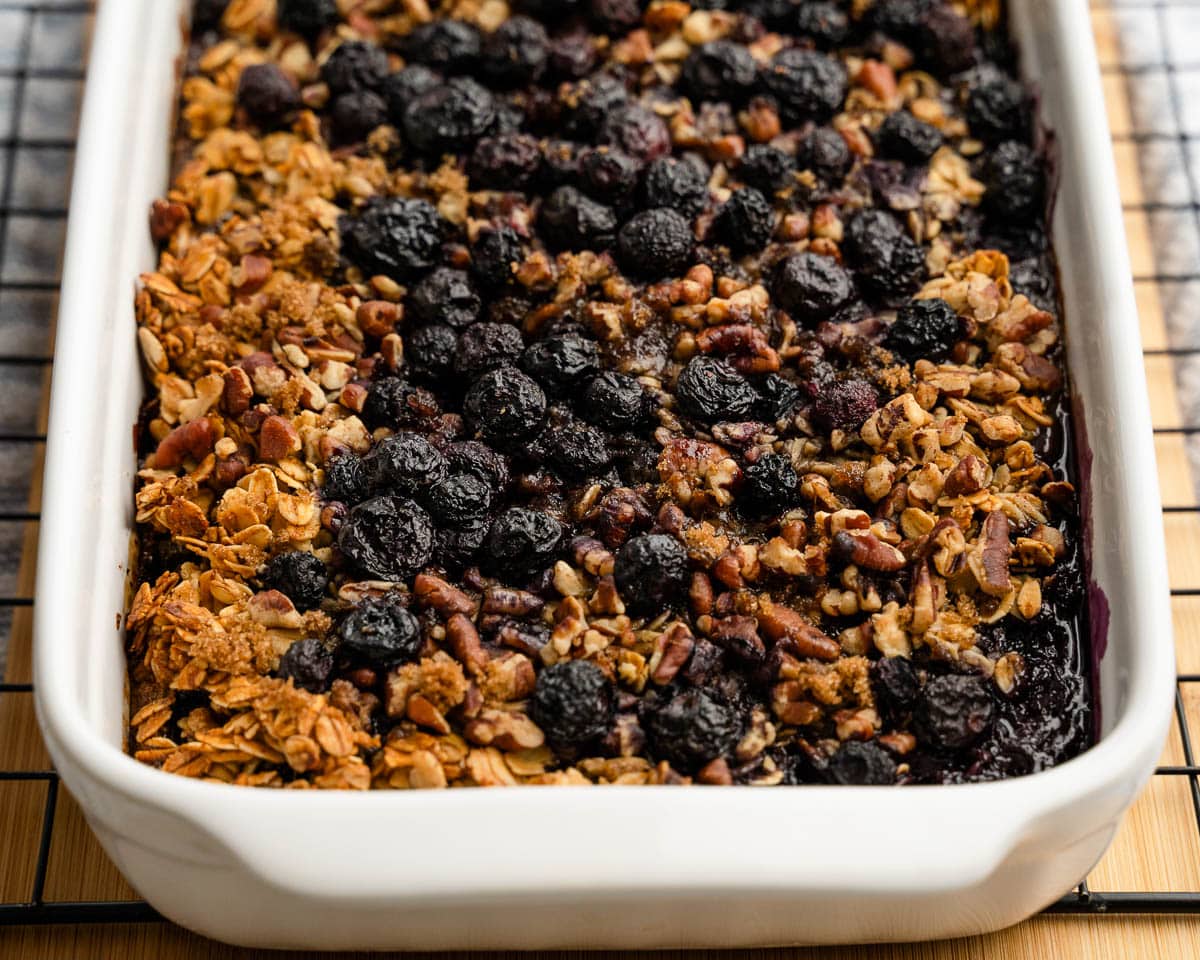 Recipe FAQs:
Can I use other oats?
I recommend using rolled oats. Instant oats can disintegrate, and steel-cut oats have a different texture that is not a suitable replacement.
Can I use a different fruit?
Definitely! This recipe is flexible. I would recommend using other berries or cherries, or even apples or pears. Be mindful of how much water is in your fruit because you may need to adjust the amount of time you cook the dish. If using apples or pears, I suggest cutting them into small pieces and folding them into the oat mixture rather than layering them on top.
Can I reheat it?
This dish is easily reheated in a warmed oven or in the microwave. It also tastes great cold.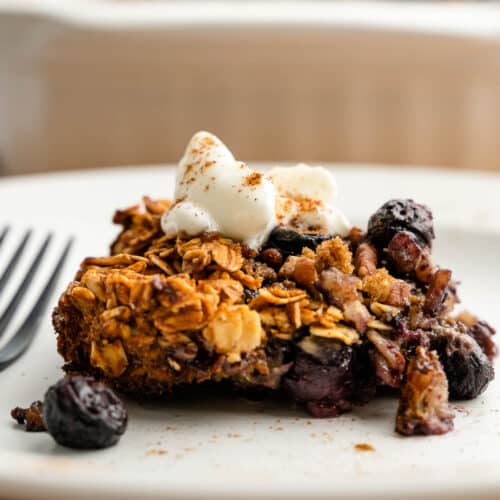 Blueberry Baked Oats (Without Banana)
A hearty, healthy dish bursting with blueberries and oats, this blueberry baked oats without banana is a cross between a fruit crumble and a bowl of oatmeal. Layers of blueberries and oats are topped with brown sugar and toasted pecans and baked. A great dish to make ahead and reheat, make this the next time you have a crowd to feed at brunch.
Equipment
6×9 inch casserole dish

2 bowls

Whisk

spatula

Baking Sheet

Knife

Cutting Board
Ingredients
3

tablespoons

unsalted butter

melted

2 ½

cups

rolled oats

2

teaspoons

cinnamon

2

teaspoons

ginger

1/2

cup

brown sugar

+ 1 tablespoon

1 ½

cups

whole milk

2

eggs

large

1/2

teaspoon

kosher salt

1

teaspoon

baking powder

2 ½

cups

blueberries

fresh or frozen
Instructions
Preheat the oven to 375ºF.

Place the chopped pecans on a baking dish and toast, 8-10 minutes. Remove from the oven.

Reduce the heat to 350ºF.

Melt 3 tablespoons of unsalted butter in a microwave safe bowl. Set aside.

Whisk together 2 1/2 cups rolled oats, 2 teaspoons cinnamon, 2 teaspoons ginger, ½ cup brown sugar, 1 teaspoon baking powder, and ½ teaspoon kosher salt. Fold in 3 tablespoons melted butter.

In a separate bowl, whisk together 2 large eggs, and 1 ½ cups whole milk.

Add the eggs and milk to the dry ingredients and mix until well combined.

Grease your baking dish. Add 1 ½ cups of berries to the bottom of the dish.

Layer the oat mixture on top of the blueberries.

Sprinkle the toasted ½ cup of toasted pecans on top and 1 tablespoon of brown sugar.

Add another 1 cup of blueberries to the top.

Bake for 40-50 minutes. Remove from the oven and allow to cool slightly.

Enjoy!
Notes
If you don't like pecans, you can omit them entirely or use almonds or walnuts instead. You can use frozen or fresh blueberries depending on what you have on hand. Either works well.
When you go to toast your nuts, I recommend that you place them on a sheet of parchment paper on your baking sheet. Also, watch your nuts closely when you toast them. They will go from untoasted to burned very quickly.
When you bake the baked oatmeal, make sure that the center of the dish is fully cooked before you remove it from the oven. You can do this by inserting a small paring knife or toothpick into the center. It should insert easily. It likely will not be totally clean because of the blueberry juices in the dish. If you used frozen blueberries rather than fresh, you may need to add a little extra baking time.
Nutrition
Serving:
8
g
Calories:
355
kcal
Carbohydrates:
55.68
g
Protein:
11.68
g
Fat:
10.53
g
Saturated Fat:
4.59
g
Fiber:
6.6
g
Sugar:
20.33
g
Here are some other recipes you might like!
Arielle is a food and drink photographer based in Washington, D.C. She was previously a social science researcher before she fell in love with photography.