Creamy overnight oats with coconut milk is a deliciously healthy and extremely easy breakfast. The best part is it's prepared in advance, which makes your day so much easier!
Luscious coconut milk is combined with wholesome rolled oats, gorgeously toasted coconut shreds, chia seeds that add that extra cloud-like creamy texture, a little maple syrup for sweetness, and a pinch of sea salt to round out the flavor.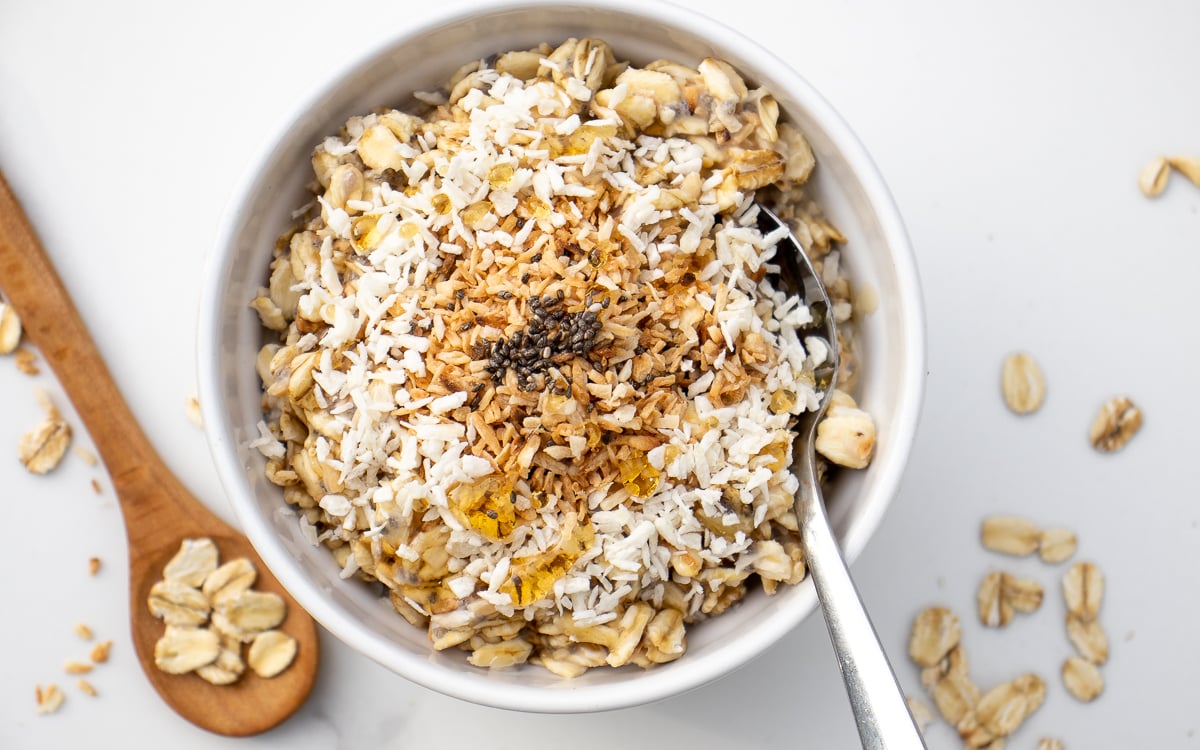 This recipe is the perfect way to give yourself a little indulgent breakfast while still keeping it quick and nutritious before you start your day. Serve yourself coconut milk overnight oats for breakfast, cold or warm, with a steaming hot cup of coffee.
The recipe is super simple, with no cooking required. Because it's overnight oats, you do need to allow for a minimum of 1 to 2 hours of chill time in the refrigerator. It doesn't need to be in the refrigerator overnight to become edible, but it is easier to create overnight oats the night before or several days in advance.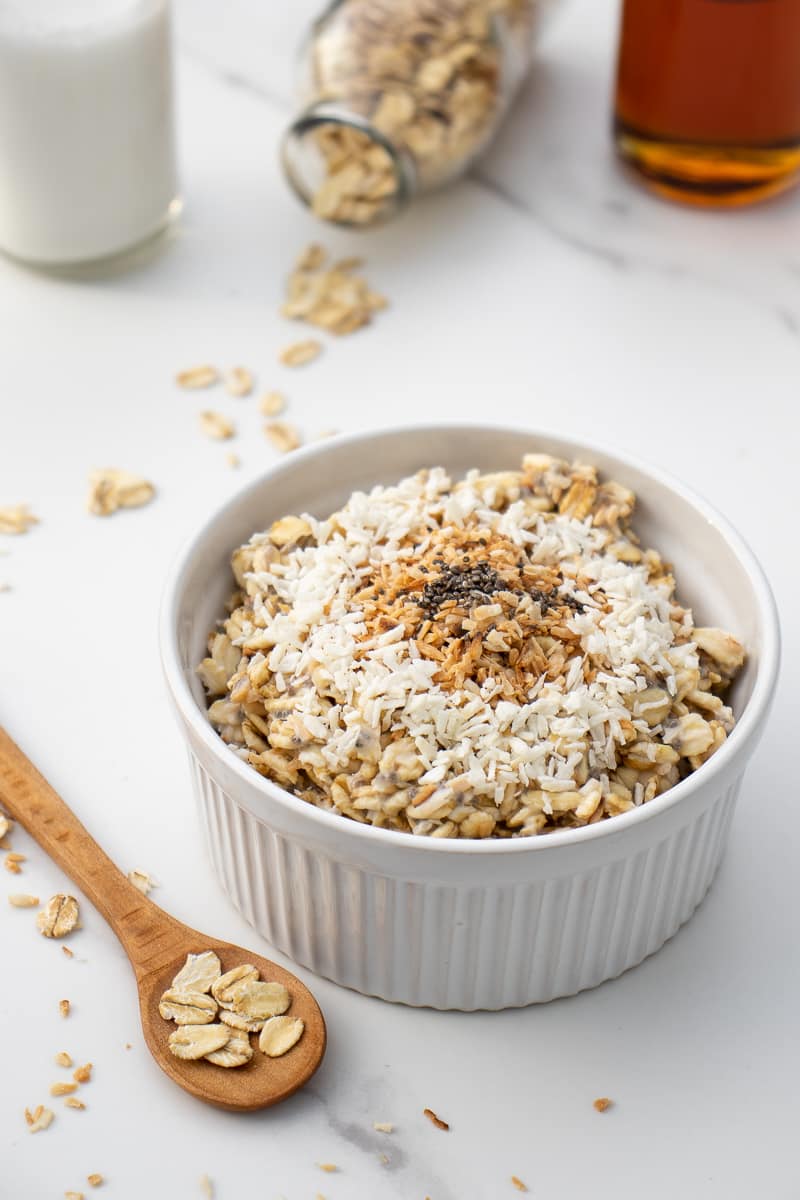 What You Need to Make Coconut Milk Overnight Oats
Most of the ingredients to make these overnight oats will likely be in your pantry. You might need to go out and get the coconut milk and coconut shreds though.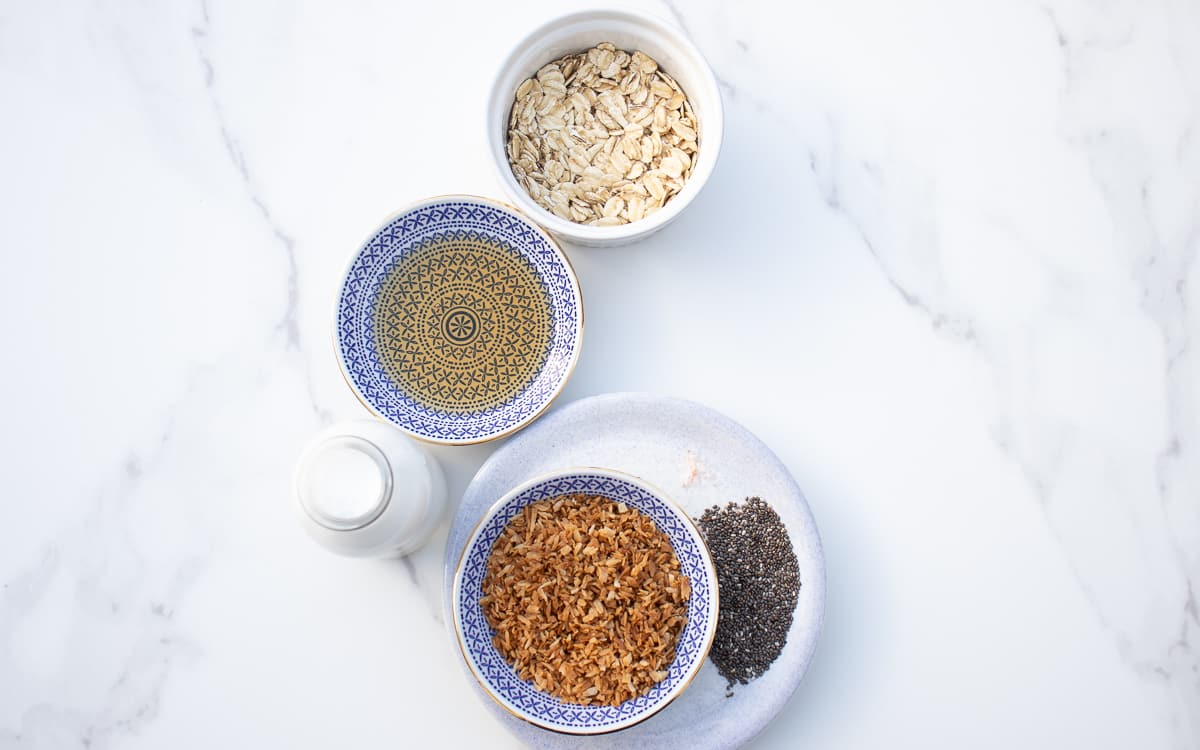 Ingredients:
Rolled oats
Chia seeds
Toasted coconut shreds
Sea salt or pink Himalayan salt
Coconut milk
Maple syrup
You will need only a bowl, spoon and the ingredients to create this recipe.
How To Make Overnight Oats With Coconut Milk
In the container of your choice, add your dry ingredients: rolled oats, toasted coconut shreds, chia seeds, and salt. If you prefer your overnight oats to be on the drier side, then add another 1 – 2 tablespoons of rolled oats.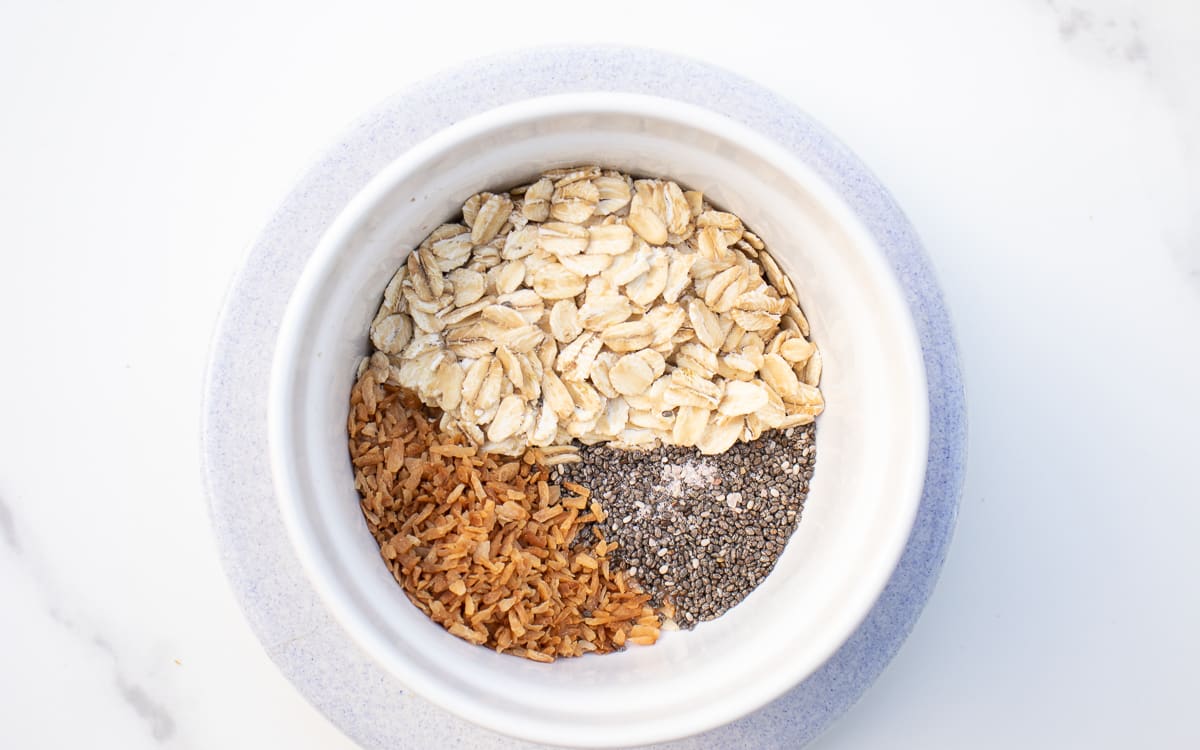 If you have coconut shreds but not toasted coconut shreds, this is when you would make them. Use a non-stick frying pan on medium heat, add your coconut shreds, and toast them for approximately 1 to 2 minutes or until golden.
Make sure you stir frequently so you don't burn them. Remove from heat. You can use them straight away, even if they are still hot.
Once all your dry ingredients are added to your preferred bowl or container, stir all the ingredients until they're evenly combined.
Now it's time to add in your wet ingredients to your already mixed dry ingredients.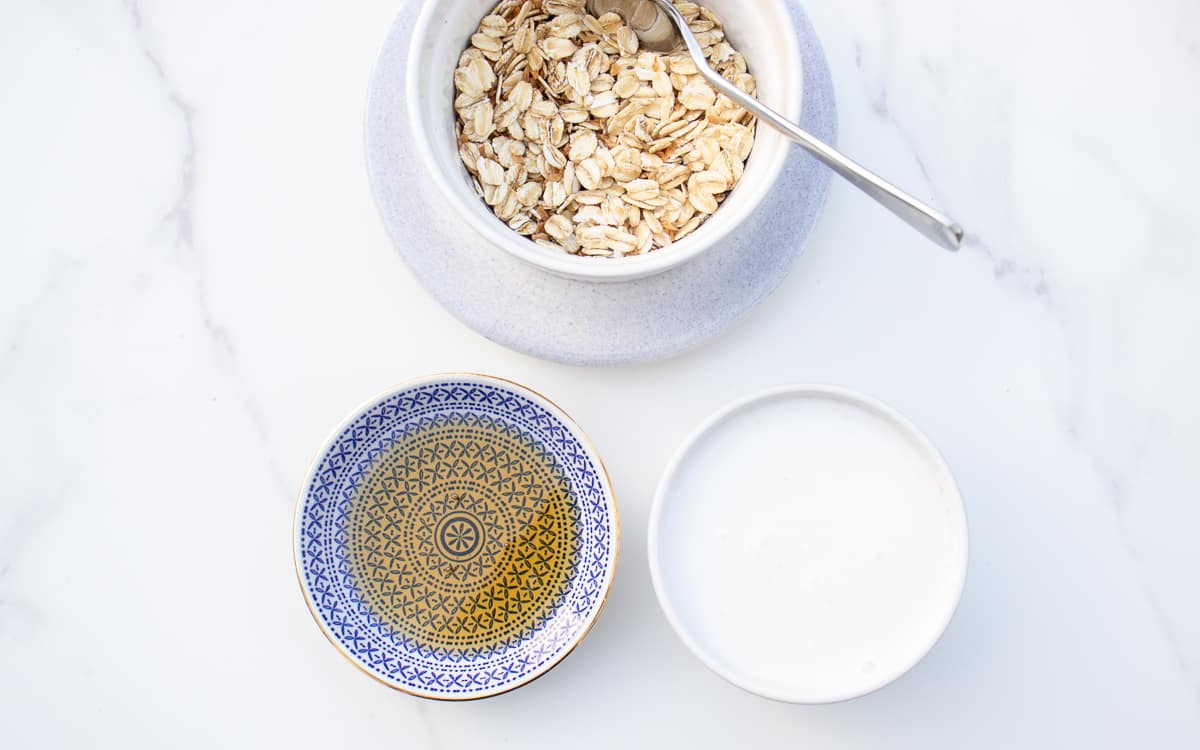 Pour the coconut milk and maple syrup into the bowl containing your dry ingredients.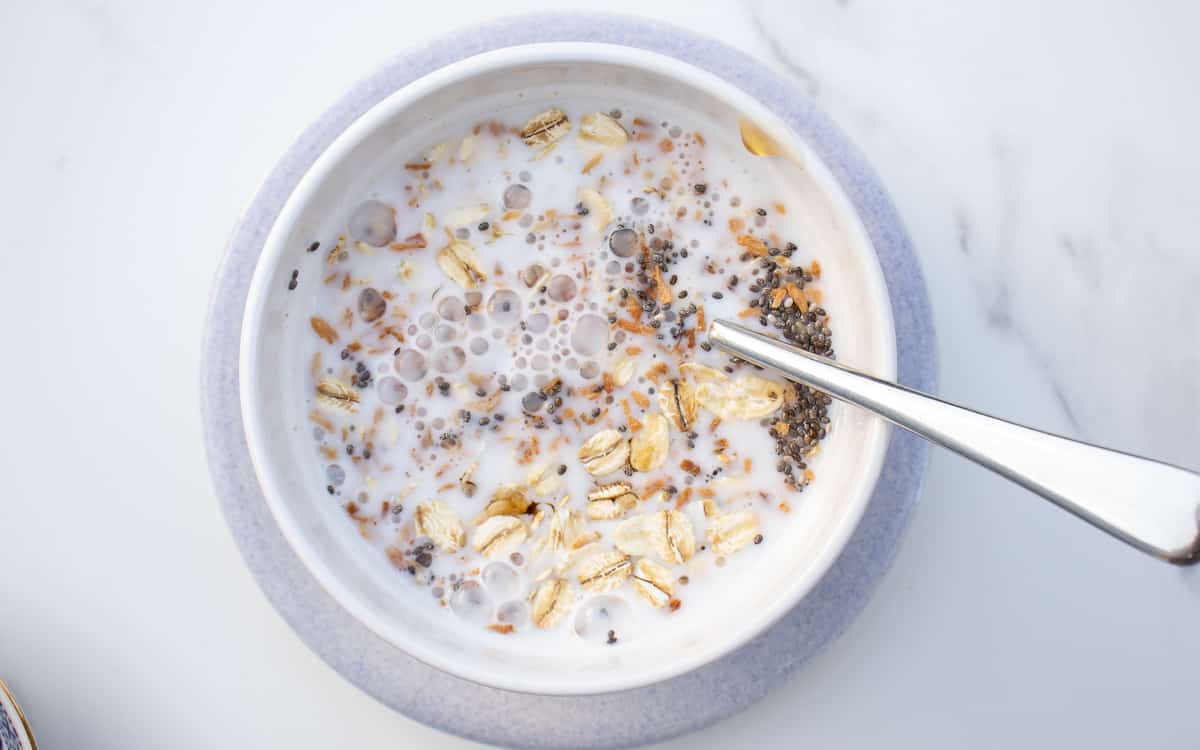 This recipe is quite creamy, but if you prefer your overnight oats to be ultra-creamy, then add in 1 – 2 extra tablespoons of coconut milk or the milk of your choice.
Using your spoon, mix together the wet and dry ingredients until fully combined. Refrigerate, then serve.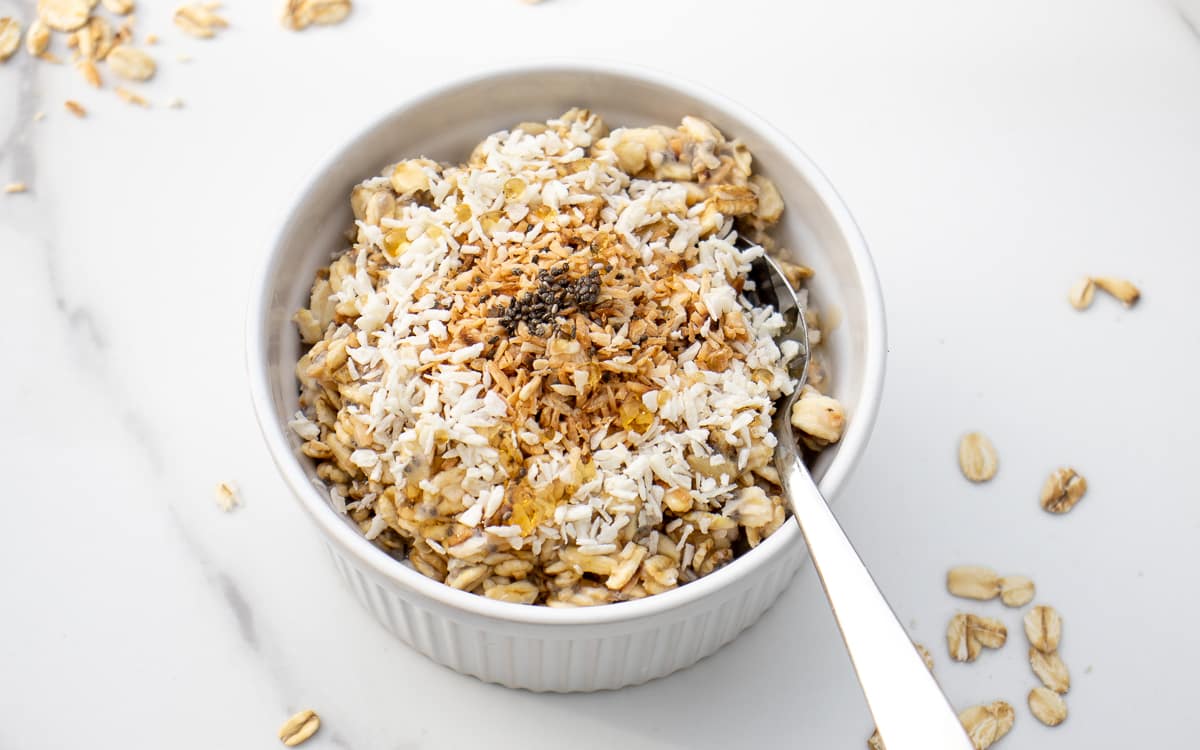 When serving yourself this extremely delicious breakfast, add an extra sprinkle of toasted coconut shreds and a small drizzle of maple syrup.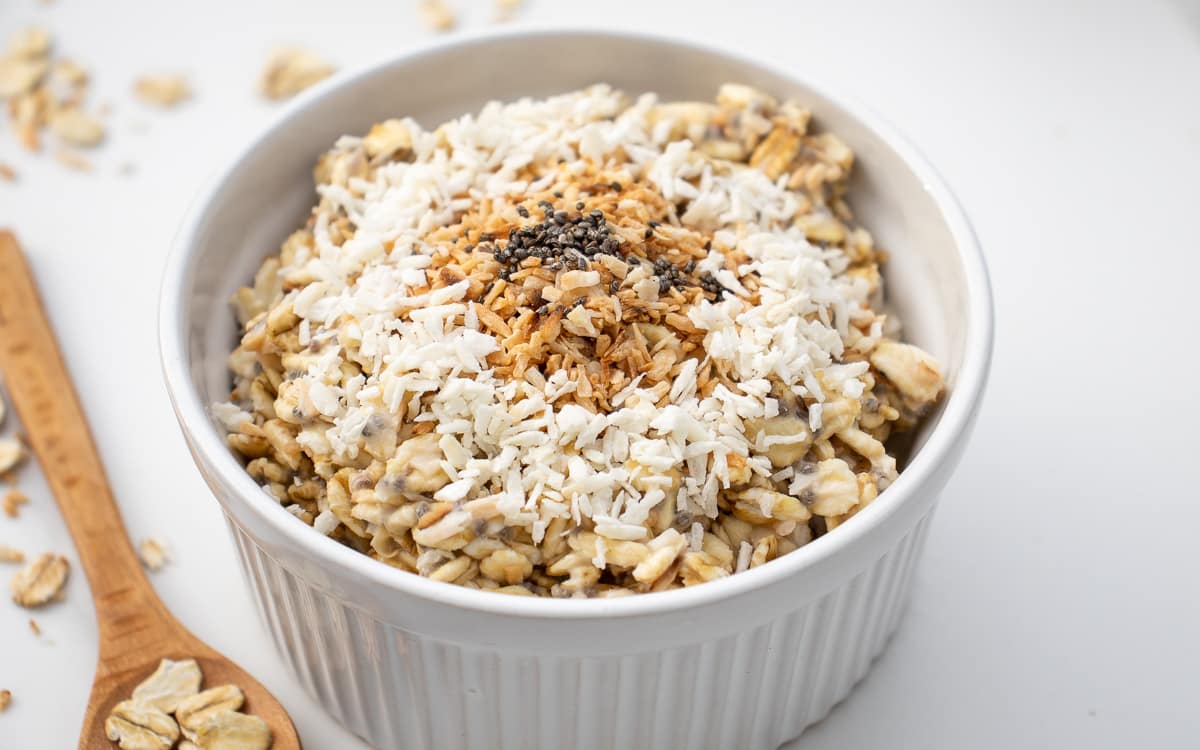 Can you leave oats in milk overnight?
Yes you absolutely can! It's time saving to leave oats in milk overnight and it creates the perfect on-the-go breakfast. Make sure you use rolled oats for that perfect wholesome texture.
Are overnight oats good for you?
Yes, overnight oats are good for you! Assuming, of course, that you don't add in ingredients that are not good for you. Rolled oats are a great source of protein and fiber and they also contain a number of minerals and vitamins.
Are chia seeds necessary for overnight oats?
No, you don't need to use chia seeds, but they do make the overnight oats even creamier by soaking up some of the liquid. If you don't use chia seeds, reduce the amount of coconut milk by 2 tablespoons.
What kind of oats work best for overnight oats?
Rolled oats my friend! Overnight oats get that wholesome texture by using traditional rolled oats instead of instant oats. Rolled oats have the right structure for soaking in coconut milk overnight.
Do you eat overnight oats cold?
Yes! But you can also eat overnight oats warm, just heat them up in a microwave-proof bowl for 1 – 2 minutes. Stir at the 1-minute point and remove from the microwave when your desired temperature is reached.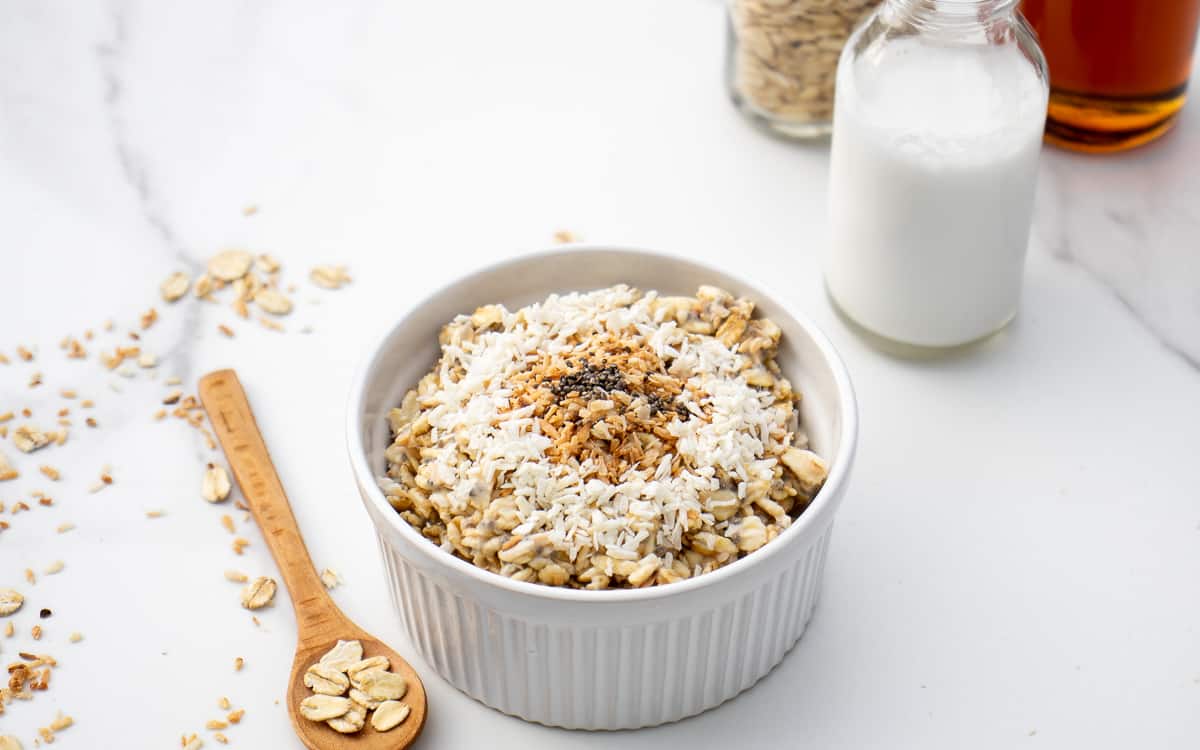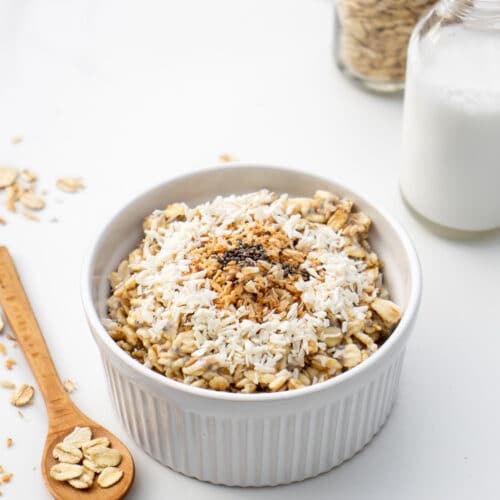 Overnight Oats With Coconut Milk
Overnight oats with coconut milk is a wonderfully creamy make-ahead breakfast. Add a little extra indulgence to your morning without adding extra time! It's a delicious and easy on-the-go breakfast that you will love.
Ingredients
½

cup

rolled oats

1

tsp

chia seeds

4

tbsp

toasted coconut shreds

pinch of sea salt or pink Himalayan salt

⅔

cup

+ 2 tbsp coconut milk

2

tsp

maple syrup
Instructions
In a bowl or refrigerator safe container add the rolled oats, chia seeds, 2 tablespoons toasted coconut shreds, and salt. Stir until evenly combined.

Pour the coconut milk and 1 teaspoon of the maple syrup into the dry ingredients mixture. Stirring until completely combined.

Cover and refrigerate for at least 1 - 2 hours, overnight or a maximum of 3 - 4 days in advance.

Remove from the refrigerator, sprinkle with 2 tablespoons toasted coconut shreds and drizzle 1 teaspoon maple syrup on top. Enjoy!
Nutrition
Here are a few other recipes you might enjoy!
Paige is a professional food photographer and recipe developer based out of both New Zealand and New York. Inspired by the wonderful meals she has eaten around the world, Paige loves to take a delicious friendly approach to cooking.