Whether your kids have poured the last of the milk in their cereal bowls or you forgot to pick up oat milk on your last grocery trip, I have good news for you. You can make overnight oats without milk!
This no-milk overnight oats recipe is made with mashed banana, creamy chia seeds, velvety peanut butter, water for moisture, and topped with dried cranberries and extra peanut butter.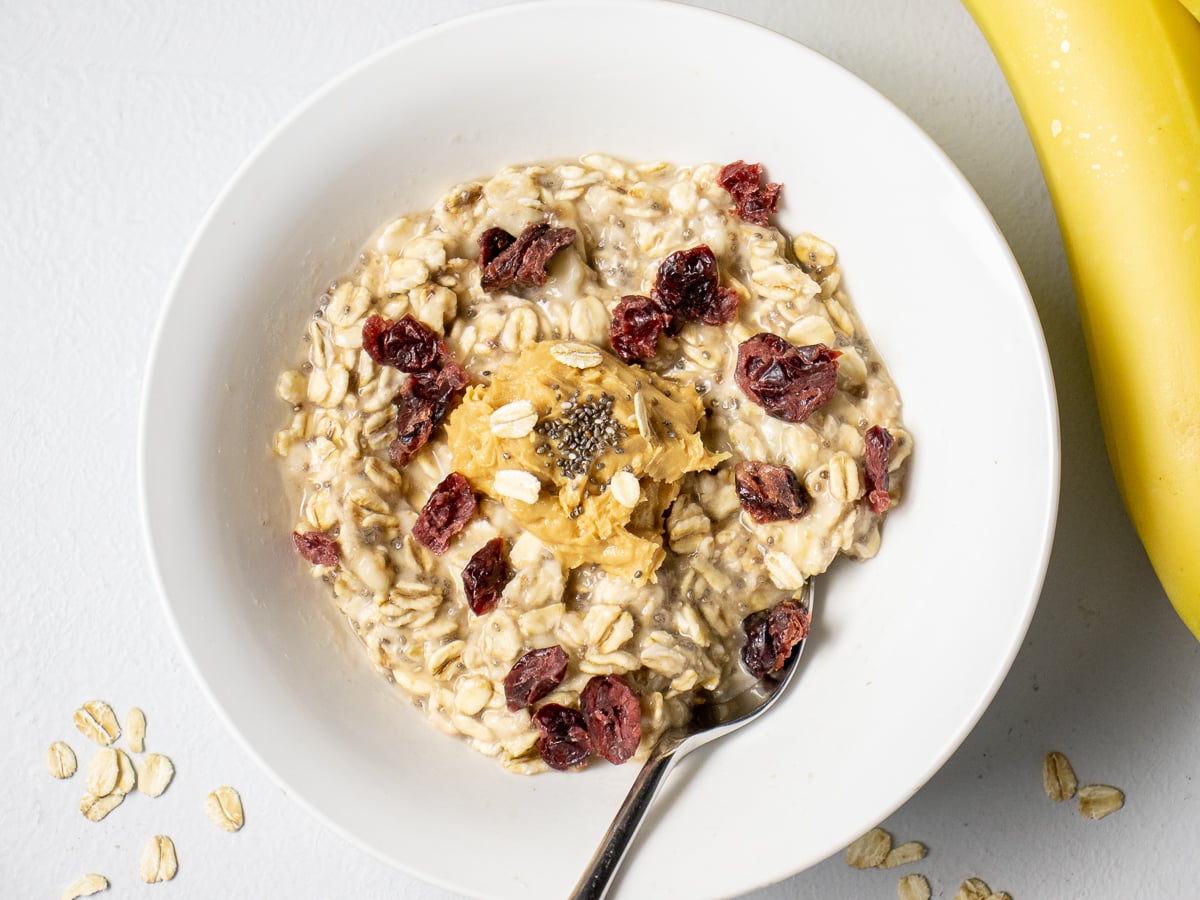 Looking to switch up your overnight oats? Here are other recipes you might enjoy: Overnight Oats With Coconut Milk, Tiramisu Overnight Oats, Frozen Fruit Overnight Oats, and Cinnamon Overnight Oats.
Why You'll Love This Recipe
Healthy and delicious: Made with simple ingredients like chia seeds, bananas, and peanut butter, this overnight oats recipe is a perfect healthy breakfast that doesn't compromise on flavor. It's a delicious way to kickstart your day!
Easy to prepare: If you often find yourself rushed on busy mornings, this recipe is a godsend. All you need to do is mix the ingredients and let them rest overnight. In the morning, you'll wake up to a ready-to-eat, easy breakfast.
Versatile and customizable: This basic overnight oats recipe allows for endless customization. You can add your favorite toppings like fresh fruit, almond butter, flax seeds, chocolate chips, or a drizzle of maple syrup for extra flavor.
Recipe Ingredients
You'll need the following ingredients to make these milk-free overnight oats: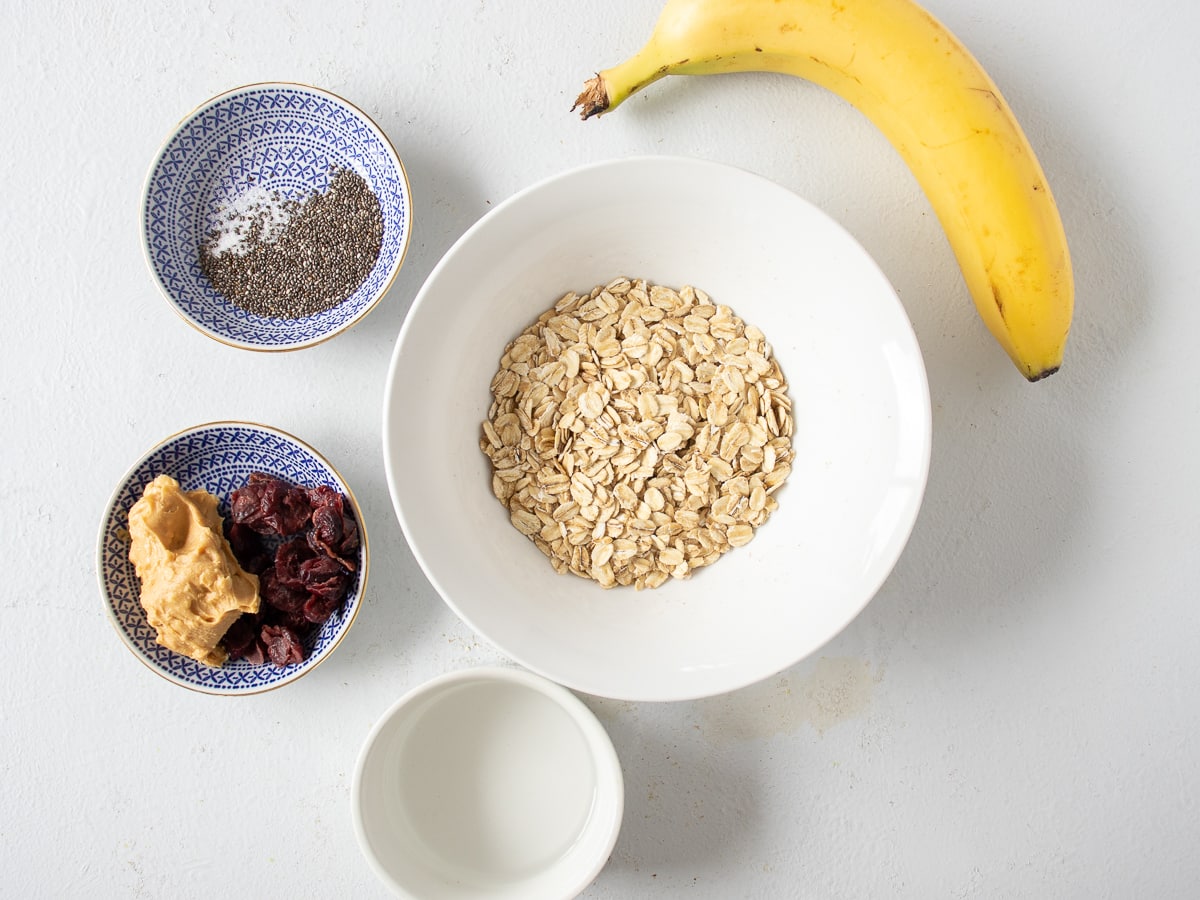 Ingredient Notes
Rolled Oats: Rolled oats, also known as old-fashioned oats, are ideal for this overnight oat recipe. They absorb the water well, giving a creamy texture by the next morning. Avoid using quick oats or steel-cut oats as they may not soften as well. If you need a gluten-free version, make sure to get certified gluten-free oats.
Peanut Butter: Creamy peanut butter adds a delicious, nutty taste and healthy fats to your oats. However, feel free to replace it with other nut or seed butters like almond butter, cashew butter, or sunflower seed butter.
Chia Seeds: Chia seeds are a great addition to overnight oats, as they absorb water and turn into a gel-like consistency, similar to chia pudding, adding thickness to the oats. They also provide a good amount of dietary fiber and protein.
Banana: Bananas not only add natural sweetness to your oats but also create a creamier texture. Make sure to choose ripe but not overripe bananas to avoid overpowering the other flavors.
How To Make Overnight Oats Without Milk
Gather all your ingredients and choose a refrigerator-safe bowl or container to make and store your overnight oats in.
In the bowl, add and mix your oats, chia seeds, and salt. Set aside.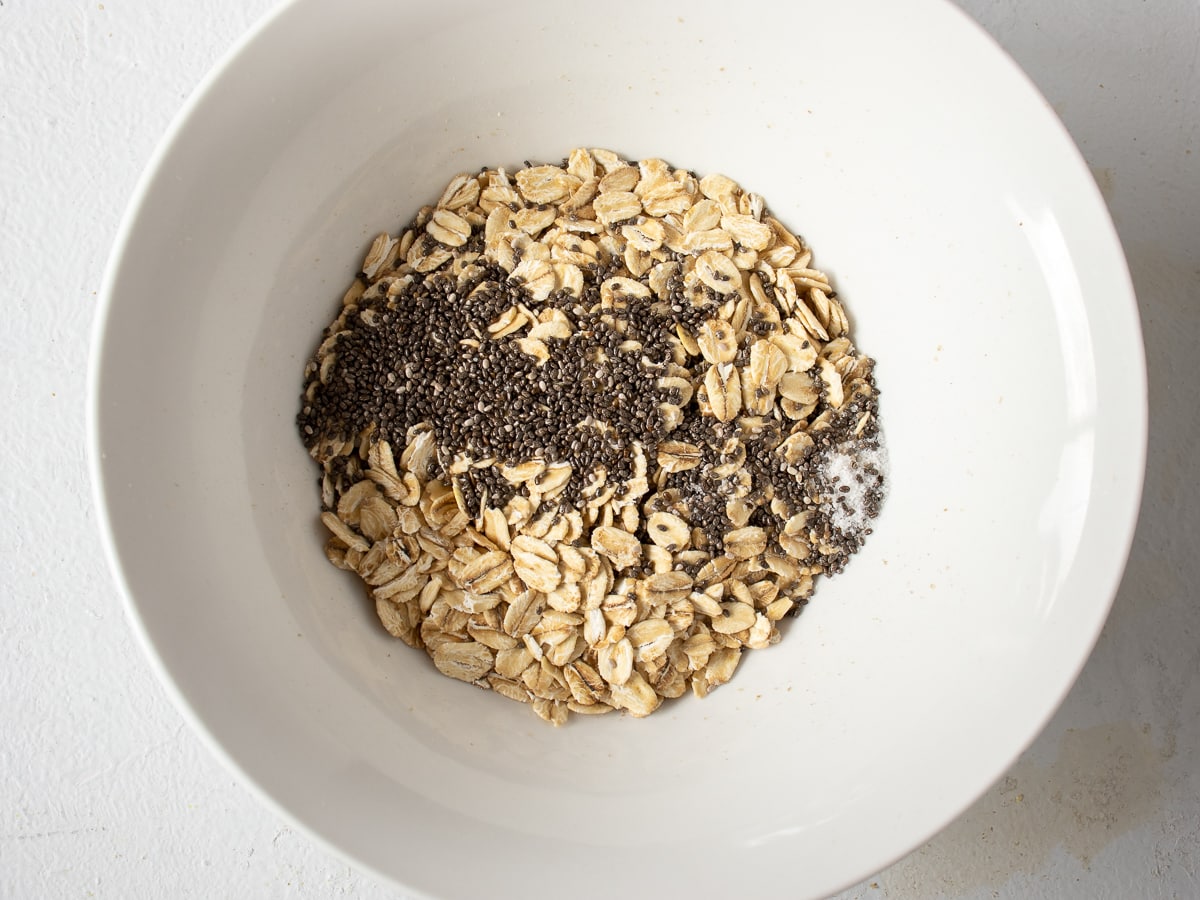 Using a fork and small plate, thoroughly mash your banana until it's a smooth consistency. Measure banana to ⅓ cup.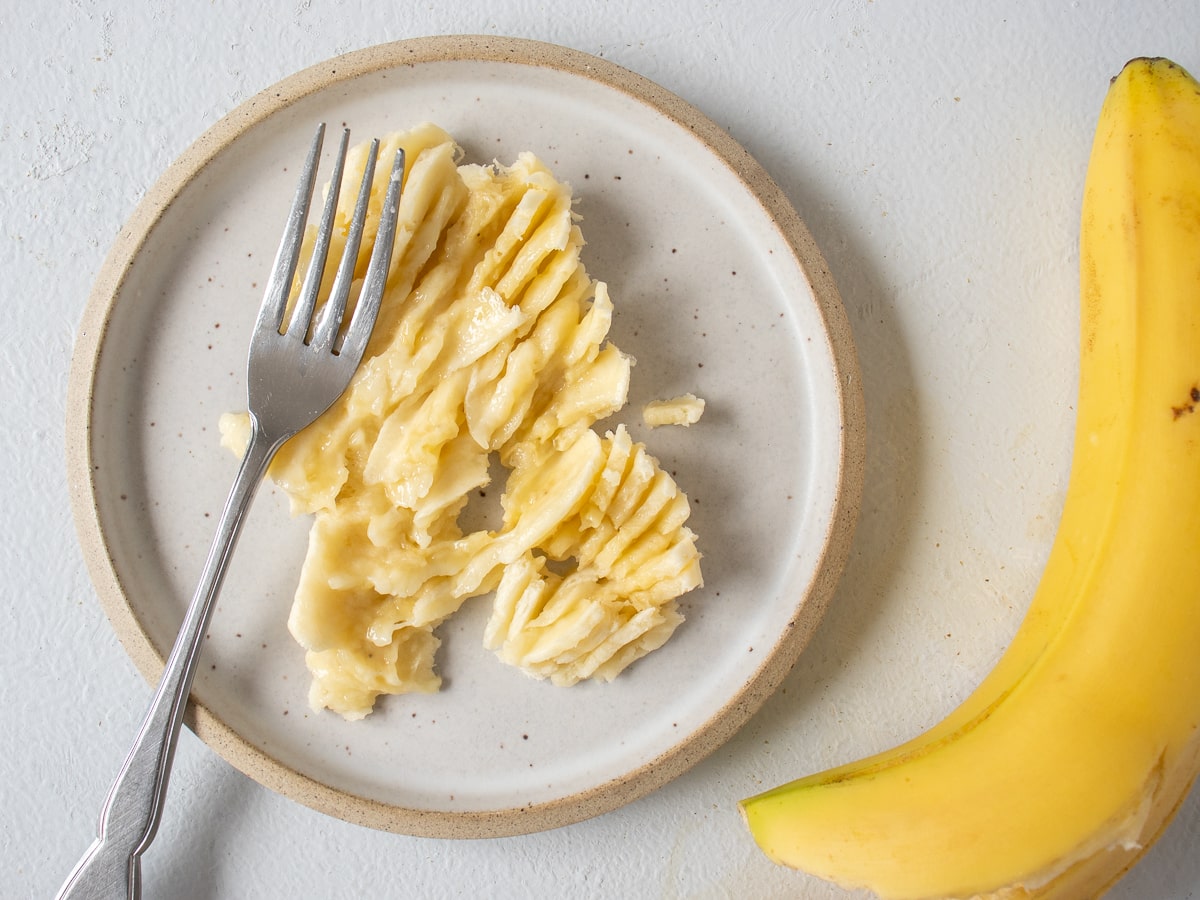 Add the banana to your dry ingredients.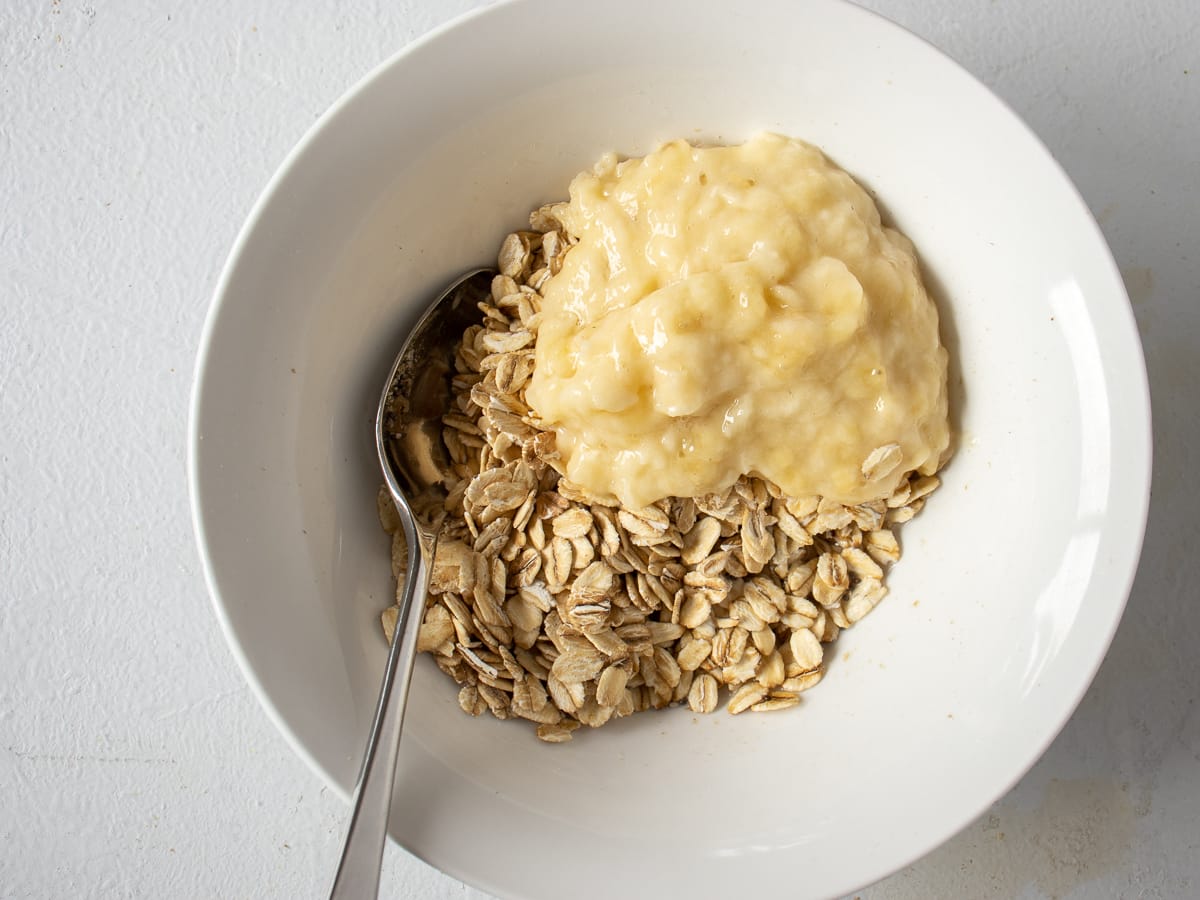 Add water and peanut butter to the bowl.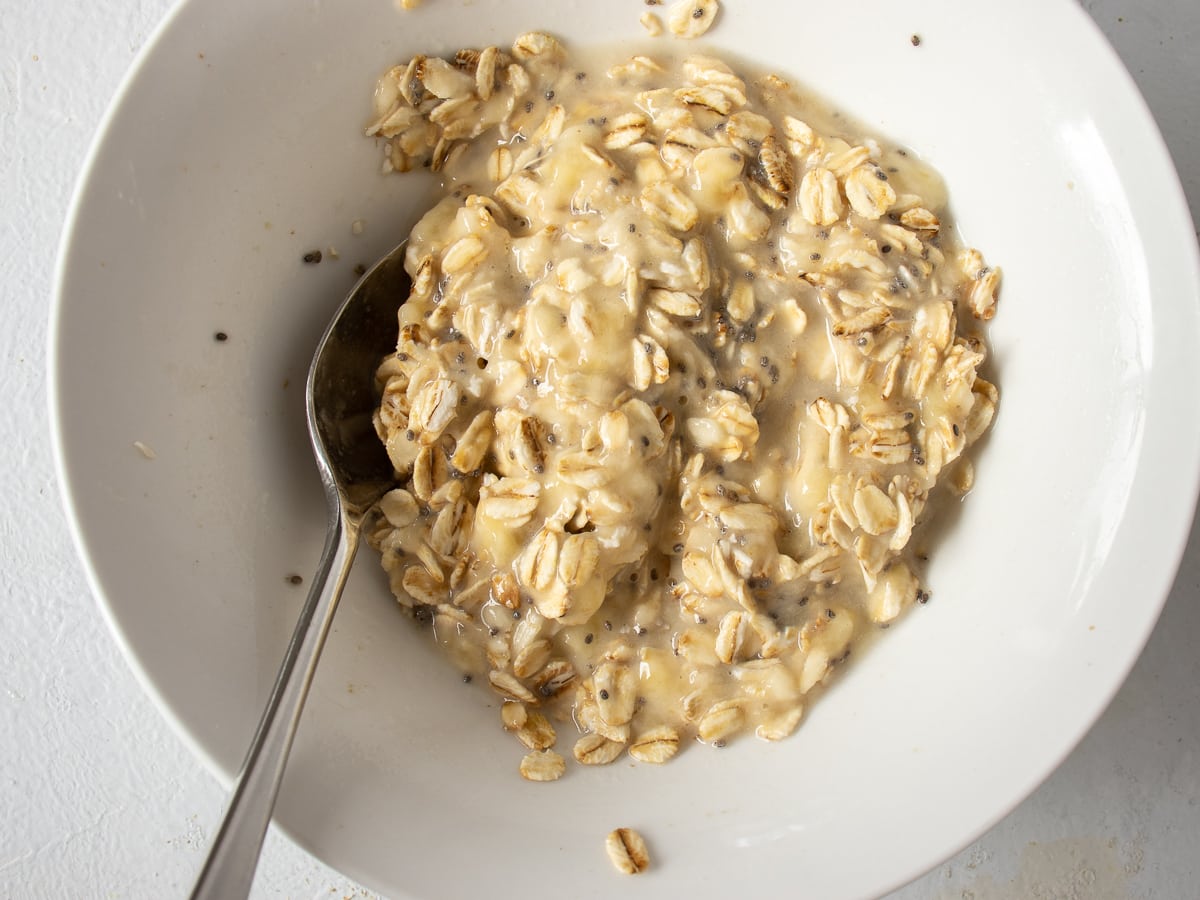 Place your overnight oats without milk in the refrigerator for 2 – 4 hours minimum, but ideally overnight.
Just before serving, top with extra peanut butter or nut butter of your choice and sprinkle with dried cranberries.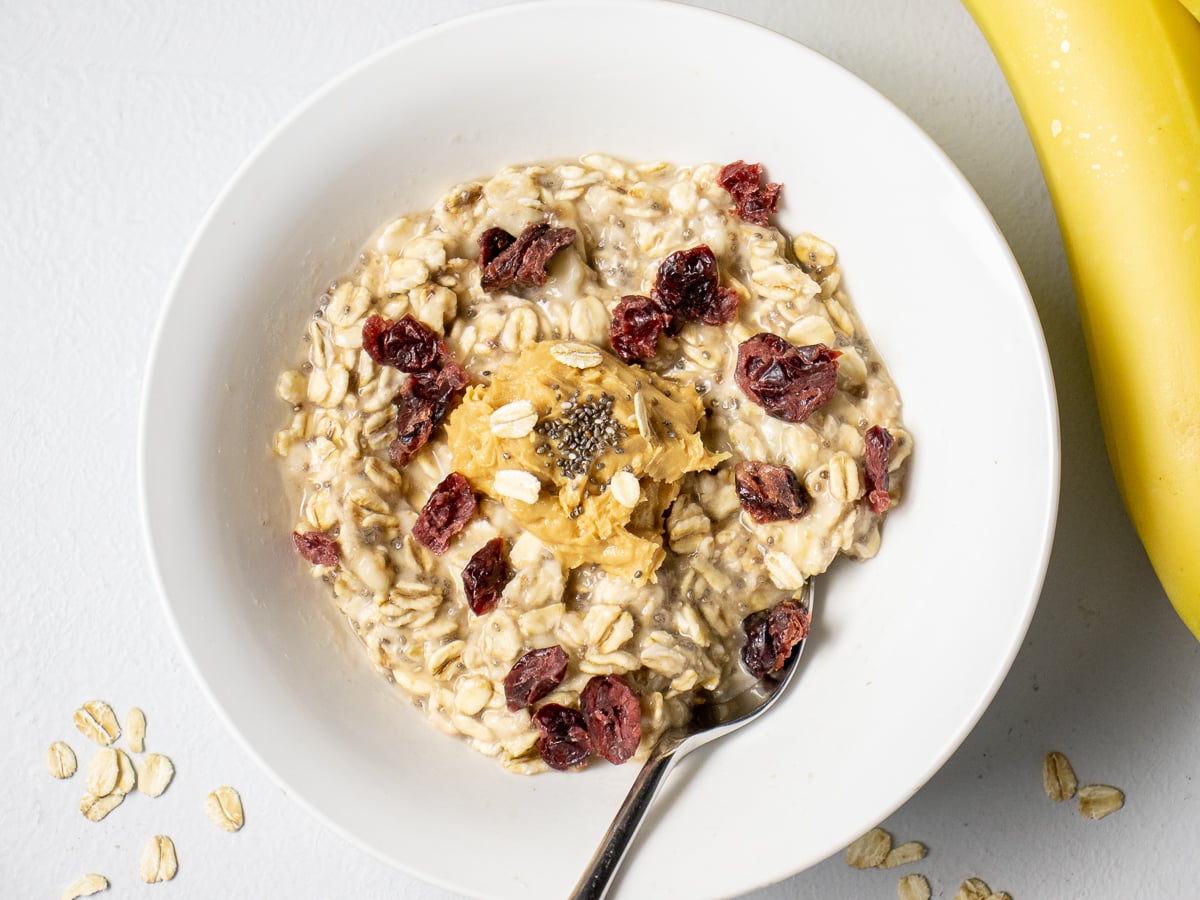 Recipe Tips
This recipe is perfect for meal prep. Make a larger batch and divide it into 16-ounce jar or other individual jars. It's a great make-ahead breakfast idea!
For the best texture, thoroughly mix your oats with the other ingredients. This ensures all the oats are coated and will soak properly.
For an extra protein kick, consider adding a scoop of your favorite protein powder. You can also add a splash of vanilla extract or a pinch of cocoa powder for added flavor.
Storage & Reheating
Store your prepared overnight oats in an airtight container in the refrigerator. They'll stay fresh for up to 5 days, perfect for meal prep for the week. As it's a cold oatmeal recipe, there's no need for reheating. Simply take your oats out of the fridge the next day and enjoy.
Additions & Substitutions
If you want a sweeter oatmeal, consider adding a bit of brown sugar or maple syrup. For a different flavor, replace the water with a plant-based milk like almond milk, soy milk, or cashew milk. You can even use orange juice for a fruity twist.
For a vegan overnight oats version, swap the peanut butter for almond butter or cashew butter, and add some vegan yogurt for extra creaminess. You can also mix in some healthy ingredients like hemp seeds or flax seeds.
Recipe FAQs
What should I serve with this milk-free overnight oats recipe?
This overnight oats recipe is a complete meal in itself, packed with whole grain oats, healthy fats, and protein. But if you'd like, you can serve it with some fresh berries or other fresh fruit for extra vitamins and fiber. A dollop of Greek yogurt, vegan or regular, will add creaminess and a boost of protein. This recipe is the perfect way to start your day!
Can I use water instead of milk in overnight oats?
Yes you can! This recipe helps mimic the moisture content and creaminess of milk by adding a mixture of water, banana, and peanut butter.
Can you eat overnight oats plain?
Yes, you can eat overnight oats plain. If you prefer to forgo toppings, then it will still be edible and have more of a cold porridge flavor profile.
Are chia seeds necessary for overnight oats?
Chia seeds are really necessary for overnight oats. They add a thicker, creamier texture and help add depth and consistency.
---
Here are a few other oatmeal recipes you might enjoy!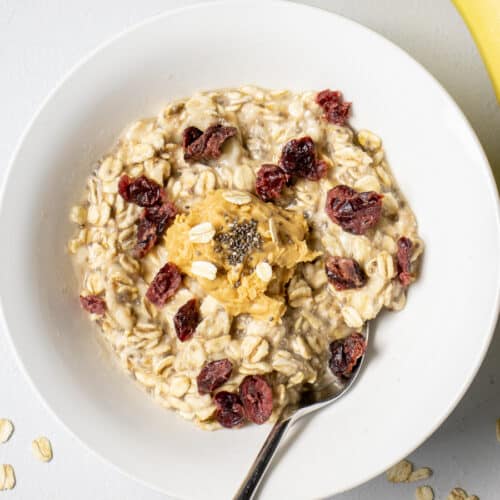 Overnight Oats Without Milk
This recipe for overnight oats without milk is so creamy, you wouldn't believe it's dairy free. Wholesome, nutritious oats are combined with smoothly mashed banana, chia seeds and luscious peanut butter. Top with more nut butter and dried cranberries just before serving.
Ingredients
½

cup

rolled oats

⅓

cup

mashed banana

(not overripe)

1

tsp

chia seeds

⅓

cup

water

2 to 3

tbsp

peanut butter

1

tbsp

dried cranberries

pinch of salt
Instructions
In a bowl add and mix your oats, chia seeds, and salt. Set aside.

Mash your banana until it's a smooth consistency.

Add mashed banana to your dry ingredients and mix. Stir in the water and peanut butter.

Place in the refrigerator for 2 – 4 hours minimum, but ideally overnight.

Serve with peanut butter and dried cranberries. Enjoy!
Nutrition
Paige is a professional food photographer and recipe developer based out of both New Zealand and New York. Inspired by the wonderful meals she has eaten around the world, Paige loves to take a delicious friendly approach to cooking.