Tiramisu overnight oats transform the rich and creamy flavors of that decadent dessert into a healthy, hearty, and effortless meal. With almost no work, mostly done the night before, you can easily have a delicious breakfast to take to work.
Overnight oats are soaked in milk and espresso, then layered with creamy yogurt and topped with a thick layer of cocoa powder. Use clear glasses to serve this dish for a showy presentation that will look as good as it tastes.
Tiramisu overnight oats are sweet without being too sweet, packed with protein and fiber, and have just enough chocolaty, espresso flavor to feel fancy and special, but without too much effort.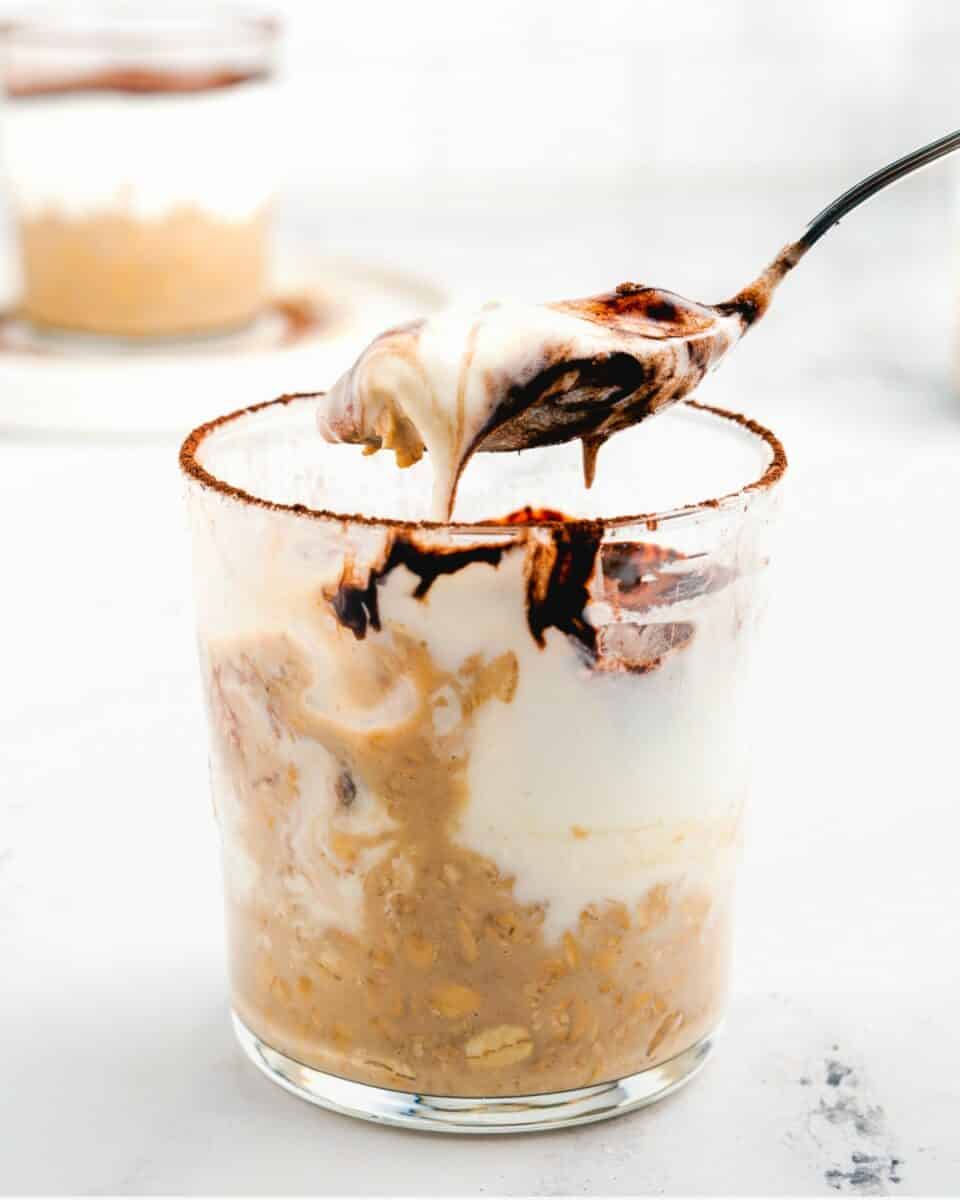 Pair it with a latte, mocha, or other creamy coffee drink, and serve with a side of sliced banana, strawberries, or a cup of raspberries for a complete breakfast.
The fridge does all the work in this recipe. Have you ever had to spend ten minutes cleaning up oatmeal that has boiled over? Not so with this dish!
The most complicated part of this recipe is that you have to make it the night before. The oats do need to sit for at least 4 hours, but their texture and flavor are best after at least 8 hours.
It takes almost no time to put together the oats, so don't let that fact dissuade you! The very minimal effort will be worth it in the morning.
What You Need to Make Tiramisu Overnight Oats
This dish requires espresso, oats, honey, milk, cocoa powder, and yogurt. You can adapt the sweetness and creaminess of the recipe by using more or less honey or using richer or leaner milk.
However, you do need to use rolled oats and not instant oats. The texture of instant oats will be gummy, and the oats will not keep for more than a day if you want to make a batch for the week.
I call for regular yogurt, but if you want something sweeter, mix a little extra honey for sweetness, or use a vanilla yogurt of your choice.
I also like to use light honey in this recipe so the sweetener does not compete with the flavors of the cocoa or espresso. You can also use agave or another liquid sweetener of your choice.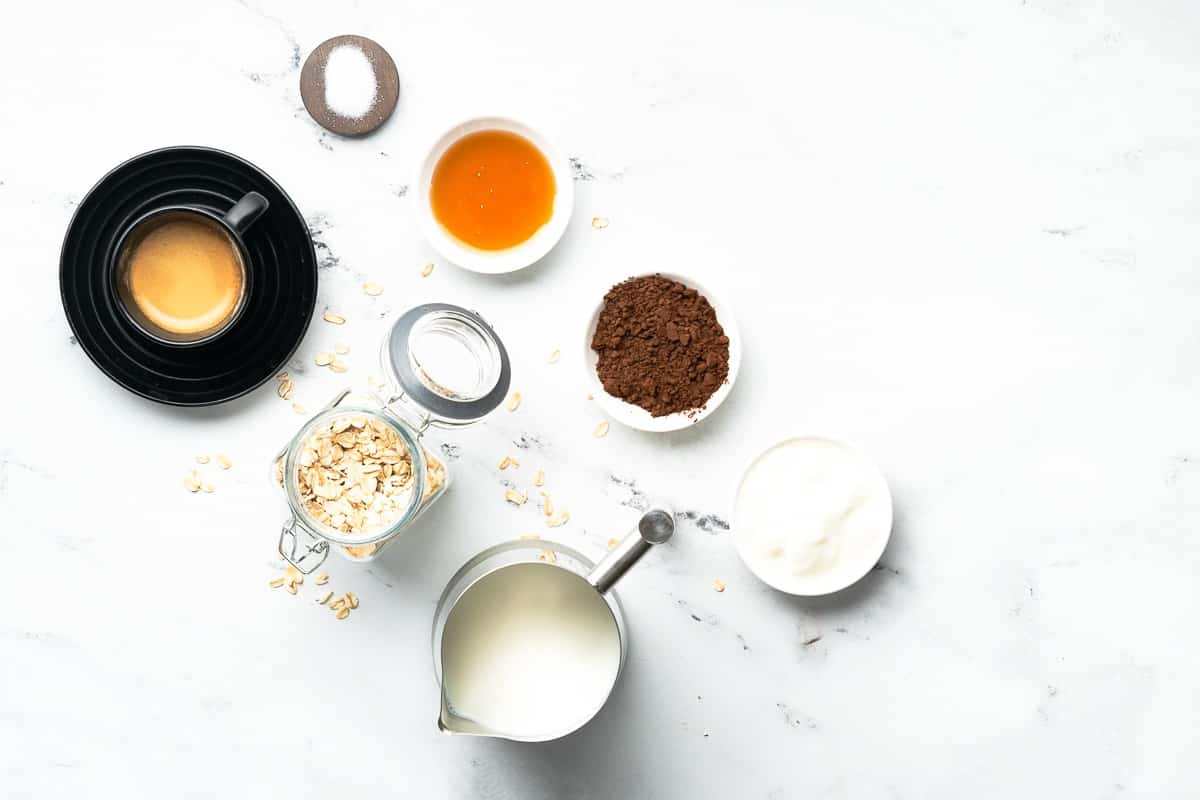 Ingredients:
Cocoa powder
Honey
Rolled oats (not instant)
Milk
Espresso
Low fat or whole milk yogurt
Table salt
Tools:
Tiramisu overnight oats require a bowl with a lid, a spoon, and an empty stomach in the morning. It's really that simple!
You may also want a fine mesh strainer or duster for dusting the cocoa. You can double or even triple this recipe easily if you want to make this dish for a group, or prep breakfast for a few mornings.
How To Make Tiramisu Overnight Oats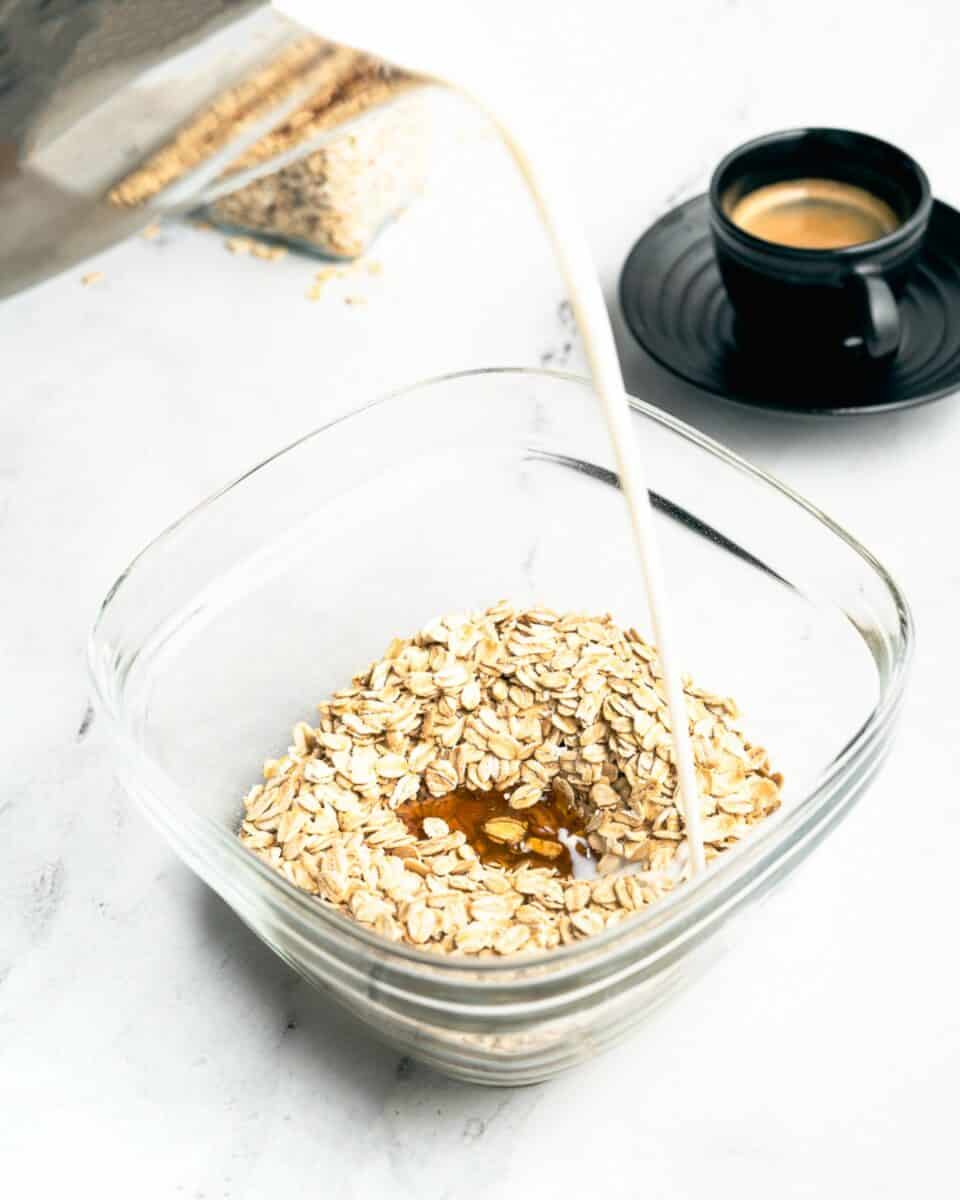 Make the overnight oats: In a bowl, mix together rolled oats, cocoa powder, espresso, milk, salt, and honey. Cover and put in the fridge for at least 4 hours, preferably overnight.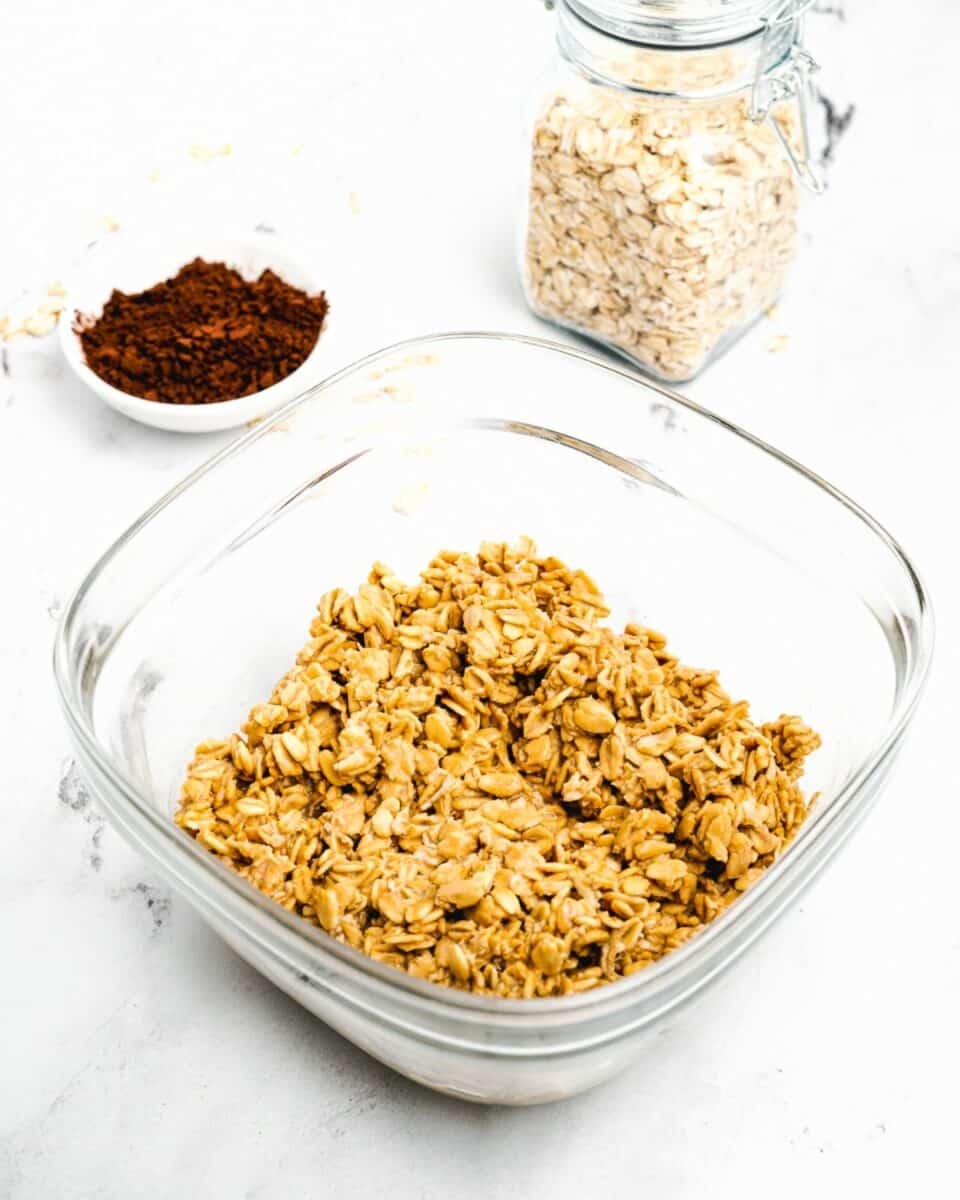 Assemble the overnight oats: In the bottom of a clear jar or glass, place half the oats mixture. Add a thick layer of yogurt. Using a duster or fine-mesh sieve, coat the top of the yogurt with a thick layer of cocoa. Repeat in a second glass. Share and enjoy!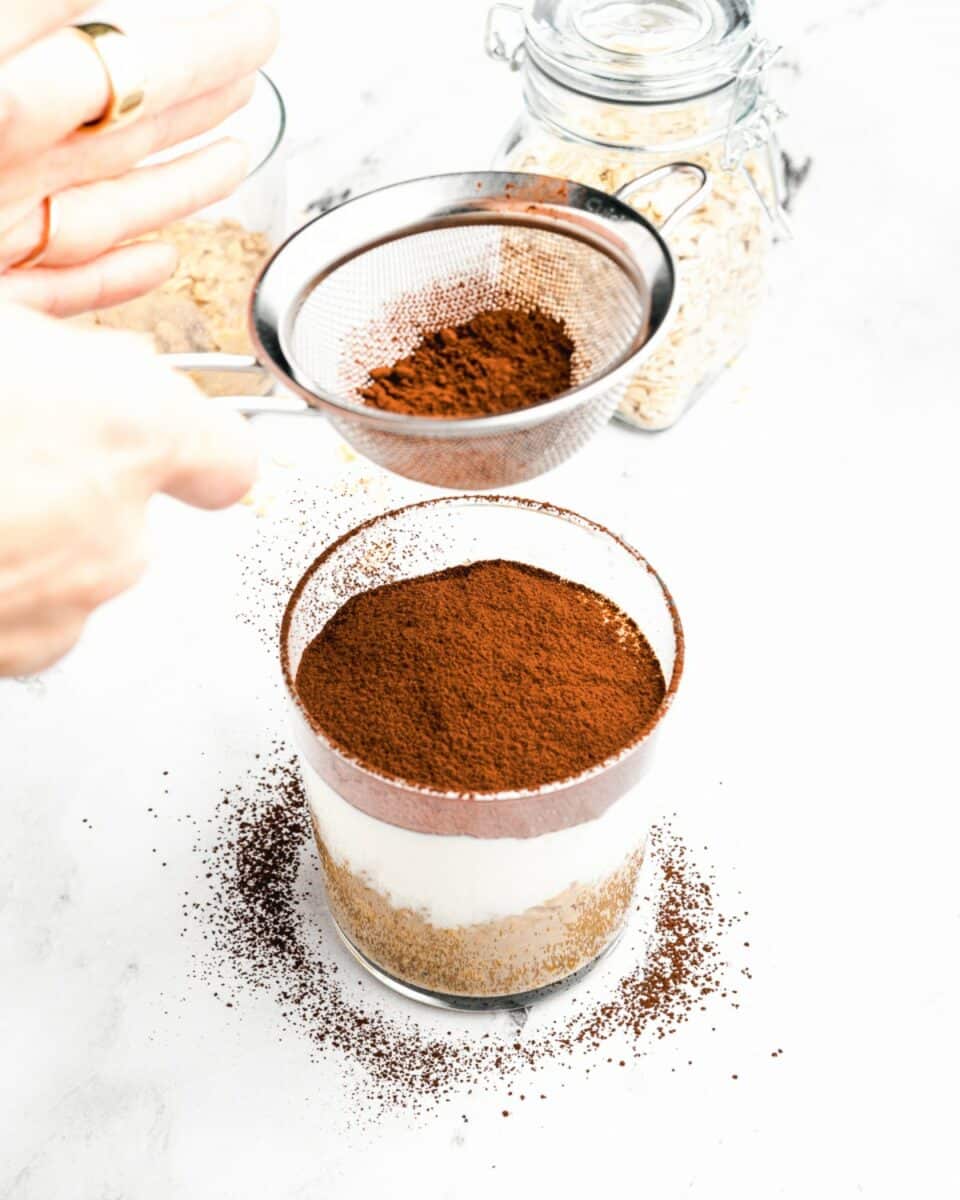 What kind of cocoa should I use?
You can use any kind of cocoa powder that you have on hand. I prefer Dutch-processed cocoa because it is slightly less acidic than natural cocoa powder and has a deeper chocolatey flavor and color.
Can I make this vegan?
You can make this recipe vegan. You can sub the milk for any dairy-free alternative and use a dairy-free yogurt. Just be aware that many of these milk alternatives are going to bring a different flavor profile to your dish. I suggest you start by experimenting with oat milk-based products to keep the flavor profile consistent.
Can I use Greek yogurt?
You can use either Greek or regular yogurt. I like the looser consistency of many commercial regular yogurt brands and think the less tangy flavor of regular yogurt works better in this dish, but use what you have on hand or what you commonly purchase. I recommend using a 2% or whole milk yogurt for its creaminess (it is supposed to be like Tiramisu!) but you can use non-fat also.
Do I have to use espresso?
You can substitute a very strong coffee for the espresso if you don't have espresso or an espresso maker.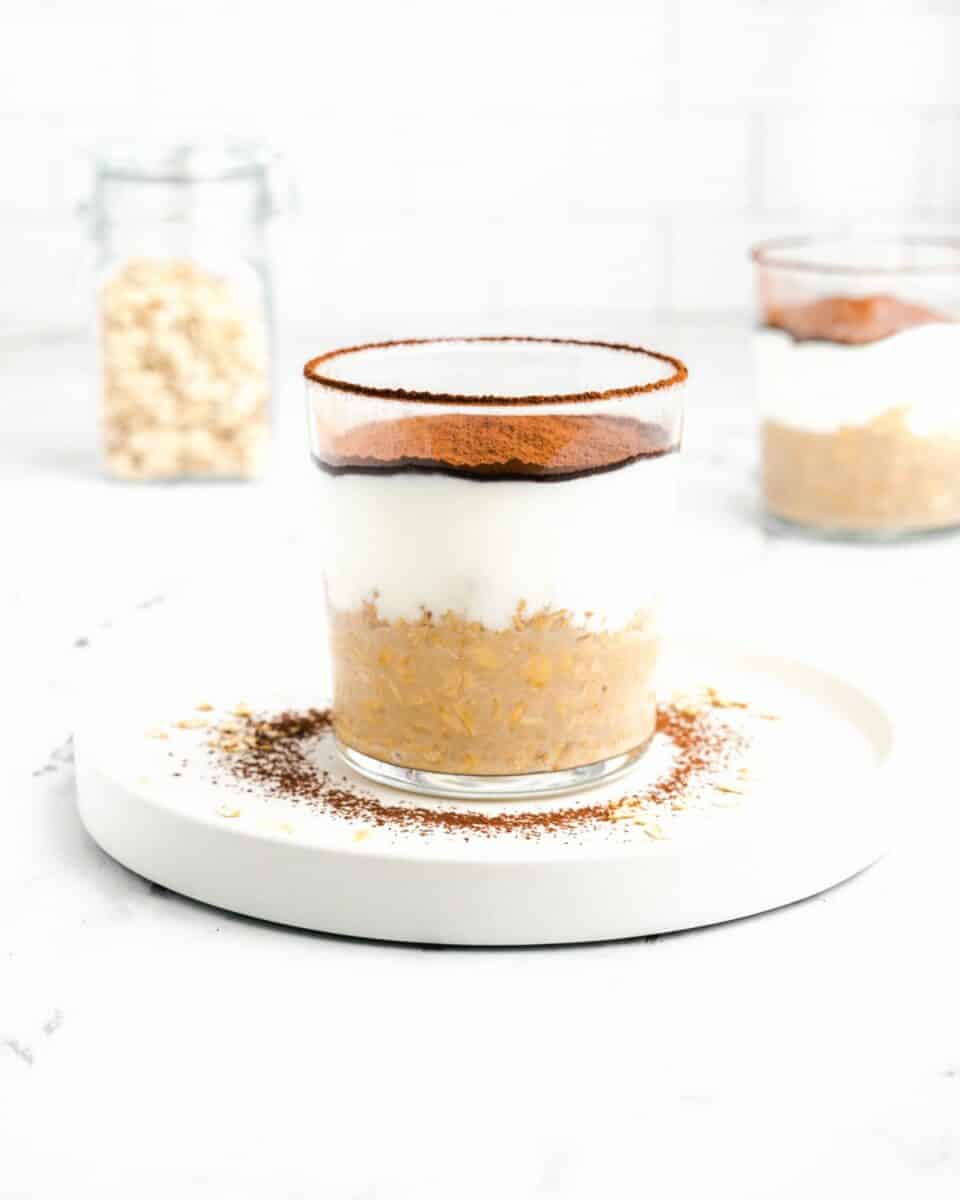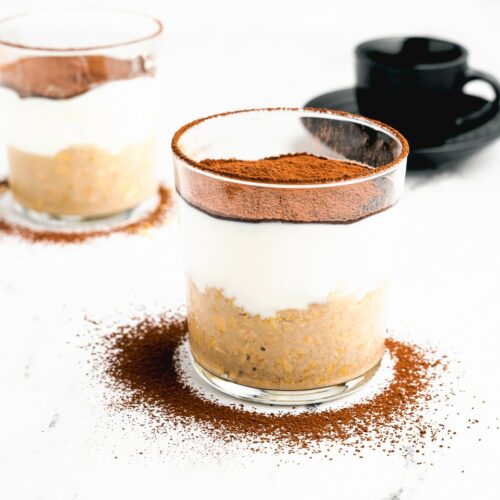 Tiramisu Overnight Oats
Tiramisu overnight oats are the perfect breakfast to have prepped in the fridge for busy mornings. Packed with protein and fiber, sweet espresso oatmeal is topped with creamy yogurt and chocolatey cocoa powder. For a dish as fancy as Tiramisu, these effortless healthy oats pack the same flavors while your refrigerator does all the work.
Ingredients
2 ½

tbsp

cocoa powder

4

tbsp

honey

1 ½

cups

rolled oats

(not instant)

1

cup

2% or whole milk

1

pinch

table salt

¾

cup

or 6 oz espresso

8

oz

low fat or whole milk yogurt
Instructions
Stir together 1 ½ cups rolled oats, a pinch of table salt, ¾ cup espresso, 4 tablespoons honey, ½ tablespoon cocoa, and 1 cup milk in a bowl. Cover and refrigerate overnight, or for at least 4 hours.

Remove the oats from the fridge and stir.

Put half of the oats in the bottom of a glass or bowl.

Dust with 1 tablespoon cocoa powder.
Nutrition
Calories:
358
kcal
Carbohydrates:
72.11
g
Protein:
8.24
g
Fat:
8.24
g
Saturated Fat:
4.32
g
Fiber:
6.8
g
Sugar:
49.18
g
Here are a few other recipes you might enjoy!
Arielle is a food and drink photographer based in Washington, D.C. She was previously a social science researcher before she fell in love with photography.