Fruity, flavored-pack overnight oats with frozen fruit is probably the easiest nutrient-packed breakfast you could make. This recipe includes dreamy creamy overnight oats mixed with your favorite fruit straight from your freezer.
This is a delectable breakfast to start your day. The oats soak up not just the milk but also the juices from your favorite frozen fruit defrosting.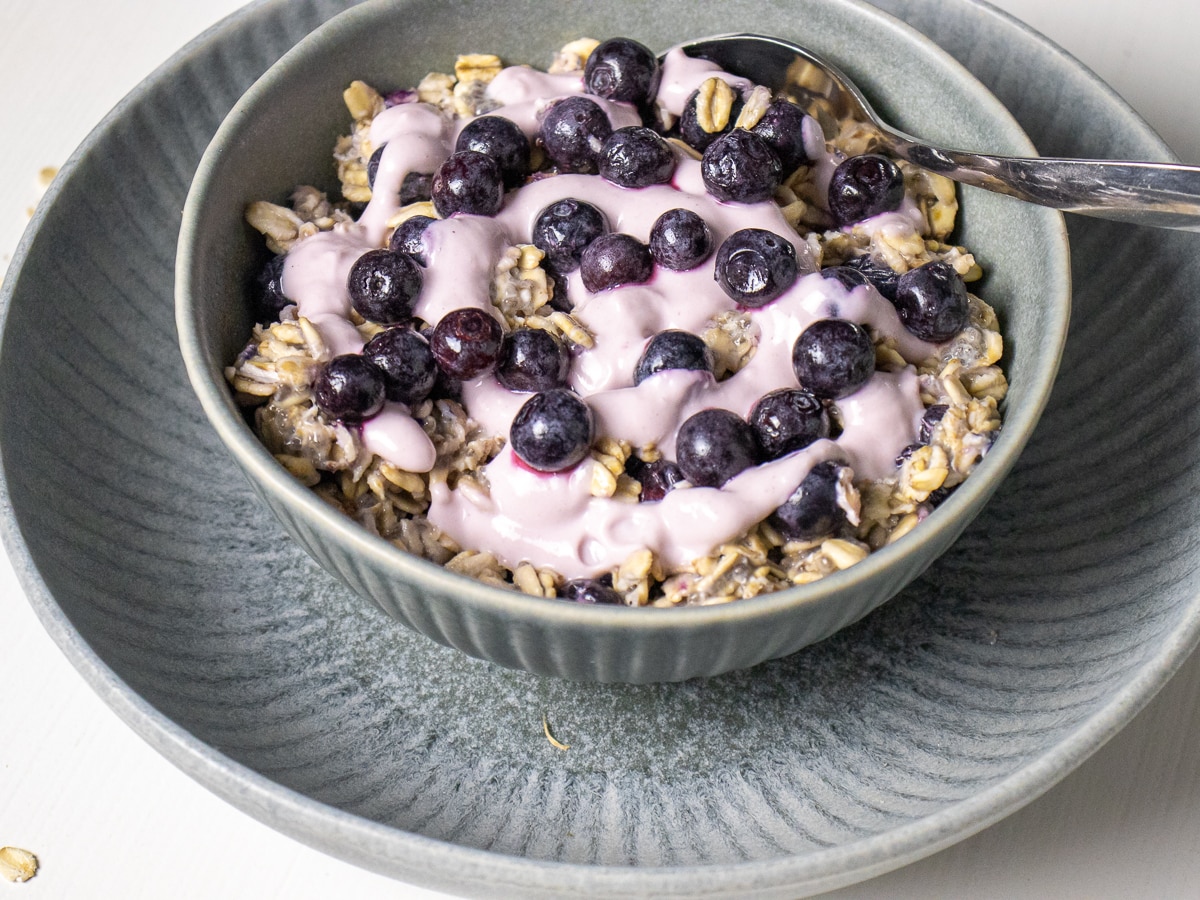 Looking for more overnight oats recipes? Here are other recipes you might enjoy: Tiramisu Overnight Oats, Overnight Oats With Coconut Milk, Cinnamon Overnight Oats, and Overnight Oats Without Milk.
Why You'll Love This Recipe
Versatility: This easy overnight oats recipe accommodates your personal taste. You can use different flavors of frozen fruits, protein powder, or even switch the oats to steel cut oats or old-fashioned oats for variety.
Quick preparation: The beauty of this recipe is that it's a perfect make-ahead breakfast for busy mornings. All it takes is a handful of ingredients and a few minutes on a Sunday night, and you've got breakfast ready for the whole work week.
Nutrient-packed: With fiber-rich oats, nutrient-dense frozen berries, and an option to add more superfoods like chia seeds, this is a healthy breakfast recipe you can feel good about.
Recipe Ingredients
You'll need the following ingredients to make these frozen fruit overnight oats: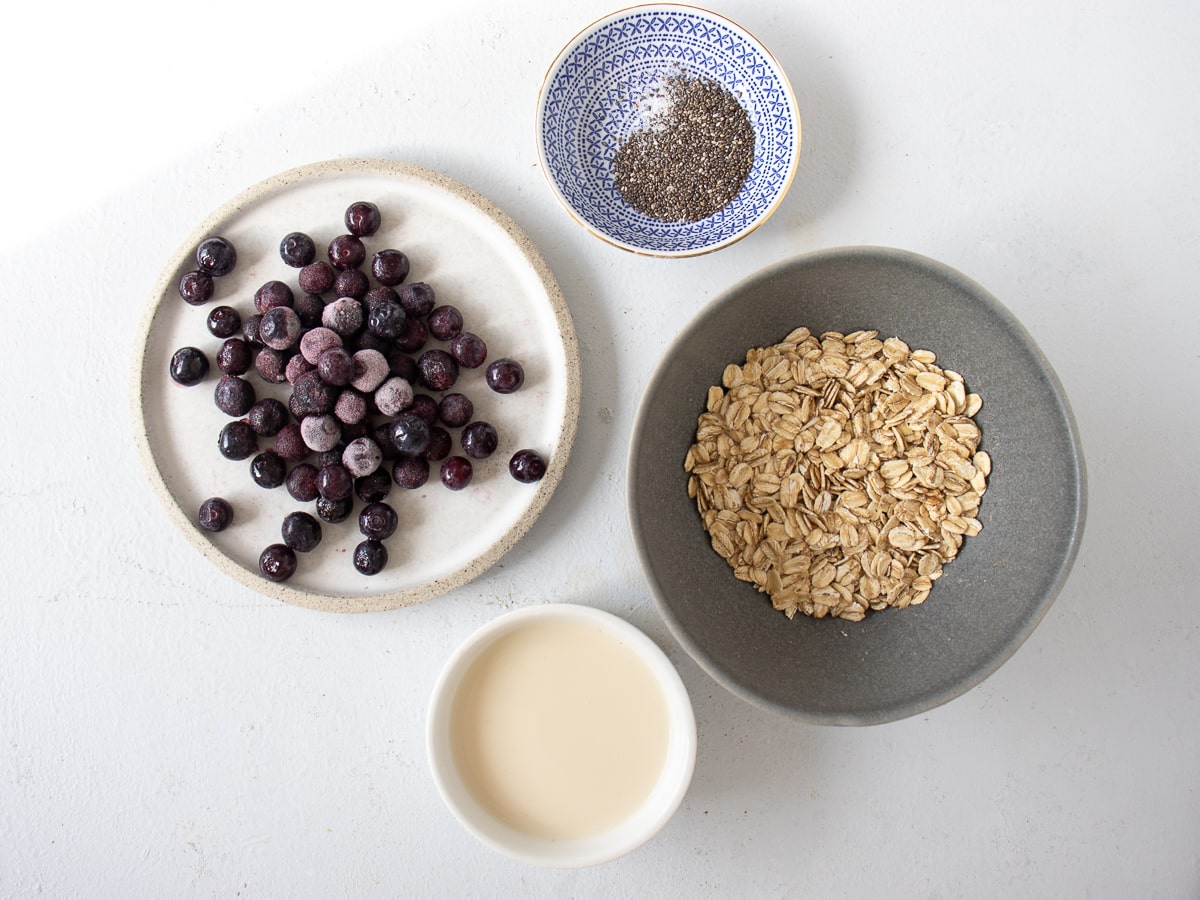 Ingredient Notes
Oats: Rolled oats are used in this recipe, but feel free to swap for instant oats, steel cut oats or old-fashioned oats based on your preference. Remember that steel cut oats will give a chewier texture while old-fashioned oats and instant oats will give a more creamy oatmeal consistency.
Milk: While the original recipe uses dairy milk, any milk of choice works great here. Oat milk, almond milk, soy milk, coconut milk, cashew milk, and whole milk all make deliciously creamy oats. Even vanilla almond milk could add a nice flavor twist!
Frozen Fruit: Any frozen fruit works in this fruit recipe. Just ensure the fruits are bite-sized for the best results. Also, adding a squeeze of lemon juice can enhance the natural sweetness of the fruit.
Chia Seeds: A teaspoon of chia seeds not only makes your oats extra thick but also adds a good dose of healthy fats and fiber.
Yogurt: Top your overnight oatmeal with your favorite yogurt. Plain Greek yogurt, vegan yogurt or plant-based yogurt are all good choices.
How To Make Overnight Oats With Frozen Fruit
In a bowl or container, add oats, chia seeds, and salt.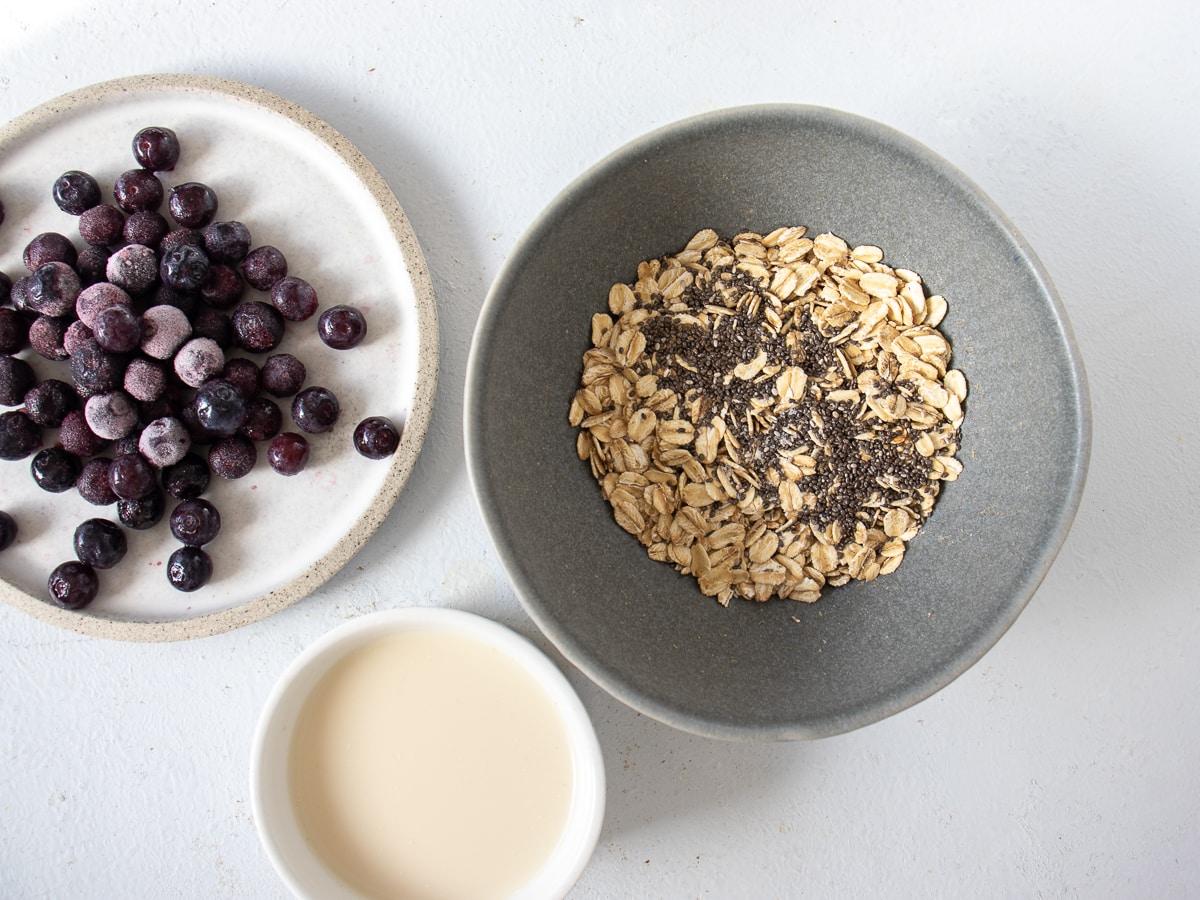 Stir together the dry ingredients and make sure everything is evenly combined. Pour milk or plant-based milk into the dry ingredients and mix together.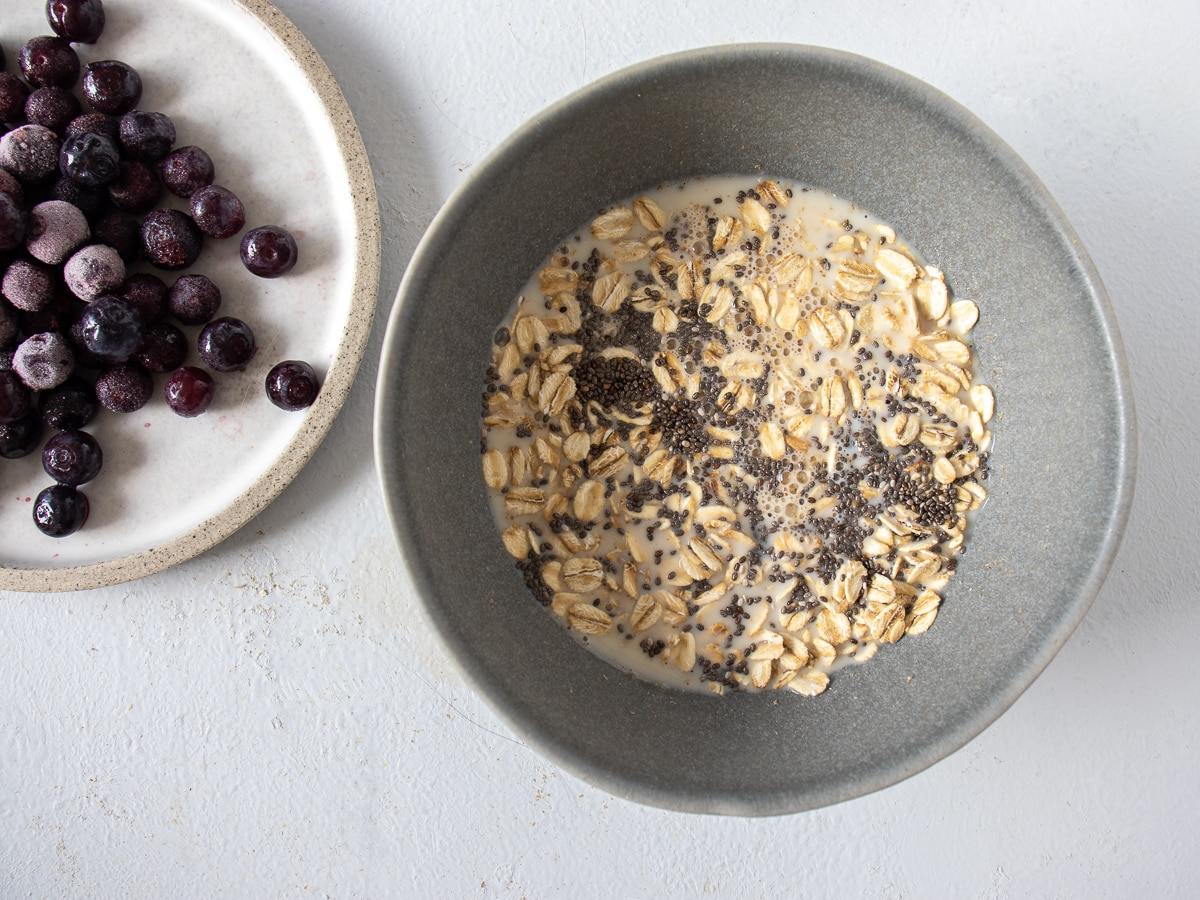 Next, it's time to add your frozen fruit of choice. I used frozen blueberries, but use whatever ready-to-eat fruit you prefer.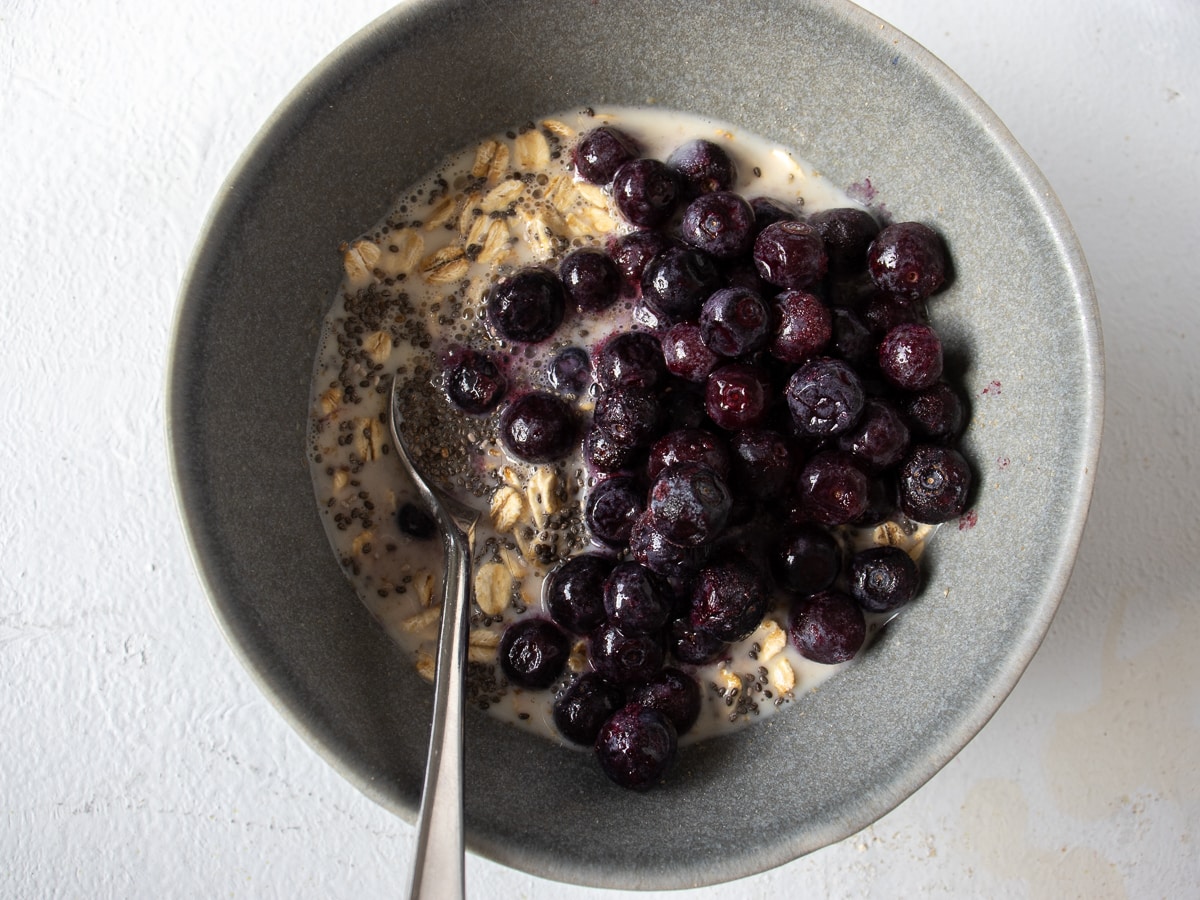 Lastly, give your oats one last stir.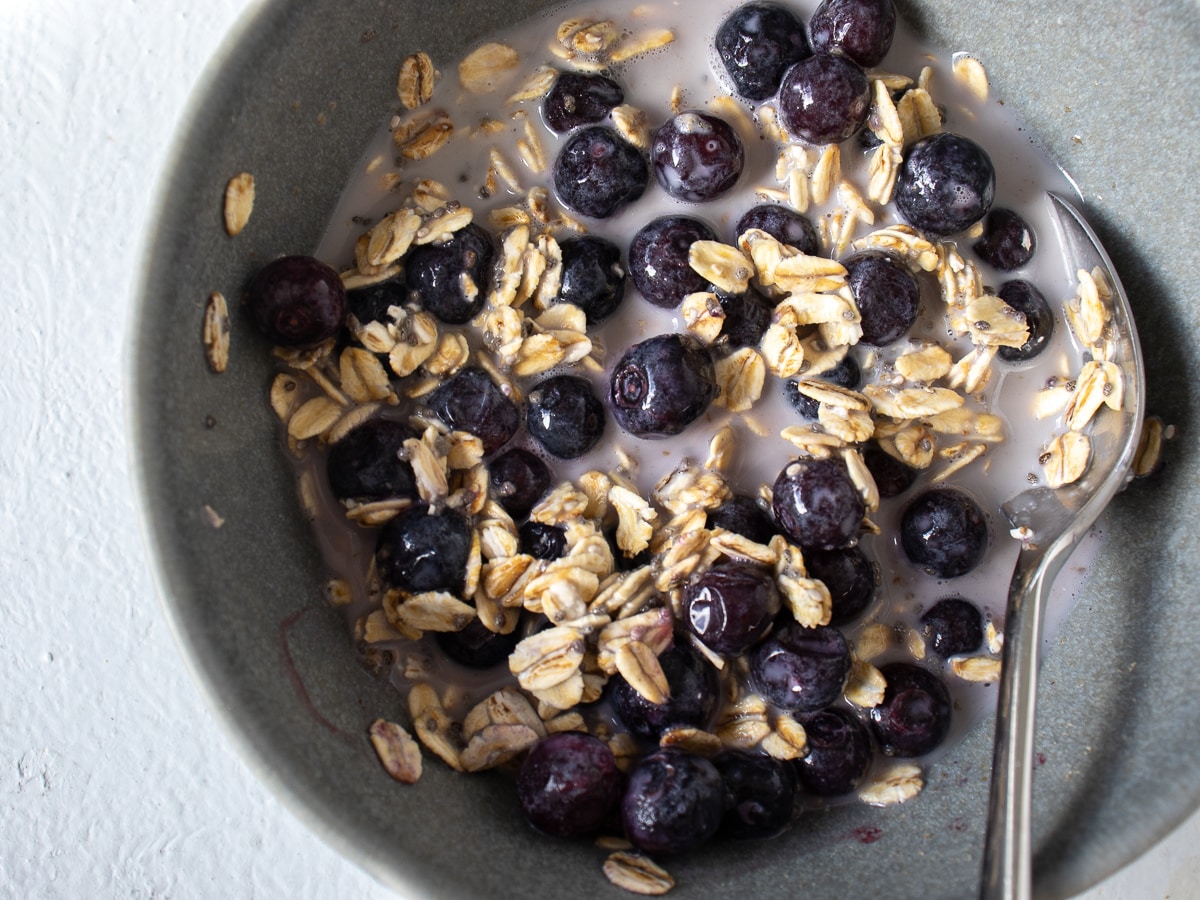 Cover and place in your refrigerator overnight. Serve with your favorite yogurt topping and more fruit. Enjoy!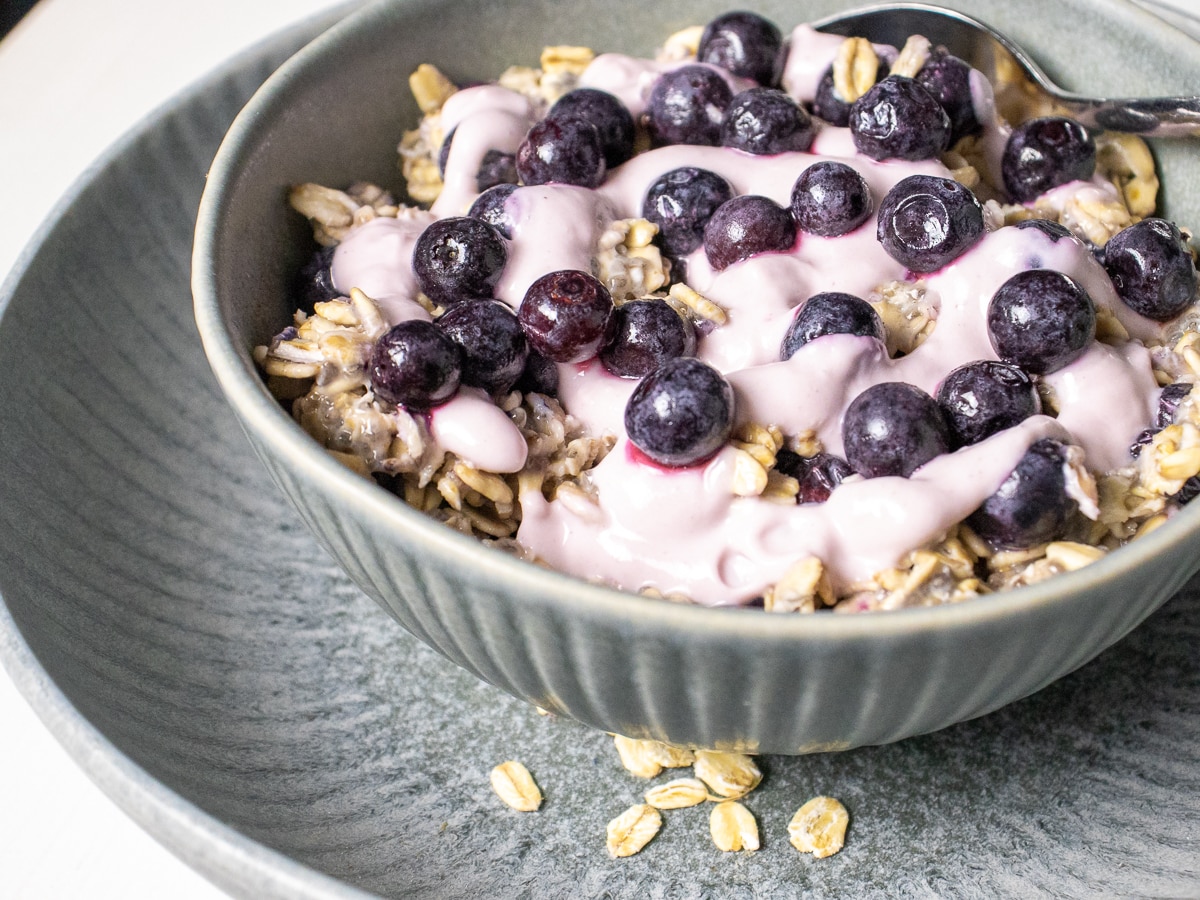 Recipe Tips
For a nutritious breakfast that's ready the next morning, prepare your overnight oats in a glass jar or mason jar the night before. Make sure to give the oat mixture a good stir before refrigerating.
Using a mix of fresh and frozen fruit will give your oats different textures and flavors. Fresh berries in the morning add a nice burst of flavor and brightness.
A little maple syrup or agave syrup can be added for extra sweetness. But remember, the fruit will give the oats a delicious taste and natural sweetness as it defrosts.
Storage & Reheating
Store your overnight oats in an airtight container in the refrigerator. They should stay fresh for 2-3 days. If you have made a big batch, separate the oats into individual servings in mason jars for easy grab-and-go breakfasts throughout the week. These oats can be enjoyed cold, or if you prefer them warm, just pop them in the microwave for a minute or two.
Additions & Substitutions
Feel free to experiment with different ingredients to switch up the flavor of your overnight oats. Nut or seed butter, like almond butter or peanut butter, can be stirred into the oats for added protein and healthy fats. You can also add protein powder, hemp seeds, or flax seeds for extra nutrition. To change the flavor, consider adding a dash of vanilla extract or replacing some of the milk with coconut milk for a tropical twist.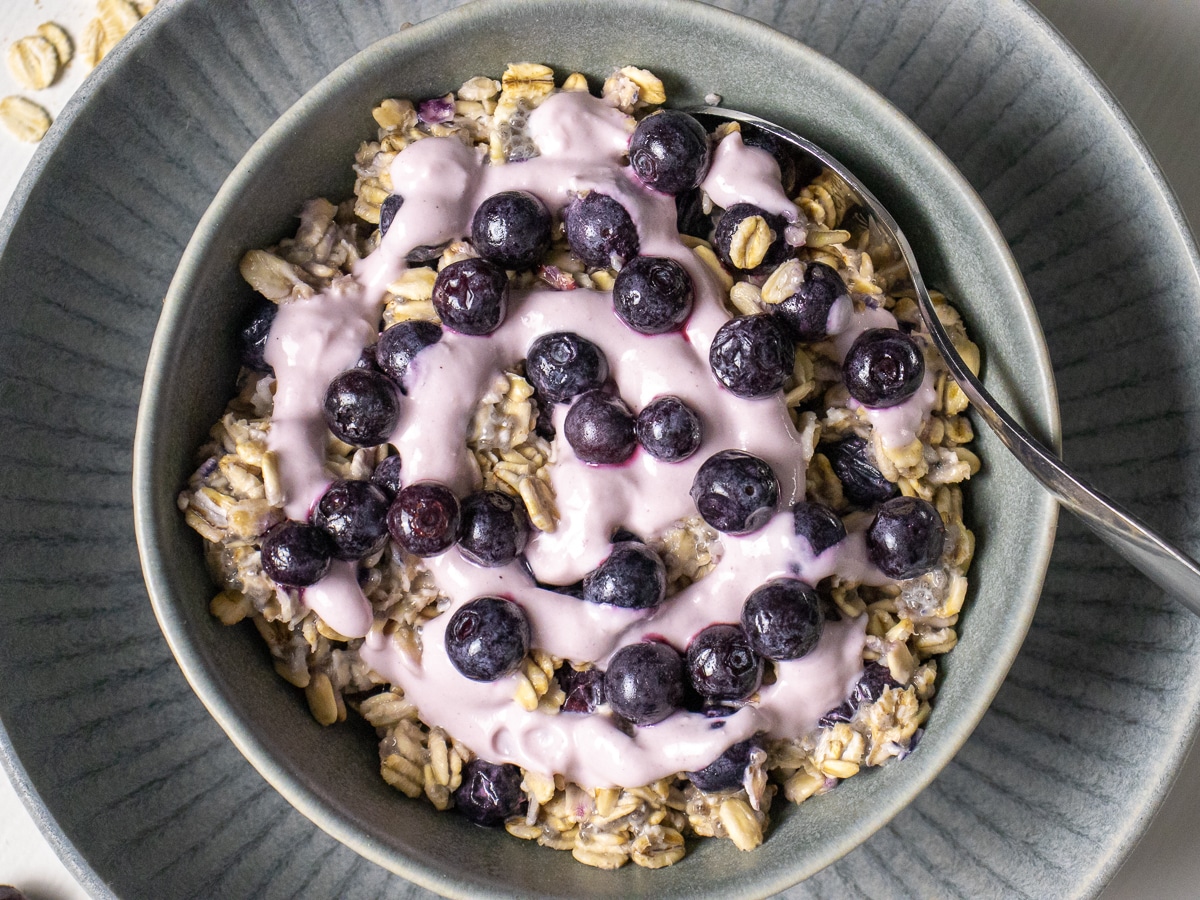 Recipe FAQs
What should I serve with this frozen fruit overnight oats recipe?
These overnight oats make a complete, balanced meal on their own, but for extra indulgence, serve it with a side of fresh fruit or a smoothie. You can also pair it with a hard-boiled egg or nuts for added protein. Remember, the best way to start your day is with a balanced and nutritious breakfast, and this overnight oats recipe with frozen fruit is a great recipe to start your busy week off right!
What fruit can I use in this overnight oats recipe?
Any frozen fruit that you like! I suggest using frozen fruit that has been cut to at least bite-sized pieces. This will allow them to thaw more easily in your refrigerator and make eating your overnight oats more enjoyable.
Why use frozen fruit with overnight oats?
This is a fabulous way of using up your frozen fruit in a delicious, vitamin-packed breakfast that is great for you. If you are like me and have a freezer full of fruit from summer, or just buy the fruit frozen at great prices, then this is the recipe for you.
---
Here are a few other oatmeal recipes you might enjoy!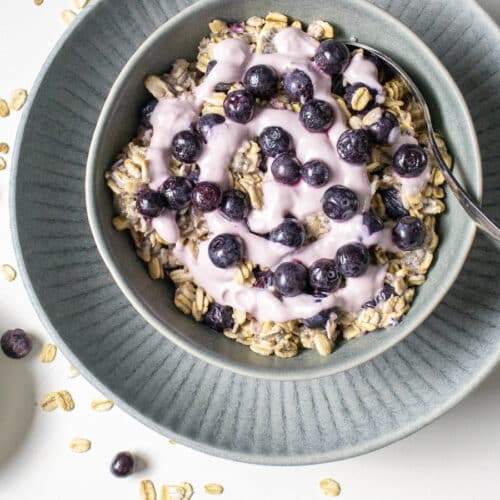 Overnight Oats With Frozen Fruit
Fresh, creamy overnight oats with frozen fruit will become your new favorite way to enjoy this rolled oats-based breakfast. Prepare the night before and then top with your most loved yogurt flavor and fruit.
Ingredients
½

cup

oats

½

cup

milk

⅓

cup

frozen fruit

1

tsp

chia seeds

pinch of salt

⅓

cup

yogurt of choice

for topping

¼

cup

fruit of choice

for topping
Instructions
In a bowl or container mix together the dry ingredients. Stir.

Pour milk into the dry ingredients and mix till combined.

Add frozen fruit of choice, stirring properly.

Cover and place in your refrigerator overnight.

Serve with your choice of yogurt and fruit. Enjoy!
Nutrition
Paige is a professional food photographer and recipe developer based out of both New Zealand and New York. Inspired by the wonderful meals she has eaten around the world, Paige loves to take a delicious friendly approach to cooking.