Regardless if you're looking for a healthy snack or an on-the-go breakfast solution, this quick, sweet, and refreshing blueberry strawberry smoothie is the perfect solution! This smoothie is so bright and sweet, after you make it once you'll find yourself wanting to make it all the time.
This is probably one of my favorite go-to smoothies. This blueberry strawberry smoothie recipe is so healthy and so delicious, you'll feel like you're cheating!
Another fun time to serve these is for July 4th. Independence Day smoothies, anyone? You could top it with coconut shreds so the it's a true red, white and blue smoothie.
Blueberries and strawberries are both rich in age-fighting antioxidants. This coupled with high protein Greek yogurt and optional chia seeds make for the most nutritious solution for your morning pick-me-up.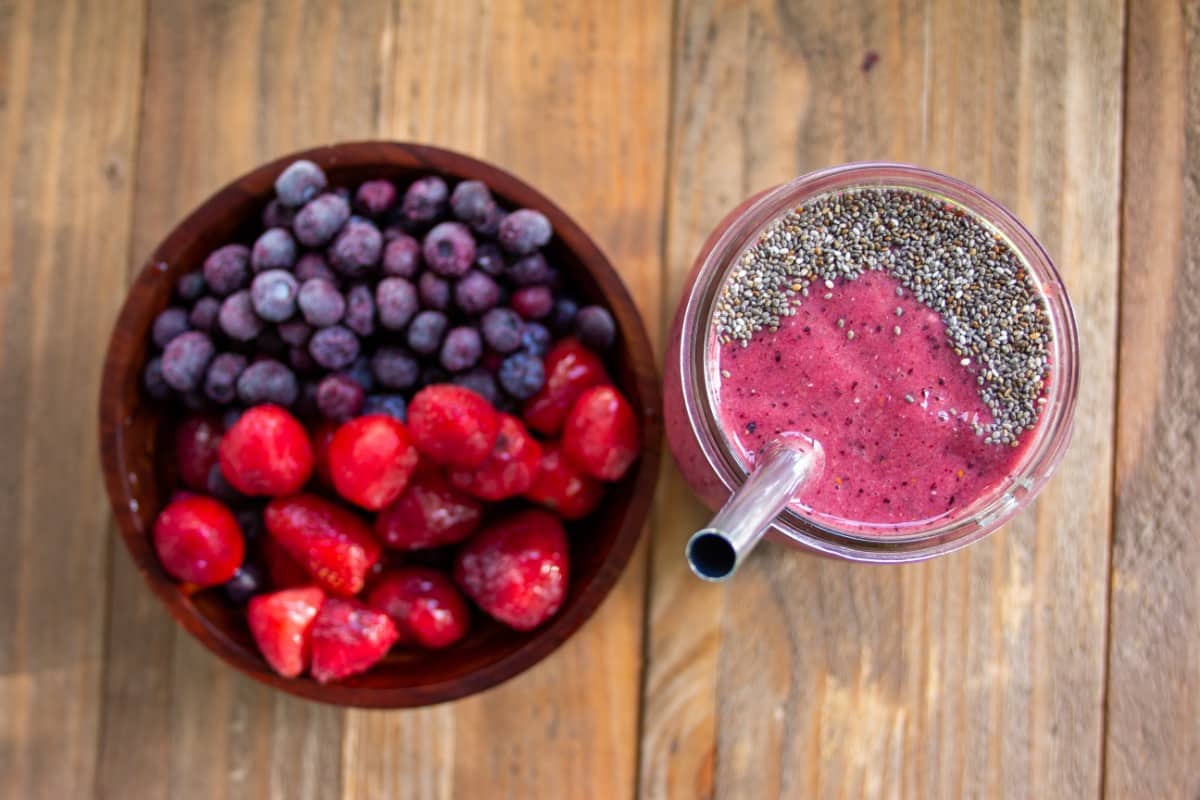 I always recommend buying frozen over fresh berries. You get your money's worth, you don't have to worry about them going bad, and frozen fruit is typically flash-frozen at optimal ripeness.
That being said, fresh berries will work wonderfully as well. Fresh berries should be vibrant in color with no mushy or moldy berries.
For greek yogurt, I usually opt for plain nonfat yogurt, but any flavor you enjoy will work just fine. You can also swap it for a non-dairy yogurt as well for a vegan alternative.
What You Need to Make this Blueberry Strawberry Smoothie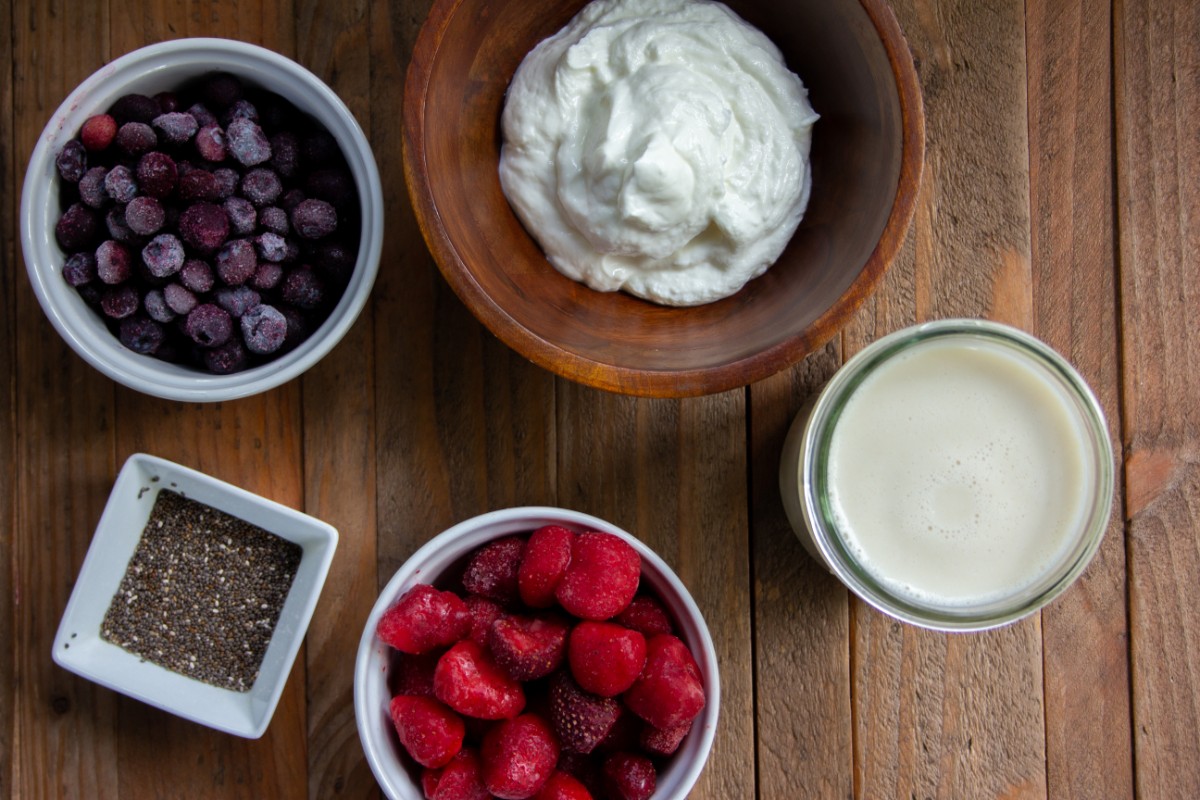 There are 5 ingredients required for this smoothie recipe, with 1 of them being optional. I like to add 2 tablespoons of chia seeds to this smoothie to increase the antioxidant and omega-3 fatty acid content.
You can also swap this for a scoop of your favorite protein powder, or hemp seeds, or omit this step altogether.
For the liquid, I chose oat milk because it adds a nice creamy texture, but water or another type of milk will work great. If you want to make it a zesty summer drink, try orange juice!
Ingredients:
Blueberries
Strawberries
Greek yogurt
Liquid of choice: water, milk, non-dairy milk, or orange juice
Chia seeds (optional)
I've gone ahead and listed some other optional ingredients you can incorporate into this recipe if you want to switch it up. If using additional liquid or yogurt, reduce the liquid in the recipe by the same proportion:
Alternative Ingredients:
½ cup coconut milk
3 tablespoons nut butter
2 tablespoons cocoa
2 tablespoons honey or maple syrup
2-3 leaves of kale
How To Make a Blueberry Strawberry Smoothie
First, combine all ingredients into a blender, reserving ½ of a cup of your liquid. Next, blend while adding more liquid as necessary until you have reached your desired consistency.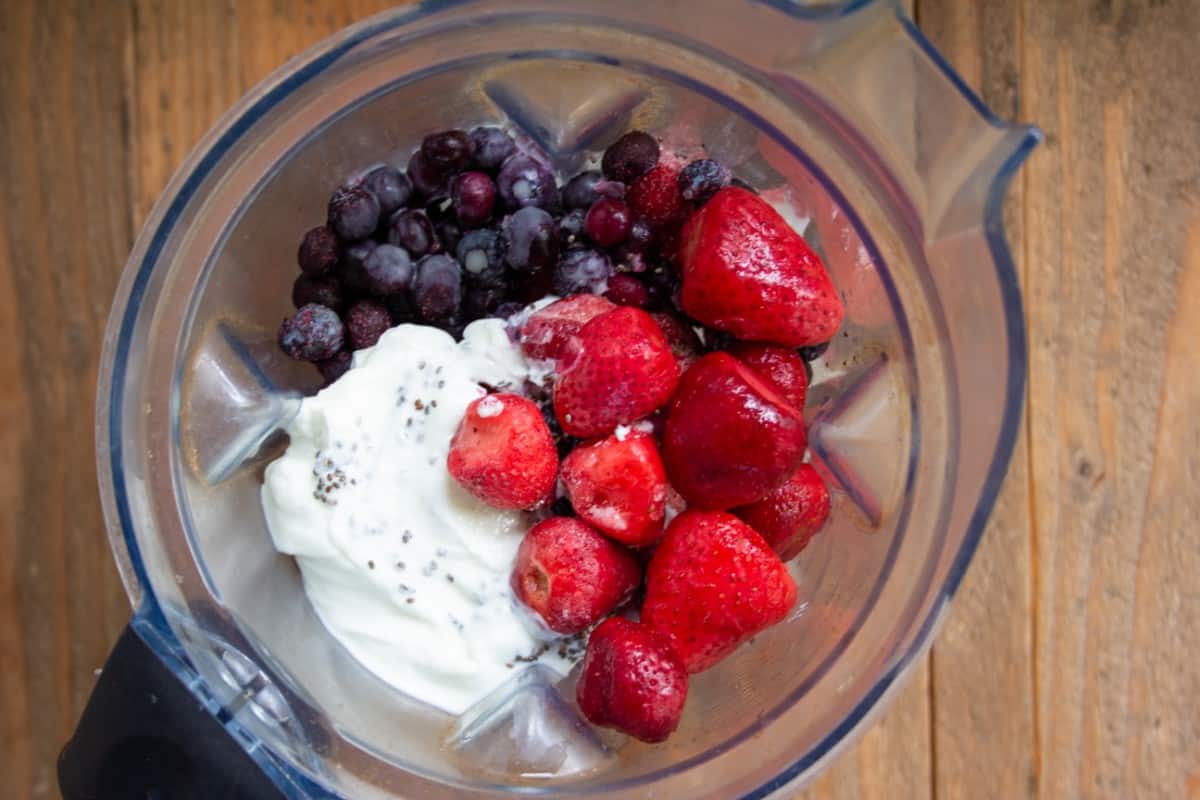 Then, pour your completed and delicious smoothie into your desired container and serve!
That's it! In less than 5 minutes you can have this refreshing, delicious, ridiculously healthy smoothie. It will take you longer to clean the blender than it did to make the smoothie!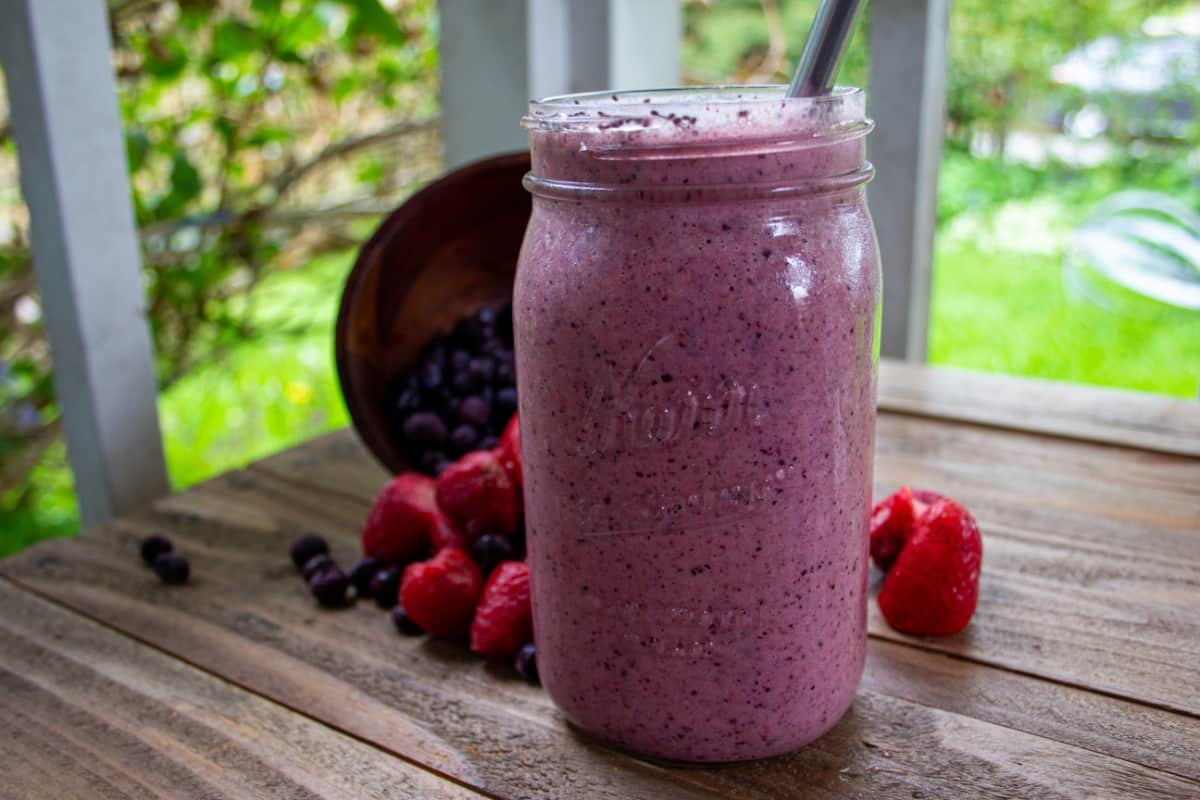 What are the benefits of a strawberry and blueberry smoothie?
There are endless benefits of a strawberry and blueberry smoothie! Both berries are rich in age and cancer-fighting antioxidants, as well as soluble fiber, potassium, calcium, and plenty more essential nutrients.
Do blueberries and strawberries go well together?
Totally! They complement each other very well, especially in a smoothie. If you're not a fan of either blueberries or strawberries, then I recommend trading them out for another berry, like raspberry or blackberry. They will all complement each other wonderfully.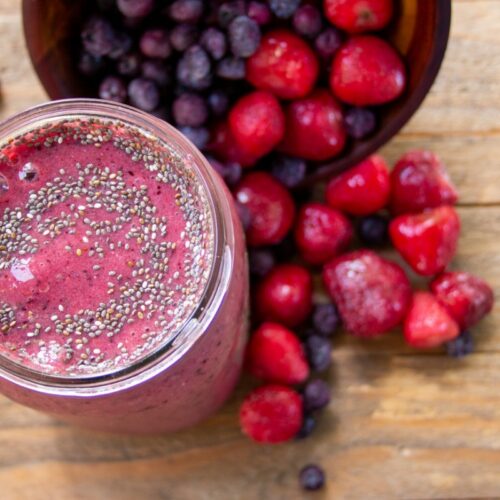 Blueberry Strawberry Smoothie
This blueberry strawberry smoothie recipe is light, refreshing, delicious and super quick to make. In less than 5 minutes you can have a healthy smoothie that's perfect for your pre-workout, your breakfast, or just as a healthy snack.
Ingredients
½

cup

frozen blueberries

½

cup

frozen strawberries

¼

cup

greek yogurt

1 ½

cup

dairy or nondairy milk

2

tbsp

chia seeds

(optional)
Instructions
Combine all ingredients in a blender, reserving ½ cup of liquid.

Blend until desired consistency, adding more liquid as necessary.

Pour into your desired container and serve.
Nutrition
Calories:
345
kcal
Carbohydrates:
40
g
Protein:
17
g
Fat:
2.5
g
Fiber:
6
g
Here are a few other recipes you might enjoy!
Olivia has been in love with all things food and libations for nearly a decade. When she's not cooking up new recipes, she enjoys bikepacking, wine tasting, crocheting, and traveling in her camper van up and down the Pacific Northwest.