This passionfruit smoothie is a tropical vacation in a glass! It's bright and tart and works wonderfully with the help of mango and banana. This delicious smoothie is sweet and packed with flavor.
I chose to pair this passionfruit smoothie with mango and banana because I believe the combination of these three make for the perfect tropical beverage. This smoothie is rich in vitamins, super hydrating, and even given a protein boost with the addition of chia seeds.
I love making this smoothie for my friends. It's so refreshing, just like summertime in a glass. The best part about this recipe is that you don't have to wait for passionfruit season. By using frozen passionfruit, you can have this beautiful smoothie year-round!
What You Need to Make This Passionfruit Smoothie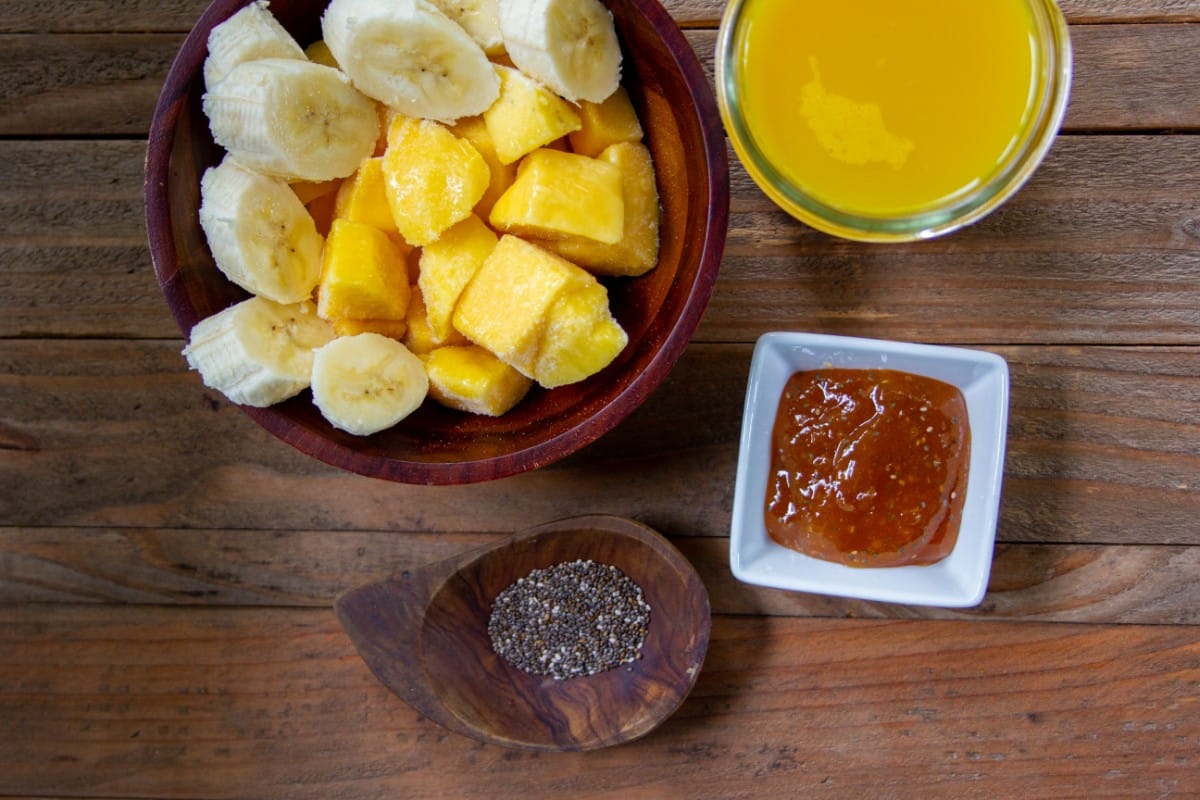 With only 5 ingredients required, this smoothie can be made and enjoyed in minutes. The ingredients are all easy to get at your local grocery store, and this recipe is 100% vegan.
Fresh passionfruit can be a challenging ingredient to locate, that's why I've adapted the recipe to use either fresh passionfruit, frozen pureed packets, or passionfruit juice. No matter what form you get your passionfruit, it will taste heavenly in this smoothie.
As for the mango, I recommend buying frozen because it's often more cost-effective and convenient than using fresh. That being said, if you want to use fresh mango, that will work wonderfully as well.
For the banana, I went with fresh, but frozen will work well too. I chose to keep up with the tropical theme and use orange juice to make this smoothie, but you can easily use milk, non-dairy milk, or water instead.
The chia seeds in this smoothie are totally optional, but I appreciate the extra protein and omega-3 boost they provide. This ingredient can also be swapped out for hemp hearts or flax seeds.
Ingredients:
Passionfruit
Banana
Mango
Liquid of choice (water, dairy milk, nondairy milk, or orange juice)
Chia seeds (optional)
Optional Ingredients:
I've gone ahead and listed some other optional ingredients you can incorporate into this recipe if you want to switch it up. If using additional liquid or yogurt, reduce the liquid in the recipe by the same proportion:
½ cup coconut milk
¼- ½ of an avocado
1 inch peeled ginger or 1 teaspoon ginger powder
1 tablespoon honey
1 scoop protein powder
2 tablespoons hemp seeds
½ cup greek yogurt
How To Make This Passionfruit Smoothie
First, combine all ingredients into a blender, reserving ½ of a cup of liquid. Next, blend while adding more liquid as necessary until you have reached your desired consistency.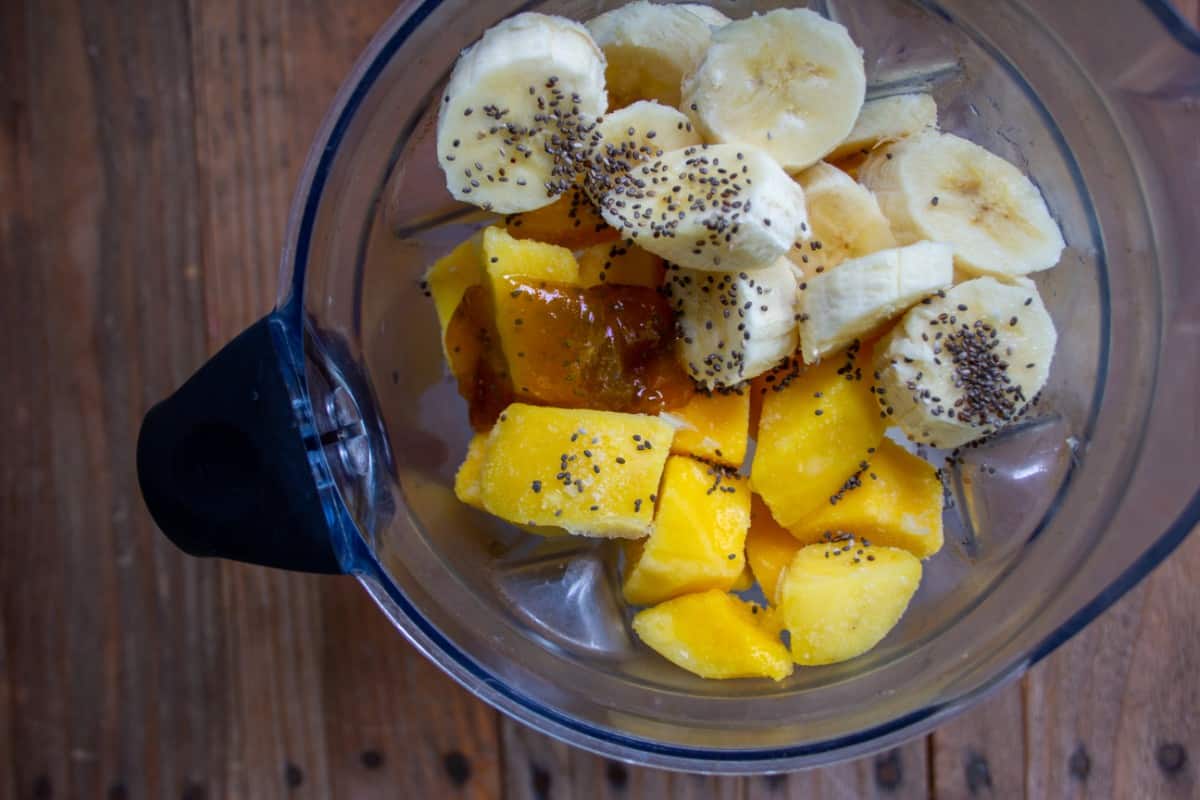 Then, pour your completed and delicious smoothie into your desired container and serve!
That's it! In just a couple of minutes, you can be enjoying this tropical smoothie. Regardless if you're in school, at work, or running errands, this smoothie will give you the boost you need.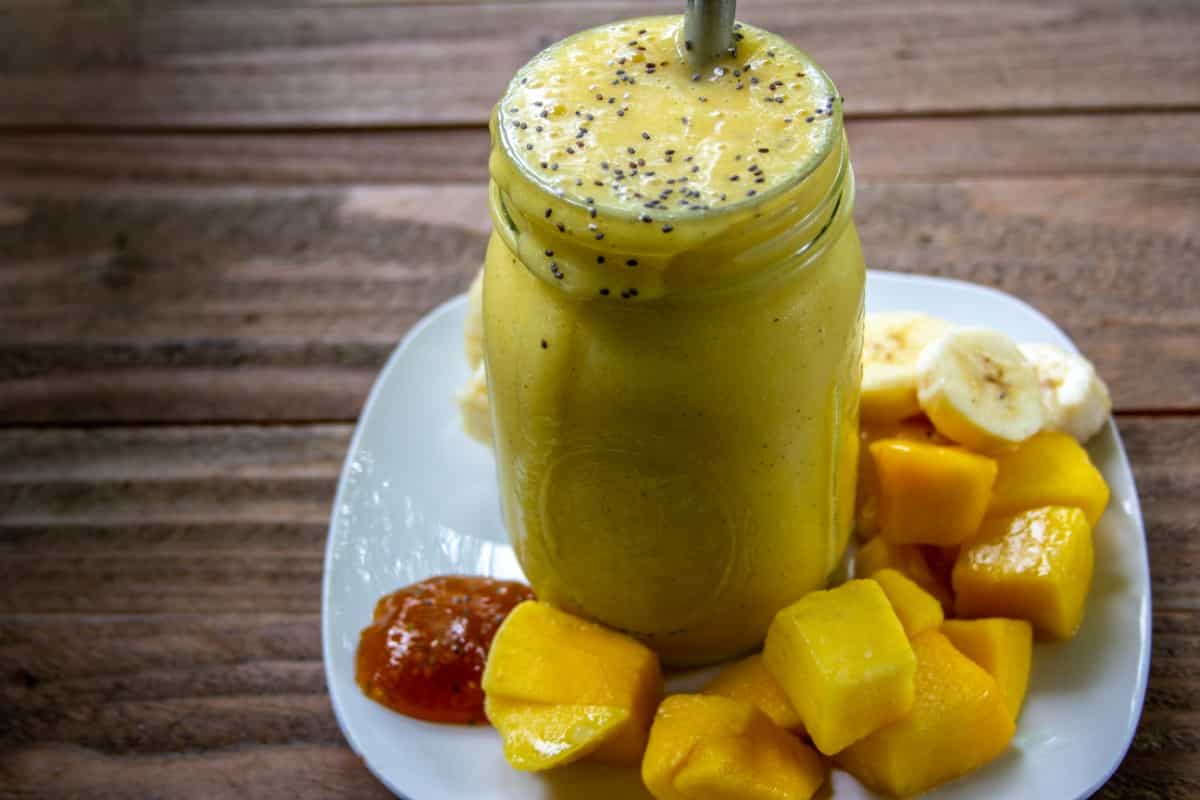 Is passionfruit good for smoothies?
Passionfruit is great for smoothies. It's delicate and sweet, and works great as the main character to a smoothie or as a complement to any smoothie that you add it to. Passionfruit also happens to be loaded with vitamin A, potassium, and magnesium, among other essential nutrients.
What goes well with passionfruit in a smoothie?
All kinds of fruits blend wonderfully with passionfruit in a smoothie. Here are just a couple of my favorite complementary fruits and veggies to blend with passionfruit:
Mango
Pineapple
Banana
Strawberries
Papaya
Raspberries
Carrot juice
Kale
Spinach
Can you mix milk and passionfruit?
Sure! You can easily blend passionfruit with milk to make a sweet and creamy milkshake for kids, or you can add milk to any smoothie recipe that has passionfruit in it. You can also blend passionfruit with any non-dairy milk, like oat or almond milk, or lactose-free milk.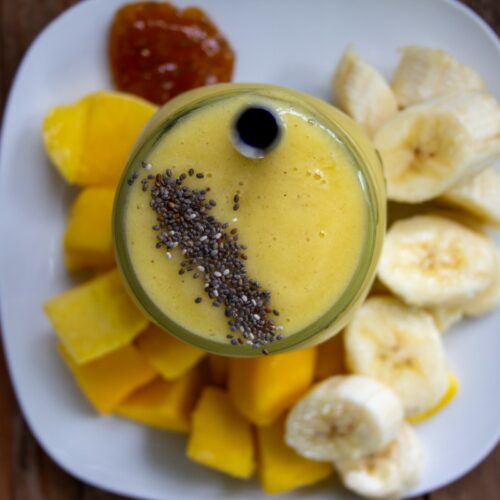 Passionfruit Smoothie
This passionfruit smoothie is sweet, creamy, and refreshing. It's pure tropical bliss with a healthy dose of vitamins and minerals, not to mention protein and omega-3s from the chia seeds. As soon as you give this smoothie a taste, you'll be craving it again.
Ingredients
pulp of 2 passionfruits

(or 1 package frozen passionfruit puree, or ¾ cup passionfruit juice - if using juice then reduce the rest of the liquid by the same proportion)

½

cup

mango

1

medium banana

1 ½

cups

liquid of choice

(dairy milk, non-dairy milk, orange juice, or water)

2

tbsp

chia seeds

(optional)
Instructions
Combine all ingredients in a blender, reserving ½ cup of liquid.

Blend until desired consistency, adding more liquid as necessary.

Pour into your desired container and serve.
Nutrition
Calories:
360
kcal
Carbohydrates:
70
g
Protein:
7
g
Fat:
4
g
Sodium:
17
mg
Potassium:
145
mg
Fiber:
4
g
Here are a few other recipes you might enjoy!
Olivia has been in love with all things food and libations for nearly a decade. When she's not cooking up new recipes, she enjoys bikepacking, wine tasting, crocheting, and traveling in her camper van up and down the Pacific Northwest.