This smooth, rich, fruity and chocolatey acai smoothie recipe is sure to impress anyone you make it for! This smoothie is super filling and nutrient dense, making it the perfect on-the-go breakfast, or dare I say, the perfect smoothie bowl!
Acai berries have gained a ton of attention in the last few years, and rightfully so. They're super high in age and cancer-fighting antioxidants, not to mention packed with flavor and surprisingly low in sugar.
I chose to pair this acai smoothie with cacao because I think these flavors complement each other really well. I added banana and strawberry as well to brighten up the smoothie and make it even more refreshing.
Want to learn how I turned this delicious acai smoothie into an even better smoothie bowl? Check out this article, How to Thicken a Smoothie, where I explain how to easily turn this smoothie—or any smoothie for that matter—into the perfect smoothie bowl.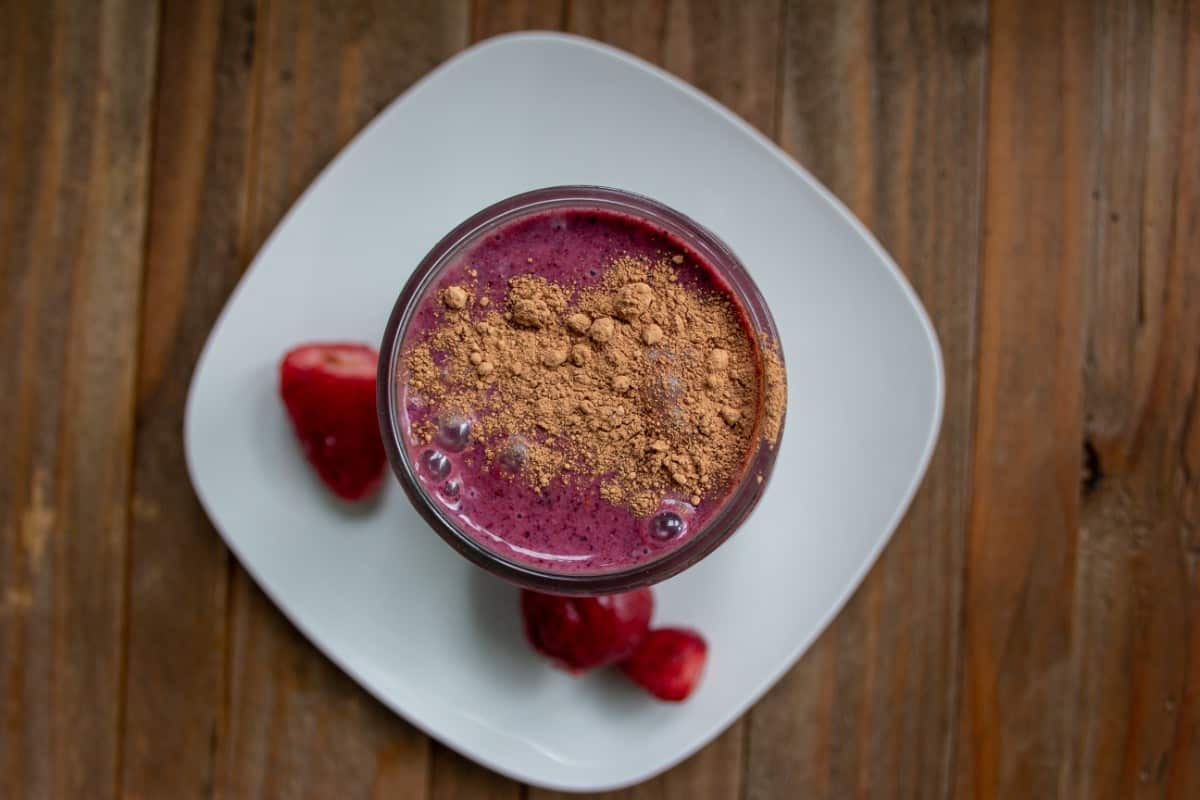 Acai berries come from a species of palm tree and are typically found in pureed packets in the frozen fruit aisle. I find one packet satisfies this recipe, but for a smoothie bowl or a thickened smoothie, you might want to use 2 packets.
Alternatively, you can use powdered acai. I recommend approximately 1 tablespoon per packet of acai.
For chocolate, I suggest using 2 tablespoons of cacao powder. If you're not familiar, cacao is simply an unprocessed version of cocoa and therefore has a richer flavor profile and greater nutrient density.
Because unprocessed cacao can be a bit better, I would recommend adding 2 tablespoons of agave nectar or honey to sweeten the smoothie, but you can use more if desired.
What You Need to Make an Acai Smoothie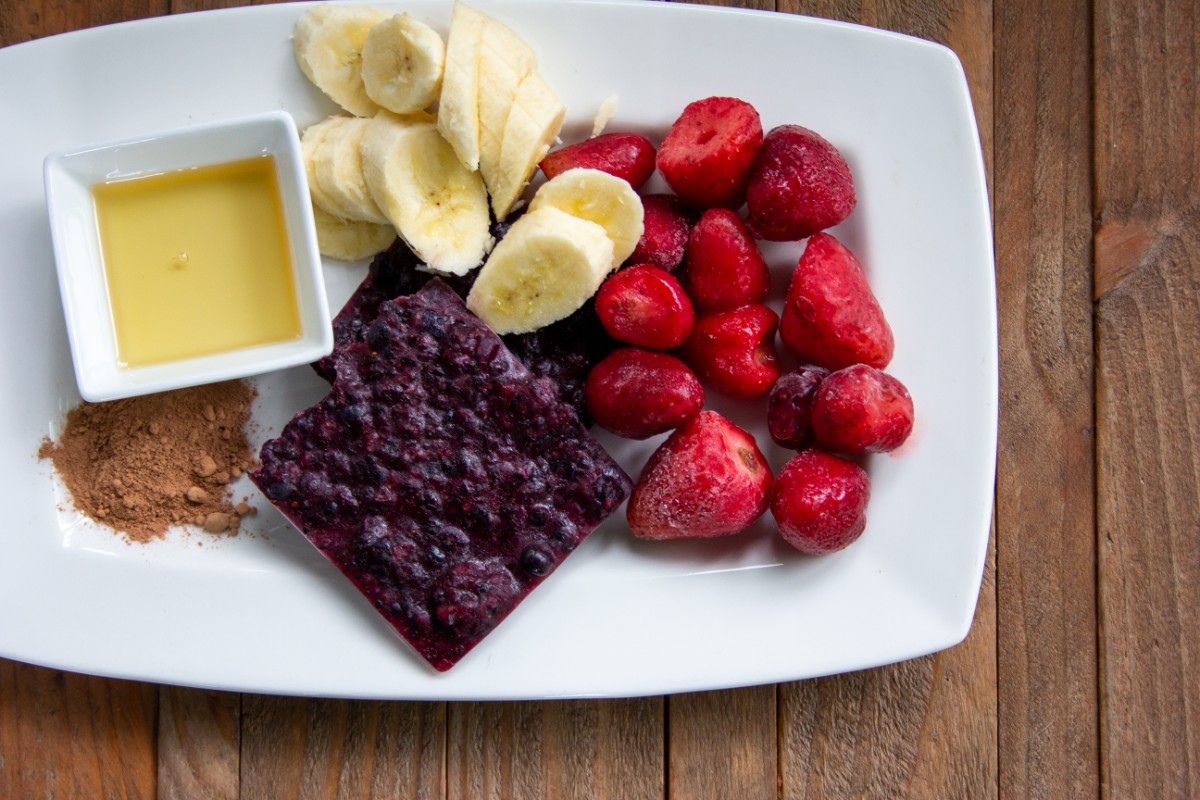 With only 6 ingredients required, this smoothie can be made and enjoyed in minutes. Your acai packets can be pureed frozen, no need to thaw! I also recommend frozen strawberries, but fresh will work great as well.
If you don't have access to cacao, cocoa will work, but you might want to use more cocoa powder as isn't quite as rich as raw, unprocessed cacao.
For liquid, I'm using oat milk, but any dairy or non-dairy milk will do, as will water. For your bananas, ripe is always best—just avoid overly mushy bananas.
Ingredients:
Acai
Banana
Strawberries
Cacao
Agave nectar
Liquid of choice: milk, non-dairy milk, or water
Alternative Ingredients:
I've gone ahead and listed some other optional ingredients you can incorporate into this recipe if you want to switch it up. If using additional liquid or yogurt, reduce the liquid in the recipe by the same proportion:
Swap strawberries for any berry of your choice (I really like making this recipe with blackberries!)
½ cup coconut milk
3 tablespoons nut butter
½ cup greek yogurt
1 scoop chocolate protein powder
¼ – ½ of an avocado
2 tablespoons chia seeds or hemp seeds
2-3 leaves of kale
How To Make this Acai Smoothie Recipe
First, combine all ingredients into a blender, reserving ½ of a cup of liquid. Next, blend while adding more liquid as necessary until you have reached your desired consistency.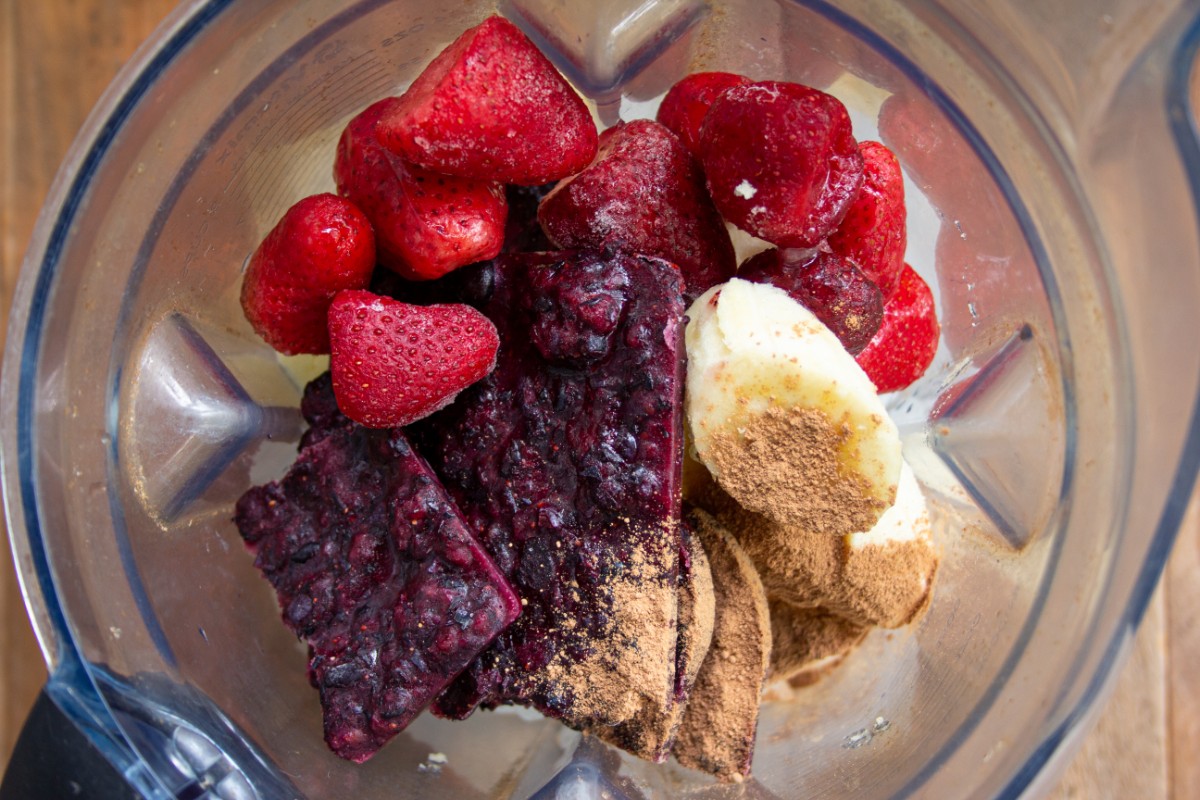 Then, pour your completed and delicious smoothie into your desired container and serve!
That's it! In just a couple of minutes you'll be indulging in this decadent smoothie. By the time you're done, you'll forget you just had a ridiculously healthy snack!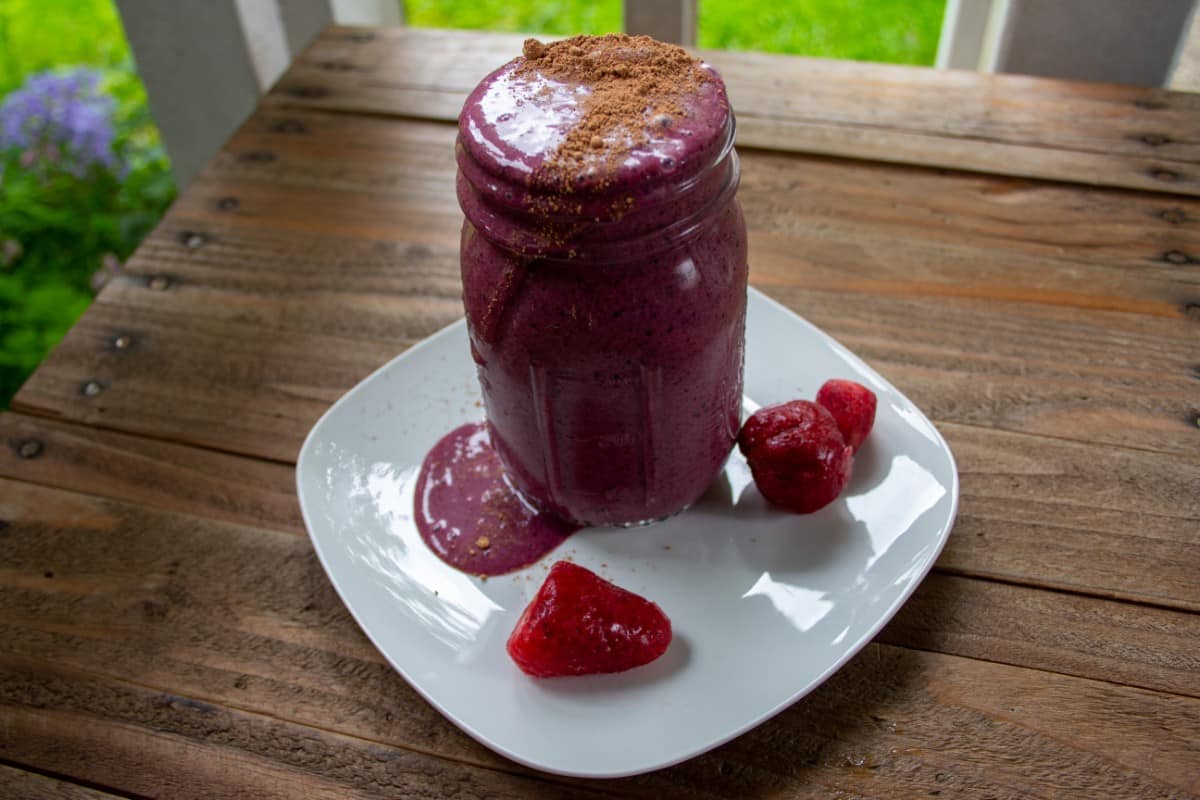 Curious as to how you can make your acai smoothie Instagram-worthy? Add some fun toppings like toasted coconut, cacao nibs, hemp seeds, or sliced bananas. There are no wrong answers!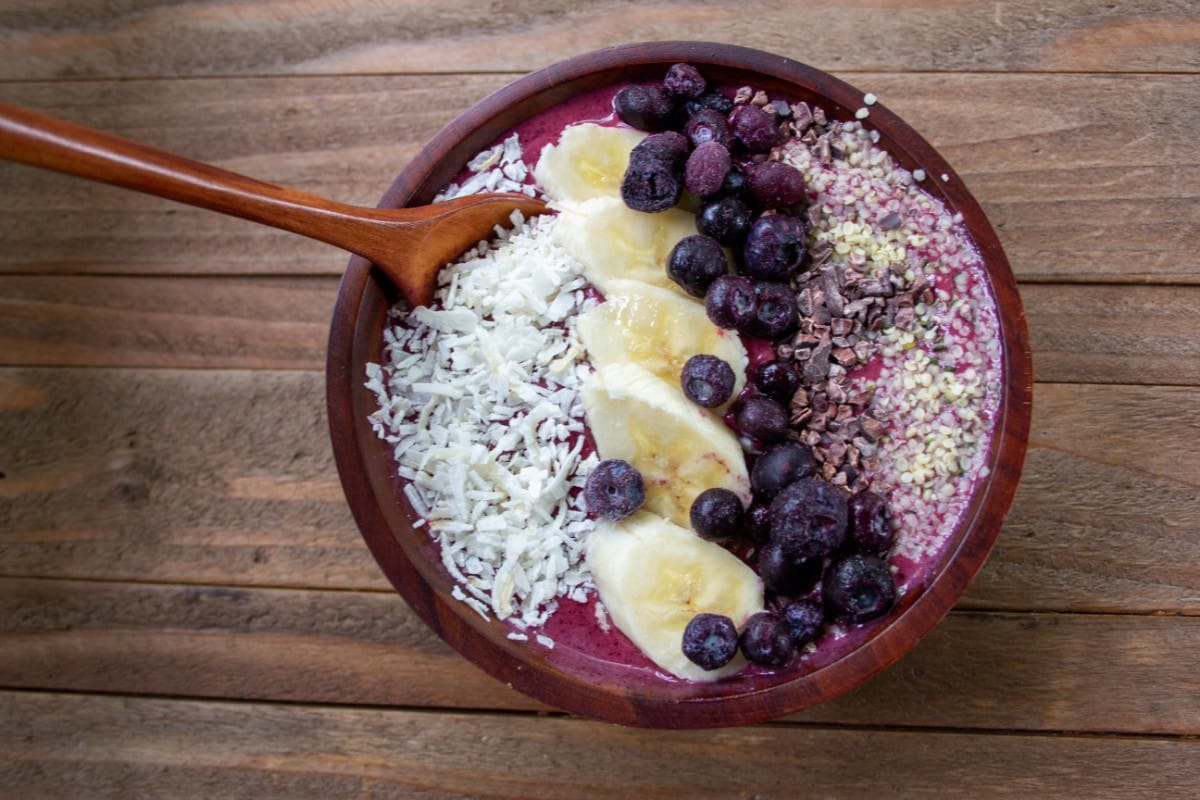 Is an acai smoothie healthy?
Heck yes! Acai is one of the most antioxidant-rich berries around. Antioxidants are essential for a healthy functioning brain, as well as being age and cancer fighting. Not only is acai full of antioxidants, but it's also low in sugar. (Source)
What is an acai smoothie made of?
All you really need for an acai smoothie is 1-2 acai pureed fruit packets, liquid, and some additional fruit to add substance to your smoothie. Alternatively, you can use 1 tablespoon of acai powder in place of 1 packet of pureed acai.
What does acai do for your body?
Acai, just like strawberries, blueberries, or any other type of dark berry, gives you energy and helps to lower blood sugar. Acai is low on the glycemic index and therefore helps give you long-lasting energy without a sugar rush.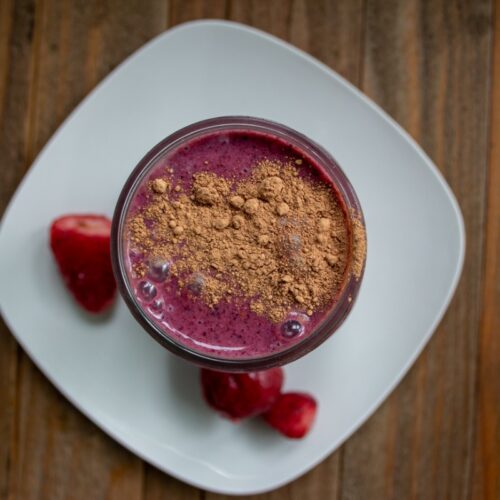 Acai Smoothie Recipe
This rich, decadent, creamy acai smoothie recipe is the perfect treat to satisfy your sweet tooth without giving you a sugar hangover. This recipe calls for tons of fruit, a dash of sweetness, and chocolate—what could be better than that?
Ingredients
1

packet

acai puree

1

banana

½

cup

frozen strawberries

2

tbsp

cacao

2

tbsp

agave nectar

1

cups

dairy or nondairy milk
Instructions
Combine all ingredients in a blender, reserving ½ cup of liquid.

Blend until desired consistency, adding more liquid as necessary.

Pour into your desired container and serve.
Nutrition
Calories:
425
kcal
Carbohydrates:
43
g
Protein:
5
g
Potassium:
950
mg
Fiber:
6
g
Here are a few other recipes you might enjoy!
Olivia has been in love with all things food and libations for nearly a decade. When she's not cooking up new recipes, she enjoys bikepacking, wine tasting, crocheting, and traveling in her camper van up and down the Pacific Northwest.