This strawberry apple smoothie is bright, fruity, creamy, and will remind you of a decadent strawberry milkshake. Made with sweet strawberries, tart apples, tangy yogurt, and milk, this smoothie is so sweet and filling, you'll forget it's also super healthy.
Apples make this classic strawberry smoothie even better by adding just a touch of tartness. All of that combined with the Greek yogurt makes for a delicious smoothie that is layered with great flavor.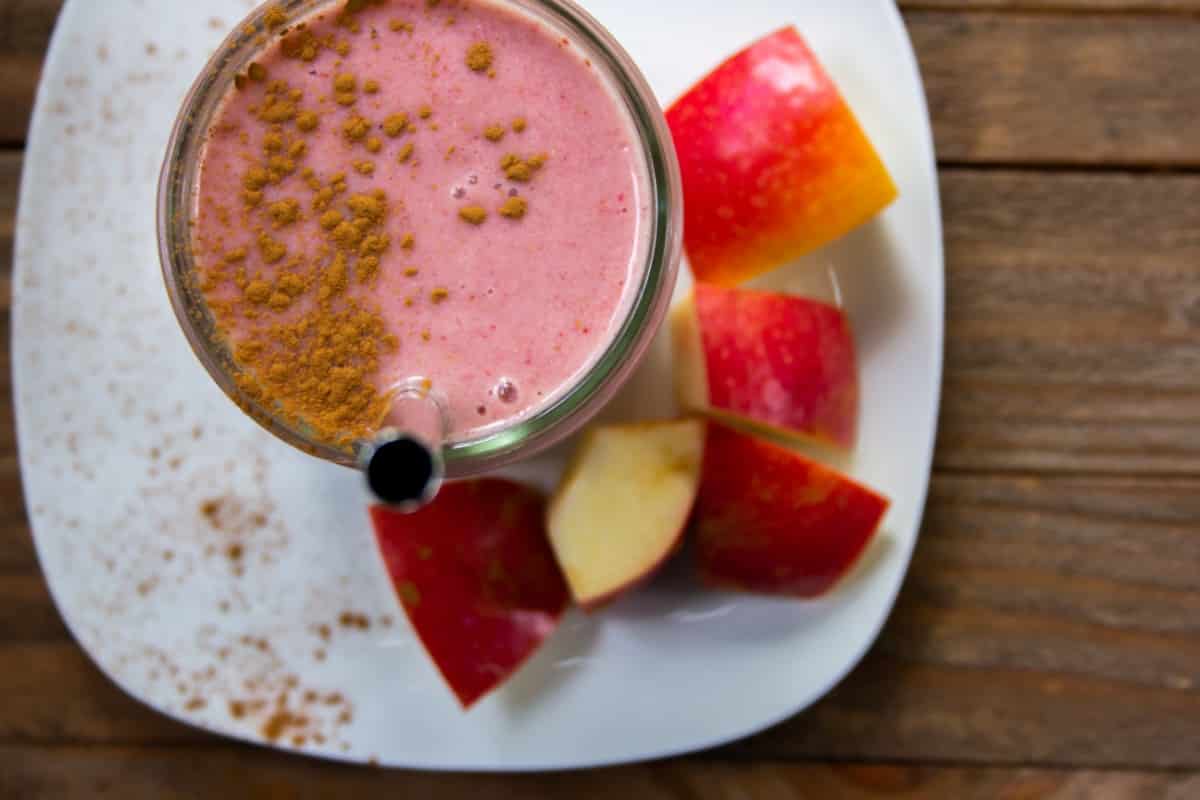 I love drinking this smoothie on a hot summer day. This smoothie is so fruity and refreshing, it's sure to brighten up everyone's day. This smoothie also happens to be packed with fiber, vitamin C, and tons of antioxidants.
What You Need to Make This Strawberry Apple Smoothie
There are only 5 ingredients required for this smoothie, most of which you probably already have in your fridge.
This quick and easy apple strawberry smoothie recipe can be made and enjoyed in minutes. It makes for the perfect quick breakfast when you have to dash out the door, as a healthy snack between meals, or as a poolside beverage on a warm sunny day.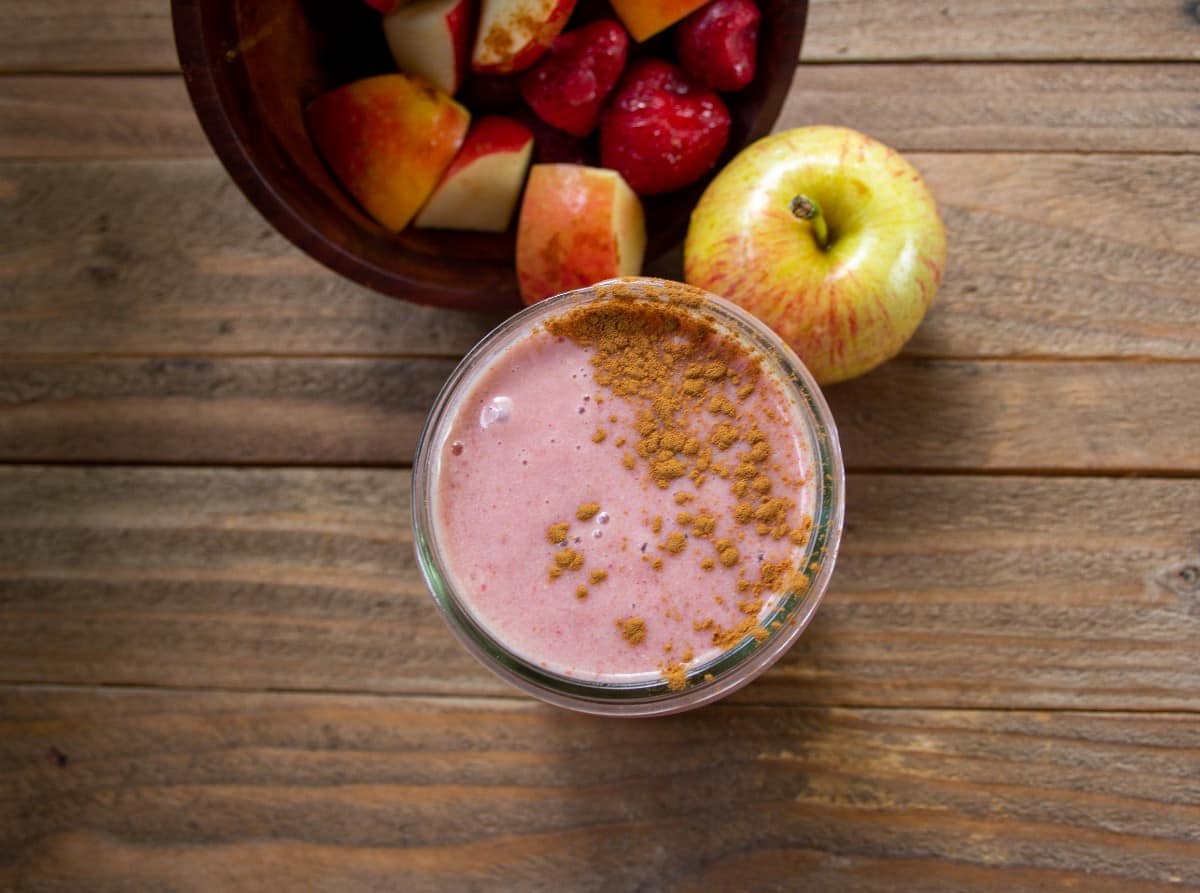 For the strawberries, I prefer frozen, but fresh will work fine as well. I like frozen fruit because it is convenient and guaranteed to be ripe. As for the apples, any sweet apple will work. You'll want to leave the skin on but remove the stem and core.
I'm using unflavored fat-free Greek yogurt in this recipe, but honey or strawberry-flavored Greek yogurt will work great as well.
Lastly, for the liquid, I chose oat milk because that's my favorite non-dairy milk alternative, and I like the creamy, almost milkshake flavor that you get from using milk. You can feel free to use milk, non-dairy milk, water, or apple juice for this recipe.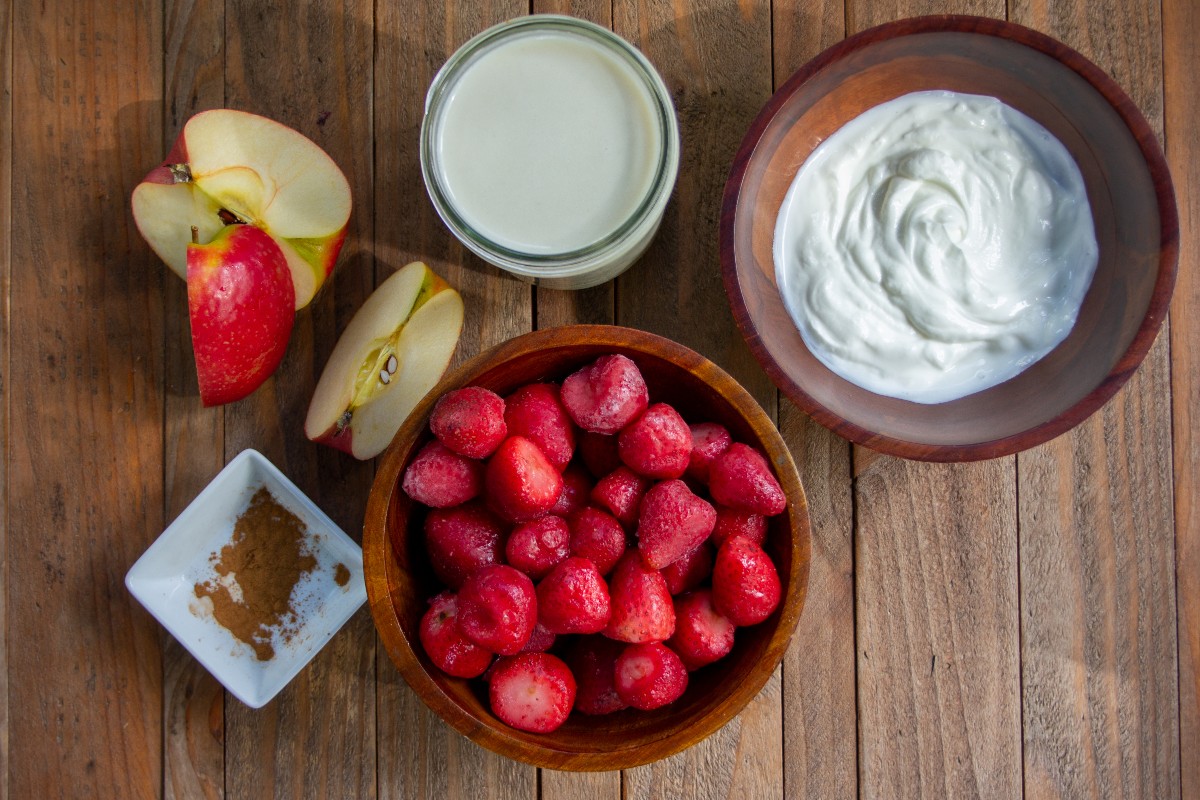 Ingredients:
Strawberries
Apple
Greek Yogurt
Cinnamon
Liquid of choice, water, milk, non-dairy milk, or apple juice
Optional Ingredients:
I've gone ahead and listed some other optional ingredients you can incorporate into this recipe if you want to switch it up. If using additional liquid or yogurt, reduce the liquid in the recipe by the same proportion:
½ cup coconut milk
1 scoop vanilla or strawberry protein powder
1 banana, reduce the rest of the fruit by a total of a ½ cup
2 tablespoons chia seeds
2 tablespoons hemp seeds
2 tablespoons agave nectar or honey
How To Make This Strawberry Apple Smoothie
First, combine all ingredients into a blender, reserving ½ of a cup of liquid. Next, blend while adding more liquid as necessary until you have reached your desired consistency.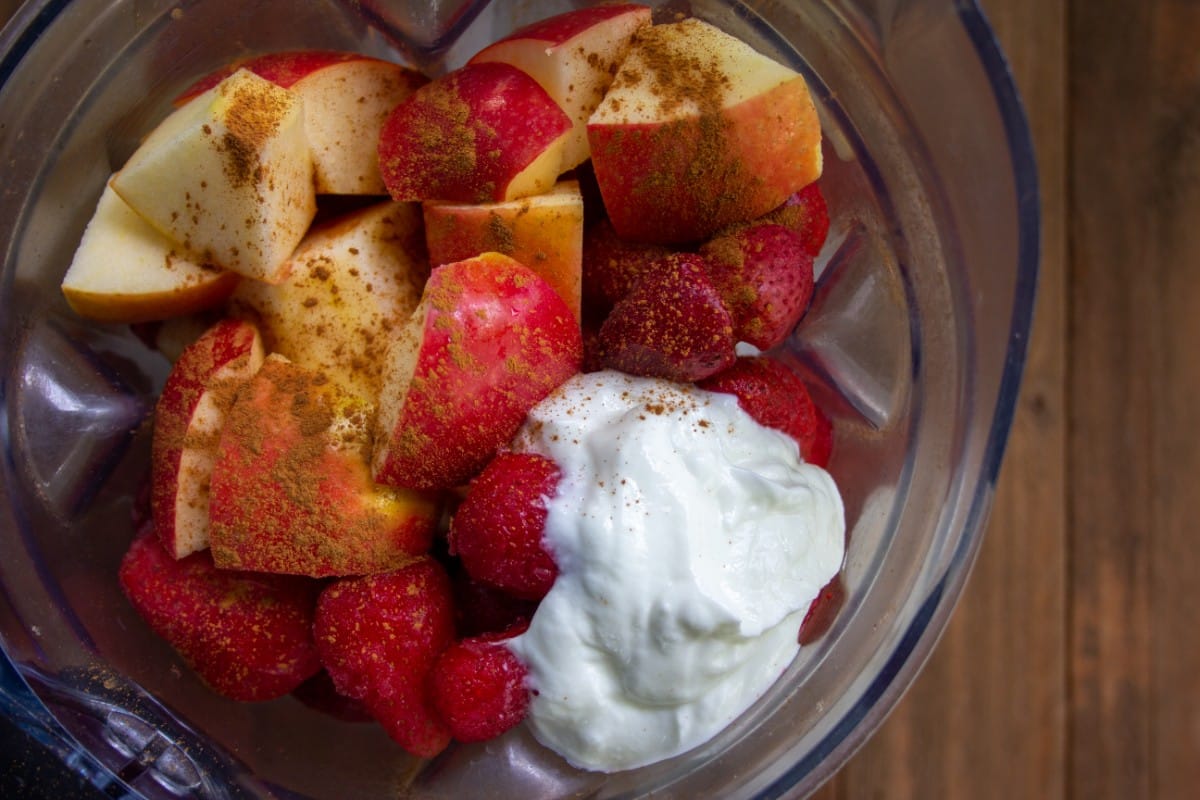 Then, pour your completed and delicious smoothie into a glass and serve.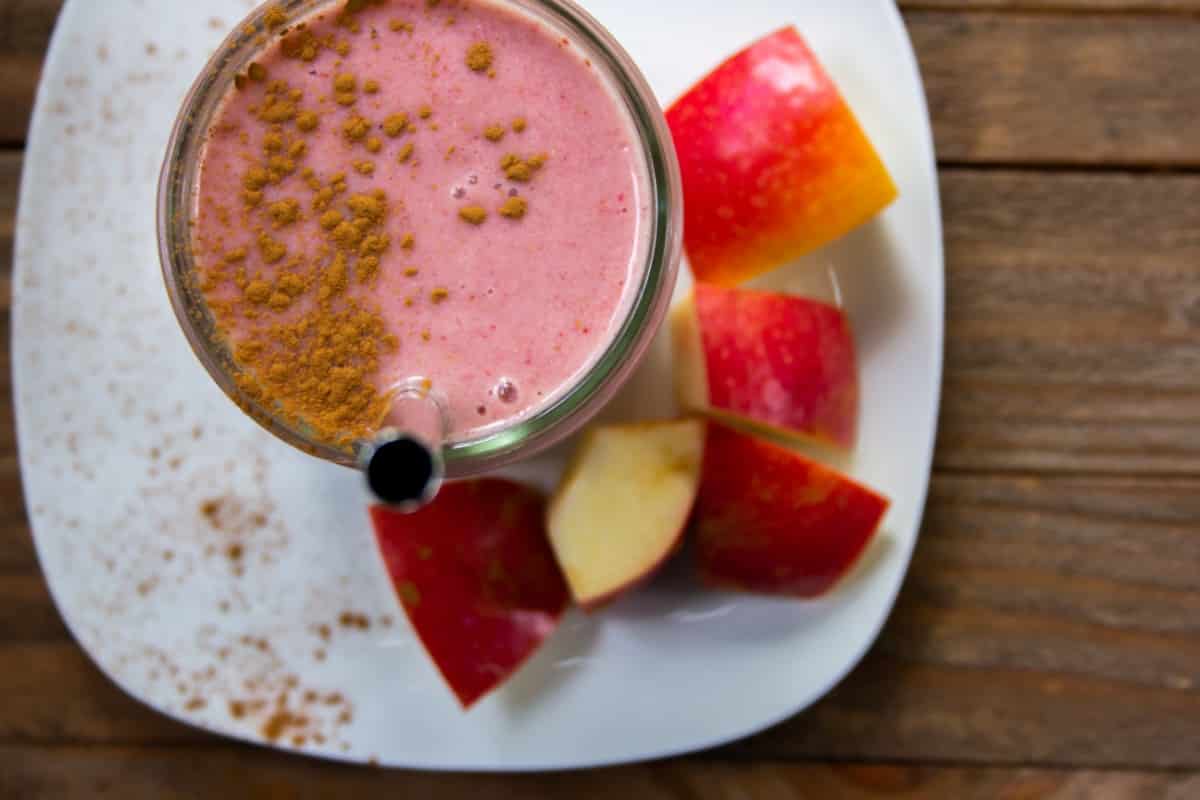 That's it! In less than 5 minutes you can have this refreshing, delicious, ridiculously healthy smoothie.
Do apples and strawberries go together?
They sure do! I love this combo because it's so bright, fresh, sweet, and loaded with vitamin C and antioxidants. I frequently add strawberries and/or apples to my smoothies.
Can apples be used in smoothies?
Yes! I wasn't convinced at first, but after giving it a try, I'm hooked. Apples blend really well in smoothies and add a ton of sweetness without being overpowering. I like adding apples to my smoothies because they're a great source of natural sugars, fiber, and antioxidants.
What can I blend with strawberries?
Anything! As I mentioned above, strawberries are great because they're sweet, refreshing, and packed with age-fighting antioxidants, fiber, and Vitamin C. They're a great low-calorie fruit that blends well with all kinds of fruits.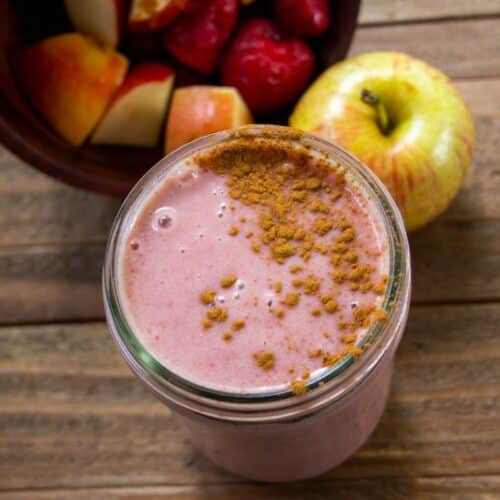 Strawberry Apple Smoothie
This strawberry apple smoothie is the perfect healthy summer treat. It's packed with bright fruity flavors and tons of vitamins and antioxidants. In less than 5 minutes you can have this healthy smoothie that's perfect for a quick breakfast, an in-between-meal, or just a tasty treat.
Ingredients
1

cup

strawberries

1

small apple

cored and quartered

¼

cup

Greek yogurt

1

tsp

cinnamon

1 ½

cups

liquid of choice

(dairy milk, non-dairy milk, water, apple juice)
Instructions
Combine all ingredients in a blender, reserving ½ cup of liquid.

Blend until desired consistency, adding more liquid as necessary.

Pour into your desired container and serve.
Nutrition
Calories:
320
kcal
Carbohydrates:
35
g
Protein:
14
g
Sodium:
50
mg
Fiber:
6
g
Here are a few other recipes you might enjoy!
Olivia has been in love with all things food and libations for nearly a decade. When she's not cooking up new recipes, she enjoys bikepacking, wine tasting, crocheting, and traveling in her camper van up and down the Pacific Northwest.