This strawberry raspberry smoothie is tart, sweet and packed with tons of vitamins and antioxidants. Made with sweet strawberries, tart raspberries, tangy Greek yogurt and just a dash of cinnamon and honey, this smoothie screams summer in a glass.
Strawberries and raspberries blend perfectly to make this sweet and tart smoothie that also happens to be rich in vitamin C, manganese, and age-fighting antioxidants.
Feel free to adjust the honey and cinnamon to suit your preferences. I know I like a little extra cinnamon in my smoothie.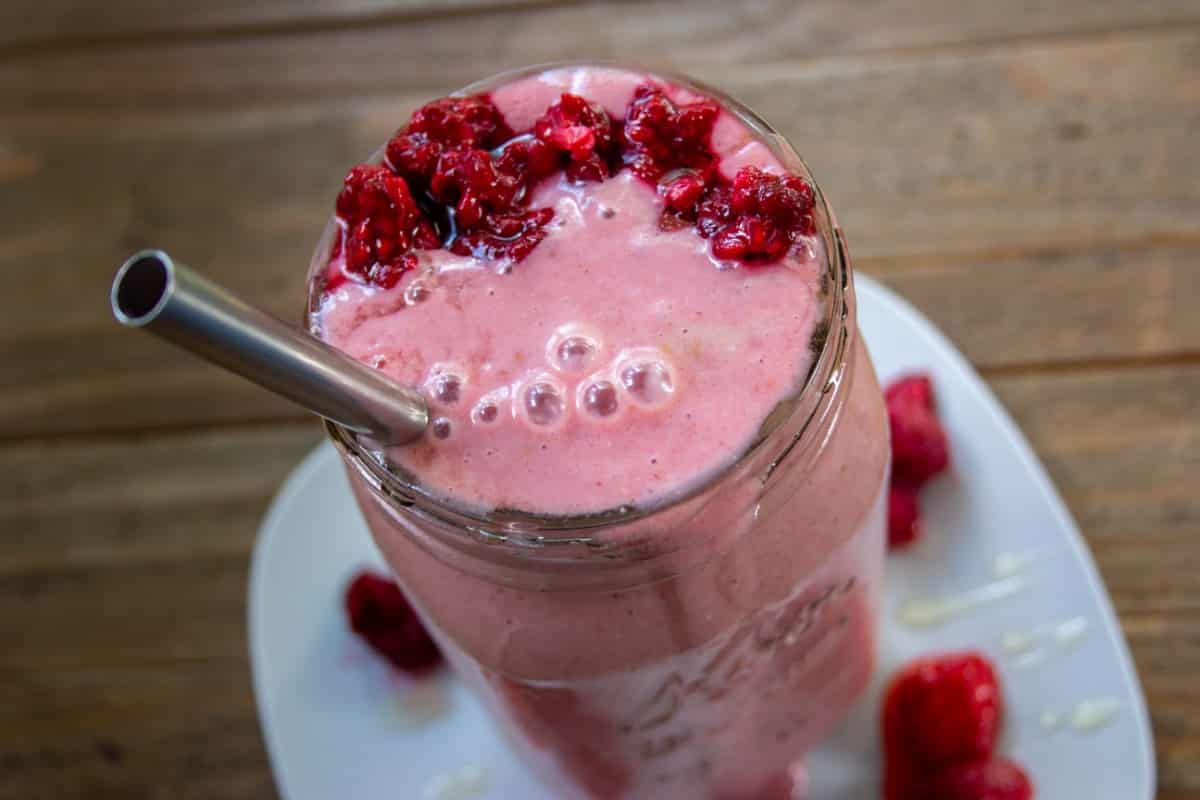 I love serving this smoothie on a warm summer day. It's so bright, refreshing, and can be easily adjusted to suit the mood you're in. The best part is how jam-packed this smoothie is with protein, fiber, vitamins and antioxidants.
What You Need to Make This Strawberry Raspberry Smoothie
With only 6 ingredients required, this raspberry and strawberry smoothie can be made and enjoyed in no time with ingredients you can easily get at your nearest grocery store.
It can easily be made right before you need to head out the door, and I find this recipe makes for the perfect smoothie bowl when I'm craving something a little more filling.
If you want to learn how to make the perfect smoothie bowl, check out this How to Thicken a Smoothie post, where I share my favorite tips and tricks.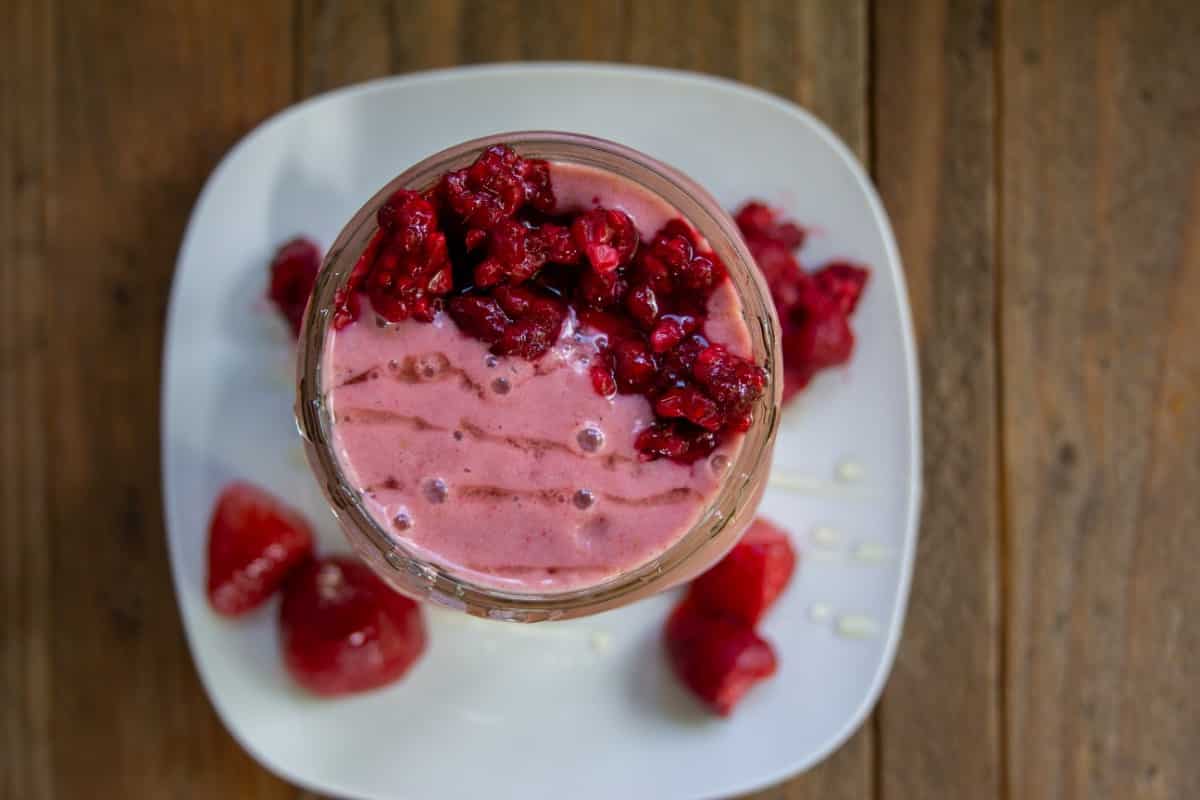 For the berries, I prefer frozen because they are typically frozen at peak ripeness, not to mention convenient and affordable. Fresh berries will work great as well, just remember to rinse your fresh fruit and remove the stems from the strawberries.
For the Greek yogurt, I chose fat-free unflavored, but flavored yogurt will work just as well. I chose to use oat milk as my liquid addition, but any dairy milk, non-dairy milk, water or orange juice will also do the trick.
Feel free to adjust honey and cinnamon to suit your tastes, or omit them altogether—there are no wrong answers here.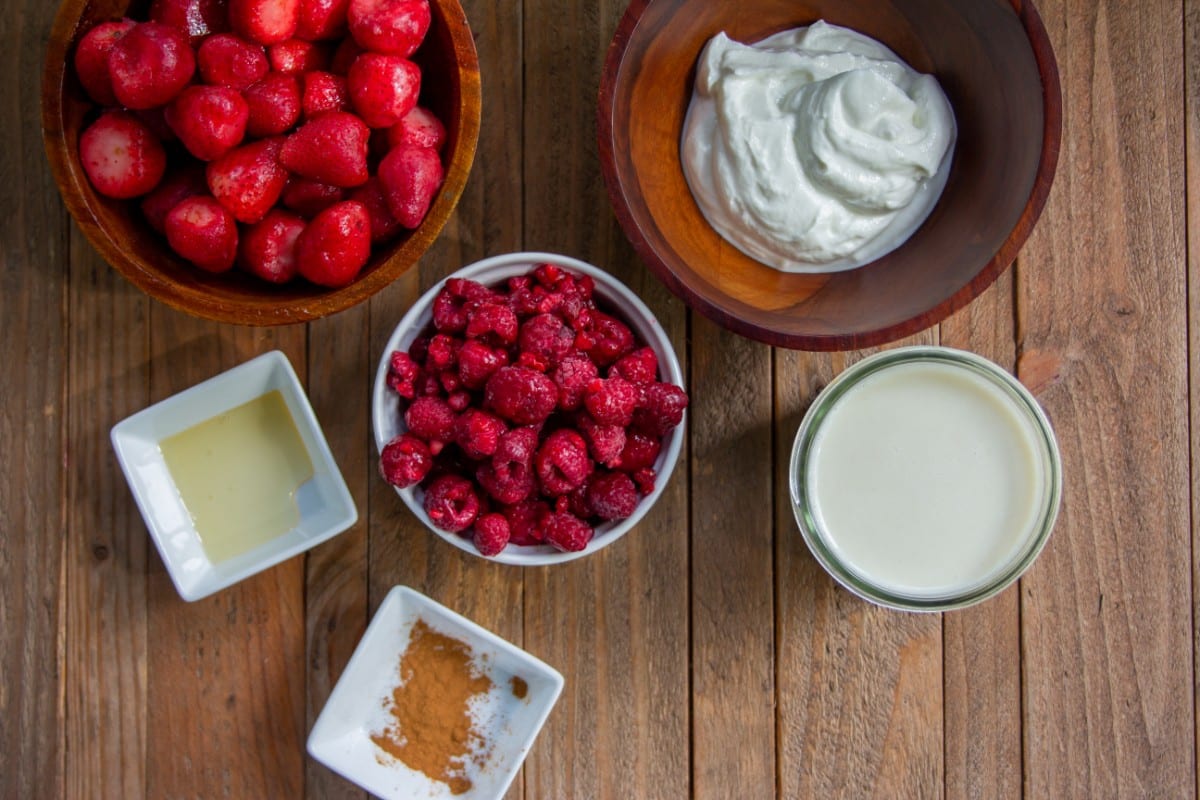 Ingredients:
Strawberries
Raspberries
Greek Yogurt
Liquid choice, water, milk, non-dairy milk, or orange juice
Honey
Cinnamon
Optional Ingredients:
I've gone ahead and listed some other optional ingredients you can incorporate in this recipe if you want to switch it up. If using additional liquid or yogurt, reduce the liquid in the recipe by the same proportion:
½ cup coconut milk
1 scoop vanilla or strawberry protein powder
1 banana, reduce the rest of the fruit by a total of a ½ cup
2 tablespoons chia seeds
2 tablespoons hemp seeds
2 tablespoons cacao
2 tablespoons nut butter
How To Make This Strawberry Raspberry Smoothie
First, combine all ingredients into a blender, reserving ½ of a cup of liquid. Next, blend while adding more liquid as necessary until you have reached your desired consistency.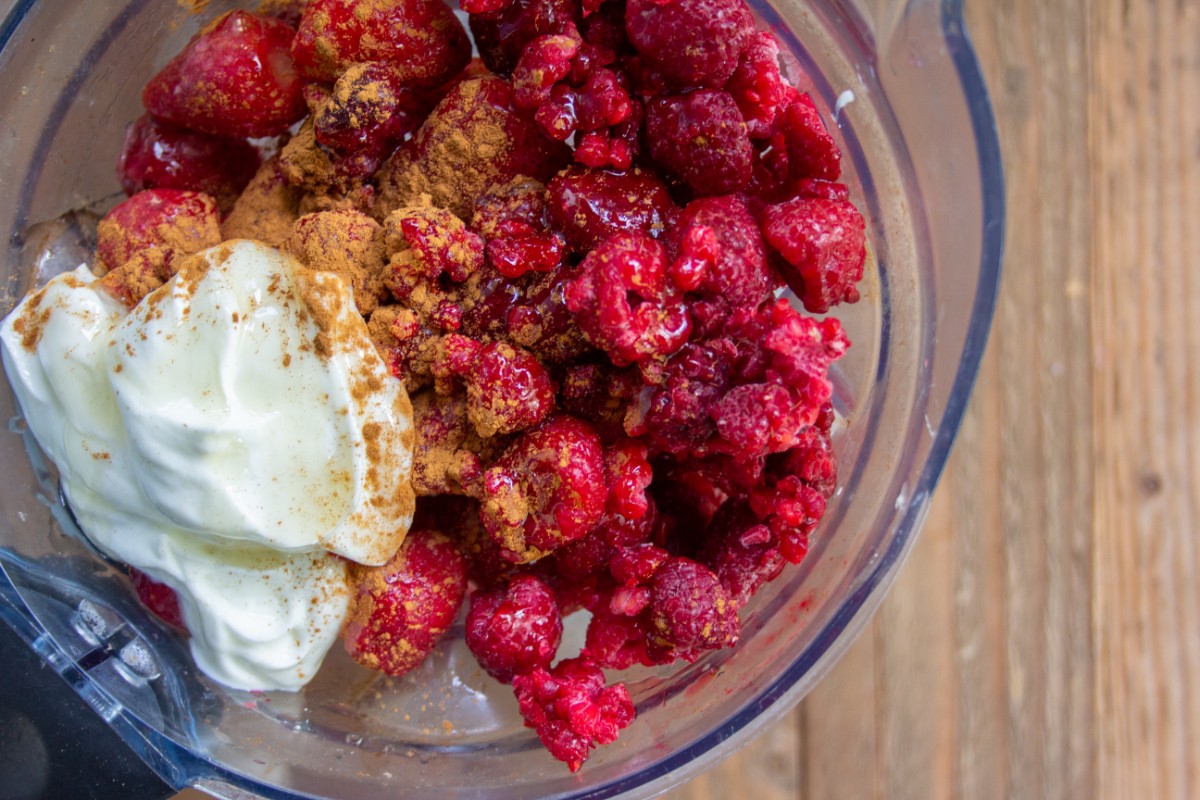 Then, pour your completed and delicious smoothie into your favorite container and serve.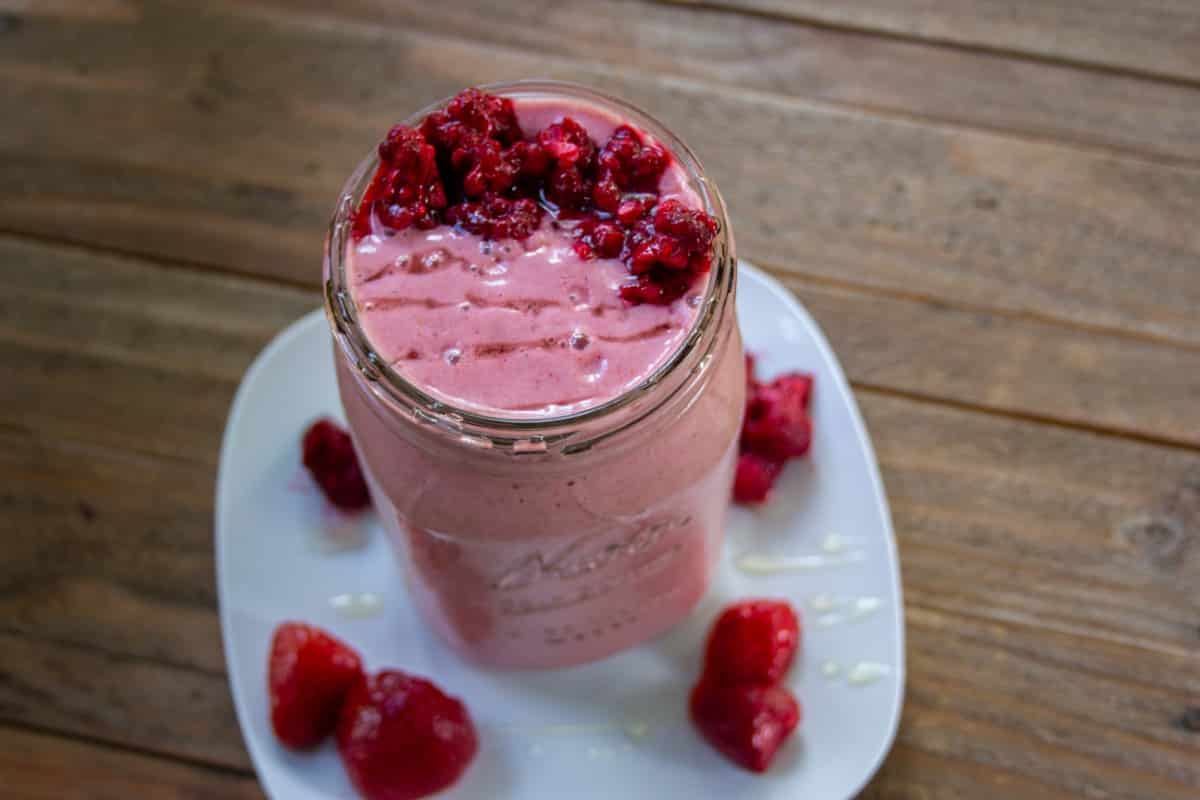 That's it! In less than 5 minutes you can have this refreshing, delicious, ridiculously healthy smoothie. After you make this smoothie once—you'll be craving it every day of the week!
What goes best with raspberries in a smoothie?
Raspberries are very bright and tart, and I think they work great with all kinds of smoothies. From berry smoothies to smoothies with ginger, cacao, or nut butter, they would fit well into any of those. I encourage you to try adding raspberries into all your favorite smoothie recipes.
How do you make a good strawberry raspberry smoothie?
The key to making a good smoothie is the correct proportions of fruits. You don't want one flavor overpowering the other. I like making this smoothie with just two fruits and using just enough liquid to blend without it becoming too watery.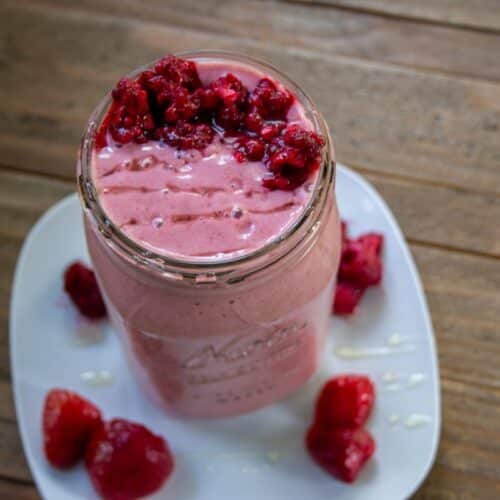 Strawberry Raspberry Smoothie
This strawberry raspberry smoothie recipe is the perfect pick-me-up to get you through the day. It's bright, refreshing, super fruity, and packed with healthy nutrients. I love serving this smoothie poolside, or drinking it on my commute—this smoothie is perfect every day of the week!
Ingredients
1

cup

strawberries

½

cup

raspberries

½

cup

Greek yogurt

1 ½

cups

liquid of choice

(dairy milk, nondairy milk, water, apple juice)

1

tsp

cinnamon

1

tbsp

honey
Instructions
Combine all ingredients in a blender, reserving ½ cup of liquid.

Blend until desired consistency, adding more liquid as necessary.

Pour into your desired container and serve.
Nutrition
Calories:
305
kcal
Carbohydrates:
30
g
Protein:
14
g
Sodium:
50
mg
Fiber:
15
g
Here are a few other recipes you might enjoy!
Olivia has been in love with all things food and libations for nearly a decade. When she's not cooking up new recipes, she enjoys bikepacking, wine tasting, crocheting, and traveling in her camper van up and down the Pacific Northwest.